5 budget saving tips for the Maldives
Reading time: min | Published on:
Let's face it, some destinations are just on everyone's bucket list. Unfortunately, the price tags associated with them leaves them only for the rich and the famous, right? Well, The Maldives is definitely expensive, but with the below 5 tips I am sure you may just be able to afford a few days on these shiny white beaches after all… Don't forget your sunglasses!…
Tip #1 Always go all-in on The Maldives
The Maldives is a Muslim country, although you will not notice this on your bounty island of choice given that all resort islands are exempt from many of the strict rules and regulations practised on the residential islands. Still, as with many Muslim countries, alcohol is heavily taxed. This in addition to high prices of products in general due to transportation costs, makes the Maldives expensive. Moreover, the resort islands obviously have a monopoly position as the provider of food and drinks. You won't be able to snorkel to your local minimarket to do some groceries like soft drinks or lunch.
Calculation example
Keep the above in mind, as it may seem (far) more expensive to opt for the all-inclusive packages when comparing hotel rates, but trust me it is not. Let's take a cocktail as bounty island currency; this can be easily cost 10-15 USD. Drinking 5 cocktails as sundowners and over dinner will set you back with approximately 50-75 USD already. This on top of the dinner itself, your lunch earlier that day and the soft drinks in the afternoon. A recipe for a financial disaster, so do the math and you will soon find out that in the Maldives you always should opt for all-inclusive!
And trust me, this is not your 'shabby Turkish all-inclusive package' with cold fries and uncooked hamburgers (sorry Turkey, I do also have good memories!). This is a proper premium 5 star quality with changing menus every day and great service! You get what you pay for! Likely you even get a daily free minibar refill or complimentary champagne!…
Tip #2 Stay in a beach facing bungalow, forget about the stilt bungalows
Don't go for the for that stilt bungalow, just book that great beach-facing bungalow! This can easily save you half your budget! Just think about it: Your entire holiday will be the same, the beach, the water, the snorkelling sessions, the dolphins, the sunsets, the restaurants, the cocktails. Everything, apart from the pier you sleep on… even the sound of the ocean in your room will be similar!…
Ok I admit, we stayed on one of the water villas, and of course, it was great! But it was our honeymoon, we were happy to spend the extra money, but I am telling you that you really do not have to do the same! Again, it will take you 2 steps and you are in the same ocean as well! Remember, when your aim is visiting the Maldives, this is likely THE key decision to make!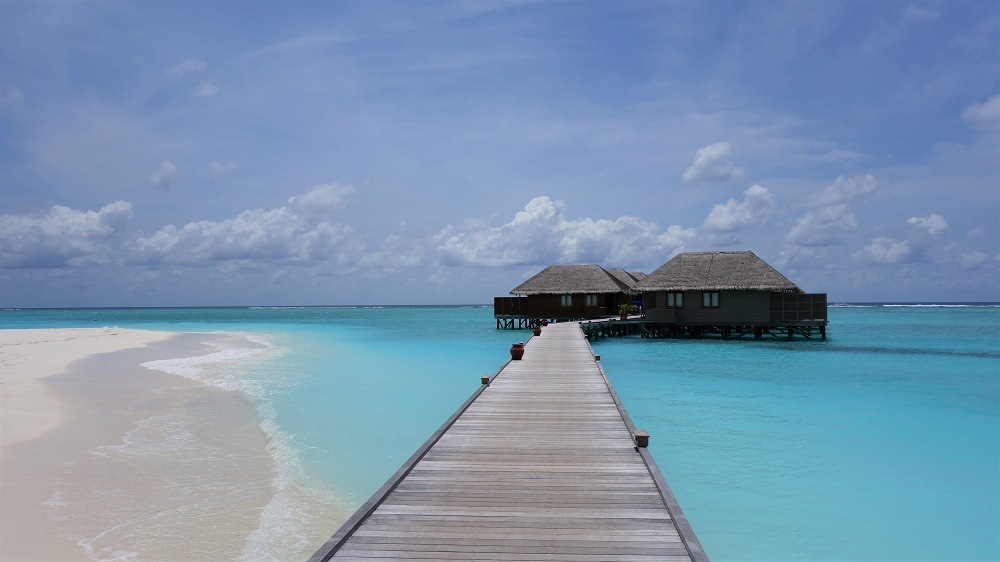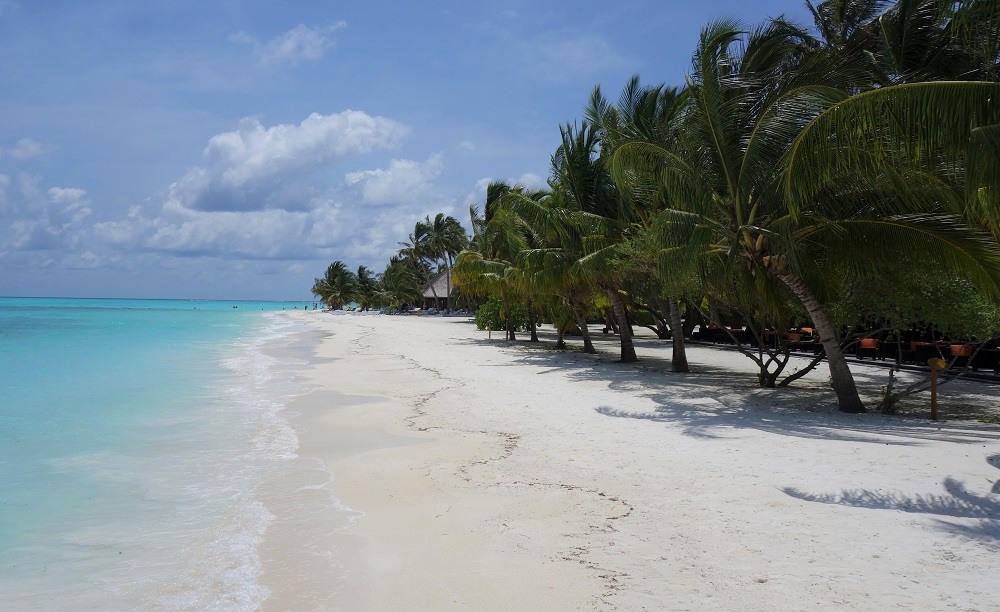 Tip #3 Carefully browse your hotels and double check all booking sites
Of course, this is something that I would always recommend, but we are talking big bucks now… so also potentially large differences! When we booked our stay in The Maldives we originally booked at Booking.com but when double checking we found it was a few hundred USD cheaper on Hotels.com. Here you go… That is money well spent elsewhere in the 'getting married and going on honeymoon' phase of your life. Or any phase for that matter!
Tip #4 Pick a resort island close to Male Airport
The international airport of the capital Male is likely your place of arrival. Depending on the location of your resort island, you either have to take a boat or a seaplane to get there (and in some cases even a normal plane to first get to another local airport). The price of a seaplane will be around 400 USD per person per return trip. Compared to the price of a boat will be around 100 USD per person per return. Do I need to say more? Book a resort close to Male international airport, as this will save you easily 600USD (if not more) per couple! Of course, it is nice to fly in a seaplane, but the view from your window seat when landing on Male airport is quite similar!
Top Tip: Obviously be sure to book a window seat on the flight to and from Male!
Tip #5 Stay in Male
I would not really recommend this, but this would be for the hardcore budget traveller. Moreover, it will give you a totally different Maldives experience. But you could obviously stay in Male, which is one of the most densely populated cities in the world. Prices of accommodation will be relatively cheap and you could book excursions to reefs for snorkelling or e.g. a dolphin cruise separately. Be aware! You will not be able to buy nor bring any alcohol.
I did not stay in Male myself but had a friend who stayed there and would also certainly not recommend this. Also because you would still pay quite high prices for any excursions (remember everything is relatively expensive), which would otherwise be included in your package in the resort islands. The good thing is that you do likely significantly on your overnight stay. A scenario where this could help you is if you are only planning extensive diving trips and will be under water for most of the time anyway!
Bonus tip #6: Time your arrival and departure
Perhaps not really a bonus tip, as this tip could save you lots of money! Given the highest cost factor of your Maldives holiday will be the number of nights, timing your arrival and departure is crucial!… Try to arrive in the morning and leave in the (late) afternoon. Also, do not time your arrival late at night, nor your departure early morning! We arrived halfway the morning and left at the end of the afternoon, to make most of our time, without spending an additional night. Do keep in mind that most hotels will end your all-in package at checkout, so overdoing it may result in additional charges, but could still work out! (do some research)…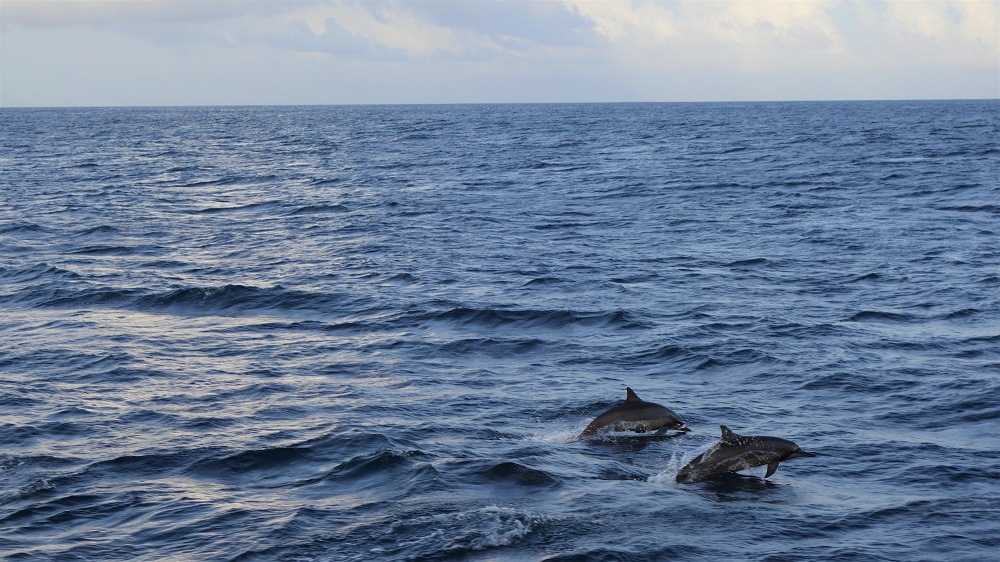 Bonus tip: When travelling without children book an adults-only Resort!
Most people visiting the Maldives will be without children. Partly due to the costs, but mostly due to the fact that they are on honeymoon, celebrating a wedding anniversary or celebrate the fact that they do not have to take care of their kids anymore and spend money on their selves as an elderly couple!
You even see this in the way the restaurants and bars are arranging their furniture. Almost all tables are romantically set up for 2, with 2 chairs, likely facing the shoreline.
Whatever the reason, you are likely going to be a couple (or at least 2 adults). We always try to opt for adults-only accommodations. This means no noise of playing kids or shouting parents, while you enjoy your (still slightly overpriced) amazing holiday!
Bonus tip: Keep an eye out for flying dogs
When on taking a walk on over your island, check out the trees! Chances are high that you will spot some flying dogs! These 'oversized bats' are harmless but are fun sight, especially when they fly over! You can also find these on other islands and coastal areas around the Indian ocean.
Interested in more bounty Island destinations? Check out the continuation of our journey to closeby Sri Lanka… Now you know how to limit your expenses, but what about my Ghost around the Ghost tips on How we travelled for free to the Seychelles islands! Also, do check out my blog on Zanzibar, in my opinion in stark contrast to what you can expect on the Maldives.