8 Reasons to visit Ha Long bay
This is part of a larger series of travel blogs describing all the best there is to see in Vietnam, starting in Hanoi, check it out!
About Ha Long Bay
I have been lucky enough to have visited Ha Long Bay twice and I perhaps enjoyed the second time even better than the first! This tranquil bay with thousands of stunning limestone islands just keeps amazing you, offering an even greater view each time your boat passes yet another island. Let me show you why, via the 8 photos below, after which I am sure you are likely to place Ha Long Bay high on your bucket list.
Top Tip: you are likely to do this tour from Hanoi and return back to Hanoi as well. In these cases I always ask my accommodation to leave my luggage and only travel with a day pack – I strongly recommend this for this trip, given you don't want to be bothered with your large luggage on the boat.
1. Bay of limestone islands
Ha Long Bay's Green limestone Islands just keep amazing you. With each turn, your boat makes an even more (sub) bay with a spectacular surrounding awaits you!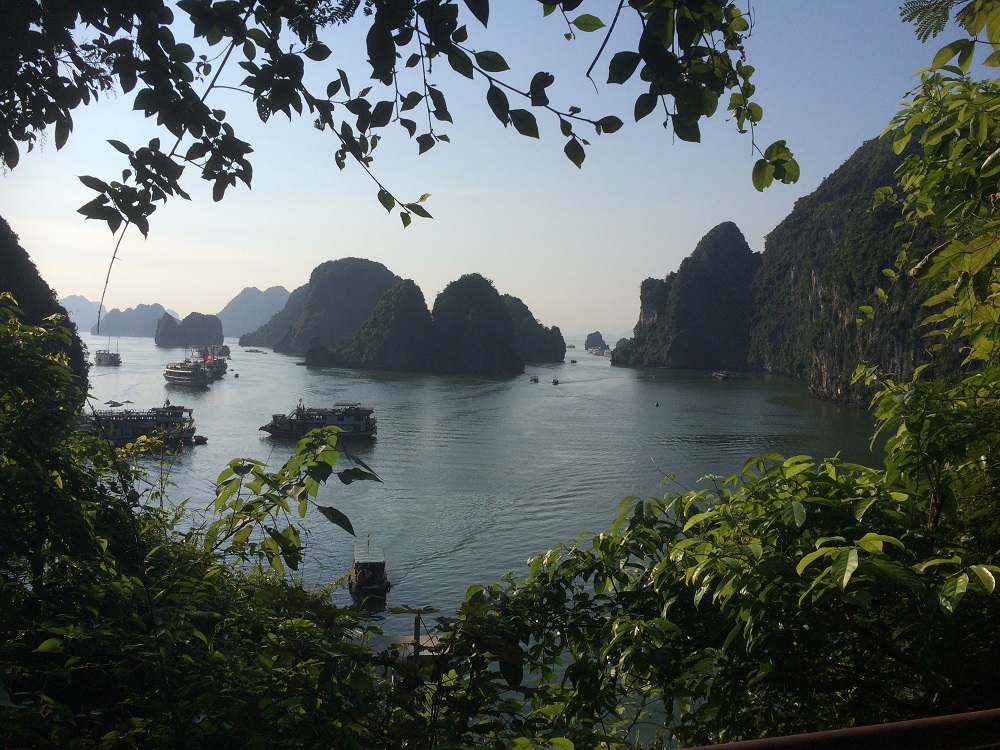 2. Lay back and relax
When visiting Ha Long Bay I encourage to stay on one of the overnight boats (easily booked in e.g. Hanoi at any travel agency – you cannot miss them). There are different price ranges depending on the comfort level of the boat, find a price you feel comfortable with… The view of the bay still stays the same! Just relax, lay back and take in the views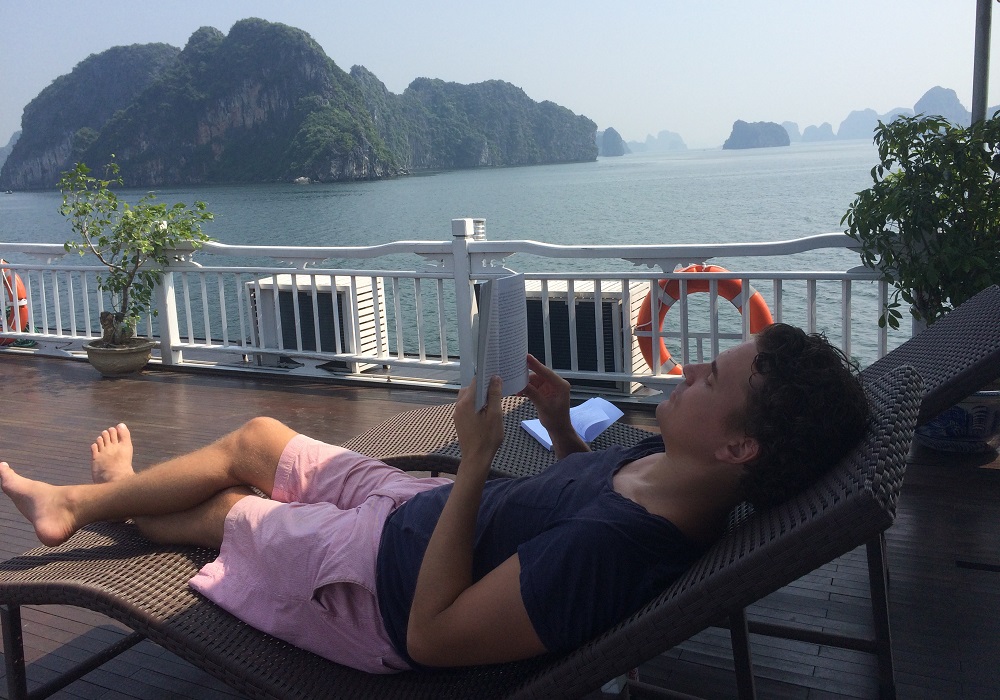 3. Explore by canoe
Most boats will offer various activities, one will be canoeing around the islands. Be sure to check if this – and other activities below- is included in your tour. Canoeing provides you a different viewing point and some freedom to explore yourself!
4. Visit stunning limestone caves
We stopped at one of the islands to do a small hike (fine to do these on flip-flops) and explore one of the many limestone caves.
5. Visit idyllic local fishing villages
Visit the floating fishing village at Ha Long Bay. Although visited by many tourists, this still offers a view on how local communities have lived (and still are living) in between these coastline cliffs.
6. Learn to make your own Vietnamese spring roll
Our boat's staff taught us how to make our own delicious fresh Vietnamese spring rolls as an afternoon snack.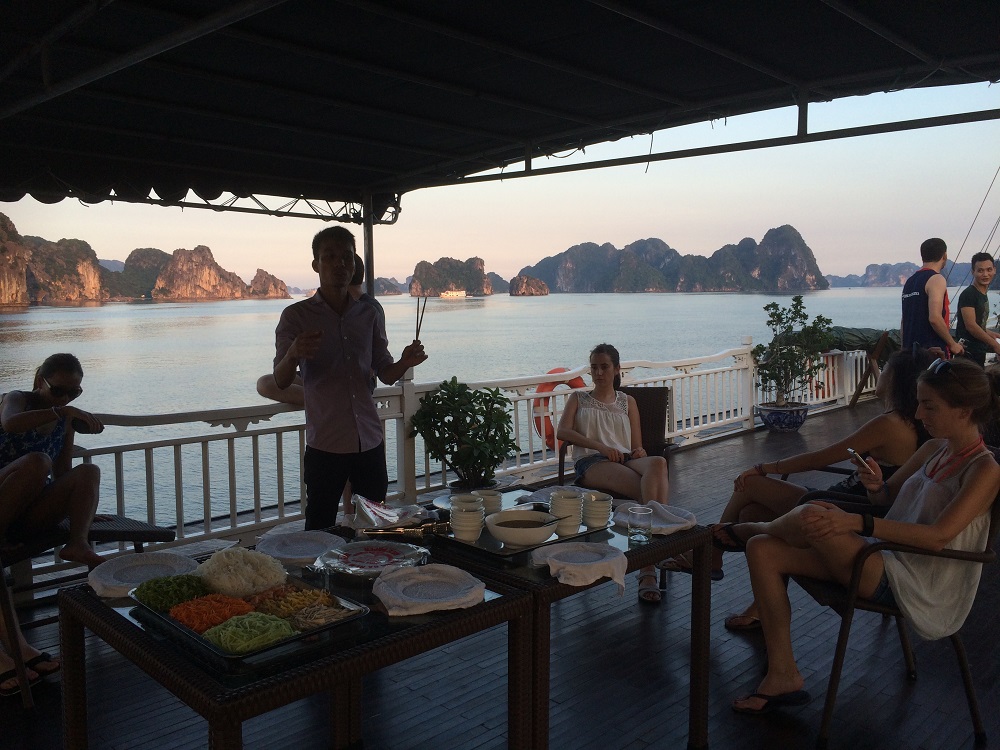 7. Explore rock formation up close
Using small boats we even could explore a limestone formation from underneath, going actually through it!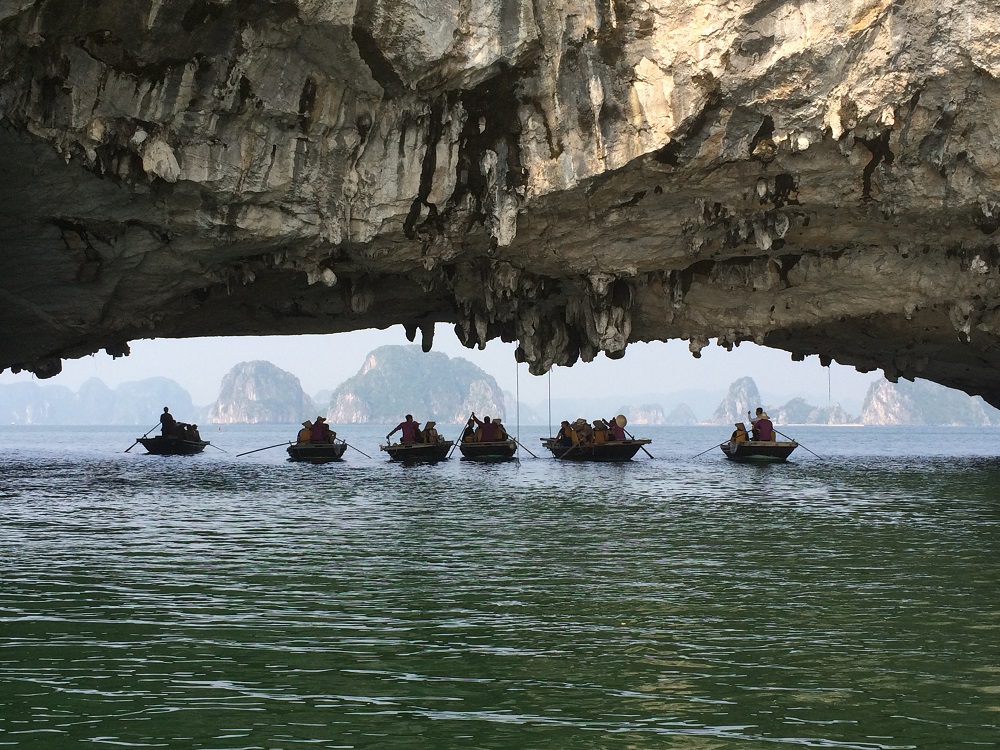 8. Enjoy one of the most beautiful sunsets in the world!
Enjoy one of the most beautiful sunsets in the world!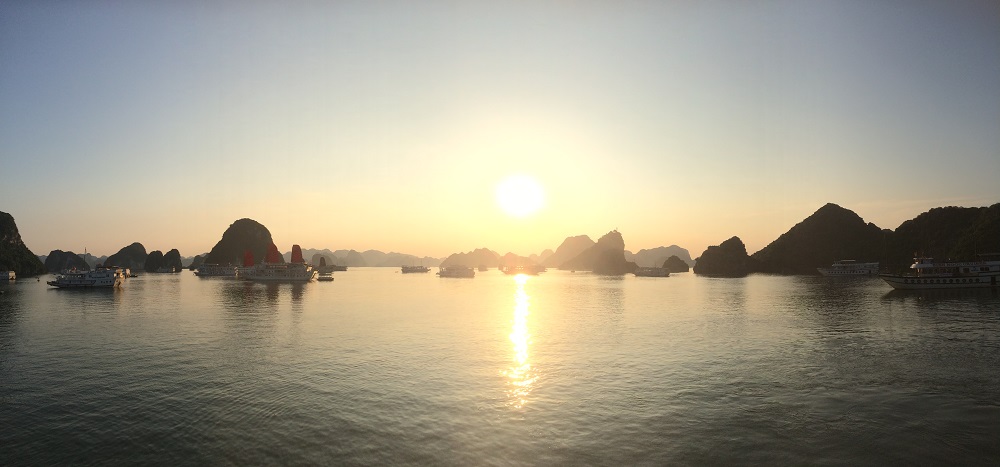 I am sure you agree with me that this it is not by mistake that this beautiful bay was chosen as one of the New7Wonders of Nature, Click on the link if you are eager to see some other finalists on this list!
Excited to travel further in Vietnam? Click here to read all about Hanoi, or otherwise move to Sapa's rice fields, before we travel Southwards to Hue, Da Nang and Hoi An.