Abu Simbel – Include in your Egypt trip!
Reading time: min | Published on:
Let me share my experiences of our Abu Simbel visit! Due to its location, close to Sudan, in the far south of Egypt, it is much less visited, but is actually a great addition to your Egypt itinerary!… Let me tell you why…
Do also read my other posts about Cairo and the Pyramids of Gizeh, as well as my Nile Cruise from Aswan to Luxor! Looking for another adventurous outing? Read my post about my Luxor Hot Air Balloon ride!… But first, let's discover Abu Simbel!…
How to get to Abu Simbel
Perhaps the easiest is to reach Abu Simbel is by air, but there are only limited (often indirect) flights available (at inconvenient timings).
We flew from Cairo to Aswan where we stayed the night. The next morning we drove from Aswan to Abu Simbel. This way your schedule is a bit more relaxed and flexible timing-wise and allowing for an overnight stay at Abu Simbel.
Good to keep in mind: Cost-wise driving does not have to be cheaper then flying, it can easily be much more expensive (according to absurd quotes we received). So spend some time on your research to get a proper quote (read all about the downsides of travelling in Egypt).
Top Tip: Avoid the crowds!… Most bus tours from Aswan and flights arrive (very) early morning at Abu Simbel. Mainly to sync the visits to Nile Cruise schedules departing from Aswan. Not many tourists stay overnight. Hence, if you book your own tour and arrive in Abu Simbel during late morning / early afternoon you have the entire temple to yourself!
The road between Abu Simbel and Aswan
It is an approximate 3-hour drive between Aswan and Abu Simbel (by private car, with a tour bus it will take longer). The road is well-maintained, and the road is in far stages of being widened to 4 lanes to make the trip safer (and faster).
The drive is through 'boring' flat desert, but there are 3 things on the way that are 'interesting'…
Aswan Low Dam
On your way from Aswan ask to stop at the old Aswan Low Dam, constructed between 1898-1902 by the British. (See my Aswan – Nile Cruise post for our visit to the Aswan (high) Dam). These giant dams created the largest man-made lake; Lake Nasser. Both dams generate a large amount of Egypt's energy and keep the downstream Nile safe from flowing and free of crocodiles. However, there also some downsides to the dam, as it means far less nutritious sediments reach the banks in Upper Egypt, which is also causing Nile coastline erosion.
Fata Morgana Madness
Halfway there is a rest stop where everyone will take a break (the usual 'tour-guide-gets-free-coffee-or-commission-stop'). Here you can see a fata morgana (or mirage, where hot air seems to look like pools of water at the horizon).
When we arrived we were one of the only ones. However, soon more and more tour buses stopped on their way back from their (early) morning Abu Simbel excursion. All trying to catch a 'glimpse' of the fata morgana. Actually hard to capture on photo, as it is just 'moving' air. Actually crazy when you think of it; the sudden appearance of hordes of tourists are making photos of 'air' in the middle of nowhere.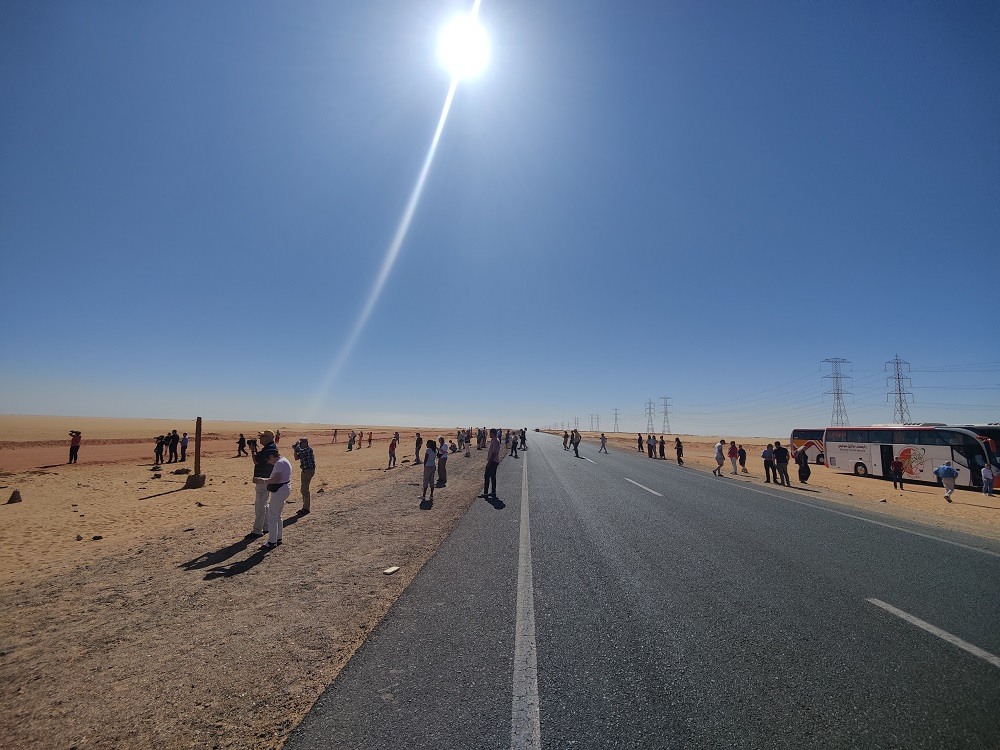 Glimpses of Egypt's New Valley Project – Greening the Desert
Unlike the Fata Morgana, there is also real water flowing through this parts of the desert. On your way to Aswan you will see parts of the New Valley (or Toshka) Project. Here a system of canals to carry water from Lake Nasser to irrigate parts of the Western Dessert of Egypt. In the dry vastness you will see large green 'circle' farms using the water from these irrigation systems. (Also visible from your plane window).
Why visit Abu Simbel Temple
Due to the creation of Lake Nasser, the entire Abu Simbel complex needed to be disassembled, moved, and reassembled on higher grounds. When standing in front of the temples it is hard to imagine the immense scale and precision required to complete this task! (If only because the temple needed to be re-aligned to the solar calendar).
As mentioned, due to our travel itinerary we only had to share the temple complex with a handful of other visitors… A great way to start our trip before heading to other, busier, Temples in Aswan, Kom Ombo and Luxor. Unlike many other sights, Abu Simbel is an impressive, well-preserved complex. Great to enjoy without too many bustling tourists around you…
Great Temple of Ramesses II
The largest and most famous temple is the Great Temple of Ramesses II. It is said that 'narcistic' Ramesses II believed he was one of the Gods, and better than other normal men and other kings. This is why he depicted himself 4 times in front of the Temple via the identical large statues.
One of the 4 main statues at the entry is broken. Supposedly during an earthquake shortly after its construction. When the temple was moved, it was decided to leave it in the same position (as the face is missing).
Also, inside a statue of Ramesses II is seated in the middle of 3 Gods. Here every 22 October and 22 February the rays of the sun penetrate the sanctuary and illuminate the sculptures of Ramesses and the Gods.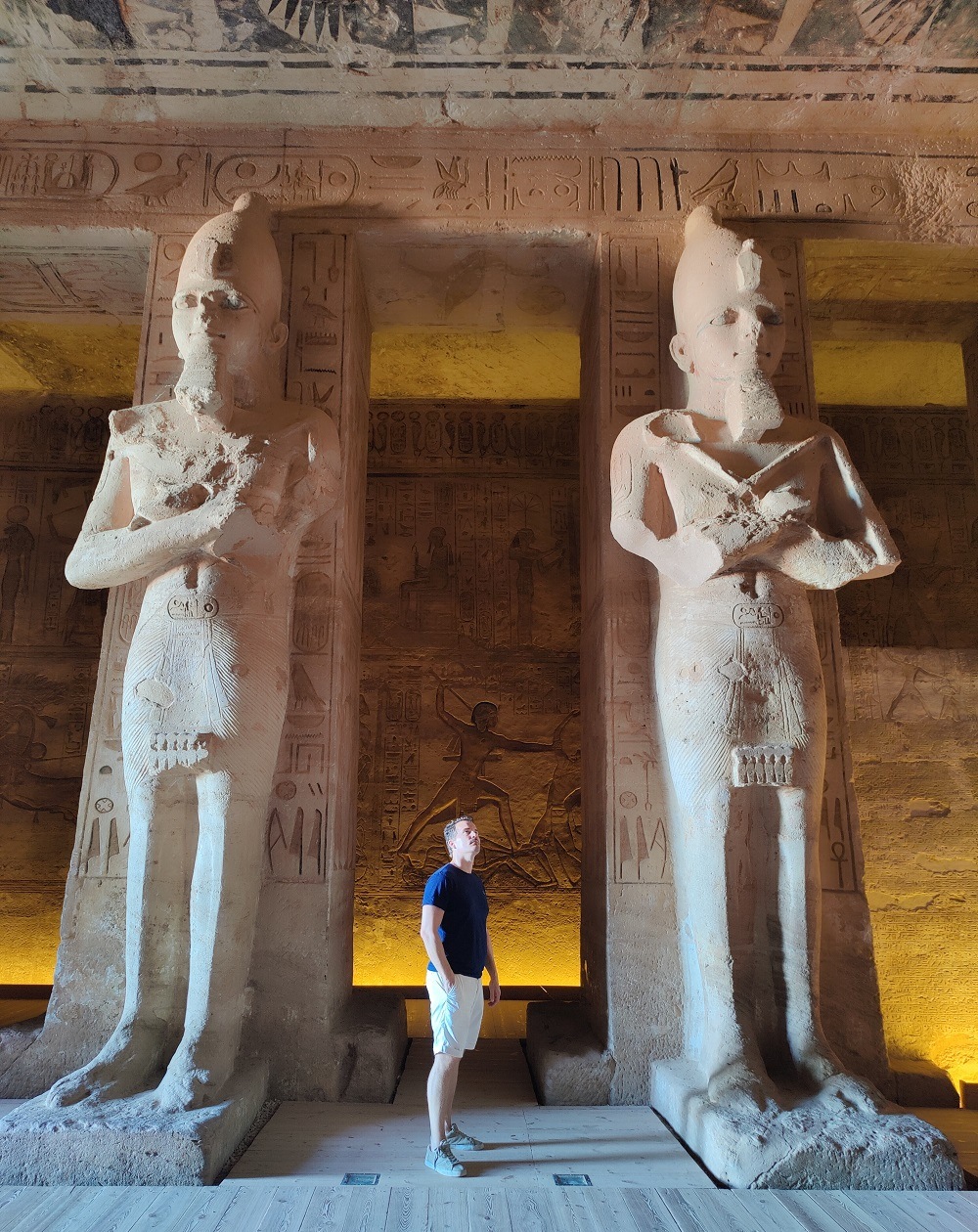 The temple has various rooms where the walls and massive pillars in the main hall are covered in beautiful hieroglyphs and artworks.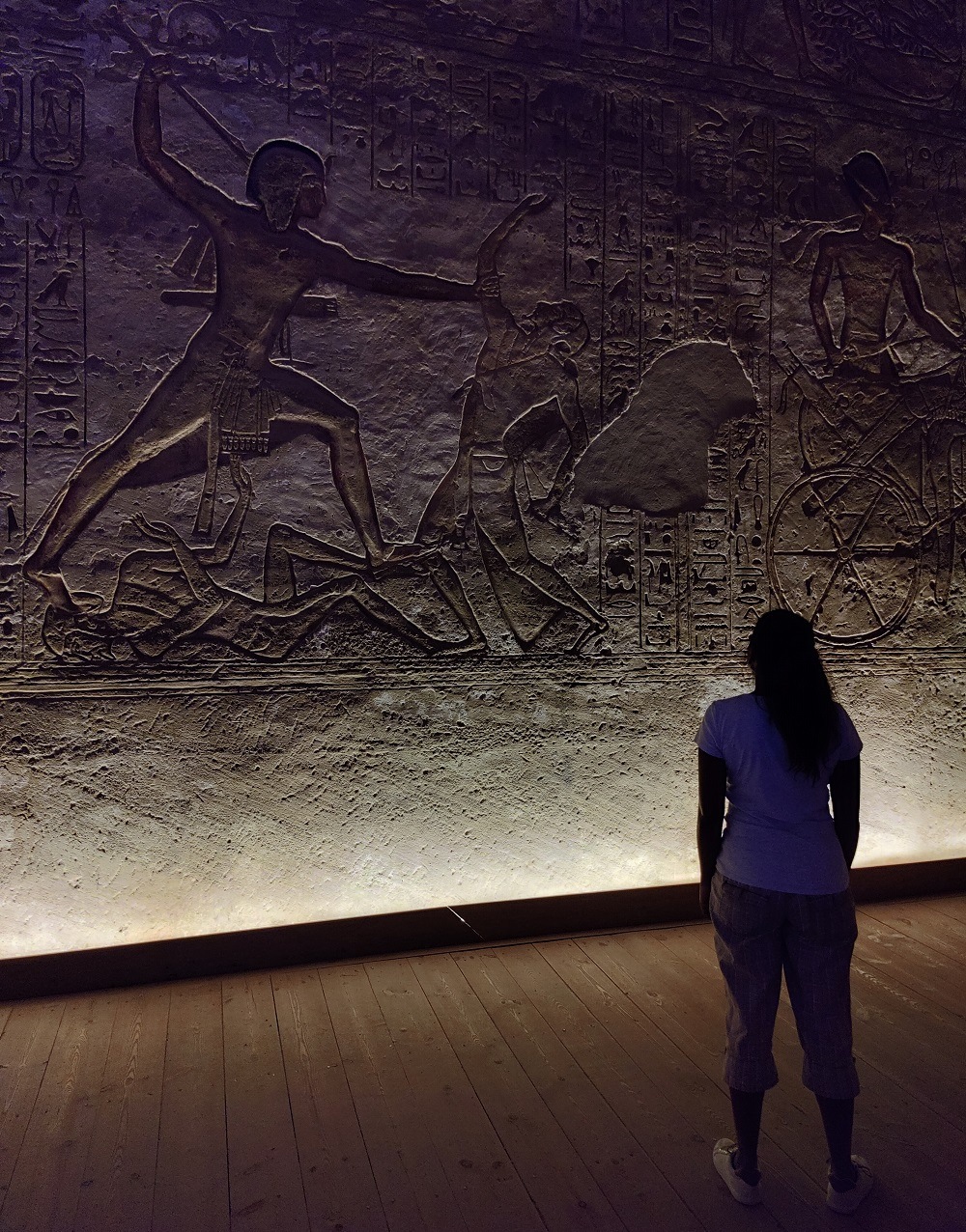 The Temple of Hathor and Nefertari
Also known as the small temple, the Temple of Hathor and Nefertari was built 100m northeast of the temple of Ramesses II. It was dedicated to the goddess Hathor and Ramesses II's favorite queen. An interesting fact is that the depicted size of the queen equals that of the pharaoh, where usually they are much smaller.
Abu Simbel Light Show
Given that Ramesses II built a large temple to his (favorite) queen Nefertari. It has inspired many love stories. During the Abu Simbel light show this love story is told.
If not able to go to the Abu Simbel lightshow, I suggest to add at least one lightshow somewhere in your itinerary. (This should not be too hard, as many temple complexes across Egypt have light shows.) At night, even with only the general lights on, these temples get something additional mysterious and magical.
Where to Stay in Abu Simbel?
There are only a few accommodations in Abu Simbel. As said, not many people stay overnight, mainly due to the large Aswan day-trip / Nile cruise industry. If planning to stay at Abu Simbel, I highly recommend Eskaleh Nubian Ecolodge. This place is run by a Nubian family and offers great service and food. (Which can be rare in Egypt – see my Egyptian downsides post). It is perhaps the best place we stayed in Egypt!
And this is where we already leave Abu Simbel behind on this Ghost around the Globe trip!… As the next morning we headed back to Aswan, to start our Nile Cruise adventure!… Join me on that Ghost around the Globe trip! For my other Egyptian adventures check out the below links!