All you need to know about Gorilla Safari
Reading time: min | Published on:
Gorillas, one of the great apes still among us and a species which most closely resemble us, humans. I purposely use the word "still" as gorillas live on the brink of extinction. But there is hope! As according to scientific studies recent conservation efforts over the past years show their numbers are rising again.
Where to best go on Gorilla Safari
When people talk about gorilla safari they are usually referring to the Mountain Gorilla. This species cannot be kept in a Zoo but can only survive in its natural habitat. They are a bit smaller than the Low Land Gorillas (the ones you do find in zoos). There are only 4 places to come face to face with them. Spread over 3 countries and multiple national parks, which are:
Democratic Republic of the Congo – Virunga National Park
Rwanda – Volcanoes National Park
Uganda – Mgahinga Gorilla National Park
Uganda – Bwindi Impenetrable National Park
All national parks and its countries come with its costs or diplomatic or travel challenges. After research, I found that Bwindi Impenetrable National Park in Uganda is the best choice and I will explain why…
Costs of a Gorilla Safari
One thing to keep in mind and you are likely aware is that meeting Gorillas in the wild does not come cheap. The largest part of your costs will be the National Park entrance fees. (Which in my opinion are outrageous when compared to other national parks around the World.) These prices range from $400 to $1500 per person per day (and yes that is US Dollars!) depending on which park you choose.
The cheapest option is $300 to $400 USD in the Democratic Republic of the Congo. However, this country is politically less stable, and harder to reach (and as not part of the Eastern Africa Visa treaty, will result in additional visa costs). Given Bwindi in Uganda is "only" $600, and easier to reach, hence my obvious choice…
Reaching the Gorillas in Bwindi National Park
In my opinion, the best way to reach Bwindi National Park is by flying to Kigali (the capital of Rwanda). Arrange with your (local) tour operator to pick you up and drive you across the Ugandan border to Bwindi National Park. A few reasons:
This is the closest (large/international) airport to the National Park
The roads of Rwanda are much better than in Uganda (and most of your drive will be in Rwanda), making this a smooth ride, compared to the longer distance from e.g. Entebbe/Kampala.
The countryside of Rwanda, with its stunning valleys and tea plantations, is just amazing!
You'll likely book a tour package, which includes your National Park permit, driver and hotel. Hence your driver will drop you at your lodge the night before the early morning Gorilla safari. Lodges come in various price ranges. I booked a high-end lodge, given I was anyway already in a spending mode. However, given the value for money, next time I would likely book a mid-range or low-end, to save some money.
The next morning your driver picks you up again and drops you off at the ranger station of the park. Your lodge (or tour operator) provides you with a lunch package.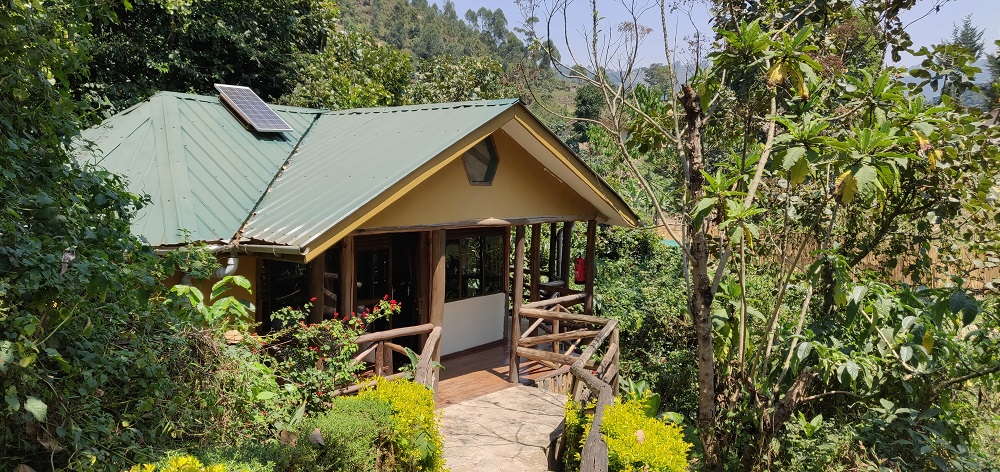 The gorilla safari
You have to provide your passports (or copies) for registration. And you have to decide if which gorilla family you want to meet. This deciding between long-distance trek (full day) or short distance (morning). We choose the nearby group. (Honestly, I would always choose this, just to make sure you reach the Gorillas timely, stay fit, use your time effectively and the long trek will not provide too much additional scenery or wildlife).
The group
When you reach the ranger station you will get a brief introduction from the ranger. We got handed walking sticks, these can come in handy (I chose not to take one as I like to walk with my hands-free).
Also, there is an option to take a porter, who will carry your bag and will help you during the trekking (if you are a bit less fit, I recommend to take one, just in case). By taking a porter you are also helping the local community. According to our driver, you tip the porter as you see fit, however, I come back to this later…
There is also an armed policeman joining the group, in case we run into elephants. (This happens very rarely, according to our ranger). We did come across some elephant dung on the walking path.
Next to the ranger guide the policeman and the various porters, you will be joined by 8-12 tourists.
The trekking
Most of the trek you will walk on a hiking trail. It is not too steep (perhaps steeper along the way when taking the long hike) and very doable. I must add that I was there during the dry season, in case of rain it would certainly be much more slippery. Also, despite the name of the national park, this part is not impenetrable at all!
Along this road, we did not encounter many animals or other wildlife (I was expecting a bit more from this, or perhaps our ranger was a bit lazy). We followed the hiking trail until we met a few other rangers, who left ahead of us and trek the gorillas from where they left them the previous day. This fact will actually increase your chances of finding the gorillas 99.9% (if not 100%). Which is good news, especially given your investment in the national park fee.
After some brief discussions among the rangers, they start literally hacking their way through the impenetrable forest and now it becomes clear why it is called Impenetrable National Park after all… You likely will already hear some gorillas and it is quite exciting to walk just behind the rangers and suddenly see these amazing black creatures through the branches, just a few steps away from you!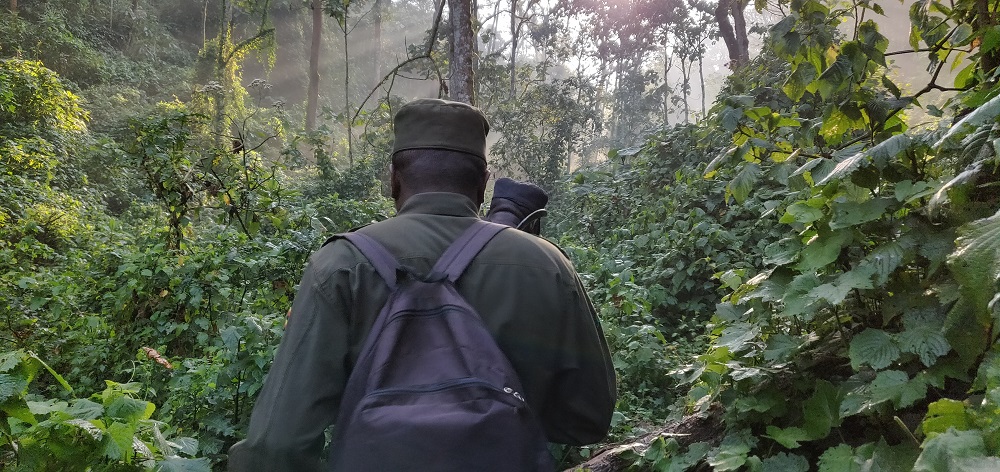 Interaction with Gorillas
As soon as you reach the Gorillas, you will get approximately 1 hour of interaction with Gorillas. They, surprisingly, do not seem to mind the human presence at all… They even come so close that they might even touch your legs or attempt to play with you, this is especially for the little ones…
It really is an amazing – once in a lifetime – experience to be so close to these amazing animals. And as soon as you reach it is certainly worth your efforts and costs. Unfortunately, after one hour of seeing the family eat, play, climb, and interact it is time to head back towards the ranger station…
Tipping of the rangers and porter(s)
Let me start with an introduction: One major drawback of traveling in East Africa, and recurring in my East Africa blogs, is the persistent and often annoying, pushy, sometimes almost blackmailing way of requesting for tips for any nitty gritty "service" someone has presumably performed for you. Don't get me wrong I am happy to tip, but when there is a reason, not when asked/pushed for it. This whole tipping nuisance often leaves a bad aftertaste at the end of your hotel stays, excursions, safaris, transports, etc. and really needs attention! Also, I suggest you definitely read my specific blog on this explaining the major downside of traveling in Tanzania.
Top Tip: We were really amazed by the very high desired/proposed tipping amounts we read on websites, tour operator emails, etc. So we double checked with (Western) friend who lives in East Africa, as well as trustworthy safari lodge managers on tipping amounts. My advice: Ignore the many internet sites or even tour operators' emails! Keep in mind what a tip is for in the first place! It is a token of appreciation! Also, it is something that should relate to what you are comfortable with (good tip for good guides, bad tip (to perhaps even no tip?) for bad guides). Over time the high tips and the bad tips will even out, and the people with higher spending power will balance for the people with low spending power. To a certain extent, it is the gesture of the tip that matters!
An additional important takeaway from our friends is that you need to understand that (almost) everyone in the tourist industry has (relative) good salaries. They will certainly appreciate tips but will survive without it.
Well that took some time to introduce, but it is important to serve as background, given that we encountered the following "tip-moments", and we did not have the knowledge as just described above yet:
"Half-way" rangers
As mentioned we met a few rangers halfway, who helped trekking the gorillas and helped to hack through the forest. When saying goodbye to the gorillas, we also left them behind. It was made clear that we would not see them again, hence a tip would be appreciated. Not everyone gave something, which in a way is ok (You could argue that there could have also been 30 rangers) But we were happy and gave each 1 USD.
Porters
As we understood from our driver (and fellow tourists, who also did a Gorilla trekking in Rwanda) you pay a porter 5-10 USD (also depending on the duration of the trek). We had a good time, the trek was not that long nor hard (a few kilometers / few hours). We were happy and gave our porter 6 USD (also because we only had another 10 USD in our kitty left, which we saved for our ranger guide). Here things became awkward, as now the ranger guide started to push us for a minimum of 15 USD for the porter's efforts. Resulting in all tourists to feel uncomfortable/ashamed, as they were not aware and reached for their wallet to pay up. I was quite annoyed with this situation but what to do? We gave the additional 10 USD, making it 16 USD while apologizing to the porter.
Ranger Guide
We did not have any other money, due to this "miscommunication". Hence, Amanda (my wife) went even back to the car (a short hike) during the debriefing to get additional money for the ranger guide. Once she reached the car our driver (who is thrust wordy and would have no reason to lie, given that he would get a tip later on) literally stopped my wife from taking more than 10USD. He told her that 15 USD for the porter was outrageous (especially when requesting for this). We paid the ranger guide 10 USD (but looking back on this sad situation, I would have opted for lower to nothing at all)…
Top Tip: Just keep the above in mind, perhaps ask beforehand what a porter costs / decide on a price and make up your mind! Also just pack 1 bag if you are a couple, you do not need to carry that much anyway (see below).
Top Tip: Many tour operators provide tours with a 2-night stay. However, we stayed only 1 night and after the trekking and the debrief we headed back to Kigali (to continue our travel itinerary). Depending on your preference (and trekking duration) you could stay an additional night in your Gorilla Safari lodge. However, I would definitely suggest to save money (these lodges tend to be relatively pricey) and continue your journey in the afternoon to your next destination.
What to bring on your gorilla safari
I found this quite a struggle to get the proper information from many websites and sources. Which if I had to bring everything would have meant checking in an additional bag! It is really not that difficult and this below is what you should bring!
Passports (or copies or digital copies) for registration (trust me this saves you a short hike back to the car in the early morning)
(Gardening) Gloves (buy the thin/smaller kind), this is super handy when going into the impenetrable section)
Hiking shoes (but any comfortable shoes with grip will do perfectly, I used a pair of old running shoes)
Wind jacket, especially for in the early morning. (Being elevated terrain, it gets quite chilly, also helps against any scratching branches in the impenetrable section)
Long sleeves shirt against scratches and/or mosquito bites. (But you could also opt for a short sleeve under your wind jacket)
Long pants (helps against cold, scratches, mosquito bites)
Photo camera
Binoculars (but only for your hike in case of wildlife, no need when you are next to gorillas). Given you likely will not use them I would not bring on the trek if they are very heavy.
Gaters (often recommended, but we did not bring them, perhaps helpful if you travel in the rainy season (it might help against leeches, but firstly I doubt it would help and secondly we did not encounter any leeches or creepy crawlers at all. Would not spend the money and add to your luggage?
Water (depending on how much you drink, the length of your hike and the time of year. In my case it was quite cold, the trek was not too long and did not drink much at all (between 0.5 and 1 liter)
Lunchbox (as mentioned likely to be prepared by the lodge or tour operator). When going on the long trek, I would certainly pack this. However, when opting for the short trek to the nearby gorilla family, I would leave this in the car (just carry some snacks)! It is highly likely you will be back at the ranger station before lunch time! (e.g. we left the camp at 7.30-8.00, reached the gorilla family around 9.30. We spent an hour until approx. 10.30. We were back at the ranger station around 12.00)
And there you have it! You are all set to tick this item off your bucket list! Unfortunately I cannot make it much cheaper, but hopefully, due to this blog, I made it much easier! Enjoy!….
Excited to read about more Ghost around the Globe Africa adventures!? What about Djibouti? Zanzibar or Masai Mara for an amazing safari!