Bangkok is always a good idea!
I have been to Bangkok many times and with different travel parties each time. For example, I went as part of a long backpacking trip with friends, went with my parents, went as a couple and even went on a team-building weekend with colleagues!… Trust me I know the place and all the fun things to do! Let me take you along my favourite activities & sights so you can pick and choose whatever fits your itinerary best! My suggestion is to spend as much time as you can in this versatile city and experience it all!…
Feel the backpack vibe of Khoa San Road
The first time I visited vibrant Khao San Road was years ago already… ever since it has evolved to an even more over-the-top place…  Currently, a bit too much to my liking, and more focused on shopping and indoor nightclubs… compared to low key food and drink setup of earlier days. But don't get me wrong… You should definitely check it out!… Treat yourself on one of the cheap cocktail buckets, it comes with multiple straws so you can share the drink with your friends. Mingle with backpackers, tourists, locals and just sit back and enjoy all the crazy crowd of vendors and tourists roam around!… Also, try one of the exotic deep-fried snacks sold out of the many street food carts. What to think of deep-fried tarantula, scorpion, maggots or a cricket?
Just too much to see and do!… Khoa San Road (and its surrounding neighbourhood) is likely one of my favourites in the world.
Top Tip: For equal fun, but more relaxed, and definitely less noisy, do check out the parallel street running north of Khoa San Road… This street has lots of laid-back bars, (foot) massage salons, restaurants, and hostels. It reminds me of how Khoa San Road was during my first visit, years ago…
Visit the Grand Palace & Bangkok's amazing temples
A definite cultural must-see is the Grand Palace. The complex has multiple gold-covered buildings, temples, and palaces which showcase the beautiful Thai architecture and decorations. Great to roam around and take in the grandeur. Remember to dress modestly (covering legs and shoulders).
Remember there are many other beautiful temples and palaces to be found in Bangkok. I am not going in too much detail but do check these out! Some examples are Wat Phra Kaew and Wat Arun.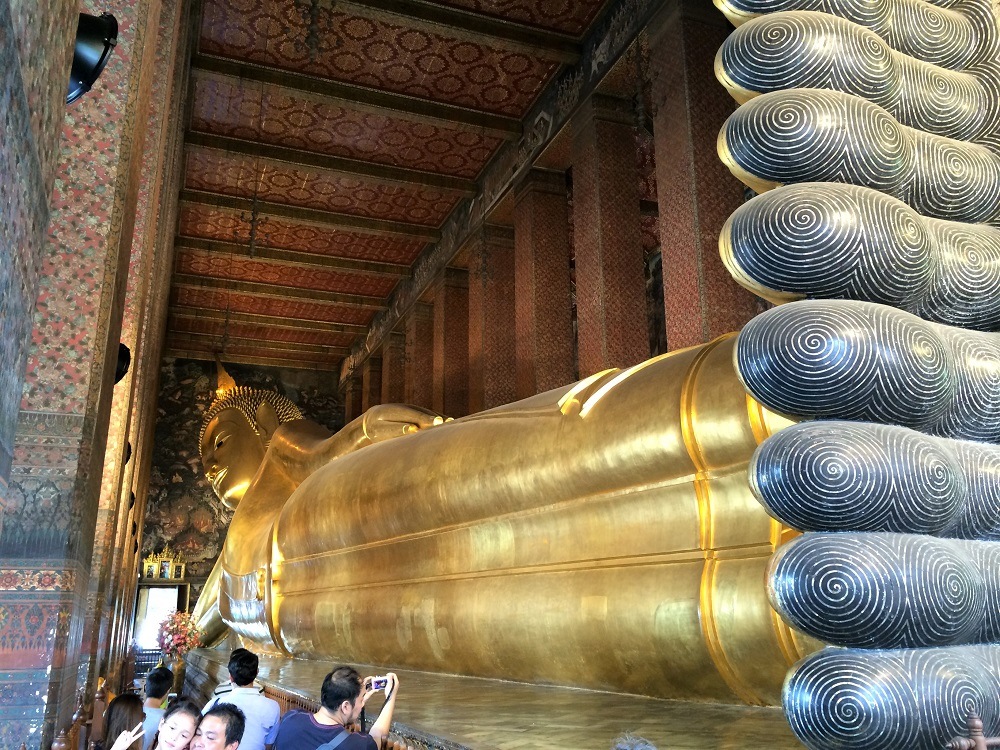 Take a Waterbus
Probably easiest to check Google maps and just walk to one of the Waterbus stations along the Chao Praya River. This is likely the cheapest way of having a peek at the city from the water, take a few stops to your next destination or just hop on another waterbus back to where you started…
Explore the "Venice of South East Asia"
Another great way of exploring the outer and more rural parts of Bangkok is by booking a longboat tour over Bangkok's many canals. I was unaware of this during my first visits and happily surprised by the many connecting waterways Bangkok has. The longboats have massive engines resulting in high speeds, lots of noise, but above all fun experience! Just book any of these tours through a local agency or your accommodation.
Experience one of the best sky bars
I have been to many sky bars in my life but only a few (if any) can beat the setup and scenery of Sirocco Sky bar in the Lebua Hotel in State Tower. I visited the bar after seeing the movie The Hangover 2, showcasing the crazy nightlife of Bangkok. It offers great scenery over the Chao Praya river and the city. Once you visit you will know what I mean with "great setup" as you enter the bar from an outdoor staircase looking down at the bar and the surrounding city… The sight is just amazing!… Do expect to pay high-end (western) prices at this bar, but trust me it is worth it!…
Top Tip: Dress properly, which means long pants and closed shoes for men. Ladies to wear a nice dress/outfit.
Top Tip: Be sure to go (just) before sunset, when you have the nicest light for photos and you will slowly see the city lights pop on!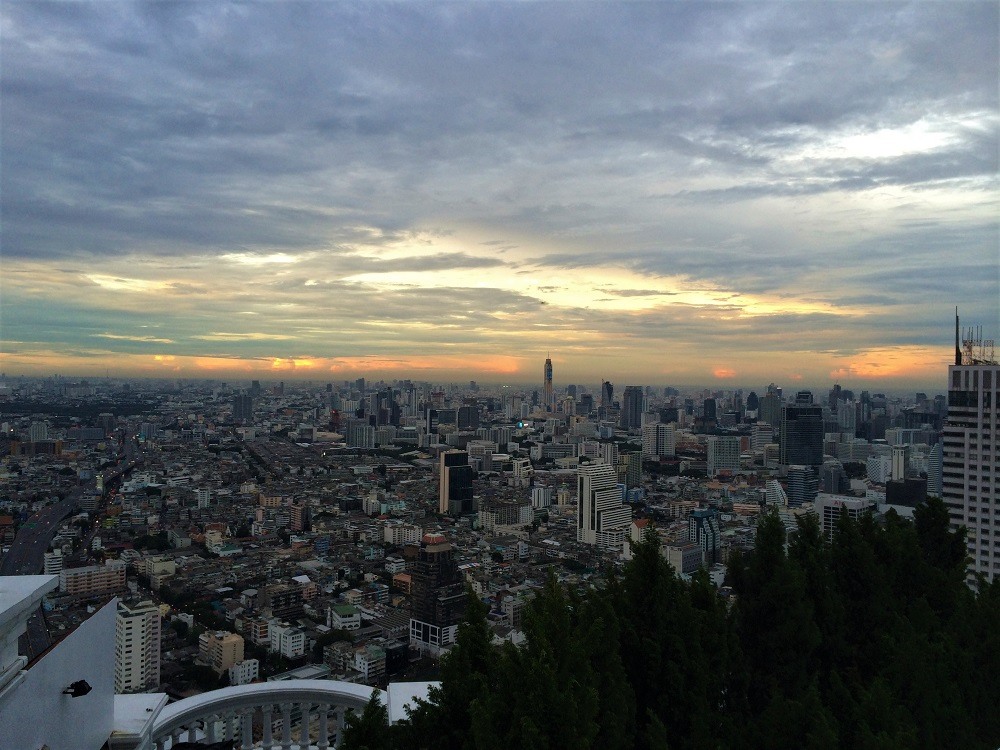 Tour the Bangkok back alleys on a bike
Definitely one of my best experiences is to go on a Bicycle tour through the back alleys and more rural side of Bangkok. You will cycle off the beaten tourist paths and see the real everyday side of Bangkok!
I went with Co van Kessel tours, which I highly recommend. This was with my parents who also really enjoyed it! You mainly ride on more quiet paths but do occasionally go through narrow alleys and busy traffic points. It will surely help if you know how to cycle, although not a must! Given my Dutch heritage, no issues here!
Bangkok's red-light districts
Obviously, Bangkok (and Thailand in general) has a certain reputation when it comes to its red-light districts and entertainment. Let me start that if you are NOT looking for this you will likely not see (much of) it… I like to mention this, as this is, unfortunately, a prejudice that many have and sometimes even a reason not to visit Bangkok (or Thailand). This is a shame… trust me as soon as you visit the country you will see how misplaced these prejudices are…
Regardless of where you are walking the streets of Bankok, you may be offered to visit a "ping pong show" very often… To avoid confusion, this does not have anything to do with the Olympic sport of table tennis. Instead, you will be asked to pay an entrance fee for a bar where various ladies give a "performance" including various attributes, including a ping pong ball. In my (Dutch) opinion, this would be a relatively "innocent" way of experiencing a part of Bangkok's other side… Amazement guaranteed…
Top Tip: If you are curious about what it is all about and want to pay a visit you should be fine to do so! Although definitely in the "grey area", you can expect a mixed visitor crowd of young and old, male and female, couples, (adult) families, and so on… As almost everywhere, do bargain (hard) on the price and ensure your first drink is included. In case you like to buy a second drink do check the prices, as these may be expensive.
Go on a shopping spree!
Whatever you are looking for I am sure Bangkok has it! From luxury brands in its many malls to souvenirs on every sidewalk. However, one place you should certainly plan in your itinerary is the Chatuchak Weekend Market. The name is a bit misleading as it is open nearly every day… It is one of the World's largest outdoor markets and it certainly has lots to offer!… Spend a few hours roaming around here and in case you stumble on something nice you can ship your goods back home on the spot!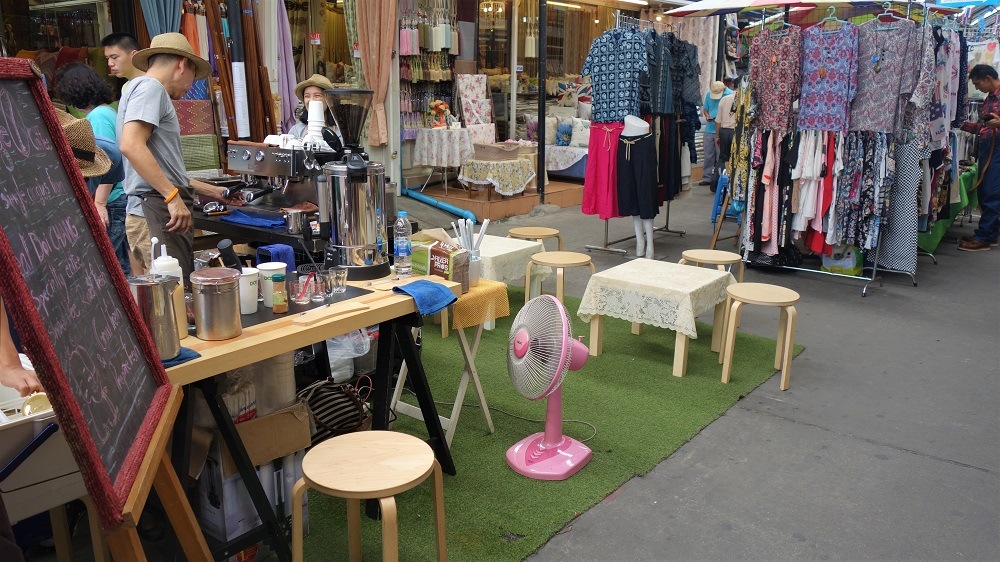 Enjoy a Thai or Oil Massage
One activity to definitely include in your (perhaps even daily) itinerary is a massage! At least once, try a Thai massage, which is focused on stretching your body like you likely never have done before! Laughter guaranteed… However, I always go for a relaxing full body oil massage! The great thing about Thailand (or South East Asia in general) is the very low prices! So do definitely enjoy these as much as you can!
Top Tip: Already mentioned above, touristy streets like Khoa San Road and surroundings offer lots of massage salons. Many of them also offer comfortable chairs outside for foot massages. Ideal setup to watch the versatile crowd stroll by! Ideal after a day of visiting the many markets, palaces and temples.
Bonus: Ayutthaya
Not far from Bangkok and ideal for a day trip (or when travelling to Northern Thailand) is the temple city of Ayutthaya… This historic site is almost like an outdoor museum offering various building styles of temples from different eras in Thailand (and South East Asia). Ideal to catch temple-fatigue* in no time!
*Lots of visitors to South East Asia suffer from this, you catch it quite easily when you visit many temples over a short time frame. A sign you are suffering from this condition is that you have a tendency to spend less and less time at any temple sights, until the point you do not want to visit any temple anymore. No worries it will disappear completely after a certain amount of time. In Europe, a similar condition exists: "church-fatigue" due to the high amount of churches included in many travel itineraries.
Top Tip: Do climb the steep stairs for a bird's eye view from the many temple rooftops! Remember to watch your step, going up is likely even easier than going down! Definitely a great form of exercise to burn those holiday calories!…
Bonus 2: Bang Pa-In Royal Summer Palace
Also not far from Bangkok and an ideal en-route combination with Ayutthaya is the beautiful Bang Pa-In Royal Palace, also known as the Summer Palace. The well-maintained buildings have various architecture, spanning from Chinese influence to colonial style. The buildings are surrounded by beautifully well-kept gardens. You may even stumble on a family of "tree elephants"!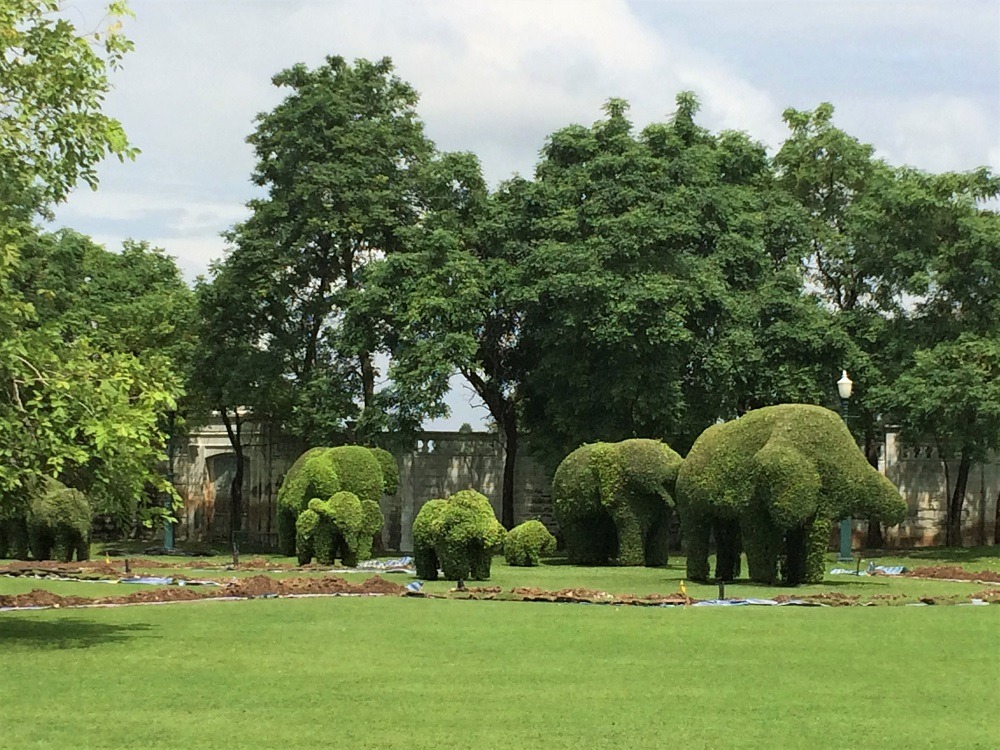 Although just a small selection of Bangkok's many sights and activities, I hope I have made clear why Bangkok is always a good idea! No matter what reason, what travel companion or what duration… Do go explore for yourself!… Let me know what you think, help your fellow readers in case you like to add anything to this list!…
Staying in Thailand? Check out these Ghost around the Globe experiences in Phuket, or Koh Lanta & Koh Phi Phi.
Interested in South East Asia? What about Hanoi or Ho Chi Minh City in Vietnam? Angkor Wat in Cambodia? Borneo in Malaysia? Or a Ghost around the Globe insider itinerary through Singapore?