Bhutan: a must-visit unique travel destination!
Let's keep climbing through the Himalayas… After visiting Nepal, read all about our travels to Bhutan. This tiny Himalayan monarchy is a unique destination! Forget about mass-tourism, here everything evolves about 'happiness' and sustainability!… Take in the spectacular nature, meet amazing people and explore the rich, predominantly Buddhist, cultural sights… 
Introduction to Bhutan
Bhutan is a special country in many ways! This Buddhist kingdom on the Himalayas' eastern edge, is known for its monasteries, fortresses (or dzongs) and dramatic landscapes that range from subtropical plains to steep mountains and valleys.
The country remained isolated to the rest of the world, this changed over the 1970s with a lift of a ban on television and internet in 1999 (making Bhutan one of the last countries to introduce television). Everything in Bhutan showcases that traditions are still highly valued. In his speech, the king said that television was a critical step to the modernizations of Bhutan, as well as a major contributor the country's gross national happiness (something highly valued and tracked), but warned that the "misuse" of this new technology would erode traditional Bhutanese values.
Traditions are also highly important in the architecture and country & city planning. Bhutan has set a goal to have at least 60% of its surface covered with forest (currently this is 72%). Also, all new buildings need to be built according to traditional guidelines. This is unheard of in the rest of Asia, where you see all types of 'messy' (often cheap) buildings mushrooming everywhere…
Top Tip: Plan your trip wisely not to miss out on its beauty!… Hence, travel in dry season! We travelled in December when the weather is (usually) clear! If you would travel during Monsoon period, all the rainclouds from Indian subcontinent will hit the high peaks of the Himalaya, hence blocking your view! 
Travelling to Bhutan
Bhutan has a different take on tourism than almost all places in the world. This is likely to safeguard its traditions. You have to pre-arrange a visa and tour with an official Bhutanese tour operator. Costs of travel are between 200-250USD per person per day. Making Bhutan a more expensive destination to travel to, hence automatically limiting mass-tourism. This fee however, includes a private car with driver, guide, accommodation, food, water, coffee, tea and entrance fees (if you look at it this way, it may be quite decent, but clearly not within everyone's budget).
Another reason for limited tourism, is that there are only a few flights to Paro airport. Flying in from Kathmandu, New Delhi, Bangkok and Singapore. No Foreign airlines fly to Paro, perhaps also because Paro is one of the hardest airports to land on (only a few pilots are allowed/able to land here)… A spectacular descent guaranteed!
You can also travel overland to Bhutan, via India, however border formalities will take very long.
Bhutan 5-day travel itinerary
Given that you have to book your travels through a Bhutanese travel agency, you do not have much leeway to explore on your own. Don't get me wrong you are free to roam around, venture out at night from your hotel, speak to anyone, etc. But all main sights and the tour will be organized by your tourguide (great, as this also why you are paying them in the first place).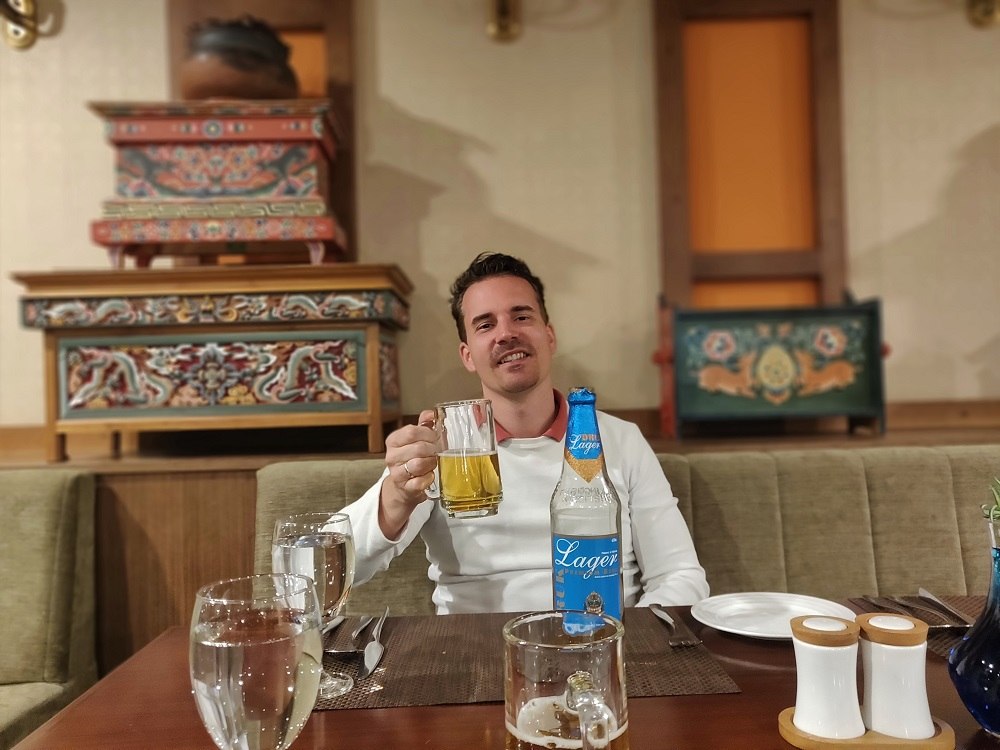 Top Tip: Do your homework and compare prices, tours, etc. before booking. When checking we still had substantial price differences and/or differences in accommodation types and/or variations in sights visited.
Top Tip: Given you pay per day, try to arrive early morning and leave in the evening (if flights allow). We travelled slightly less optimally (arriving in the evening and travelling early morning, essentially turning our less than 5x24h itinerary into a  '6 travel days' itineray)
Below I will provide you our 5-day itinerary to get you excited about this spectacular country!
Day 1: Landing in Paro, Thimphu by night
We combined our travels with Nepal, and flew into Paro from Kathmandu. Arriving from over the Himalaya peaks and flying through a valley before touching the ground..
Top Tip: Kathmandu is one of the few cities world-wide that fly to Bhutan. Of all flights, this is likely the most spectacular one! When flying to Bhutan from Kathmandu, ensure seats on the left (north) side of the plane, and opposite when flying back! When the weather is clear you will enjoy unforgettable (complimentary) views over the Himalaya's 8000+ meter peaks! Your tour operator should be able to arrange this (seats can be booked 24h in advance)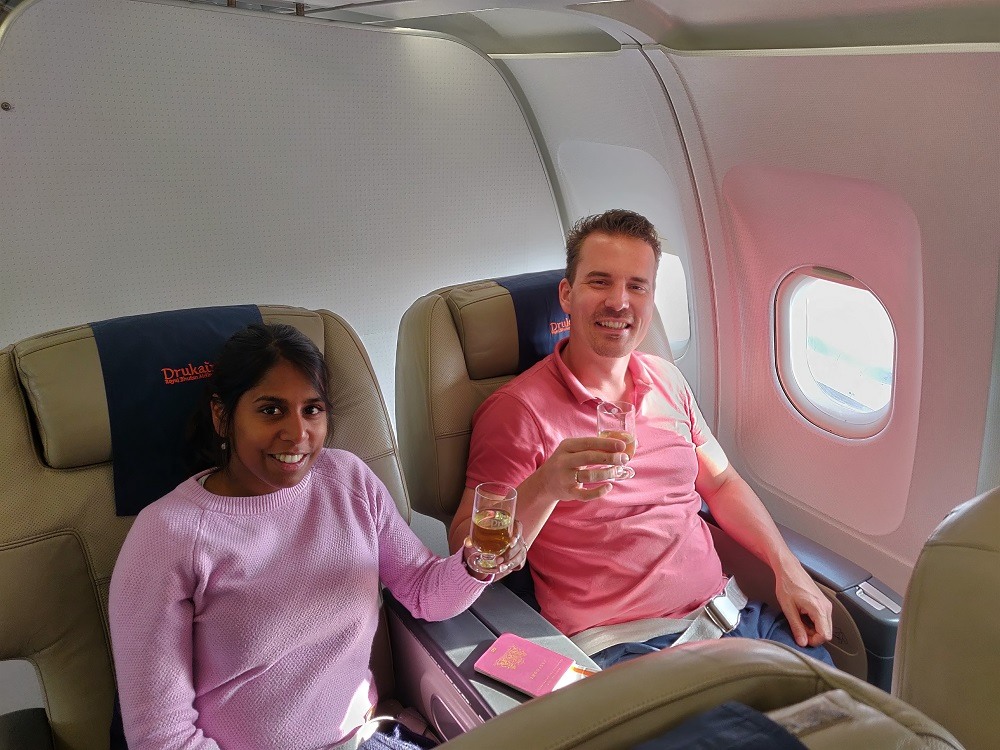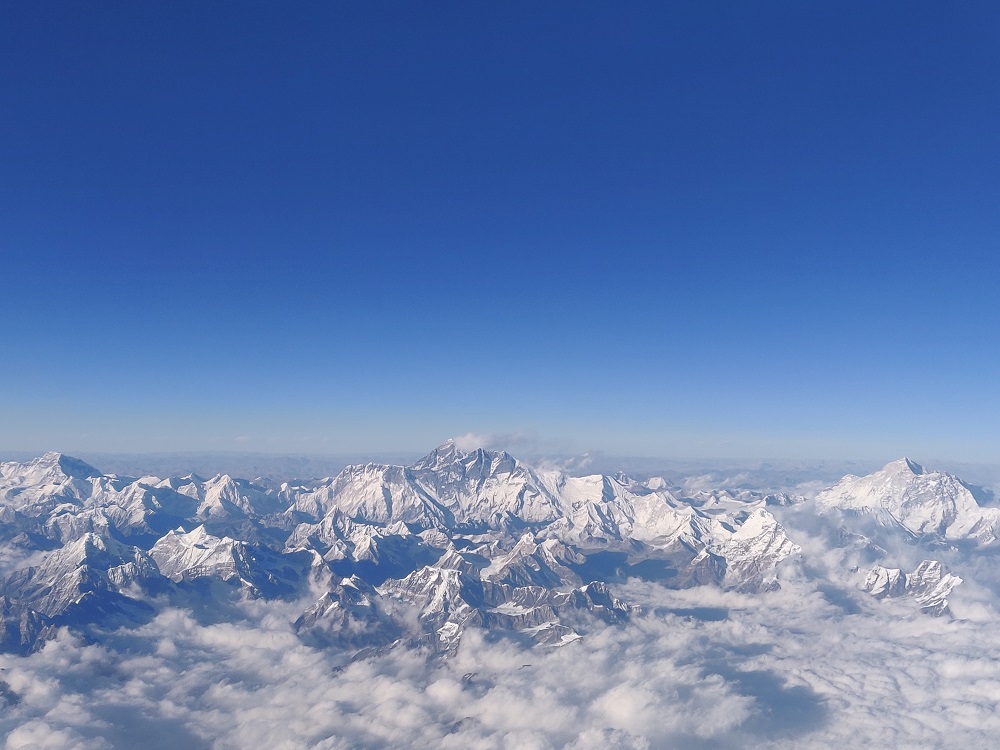 Upon arrival in the beautifully decorated airport, you are welcomed by your tour guide and driver. Obviously, with only a few daily flights the airport is quiet and you are on your way soon!
Top Tip: Do not forget to get money from the ATM at the airport (we tried in Thimphu, but most ATMs are not working properly with foreign bank cards).
We arrived in the late afternoon, hence not much sightseeing possible, apart from viewing the impressive Thimphu Fortress by night and a short stroll over Thimphu's main square. Already taking in the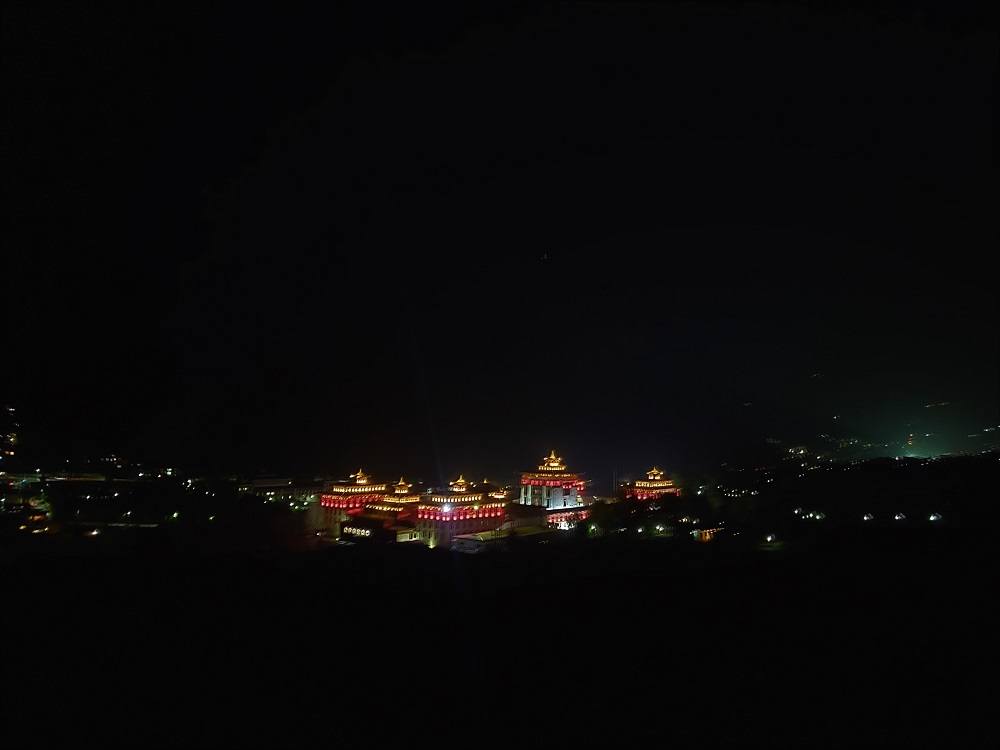 Day 2: Thimphu
After breakfast we headed out to visit Thimphu's various sights…On our way to the first stop we passed the Thimphu archery field (the national sport of Bhutan). We were lucky as there was a match going on!… A great spectacle to see the contestors shooting arrows over large distances, with team member in traditional clothing standing very close to the (very tiny) targets.. It makes you realize how different Bhutan is from other places in the world!…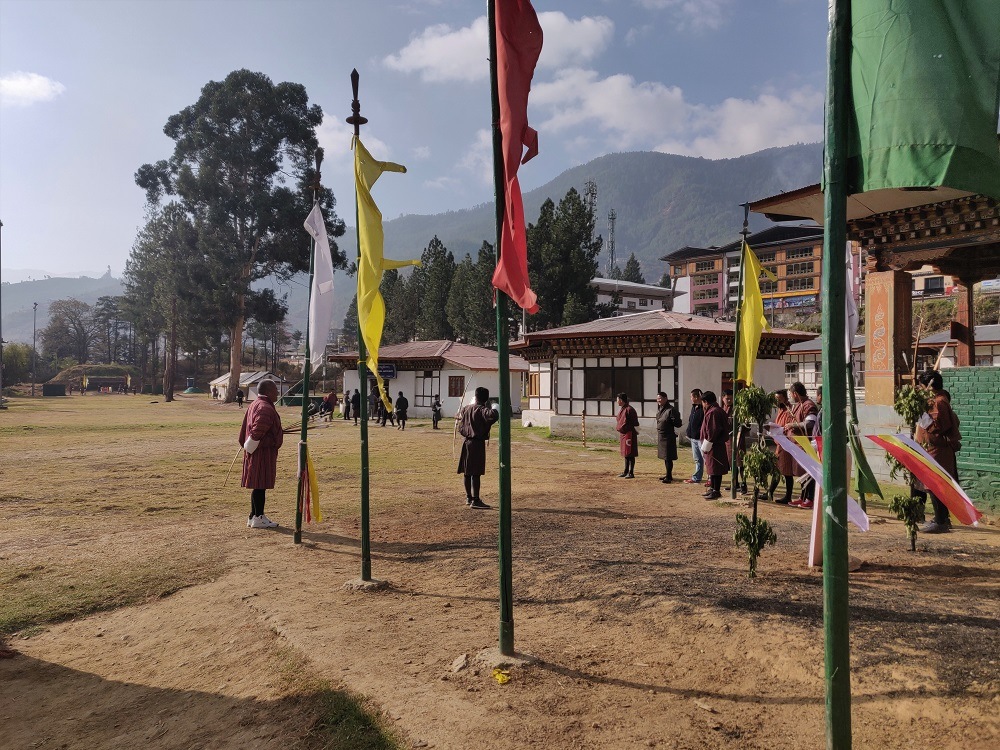 Only experienced / skilled players are allowed, according to the sign board…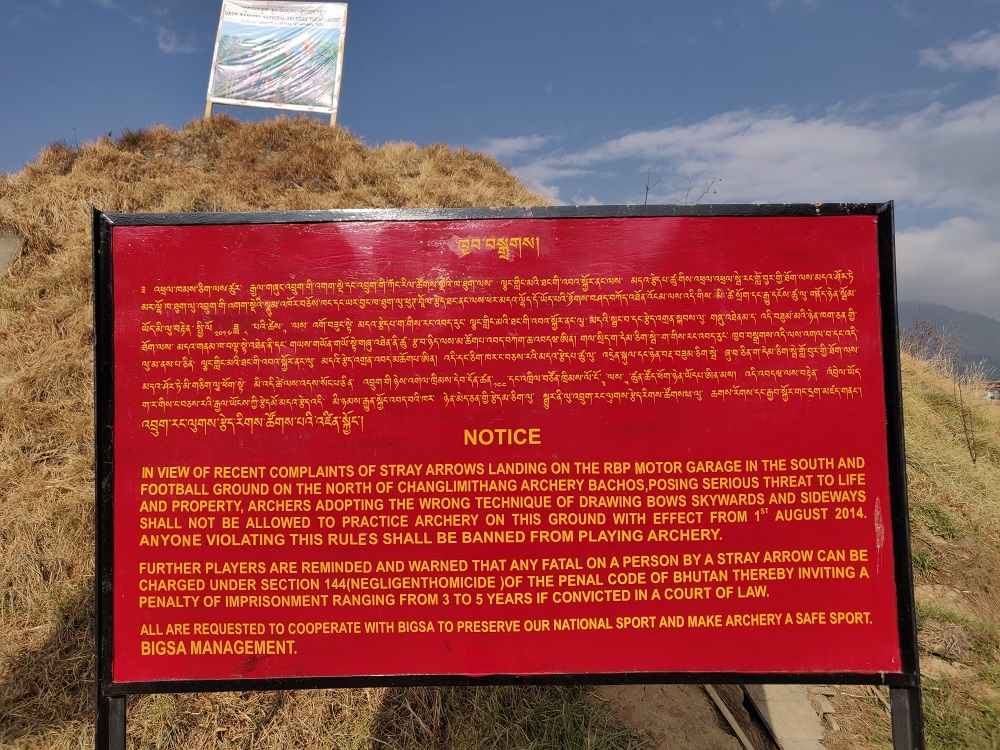 Memorial Temple
This stupa was built in 1974 in the memory of Bhutan's third King, His Late Majesty, King Jigme Dorji Wangchuck. We made a brief stop to walk around the Stupa and witness the local visitors in their daily customs and religious practice.
Buddha Statue (Kuensel Phodrang)
Located at a short drive from Thimphu city centre, Buddha Point (as it is usually called) is situated on a hill, this large Buddha statue is overlooking the Thimphu valley. It is the largest Buddha statue in the country. A very picturesque location…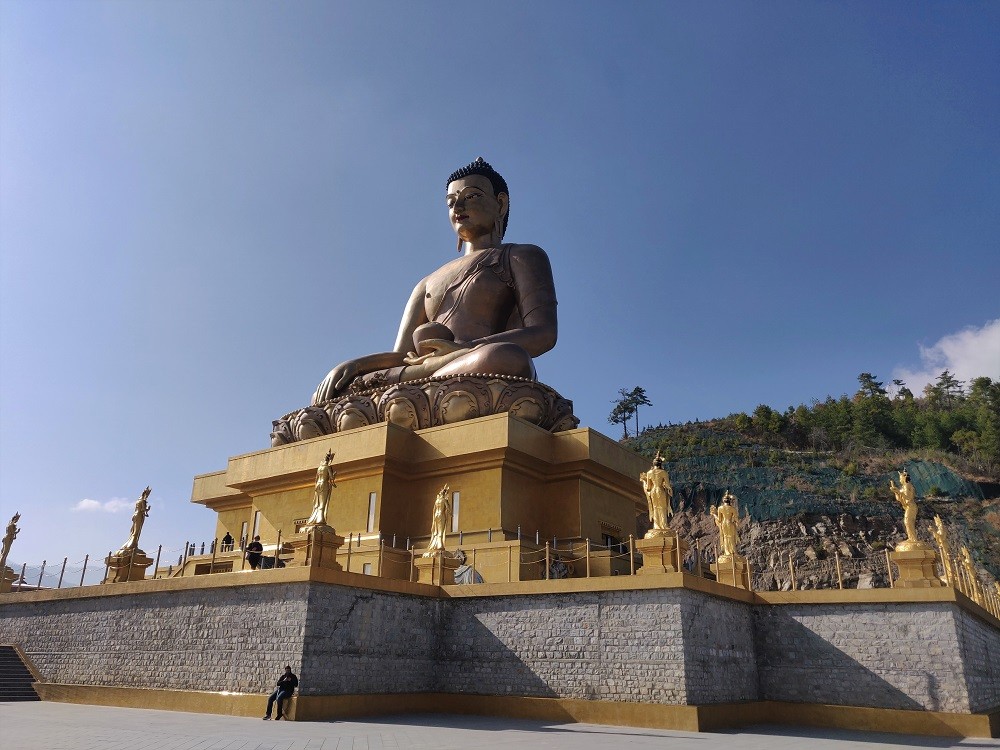 Note: As with all religious sights in Bhutan, photos are not allowed inside temples. So unable to share these, then again all the more reason for you all to go and check Bhutan out for yourselves!…
Changangkha Temple
This fortress-like temple and monastic school will likely be included in your Thimphu itinerary. However, during our visit it was closed, so we skipped it. No worries, plenty of more impressive temples would cross our path through Bhutan.
Takin Reserve
The next stop, again only a few minutes' drive away was the Takin Reserve, which is a sanctuary for the national animal of Bhutan. Here you can take an easy walk around the animals. A bit zoo-like with extremely high fences, but nice to see these animals from up close.
Bhutan post office
A real fun activity is visiting the Bhutan post office. Here you can use a photo (we took a fresh one, taken at Buddha Point) and created a Bhutan post stamp. Here you can directly use them to send a post card to your loved ones! A very nice and fitting way for a country that likes to stay traditional and is cautious with technological advancement.
Enjoy traditional food in Thimphu folk heritage museum
The Bhutanese food at the restaurent of the Thimpu folk heritage museaum was amazing – must try the chili cheese here (best we had in Bhutan). We had a great lunch (with the owner of our tour operator) and also tried Ara (the traditional rice wine – similar to Japanese Sake) as well as butter tea (not my favorite, but nice to try this salty drink). Would really suggest you request your tour operator to have lunch here! It is a nice setting…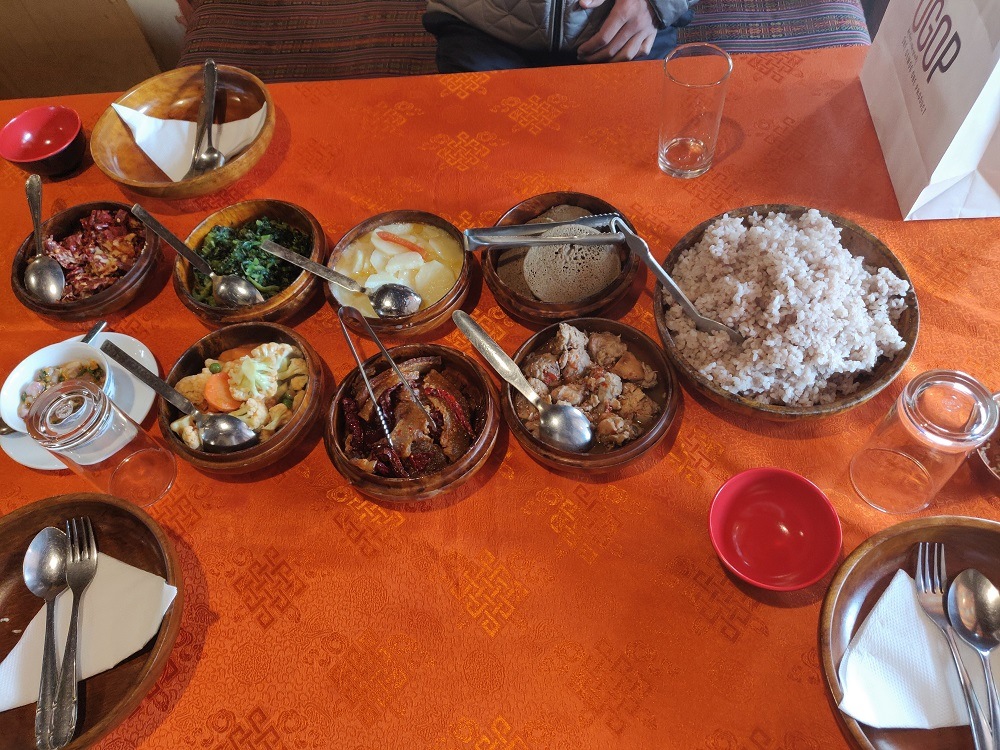 Zilukha Nunnery
We made a brief stop at the calm Zilukha Nunnery. Not much was happening here when we arrived. Sometimes you can be more lucky with praying ceremonies going on.
Tashichhodzong Fortress
In the late afternoon (after office hours) the Tashichhodzong Fortress is open to the public. This is also known as the fortress of the glorious religion, It was initially built in 1641. The Dzong houses the main secretariat building which houses the throne room of His Majesty, the King of Bhutan. This is one of the most spectacular sights of Thimphu with very impressive architecture.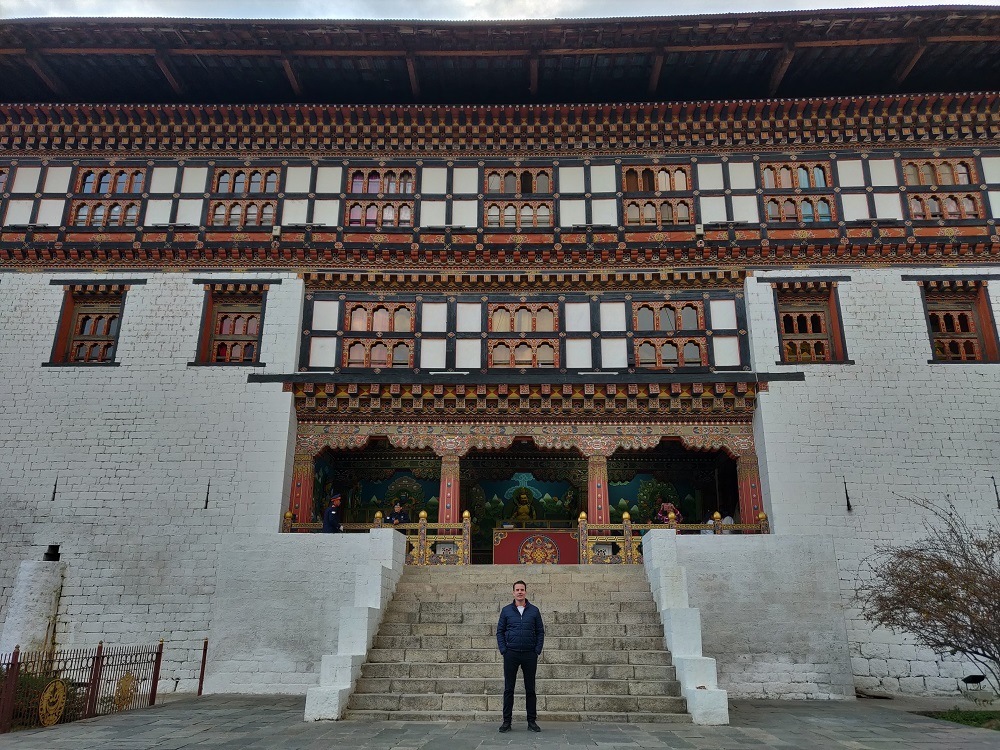 The fortresses showcase the dual government, as next to the state government this is also the summer residence of the religious leader. This dual government is also resembled in the 2 colored flag, yellow and orange.
Day 3: Dochula Pass and Punakha valley
The next morning, we drove via the Dochula pass with splendid views of the distant snowcapped Himalayas. We stopped for a tea break at the cafeteria and take in the beautiful scenery. What makes this place extra magical are the 108 stupas at the site.
Top Tip: Walk up the small hill for a beautiful photo overlooking the stupas, the valley and the Himalayas in the distance.
Another thing you'll notice are the neverending strings with prayer flags enroute here!… adding a special touch to the beautiful scenery…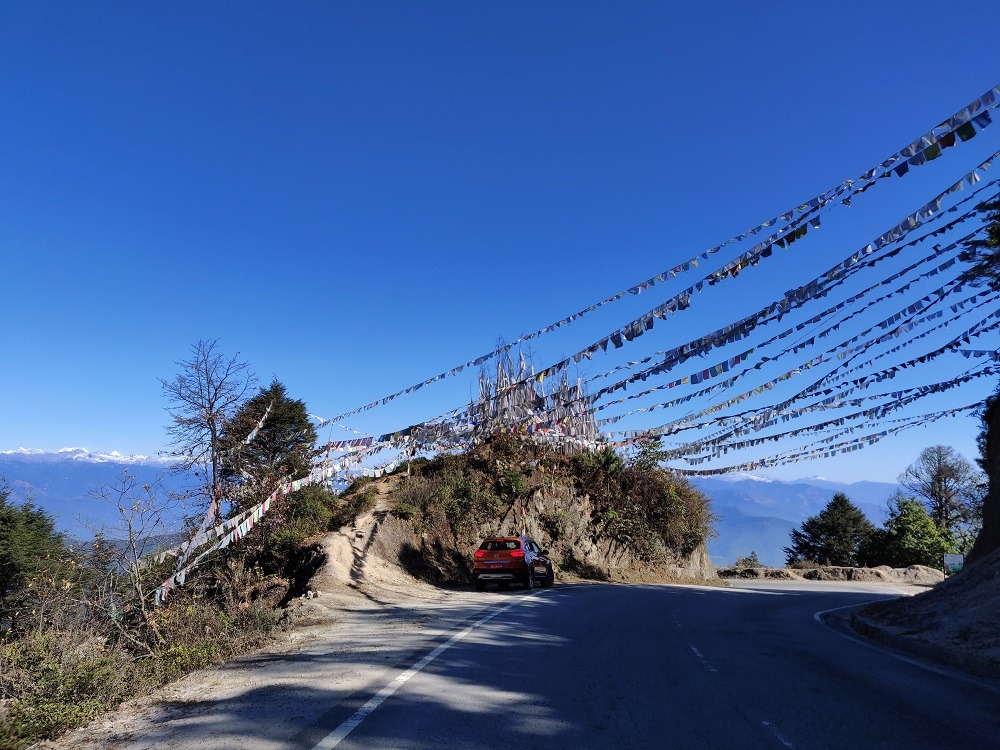 Chimi Lhakhang
The next stop seems a bit out of place for traditional Bhutan, as you will see penises everywhere.. Painted on the walls, in shops as souvenirs, as statues… Strange at first, but this is the village surrounding Chimi Lhakhang, the temple of fertility.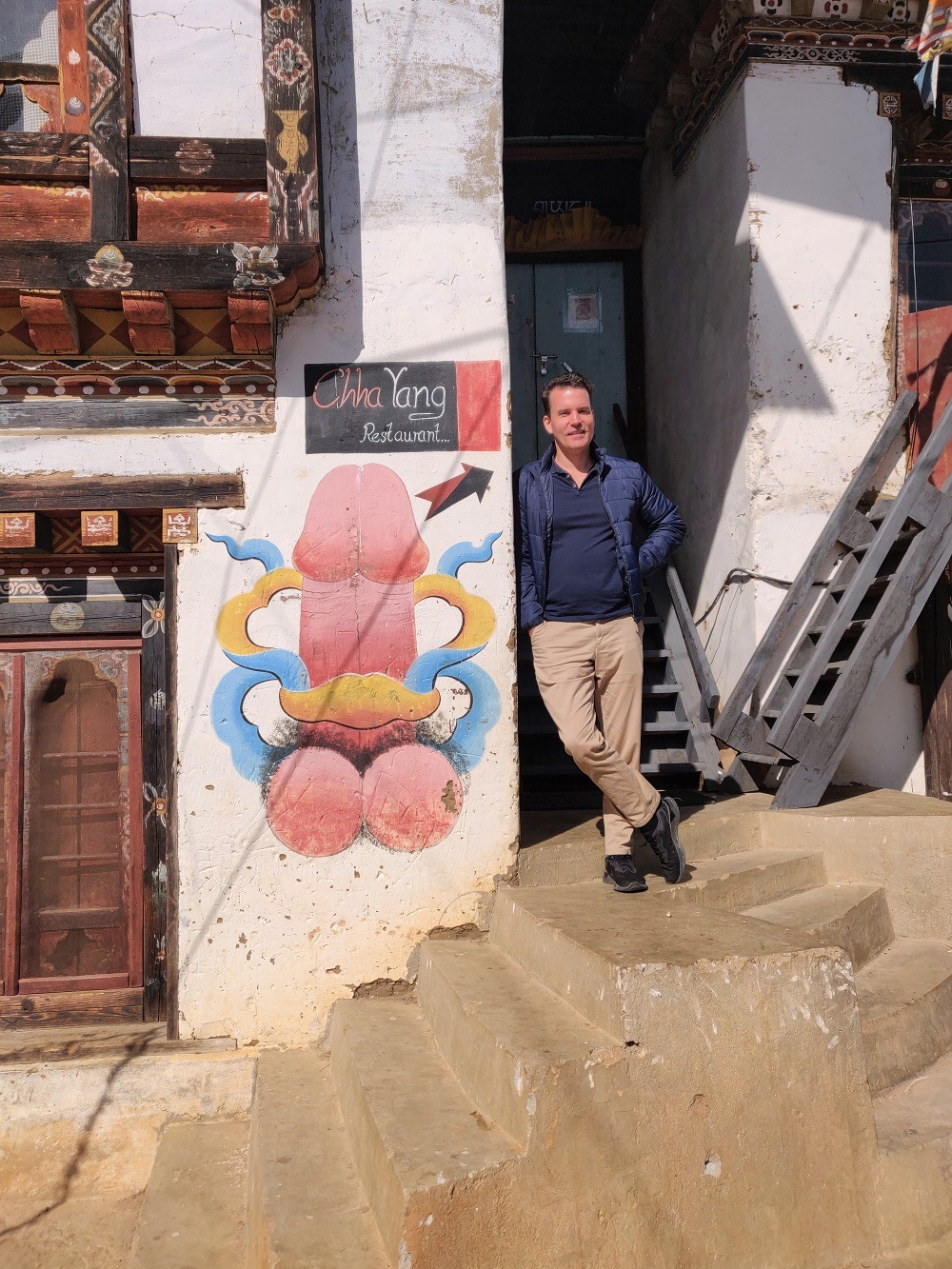 It is widely believed that couples who try to have children can pray at this temple and will be blessed with a child shortly after. Part of the ritual is that the woman carries a large penis statue around the temple 3 times, before and during prayers.
Punakha Dzong
Time for the next highlight; Punakha Dzong, in my opinion by far the most beautiful and impressivefortress in Bhutan. No wonder it is called 'The Palace of Great Happiness'. This sight looks like a fairytale, with the mountain backdrop, the surrounding rivers completing it…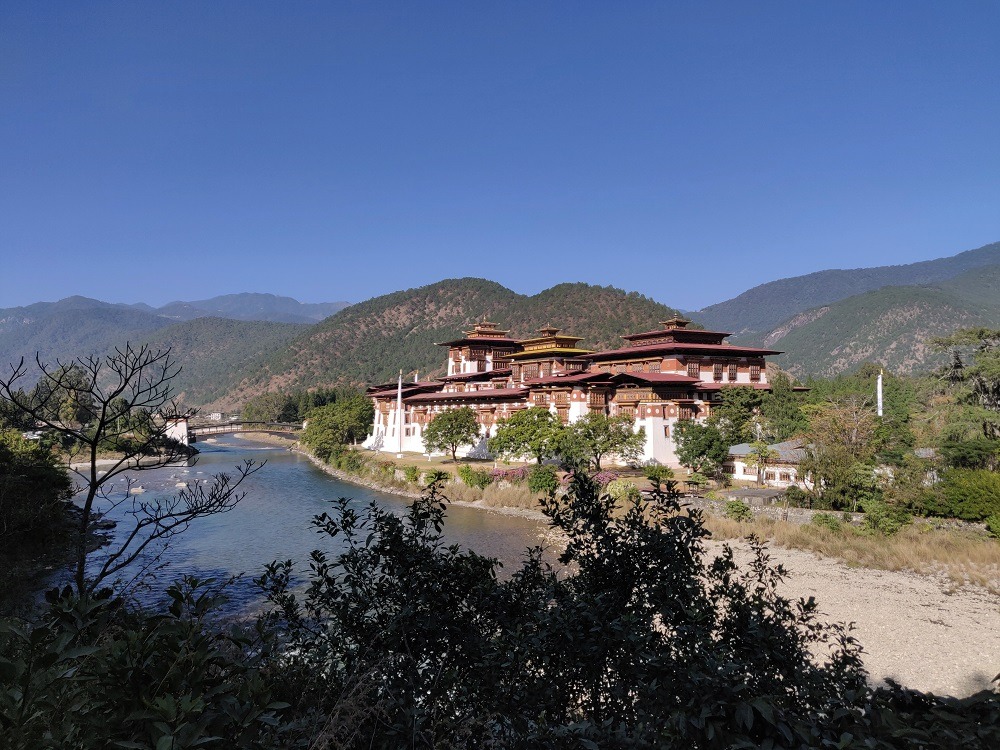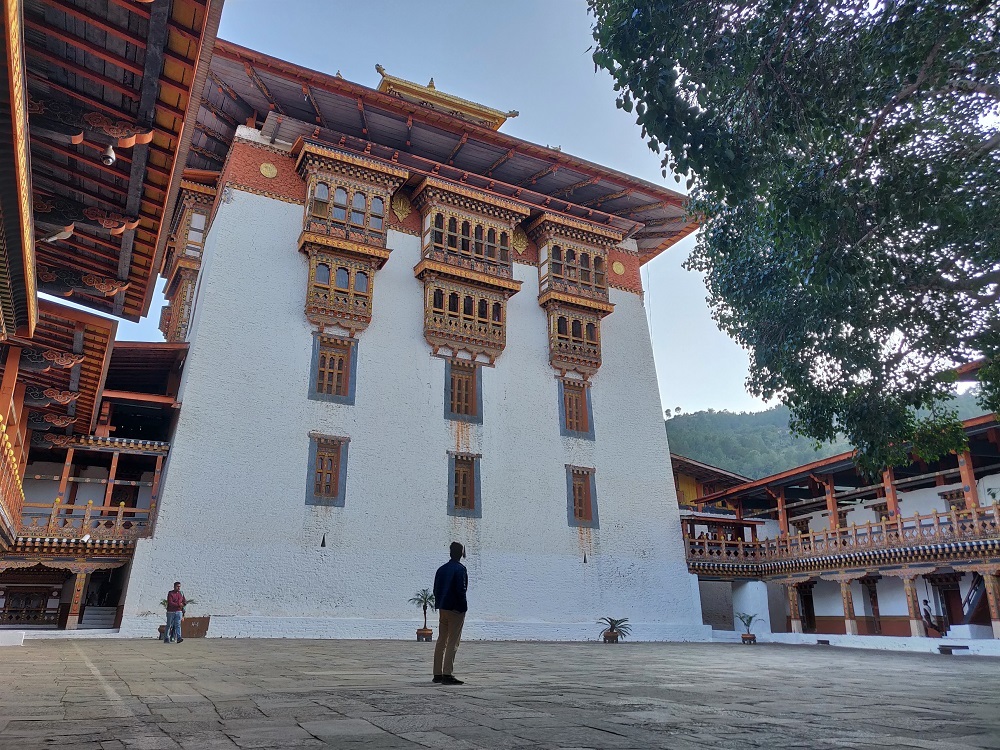 We stayed in a farmstay hotel on the mountain top (quite a drive up) but the view over the fortress and the valley spectacular!..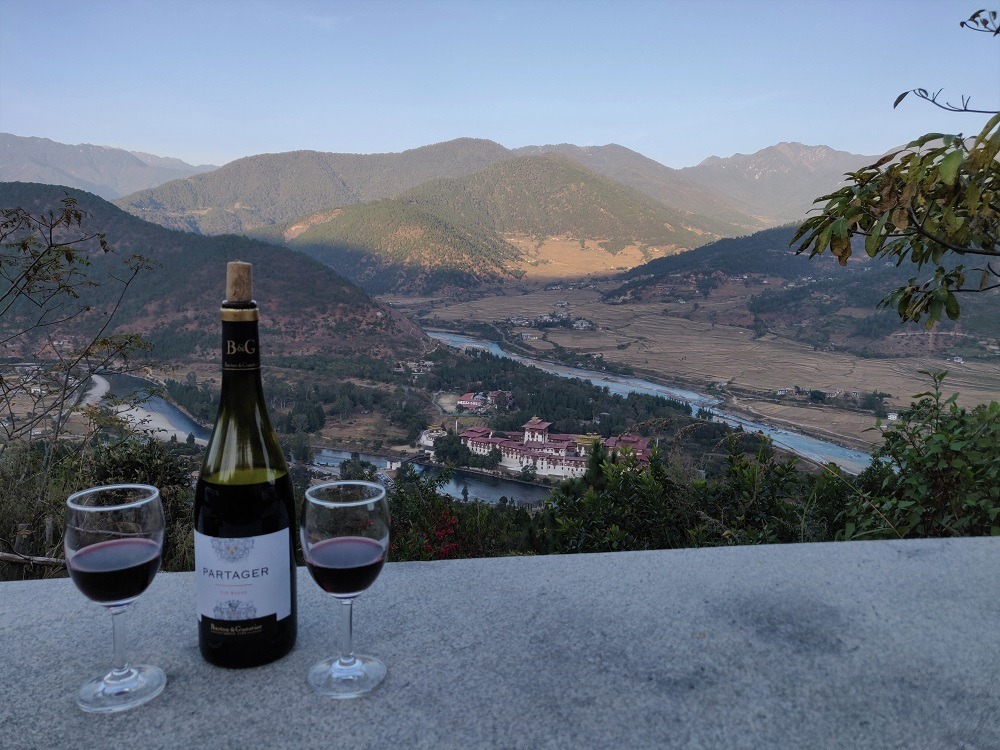 .
Day 4: Punakha to Paro
We started the day with visiting the Sangchhen Dorji Lhuendrup Nunnery, which is perched on a hilltop overlooking the beautiful Punakha valley and Wangduephodrang valley. Surrounded by rich lush green pine forest the nunnery complex is a true expression of Bhutanese architecture portraying strong traditional values.
After this visit, we made our way back, past Thimphu, to Paro. back through the beautiful Punakha valley.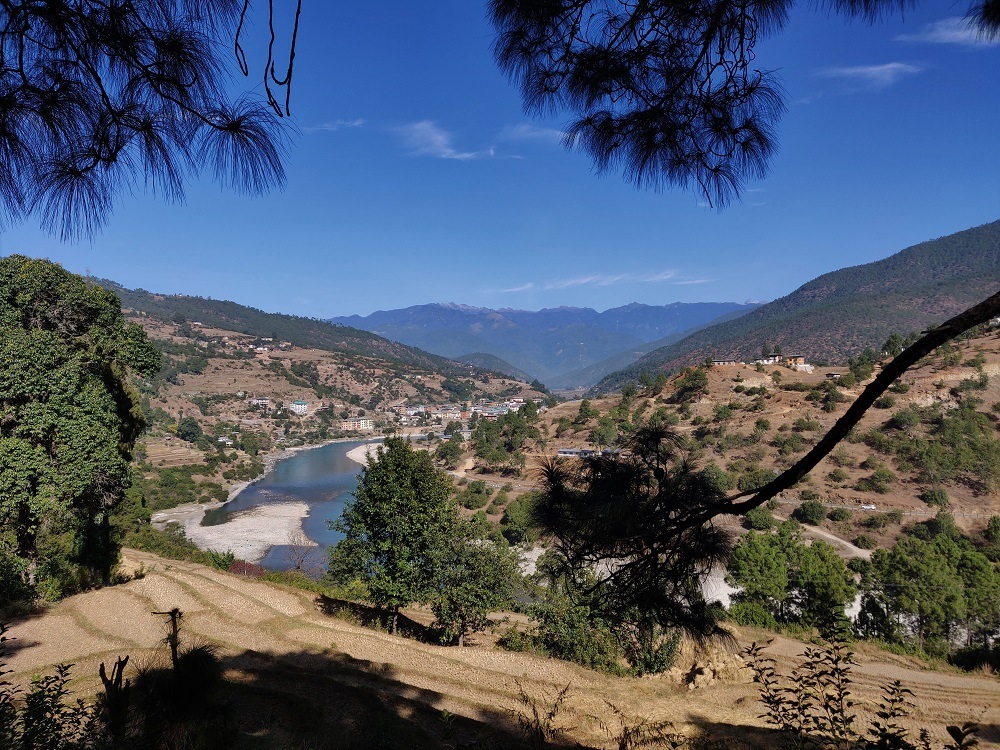 Paro Fortress
Upon arrival in Paro in the afternoon, we visted Paro Fortress (you have likely already seen this structure from the plane upon arrival)… Built in 1646, the Dzong houses the monastic body of Paro. The approach to the Dzong is through a traditional covered bridge. A walk over the bridge, over a stone inlaid path, offers a good view of the architectural beauty of the Dzong, as well as life around it. It is also the venue of Paro Festival, held once a year in the spring.
Top Tip: Do ask your guide to explain more about the Buddhist religion! The many murals in the fortresses and temples provide great visuals for the explanations and stories!
Day 5: Tiger's Nest a true Bhutanese highlight
Taktsang Lhakhang is Bhutan's most iconic landmark and religious site. The name Taktsang translates to "The Tiger's Nest". This temple is one of the most holy sites in the kingdom and clings impossibly to a sheer cliff face 900 hundred meters above the Paro Valley. No trip to Bhutan would be complete without a visit to this remarkable heritage site.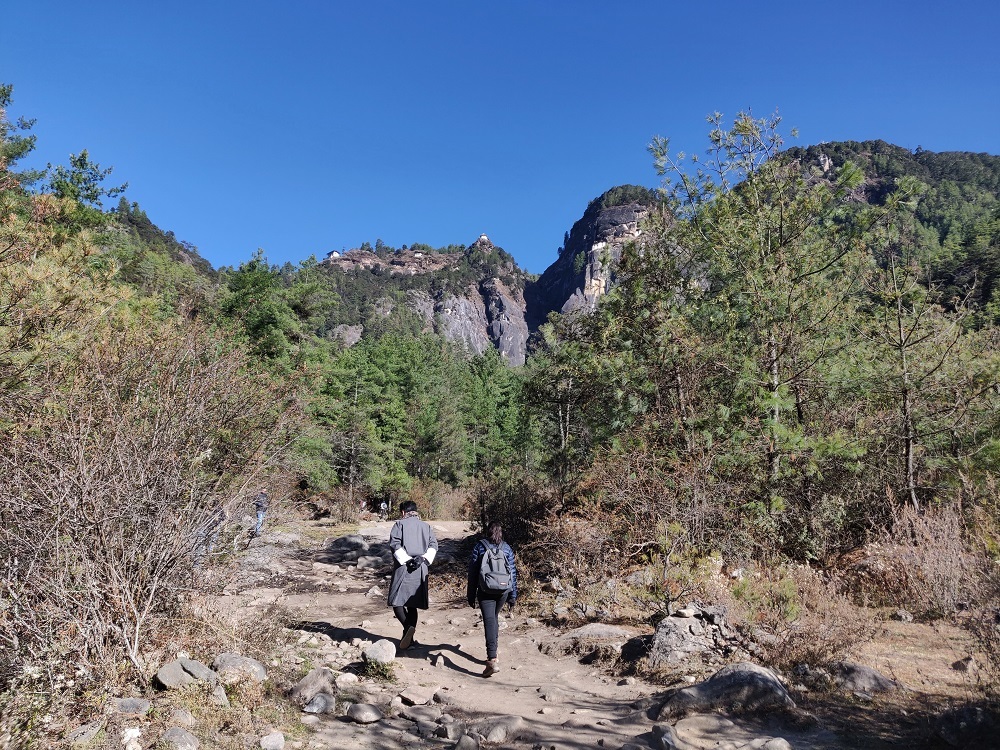 Top Tip: Remember to dress and pack light, as most parts of the climb are very steep and the air is thin due to the altitude. No need to pack enormous amounts of water or food as there is a cafeteria/viewpoint halfway to the Tigers Nest, to take a nice break on your way up and down.
This really is a wonderful hike and an unforgettable experience to cherish forever.
Hot stone bath
After our hike we got a hotstone bath, before having lunch at a farm. I would suggest you to do this as well, instead of the original program of going to your hotel first… This way you can relax, have lunch and then relax in your hotel afterwards!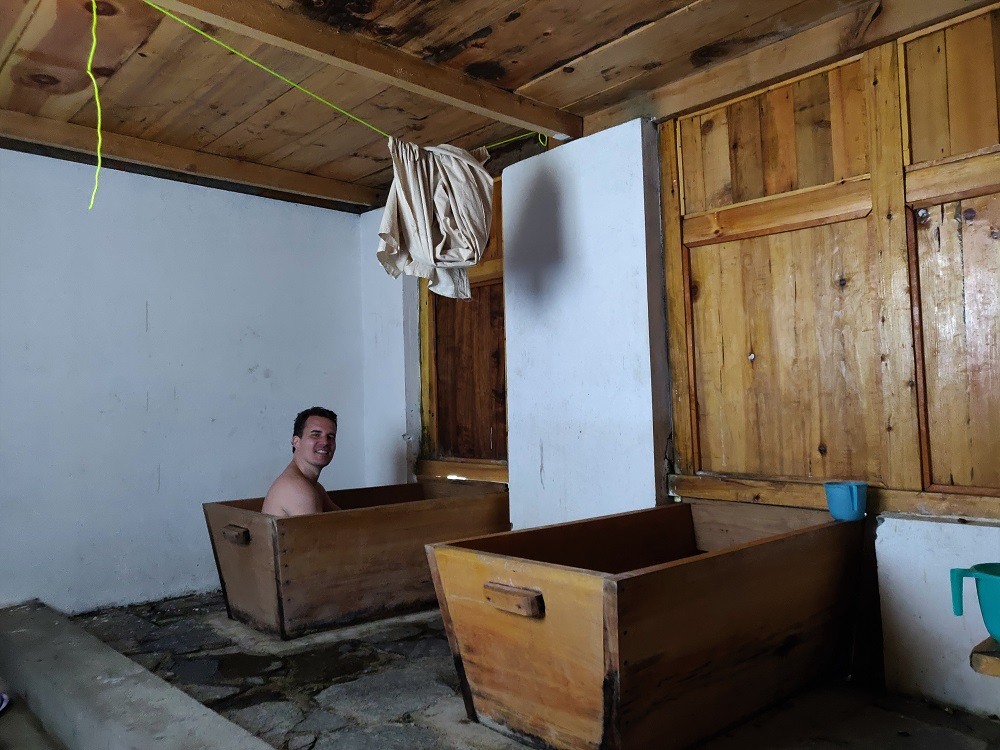 The hot stone bath is a fun experience. You sit in a wooden bath (looks more like a barn where cows would feed).. Once in the bath, there is a person on the other side of the wall, that takes hot stones out of a fire to throw it in at your foot end. Believe me this really works!… In no time the bath can turn piping hot, depending on the amount of stones… A must-do activity when in Bhutan!..
This brought the end of our Ghost around the Globe trip… We flew out to Kathmandu the next morning. Remember to (let the tourguide) reserve your seats on the right side (north-facing side) of the plane this time for amazing Himalayan views!
I really recommend Bhutan, it is just very different than any other place I have visited thus far!… Do also check out my posts of Delhi, Kathmandu, Bangkok and Singapore in case you aim to combine it with these connection-flight destinations!