Day trip to Fujairah in the United Arab Emirates
Reading time: min | Published on:
Following my other United Arab Emirates Posts. For example; Al Ain, How to save money in the UAE & Oman, and our fabulous stay in Al Maha Desert Resort. It is now time to describe a lesser-known part of the country; Fujairah. The emirate of Fujairah covers North-East of the nation covered with beautiful mountain ranges (similar to the Musandam Peninsula) and is the only Emirate facing the Indian Ocean (Ideal for diving and snorkelling)…
We turned this mini road trip in a weekend getaway, staying at one of the beach resorts. However, you do not need to do this as you can easily fit all below sites and activities in 1 day when travelling from Dubai or even Abu Dhabi.
The cultural sights of Fujairah
The key reason for visiting Fujairah is likely its natural draws, more on that later, as Fujairah does also have some cultural highlights to include in your road trip itinerary! 
Visit Fujairah's Islamic fortresses
Fujairah is rich in late Islamic fortresses, For example, the Al Bhitnah fort, with a beautiful desert mountain backdrop. Making this a nice photo stop!…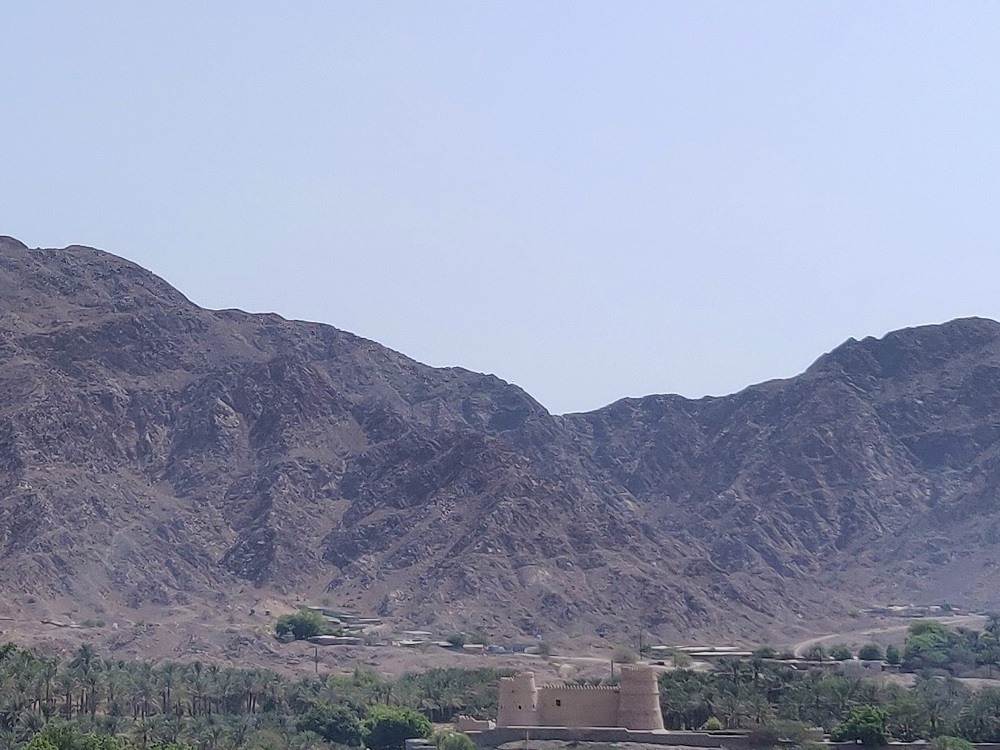 The Fujairah Fort, in the capital Fujairah city, is another nice site to include on your trip. The museum was closed during our visit but could be a nice addition to learn a bit more about the history of the emirate.
Awe at Fujairah's Mosques
The emirate may be lesser-known, but is home to two of the most special mosques of the United Arab Emirates! Firstly, it is home to the impressive Grand Sheikh Zayed Mosque, the 2nd largest mosque of the UAE, only trumped by the Grand Sheikh Zayed Mosque in Abu Dhabi.
Secondly, Fujairah is also home to the oldest mosque in use in the United Arab Emirates, the Al Badiyah Mosque, which was built in 1446 of mud and bricks. It is similar to other mosques found in Yemen, eastern Oman, and Qatar. The Al Bidyah Mosque has four domes and lacks a minaret.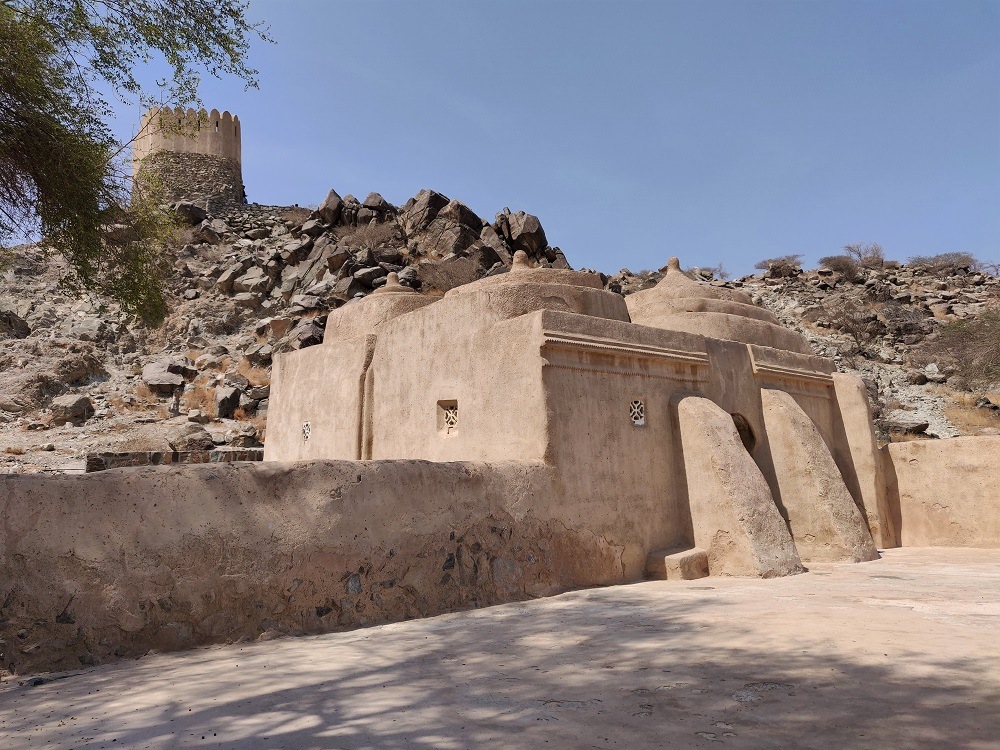 The Natural beauty of Fujairah
Moving slowly from Fujairah's culture to nature, holding in between of a cultural and natural highlight is the Al Rafisah dam. A nice photo stop, but you could also do some water activities in the lake!
Drive over Khorfakkan Road
Al Rafisah Dam apparently lays in Sharjah territory (at least according to my google search). The territory here is a bit messy, with enclaves and even counter-enclaves of Fujairah, Sharjah and Oman. Perhaps this explains the issue we had with the Khorfakkan road. The road that leads you from the coast to the Al Rafisah Dam.
After visiting the dam, we could not simply turn and head back to the coastal road. No big deal, as you often have to do a U-turn in the UAE. Perhaps it was due to some road construction, but we could not turn anywhere! Instead, we had to drive the entire Khorfakkan road – a total drive of around 40km just to make a U-turn!… Don't get me wrong, this is a likely one of the most impressive mountain roads in the UAE, the only issue we did not expect it!… Then again, I advise to DO plan for it and include Khorfakkan road in your itinerary!…
Relax at the beaches of Fujairah
Fujairah does have beautiful nature on land, but likely the main highlights are the beaches and underwater adventures. Offering one of the UAE's best diving and snorkelling opportunities, the Indian Ocean (Gulf of Oman) is attracting most of Fujairah's visitors.
As mentioned, we stayed a night in one of the beach resorts in the north of the emirate, close to Al Aqah Beach and Sandy beach. We were lucky, as Amanda won some prices during bingo!…
Top Tip: In line with my 'How to save money in the UAE' post, pack your camp gear and set up your tent at Al Aqah beach, or other designated wild camp spots. It is free, or for a very minimal fee!…
Snorkel around Snoopy Island
By far the best snorkelling in the UAE (or Oman) we found around Snoopy Island! Ther is not a high variety of fish, but there are some reef sharks (only spotted by Amanda) and we spotted at least 3 giant sea turtles!… The small island is just offshore and you can just swim towards it and circle around it in about 1 hour… I definitely recommend it – easily accessible and likely the hot spot of Fujairah!…
Top Tip: Bring your own snorkelling gear or buy it in a Carrefour or mall. Otherwise, check (beforehand) with your hotel if they rent it (for a decent price). We are decent swimmers, but no need for flippers in my opinion…
Well, that sums up the Ghost around the Globe highlights of Fujairah!… As mentioned easily to combine in a day trip, ending your site visits with a refreshing snorkelling trip around Snoopy island.
Or do how we did: and visit the sites before check-in, and relax on the beach and in your hotel. The next morning, snorkel around Snoopy Island before (late) checkout. Then fresh up and drive back to Dubai!… The choice is yours!..
Another way of including Fujairah in your travels is on a road trip to Oman! Do also check out my posts about nearby Musandam, and another lesser visited UAE city; Al Ain.