Discover the green side of Singapore
In stark contrast to Singapore's big city life lay large stretches of green, waiting to be explored and enjoyed! Then again this may not come as too much of a surprise, given the city's motto; "City in a Garden". Leave a plot of land untouched Singapore and the tropical climate turns it into a forest in no time!… Let's explore this green side of Singapore! Here are my top 3 activities after having lived in this city for over 3 years… Interested in Singapore, check out my Singapore Insider Itinerary as well!…
1.      Hike the MacRitchie Reservoir
Likely my favourite hiking trail runs through the green hart of Singapore. The MacRitchie Reservoir is the oldest freshwater reservoir of Singapore (established in 1868). Since the early days, Singapore has limited freshwater storage facilities and relies heavily on Malaysia. This reservoir established by the English was created in the middle of the primary rainforest.
The Reservoir itself provides for great canoeing and kayaking activities (both for rent). However, the main reason I often visited this National Park was hiking in the lush green rainforest. Just a few steps onto the trail it is hard to imagine you are amidst one of the World's metropolitans.
Go early and make sure you keep hydrated, as temperatures and humidity will be high, especially in this area with dense vegetation. In addition, watch your belonging as you will likely encounter various cheeky monkeys!
TreeTop Walk
There are various hiking trails, ranging between 3 and 11 kilometres. Whichever hike or direction you choose, do include the Treetop walk in your itinerary as well! This is a 250m trail, including suspension bridge and gives you a bird's eye view over the treetops! Her you realize how large this green heart of Singapore is!
Top Tip: To avoid any detours, make sure you enter from the right direction, as the Tree Top Walk only operates in a single direction. For this reason, we always walked counter-clockwise around the reservoir.
2.      Cycle on Pulau Ubin
Another great way to explore Singapore's nature is via a Pulau Ubin cycling trip. In order to visit this tiny island, you need to take a ferry at Changi Point Ferry Terminal. Ferries cross as soon as sufficient people arrive (around 10 pax). For all latest information do check the official National Park website.
As soon as you arrive you find various stalls to rent mountain bikes. Go for it! Cycling is the best and most fun way to explore this tiny island. Do pick one with a basket, so you can put your daypack here!… Roads are well maintained and easy to navigate…
There are also a few restaurants on the island, which means you do not have to take too much food with you. If you do take food to be aware off the many monkeys (and wild pigs) that will like to eat your snacks for you! Never leave your bag packs in your basket, or you will return to a monkey feast!
Do not get surprised when you see any army exercises. Room to practice for the Singaporean army is scarce, hence they will often use these islands and national parks for exercises.
3.      Hike the Green Corridor
This hiking trail is the leftover from the railway that originally ran from Malaysia to downtown Singapore. This piece of infrastructure has been long abandoned and was slowly taken back by nature. Over recent years the government has made efforts to turn this into a green walking trail. Some parts still have the original train track. This trail offers an interesting perspective, as you literally cross through the highly populated city on a patch of green. Check the website of the Green Corridor organization for any latest updates and for some slightly cryptic but useful maps.
Multiple hiking sessions
The corridor stretches for approximately 40km from the North in Woodlands all the way to Tanjong Pagar Railway Station. Given Singapore's climate, it is unlikely you would want to walk this in one go! Instead, break it up in various stretches, we completed the track in 3 sessions.
Woodlands to Choa Chu Kang (close to MRT station)
Choa Chu Kang to Buena Vista (close to MRT station)
Bueno Vista to Tanjong Pagar Railway Station (Close to MRT station)
We found it a bit difficult to find the exact starting point in Woodlands. However, the maps on the green corridor website will help to find it. Nevertheless, as soon as you find the trail it is easy to follow! After that just keep walking until you find a place to stop your session. Next time you easily return to this point and continue the green corridor hike. Do this until you end up at the (closed and abandoned) Tanjong Pagar Railway Station.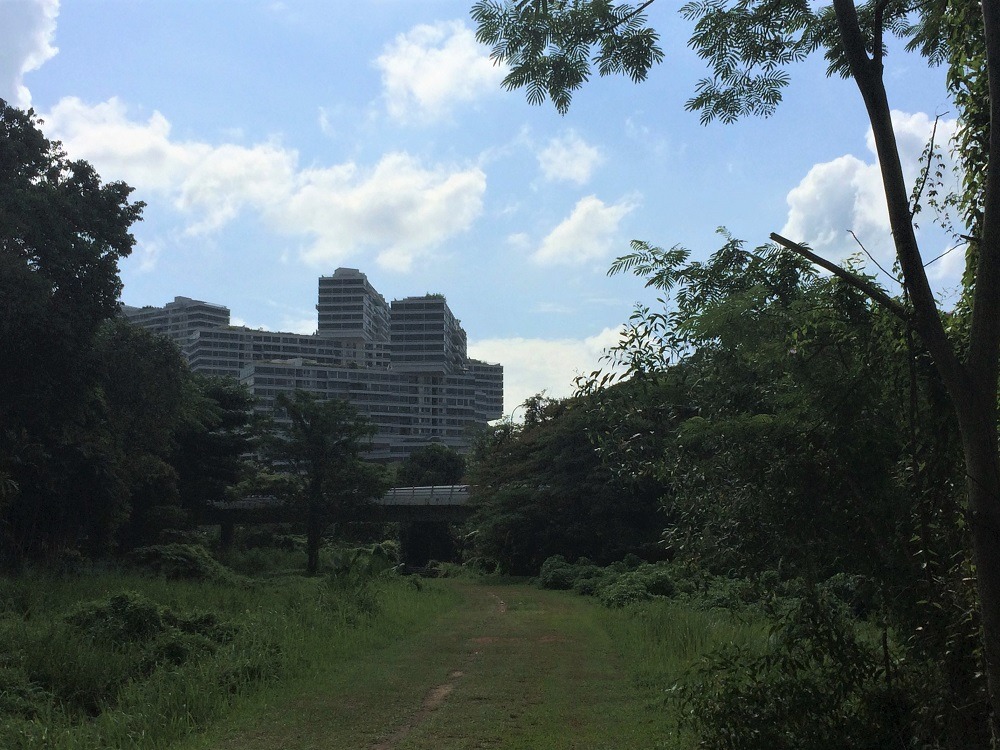 Other Green highlights of Singapore
There are obviously many more (National) Parks and hiking trails to explore in Singapore! It truly is a "city in a garden"! Eager to explore more green? Do also check out Chinese Garden (with its large lizards) or walk the Southern Ridges trail.
Let me know what you found of this Ghost around the Globe tips and share your experiences!… Read about my Singapore Insider Itinerary right here!
Excited about South East Asia? What about Bangkok, my favorite South East Asian capital, or Relaxing Bali, or the green rice fields of Sapa? Not green enough? What about Borneo?