Djibouti: Africa's must-visit off-the-beaten-path destination
Chances are high that you have never heard about Djibouti. Well, that is about to change now!… It is a country in Africa… with Djibouti city as its capital… and frankly, it unbelievable that is not on many tourist radars, as the country boasts some of Africa's highlights… Nevertheless, hardly any tourist visits and information is very limited… Until now that is… As I am going to share all you need to know to explore this country with huge potential!…
During this trip, I travelled with my friend Ramy, who is from Africa… Egypt to be precise! (internal joke)… He speaks Arabic which definitely helped!… After Afar, French and Arabic are more commonly spoken than English… But don't worry you will manage!… Let me give you some background before we dive into our 4-5 day itinerary!
Where is Djibouti and is it safe?
Djibouti is a small African country, bordering Eritrea to the North, Ethiopia to the west and South and Somaliland / Somalia to the East… Across the narrowest part of the Red Sea, you find Yemen… This narrow part of the Red Sea, the Gulf of Aden, with the world's busiest shipping waters, makes Djibouti a strategic location. Hence, many countries have a naval base here… You cannot miss the military presence of the US, France, Japan, and various other countries when visiting the country.
Not to worry! Despite its location and the surrounding conflicts, the Republic of Djibouti is a safe place where you only need to beware of petty crime. Likely a positive side effect of the high (international) military presence. It is then no wonder that many large NGOs (e.g. World Food Program and UN) also have regional offices here. Another thing you will notice in Djibouti is the ever-growing Chinese presence in Africa, who have built a large port here from which (landlocked) Ethiopia is connected to the World…
Bring your wallet as Djibouti is expensive!
A general misconception is that Africa would/should be a cheap destination to visit…. Unfortunately, the opposite is true! There is hardly any infrastructure, hence you have to 'create' it yourself… usually by arranging expensive 4×4 driver guides or safari planes. Do also check my other African posts on Uganda or Tanzania for similar (low value for lots of money) experiences, however, in Djibouti things were much more extreme!…
A few factors contribute to these high prices:
Corruption, which is a problem in many developing African countries
Urbanization, most Djiboutians and many people from surrounding countries, move to Djibouti City in the hope of a better future… this has moved prices up in the city, while many are living below the poverty line – it is impossible to miss the lack of infrastructure and 'stereotypical' African heaps of waste, with children playing…
Imported goods, almost nothing is produced in Djibouti, hence most is imported, which linked with corruption and related taxes move prices up!
NGOs and Army, their presence do provide additional safety and stability, but the high spending power of these officials have driven prices up! Relative high demand versus low supply means expensive hotels and 'luxury' items.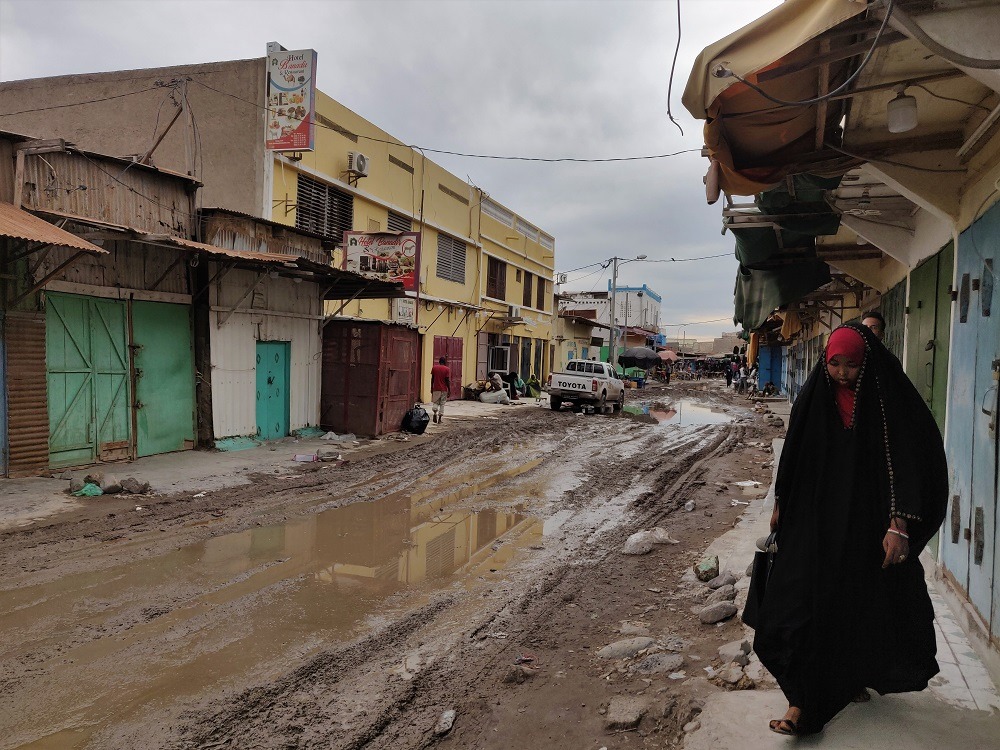 Some examples of how prices are abnormally high, for most (often basic) products… Expect to pay at least 5 USD for a beer. Sleep for 75 USD for a very basic hotel room (unclean and without windows). Spend 300+ USD for a 2-day /1-night tour inland, or 150 USD for a 4-hour snorkelling tour (bring your own food and gear). We spent 5 USD for 30 plastic throwaway cups (one of the more expensive items in our grocery basket)… The list goes on!.. keep this in mind when travelling to Djibouti…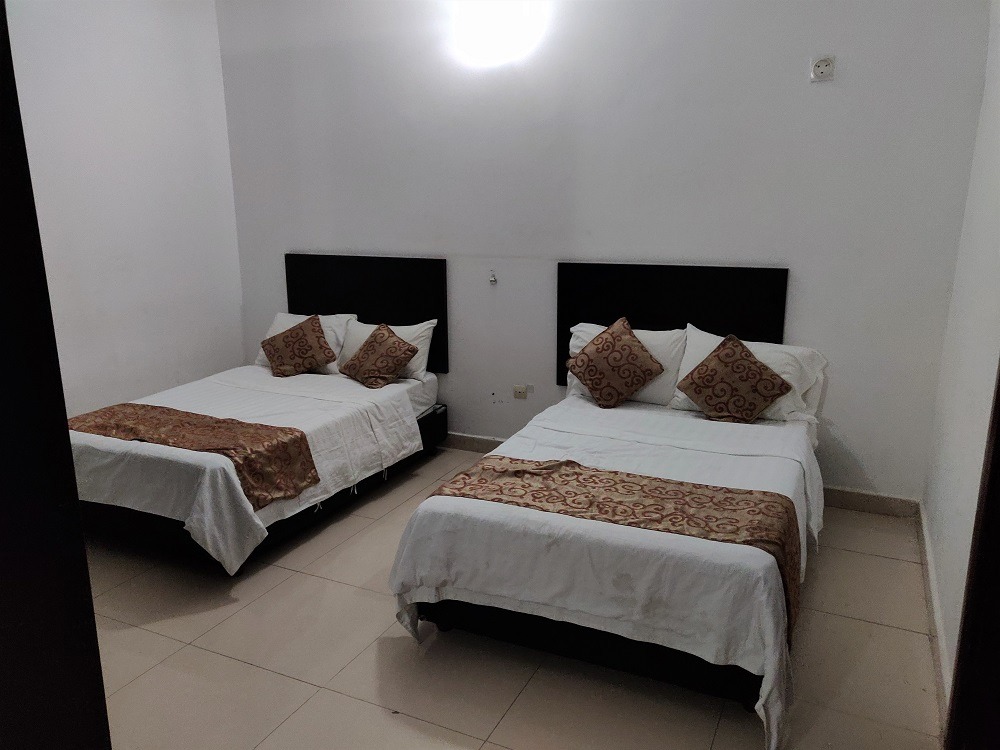 Djibouti shopping: unveiling the unexpected
Unlike in other African countries, you can find almost any product in Djibouti! Djibouti used to be a French Colony, where it was first called Colony of French Somaliland, and later Territory of the Afars and the Isas. After the independence from France, the international presence from NGOs and Army Naval bases remained. Apparently this presence also counts for the French supermarket chains that you can find in Djibouti city, catering to the many expats, like NGO and Army personnel.
A key place to go when in need of any product is the Djibouti Mall, also known as the Djibouti Bawadi mall, complete with cinema! However, products in Djibouti come at the a premium and may be (much) higher priced than you would expect at home!
Top Tip: When looking to do any Djibouti shopping your best best shopping destination would be the Djibouti shopping mall, however most products may be high priced. But at least they have them, and could be handy for your wider African travels!…
Day 1 – Arrive in Djibouti City
We arrived at the small Djibouti airport! Likely, you will too unless you come overland from either Eritrea (border closed at the time of writing) Ethiopia or Somaliland… Taxis are plentiful just hail one upon arrival (or arrange an airport pickup from your hotel)… A taxi should not cost much more than 12 USD, do haggle!…
Key Sights of Djibouti city
Upon arrival we explored the city… sights are few so do not plan too much time for this!… People on the street will often 'provide' help… in exchange for a tip… Just ignore or thank them… most are laid back and leave you be… Many are friendly and helpful and not as 'aggressive' as in Tanzania…
A few sights that are within walking distance are the Djibouti bus station (do check out the many qat sellers, more on this later). The Al-Hamoudi Mosque next to the bus station. The Turkish Mosque (not open yet at the time of writing) and the Rue de Bender (for some touristy shops).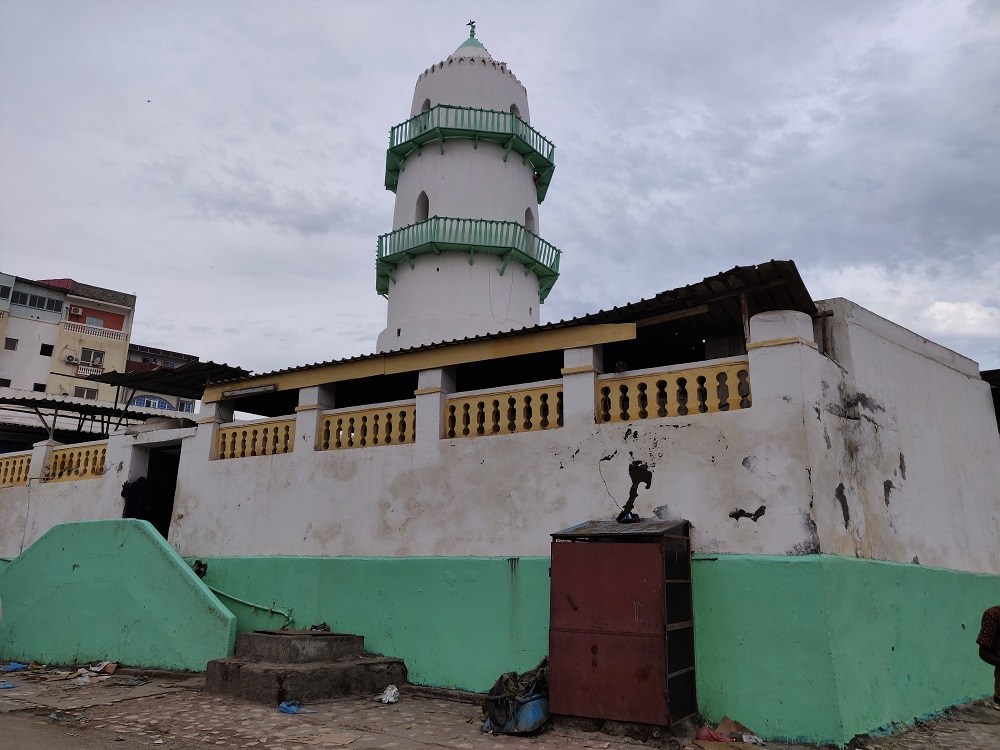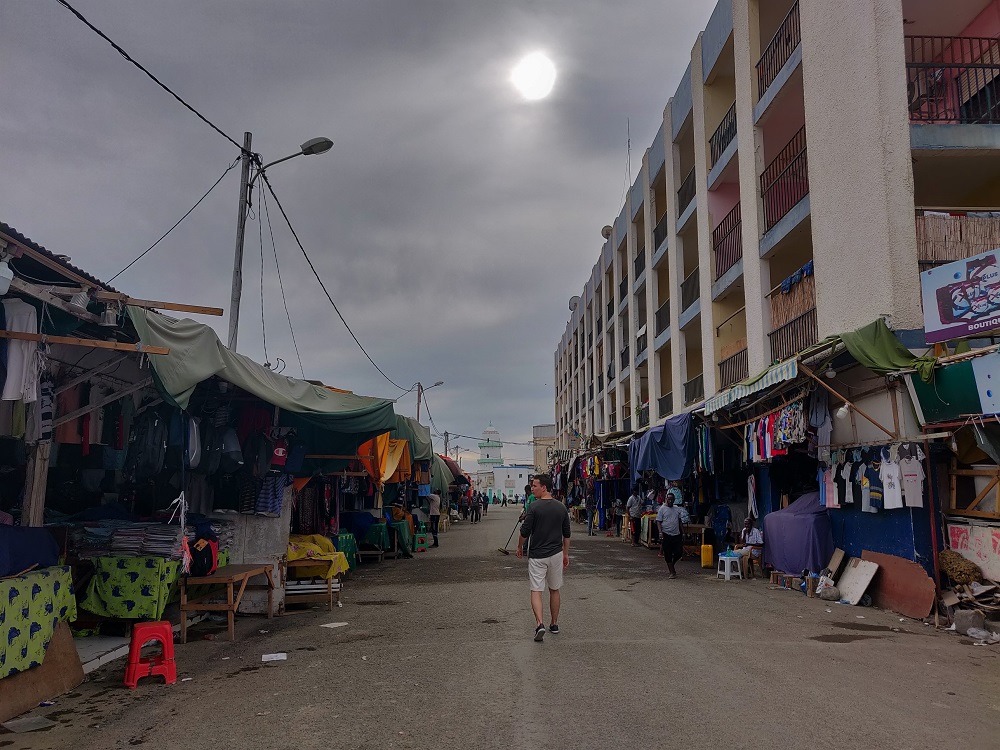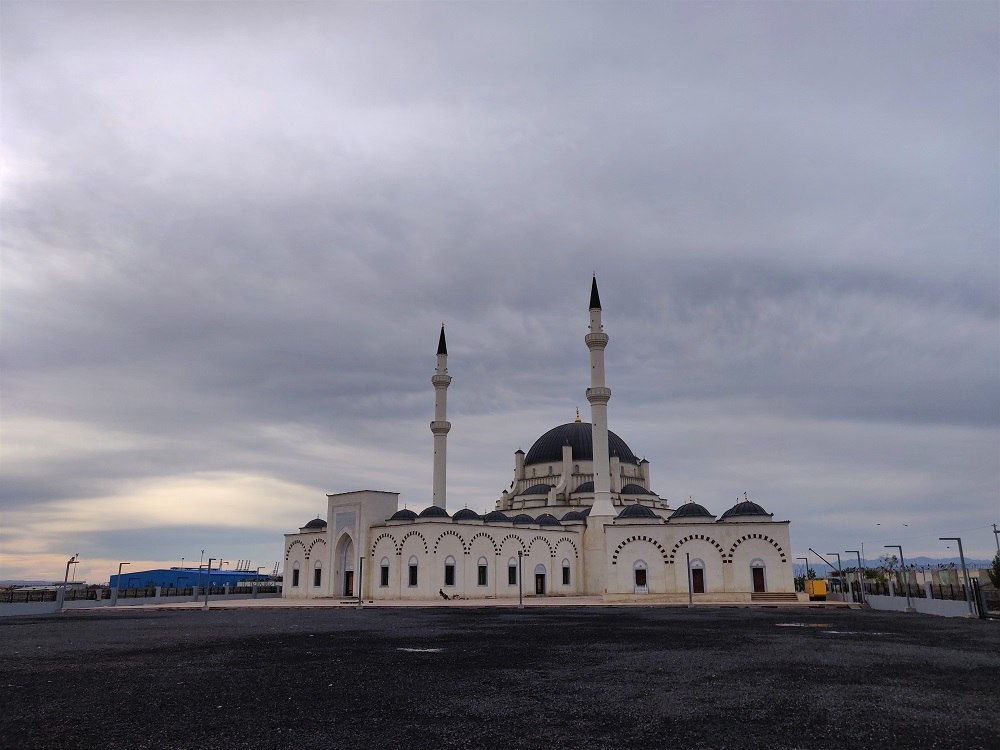 Dinner and drinks in Djibouti
In line with the above, Djibouti has no wild nightlife and has only a few restaurants and bars in general, let alone worth recommending… Good to note, we did not have any issues on our entire trip digestion wise!… Do check out the below!…
We had dinner at Chez Youssouf. Try the signature Yemeni fish! At first, this place looks not hygienic. However, the food is freshly prepared and tastes amazing!…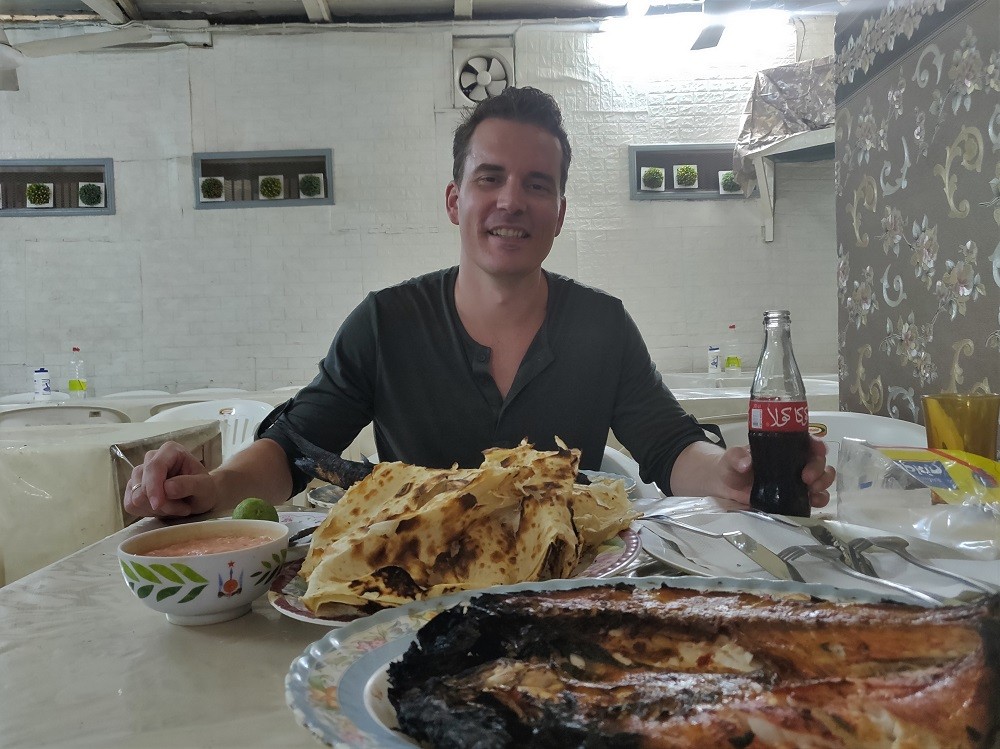 Afterwards, we took a taxi and had drinks at Melting Pot. We did not have dinner, but the food looked amazing (bit more pricy and more international cuisine)… Definitely a recommendation for Dinner, when staying in the northern part of town.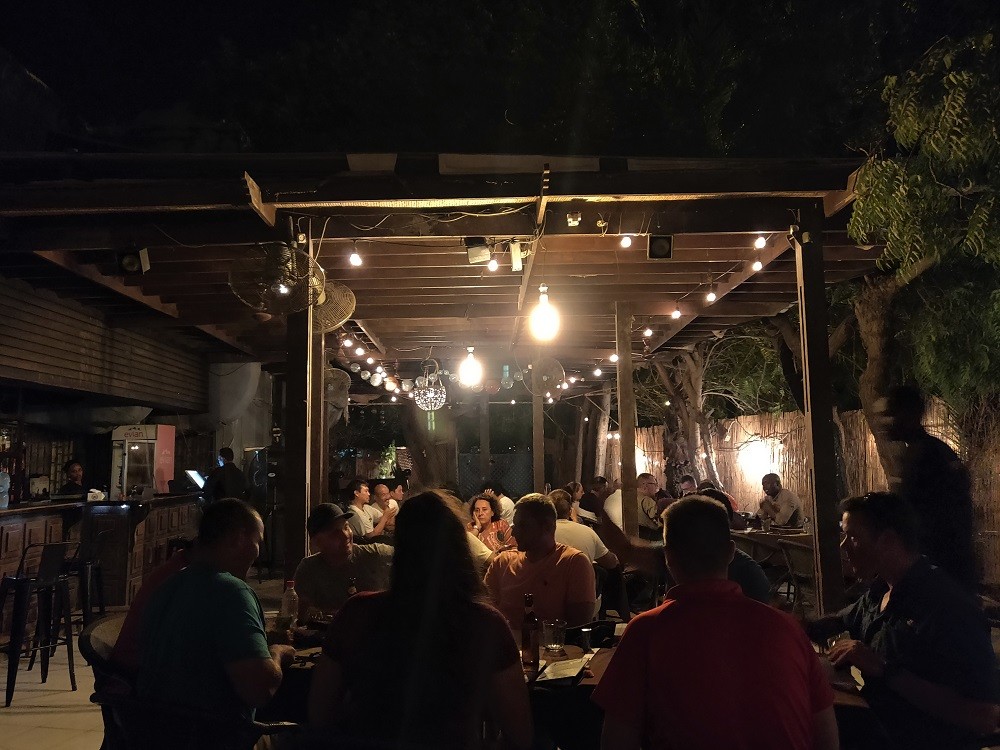 Melting Pot is fairly close to the Kempinski. The Kempinski hotel is like stepping into another world… It is by far the most luxurious hotel in Djibouti with a nice pool, private beach, etc. It is here where the army, diplomats, NGO officials, businessmen stay… As mentioned, and especially in pricy Djibouti, expect to pay at least 450 USD a night. If not able/willing to spend this amount (I still believe it is overpriced) you can have a drink, or just roam the grounds to explore!…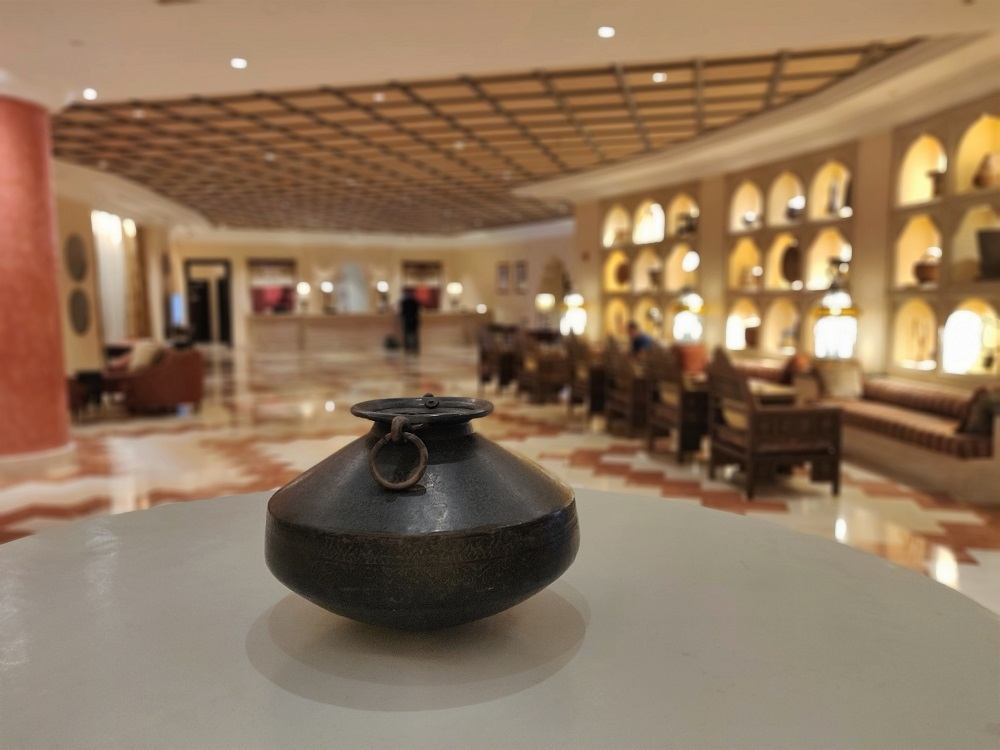 Day 2 – Snorkeling at Arta Plage
Located at the Red Sea, Djibouti has multiple great snorkelling and diving spots! A great spot is Moucha Island. However, a tour with a boat would have been at least 300 USD (unsure if it is per person or per boat, pricey anyway). We were price-conscious and heard that Arta Plage is also great snorkelling spot.
Top Tip: Do bring your own snorkelling gear (and water shoes)! Otherwise, you will have trouble finding anyone to take you. As mentioned, you may be able to find some (overpriced ones) in the larger supermarkets, as a back-up option…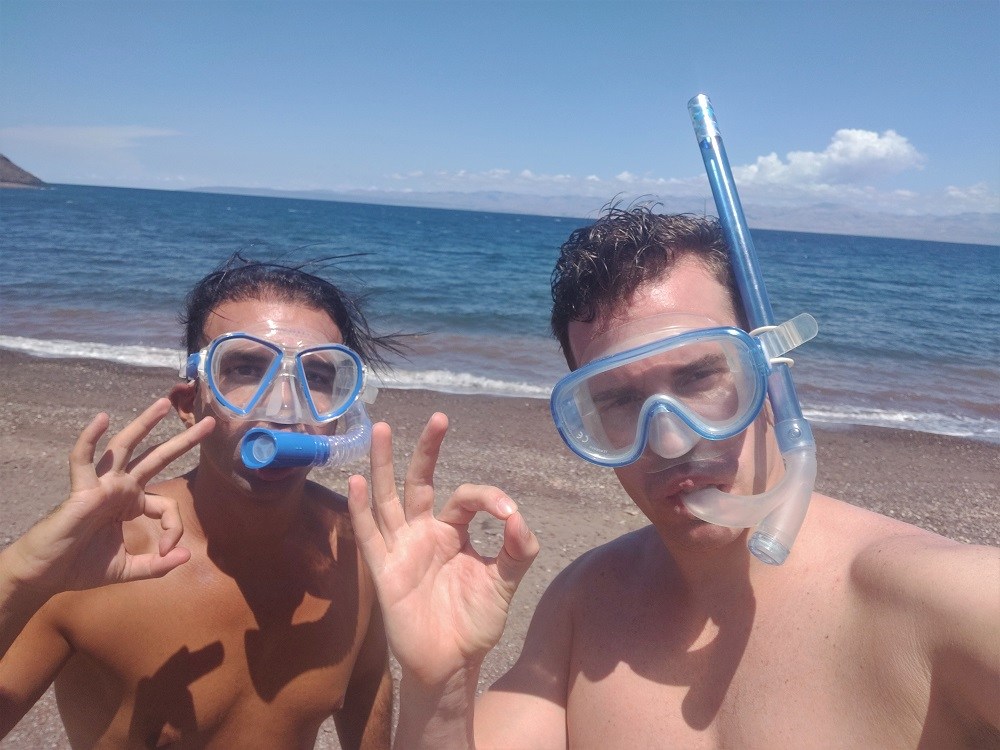 How to get to Arta Plage
After some checking in restaurants, and on the street we found a taxi driver who could take us…However, it soon became clear that we would need a 4×4 for Arta Plage and not a standard taxi… Plans never turn out how they should in Africa, but luckily we found a last-minute 4×4 driver as well. We paid around 25k Djibouti Francs (150USD) for a 5-hour round-trip. If you find anything online, you could also rent a car and drive yourself (Keep your eyes out for a small road on the left (not shown on GPS) just after a town called We'a. This may be slightly cheaper and you would be more flexible…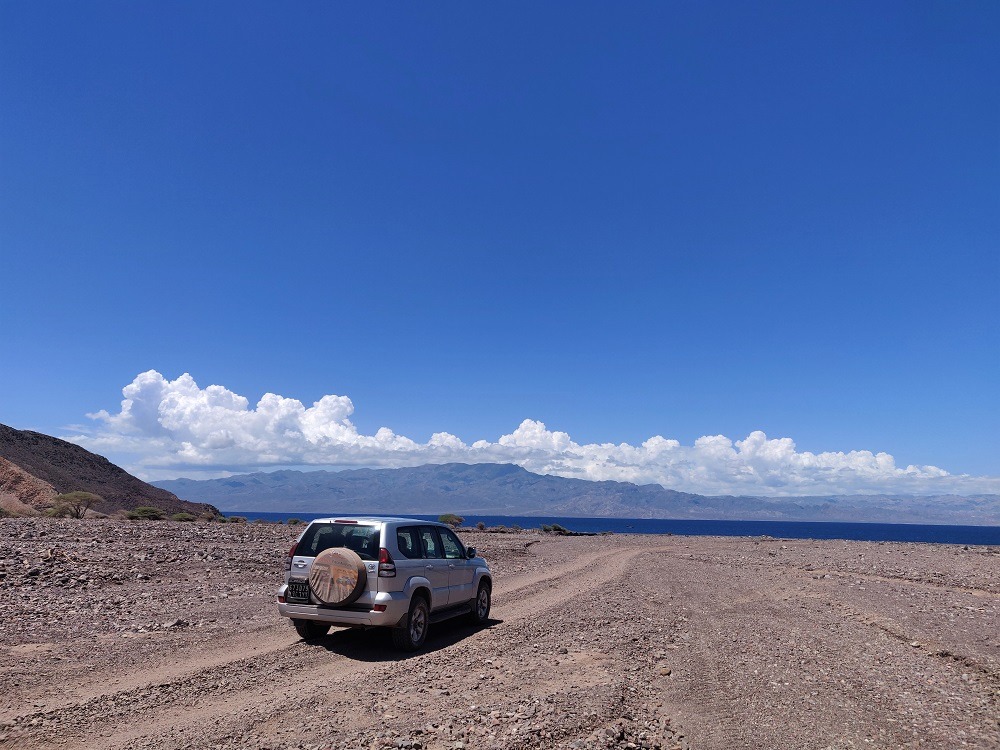 Top Tip: Do bring your own snacks and drinks, as there are no facilities at Arta Plage, apart from a small French Military base and ruin of an old French Army discotheque… You will likely be the only tourists. Also, bring extra water to rinse off the saltwater.
Whale shark alert!
The snorkelling experience itself was ok! But not a must-do, you have better spots around the world and in the Red Sea which are less hassle and far less expensive to reach. Having said that, if you go in November / December you have high chances of spotting whale sharks! This will make for a great experience and in that case, it would definitely be worth the efforts!… Unfortunately, we were too early in the year, so no whale sharks for us to greet!… Do check my whale shark encounter on Cebu, Philipines!…
Fratacci alcohol store
Djibouti is a Muslim country and this may be the reason that you cannot buy any alcohol in the supermarket. You will find alcohol in most bars and restaurants, but in case you like to pay less 'outrageous' prices, or stock some for your inland adventures then Fratacci is the place to go!… Prices are very reasonable and they have a wide selection!
Top Tip: As with almost all stores in Djibouti, check the opening times! Business hours in Djibouti are usually from 7.00 till 12.00 and from 16.00 till 19.00… can sometimes be a bit confusing!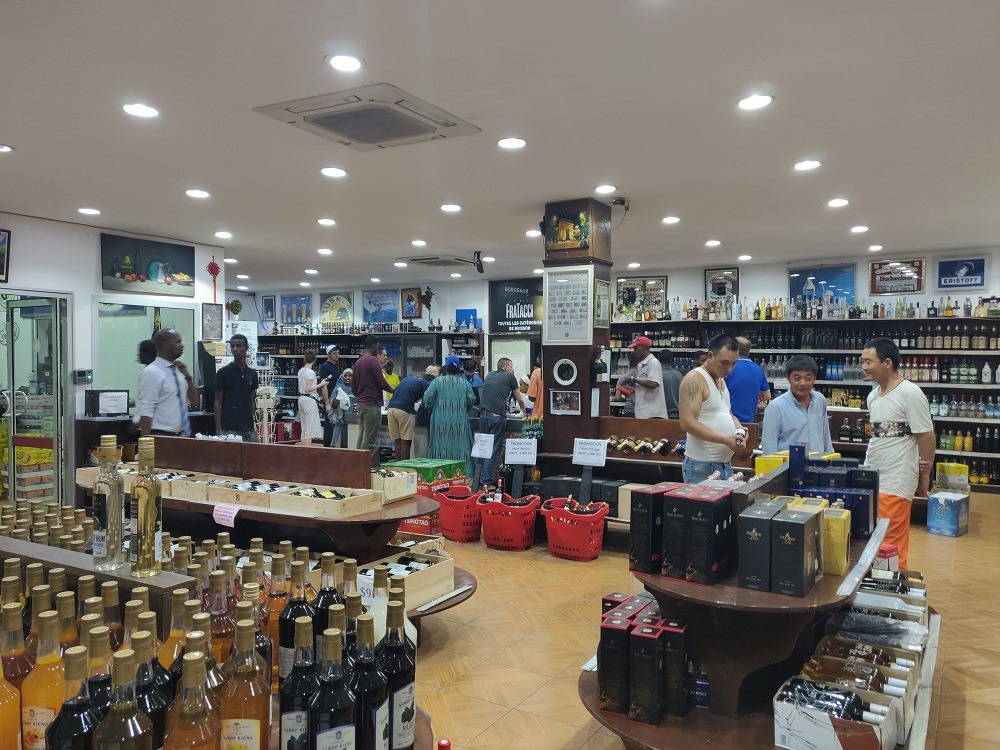 Day 3 – Dikhil and Lac Abbe
It is time to finally leave the inland behind and visit some of the key highlights of Djibouti, and with that perhaps of Africa!… Given we could hardly find any travel information online, we pre-booked a 2-day /1-night tour… I definitely would recommend you do the same! Check my About Casper page to reach out and I can provide you with some contact details!… Again, prices are quite high (between 250 USD to 800 USD per person! depending on how many persons you travel with)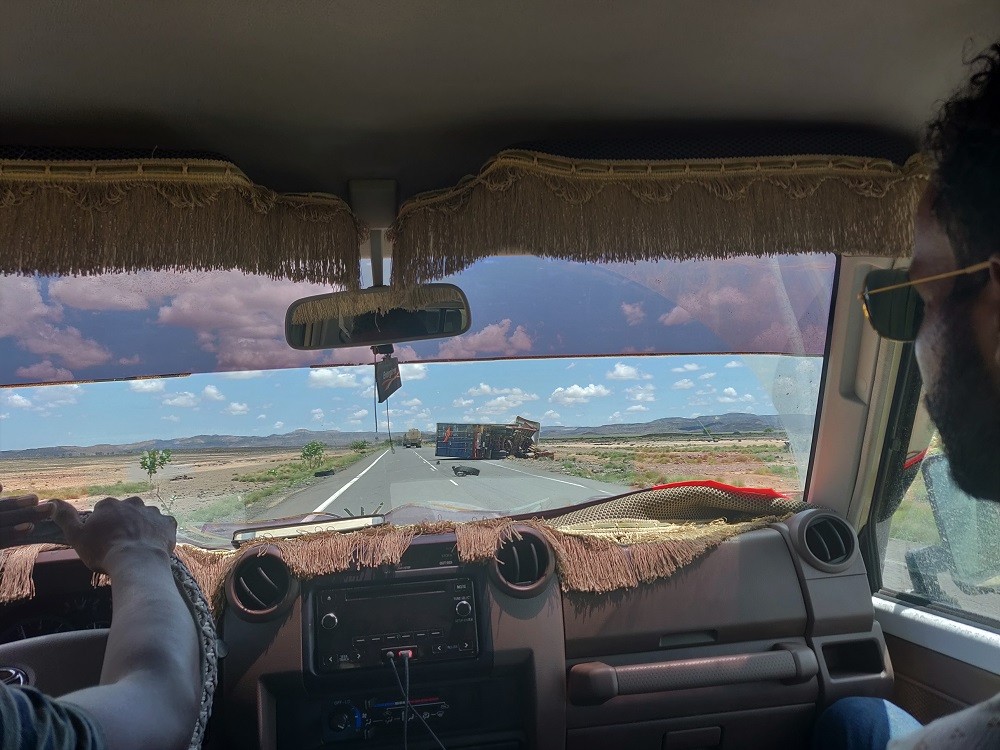 Top Tip: Travel with 2 persons (and negotiate heavily on the price) as otherwise, you will not have comfortable space during the (very bumpy) travels… Do realize that you will likely drive with a driver and a guide, which 'only' leaves 2 comfortable places on the back seat (or 3 uncomfortable) and potentially 2 additional (very uncomfortable) places in the rear…
On our way to our first stop, we encountered hundreds of baboons!… A nice surprise!… Djibouti does not have as much (safari) wildlife as other African countries… However, do keep your eyes out for jackals, wild boar, camels, gazelles, and if lucky lions… We saw all, apart from the rare lions…
Dikhil
First stop is the town of Dikhil. Here you will visit a (co-operative) garden, which provides work, food and income for the community. We also had our lunch break here… Chances are that you will spend quite some time here, as the guide does not want to arrive too early at the sunset spot, given that it can be scorching hot at Lac Abbe… We had some rain showers, so we were ok and were on our way quite soon!…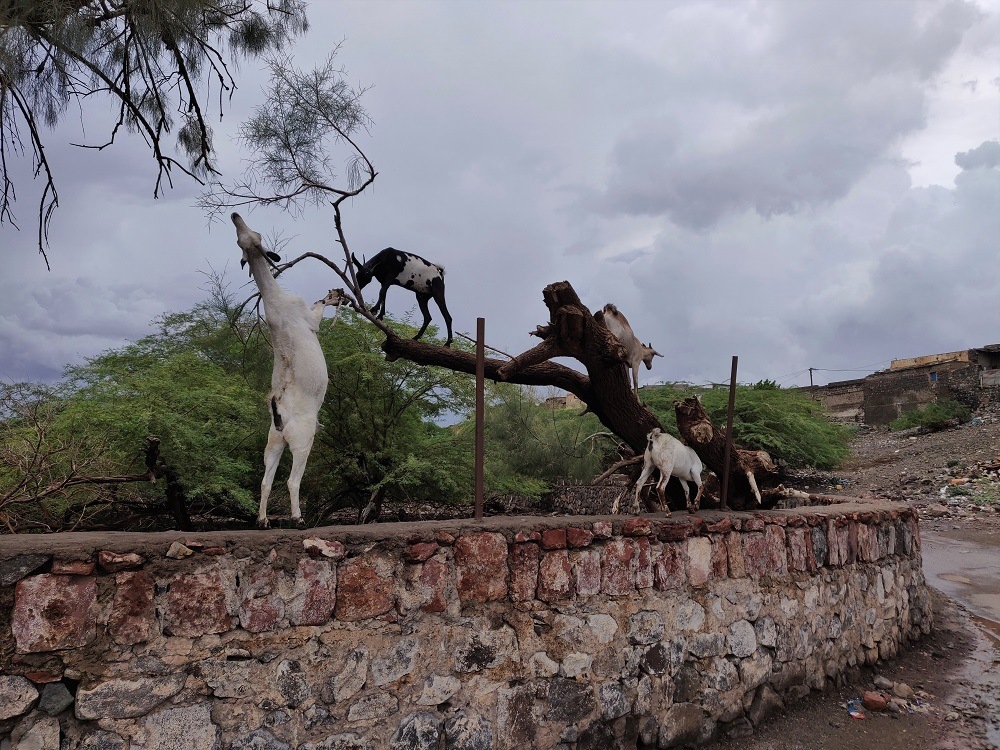 Qat culture
Before leaving, our driver could not do without his 'Djiboutian Beer', which is actually qat, This plant is native to the horn of Africa and causes excitement, loss of appetite and euphoria when chewing it… After this incident, we nicknamed our driver Mr Qat, which he seemed to like… I tried a bit, but the taste is leafy and quite bitter… It reminded me slightly of coca leaves in South America… I am unsure if I really felt the effects in the short time of chewing it, but I may have been a little lightheaded… Then again it must have great effects as qat is very popular under the population. From around 14h in the afternoon, people are walking around with bushes of qat, salesmen are active and many are piling large quantities in their cheeks…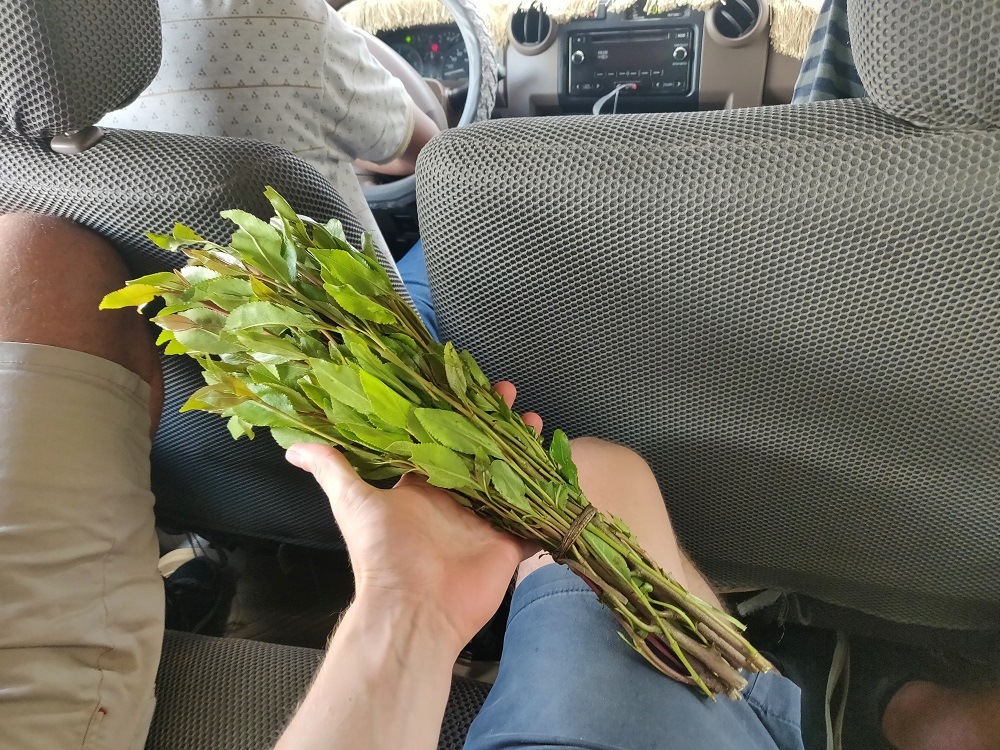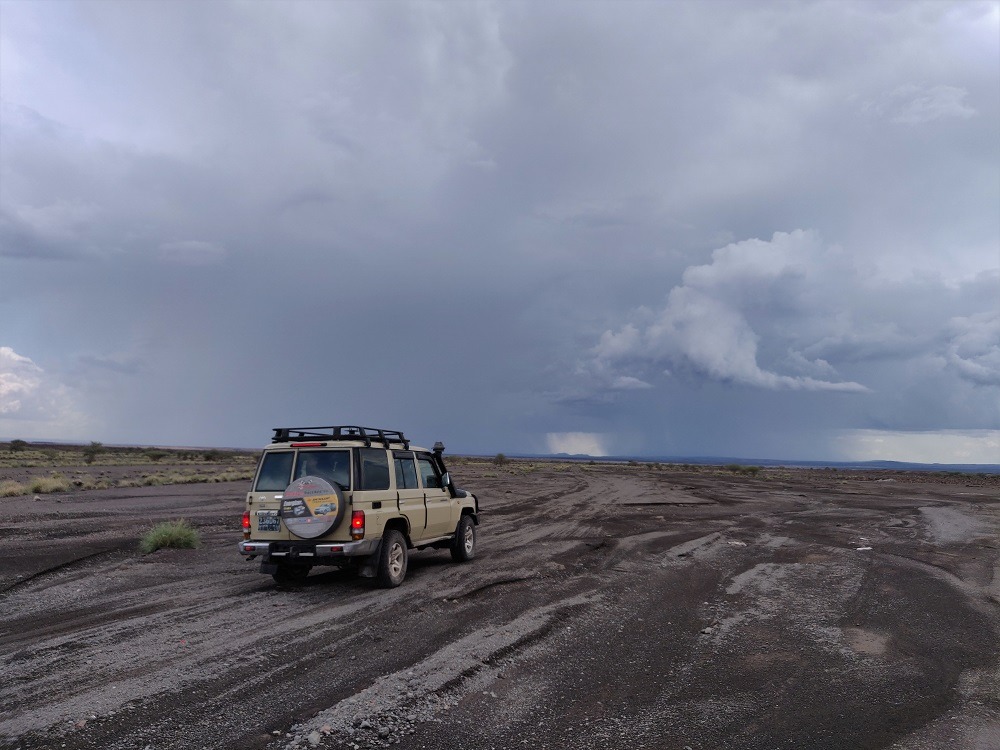 Afar villages
Before driving into the through the middle of nowhere we stopped at various Afar villages. The Afar people are originally nomadic tribes, but more and more are settling in villages. The tribes are spread over Djibouti, Ethiopia and Eritrea. The villages are very basic, the people very friendly and the children happy (but some are shy, as they seem to not have encountered too many tourists)…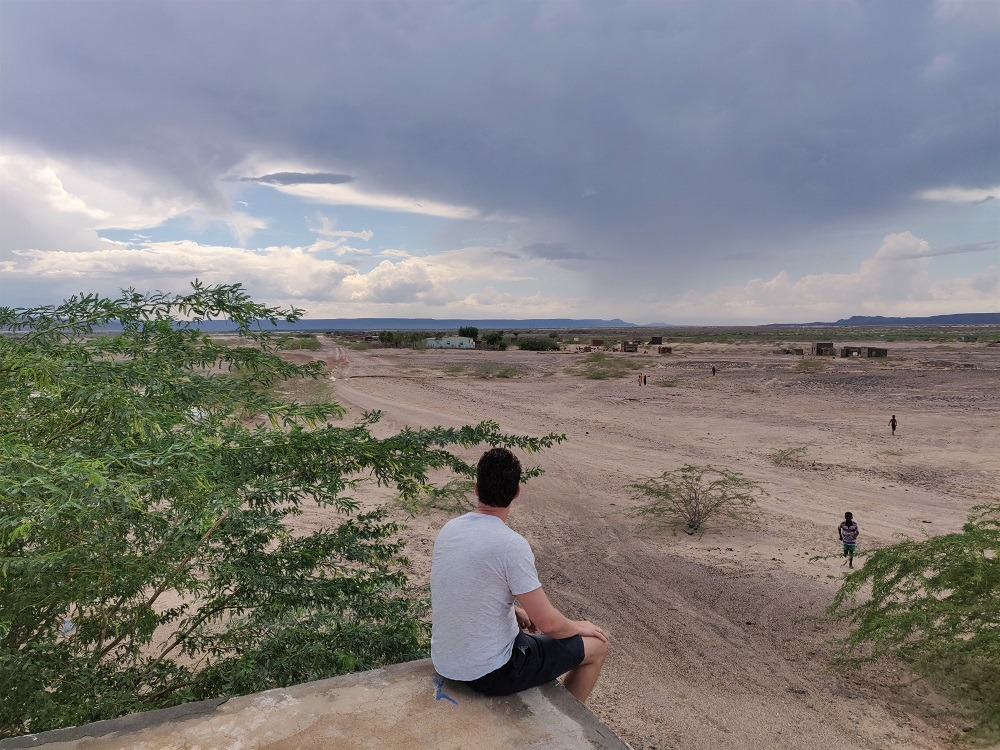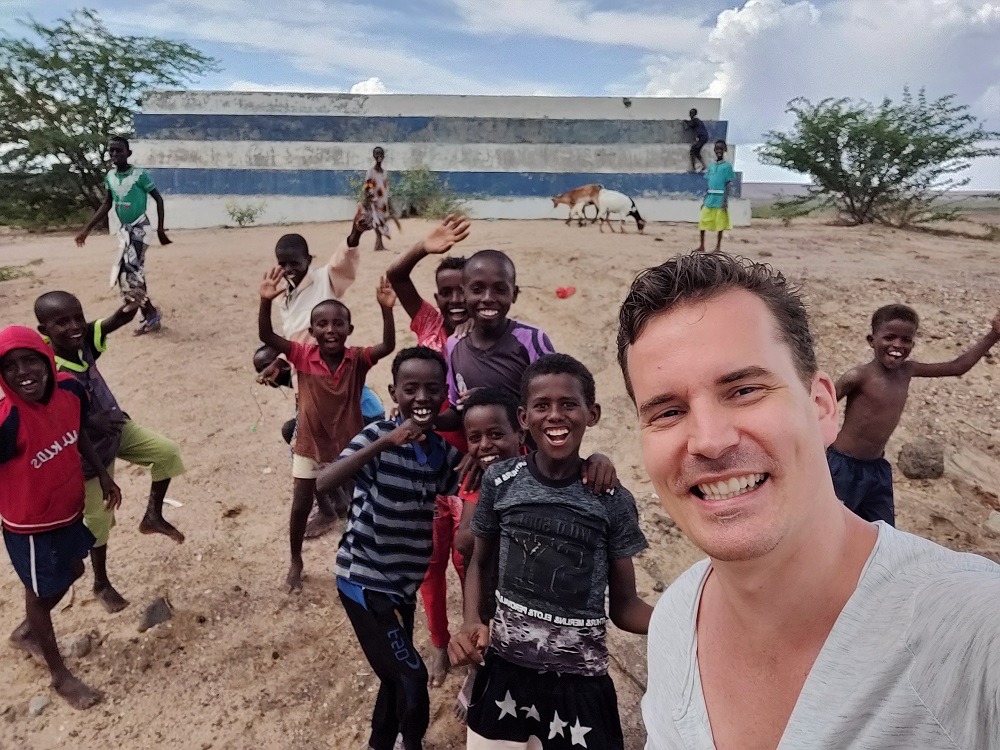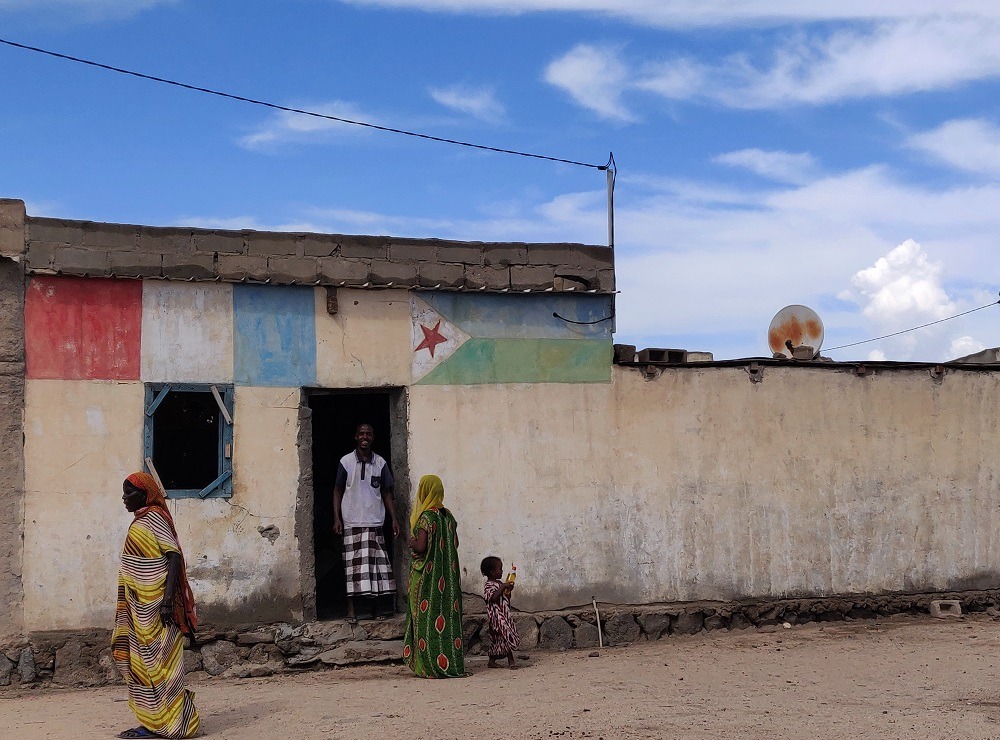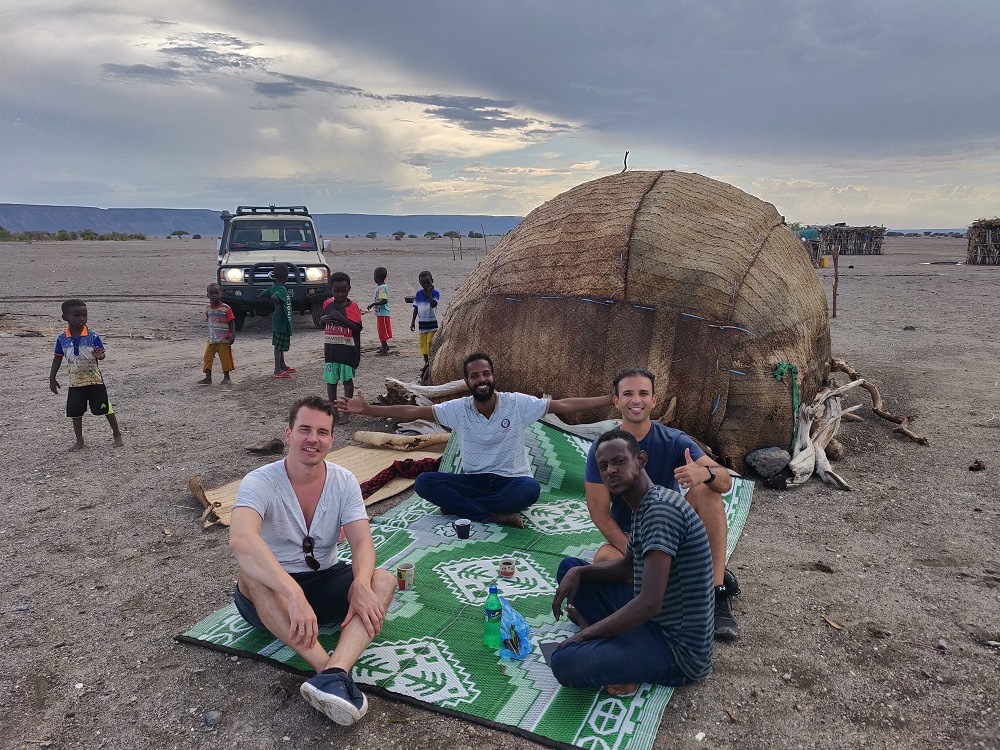 Top Tip: These villages are the last stop to buy items like soda, cigarettes and snacks… However, Dikhil will have more options and choices as these villages sometimes run out of items. Also, the food and drinks provided on the tour are good and plentiful, so do not stock up too much!
Lac Abbe
Leaving the last villages behind you start to drive off-road! At least, according to charted roads and your GPS… In reality, you were already driving off-road since Dikhil, past small villages… The scenery around you is beautiful and soon becomes even more dramatic, as at the horizon you see Lac Abbe's chimneys rise… Lac Abbe used to be far larger, and you are actually driving over the bottom of the original lake, and the chimneys are geothermal hotspots, which are still active!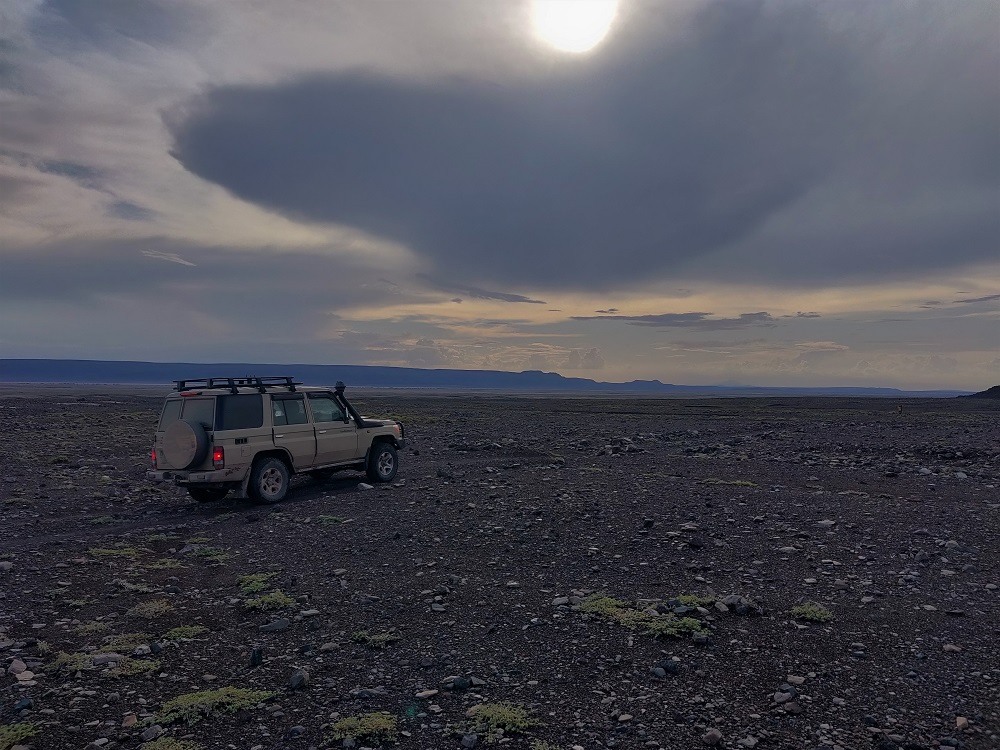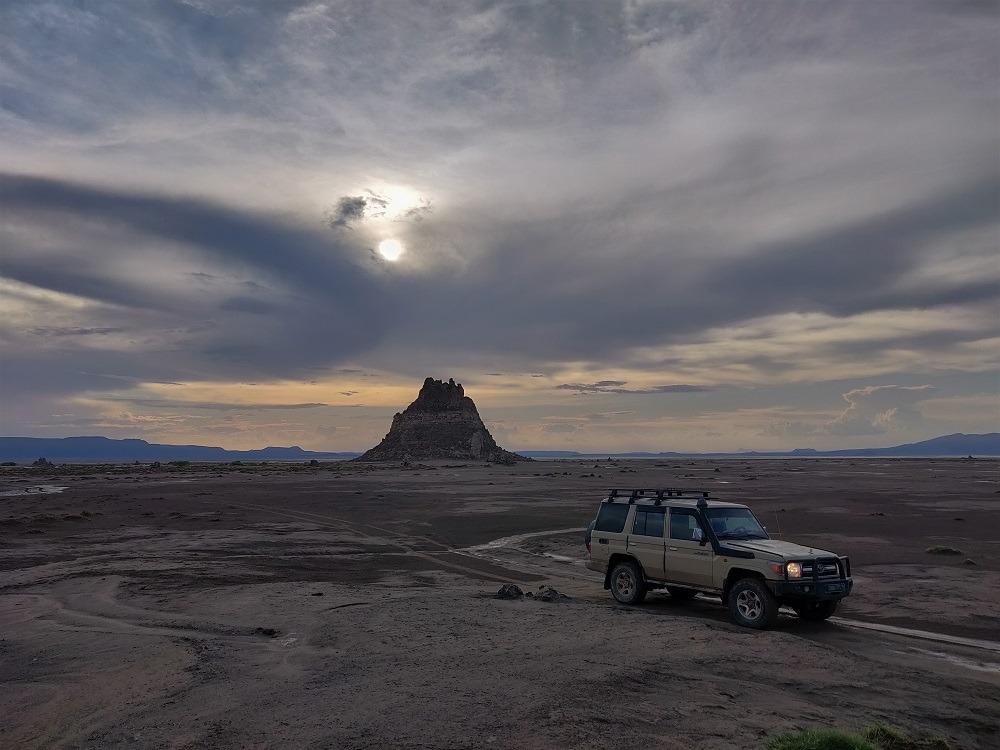 As mentioned, the Geothermal hotspots are still active, and get very hot… especially when warming the surrounding air, a chemical reaction starts and the water starts steaming more heavily, you can see this all the way up to the top of the chimney… A very surreal effect!…
Top Tip: Make sure to bring cigarettes, to 'warm-up' the hot spots so you can do this chemical experiment. Open flames are apparently too dangerous…
After this 'chemistry class,' we were ready to enjoy the spectacular sunset. Our guide was so nice to drive back and forth to the camp and get us some chairs… This is where the snacks, drinks (from Fratacci) come in handy!… Just sit back and relax!…
What is just unbelievable that we were literally the only tourists here!… Would this be anywhere else in the world, this place would have been packed with tourists!…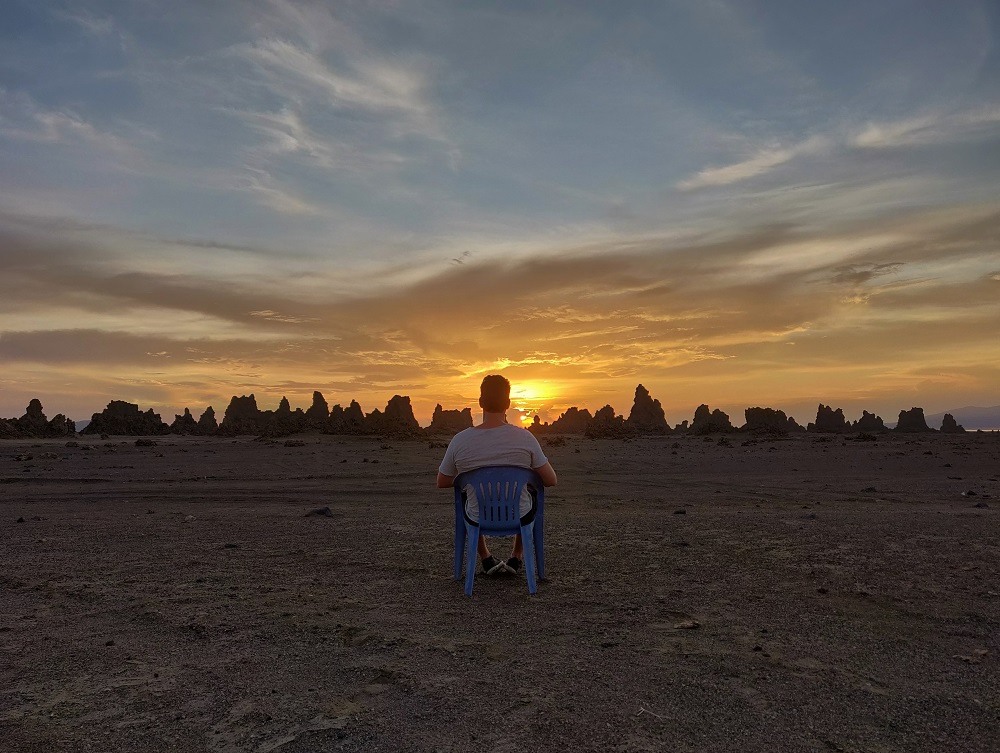 Sleeping in an Afar hut
This evening you will sleep in a (very basic) afar hut on field beds… You don't have a choice as this is the only accommodation in the wide region. After a nice dinner, we went to bed… The huts do not let in much wind and get quite warm, so we dragged the beds outside and slept in the wind, which also keeps most of the mosquitos away (bring Mosquito repellent!)… Another benefit is that you can see the spectacular starlit sky!…
Day 4 – Grand Canyon and Lac Assal
The next day we woke up early to watch the sunrise. Trust me you will anyway wake up quite early anyway if you slept at all in the first place… I slept ok (with earplugs and eye mask), but my travel companion was 'slightly less comfortable' sleeping in the open, listening to noises and fighting mosquitos. Plus it obviously gets light early as the sun starts rising!…
We headed out to the geothermal chimneys, which for some reason seem to be more active in the morning as now the water was heavily boiling… The steam makes for a surreal landscape… No wonder the planet of the apes' movie was shot here… As it really looks like a different planet…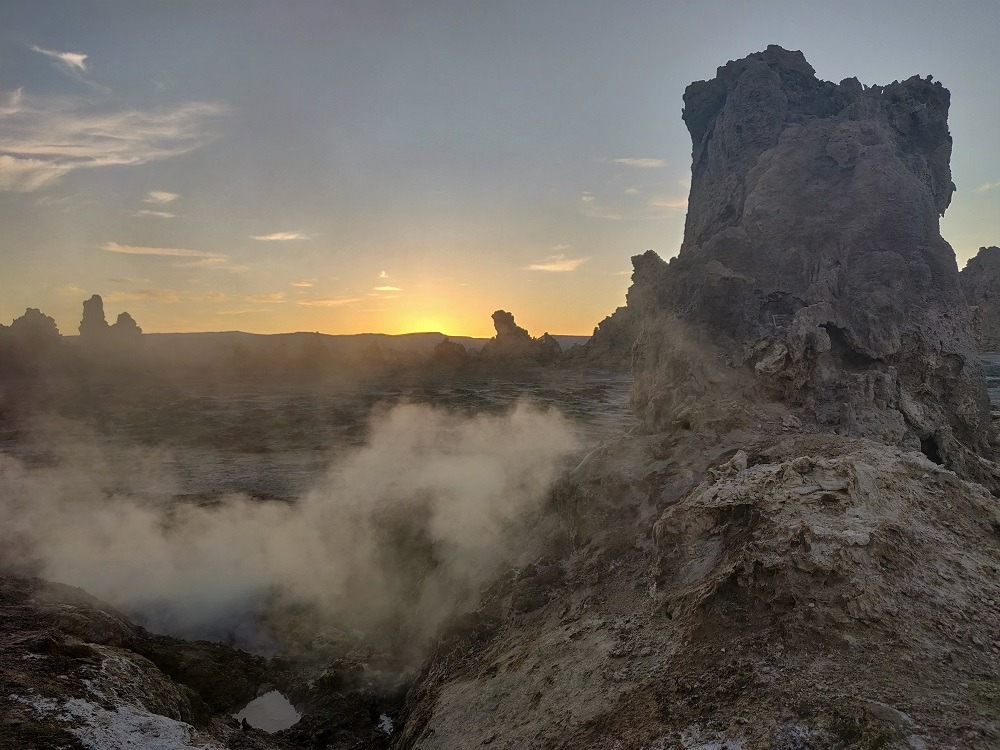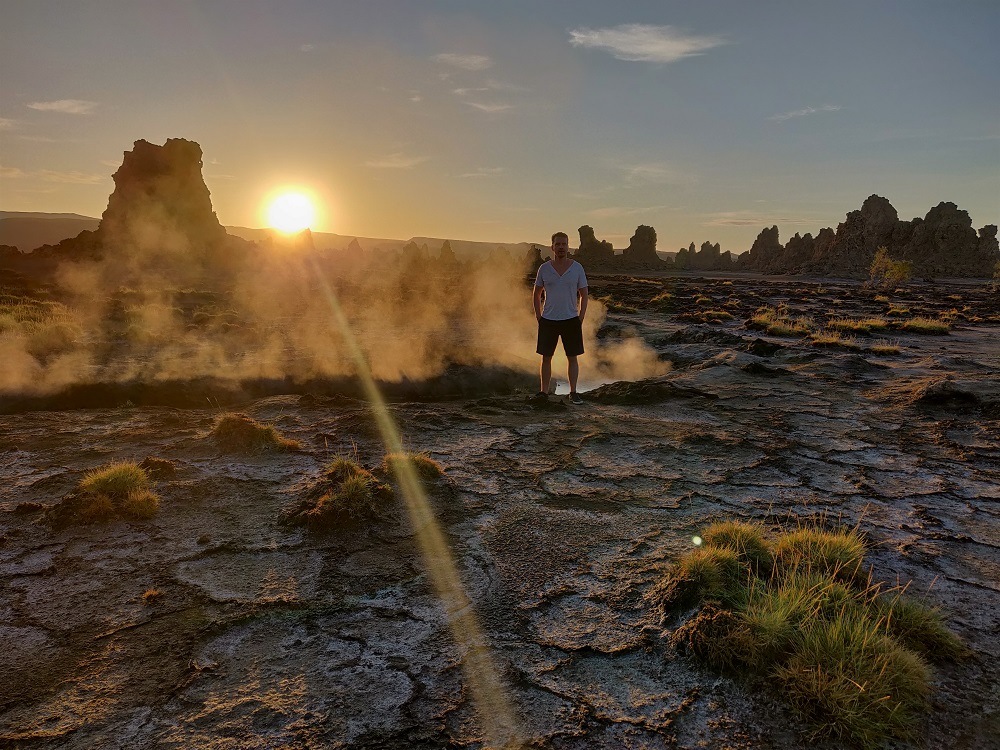 After breakfast in the camp, we headed back to Dikhil for coffee and to pick up a takeaway lunch… heading to the other highlight of Djibouti!… Lac Assal…
Djibouti Grand Canyon
Before reaching Lac Assal, we made a quick photo stop at the Djibouti Grand Canyon… One of the biggest canyons in the world… However, did not find it as impressive as the Grand Canyon in the USA, or perhaps the Colca Canyon in Peru… perhaps it is the vantage point of the photo stop, but you do not 'feel' the magnitude…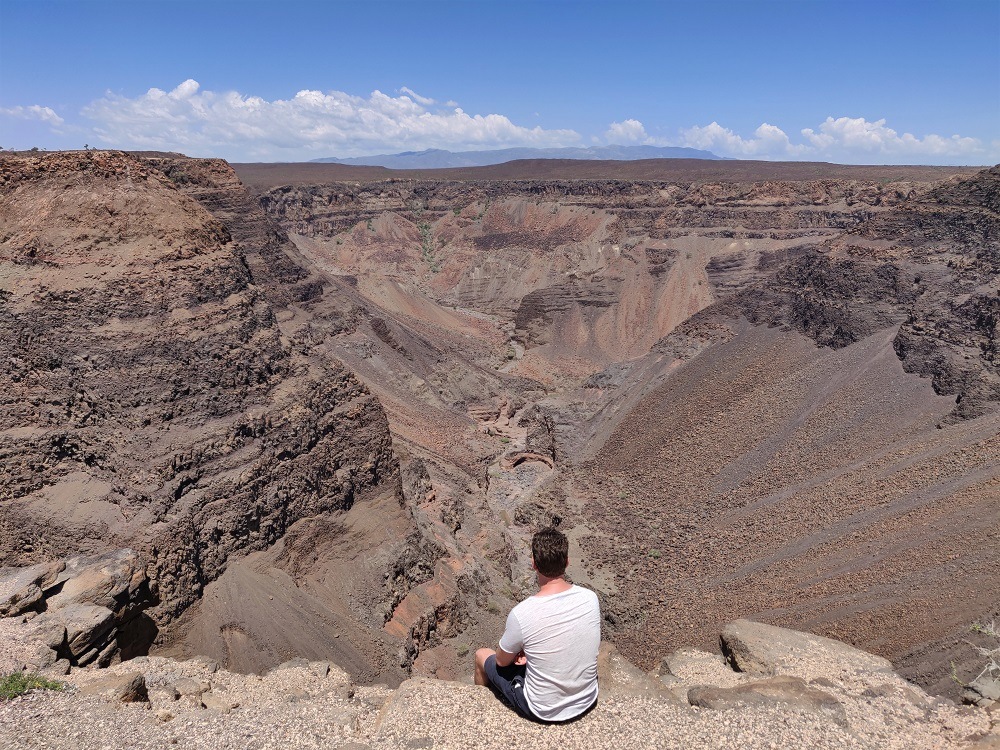 Lac Assal
Time for yet another natural highlight of Djibouti: Lake Assal!… This sight hits quite some top 3 rankings!… It is the 2nd saltiest lake in the world, after Antarctica's Don Juan Pond and saltier than Jordan's Dead Sea. It is also the 2nd lowest point on the world (this time after the Dead Sea)… However, it is far more beautiful than the Dead Sea, due to its turquoise colour!… Another advantage, compared to the Dead Sea is that you will likely be the only one again enjoying this salty experience!… Yep, we were yet again the only 2 tourists in the entire lake!… Unbelievable, given the number of tourists that the Dead Sea attracts… while Lac Abbe is saltier and more pleasing to the eye!…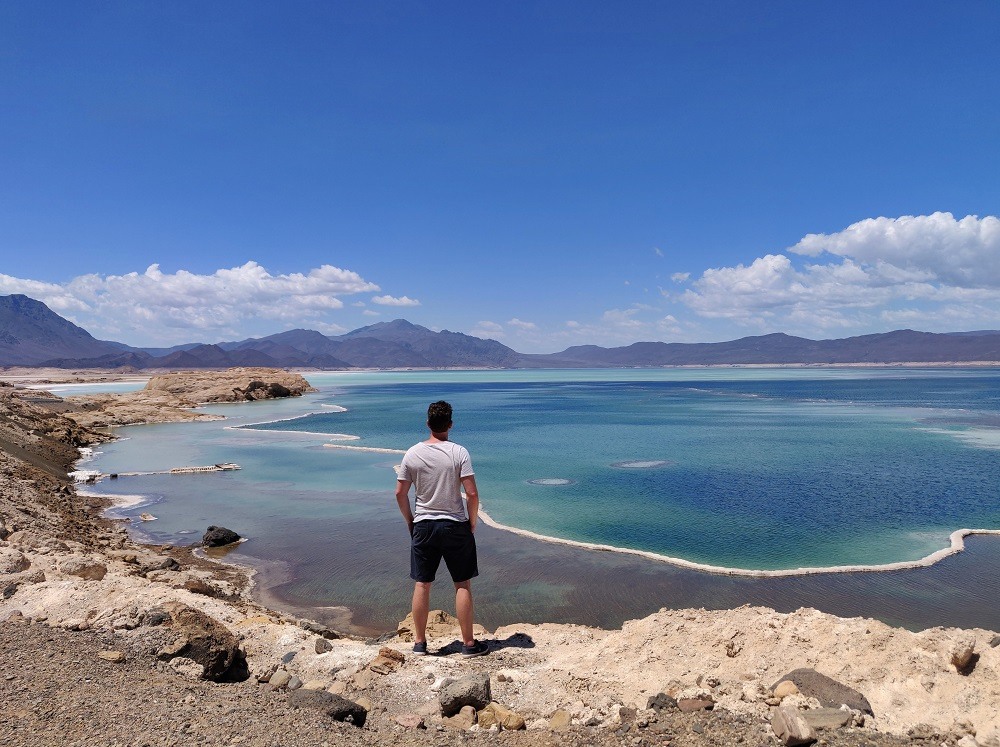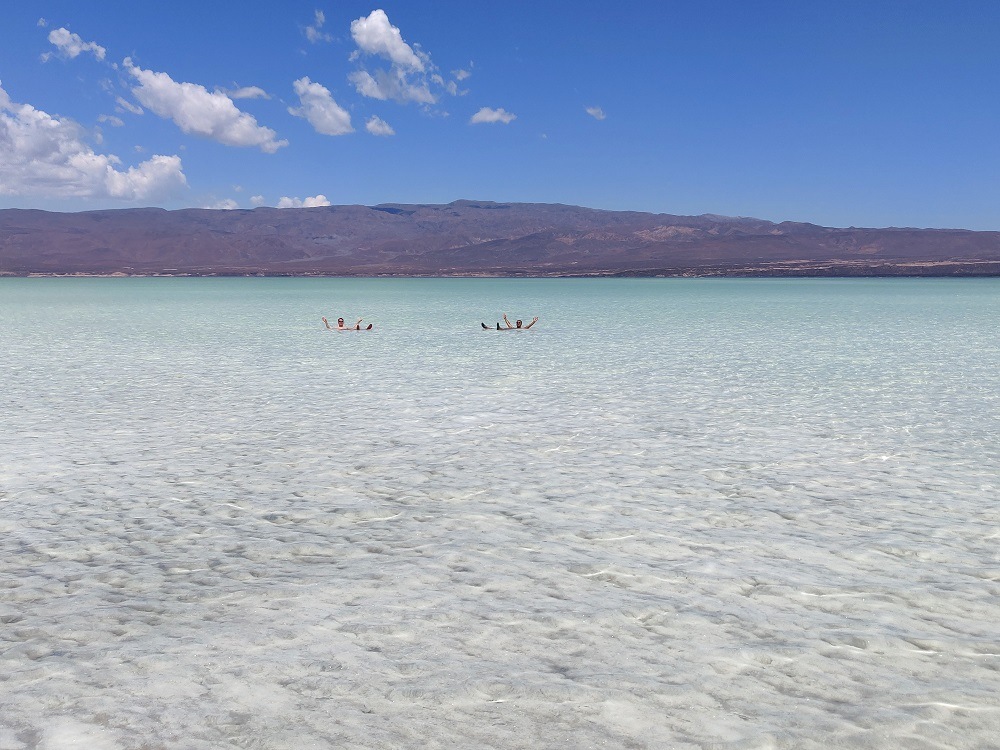 Top Tip: Bring water shoes!… Unlike the Jordan dead sea, the soil is not muddy and sandy but made up of crystallized salt. It is also very shallow, so no way of 'plunging in'.
Top Tip: There are no facilities, so bring a bottle of freshwater to rinse yourself. Even though saltier, the water seemed less stingy than the dead sea. I had some scratches from climbing Lac Abbe's chimneys but did not feel much… While in the Dead Sea you discover tiny wounds you did not even know existed… As a back-up, there are also a few salesmen at the Lac Assal shore, they sometimes have water to rinse. In case you forgot your water, do check with them!
Egyptian hot spring
Another way to rinse of the salt is in the "Egyptian hot spring", a natural small brackish lake next to Lac Abbe, where sometimes you can swim. Be careful! As the water can be tricky and boiling hot at some points!… My Egyptian travel companion was unsure why this would be called an Egyptian hot spring, as far as he is aware there is nothing like this in Egypt…
Our stay in the Sheraton
I will be brief: Do not stay here! I used my Marriot points, as we thought we deserved a splurge after the rougher past 2 days… However, the service and food were really below standards!… We had better food and service in Dikhil and the Afar camp! Both not enjoying the facilities or brand that Sheraton has… Rather use your points somewhere else!… In case you plan on spending your money, then always choose the Kempinski, which is similarly priced and much better!…
Having said that, it was nice to spend our last night and next morning (on day 5) relaxing by the pool and looking back on an excellent trip, before heading to the airport…
Well, what do you think about this Ghost around the Globe post? Ready to go to Djibouti? I hope so!… it is definitely an off the beaten track experience, and it is amazing to be alone in this world-class sights!… Planning an Africa trip? Do check out my posts about Uganda, Rwanda, Kenia, and Zanzibar as well!… An ideal combination would be to travel overland to Ethiopia! Check out this post and combine the travel itineraries!…