Experience Melbourne as a Local!
Reading time: min | Published on:
On our extensive road trip through Australia, we stayed at our friends Ian & Nadia in Melbourne!… Great to experience this great city from a 'local' perspective!… In this post I share a few local Melbournian things to do! But also a fun walking tour along Melbourne's highlights, including some insider tips! To top it off, I will share some great vineyards to visit around Melbourne!… We love Melbourne with its great modern architecture, combined with the many Victorian houses and historic building (despite the chilly '4 seasons in a day' weather during our visit)!…
Our local Melbournian experiences!
As soon as we arrived at our lovely friends Ian & Nadia, they immersed us in the typical Melbournian (and Australian) things to do!… Immediately we were welcomed with Tim Tams (chocolate biscuits). Also, for breakfast we had our first Vegemite 'treat' on our toast!… Something to get used to but actually not bad and repeated over various mornings!… Especially nice in combination with some Avo(cado)!…
It seems all Australians have a dog, or at least love every dog they come across! We are not that keen on dogs usually. However, 'when in Rome' try to at least adjust as much as possible!… I even went for a short dog walk along Brighton beach (with its famous beach boxes) and get a coffee. The latter is treated as a religion in Melbourne (and wider Australia)…
When you think it does not get more local than this, well we went for a sausage at Bunnings Hardware store. You find these stands around Bunnings every weekend, where the proceeds of the sausages go to a local cause or society, which the volunteers running the stand on that day represent.
Melbourne is the ultimate food and sport lover destination!…
Melbourne is called the 'European' City of Australia. Perhaps partially due to its large immigrant population, but also because they are crazy about food and sports!… Therefore, you may want to visit during a large sport event at the Sports Precinct, like the Australian Open, a Rugby, Football or Cricket match or, like us (together with our friends Robert & Patty), go to the Formula 1 at Albert Park…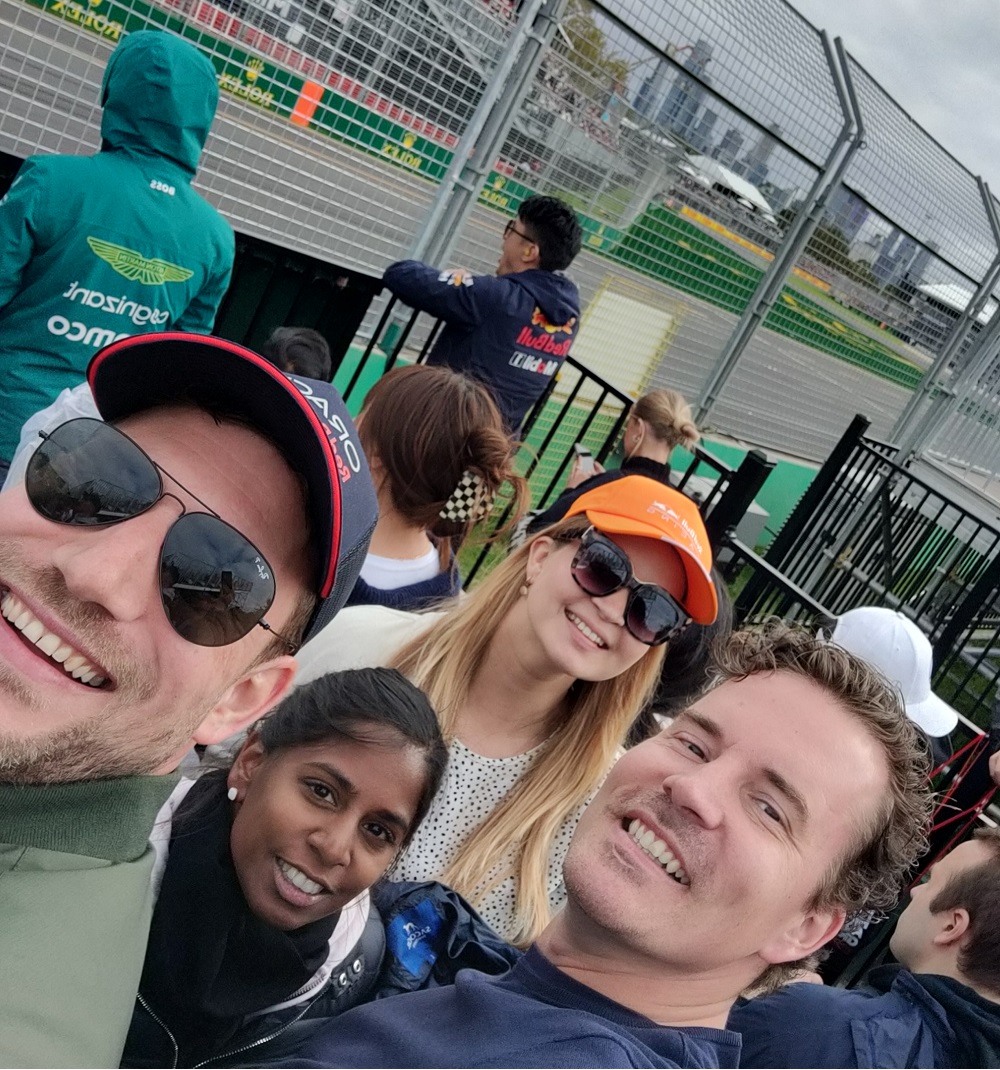 Melbourne City walking tour!
In addition to these various 'local' experiences, we of course were also taken around the city!… Below I highlight various key sights in Melbourne City!… This makes for a great walking tour through Melbourne's centre! Just combine these into a tour on your GPS and start strolling!…
Degraves Street & Center Place
Start your tour centrally at Degraves Street and similarly looking Center Place!… Streets full of cosy cafes and restaurants!…
The Block Arcade
Make your way to The Block Arcade, with its nice stores and the Hopetoun Tea Room!… (Nice to have a tea here, or otherwise go to the CBD outlet of Brunetti's close by!)
The Royal Arcade
Another nice Arcade mall is the Royal Arcade with its beautiful ornaments and statues!…
Top Tip: With only a 1.5 block detour you can include Mitre Tavern, one of Melbourne's oldest pubs. On Friday (afternoon) they hand out free sausages!…
Melbourne Town Hall and Manchester Unity Building
A bit further down Melbourne's Shopping center you find the Melbourne Town Hall and opposite the Manchester Unity Building. Check out their websites for guided tours!…
Scots' Church Melbourne and St. Michael Uniting Church
You will pass Scot's Church Melbourne and the St. Michael Uniting Church on your way towards Fitzroy Gardens area.
St. Patrick's Cathedral and Fitzroy Gardens area & Parliament House
A great area to walk around are the green parks around St. Patrick's Cathedral, Treasury Gardens and the Fitzroy Gardens… Also check out the Parliament house!
Top Tip: Especially when visiting at night have a cocktail at Siglo, where the outside terrace offers nice views over Parliament house.
Pellegrini's Espresso Bar
A great foodie stop is Pellegrini's… This place is all about character, great Italian food and coffee! Apparently, the first espresso machine was operating here in 1954, which started the city-wide obsession about coffee!… A great experience to get a pasta at the bar, followed by a famous Pellegrini coffee!…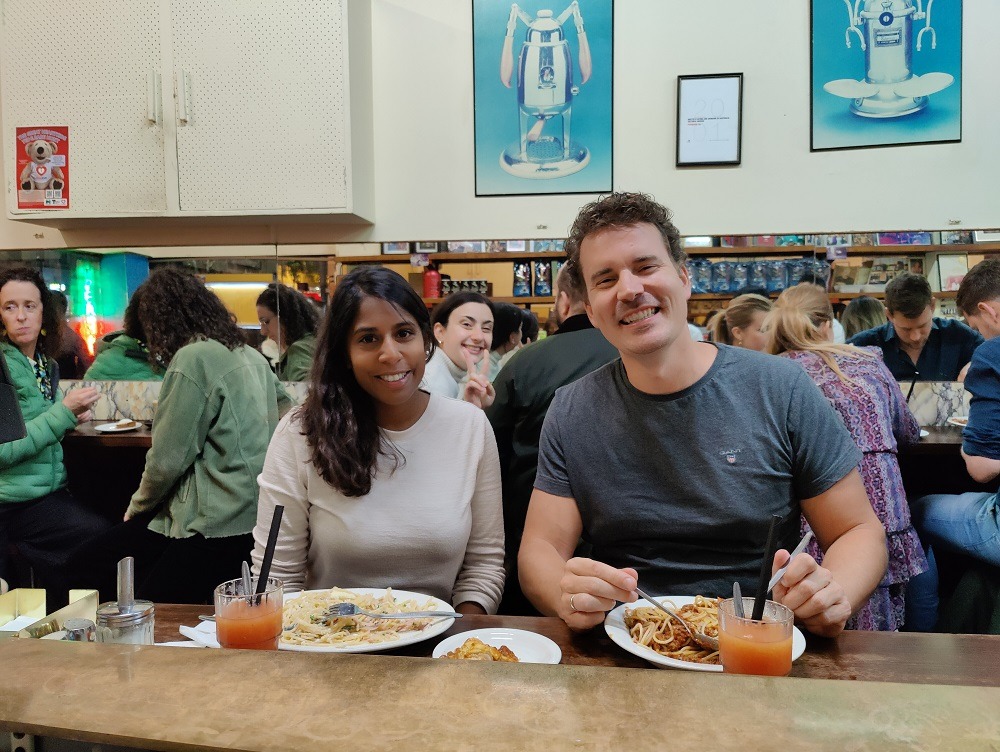 Melbourne Graffiti areas: Duckboard Place, AC/DC lane and Hosier Lane
One thing Melbourne is famous for is the various lanes filled with graffiti street art. You find most of this around the areas of Duckboard Place, AC/DC lane and Hosier Lane. It is also here that you find great restaurants and bars!…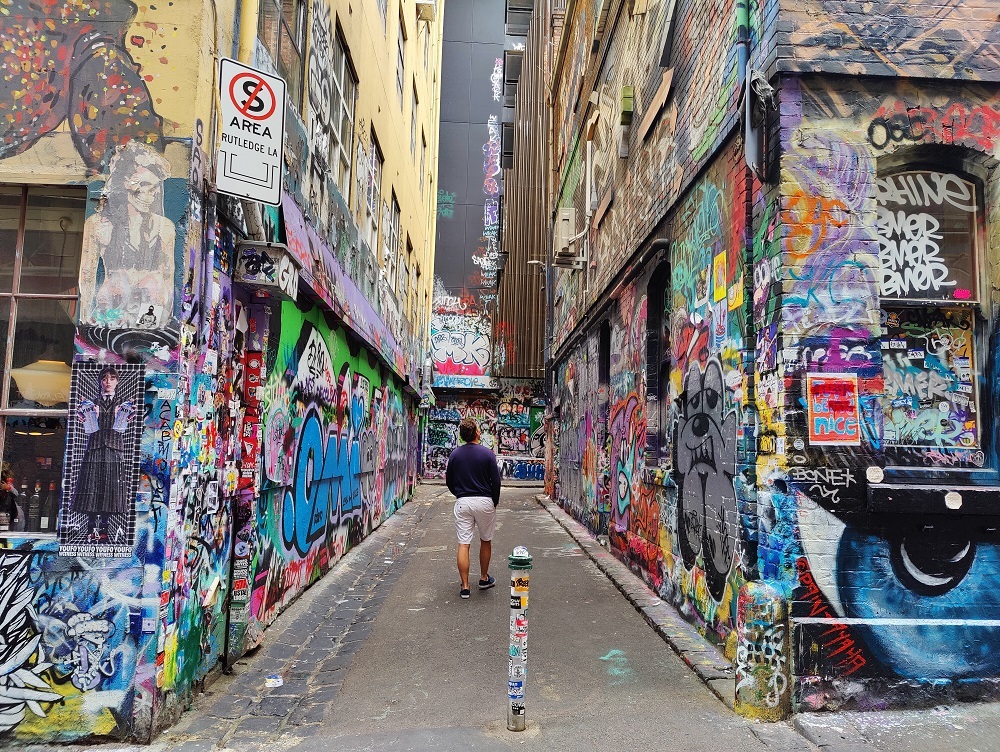 Have food at Chin Chin
It is in the artsy Flinders Lane that you also find Chin Chin, one of the best restaurants we have eaten (anywhere)!… Try their Butter Chicken and other Asian fusion dishes… Amazing!..
Have Drinks at Garden State Hotel
On a separate night in Melbourne, during a speed-visit of our Dubai friends Arjan and Maria, we had drinks at Tippy Tay in the Garden State Hotel. A great buzzing venue!… We also tried the food, however their drinks are definitely the highlight!… (again, try Chin Chin, next door, for the food)…
Flinders Street Station & South Bank Area
Check out the historic Flinders Street Station and take one of the bridges over the Yarra River. Here you have great views over the City Center and the Sports Precinct with the 100,000 seat Melbourne Cricket Ground!
Along the Yarra River and on the South Bank you find many food & drinks outlets! Check out the floating Arbory Bar & Eatery, Ponyfish Island or Yarra Botanica for fabulous views over the River!…
National Gallery of Victoria
We end this walking tour with a stroll through the National Gallery of Victoria. Entrance is free (to the standard exhibition displaying quite some nice art works of Picasso, Rembrandt and the likes).
Melbourne's different neighborhoods & Cuisines
Melbourne is home to various large immigrant (descendants) populations!… To name a few there are large Italian, Greek, Chinese and Vietnamese populations living in Melbourne (and wider Australia). Around Melbourne's Central Business District you will find various neighborhoods, each catering predominantly to a certain nationality!… Melbourne may be far from the rest of the world, but they have brought the rest of the world to them!… Here are a few neighborhoods to check out!
Carlton – Melbourne Italian Cuisine
Carlton is where you find many of Melbourne's best Italian restaurants!… We had some great Italian food at D.O.C. and afterwards we went to the gigantic 'coffee & cake' place of Brunetti!… A must-visit (they also have a branch in the CBD area – to include in your walking tour)…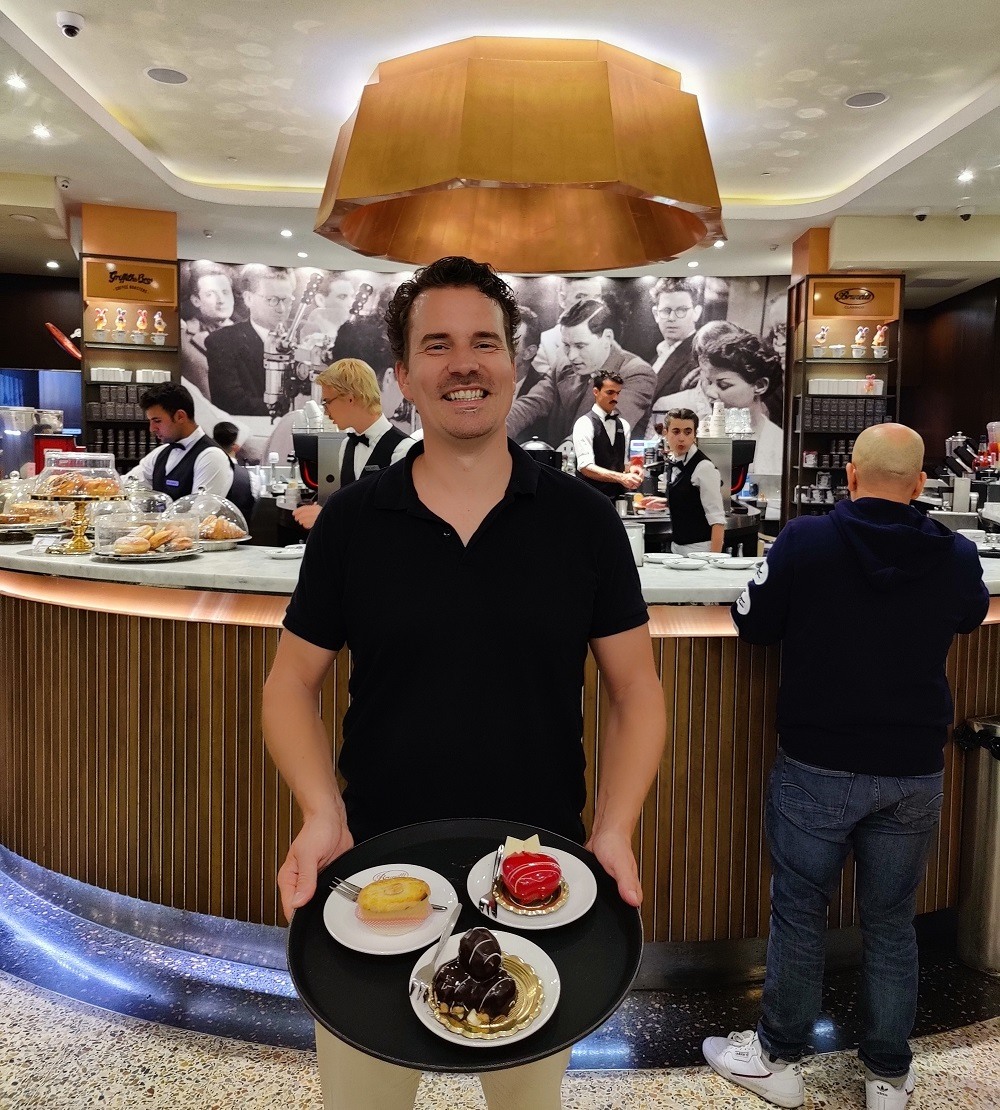 Oakleigh – Melbourne Greek Cuisine
Fancy Greek food? Go to Oakleigh!… Melbourne holds the title of '3rd largest Greek city in the World', with a population of around 400,000 Greeks. Go to Mythos Restaurant and share a platter for 2 (which easily serves 3 to 4 people)!…
Chinatown – Melbourne
As many large cities, also Melbourne has a Chinatown… We walked through but did not ate here!… Judging from the lines outside of many dumpling restaurants the food must be good here!…
Explore Melbourne's wine regions: Yarra Valley & Mornington Peninsula
To complete your Melbourne experience, it is a great idea to venture outside of the city to its famous wine regions!… Let's explore the Yarra Valley and the Mornington Peninsula. There are literally hundreds of vineyards in these regions, but here are a few top picks for a great winetasting outing!…
Best vineyards to visit in the Mornington Peninsula – Melbourne
When you visit the Mornington Peninsula, check out the Pointe Leo Estate!… Apart from being a nice tasting and restaurant venue, they also have a large garden overlooking the vineyard with various large sculptures. Bit sad though that they charge a small fee to access this garden. (Would be nicer to make this complimentary with at tasting, restaurant visit or purchase, in my opinion).
We had lunch at Montalto, great venue! They also have a (free) walk through the vineyard along various sculptures!…
Do also try the (very Australian) sparkling Shiraz at Foxeys Hangout, the terrace offers great steep views over the surrounding vineyards!…
Best Vineyards to visit in the Yarra Valley – Melbourne
On the days our Dubai friends Arjan and Maria, visited us in Melbourne we went to the very nice Chandon winery. Best to take a wine tasting platter in the restaurant! Where you have great views over the valley (instead of the tasting room).
Another (hidden gem) is the Ai Fiori Trattoria… A quaint restaurant with stunning vineyard views!…
Well that brings an end to this 'local' Ghost around the Globe Melbourne adventure!… This post is part of a much larger series of Australia (and New Zealand) posts. Before Melbourne we visited Tasmania and from here we are heading the coastal road towards Sydney, Brisbane and beyond… Also do read up on my experience at one of Australia's highlights, The Great Ocean Road and the Grampians.
Do also read up on my other Australian posts: