Explore Amazing Namibia: road trip via Top 7 Sights!
Reading time: min | Published on:
Let's explore amazing Namibia! We visited during the covid period, which statistically is one of the safest countries covid-wise, as it has the second lowest population densitity, after Mongolia. Planning to follow in our footsteps? (Which I highly recommend!)… Do check any travel restrictions, but during the entire covid period Namibia has had few to no travel requirements, so ideal to explore!
Travelling to Namibia
Given its low population size, only around 2.2 Million for a country the size of Germany and France combined, Namibia does not have too many (direct) flight connections. So on our first day, we travelled with Ethiopian Air, via Addis Ababa, to Namibia's capital Windhoek.
Upon arrival, we picked up our rental car! For the first time in our life, we had to watch a tutorial video before taking the car. This is because of the many car accidents happening, due to the many unpaved roads. Through this tutorial video, the rental car companies have significantly reduced the number of damaged cars simply by raising awareness to (mainly) inexperienced drivers. After a few minutes of watching we were soon on our way over the vast Namibian savannah landscape!…
Top Tip: Rent a 4×4, as only 10% of Namibia's road network is tarred, the rest is unpaved or worse! There are simply too few people to invest in tarred roads. They are of good quality though but made of gravel and other material. A 2×4 will get you to your destination as well, albeit much less comfortable. In addition, there are some stretches of road that are 4×4 only, so a 4×4 will widen your reach and can save you money by exploring yourself instead of arranging any guided tours. 
Top tip: Buy a small cool box (or bring a cool bag). This will help to keep your drinks and perishables cold. As on this road trip, you will drive hours through desolate places with latterly no one or nowhere to buy anything from. So stock up!
German & Dutch influences in Namibia
When stocking up, we right away experienced the many Dutch (and German) influences. Not only do many people speak Afrikaans (a simple version of Dutch) but at the supermarket, there was a man baking Dutch Pancakes!… 
We drove for around 3hrs already towards the first highlight of our trip!… A cosy small bungalow, where we were invited to the owner's braai (Barbeque). Here we already got great stories about the history and backgrounds of Namibia on our first evening…
1. Explore the Sossusvlei
The first highlight of our trip was only about 2.5 hours drive. We woke up early (a trend throughout the holiday) and were on our way around sunrise towards the Sossusvlei…
Top Tip: It is unadvised to drive at night in Namibia, mainly due to the road condition and the wildlife, so you want to make most of your day time.
Upon arrival in Sesriem, a small settlement that has a laidback, touristy, Australian or USA-feel to it, you will get your National Park permit and you are back on the paved roads again.
The Sossusvlei (Sossus Valley) with the striking red dunes, the white flats, complete with the dead trees make this desolate landscape the most well-known image of Namibia.
Driving over the paved road is very straightforward, taking you past various highlights and viewpoints. The tourist office provides you with a map so you are sure not to miss anything…
Deadvlei; the postcard picture of Namibia
Whatever you do, definitely take the small walk to Deadvlei (Dead Valley). This is likely the most impressive view of the whole region. With an abundance of dead trees, the white plain broken by the impressive steep red dunes!…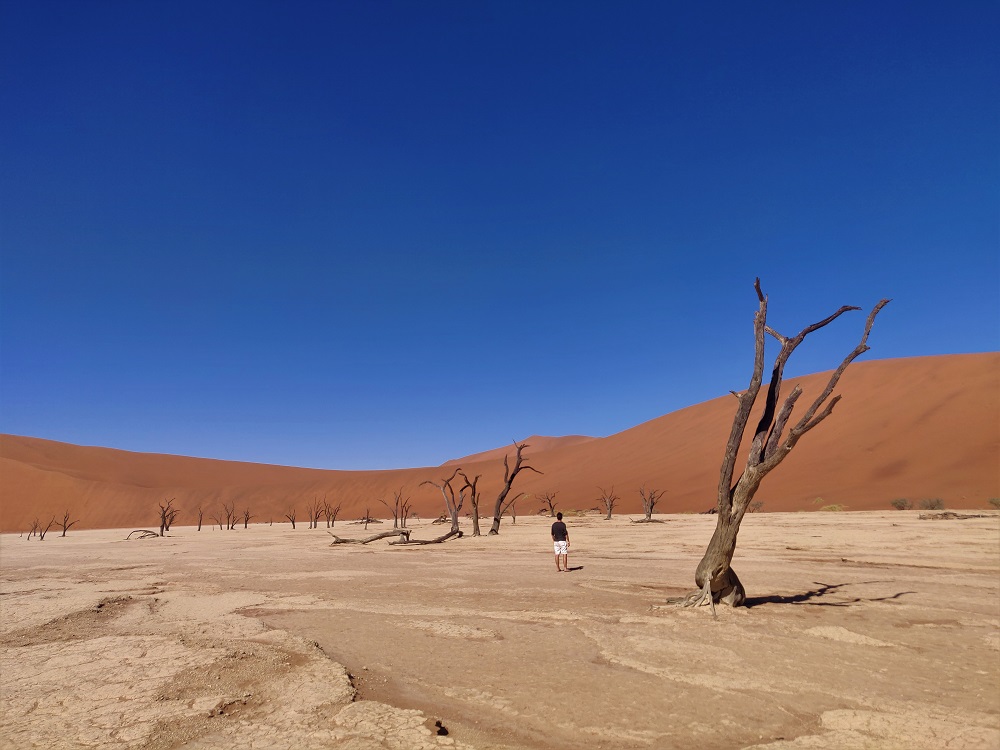 Top Tip: You can walk this part on flip flops or barefoot, as you will only walk on the soft reddish sand!… No need for hiking shoes that get full of sand
Sossusvlei
We drove further in our own (4×4) car. In case you have 2×4 you will need to book a tour on the spot. As we visited at the end of the dry season we still had a little lake, flanked by the dunes. A nice sight, but less impressive than the Deadvlei.
Top Tip: Again, rent a 4×4! Especially the sossus valley has a stretch where you are only able and allowed to drive 4×4. This enables you to explore yourself instead of booking a tour onsite. In addition, as a general ghost around the globe tip for all your trips: download an offline map that makes navigation throughout your trip fun and easy!
Hiddenvlei
On our way back we also tried to find the Hiddenvlei, we were a bit unsure where it was exactly located, hence it is apparently well hidden indeed!… Do check with a local guide in case unsure, we had no one around to ask.
Dune 45
Make a stop at Dune 45, a nice dune that you can experience from up close… Also here are some large dead trees next to it. While many do, you are actually not allowed to climb these (which we read only afterwards on the list of park rules).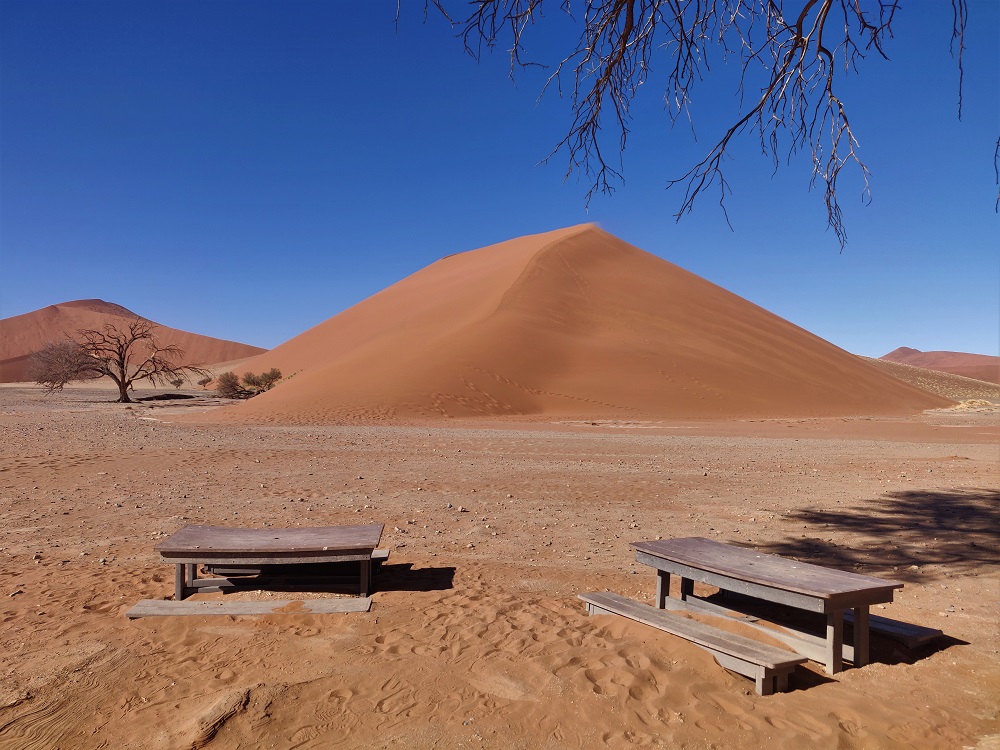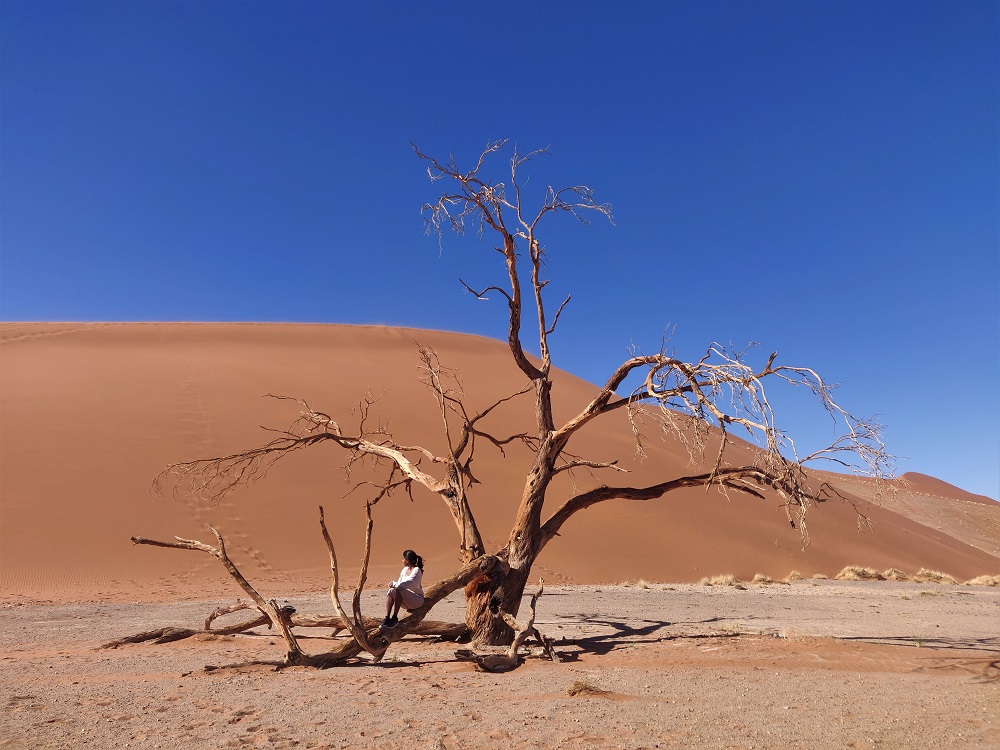 Elim Dune
This is the first dune of the National Park. From here the red dune landscape starts and the rocky and grassy landscape ends. 
Quiver camp
There are various camps to rest in Sesriem. We stayed in the Quiver Camp, which is a nice option, complete with a swimming pool, a waterhole (but no animals), great bungalows offering nice views and our private braai!
We did need some help to get our first braai started… We ordered a meat package, which is offered often at many accommodations throughout Namibia… A nice way to spend your evenings, preparing your own food on a braai!.
Don't mind Namibia's massive crickets!
One of the first Namibian wildlife we saw, were the massive crickets at our bungalow. At first, we were a bit unsure what they were, as they roamed everywhere. They are harmless but certainly look a bit frightening. I am a bit unsure how these animals can still be in existence, as they are very slow and do not move away from anyone or anything. As a result, you see trampled crickets everywhere.  
2. German Colonial Swakopmund and Walvisbaai
The next day we woke up early and headed to Swakopmund. During the drive you will be amazed how huge this country is and how few people live here… we saw only a handful of cars and only a handful of very small settlements during this approximately 5-hour drive. 
Dune 7
Our first stop was dune 7, a large dune close to Walvisbaai, which next to swakopmund is one of the larger towns on the Atlantic coast. The Dune is certainly large and makes a nice stop or picknick. However, after the Sossusvlei, it is just another – this time yellowish – dune.
Visit Walvisbaai's Harbor
Walvisbaai is less picturesque than colobial Swakopmund. You do have a large mall here (ideal to stock supplies) and there is the main highlight; the Walvisbaai Harbor, with a small boulevard, lined with various nice restaurants. It overlooks the lagoon and you can also take some cruises here to spot dolphins, migratory birds, etc. We just relaxed, with some nice oysters, fresh Haku fish and a bottle of rose…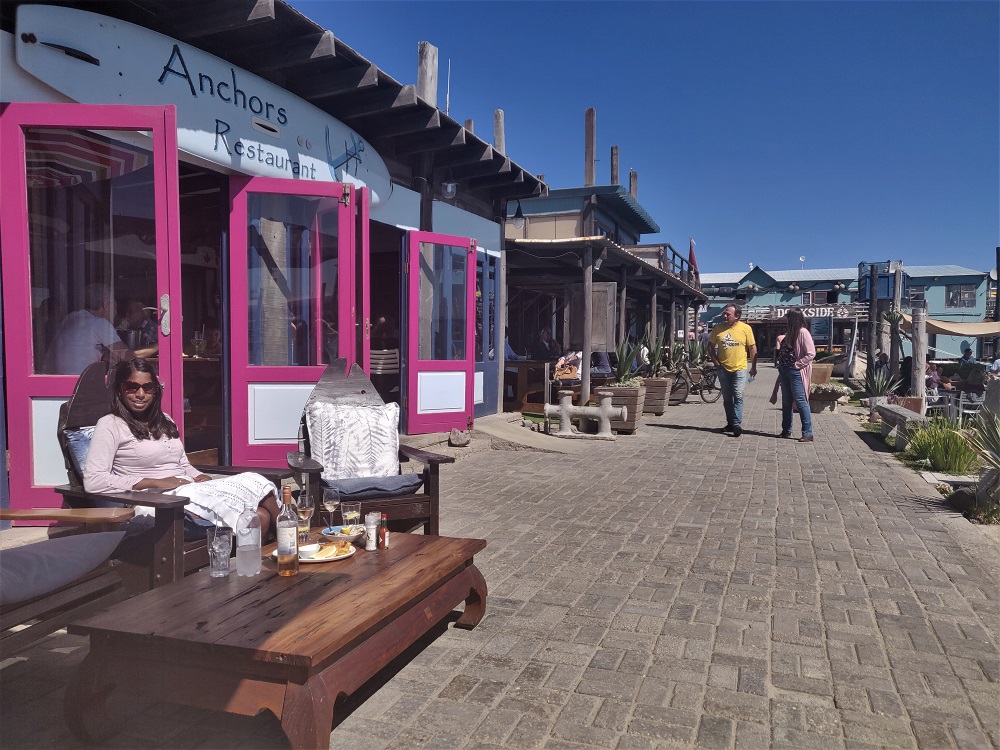 Swakopmund; Little Germany in Namibia
From Walvisbaai it is only a short drive to Swakopmund, an old picturesque German colonial town, where its rare natural harbour provided a safe place to dock boats on this long and treacherous stretch of Atlantic coast over the centuries.
The 'German' influence is obvious, from the typical architecture, the biergartens to the street names and so on.
Unfortunately, similar to Germany, it can get very boring on Sundays. Most shops are closed, and to make things worse: no alcoholic drinks sold in shops!?! (Not very German). This does happen in more countries, and in my opinion, is one of the most stupid policies a government can come up with. Obviously, anyone can buy alcohol the day before?.. To top it up, now during the covid periods, also no alcohol was sold in bars and restaurants on Sunday… completely moronic and not helping the hospitality sector in these difficult times…
This all left us no choice but to retreat to our great hotel roof terrace. Here we sat with our own supply enjoying the beautiful sunset… We decided to go to bed very early to catch up on some well-needed sleep.
3. Seals and Shipwrecks at Namibia's treacherous Skeleton Coast
From Swakopmund, we travel North to explore one of the roughest and most treacherous coastlines in the World: the Skeleton Coast… It has got this name due to the thousands of shipwrecks that landed ashore here over the centuries… The majority of them are barely recognizable due to erosion from the sea, sand and wind… Some are hard to reach from the road, but a couple are easy to view from up close!
Some top picks to enter in your navigation or keep an eye out on the road signs are:
Zeila Shipwreck
The Zeila stranded in 2008, close to a popular fishing spot near Henties Bay. It is one of the more recent wrecks and still in 'good' shape…
Winston Shipwreck
The Winston ran aground in 1970. You can clearly see what time does to an older shipwreck. Slowly being buried and broken down by nature.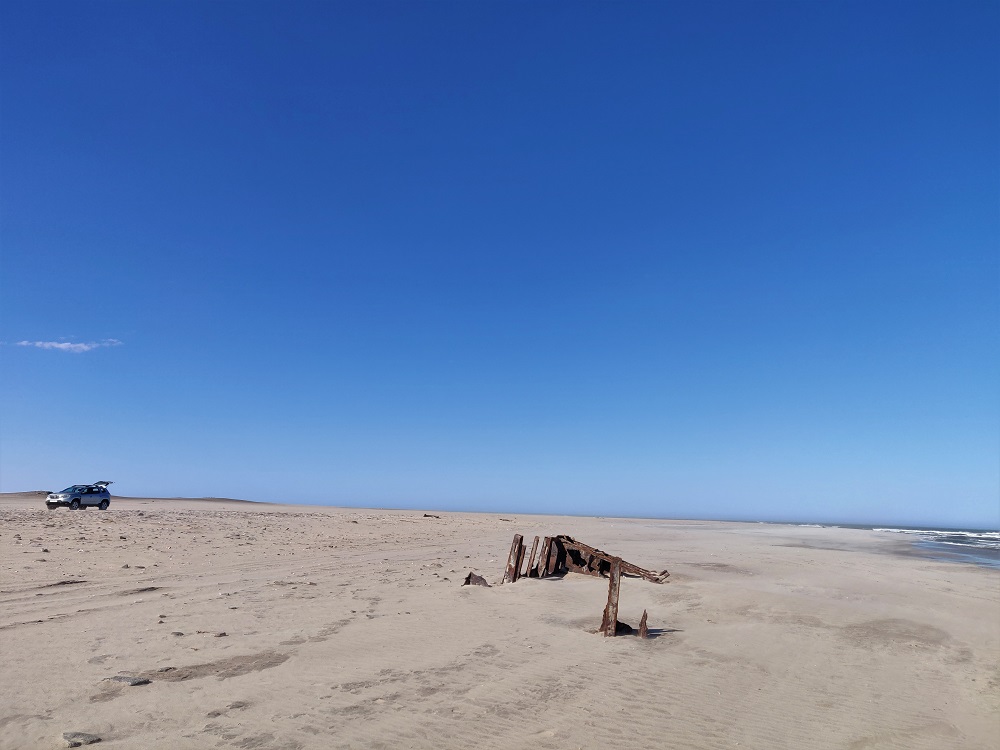 Dunedin Star (South West Sea) Shipwreck
Further North, you can find the Dunedin Star, the remains of a far older shipwreck that landed ashore in 1942. This was a large boat with 106 passengers on board, but now only parts remain. Unsure how fast they decay but keep an eye out for the massive whalebone as well! Just next to the Dunedin Star shipwreck…
When driving along this rough desolate coastline you really get the feeling that you have reached the end of the world, or perhaps landed on some rough alien planet… Imagine stranding ashore here with your ship! At first happy to reach land only to quickly realize that this may be worse… nothing to eat, drink or anyone to help you for hundreds of kilometers!…
Cape Cross Seal Reserve
Another recommended (photo) stop along the Skeleton Coast is the Cape Cross Seal Reserve. Cape Cross is home to one of the largest seal colonies. We were warned of the stench, but perhaps we were lucky with the wind direction as it was not as bad as expected!… 
You can drive northwards for another few hundred kilometers (in case you have 4×4) and enjoy the rough coastline. We drove up until Torrabaai from where we turned inland again. The scenery quickly turns greener again, complete with roaming antelopes…
Top Tip: Ensure you have a large tank in your car, as this is a very long stretch through no man's land… I would even recommend buying a jerry can with gasoline, just for peace of mind. We barely made it to a 'middle of nowhere gas station at our next stop: Twyfelfontein…
4. Carvings on the beautiful red rocks of Twyfelfontein
The closer you get to Twyfelfontein you get the redder the rocks get… it is here that you can witness some of human's oldest marks on the earth in the form of rock carvings…
The carvings, together with the beautiful, almost 'fake-looking, zoo-like' rock formations make this place spectacular… it reminded me of the Seychelles where the rocks are so nice and round or 'properly placed' that it almost looks fake or man-made. 
After a long day's drive, we stayed at the Twyfelfontein country lodge… very nicely situated in and behind a beautiful rock formation.
Top Tip: Similar to driving off-road, the Namibians also seem to like surfing offline!?! There is almost no Wi-Fi available, even not in the more upmarket hotels… They do have internet but you have to buy vouchers instead, which seems a bit outdated and unfair, given that many hotels do not come cheap! In case you are more in need of internet access during your travels, you may want to look into buying a local sim card in the larger places or the airport. Unsure how much cellphone and data reception you have in certain areas of the country, but it may work out moneywise!
Twyfelfontein Organ Pipes & Burnt Mountain
On the next day we finished our visit to the Twyfelfontein National Park with two natural sights. The Organ Pipes are a volcanic basalt rock formation forming square shapes. These look like, you guessed it, organ pipes… It reminded me of a similar (organ pipe) rock formation we saw in Armenia.
A bit further down the road, you will find the Burnt Mountain, a hilly rock formation that is turned black due to volcanic activity.
Make a stop at the Petrified Forest of Namibia
Driving towards our next Namibian highlight we stopped at the Petrified Forest (there are multiple sighting places with similar prices and similar sceneries)… Here you can see various old pine tree remains that moved here during the glacial period. They all lay in the same direction due to the glacial movement. The pine trees are so old that minerals replaced the wood, essentially turning them to stone.
Namibia's Petrified Forrest is a fun stop, and we had a great guide showing us around. When here, do also keep an eye out here for the native Welwitschia desert plant, only found in Namibia and Southern Angola. 
From the Petrified Forest, we still had a few hours of driving ahead of us towards the next highlight: Safari in Etosha National Park, but our wildlife-sighting luck started already as we met an elephant family crossing the road, not far from the petrified forest.  
Top Tip: Fill your gas and stock up your snacks and drinks in Outjo for your upcoming self-drive safari. All available in the park, but you have a wider choice and better prices in this relatively large town.!…
5. Etosha – Namibia's Rhino safari capital
I can be short about Etosha! If you like to see rhinos (usually the most difficult of the big 5) then seek no further and visit Etosha! This must be the rhino capital of safari world!.. We visited at the end of the dry summer, and so should you! This is the ideal time to spot wildlife! During this time water in Etosha park is limited to only a few water holes, all teeming with thirsty wildlife.
As with any safaris, you will definitely see a lot of wildlife, like jackals, ostriches, zebras, antelopes, wildebeests, giraffe, etc… This was our first self-drive safari, and I must say it was better than expected. Despite being confined to the roads (and waterhole parkings), you can get quite close to many animals. Like this Rhino! Just standing on the side of the road and walking alongside our car!…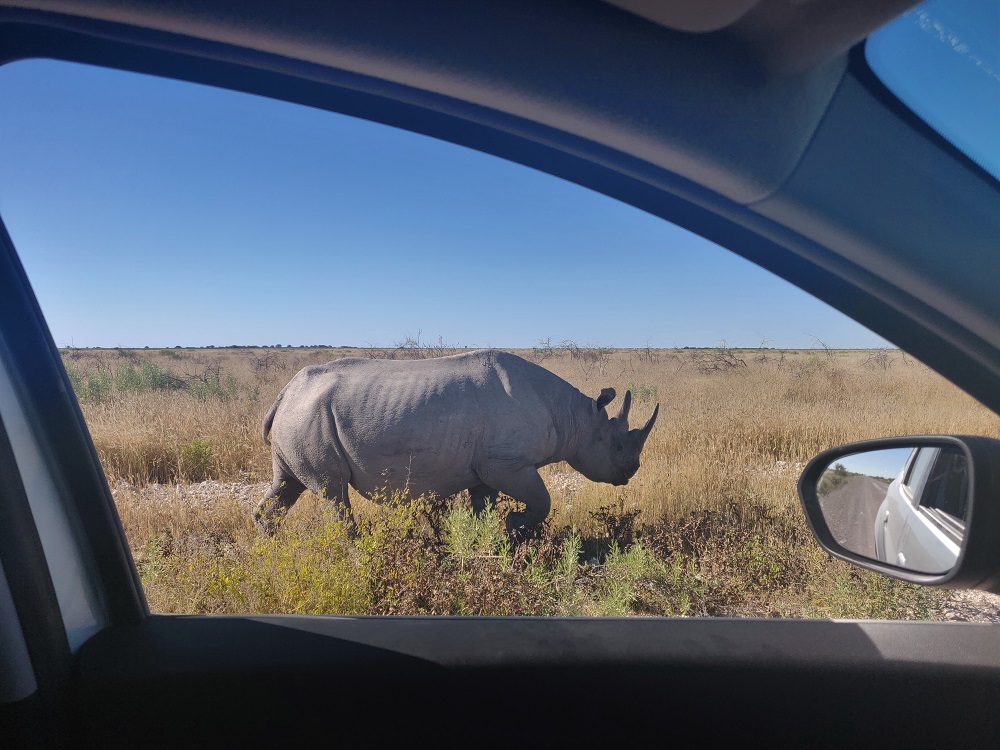 Halali camp
There are various campsites (which also have bungalow accommodations). On our first night, we stayed in Halali camp. Most, if not all camps, are situated next to a waterhole, where you can wait around and view wildlife. However, I would NOT recommend Halali Camp. Perhaps we were unlucky but this waterhole was not that active with wildlife. Moreover, the accommodation is very basic and the staff not too friendly.
We did see some hyenas and a rhino with a baby that was nice! But this was quickly topped the next night…
Okaukuejo camp
The next day we slowly drove back, with some detours, to our point of entry; Okaukuejo Camp, where we would stay the next night. Most impressive were the various giraffe families crossing our roads as well as the lions at the impressive Nebrownii waterhole (include this stop in your safari drive!). If you are a safari enthusiast, you could drive onwards, try out other camps and even exit the Etosha National park from a different gate.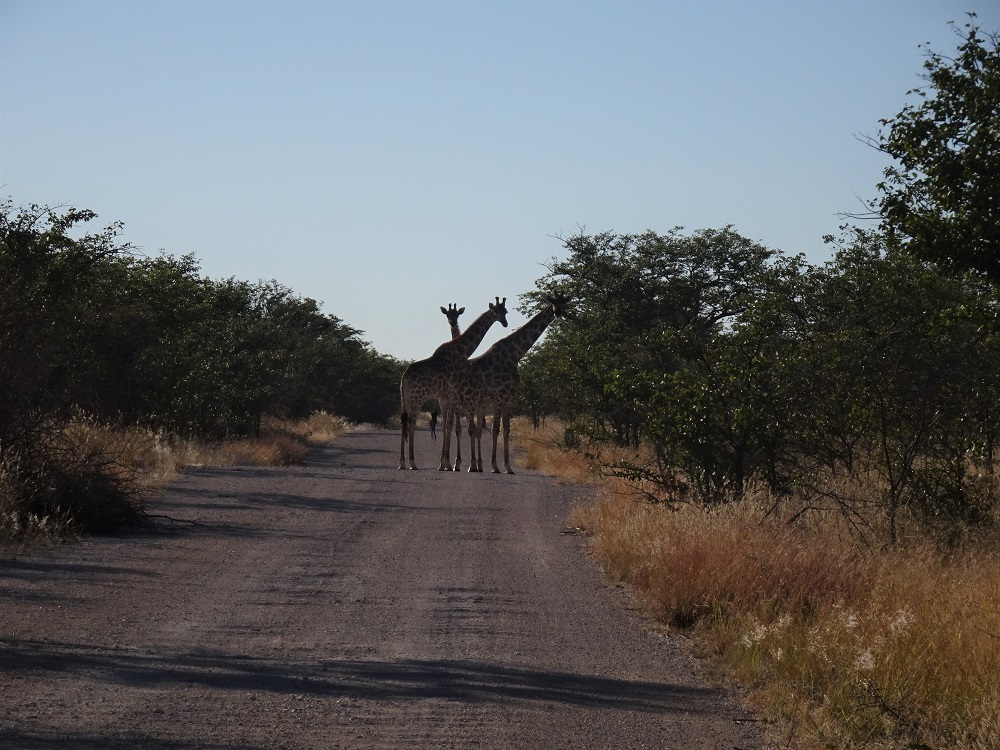 Okaukuejo Camp is a much better setup than Halali Camp and its waterhole is far nicer situated with more wildlife to watch. In addition, the accommodation is better (to be fair, the price is also higher).
Top Tip: Stay in various camps to see different waterholes throughout the park. However, do stay at least 1 night in Okaukuejo camp… one of the best setup and in our case teeming with wildlife!
Okaukuejo waterhole – perhaps the wildlife hotspot of Namibia?
Upon arrival, we were greeted by an elephant family!… Later on, a jackal made its appearance, along with many zebras and wildebeests, as well as a large eagle in the tree… Then a rhino, and another one… and one with a baby… before we knew it there were 7 different rhinos all roaming the waterhole! Amazing!… as usually rhinos are very solitary animals, roaming in their own territory and therefore hard(er) to spot… Did I already say that you should visit Etosha for its rhinos!?!
6. Hike the wonderful Waterberg
From Etosha, it is a relatively short 3-hour drive to Waterberg. The roads are tarred and much better in this part of Namibia, which will further reduce your drive time.
Waterberg is a rock plateau overlooking the vast plains around it. Comparable to the Tafelberg in South Africa or Uluru Rock in Australia. The beautiful red-rock rim stands out from afar!… There are various game drives or hiking routes.
We took a short hike up to the plateau for a picnic lunch with an amazing view over the Namibian savannah plains…
Panic in the Waterberg woods
On our way back we took another way down. Amanda, being a bit uncomfortable with the potential surrounding creepy crawlers (and sounds of baboons in the distance) wanted to hurry down, which made us lose the path and found ourselves 'lost' in thorny bushes, scratching ourselves and getting our feet wet, walking through ponds… Quite an adventure with a slightly panicky Amanda on the go… After a while, we obviously found the trail and made our way back to our bungalow… Panic for nothing, and funny in hindsight…
The red rocks of Waterberg
The red rock of the Waterberg is especially beautiful during sunrise and sunset… when the rock is so bright, it seems to be on fire!…
Top Tip: If pushed for time you could do a day trip and do a small hike to the Waterberg plateau for a lunch picnic… It would easily fit on your trip between Etosha and Windhoek with lunch at the Waterberg Plateau.
We stayed the night at Waterberg lodge and had a steak in a typical German-style restaurant.  
A fun aspect of Waterberg is that has different wildlife roaming the grounds than Etosha. Keep an eye out for the baboons, wild boar and the rare small Damara dik-dik…
7. Windhoek
After these highlights, it is time to wind down at Windhoek! Let's explore Namibia's capital! With around 425k inhabitants, it is the largest city in Namibia. Windhoek has not too many places of interest, but I recommend checking out the following:
Christuskirche
This typical German-style Christ Church makes for a great photo stop.
Namibian Independence Museum
Next to the Christuskirche, you find The Independence museum. Stroll around the various floors displaying the struggle and background of gaining independence from South Africa in the 90s. The restaurant terraces offer nice vistas over Windhoek in all directions!
Stellenbosch Wine Bar and Tasting room
The Stellenbosch Wine Bar is likely the best place to enjoy a great lunch or afternoon drink. A very relaxed place for the more well-to-do Namibian and tourist!
Am Weinberg Estate
Am Weinberg Estate, houses various up-market (but still very affordable) restaurants, like Olivia's (nice for a coffee or breakfast) and Cape Town Fish Market. There is also a boutique hotel here as well as a spa!…
Joe's beer house
A nice relaxed place offering German dishes with an African twist. Joe's beer house is a great place to mingle with the friendly locals at the bar!
Heinitzburg Castle
This German castle, turned into a hotel and restaurant offers great views over the city!
Heinitzburg Castle offers great sundowner views and is a good place for a dinner splurge (we did both) reflecting on an amazing Namibian road trip!…
Well, that brings us to the end of the Ghost around the Globe road trip through Namibia, connecting the amazing 7 highlights of Namibia!… Interested in combining your Namibia trip with other destinations? Check out my South Africa posts, or have a look at my Ethiopia blog (in case flying with Ethiopian Air).