Exploring Abu Dhabi: Ultimate 1-day itinerary
If you are a returning reader, you know that while living in Dubai, we have been exploring the wider UAE: examples are my posts on Al Ain, Fujairah, our wild camping trip to Liwa and the Moreeb dune, our luxury stay in Al Maha desert resort or our road trip to Oman's peninsula Musandam. When we have guests over we usually stay within Dubai. However, in case we have more time, or in case we have repeat visitors, we also show our visitors around in Abu Dhabi, the capital of the UAE. This has resulted in a simple 1-day itinerary past Abu Dhabi's key highlights, which you can easily switch around, include other places of interest or combine with one or more of the linked posts above!…
Background on Abu Dhabi
As mentioned, Abu Dhabi is the capital of the United Arab Emirates, to most people in the world, it is lesser known than Dubai, despite the fact that the Abu Dhabi emirate is much larger and has most of the UAE's oil riches. The city has fewer places of interest, as the Emirate is a bit more conservative and does not have the ' luxurious glitter and glamour party vibe' that Dubai is internationally famous for. 
I have worked a few months in Abu Dhabi and when speaking to my team members about their weekend activities it was unlike the diverse stories I heard from my Dubai colleagues and friends. Where in Dubai their weekends were filled with brunches, outdoor activities, parties, etc. Instead, Abu Dhabi seems far quieter, and/or perhaps attracts the more quiet people. No wonder that many young families decide to live in Abu Dhabi, as it may be 'too boring' for Dubai's predominantly young and single community.
With a different population, mindset, and perhaps a different way of 'branding' itself to the world, Abu Dhabi also has far fewer tourist sites than Dubai. But don't get me wrong, the few key sights Abu Dhabi does have are world-class, so let's start our itinerary!…
Key sights of Abu Dhabi
The best way to explore Abu Dhabi's key sights is by car, so do rent a car if you need to. Car rental and gasoline are very cheap in the United Arab Emirates!… Also read my post on how to safe money in the UAE & Oman, for more money-saving tips!
We have a full day ahead of us, so let's leave early and arrive at our first site as soon as you can before the tour buses start arriving!
Sheikh Zayed Grand Mosque
Perhaps the key reason for any tourist to go to Abu Dhabi is to visit the impressive Sheikh Zayed Grand Mosque. It is one of the largest mosques in the world, able to accommodate over 40.000 worshippers.
Originally you could just park next to the mosque, go through detection gate – and in case you are a woman change to an abaya (traditional dress) that they can use on the Mosque's grounds – and simply enjoy the site.
Recently entrance of Sheikh Zayed Grand Mosque has changed
You have to park in the underground parking, where you have to walk literally for miles through a mall-like setup, through a ticketing system, the security check, via travelators until you finally reach the grounds. This is all very time consuming and in my opinion a very unnecessary holdup. Unfortunately, this is the way it works now, resulting in a longer overall stay here. With the new setup, do expect to spend at least 1.5 to 2 hours here in total…
On a positive note: the Sheikh Zayed Grand Mosque is completely free! (also the borrowing of Abayas for female visitors)
Logistics to keep in mind during your visit
Top Tip: Do not bring any lighters or cigarettes to the Mosque. For men; wear long pants, short sleeves is allowed (sleeveless is not allowed). For women; you can wear whatever you want, as Abayas are provided. In case you have your own abaya, bring it! Or wear something that covers you from your ankles all the way to your underarms and covers your hair as well. 
Top Tip: Do check when you want to make this trip! All days are great, especially the quieter weekdays, however, if you plan your visit on Fridays, do keep in mind that due to prayers, on Friday the Mosque is only open for (non-Muslim) visitors between 16.30h and 22.00h. On any other day, it is open between 9.00h and 22.00h.
Ferrari World & Yas Island (optional)
The first time we did this full 1-day itinerary we included Ferrari World and it worked perfectly!…
Ferrari World is a mostly indoors amusement park on Yas Island in Abu Dhabi. It is the world's first Ferrari-branded theme park and has the record for the largest space-frame structure ever built. It is also home to Formula Rossa, the world's fastest roller coaster.
The park opens at 11.00, giving you enough time to first check out Sheikh Zayed Grand Mosque in the early morning…
Even though it is one of the largest indoor theme parks, it is not too big and usually not too crowded (especially not early in the day or on weekdays). This means waiting times are not very long. (Especially when focusing on the key attractions as early in the day as you can).
Top Tip: Arrive early in attractions like Ferrari World or Yas Waterworld! People in the Middle- East usually get active later on the day! Resulting in empty malls and attractions in the morning that turn into (over)crowded places at night.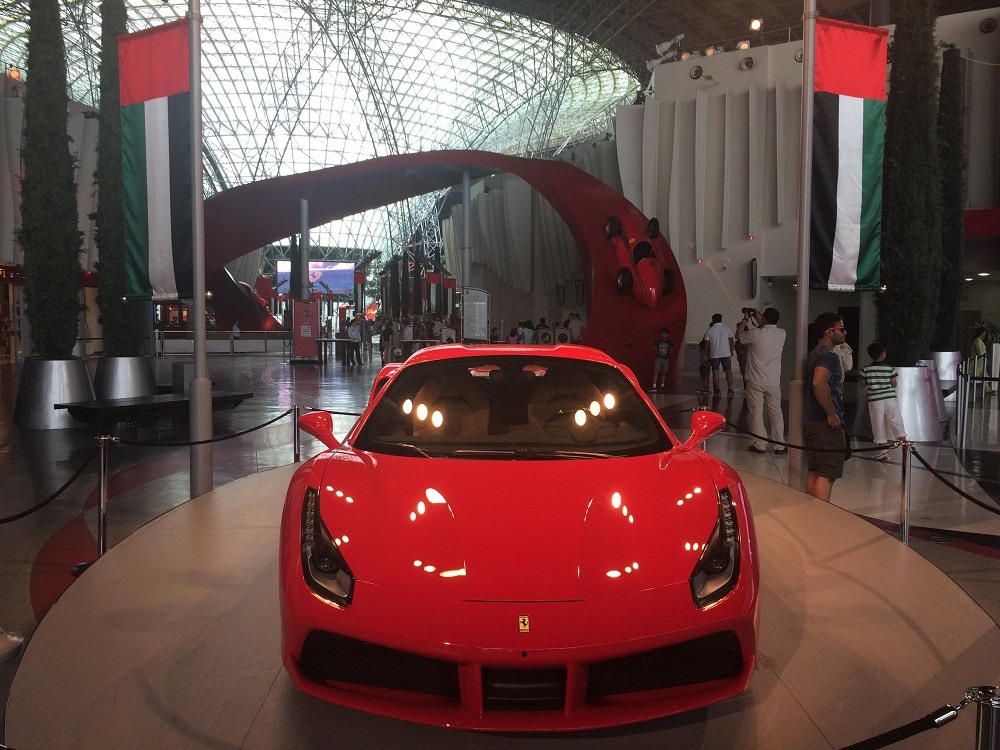 Yas Mall
If fast rollercoasters are not your thing, you could still make a quick stop and check out the building. As mentioned Ferrari World itself is the largest space frame in the world, making it a spectacular building, you can see from afar.
If shopping is more your thing you could visit the adjacent Yas Mall, the largest shopping mall of Abu Dhabi. (Personally, would find it a waste, as Dubai has more impressive malls).
Yas Waterworld
There is a third option on Yas Island, which is Yas Waterworld. A large water amusement park. I have not visited it thus far, but could be a great replacement if you prefer waterslides over rollercoasters. You can even buy combination tickets of Ferrari World and Yas Waterworld (although that would be cramping it too much for this itinerary – but would be good 1 or 2-day activity when staying longer in Abu Dhabi).
Top Tip: Also do check out my post on 'How to save money in the UAE and Oman' where I explain the Entertainer app. The entertainer also has 1-for-1 options for Ferrari World. Given the relatively high expense of an entrance ticket, it makes your entertainer essentially free!…
After 3 hours to 5 hours of fun (depending on if you are fast or like to take more time), you will have done most attractions multiple times even! Let's leave Ferrari World (or the other options) behind and move on!…
Louvre Abu Dhabi (optional)
As mentioned Abu Dhabi is less about partying and instead focuses more on culture. One of its most recent additions to its cultural highlights is the Louvre Abu Dhabi. In my opinion, the building's architecture is more impressive than the, rather limited, art collection it houses.
In my view, the Louvre Abu Dhabi is not a must-visit, but if you have time, or did not spend too much time at Yas Island, it makes a nice (photo) stop!…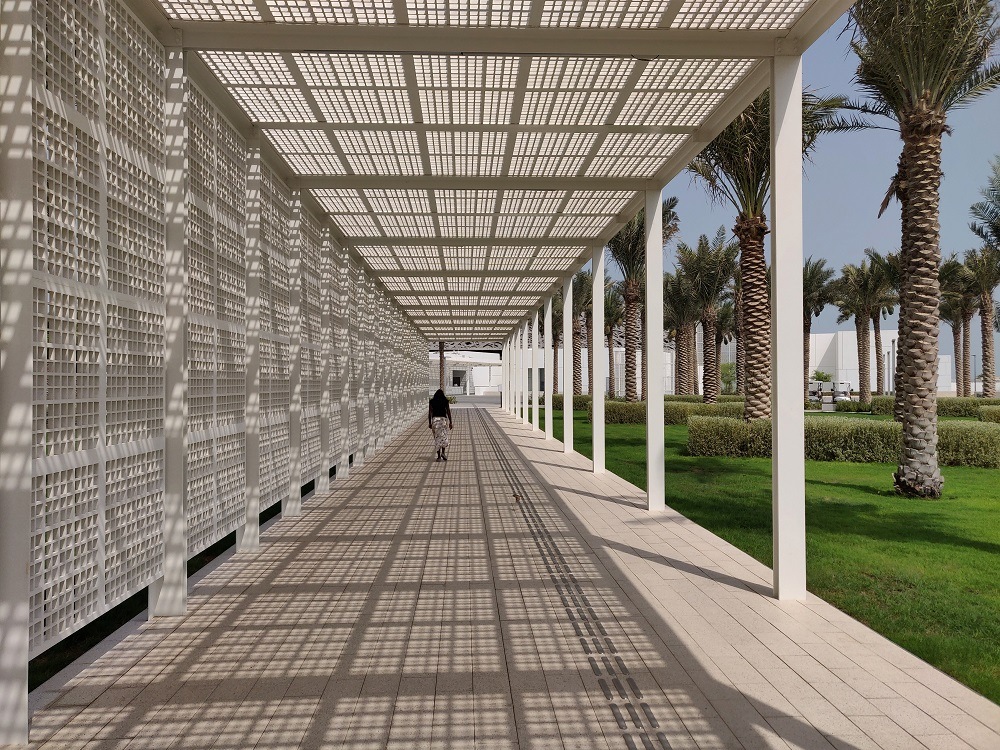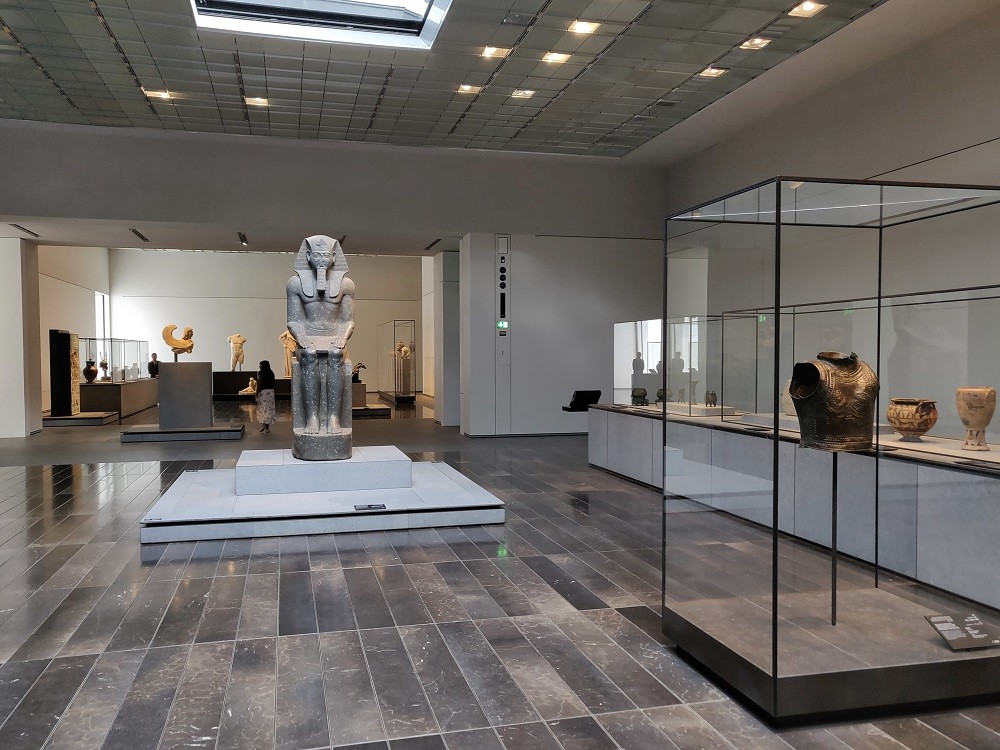 Emirates Palace
By now it is likely around 15.00h or 16.00h… Make sure you drive over the Abu Dhabi Corniche, a nice boulevard providing views over the beach and the skyline of Abu Dhabi…. The Corniche eventually leads you to the other key highlight of Abu Dhabi; Emirates Palace.
Emirates Palace is one of the most luxurious (7-star) hotels in the world and one of the most expensive buildings in the world (costing over 3 Billion USD).
Indulge in Luxury
We stayed once in this hotel, which depending on the season (we stayed in summer) can be relatively cheap to indulge in ultimate luxury. Let me give you some examples:
You can enjoy the pools (adult pool on one end of the complex, children's pool on the other). If you like to go from one to the other you are driven in a golf cart…
Enjoy the 3 km private beach! Complete with camel rides (for a fee)
Browse the gold plated hallways and awe at one of the most iconic features of the hotel is the dome in its atrium. The 60-metre-high (197 feet) dome is the largest in the world! (also accessible for visitors).
Another golden detail is the golden cappuccino served at Le Café. This café offers the 24K Gold Flaked Palace Cappuccino, which features real flakes of 24-carat gold, which is edible.
Hungry? Try the Palace's signature dish, the Emirates Palace Camel Burger, is also found at Le Café. Complete with an Arabic luxury twist, this burger is also served with 24-carat gold.
Your 'neighbour' is the Sheikh of Abu Dhabi, living in an equally impressive white palace complex just next door…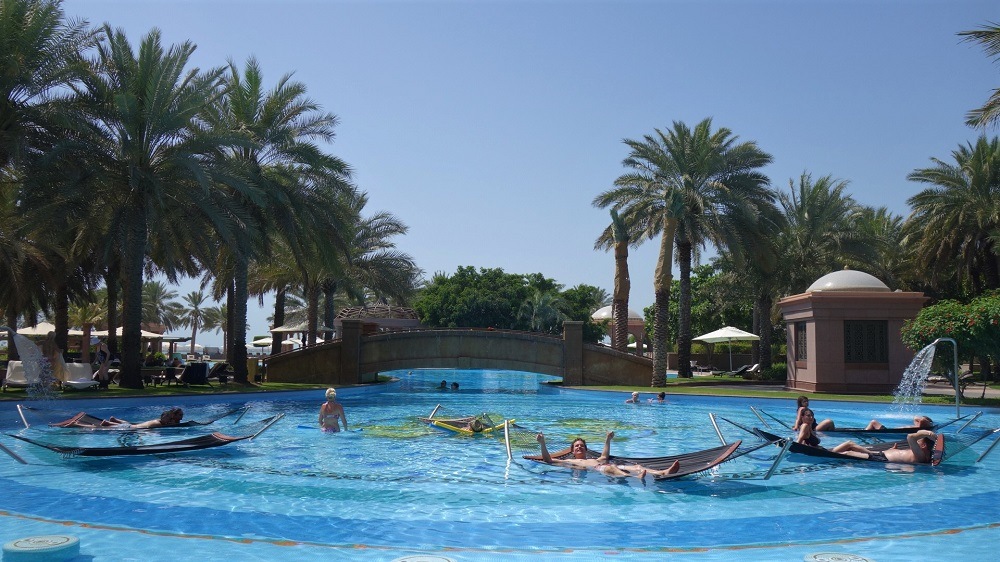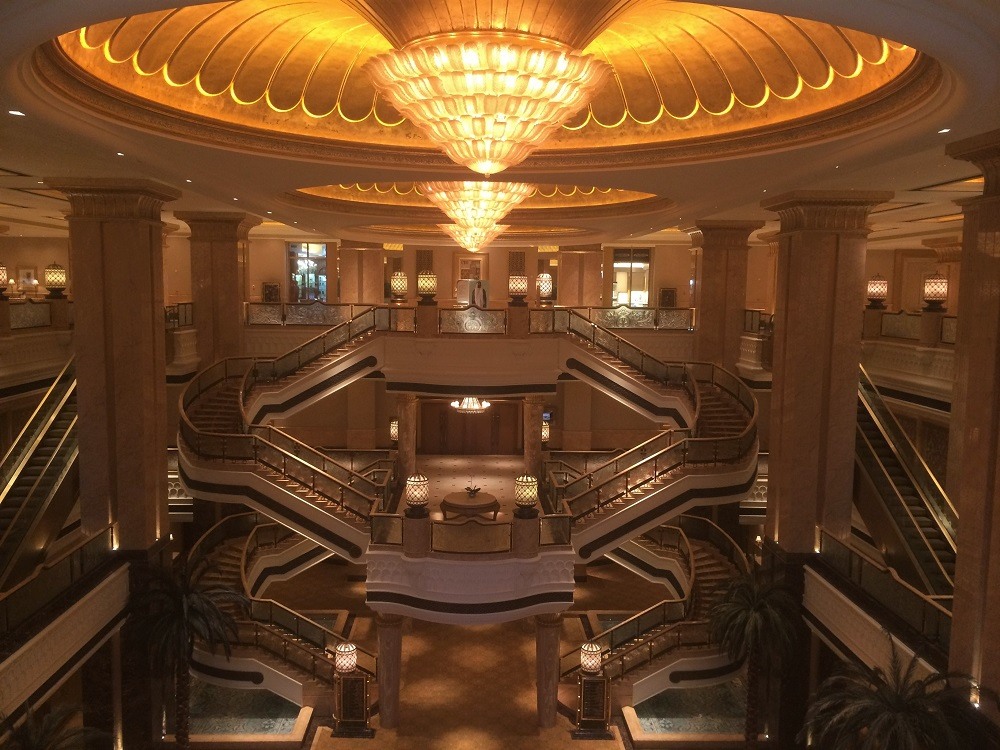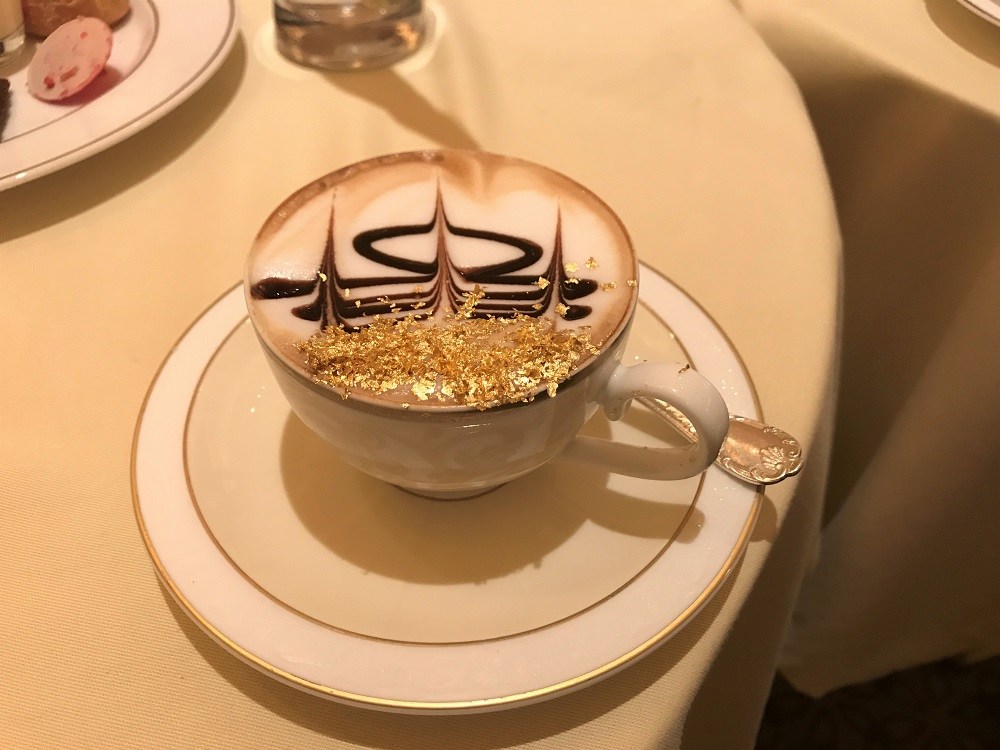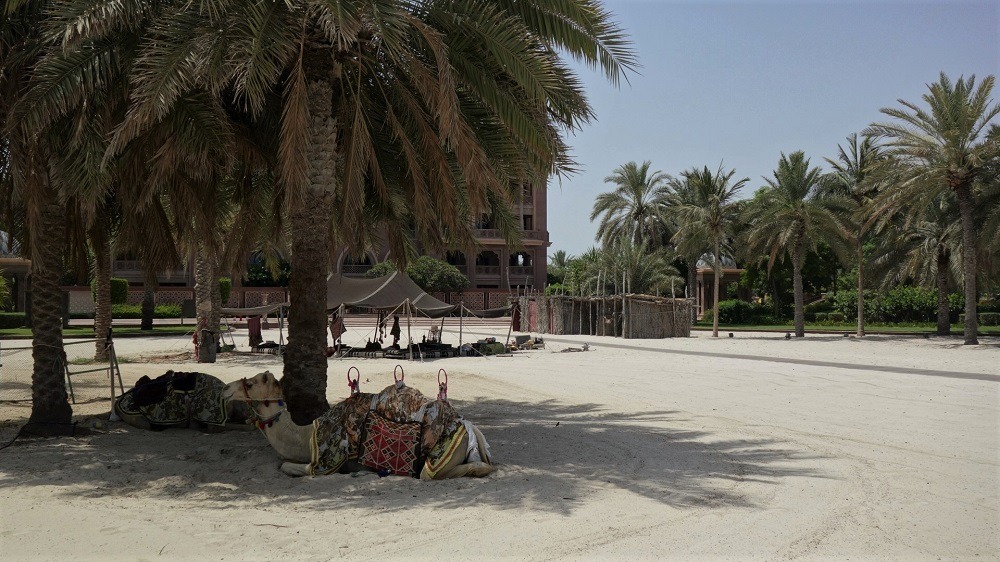 Top Tip: Willing to splurge and try all these signatory dishes? Checkout the afternoon-tea in Le Café, which includes most of the signatory items! Or check out its weekend brunch or dinner options, gaining you access to the poolside!… Both will also include your valet parking.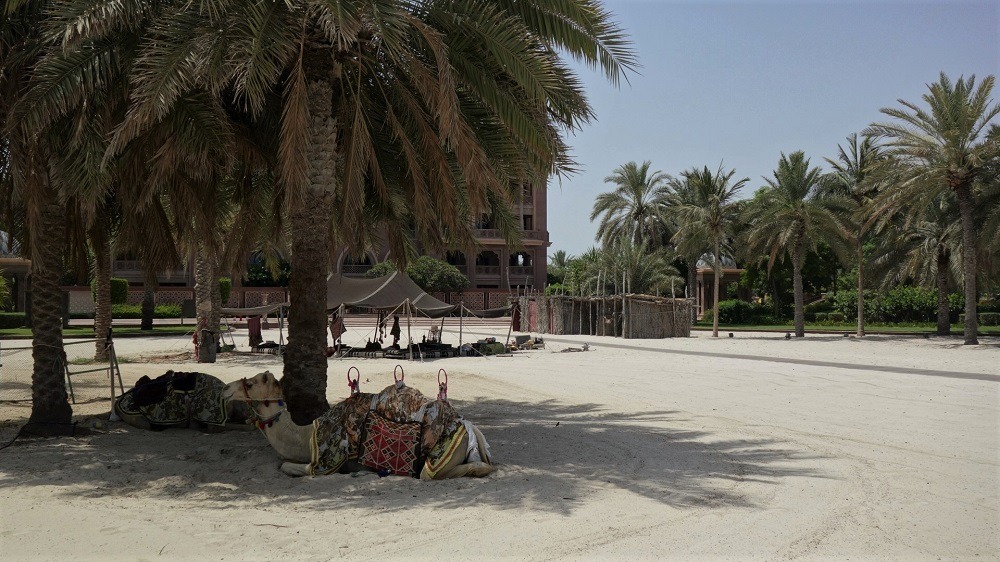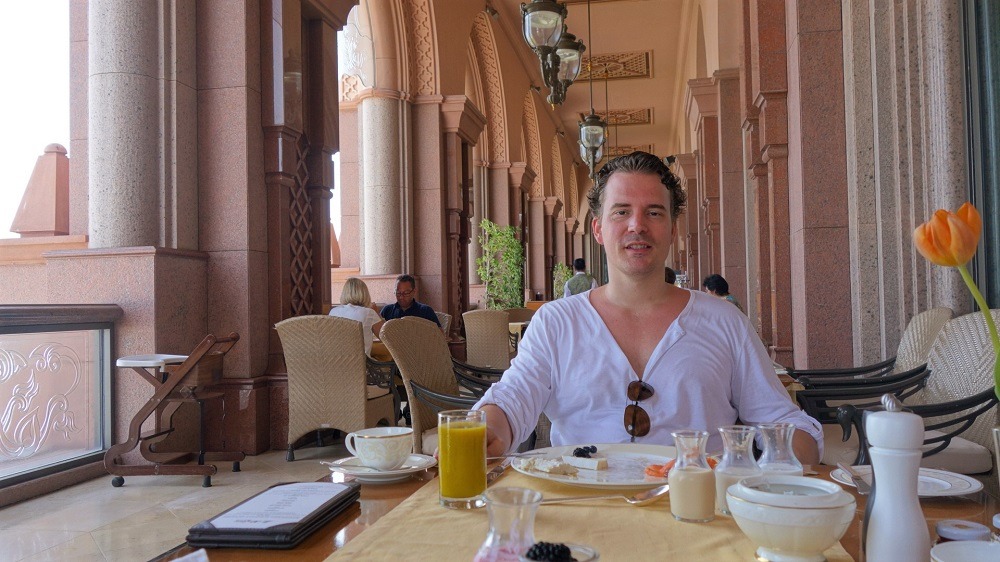 Aldar HQ
Depending on your route, on your way between Abu Dhabi and Dubai you will pass an interesting office building: The round-shaped Aldar HQ. As far as I am aware you cannot enter this building, but it makes for a nice photo stop!
Top Tip: Before traveling to Abu Dhabi watch the action movie 6 Underground, most locations (Even the ones claimed to be in other cities, were actually filmed in Abu Dhabi). The Aldar HQ is used predominantly as well!…
Visit Abu Dhabi during the Formula 1 races
In case you are a Formula 1 enthusiast you may want to visit Abu Dhabi during one of its yearly highlights; the races on Yas Marina Circuit. Do keep in mind that hotel prices surge during this period. Also, as mentioned Abu Dhabi is less fun than nearby Dubai. Instead of Abu Dhabi, you may want to visit the Formula 1 in Bahrain instead (slightly more lively nightlife than Abu Dhabi). But if you want to really enjoy a great Formula 1 spectacle, driven on a street circuit in the middle of a great city!…. Then my top recommendation would be Singapore!…
To wrap it up: And that already sums up the highlights of Abu Dhabi! As mentioned easily doable in 1 day, or if you like to take more time or include all above and/or other sites, than book an overnight stay! (We often do this, and the next (Saturday) morning visit the Sheikh Zayed Grand Mosque).
As mentioned do also read my other Ghost around the Globe stories to make your UAE experience complete!… Explore the desert city of Al Ain, go snorkelling in Fujairah, go wild camping at Liwa and the Moreeb dune, Stay for free in luxurious Al Maha desert resort and of course discover Dubai!… All while saving money!…
Or combine your trip with other Middle East destinations, like Saudi Arabia, Bahrain, Qatar or Kuwait!