Exploring Cairo and Pyramids of Gizeh
Reading time: min | Published on:
The Pyramids of Gizeh are literally a stone's throw away from Cairo and should be part of any traveler's wish list. In this post I provide you with my tips and tricks to make the most of your visit to the Pyramids of Gizeh. Cairo is actually just a very old city (I dare say 'beyond repair'). However there are a few interesting sights worth visiting. After reading this post you'll understand why it is best to limit your time in Cairo and spend your time elsewhere in Egypt.
Read all about my Abu Simbel visit and my Nile Cruise Experience from Aswan to Luxor. To prepare yourself for various annoyances read all about the downsides of traveling in Egypt – especially at the Pyramids of Gizeh!…
How to best enjoy the Pyramids of Gizeh
The Great Pyramid of Gizeh, (147m /481 ft) was the tallest structure in the world for over 3,800 years, until the construction of Lincoln Cathedral in 1311. Therefore, it is no surprise that this last survivor of the '7 Old Wonders of the World' has attracted tourists from all over the world for centuries!
Brace yourself, visiting Egypt (especially the Pyramid of Gizeh) can be 'annoying' – read all about here!… Having said that, let's dive into some tips to make your visit to Gizeh and Cairo as fun and efficient as possible…
Stay at Marriott Mena Hotel next to Pyramids of Gizeh
Egypt's 'mainland' destinations (and accommodations) do not compare to some of the more luxury hotels dotted along the red sea. One of the better hotels in Cairo is the Marriott Mena Hotel, despite being a bit dated its location, gardens, and views of the Pyramids of Gizeh are sublime!…
Top Tip: Stay (at least one night) at Marriott Mena Hotel allowing you an easy stroll to the Pyramids at your own time (avoiding the tour buses). The views (over breakfast) or from the garden are a great addition to your 'I am in Egypt' feeling!
Try to avoid crowded periods at Pyramids of Gizeh
In case you are not able to stay at Marriott Mena you can still try to visit the Pyramids during a relatively quiet time. A good obvious start is to avoid school holiday periods. Also, keep in mind in summer it will be far less busy (but very hot). No matter when you visit, there will always be people. However, if you visit early mornings (before the tour buses arrive) or early afternoon (before the tour buses and sunset visitors arrive) you should be fine!…
We visited somewhere between 1300h and 1600h in end November and it was not (overly) crowded. Tourist-wise that is… The annoying 'souvenir sellers' are always there I guess…
Decide on which Pyramids of Gizeh tickets to buy
There are various types of entry tickets. Some (far more expensive) tickets also grant you (brief) access inside the pyramids. I already visited the Pyramids before (many years ago). Hence, we just opted for general tickets this time. A General-admission ticket provides you with one-time access to the entire Pyramids grounds and also include a handful of (smaller) tombs next to the pyramids and access to the Sphinx.
Of course, it is nice to say that you were inside the pyramids. However depending on your itinerary, you may choose to skip this as you will visit much nicer tombs (and temples) on your wider Egypt Travels. For example, the Valley of the Kings in Luxor or Abu Simbel.
Top Tip: Keep in mind, a general Admission ticket may be sufficient for you, depending on your wider Egypt itinerary!…
Try to avoid the crowds at the Pyramid of Gizeh grounds
As also described in my post about the Downsides of travelling in Egypt (and Gizeh), there are many 'souvenir sellers' out for your money on the Gizeh grounds. It is ridiculous and unfortunate but apparently the way it is… Most of them are at the Pyramid Entrance(s). To make the most of your visit I suggest venturing out to the less crowded areas so you will not be bothered too much. Trust me there are many areas on the vast Pyramid grounds where you can enjoy this historic sight at peace!…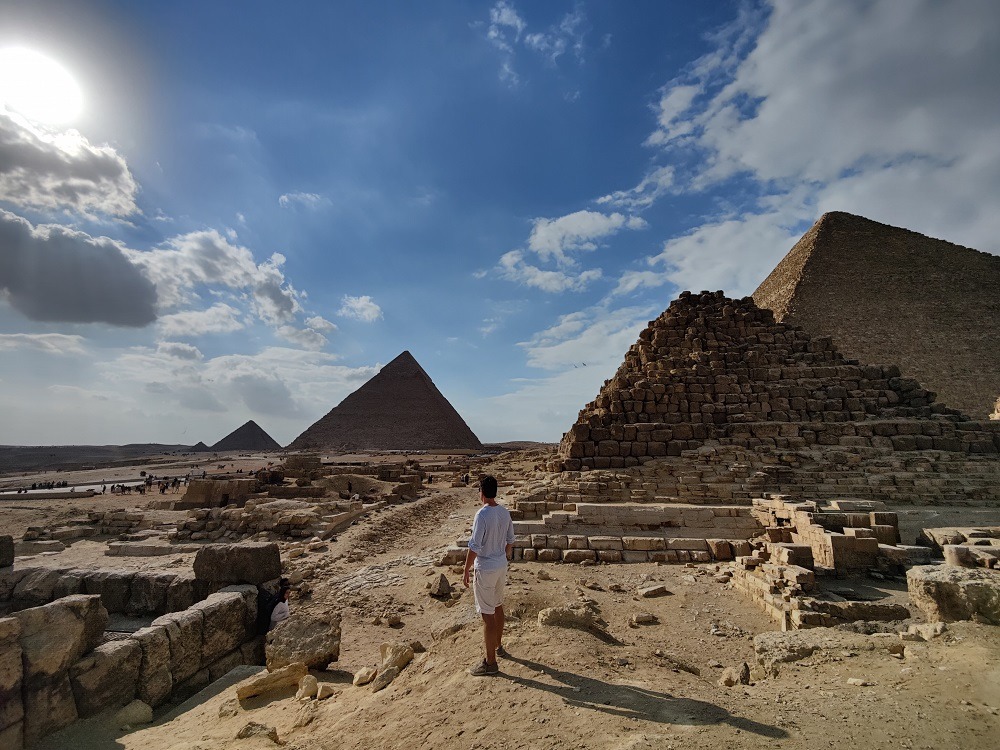 Top Tip: Find a nice quiet spot on the vast Pyramid Grounds, away from the tourists and 'souvenir sellers' to really enjoy this historic sight!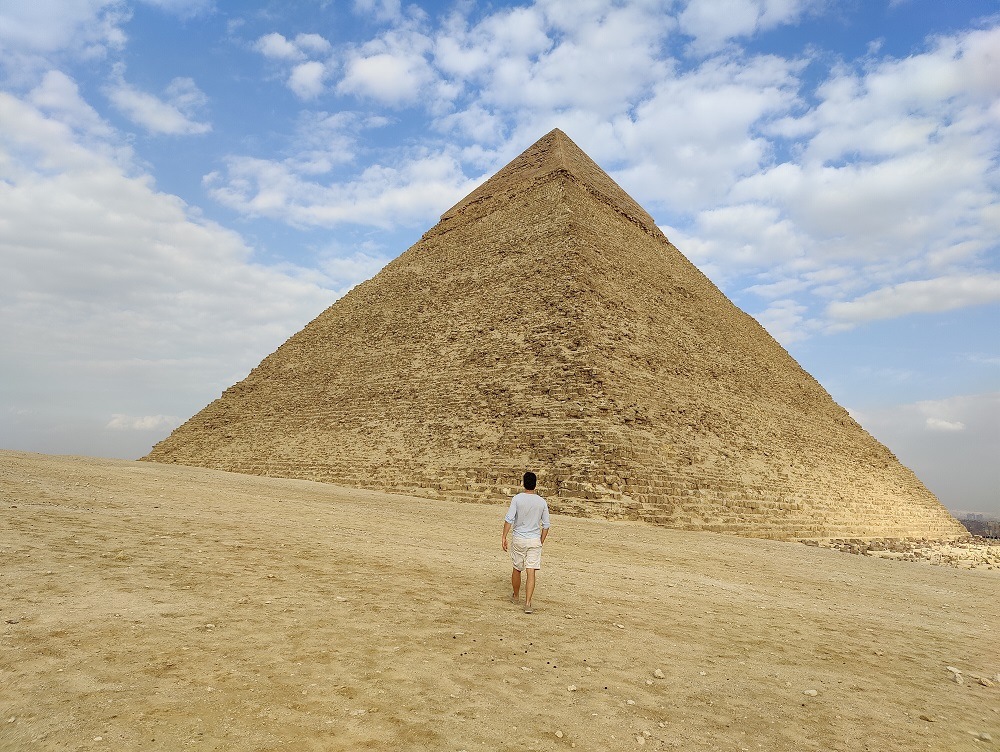 Do not forget to visit the Sphinx!
Looking at the great Pyramids you would almost forget to visit the Sphinx! This is by far the world's largest statue of this mythical creature with the head of a human, the body of a lion, and the wings of a falcon. There are various theories of who or what broke the nose, however the most common one is that it is just due to weather and corrosion.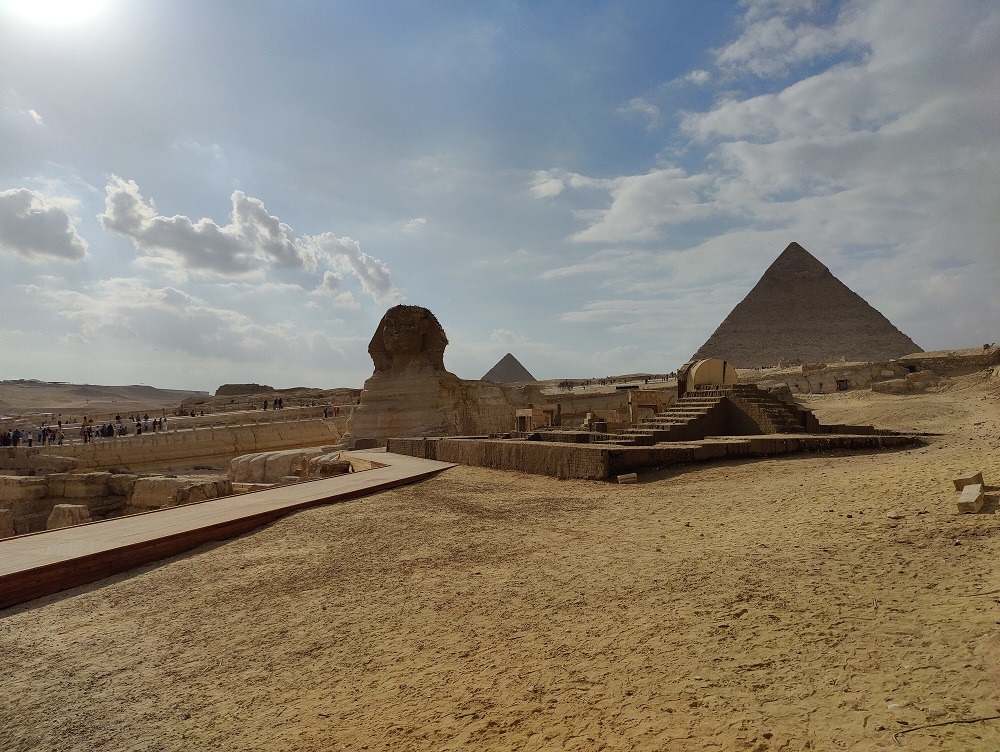 Why you should limit your time in Cairo
By far the biggest reason of visiting Cairo are the Pyramids of Gizeh. Cairo has some other sights worth visiting that we will dive into in a moment, but overall Cairo is just a very large, over-populated, congested city. When visiting Cairo, you just cannot miss the 'poverty' and 'lack of city planning' which has haunted this city for years. I phrased the term already that I think Cairo is 'beyond repair', and I seem not alone as the Egyptian government is building a new modern capital, which is likely the best way forward!…
Crazy Cairo Traffic
The traffic is one of the craziest in the world (even topping slightly slower-paced India). Driving in Cairo is more like skying of a ski slope! All traffic continuously crisscrosses and cars miss each other by millimeters at high speeds… It has nothing to do with simply 'keeping lanes' on highway… An interesting experience to keep you on the tip of your (car) seat)! I still remember the honking of my visit to Cairo decades ago… Nothing seems changed…
Top Tip: When driving through Cairo have a look out at the many 'wooden structures' which, according to a driver, are rooftop minarets. Some buildings of roofs seem to even have entire mosques built on the highest floor. Interesting, as I have not seen this in other parts of the Middle East.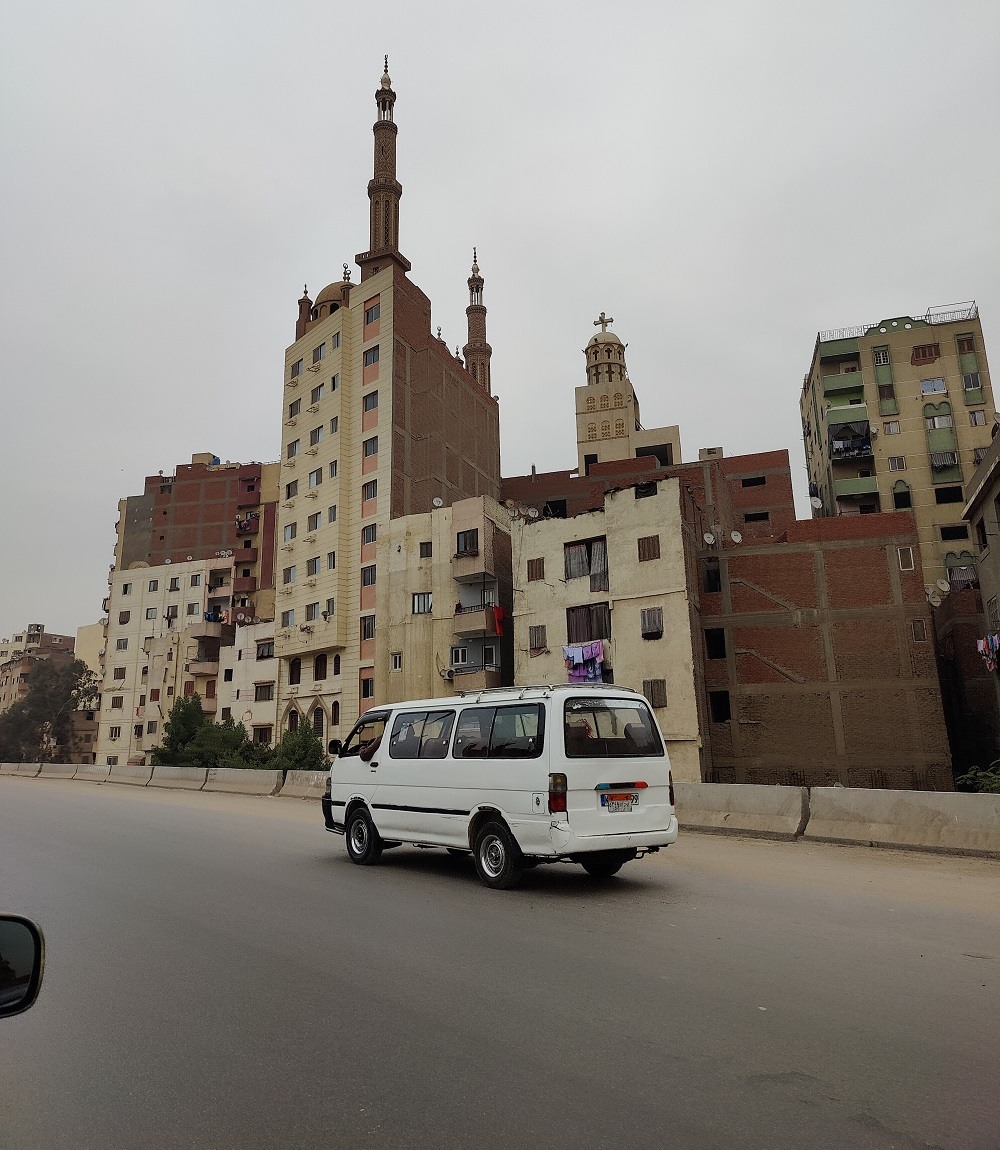 Cairo's interesting and efficient way of City Planning
Well, not entirely true… Something has changed… I remember Cairo as more congested, but there seem to have been some efforts to reduce congestion. Mainly by constructing new freeways through the city. When driving from the Airport towards Gizeh you will certainly drive here as well…
This must be one of the most interesting ways of making space for a freeway I have seen thus far… They literally just cut through existing buildings (of which the remaining parts are still inhabited). You can clearly see the original wallpaper and wall paint colors of the former living rooms and bedrooms. Some walls seem to have been semi-converted to balconies by the neighbors (who suddenly got a view of the new freeway).
No effort seems to be made to enhance the scenery (from the road) or at least paint the (new) outer walls in one color. I never seen something like this at this scale!…
The 2 examples above and the depicted scenery indicate that Cairo is not a city that invites you to keep lingering around! Therefore, I suggest planning (max) 2 full days in Cairo, which will give you enough time to visit the Pyramids of Gizeh and the below sights! After that spend your time in the – far nicer and quieter – parts of Egypt, Like Abu Simbel, or Nile cruising from Aswan to Luxor.
The Royal Mummies Hall
Located in The National Museum of Egyptian Civilization you find The Royal Mummies Hall, where you can visit the remains of the actual pharaohs who ruled more than 3000 years ago!… Just let that sink in…It is really amazing that these human remains still exist today and that mankind was already able to come up with 'inventions' like mummifications many thousands of years ago…
Top Tip: When in Cairo definitely visit the Royal Mummies Hall! Especially as there are only very limited places in Egypt (or the World) where you can see mummies.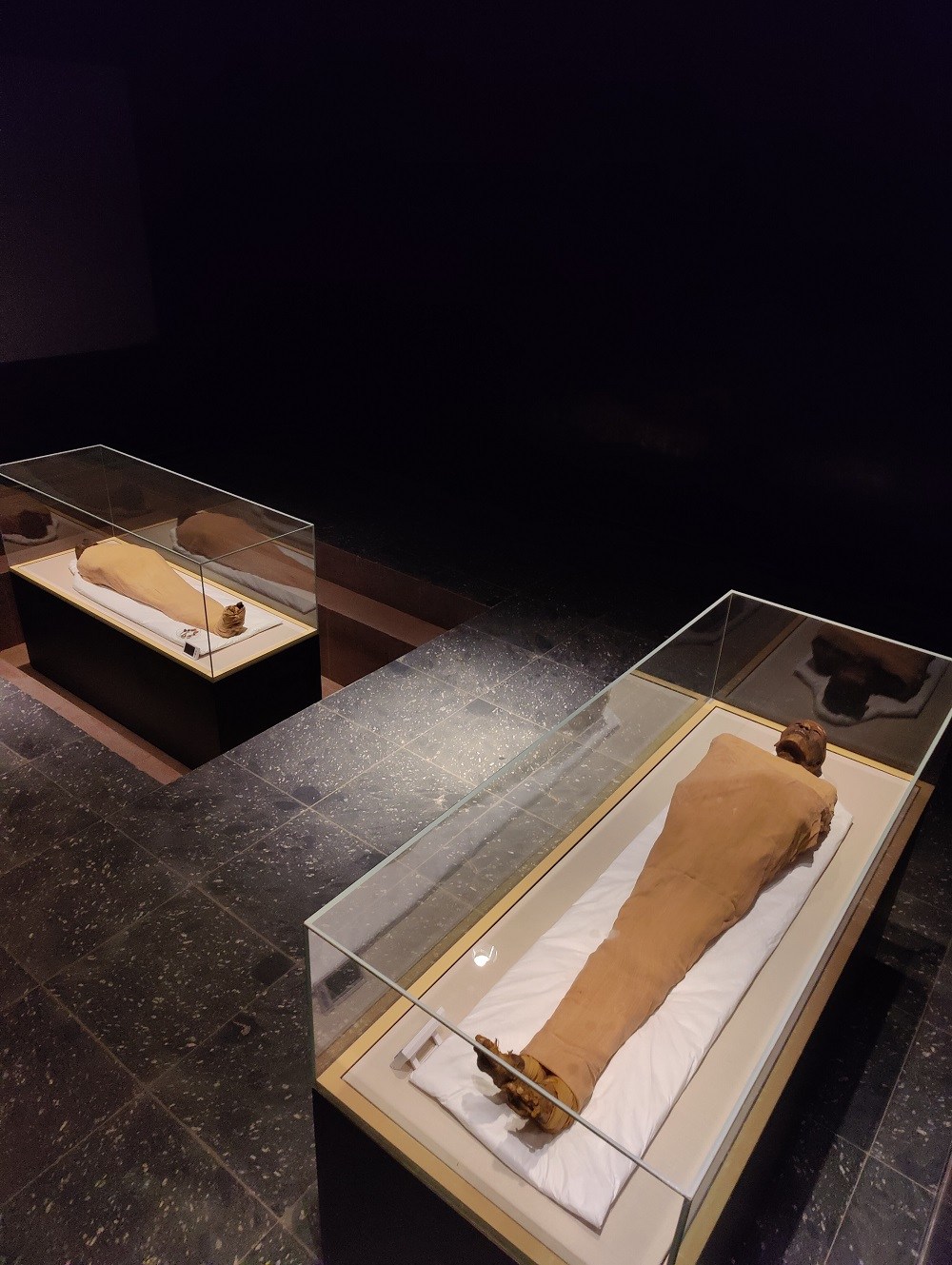 The Royal mummies hall is the most important part of the museum complex although the 'main hall' also displays quite a few nice artifacts.
Top Tip: The A/C is turned maximum, if you get cold easily, bring a scarf or sweater!…
Staying at Zamalek / Gezira Island
One of the nicer areas to stay in Cairo is Zamalek (Gezira) Island. The river island offers nice views on the Nile. The island houses various global hotel chains and embassies. The bars & restaurants are more as per international standards.
Gezira (Zamalek) Island also houses the Cairo Tower, with 187m / 614ft the tallest structure in Egypt for 37 years until 1998. A well-known modern monument. Our Zamalek Hotel room offered great views of the Cairo Tower.
I received some great bar & restaurant tips from my Egyptian friend Ramy (also my travel buddy on the Djibouti adventure!) to check out when you are exploring Zamalek.
Crimson Bar & Grill
A nice bar with international cuisine. We only had a drink enjoying the Nile views, but I saw some nice-looking sushi dishes come past!…
Abou El Sid Restaurant
Must-visit on Zamalek… I enjoyed the scenery and traditional Egyptian Koshari (try it!)
Cairo Marriott Hotel & Casino
We stayed in the Cairo Marriott Hotel & Casino. The hotel is a bit outdated, but it is centrally located on the island. If planning on staying here, make sure you have a quiet room! Traffic noise can get crazy at night in some rooms!.
Guest or not, I recommend visiting Saraya Gallery, a cigar bar based in the original palace building within the hotel. It still houses some original art works.
Explore Cairo's famous Khan El Khalili Souk
A nice area to explore is the Khan El Khalili bazar and souk in the historic center of Cairo. Just stroll around in the many narrow streets and alleys. Great to watch the bustling crowds go past and perhaps buy some souvenirs at the shops. (Make sure to haggle!)
I visited the souk in the morning when it is still quiet. Perhaps because of the time of day, but I did not get approached much by 'souvenir sellers', much against expectations! Amanda did not even join, to avoid any annoyances – I cannot blame her after our Gizeh experience.
Explore Cairo's historical Khan El Khalili sights in Muizz Street
A nice addition to your general Khan El Khalili souk visit is to buy a ticket at the Qalawun Complex. This ticket allows entry to various historic buildings along Muizz Street.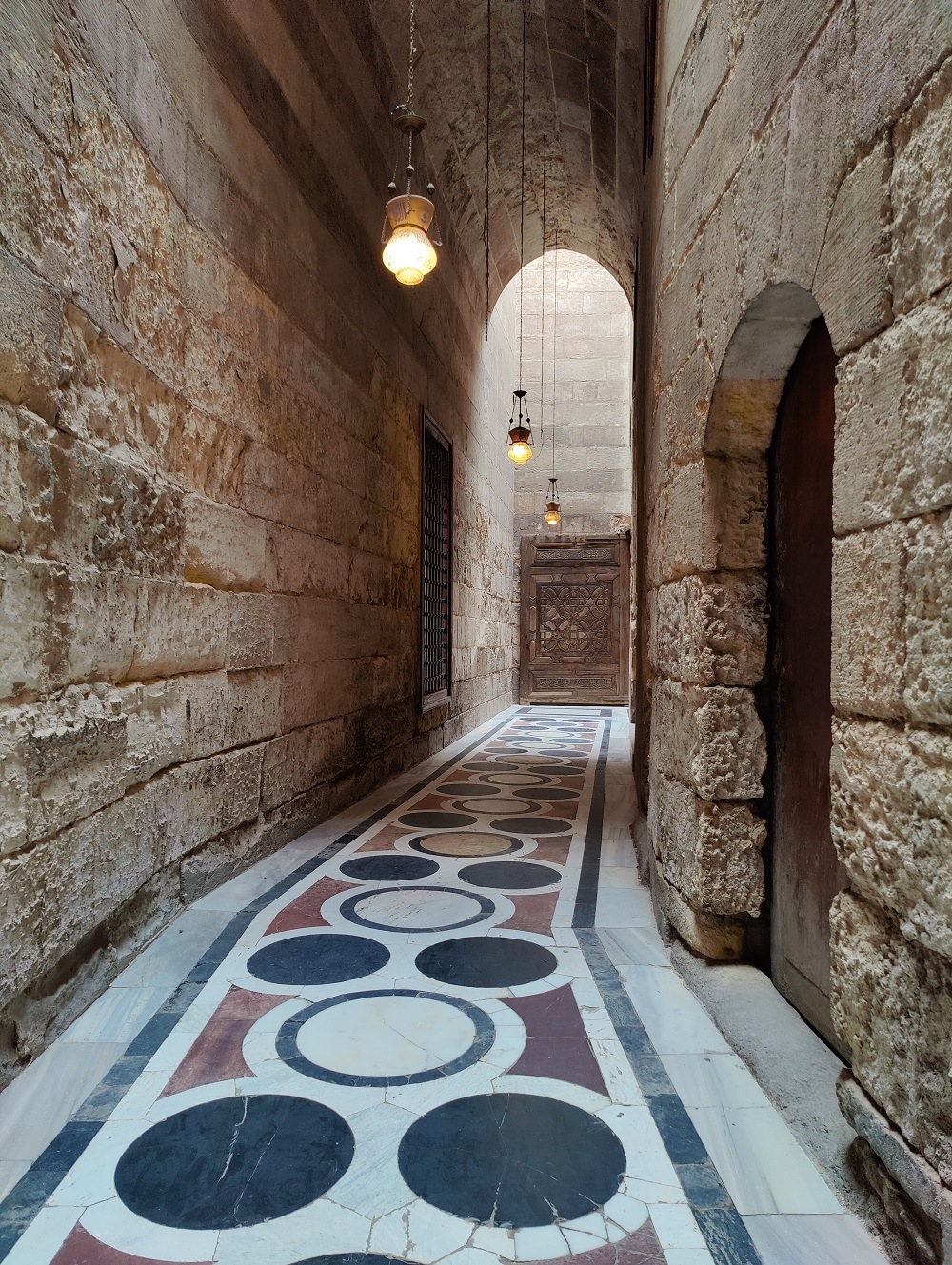 Al Azhar Park
Not a must-visit, but a nice addition to your Khan El Khalili visit is a stroll through the Al Azhar Park. The park offers nice views over Cairo and especially the Citadel Saladin in the distance.
Top Tip: When you are planning to visit Al Azhar Park, have a drink (or a meal, I have not eaten here) at Alain Le Notre restaurant. The outside terrace offers amazing views over the park, citadel, and the wider city…
And that brings an end to this Ghost Around the Globe Cairo and Pyramids of Gizeh explorations!… Time to leave Cairo behind and further explore Egypt!… Have a look at the posts below for tips & tricks on my wider Egypt travels: