Exploring the top things to do on the Greece Mainland
Reading time: min | Published on:
Let's discover the top things to do on the ancient mainland of Greece! Get ready for stunning temples & architecture, beautiful landscapes, mysterious hilltop monasteries, great food, idyllic coastal towns, and as a bonus we will also visit some lesser-known islands just of the Greek mainland coast… 
Start your Greek trip in Athens
It is very likely that you will start your Greek mainland journey in its capital, Athens! This ancient city is one of the oldest in Europe, with the ancient Acropolis seeing the city grow and change over the many centuries!…
Top Tip: Athens is very easily explored by foot; hence we chose to pickup our rental car a few days after our arrival. It is an easy taxi ride (or metro ride) from the airport into the city center!
I visited Athens many years before and thought the the main sights were more dispersed over the city. However, that memory seemed incorrect, as you can quite easily visit the key sights of Athens in a well-planned day! Let's dive into Athens' key sights!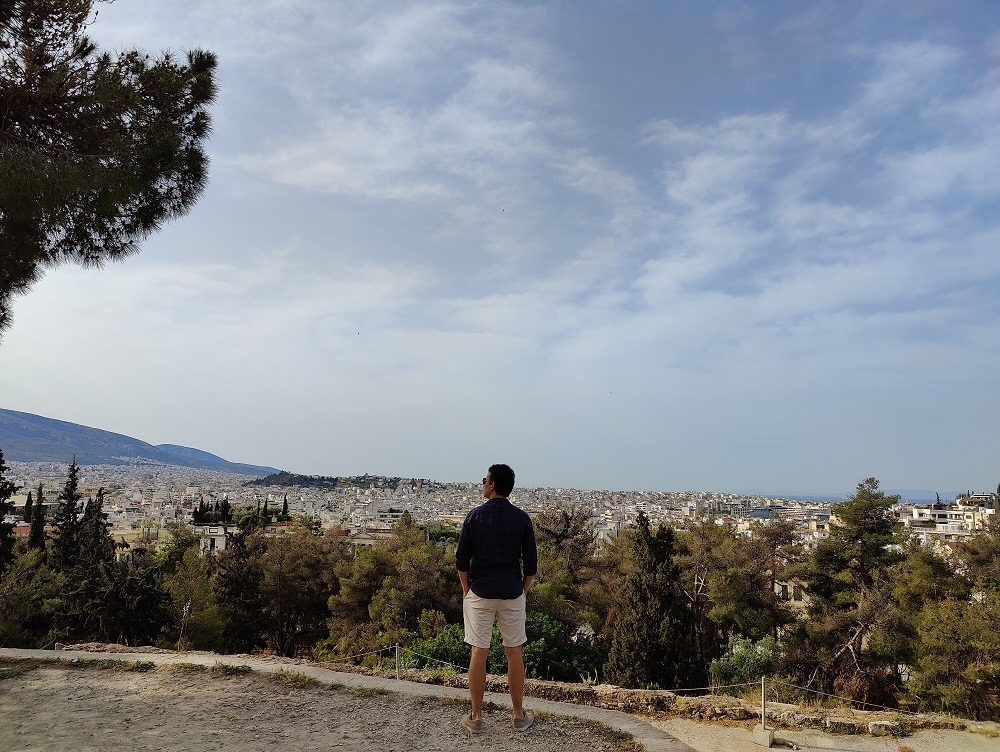 The Acropolis
The Acropolis is one of the most famous landmarks of Greece, if not the World. It is one of the oldest remains of the start of Western civilization, a few thousands of years ago! The hilltop temple complex towers over Athens and is impossible to miss!
Top Tip: Start your day early and visit the Acropolis first! Not only do you beat the bus loads of crowds, but it also gives you a good understanding of Athens' layout.
The Acropolis houses various architectural wonders, of which the Parthenonas is the most famous. But equally impressive are the Odeaon of Herodes (ancient theater), the theatre of Dionysus and the various other temples of Nike, Athena and Zeus.
Top Tip: Enter from the lesser-known side gate (south-East), to beat the crowds. Make your way up past the Southern Slope, enjoy your views on top of the Acropolis and exit via the more crowded Western Main gate!
Buy a combination ticket
When looking at key things to do in Athens, most key (architectural) sights are within or very close to the Acropolis site.
Top Tip: You can purchase a ticket at the Acropolis (or any other site) which is valid for 5 days and provides entry to the
Acropolis and its Slopes – Obviously a must Visit
Ancient Agora & Museum – Definitely a must visit, See below
Roman Agora – Smaller site, nice to visit
Hadrian's Library – Smaller site, nice to visit
Temple of Olympian Zeus – Must visit, see below
Kerameikos – We did not visit
Artistole's Lykeion – Briefly visited, but no need to visit in my opinion
When you are under 25 Years old (and European) the entry is free or significantly reduced to most sights in Athens, and wider Greece.
Ancient Agora
The Ancient Agora is likely my favorite sight in Athens. A stone's throw away from the overcrowded Acropolis, the number of visitors drops significantly. The Ancient Agora is very well preserved and is surrounded by a nice tranquil park. You forget that you are in the middle of bustling Athens here… We even spotted a turtle roaming the grounds, very random! Do also pay a brief visit to the tiny orthodox church and a small museum on site.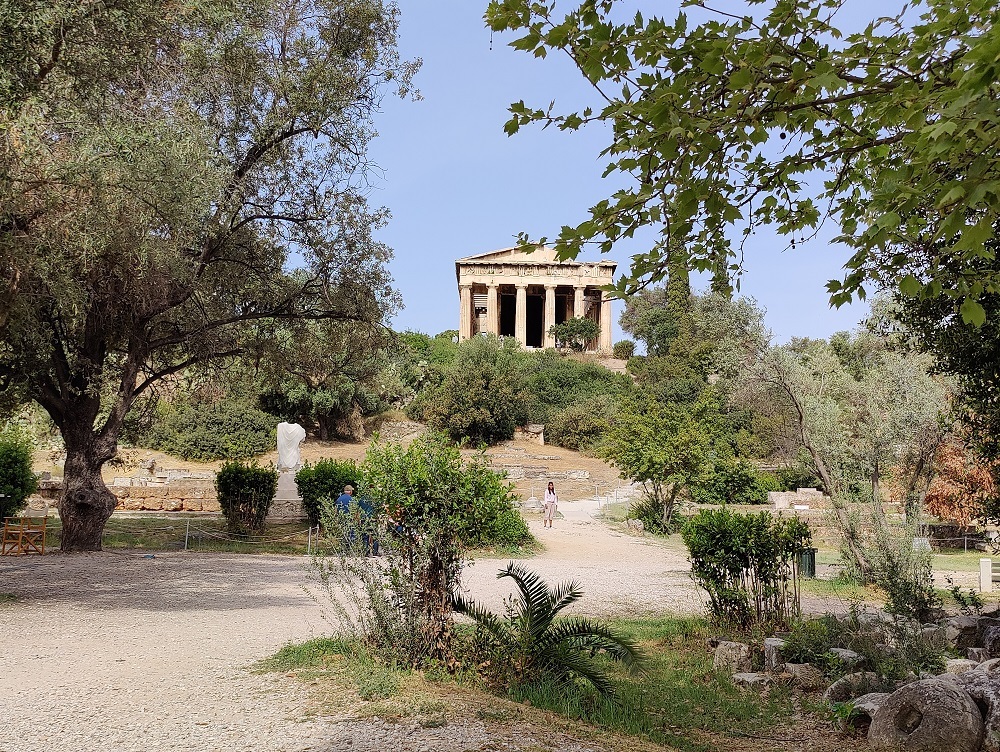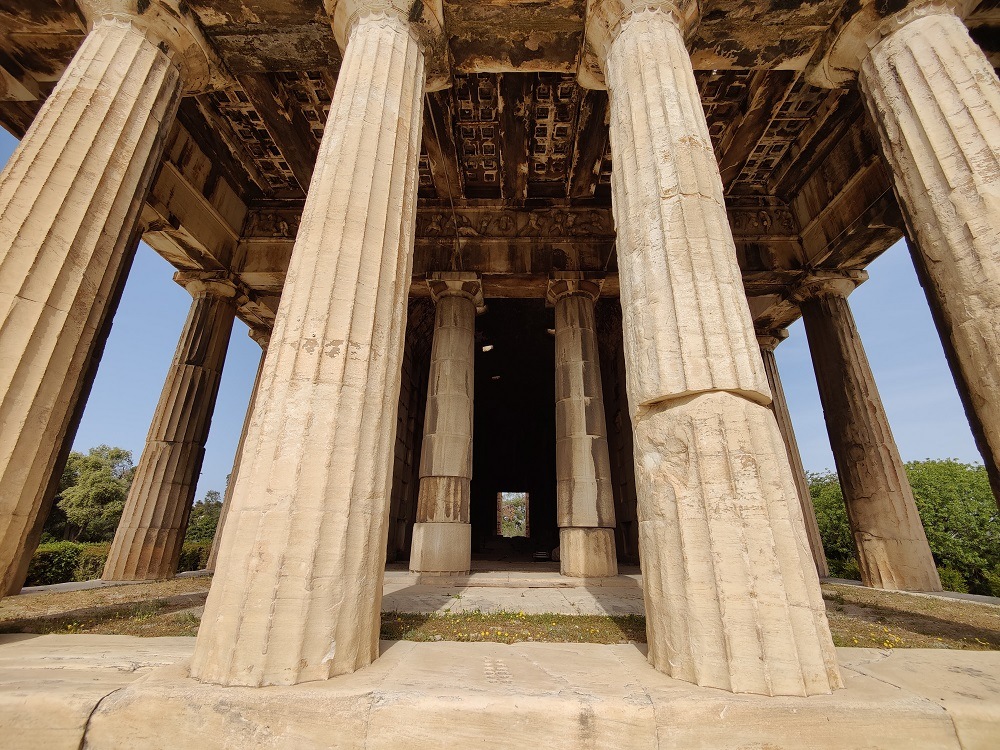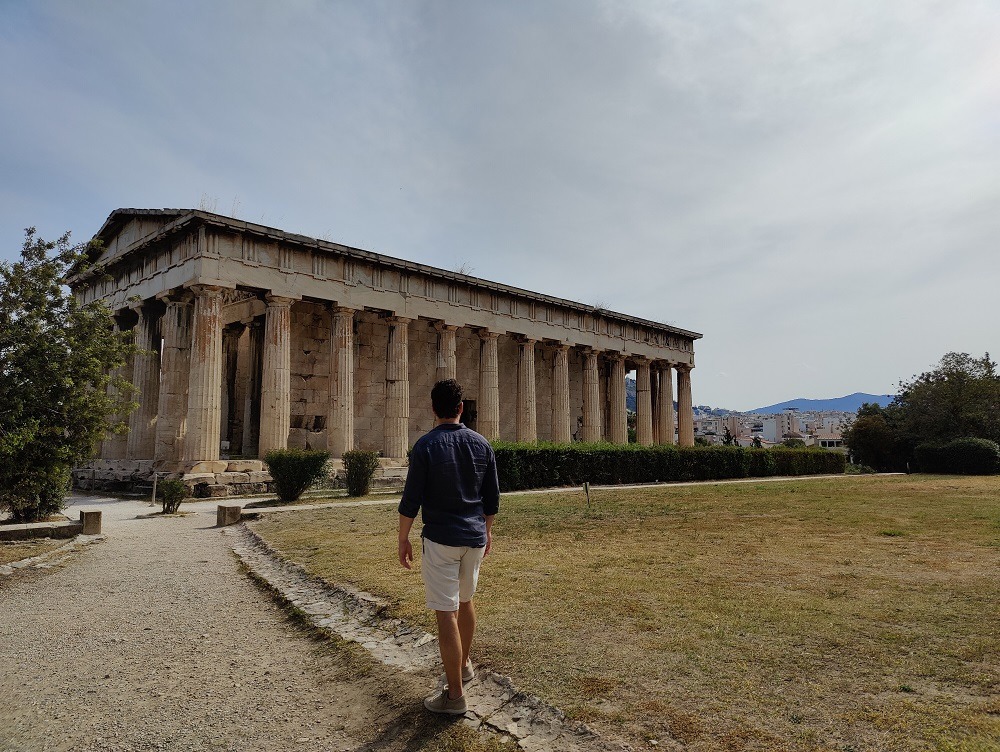 Temple of Olympian Zeus
From the Ancient Agora, make your way through the quaint streets filled with shops and restaurants towards the other side of the Acropolis, here you find the Temple of Olympian Zeus. Most famous for its large remaining columns, which make for a nice photo stop.
Zappeion Hall & National Garden
Opposite the road, you find The Zappeion Hall, an impressive building surrounded by the National Garden, a large park.
Kallimarmaro
Make your way to the Kallimarmaro, the World's only white marble stadium. For some reason your combination ticket does not apply here and the entry price this highly overpriced. So, out of principle we only glimpsed from the outside which already gives a good impression of this magnificent piece of architecture!
Presidential Palace
On our way to Artistole's Lykeion (which is not a must visit) we coincidentally passed the Presidential Palace, where you can see the Presidential Guard with their distinctive dress perform the guarding ceremonies. (We will see more of this later in this post!)
Explore the amazing Greek cuisine
Greek food is one of my favorites, if not my favorite cuisine! You can always wake me up for a pita gyros, or many of the other delicious Greek dishes!… We asked our hotel staff on some tips, and they pointed us into the right direction. I would certainly recommend:
Dia Tafta – Bit touristy on Adrianou street, but great food, decent prices, and nice views over the Acropolis
Mona Lisa – Amazing ice creams, chocolate, and waffles! We even went back again on our last day!
MS Roof Garden – Great views over the Monastiraki Square and Acropolis (horrible service though)
To try the very cheap house wines by the caraf! Often great quality for a bargain!…
Any other good-looking restaurant in the Monastiraki district or Plaka district. You cannot really go wrong I guess in Athens or Greece in general!
Hit the road to explore the rest of the Greek mainland
As said, we picked up our rental car after the first 2 days of exploring Athens by foot. An easy way of saving costs. Not only on rental days but also in terms of parking.
The Greek roads are well maintained and for the long stretches you are likely using quite a few toll roads! Depending on the road the toll amounts are quite ok and the roads are very empty! I definitely would not recommend avoiding toll roads. However there is one exception of the Ioannina – Athens road, where we spent a ridiculous amount of tolls, with the most crazy amount of around 15 EUR to take the Rion-Antirion bridge. There is no real efficient way around this, but bit over the top in my opinion!… For the cost savers: apparently, there is a nice coastal road running parallel to the Rion Antirion Bridge – Athens stretch of this road which is toll free, but we did not use it.
Discover ancient Greece in Delphi
A 3 hours' drive from Athens takes you to your first highlight of our Greek Mainland road trip; Delphi! The ancient archeological city of Delphi is set in a magnificent valley. Definitely would recommend to stop here given the beautiful surroundings!…
You will likely spend no more than 2-3 hours here (depending if you also visit the Museum). We chose to drive on onwards to get close to our next highlight. In case you like to stay overnight here, I would recommend staying in Arachova. You pass through this on your way to Delphi, and looks very idyllic, a Greece mountain village at its finest!…
Spectacular Greece: Hike to marvelous hilltop Monasteries in Meteora
Our next stop should definitely be part of your Greece Itinerary! I visited this once before as a young boy, but the Meteora is even more spectacular than I remembered… Despite the rainy day, which actually also added some mystery to the beautiful rock formations with hilltop monasteries. The scenery is certainly comparable to the  the tiger's nest temple and its surroundings in Bhutan. The interiors, being orthodox churches, have great alikeness to the ones found in Georgia, Armenia and Russia.
As mentioned we found a hotel close to Meteora, which meant we could already enjoy the place in the early morning, beating the crowds to a certain extent, at least for the first few monasteries. So bring your walking shoes, we got some hill top monasteries to hike to!… 
Top tips when visiting the Meteora Monasteries
There are 6 Monasteries to visit, in the order of our visit:
1. Monastery of the Holy Trinity – likely my favorite
2. Monastery of Saint Stephen – Nice to visit
3. Monastery of Varlaam – Nice arts, more crowds
4. Monastery of the transfiguration of the Saviour (Great Meteoron) – Skipped
5. Monastery of Saint Barbara (Roussanou) – Very small, could potentially skip
6. Monastery of St. Nicholoas Anapafsas – Nice to visit, but very small, could potentially skip.
Top Tip: Keep an eye on the opening times, they open at 10am to the public and each monastery has a different day of the week that they are closed to the public. A good thing as you will always be able to visit some. (However, some were open when supposed to be closed).
Top Tip: Dress modestly (covered shoulders and knees). For the ladies: bring a scarf to wrap around you as a dress to enter the monasteries! (In case you forgot, the smaller monasteries provide for free, the larger ones sell these)
Top Tip: All Monasteries charge a 3 Euro entry fee. They are all nice to visit, and offer spectacular views. some are larger and attract much more tour bus groups! (Mainly Varlaam and Great Meteoron, we skipped the latter). Check out my preferences in the list above if pushed for time or like to be slightly selective.
Enjoy Idyllic Ioannina
After our Meteora explorations we Enjoyed the afternoon and evening in Ioannina. Unfortunately, in drizzly April weather conditions. Ioannina is known for its old town and its lake. But under these chilly circumstances, we mostly explored the various house wines and Greek delicacies in the various bars and restaurants close to terrace heaters.
Luckily weather was getting better and we actually travelled faster than planned…hence we treated ourselves to an 'Island' visit for the next days…
Lefkada: The easiest way to visit an 'island' in Greece
Not part of our originial plan, we decided to stay the next 2 nights at Lefkada (or Lefkas). The weather was much better and Lefkada is likely the easiest Greek island to get to, due to their floating bridge (which essentially turns this island into a mainland peninsula).
Lefkada City has a nice old town with quaint alleyways, small squares and a boulevard with restaurants offering great views over the marina.
The island's mountains turn purple from the blossoming trees. In addition, Lefkada has beautiful beaches. All and all a great stop to get some rest on your Greek Mainland explorations (without the more complex and costly ferry rides to other islands off the mainland's coast)
Visit Olympia and Sparta on your Greece Itinerary
Once you have visited some key sights, you may get 'ruin fatigue'. We certainly did and we ended up not visiting 'more of the same' archaeological sites, hence we skipped Olympia and Sparta, (which I visited on an earlier trip already). Nevertheless if you like to visit these ancient sites, this is where Olympia and Sparta would nicely fit in your itinerary!… Instead we drove onwards to one of our favorite Greek coastal towns.
Explore the Old Greek Coastal town of Nafplion
Nafplion is a very nice coastal town, not too big not too small, complete with small alleyways, lively squares, fun shops, great restaurants and castle overlooking it all…
Nafplion makes for a great overnight stay, or a nice lunch / afternoon daytrip (for example between Athens and Sparta). There is not too much to add, just wander the streets and enjoy this fun Greek town!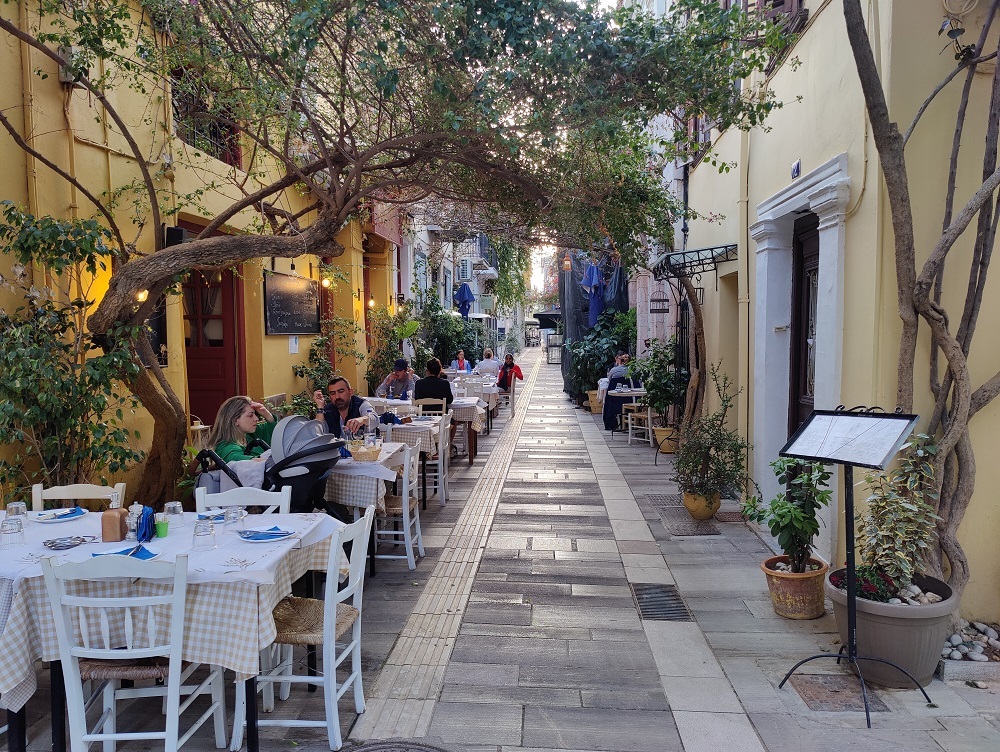 Take the ferry to carless Hydra Island
We read about Hydra (or Idra) island, which you can also visit from Athens/Pireas. Given that we had some time to spare, we decided to drive to Ermioni from where it is only a 30 min ferry ride to the Island.
What makes this island extra special is that is (almost) completely carless and everything is still done with horses and donkeys.
From the main town of Idra you can hike to smaller towns or just enjoy the scenery of the port boulevard. 
We stayed the night, and were lucky as there was a local community event happening. However, I would recommend to treat Hydra as a nice daytrip, unless you really plan to do extensive island hiking and exploration.
Splurge in Athens
Looking back at an amazing Greek road trip, we decided to splurge on our last night (using some of our loyalty points) at the Hotel Grande Bretagne. This luxury hotel has housed many of the World's the rich and famous. It is facing the Syntagma Square and is opposite the Hellenic Parliament. The roof top offers great views over the city and the Acropolis!… A great way to spend the last night!
As a bonus you have a great viewpoint to watch the changing of the guard at the parliament building. This always takes place at 11am on Sunday morning. Just when I was enjoying my late morning rooftop breakfast, before leaving Greece later that afternoon!…
Well, that brings an end to our Ghost around the Globe explorations in mainland Greece! Stay tuned for more Greek stories, as I plan to post about some Greek Islands soon!… Do already have a look at my Cyprus itinerary!… Planning to combine this with a wider European trip? Read all about Tuscany, Venice or Slovenia.