Great Ocean Road & Grampians: All you need to know!…
Reading time: min | Published on:
Australia is famous for its beautiful coastlines and surf beaches. One of the most famous stretches of coast is the Great Ocean Road, Southwest of Melbourne… Just North lays Grampians National Park, teeming with wildlife, making this a great combination trip. Let's explore this must-visit part of Australia, where there is much more to see than only the 12 apostles!…
How to get to the Great Ocean Road & Grampians?
Rent a car (or better campervan) for your Grampians and Great Ocean Road trip… There are (day)tours to the Great Ocean Road. However, these only seem to stop at the (crowded) twelve apostles and some other highlights. With your own car you are flexible to stop anywhere on this beautiful stretch of Australia. Also, it is allows you to include the Grampians in your (mini) road trip, which you otherwise will not be able to do!… Both lay very close to Melbourne (or on your route between Adelaide and Melbourne).
Why visit the Grampians National Park?
If you are looking for wildlife, the Grampians is the place to go!… The mountainous Grampians have a 'prehistoric' rainforest feel, especially on the rainy and misty day of our visit. Everywhere in the forest around you the Australian birds sing their loud songs!…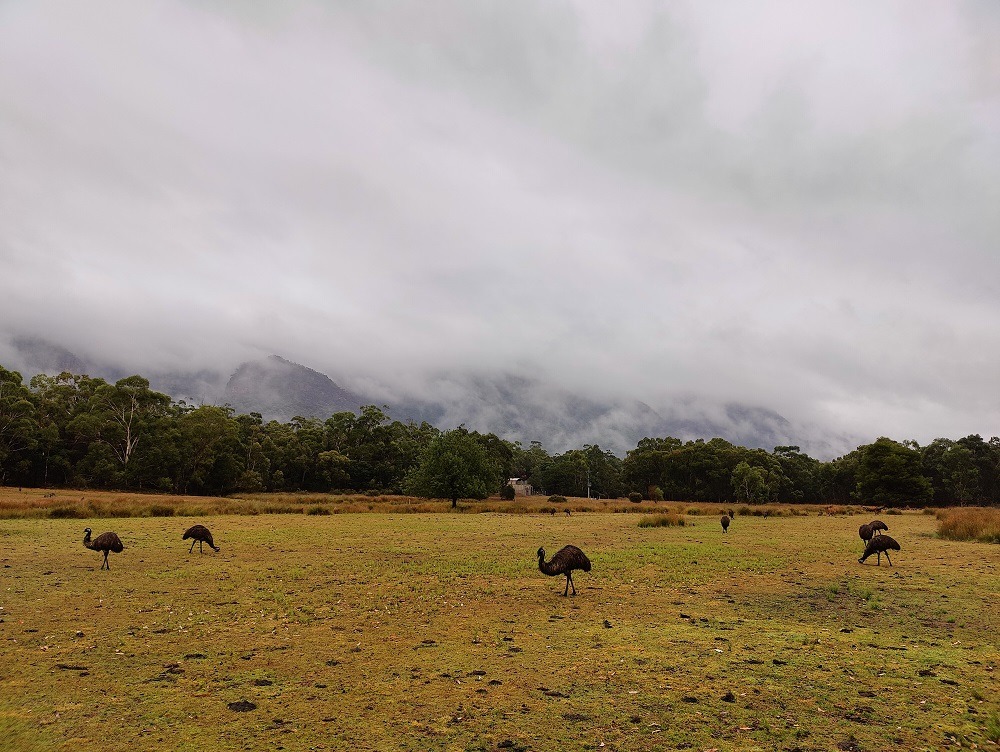 The park is teeming with Parrots (crimson rosellas), Sulphur-crested Cockatoos, Kookaburras, Emus, and many more!… If not enough you will most certainly see plenty of Wallabies and Kangaroos. I even spotted an (introduced) Fox during my nightly bathroom visit!…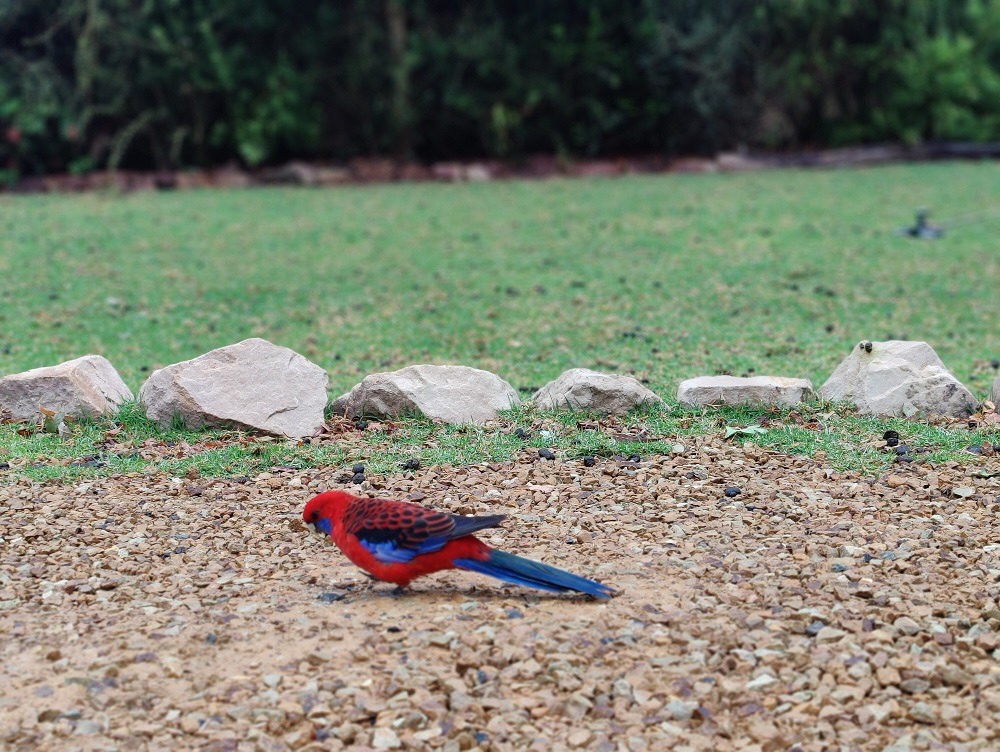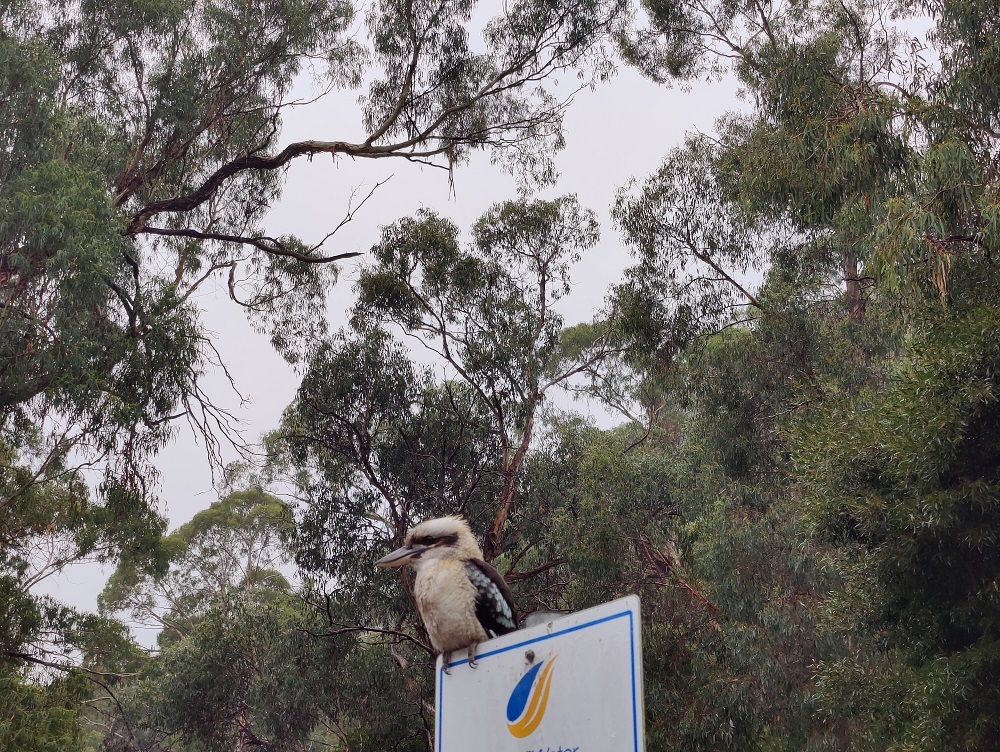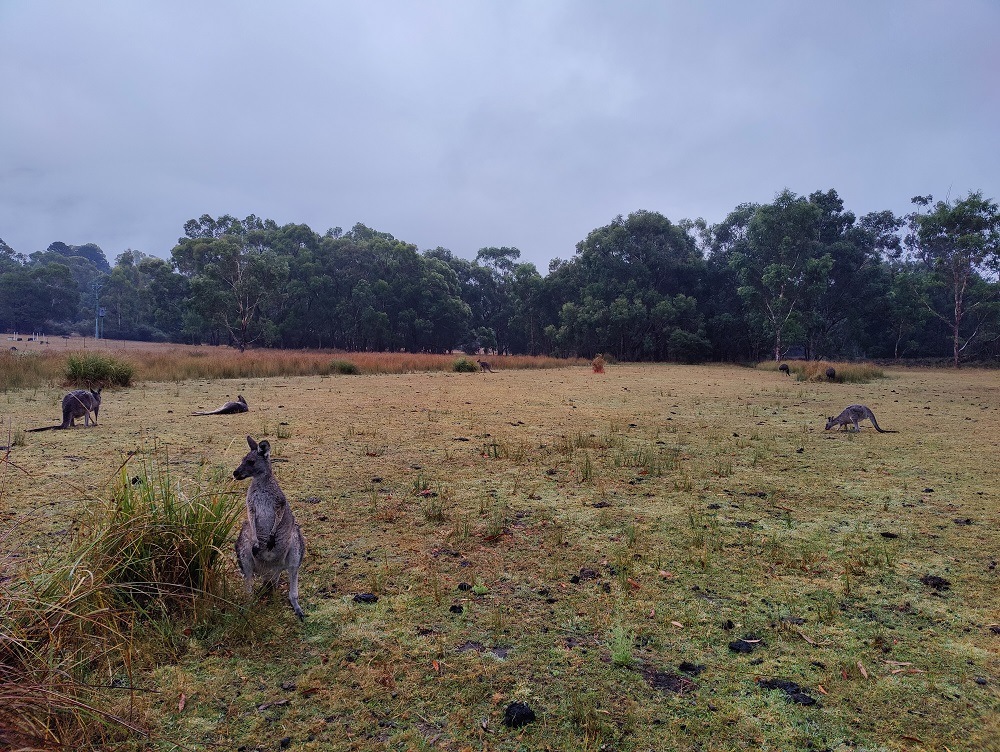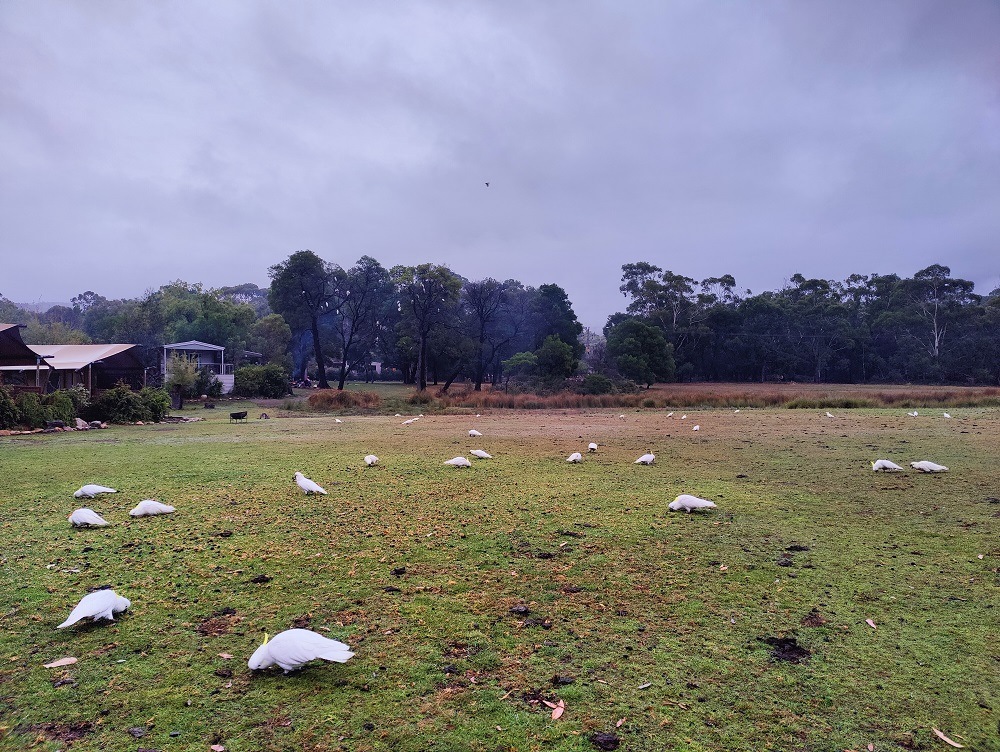 As it was rainy, we decided to change our travel direction and visited the Grampians first!… Originally, we were not even sure if we would include the Grampians, but 'luckily' the weather pushed us in this direction!… With an added bonus to spend a night at Lakeside Campsite with our Dutch friends Robert and Patty (before seeing them again in Melbourne for the Formula1 weekend). Great to catch up on both our travels surrounded by the exotic birds!…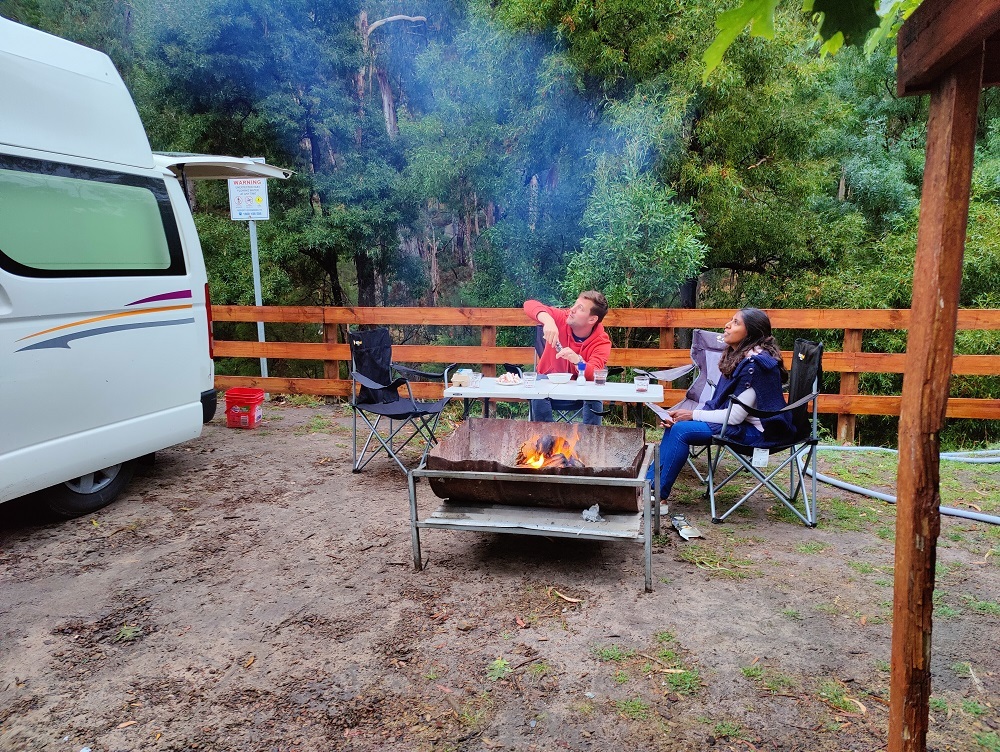 As the weather slowly got better, we decided to leave the Grampians and continue to the Great Ocean Road… You could easily stay a bit longer to explore the Grampians via its many hiking trails!…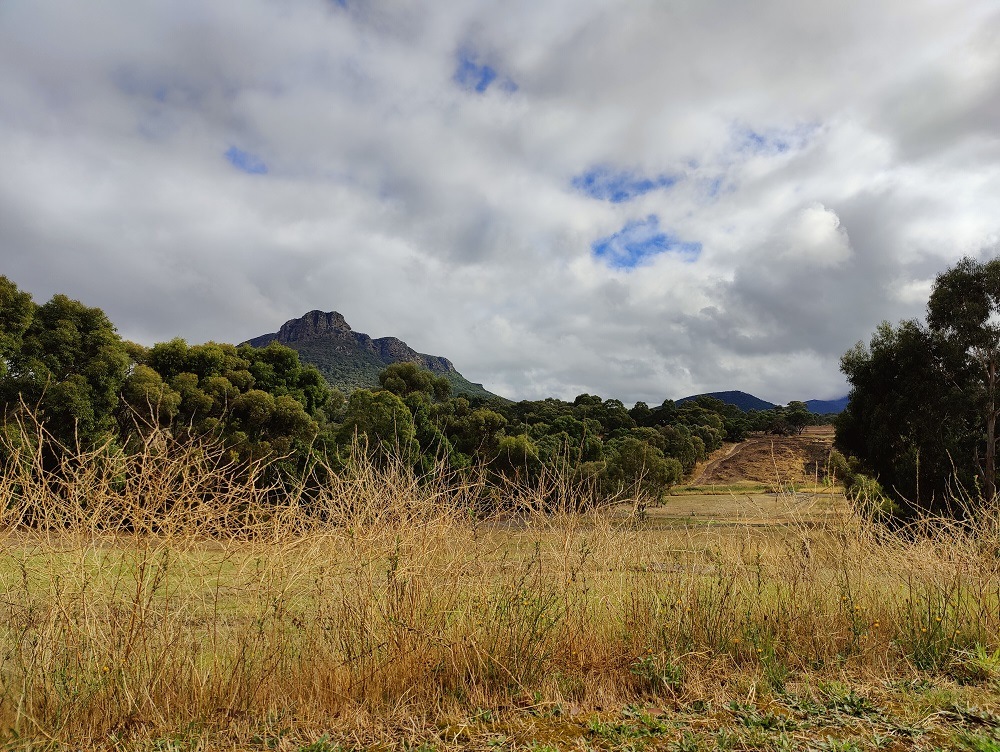 What to see on the Great Ocean Road?
Before my visit, I found it a bit unclear which highlights are to be found on the Great Ocean Road. However, it is actually quite easy… Below you find the key sights where you should make a stop on the Great Ocean Road!…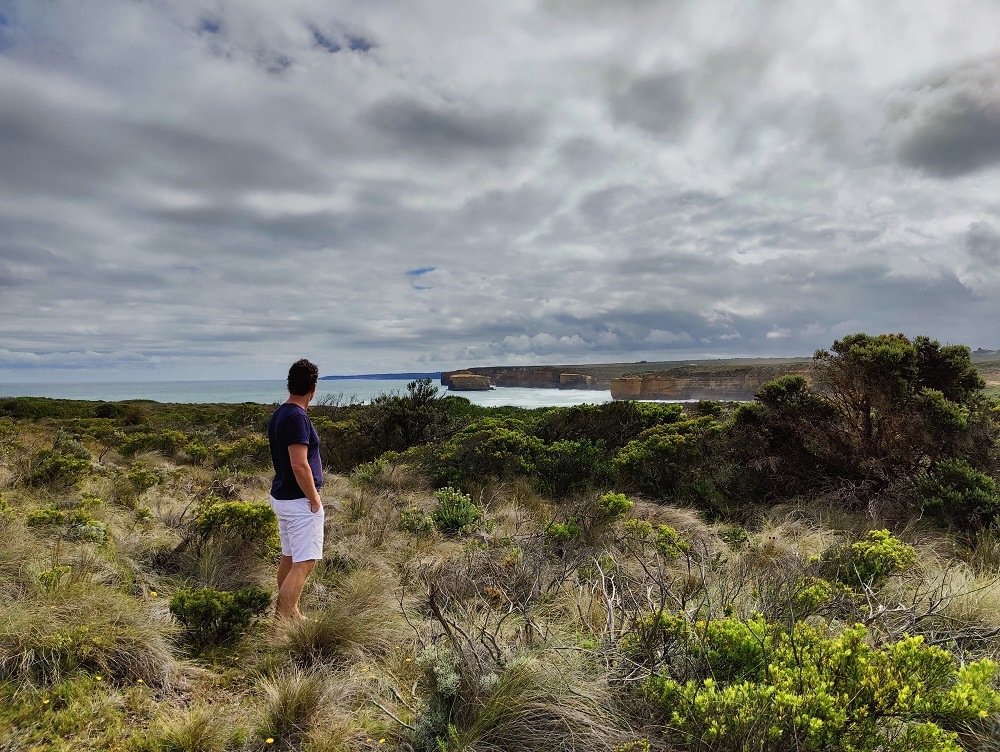 Top Tip: Drive the Great Ocean Road from West to East. This way you will visit the famous (but crowded) Twelve Apostles at the end and you have already witnessed the other sights, that are as beautiful (or perhaps even more impressive), but without 'beating' the crowds!…
If you (still) travel from Melbourne, no worries!… You have one small benefit that you are driving on the left (coastal) side of the road. This makes turning into the various lookout parking spots a bit easier!…
Well having said that let's dive into the key highlights on this coastal stretch between Warrnambool and Geelong!…
Logans Beach Whale Watching Lookout
In case you are visiting during Winter (May to December) have a stop at Logans Beach Whale Watching Lookout. During this time, you have high chances to see whales!…
Bay of Islands and Bay of Martyrs
Two key highlights, which are at least as impressive as the Twelve Apostles, are Bay of Islands and Bay of Martyrs… There are various lookout points and walking trails here! Best thing; almost no crowds!… Must-add on your Great Ocean Road visit!…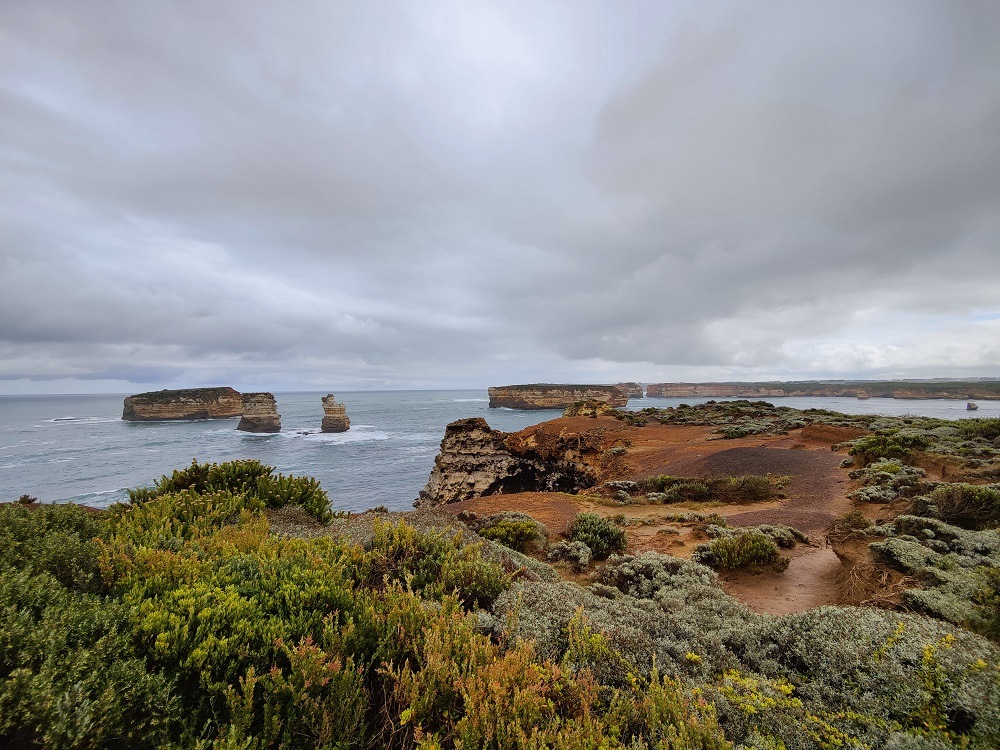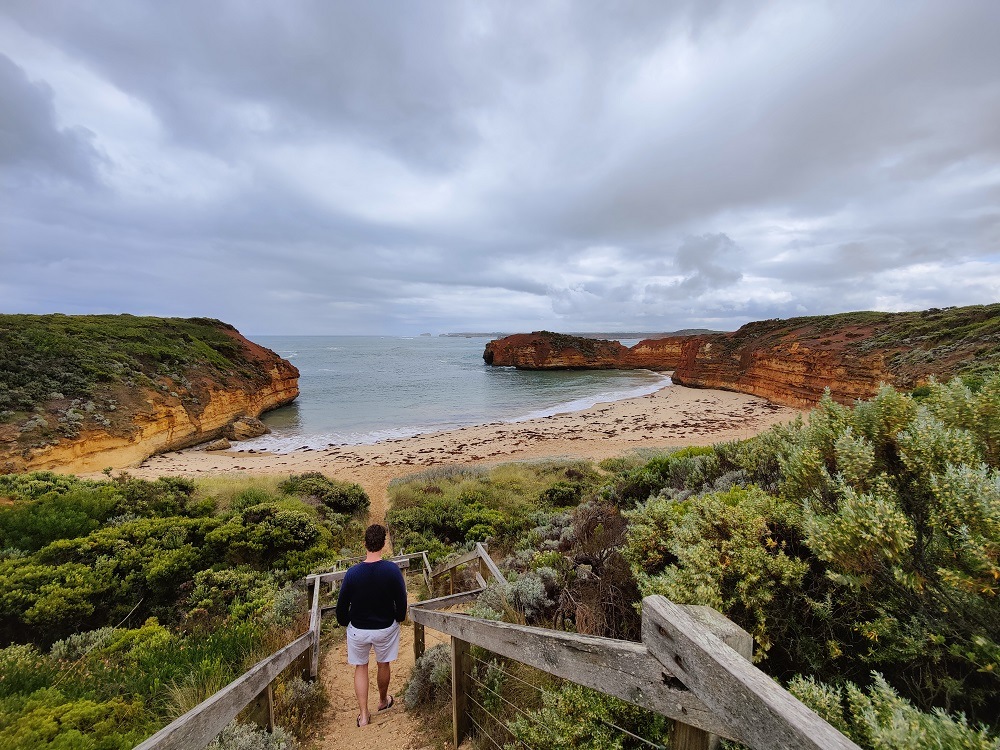 The Grotto
Another fun stop is The Grotto, where via a short trail and staircase you can get closer to these spectacular rock formations!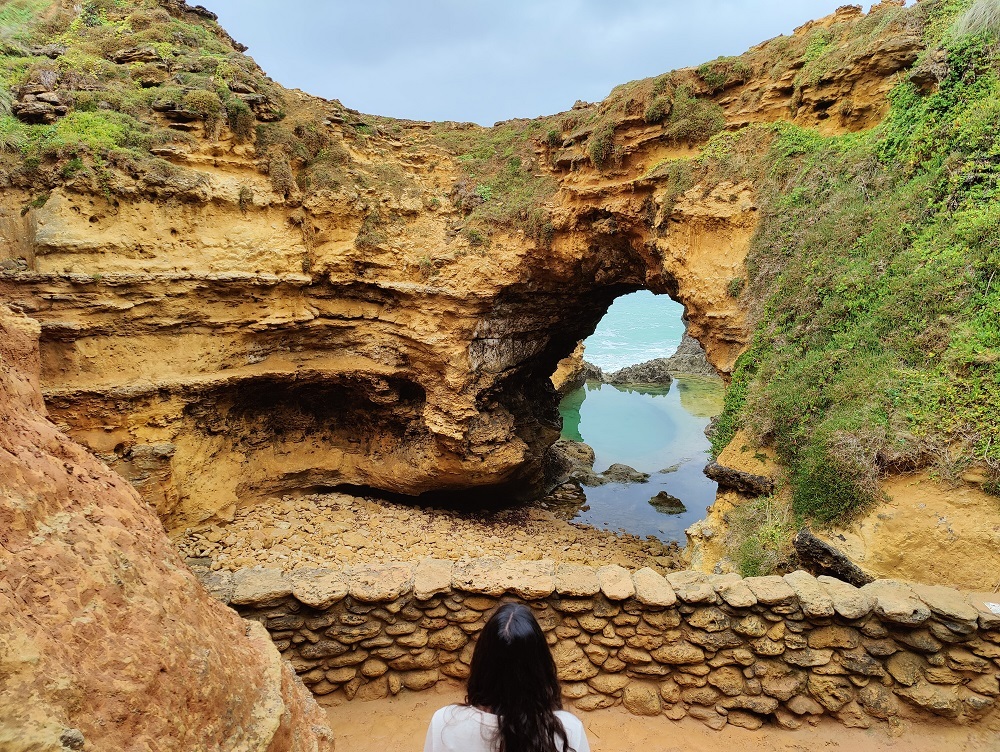 London Bridge and The Arch
Another large bridge-formation where the sea has start 'eating away' is London Bridge.
A bit further down the road, the lookout for The Arch was closed when we visited (due to renovation works).
Loch Ard Gorge & Thunder Cave
At Loch Ard Gorge also have a look at the 'Stalagmite cave formations' at the cliff!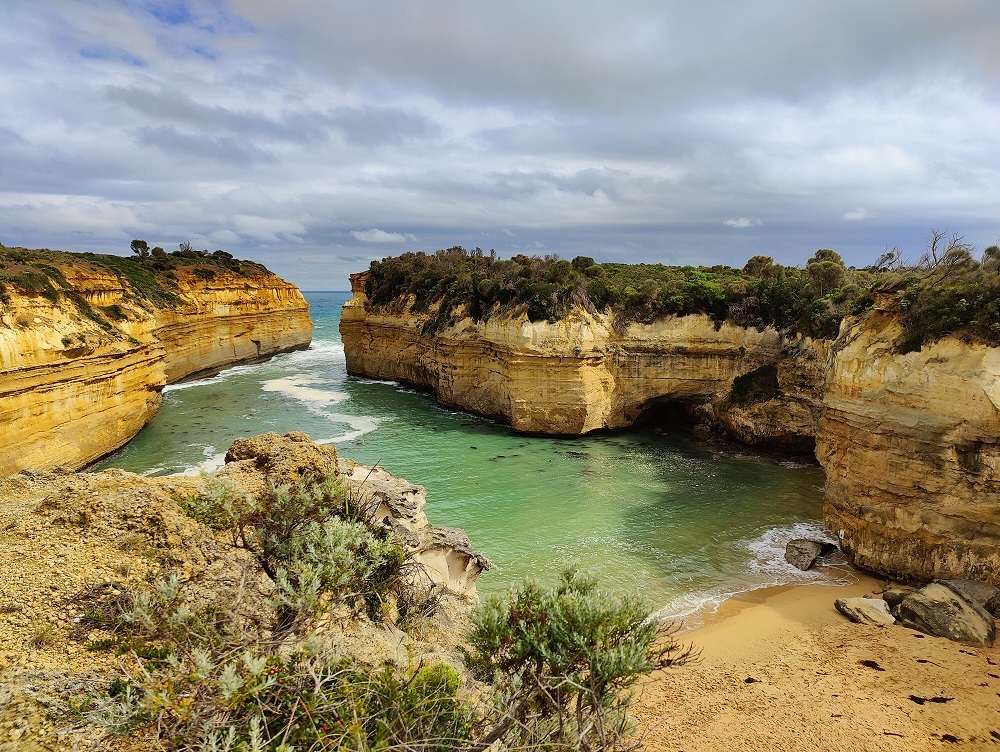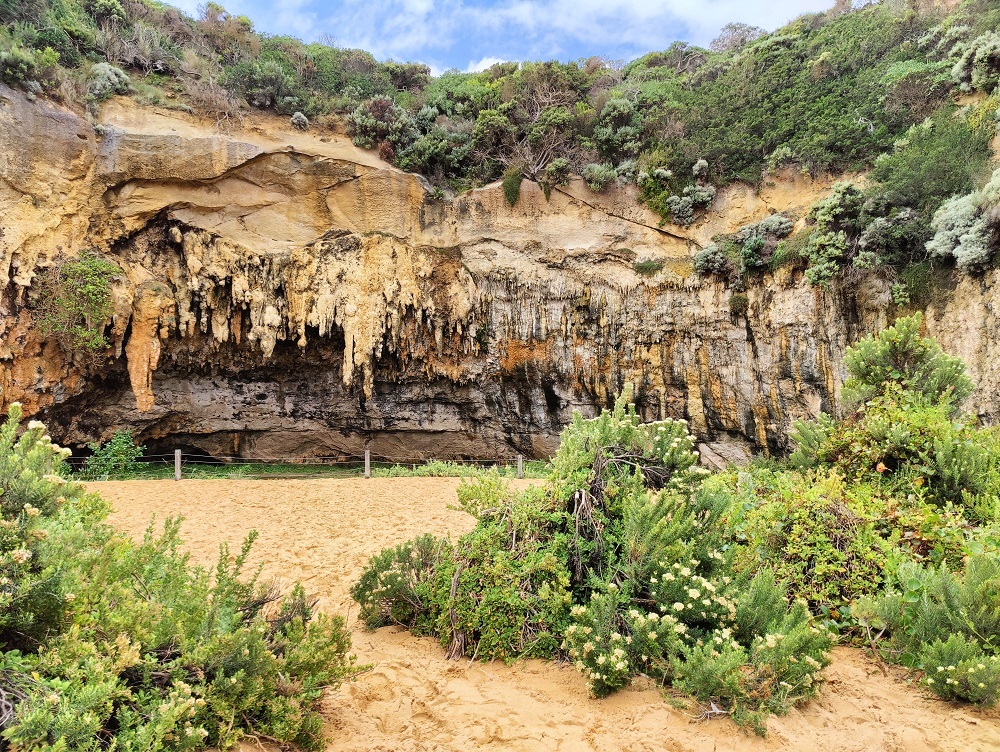 When visiting Loch Ard Gorge also take the small trail to the Thunder Cave!… Especially during high tides the sounds of the waves sound like thunder!…
When in Australia, keep an eye out for wildlife!… Also here, just at the crowded pathway, we spotted a cute Echidna again!… Our second after Tasmania!…
Twelve Apostles – the Great Ocean Road highlight
Obviously, your trip to the Great Ocean Road is only complete with a visit to the Twelve Apostles. This famous highlight does not need much more description!… This is where all (day)tours drive to… Just follow the signs and enjoy this spectacle. However, coming from the West you will likely agree that the other sights are just as spectacular and combined they make up the Great Ocean Road together!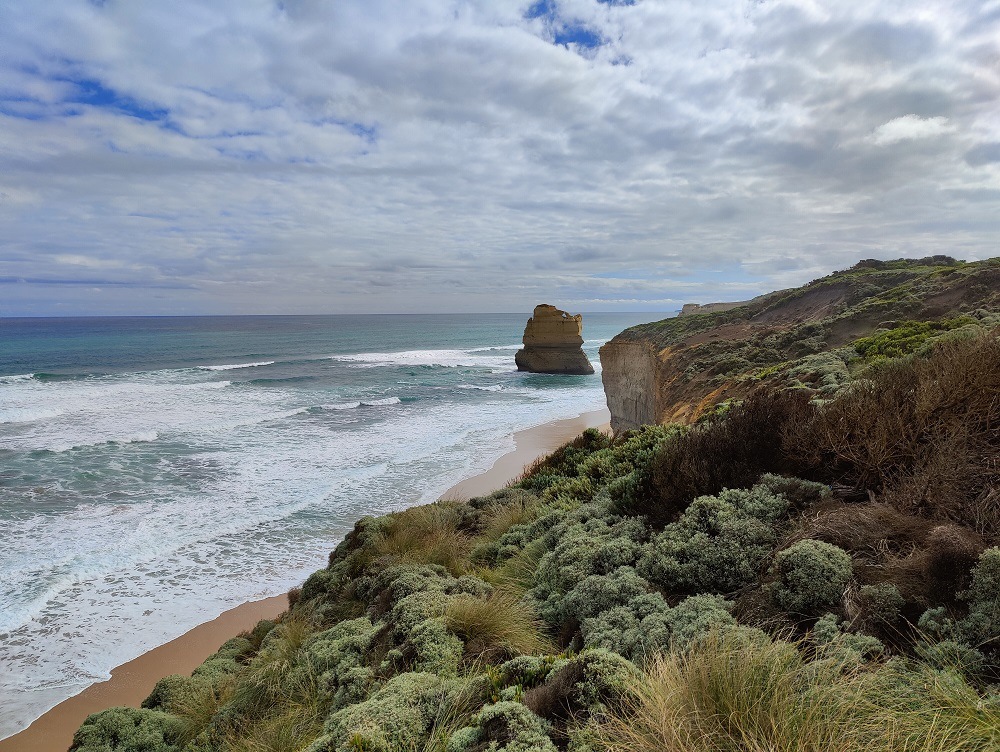 Gibson Steps
Another nice viewpoint over the Apostles is from Gibson Steps… During low tide you can walk the beach for another vantage point!…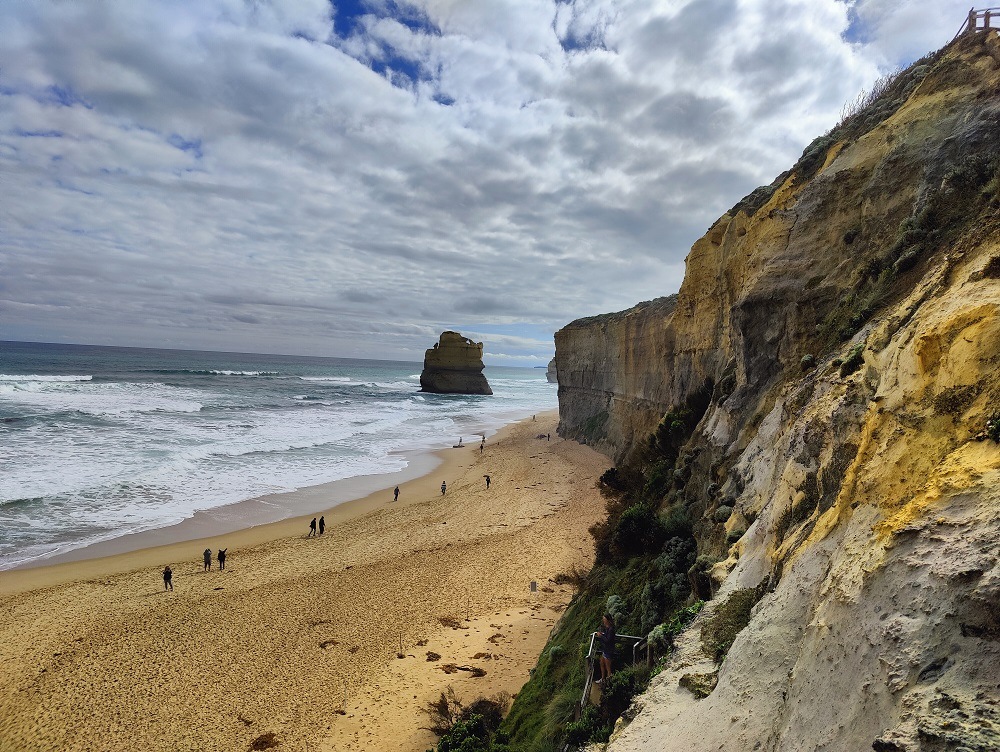 Johanna Beach
As soon as you leave the Twelve Apostles behind the scenery changes to much denser forest!… You can clearly see the difference in scenery at Johanna Beach.
Cape Otway National Park
The further you drive south towards Cape Otway National Park. The further down you drive the denser the forest around you!… Keep an eye out for Kangaroos!… and even better: Koalas!…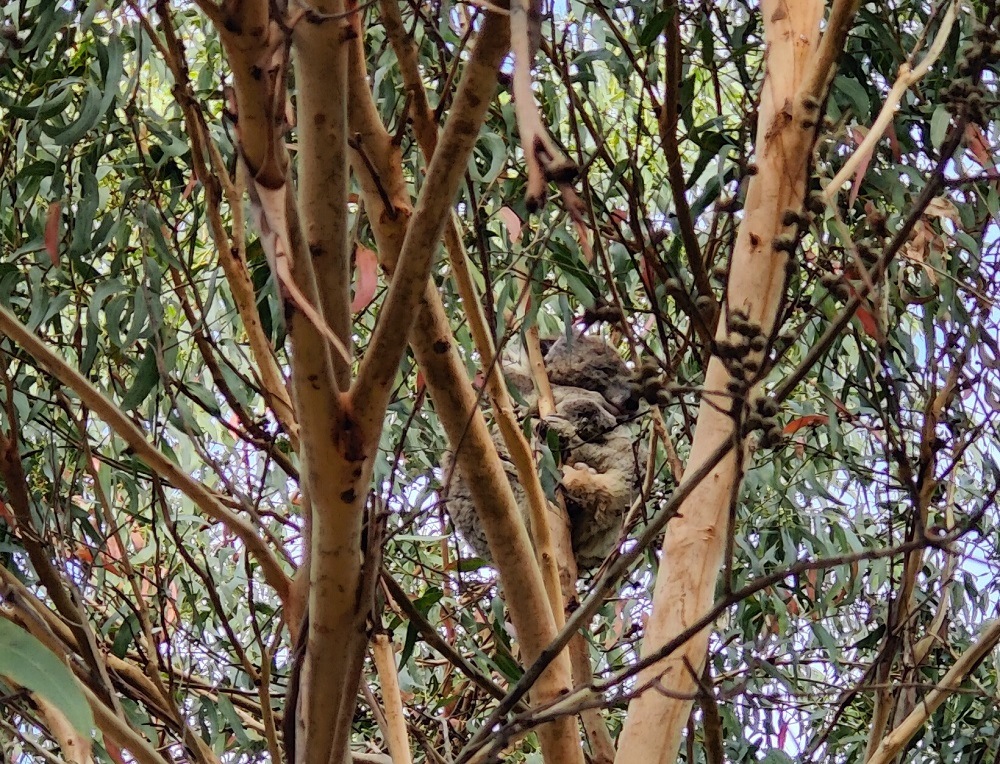 We stayed at Bimbi Park, where you have an almost guaranteed chance to see Koalas!…
Top Tip: If you do not see Koalas, or have a slightly different itinerary, there are various other Koala camp sites, parks and trails along the Great Ocean Road).
The windy road towards Melbourne (Geelong) is very beautiful and reminded of South Africa's beautiful road around Cape Town!… Checkout the various waterfalls in this area!…
We received (by far) the worst rental car we had anywhere in the World from Jucy rentals (friendly staff, lousy cars). The car literally seemed fall apart around us, so we already requested a change of car when we would arrive back in Melbourne. To make it even worse, our car key broke in half (luckily still starting the car with 2 separate pieces). So we decided to head back to Melbourne quickly!… Where our Ghost around the Globe explorations continue!…
Follow the link for our 'local' Melbourne experience where we visit our friends Ian & Nadia… It also includes our vineyard visits around Melbourne in the Yarra Valley and Mornington Peninsula!…
Traveling around Australia? Check out these other posts: