Hanoi: Vietnam's bustling heart
Traveling in Vietnam
Travel direction-wise Vietnam is a very easy country, given its narrow shape. You will either travel from North to South or from South to North. I have travelled to Vietnam various times and will provide you with an itinerary that travels from North to South, but please feel free to turn it around to your liking! When travelling to Vietnam you are likely to start your journey either in Hanoi, the capital in the North, or in Ho Chi Minh in the South. The latter will likely be your port of departure when travelling from North to South and will be our destination to travel to throughout this series of blogs!
The streets of Hanoi
Hanoi is a bustling city and has a rich culture and history. Even when arriving from another South-East Asian destination you will still feel this city is more intense. The narrow streets, sided by 4 to 5 story high buildings, are scattered by mopeds, cars, and cyclists.
In addition to the busy traffic, the streets are filled with people preparing food, craftsmen, souvenir vendors, hairdressers, the list goes on and on. Whatever you can think about I bet you can find it on the streets of this great capital. We saw people doing the dishes in a fountain, and our hotel was transporting the lobby sofas on a moped.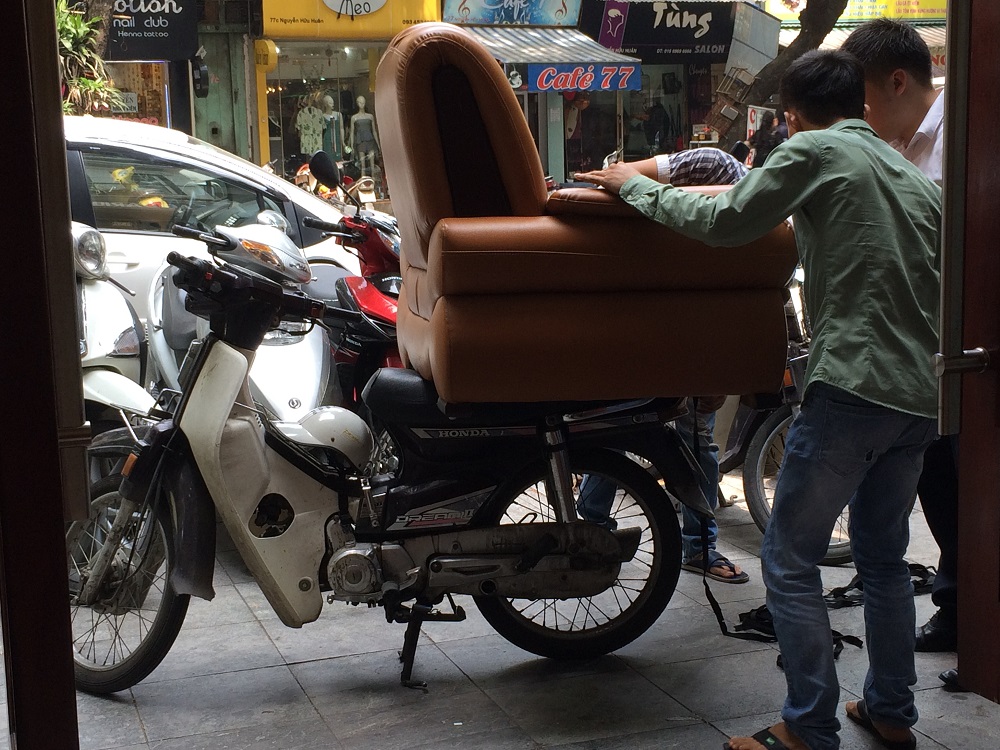 Must-see sights of Hanoi
Hanoi is one of those cities you really need to experience by walking around and enjoying the many markets, food stalls, and back alleys. However, on top of this, it also has some sights you should really include in your itinerary:
Mausoleum of Ho Chi Minh, the final resting place of the revolutionary leader of Vietnam where he is laid out. This despite his wish to be cremated, which "would have been more hygienic and would have saved farmland". You can pay your respects to Ho Chi Minh during the mornings. There are strict rules! Any form of photography or film is banned on the premises. Dress modestly (make sure to cover your legs for both male and female visitors). Keep silent.
Maison Centrale, which functioned as a prison by the French and also during the Vietnam War. Currently serving as a museum to show how poor the Vietnamese were treated by the French and how good the Vietnamese were taking care of the Americans. A slight smell of propaganda hangs in the air here, but nevertheless a very interesting stop whilst in Hanoi.
Hanoi Opera, Presidential Palace, Old Quarter Church, and many other nicely preserved Colonial-style buildings.
Hanoi's (extreme) cuisine
Hanoi is also a great place to try delicious Vietnamese cuisine. The Vietnamese use many fresh herbs and vegetables to mix these with their traditional rice noodles. During my first visit to Hanoi, I walked with some friends in some back alleys not far from the Mausoleum. It was still early morning and we were looking for a place to have some breakfast. With not many restaurants around we finally smelled some food and walked through a tiny door, which took us into a courtyard.
What's on that spit-roast?
Some locals were having breakfast and we were already a bit surprised by the fact that during the early morning people were spit-roasting meat for breakfast… but when we looked closer it was not your regular beef, pork or chicken… You may have guessed it.. they were spit roasting dogs. I particularly found the branding by Nestle / Maggi interesting… which I am unsure the respective companies are aware of.
(Apologies to the dog lovers out there, but this is Asia as well! However do not let this be a reason to not visit Vietnam or Asia, as I have not seen this anywhere else on my travels!).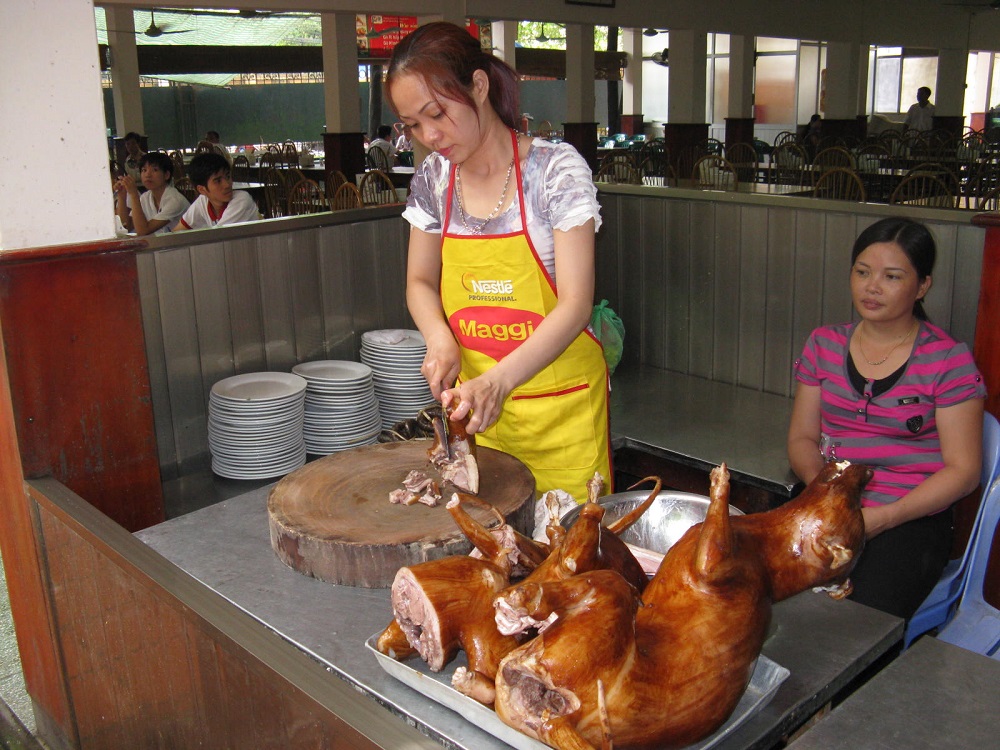 Leaving Hanoi behind
Well after sharing this amazing breakfast story it is time to leave Hanoi behind us. There is lots more of Vietnam to explore!… And remember I mentioned you only have to travel North or South, this is true but with the exception of Hanoi… Here you have the option to go East and West as well…and you won't be disappointed…
…Join me in travelling to either:
East, which will lead to Ha Long Bay, one of the natural wonders in the world.
West, the tranquil rice fields of Sapa
… No worries we will go to both, before heading South towards Hue, Da Nang and Hoi An