Hong Kong top sights and travel ideas
Hong Kong, one of the key cities of Asia, and perhaps the world! Tiny, but still very diverse! this city just seems to have it all; An bustling business district with an impressive skyline, traditional temples and religious sites, great food, but also amazing nature and hiking trails…. Let's explore this ideal city-trip destination and let me provide you some ideas of combining this with other nearby places of inerest…
How to reach Hong Kong
Most of you will likely fly in via its well-organized airport. This is also how we left. Another way of travelling to Hong Kong would be from Shenzen in China. However, we arrived by ferry from Macau… Do follow the link, as I recommend to combine your trip with Macau as well! Ferries are abundant, just check the website to book your preferred timing (also a great option for a day-trip or overnight stay)! 
Hong Kong's dynamic street vibe
Having lived in Singapore, the 2 cities are often compared. "which city is better?", "What city is more fun to live in", "Where should I visit?" all kind of questions with quite subjective answers and therefore very hard to answer. Both have large expat communities, they both are a large financial centre, an impressive skyline, both have an important port and a large international airport with a major Airline… So in many ways, they are similar!
The striking difference I find with Hong Kong is that the city is less meticulously planned. Singapore has a far more 'planned' and structured feel to it! Whereas in Hong Kong many of the streets are very narrow, the city is more hilly and you never know what to expect around the corner. There is no right or wrong here, it is just the way it is. Hong Kong can often pleasantly surprise, with a fun shop, a nice traditional restaurant or small hip bar. Then again, due to the narrow streets and seemingly limited planning, the traffic is often far worse and jammed in Hong Kong, when compared to Singapore.
Don't worry too much about the traffic! As a tourist given you will travel mostly by foot, metro or ferry!… Beware: the metro can get quite crowded during peak hours (complete with 'traffic wardens').
This city is best experienced by just wandering and exploring its narrow streets and immerse yourself in the dynamic mix of cultures, cuisines and shops!…
Top Tip: One of the most fun and unique ways to traverse Hong Kong is by the Central–Mid-Levels escalator and walkway system, which is the longest outdoor covered escalator system in the world. The system covers over 800 metres in distance and traverses an elevation of over 135 metres from bottom to top. Alongside are various shops and bars, nice to have drink and see the people glide by!..
Experience the Hong Kong – China discussion
While wandering the streets of Hong Kong, there may be some type of demonstration or protest going on, often related to the Hong Kong – China situation. It is an ongoing debate about whether Hong Kong is/ should be part of China, or if it is/should be independent. Chances are high you will witness some sorts of demonstration during your stay. Usually, these are non-violent so nothing to worry about. During our visit, we witnessed various tent camps of the occupy movement.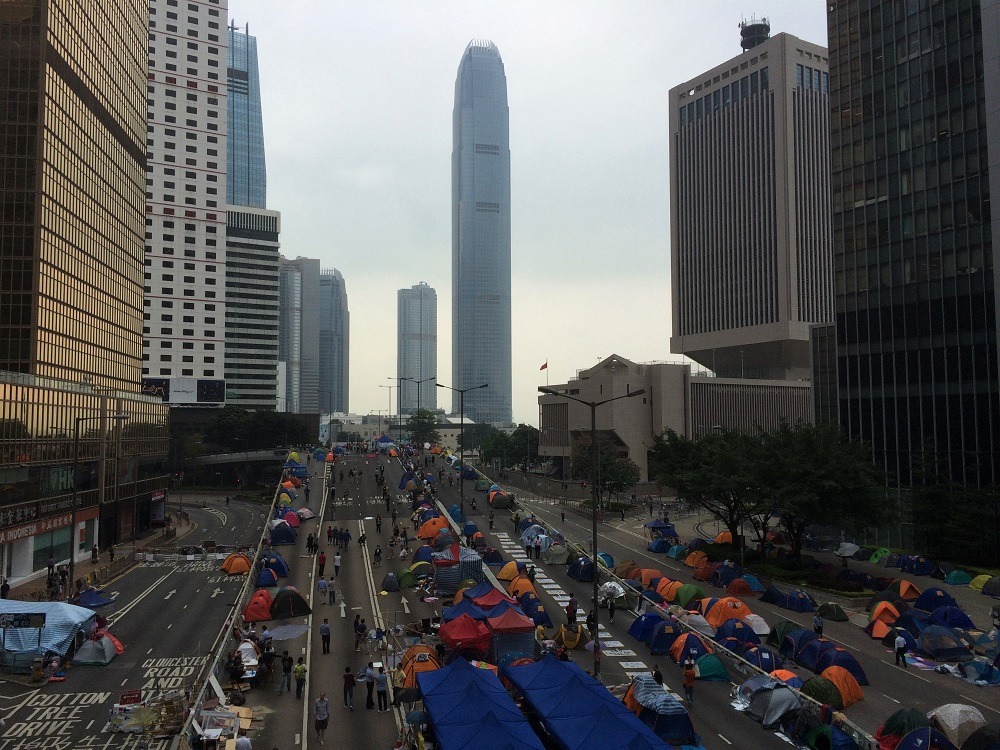 Without diving too much into politics, let's start exploring this metropolis…
The Peak
Likely the best way to view the magnitude of Hong Kong is to take a tram ride up to Victoria Peak (often called The Peak), from where you have stunning views of the skyline, and distant Kowloon (The mainland of Hong Kong) and the Victoria Harbour, the waterway that separates the two…
Top Tip: Arrive before sunset, this way you have this stunning view by day time as well as by night time… There are various restaurants and (souvenir) shops here to pass the time… It can get busy around this time of day so it would not hurt to take the tram a bit earlier up…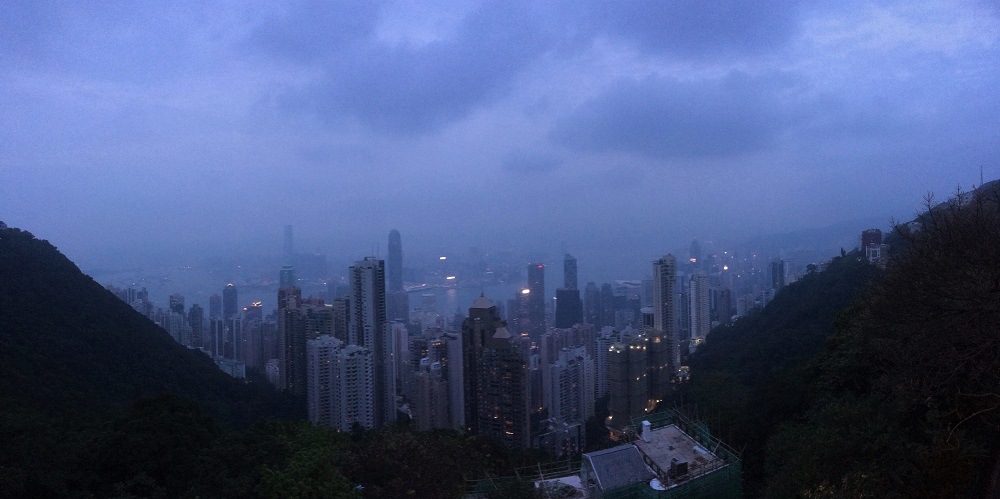 Kowloon & Hong Kong light show
As seen from The Peak, Kowloon encompasses the northern (mainland) part of Hong Kong, on the mainland across Victoria Harbour. It used to be a separate city, but was acquired by Britain in 1860 and returned to China with the rest of the colony in 1997. Nowadays it is the shopping, arts and entertainment district. Do check out the stores on Nathan Road, and the traditional markets that offer all kinds of goods ranging from clothes to goldfish, to gadgets and jewellery.
Symphony of Lights
The 'Symphony of Lights' is a daily light and sound show in Hong Kong. Best seen from the Kowloon shoreline. It is the world's largest permanent light and sound show according to Guinness World Records. As of 2017, there are 42 participating buildings in the show. It starts at 8 pm and lasts for around 10 minutes. The show is a must-see and an ideal combination with a night-time shopping spree in Kowloon.
Hiking in Hong Kong – Lamma Island
Perhaps not the first thing on your mind when you think about Hong Kong, but the various islands make up a substantial amount of greenery and nature! Hence, it is an ideal destination to go for a Hong Kong hike!
During our stay in Hong Kong we stayed out our friend Jan Willem, and he advised to checkout Lamma Island; a totally different side of Hong Kong. This small Island seems to be predominantly focused on 'traditional' fishing… The contrast could not be much greater compared to bustling Hong Kong's business district just a few minutes away by ferry. I highly recommend spending some time in the greenery!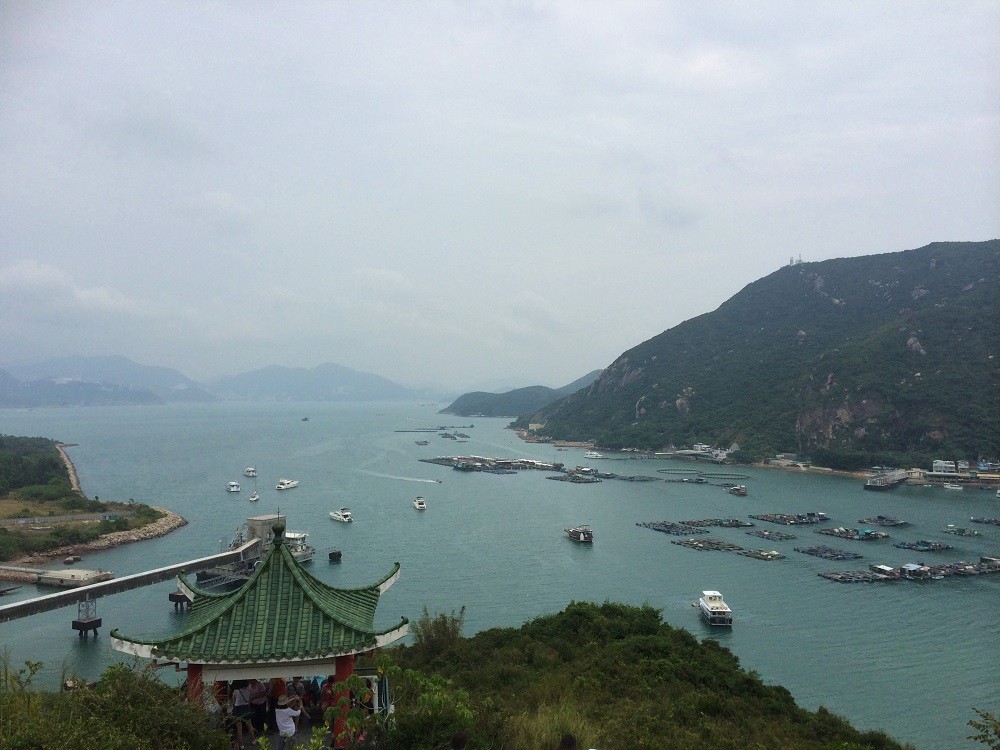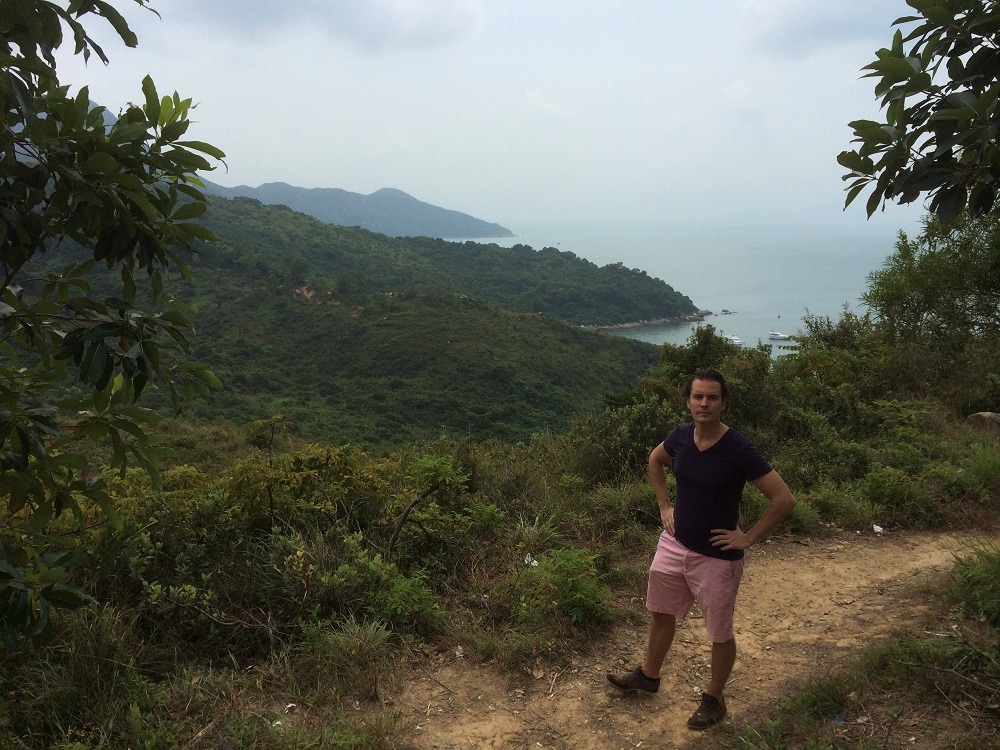 Top Tip: Take one of the many ferry rides, if only just for the great city views from the water!
Lantau Island
Lantau Island is the largest of Hong Kong's islands and lies at the mouth of the Pearl River. Its mountainous interior includes 934-meter high Lantau Peak. This Island is ideal for hikes as well, a great example is the 70 kilometres Lantau Trail. Its key highlight is the Po Lin Monastery where you find the 34-meter tall bronze Tian Tan Buddha statue.
Top Tip: Take the Ngong Ping 360 Cable Car up to the hill… this offers spectacular views over the island and its surroundings!…
Disneyland Hong Kong
Especially when travelling with children, you may want to check out Disneyland, which you also find on Lantau Island. During this trip we did not have time, also the park is smaller than its counterparts in Paris and Florida, but could be a nice addition to your trip!…
We travelled light and saved our visit to Lantau Island last, so we could easily combine it with our outbound flight from Hong Kong International Airport (also on Lantau Island)… We found it most efficient and easily doable!…
Those were my Ghost around the Globe experiences in Hong Kong! A city that has so much to offer for any kind of tourist! One of those cities you have to visit and experience yourself!… Do combine your Hong Kong trip with the nearby Philipines, Macau or Taiwan!… Enjoy!..