How to apply for a Saudi Transit Visa
2023-02-13

Reading time: min | Published on: | Updated on:
If not already done, check out my post on How to Travel to Saudi Arabia as a Tourist, where I describe our road trip through Saudi Arabia from the UAE to Bahrain. Given you are reading this post, you likely are likely aware that Saudi Arabia does not offer a tourist visa. In this post, I will share with you the logistics and paperwork involved when getting a Saudi transit visa.
Do note that in 2019 Saudi Arabia has introduced Tourist visas – However parts of this post are still valid when travelling by car and/or planning a road trip through Saudi Arabia!
Not much information available
There is not much information on this available and I finally managed to apply for a transit visa myself by combining the knowledge of various, and often outdated and conflicting, blog posts. With some trial and error, I got to the below straightforward steps.
Be aware! This is will take some time and effort! Keep in mind you are trying to create a Tourist visa for a country that does not issue any! However, via the simple steps below, I am sure you find it easy and certainly rewarding once you drive your car through the majestic desert kingdom!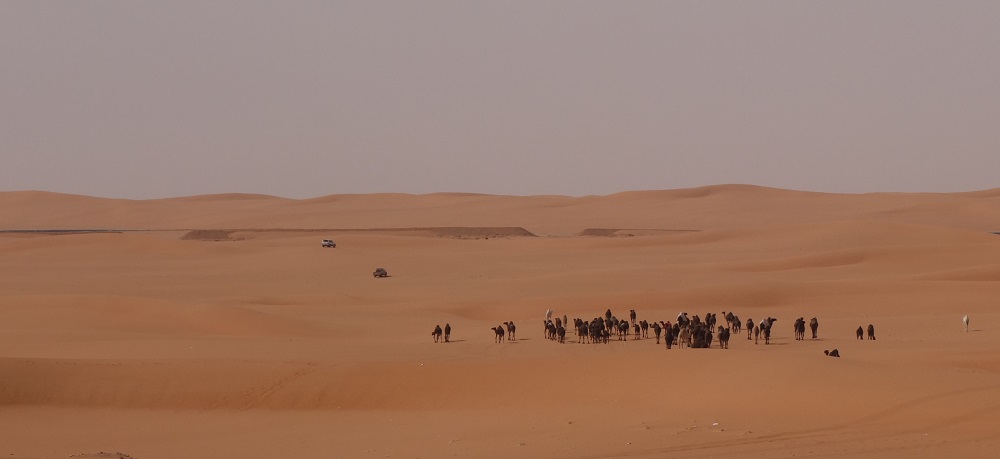 What do you need for a Saudi transit visa?
You will need the following items for your road trip and transit visa!
Resident visa of a GCC country, which stands for Gulf Cooperation Council, which are Kuwait, Bahrain, Oman, United Arab Emirates, Saudi Arabia, and Qatar.
Car, preferably in your own name (without a loan), as otherwise, you may tumble into a rabbit hole full with required approvals and NOCs from your bank or financing company.
Note that you obviously only need a car in case you plan a road trip. However, there is also a possibility of applying for a transit visa when you have a flight stopover in Saudi (you could visit the Saudi embassy or consulate to explore this option. Just bring the documents as described below and ask them for approval)
Oke great! The above is in place… Let's see what other steps you need to take!
First, let's get the documents for your car sorted…
In short: To get your car out of the UAE, you need a Tourism Certificate from RTA, this is applicable for the UAE (or other GCC countries this may not be applicable, to be sure check with your local Road and Transport Authority).
To obtain the Tourism certificate from RTA you need to visit the Automobile Touring Club of UAE first and apply for Carnet de Passage (this is like a car passport)

If you have a car loan, you need to get clearance from your bank, which will be provided when you deposit the outstanding amount as cash at the bank. You get this refunded after the trip by providing a vehicle inspection certificate.
If you do not have a car loan, you only need to provide copies of:

Passport with visa page,
Emirates ID, or GCC equivalent
Driving license,
Car registration
Filled up the application form, which is available only at their counter. The staff is friendly and can help you when required.

Note that the Automobile Club accepts Cash Only. The price is 850AED, of which 350AED is fee and 500AED is a deposit, which you get back when you return the Carnet de Passage.
Expect to spend around 45 minutes here (including filling the form)
You will receive the Carnet de Passage and a letter to the RTA to issue a Tourist Certificate

When you have received the document you can visit your nearest RTA branch, walk to the counter explain that you require a Tourist certificate, you will get issued a queue number.
Provide the letter to the RTA official and pay around 90AED (cash or credit card) and expect to walk out of the RTA office around 15 minutes, with your finalized car paperwork!
To note: Validity of both Carnet and tourism certificate is 6 months.
Update: A friend of my used the above information recently for a motor cycle tour through the entire GCC and he was NEVER asked for the Carnet de Passage at any border. (Thanks Arvin for the tip!). This makes you wonder if you really need to go through all the hassle. Having said that, better to be safe than sorry when you are somewhere at a middle of nowhere dessert border station. 
Now let's get your personal documents sorted:
Apply for a Saudi transit visa to visit any country that borders Saudi Arabia (currently Bahrain or UAE, may be the easiest, as many nationalities get a visa on arrival. At the time of writing Qatar's borders were closed). In my case of Bahrain, I just made a print screen of the Website explaining that it provides a visa on arrival for Dutch/Schengen nationals. Other options to 'transit' to would be Kuwait or Jordan.
Bring your passport, Ensure your passport is valid for at least 6 months
Bring your residency visa, likely in your passport, and ensure it is valid for at least 6 months
Have one passport size photograph taken, with a white background, officially wearing dark clothing and not older than 3 months (mine had beige clothing and was a few years old and still no issue)
Make photocopies of

Emirates ID (or other GCC identification card)
Driving license, this will be your GCC driving license (if applicable)
Car registration, for UAE this will be the gold card. This could be another format in other GCC countries
The tourism Certificate issued by RTA
Optional: In case you are travelling with your spouse it cannot hurt to add your international wedding certificate (although this is not mandatory)
Schedule a visa appointment
The visa processing service for Saudi Arabia is handled by VFS Tasheel (in Dubai it is located in Wafi Mall). Their reputation is not the most efficient (to say the least) and it is likely that this will be your largest hurdle and test of your patience. However, the below tips and information will hopefully safe frustration!
Update: this now has changed for the (much easier) Saudi Tourist visas, where you can apply online!
Book an appointment online
This is mandatory and you need to fill out an e-form. This is a straightforward process.
Note that when you apply together with your spouse (and/or family) you can make a family appointment, which may speed up things at the VSF office.
Make sure to do not make any typo's in the e-form as VFS will reject your appointment (meaning you need to reschedule again)
Note that all applicants need to be present at VFS you cannot delegate the application
Book as early as possible as the appointment slots tend to fill up quickly and the earliest appointment can easily be only after 1 weeks' time.
Optional: Buy lounge access. This includes you in a separate queue system. I am unsure if they are really faster, but it will ensure that you can get appointments earlier (no need to wait e.g. a week). You will have a comfy chair, and some food and drinks are provided. This comes with an additional fee of 200AED per applicant.
Top Tip: Book an early appointment, as VFS works with time slots. Which means you can only go in during a certain time frame with your appointment. If you have the earliest slot you minimize the number of applicants before you
Top Tip: Be first in line when VFS opens, or at least be the earliest in your timeframe. You will spend the least time waiting (and believe me even with queue number 1, chances are high you still have to wait. E.g. due to system start-up issues, system downtime, etc.)
Visit the Saudi Embassy or Consulate before VFS
Top tip: Take all your documents, which you plan to bring to VFS Tasheel, to the Saudi Embassy or Consulate. Explain that you are applying for a Saudi Transit Visa and ask them to sign the documents.  This will show VFS, and later the Saudi official of the embassy, that you already have approval!
Here, you can also bring the documents for your spouse, family, etc. (Unlike at VFS there is no need for them to be there). If you are female, you will get preferential treatment and will be the first allowed into the embassy.  (Bring a headscarf, just in case).
To avoid any queues be there early (a few minutes before it opens).
I did this to avoid any trouble at VFS.  (The staff seem not to have all answers and are better safe than sorry. E.g. they could make an issue of providing a print screen explaining the visa on arrival to Bahrain)
Expect things to take time
Bring a book, work, laptop, whatever, and plan on spending a long time at VFS Tasheel (just to mentally prepare yourself).
Depending on how the above tips work out, expect to spend at least 1 hour at VFS Tasheel. Unfortunately, this may be much more… The cost of a transit visa depends on your nationality for me and my wife it was around 700AED. This is for  Dutch/Schengen Nationals, but this could be more for other nationalities. It includes all surcharges, like mandatory insurance fees, etc.
You will receive a text message within 2 days that your passport with Saudi Transit Visa is ready for collection. (Or sometimes you apparently don't receive anything, as my wife received one and I did not). You can also check your application status online.

You can send someone else to pick up a passport for you (you need to fill in a form and attach Emirates ID copies of both the applicant and the collecting person). This needs to be shown upon collection. (E.g. I picked up my passport for myself and my wife).

This pick-up form is available on the website and at VFS Tasheel

For an additional fee, you can also courier the passports back to you.
Done! Get ready for an unforgettable desert road trip!
And that is it… you are ready to go! You have now received your passport back with a Saudi transit visa to travel through the kingdom to your destination of choice. This entitles you to 3 days (each way) of Saudi adventure!…
Do share your experiences and thoughts!