How to best enjoy and relax on Mauritius
Reading time: min | Published on:
Mauritius is mainly known for its beautiful beaches and luxury resorts. Something which we certainly will enjoy at the end of this trip. However, the tiny island in the middle of the Indian Ocean also has a stunning backcountry to enjoy! So, let's first explore the stunning nature of Mauritius with its beautiful and distinct pointy mountain tops.
South of Mauritius is where you find the top sights
Most of the top sights of Mauritius you'll find in the South. We combined our trip with Reunion Island, so we broke our trip up as follows:
Rent a car upon arrival
Explore South Mauritius
Fly to Reunion
Rent a car & explore Reunion Island
Fly back to Mauritius and enjoy the last few days in a resort (in our case in North West)
This way you did your island explorations first, and then got some relaxation before leaving!
Enough logistics! Let's hop into our rental car and get going!…
Stay at a vanilla plantation: Le Domaine de Saint Aubin
After arriving end-of-day, we stayed close to the airport at Auberge de Saint Aubin, a Vanilla & Sugar Cane plantation. A fun first night stay where we were served excellent Mauritian Cuisine with home grown ingredients. Especially the Vanilla Chicken they serve for main course was amazing.
The next morning a small tour over the grounds is included in the stay. Here we got close with the 'home turtle' and explored the Vanilla plantation (a key export product of Mauritius) and the Rum distillery.  (beware of the spiders – scary but harmless).
Top Tip: Domaine de Saint Aubin also has a restaurant which would make an amazing lunch stop on your Mauritius (day-trip) explorations!
Black River Gorges National Park – Mauritius' last remaining prime rainforest
Most of the key natural sights in Mauritius are located in or around the Black River Gorges National Park. This is the last remaining 2% of the island's still (fairly) untouched primal rainforest.
A bit sad, but when you look over the stunning Black Gorges National Park at the Gorges Viewpoint, try to imagine that Mauritius was completely covered with lush rainforest like this, only a few centuries ago!… Due to its isolated geographic location, remote from large land masses, Mauritius originally had no terrestrial mammals. The only mammals that made their way to the island are bats and marine mammals. Of the two fruit bats, only one remains; the Mauritian flying fox, which you will certainly see flying around as soon as the sun sets.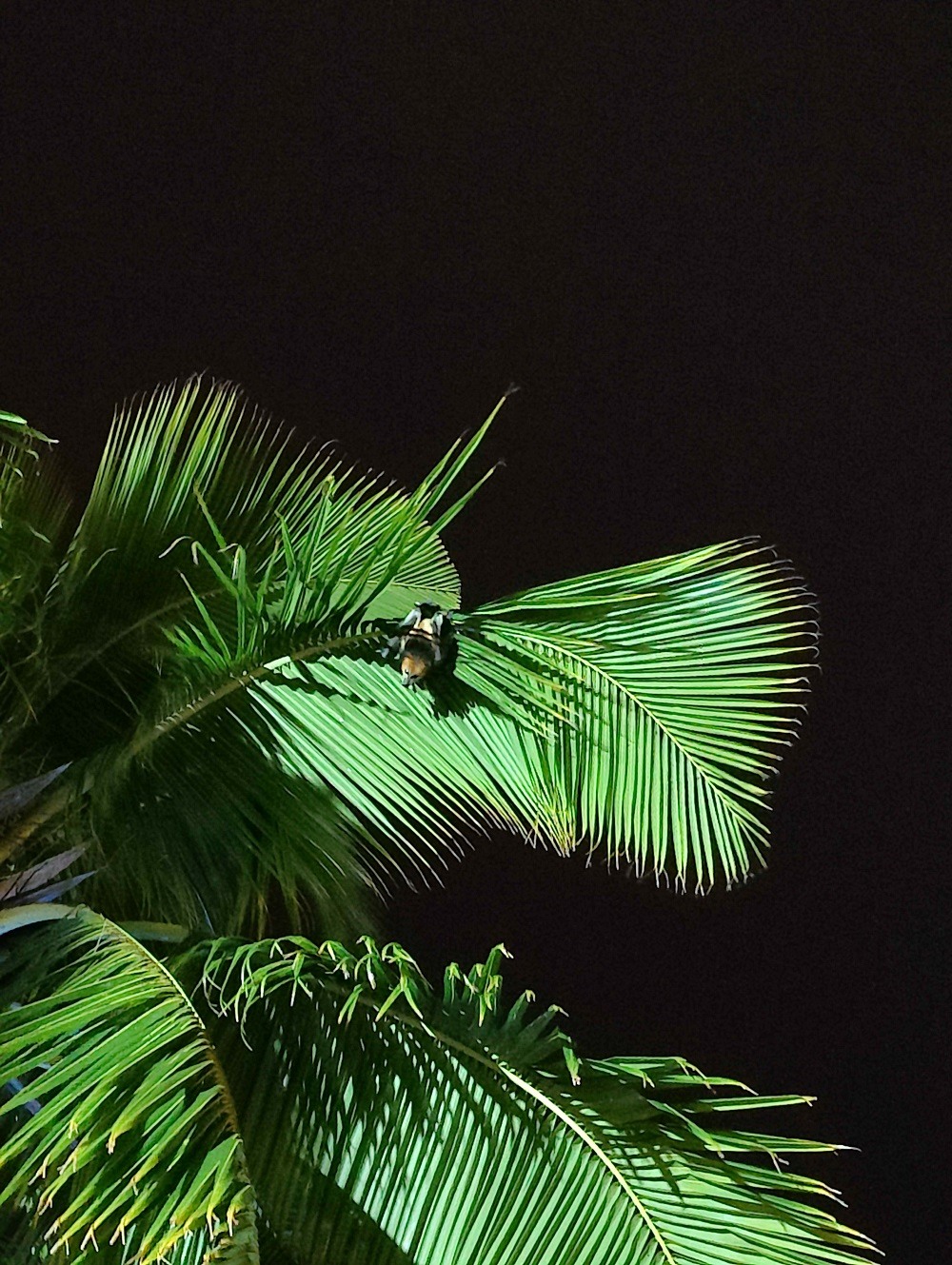 Extinction of the dodo
With no humans or (hunting) mammals, Mauritius was the ideal habitat for many flightless birds like the dodo. Not being used to being hunted, they were a very easy prey. Hence, their days were numbered as soon as the first settlers arrived and hunted them to extinction.  (Thank you, Dutch ancestors!). The dodo still forms a key sign of Mauritius on its national emblem.
Settlers also introduced all other mammals currently on the island (rats, monkeys, etc.), which had a huge impact on the island's ecosystem. In addition, plantations were constructed, and migrants (and slaves) were shipped to work the lands; the ancestors of the current Creole people.
Well, that was a brief history of Mauritius. A bit sad, but luckily this does not make the still remaining nature of Black River Gorges National Park any less beautiful… There are many hiking trails, waterfalls and mountain tops to explore, but let's explore some (easy to reach) highlights!
Grand Bassin Temple
Apart from the basin itself, which is hard to get a good view from (unless you do a hike) the Hindu temple complex is the key draw here. The main religion of Mauritius is Hinduism and many people come here to get their blessings.
Alexandra Falls
A nice stop (and small hike) is Alexandra falls. We arrived exactly during one of the many tropical rain showers we endured in the first few days of our trip, so only briefly enjoyed the view. Perhaps even more beautiful is the forest drive up to the falls.
Chamarel Waterfall & Chamarel Seven Colored Earth Geopark
Unlike elsewhere, you need to pay an entrance fee for the Chamarel National Park. Depending on your type of ticket you also get access to the Chamarel Seven Colored Earth GeoPark.
The Chamarel waterfall is nice, but with all beauty in Mauritius (and Reunion) not worth an entrance price in my opinion.
The Chamarel Seven Colored Earth GeoPark is supposed to be a top sight of Mauritius. However, I was not impressed AT ALL! The grounds just look like some 'slightly colorful' lumps of bare muddy soil in the sun. The below photo is the best I could do (and I was trying hard from many angles). Read my Argentina post if you look for proper stunning rainbow coloured rock formations! It is just strange: Mauritius has so many beautiful sights, why then draw (mislead) tourists to visit less interesting sights (and ask an entrance fee for it)?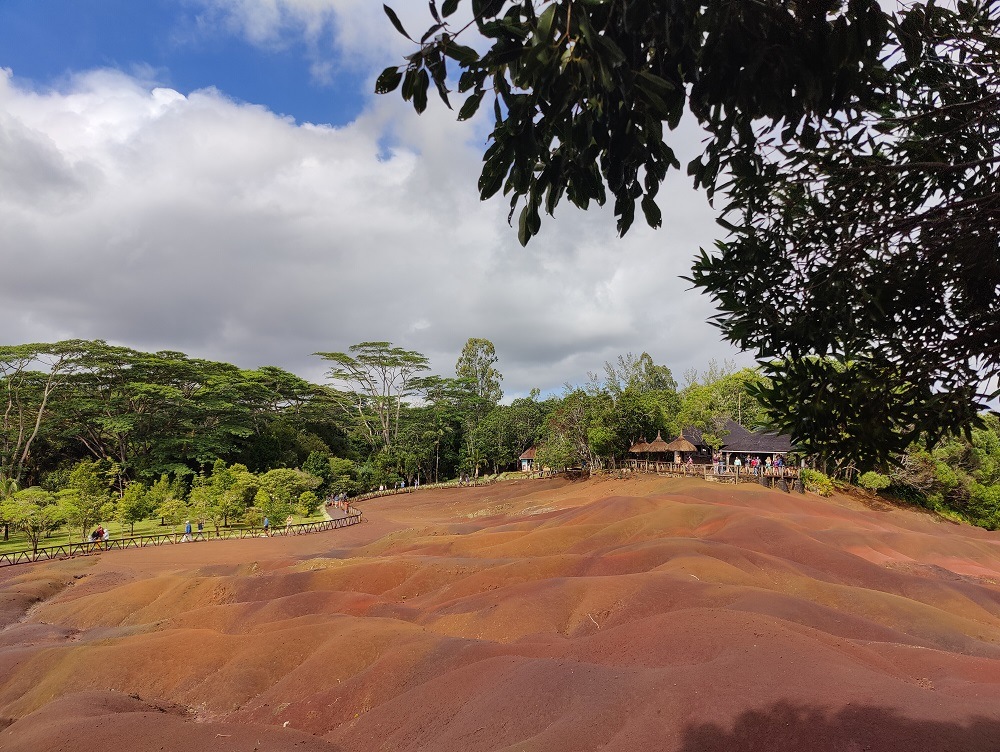 Top Tip: Given the Chamarel entrance fee feels a bit like a 'tourist trap'. You could do the following: Buy a (far cheaper) ticket to the Chamarel adventure park (only). The road leading to the adventure park also leads past the Chamarel Waterfall (so that is automatically included) and you can try your luck to have a peek of the Chamarel Seven Colored Earth (just to 'check the box').
A 'fun' addition to the Chamarel Seven Colored Earth section of the park are the giant tortoises roaming the ground. Then again, you will find these in other parts & attractions around Mauritius (and other countries like Seychelles or Galapagos) as well! Again, not worth an overpriced ticket.
Hike Le Pouce or any other mountain in Mauritius
As mentioned, most of the beautiful sights are found in and around the Black River Gorges National Park, but Mauritius has many other mountain formations and natural beauty to explore. We got a tip from our friend Kevin, to hike Le Pouce Mountain if we had time.
Unfortunately we did not have too much time to make it all the way to the top and back. Instead, we went for a nice walk and got some nice views of Mauritius from lower vantage points. Like Le Pouce, Mauritius has so many walking and hiking trails! Definitely explore! In case of a return visit I would definitely like to explore the interstign rock formation next to / part of Le Pouce, where the top seems to fall of any moment…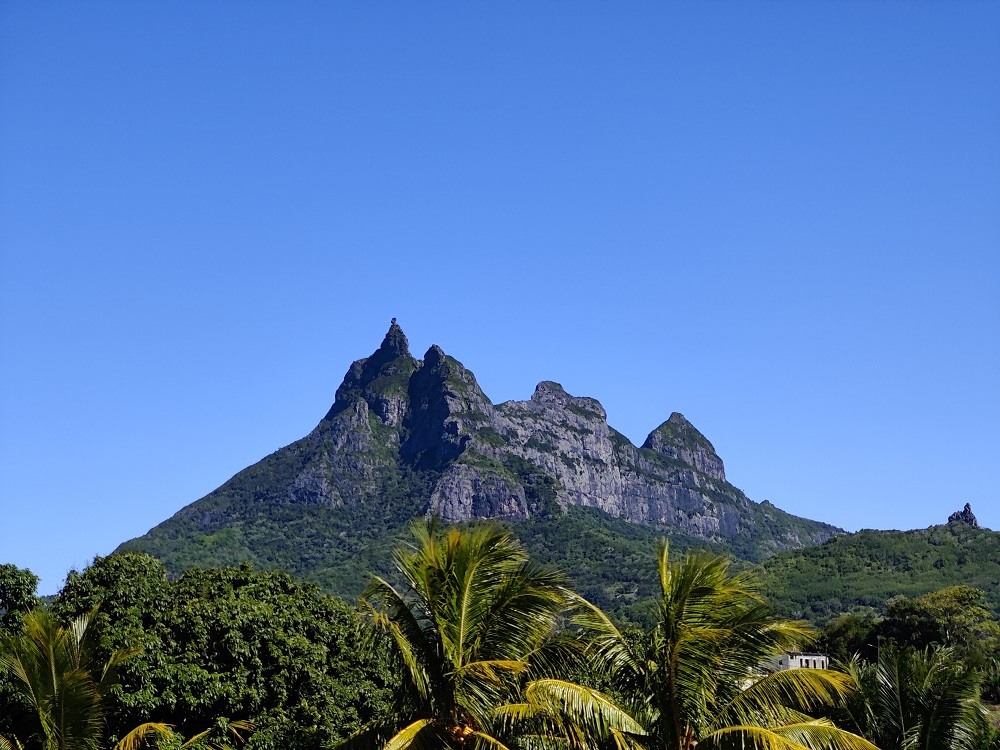 Relax on Mauritius' beaches
Being a fairly small tropical island, relaxing on one of the countless beaches of Mauritius is almost a must! We stayed one night at Tamarin Beach, but you have so many nice beaches stretching from Le Morne Brabant (rock formation) all the way up to the north (and actually around the entire island) which is dotted with beautiful resorts. Another famous (public) beach is Flic en Flac where we had a nice lunch at one of the food trucks.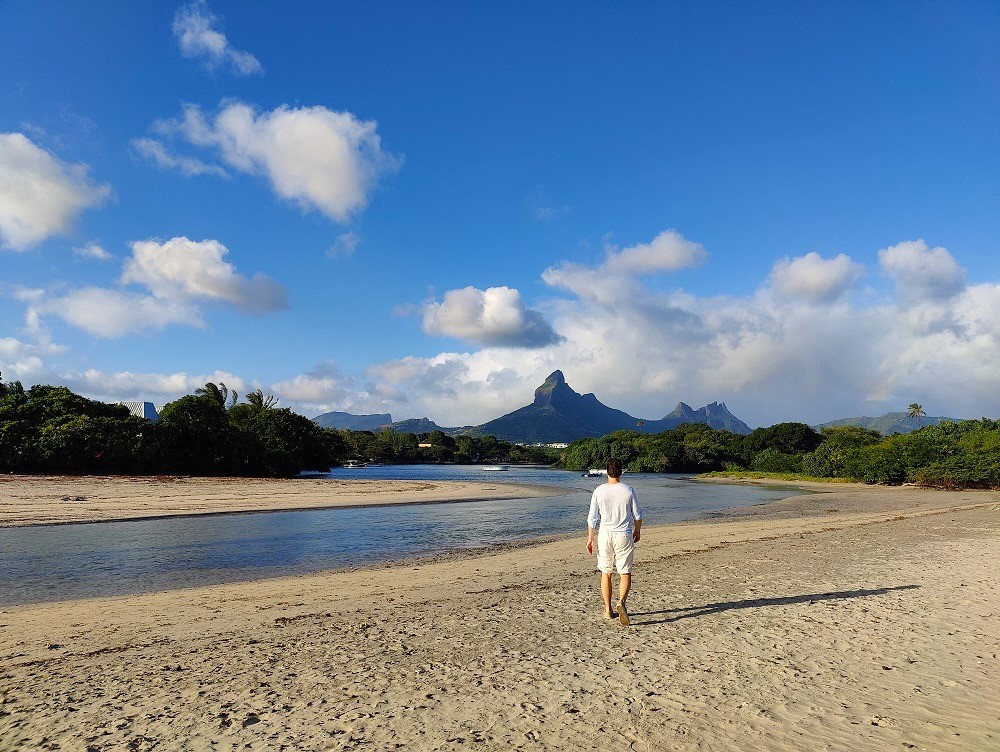 After our trip to La Reunion we stayed north of Port Louis (Mauritius Capital), in Le Meridien. A very nice resort where we stayed for free (using points) and enjoyed an amazing upgrade. However, I advise to do your homework to find the best resort to best suit your needs and budgets! (there are so many other resorts on Mauritius, and you can only spend your hard earned money once!)
Travel in Mauritian Summer months!
Top Tip: Do NOT travel during the Mauritian winter months! (May – Sep period). We understood this would be be a cooler period, but also less rainy. However, that was not the case at all! We had quite some rainy days (especially our first few 'exploring' days as you will see at some of the photos). Frankly it is often just too windy, which makes it feel (even) 'cold(er)' to really enjoy the pool facilities! It was 'ok' for us as we anyway came from the hot summer in Dubai, but it was certainly different than we expected. If we would have come for our summer holiday it would have been downright disappointing. 
We asked a few Mauritians about this, and they explained this is something of recent years and it is linked to global warming. I am unsure of this, but I would advise plan your visit during the Mauritian Summer! You may have the occasional tropical shower, but at least you will experiencing more enjoyable temperatures!…
Well that brings an end to our Ghost around the Globe trip in Mauritius filled with adventure, stunning nature and relaxation! While you are in the 'middle of nowhere' of the Indian Ocean, I would definitely advise to also visit Reunion Island which is very close. I found the nature of Reunion even more spectacular!… read all about it…
Making up your mind on which Island to travel to in the Indian Ocean? Read and compare all about it in my Seychelles, Maldives, Sri Lanka, Zanzibar posts! Easy to make up your mind what suits your travel style & needs best!