How to travel to Saudi Arabia as a Tourist
At the time of writing, only Kuwaiti, Omani, Bahraini and Emirati nationals can travel visa-free to Saudi Arabia. No tourist visa exists for other nationalities. Unless you are a Muslim and planning to go on a Hajj to Mecca, or travelling for business with a Saudi Sponsor, you are likely refused to enter the country.
Update: This has changed recently with Saudi opening up their borders for various nationalities, allowing you to visit as a tourist…. Reason all the more to read the below on my 'pioneering' tips!….
No Tourist visa? No problem…
There is a way around this! However unfortunately not available to everyone. I am currently a resident of Dubai, which is part of the GCC (Gulf Cooperation Council). As a GCC resident, I am eligible to apply for a transit visa. This offered me the opportunity to travel through Saudi Arabia to visit another country by car (or by flight stopover). Applying for this is certainly a hassle, but I will separately describe how to apply for a Saudi Arabia transit visa as a GCC resident
But wait! There is hope for you all… as there are rumours that Saudi is planning to initiate a tourist visa quite shortly… so, in that case, consider this as a sneak peek and keep reading!…
A Saudi transit visa allows you to spend 3 days in the country. Given that I just bought a car in Dubai, we planned to take it for a spin and picked Bahrain as our final destination, but with a detour via Riyadh, the capital.
Camping close to the Saudi border
We left Dubai in the afternoon and drove around 4 hours towards the Saudi border. Free camping is allowed in the United Arab Emirates and will help you save budget on expensive hotel stays! We set up camp on the beach in Al Sila'a, close to the Saudi border.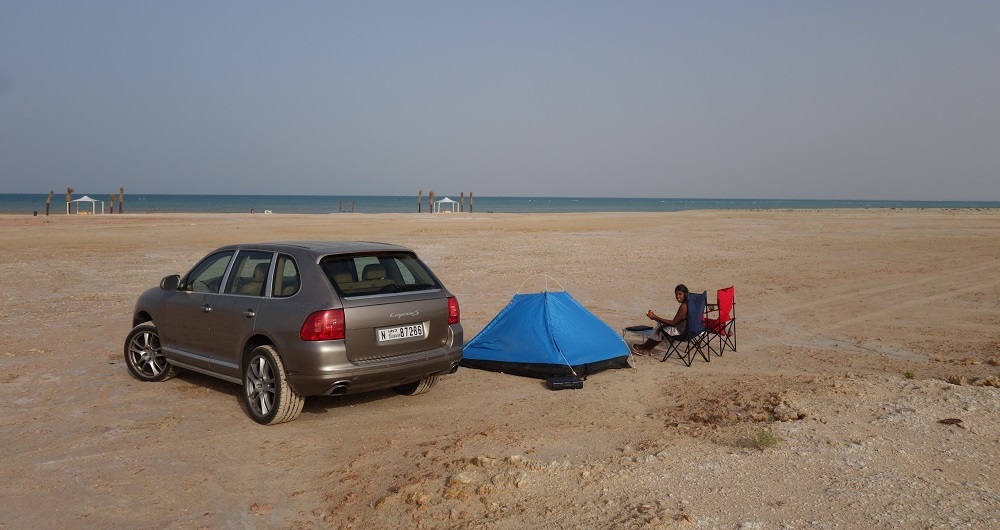 The Saudi Border
The next early morning we ensured we were properly dressed (long trousers and long sleeves for me, and traditional abaya and a head scarf for Amanda) and drove to the Saudi border. We arrived at a massive, but seemingly abandoned, border complex. We were the only car and only one border office signalled green.
The border official checked our visa and pointed to an office where we should take our fingerprints. As you perhaps could have guessed there were separate offices for men and ladies. No one was present and it did not take long before I heard Amanda shout "there is no one here". By then the same border official had walked over from his post (meaning no one to address any cars) and came into the men's office to take my and Amanda's fingerprints and photo.
Next up was checking our car for prohibited goods – where apart from obvious forbidden items, also pork products and alcohol are strictly prohibited to take into the kingdom. The "check" did not last more than a few minutes. After which we bought a 1-week car insurance at a drive-through desk and of we went… cruising the Saudi roads!
Funny fact is that the first thing you see after the border is a large McDonald's sign. This proved to be a sign of what was in store in Riyadh.
Road to Riyadh
We read stories on the road quality – e.g. bumps, holes, etc. – but we did not experience anything like this. The road to Riyadh was in very good condition and was empty – as you would expect – surrounded by desert. When you drive here for hours you really realize how vast this country and the desert is. You are surrounded by hundreds of kilometres of sandy emptiness… In the first 4 hours from the border, you will only see occasional bulldozers that keep the road sand-free, various car wreckages, a few petrol stations, and countless camels. The latter pose a road hazard as they can easily cross the highway, which is one reason it is advised not to drive at night.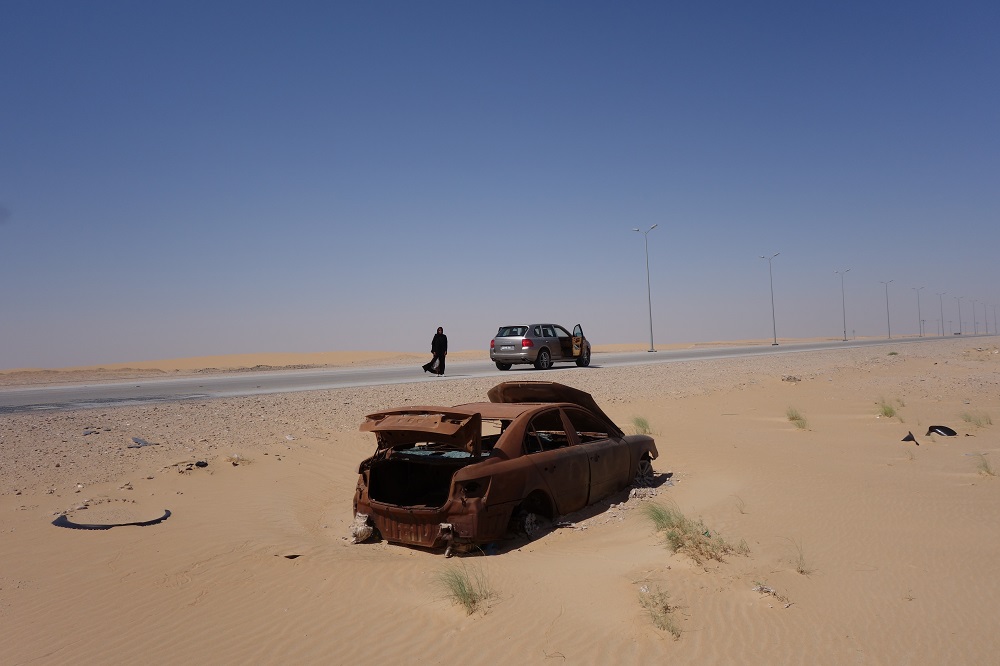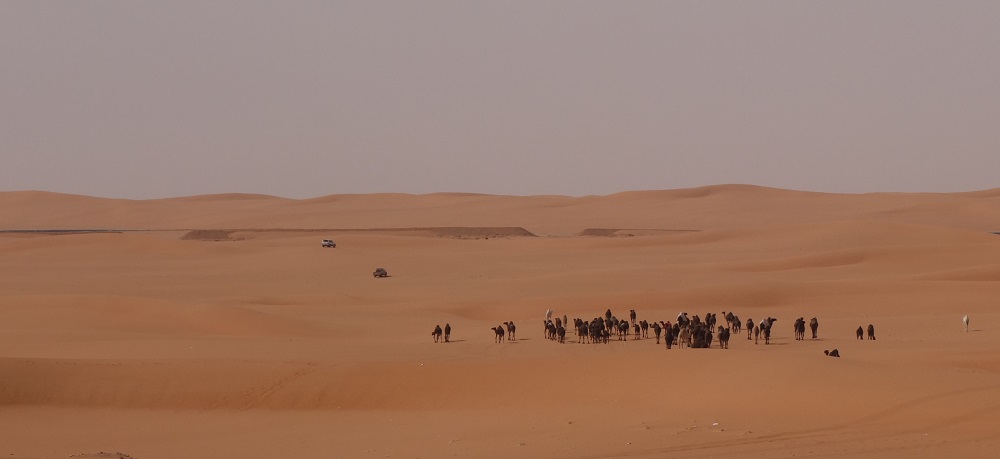 Top Tip: This info may be outdated, please let me know if anyone knows for sure. But I read a few tips of always filling up your petrol when half empty. This mitigates the risk of buying a full tank of poor quality petrol. Better safe than sorry given the vastness of the Saudi desert!
Riyadh
Riyadh does not offer too many sites of interest. I have listed the key ones below. When visiting these sights I especially found it interesting to get an understanding of daily life in Saudi Arabia. In particular, the rapid progression undergoing.
Kingdom Tower
This large building literally towers over the low rise buildings of Riyadh and offers great views over the city via the Skybridge. With a bit of imagination, the tower looks like the eye of Sauron from the Lords of the Rings Trilogy.
The complex also houses kingdom tower mall, which offers all western shopping brands and has a giant American style food court with all the chains you can think of (offering far more choice than many European countries). This makes the McDonalds at the border as described earlier seem less odd than it would seem at first sight. A striking difference to note is the separation in queues to order at food stands; divided in Singles (males) and Families (females, traditionally accompanied by males). This separation is also made in the food court seating areas.
Ritz Carlton Riyadh
This magnificent hotel recently got famous for a different reason; it was used as a prison to house many corrupt high government officials and members of the royal family. This was part of a larger restructuring of the country, loosening the strict rules and regulations and for example, allows women to drive. We are able to visit the hotel as it stopped functioning as a prison again (but still has strict security). We had a drink in the lobby and still witnessed a large army and police force present. Certainly have a refreshing break here to admire the building and its lobby and hallways.
Al Fasaliah Tower and mall
The building was constructed by the Bin Laden organization and is easily recognized by its design with the ball in the top. It also has a small park on one side, which I would urge all to check out, as here we experienced the rapid change of this country. Many girls and women were enjoying themselves here, some without a headscarf and the far majority without any male company – when checking why there were almost only ladies, the response was "we do not want to hang out with our men, but prefer to have a good time with our friends". They serve festival-style food and drinks. Later that night also a band would play popular music. All this would have been impossible only a few months earlier due to the strict rules of the Sharia Law.
Old Riyadh
Many guidebooks describe Old Riyadh is undergoing restoration. However, it seemed restored when we visited. We only walked in a small section, as a large part was closed off by a massive police force. Unsure of the reason and the police did not speak English.
Top Tip: To my surprise, most shops (and gas stations) accepted UAE dirhams in Saudi Arabia (and Bahrain). The countries have linked their currencies. On our way back I also paid (partly) in Saudi Riyal at an Abu Dhabi desert petrol station.
Top Tip: As everywhere make sure you are properly dressed. However, as mentioned the country is changing rapidly and non-Muslim females do not need to wear a headscarf anymore. You likely do good to wear one, or at least keep one handy just in case, but we met multiple local ladies without one.
Road to Bahrain
The road to Bahrain has more traffic, which similar to downtown Riyadh equals driving among the insane. Saudi roads are still one of the most deadly in the World and when driving here you can clearly see why. On top of this, the government has announced that the roads will soon be opened to millions of female drivers, who have never driven before. This will likely not benefit the safety on the roads anytime soon.
The road is also lined with the occasional car wreckage and many camels (but this road has fences). It has more petrol stations than the road from UAE to Riyadh.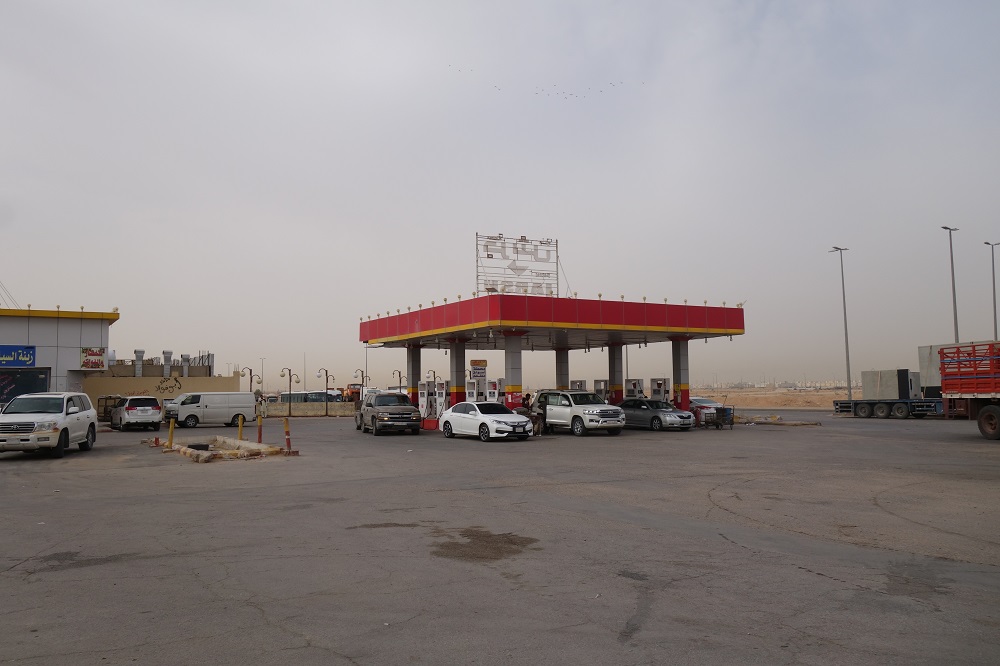 Saudi Arabia – Bahrain Causeway
Once we hit the coastline we drove up to the Saudi – Bahrain Causeway, which is one of the largest bridges in the world. The Saudi / Bahraini border is located on an artificial island halfway the bridge and was quite efficient…
Follow the link if you are Curious about the Top things to do in Bahrain!
Bonus: Driving through a sandstorm
While driving in Saudi (on our way back from Bahrain) we did experience a massive sandstorm, drastically minimizing our visibility. You can best compare this to travelling through a snowstorm or very dense mist. The only thing to make sure is that your car's air filters are not getting clogged by the sand. We noticed a loss of power a few times while driving, likely due to lack of air for engine combustion.
Top Tip: Make sure you service your car (or clean your filters) after a sandstorm to avoid any further problems.
And that was our adventure in Saudi Arabia! I hope you are feeling excited!… Do check out the process of getting your Saudi Arabia transit visa sorted via how to apply for a Saudi Arabia transit visa as a GCC resident
Also planning to travel to Saudi, or have you already been? Let me know your experiences! I am very curious!…
If this is part of a larger trip to the Middle East, or you are just curious about other Ghost around the Globe stories: Do check my posts about Musandam and Salalah in Oman. Or perhaps you aim to combine your travels with the UAE, Jordan or Kuwait? Read all about it and enjoy your travels!…