Is Kuwait a tourist destination?
Kuwait is most famous for its oil riches, which have made it one of the wealthiest countries in the world. Given the fairly recent invasion by Iraq – and the fear ever since of it happening again – the country has not invested much in its infrastructure. Neither did it aim to become a tourist destination, like other Gulf states. However, Saddam Hussain out of the picture, Kuwait seems to slowly awake, resulting in some impressive new museums, parks, malls and cultural venues…
Travelling to Kuwait
As mentioned, despite its riches, Kuwait never invested much in its infrastructure. City planning seems non-existent in most places. Roads are not well-maintained and most people drive like crazy. Despite its wealth, this gives the country an unorganized and 'poor' appearance.
Arrival at the Airport
For us, the 'real Kuwaiti experience' already started already at the airport. We arrived with Jazeera Airways at Terminal 5.  We were first out of the plane and already holding our e-visa forms. Unfortunately, it would not be this easy as we had to first get our real visa (essentially making the e-visa forms unnecessary).
When we mentioned to the airline staff and other bystanders waiting for a visa, that we were "not travelling for business but were tourists", their response was "Why!?"… This clearly says something about the mindset and type of (Western) visitors to the country, which are almost all business travellers.
The tourist visas could not be processed in Terminal 5, which meant we needed to go with airport officials to Terminal 1 to get the visas done. The airline personnel found a security staff with the proper access cards we finally reached Terminal 1.
The visas are paid for with cash in a machine, which also gives you a token for processing at the visa counter…
Top Tip: To save time, do already bring some Kuwait Dinars, in small (1 KD notes preferred). I brought KDs in higher denominations but ended up changing these at the various shops in terminal 1.
With all formalities in place, we went back to Terminal 5 again, again requiring airport officials to guide us back, we got our passports stamped…. All of this obviously took its time, but when passing the luggage belts, our fellow travellers were still waiting for their luggage. Luckily we travelled with hand luggage only, so no more waiting… Kuwait here we come!…
Kuwait is a conservative Islamic country
Another factor that makes Kuwait 'unattractive' to many international visitors is that the country is a very conservative Islamic country. This means alcohol is illegal, revealing swimwear is not allowed (for women) and signs of affection and intimacy should not be displayed in public.
Where to stay in Kuwait?
Kuwait is fairly small, the few sights of interests are scattered over the city and roads are usually not too congested… Hence, it does not matter where you stay… During our trip, we stayed with friends, who live in Salmiya. This is also where you find various beach resorts (like The Regency below), where Kuwait City has more business hotels…
I cannot emphasize enough that Kuwait, at the time of writing, has no ambitions to be a tourist destination. As mentioned, almost all visitors are business-related and therefore hotels are relatively high priced, even when comparing to the already relatively high priced Gulf region.
Kuwait itinerary
Kuwait certainly has various sights of interests, just not too many… This makes it great for a weekend getaway or a stopover destination. throughout the Gulf region, the country is mainly famous for its food, which is a reason many citizens from neighbouring countries come and visit for a weekend break.
Weekends in Kuwait fall on Friday and Saturday, with most attractions opening on Friday from 15h onwards. Keep this in mind when planning your trip. I would advise arriving on Thursday evening (like us) or Friday Morning (saving you money on a relatively expensive hotel night). Even when you leave  Saturday night again you will have had more than enough time to visit most places of interest!
So what is there to see? Let me share the key sights of interest which you can easily mix and match. Just note that some are closed on Friday until 15h… Do some online research before you travel!
Walk the Boulevard of Arabian Gulf Street
Enjoy the scenery of the Kuwait skyline while walking over (parts of) the boulevard between Salmiya and the Kuwait Towers. There are many restaurants, making this an ideal place to stop for breakfast, lunch or dinner.
Sheikh Jaber Al-Ahmad Cultural Center JAACC
This is one of the recent developments, showing a different and modern Kuwait. This architectural masterpiece has been built in record speed. It would be most interesting if there is an event going on in the theatres… Otherwise, there is not much crowd… For some reason, we were also not allowed to walk around the buildings, which is why I could only take a photo from the neighbouring restaurants.
Liberation Tower
Standing 372 meters tall, you will have no issue spotting this sight!… Originally intended to be named The Kuwait Telecommunications Tower, construction of the tower commenced before the Iraqi invasion of Kuwait on August 2, 1990. When the invasion took place, construction, which was almost half-way complete, was put on hold. However, the structure received no damage, and construction resumed after Iraqi forces were expelled on February 27, 1991. Upon completion in 1993, the tower was renamed the Liberation Tower, symbolizing Kuwait's liberation from Iraq.
Mubarakeya souk
It is nice to stroll past the shops during the day… But this place comes truly alive during the night!… Unlike similar souks or markets in the region, you do not have to be afraid of any overeager salesmen! Remember, there will hardly be any tourists… You will be left alone, which gives this a very authentic feel! This is truly a must-visit when in Kuwait… And a very nice experience, compared to all the other souks in the region.
We went once during the day and returned in the evening, as we also had a very authentic (low cost) dinner… There are many food stalls around the Mubarakeya souk, but you can find this place near the fruit and vegetable section. I would definitely recommend it!… Just wait until you get a table assigned and enjoy cheap, delicious food among the local Kuwaitis.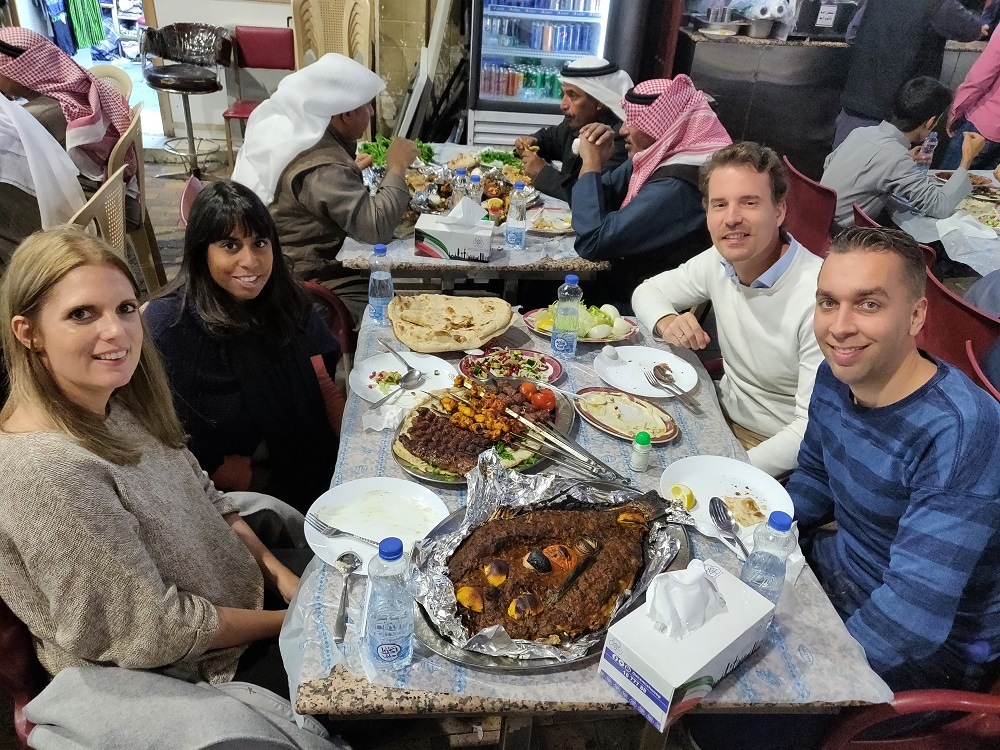 When walking around the Mubarakeya Souk area keep an eye out for the colourful lit squares and the various artsy wall murals…
American fast-food chain overdose
When thinking about Kuwait, or the middle east I am sure that American fast-food chains would not be the first thing on your mind. Yet, similar to Saudi Arabia, you see these food outlets everywhere!… Luckily for Amanda, Kuwait even has the only Taco Bell outlets in the region, which is one of her favourite fast-food chains…
A negative side effect is that given the abundance of fast-food restaurants it is no surprise that the Kuwaiti population is one of the most obese in the world…
Sheikh Abdullah Al Salem Cultural Center SAACC
One of the key new developments that will help to put Kuwait on the map is this modern complex housing 6 museums. Here you can learn all about Space, Ecosystems, Transportation, Science, Robots, Arabic Arts and much more!… This place is great if you are visiting with kids, as there are many interactive zones to explore. It even has an indoor rainforest!…
We spent 2.5 hours here, but actually could have spent a bit longer, there is just so much to explore! If I would revisit, I would plan to spend around 4 hours here, and then you would still not have seen everything there is to see…  I highly recommend adding this to your itinerary! This is a showcase of how Kuwait slowly starts to reinvest its funds in educational and cultural experiences!…
Shaheed Park
One of the best places to explore the artsy side of Kuwait is Shaheed Park. Yet another new development, with really impressive artworks and great restaurants to enjoy breakfast! Do visit Table Otto restaurant, where I highly recommend the amazing Steak Benedict!…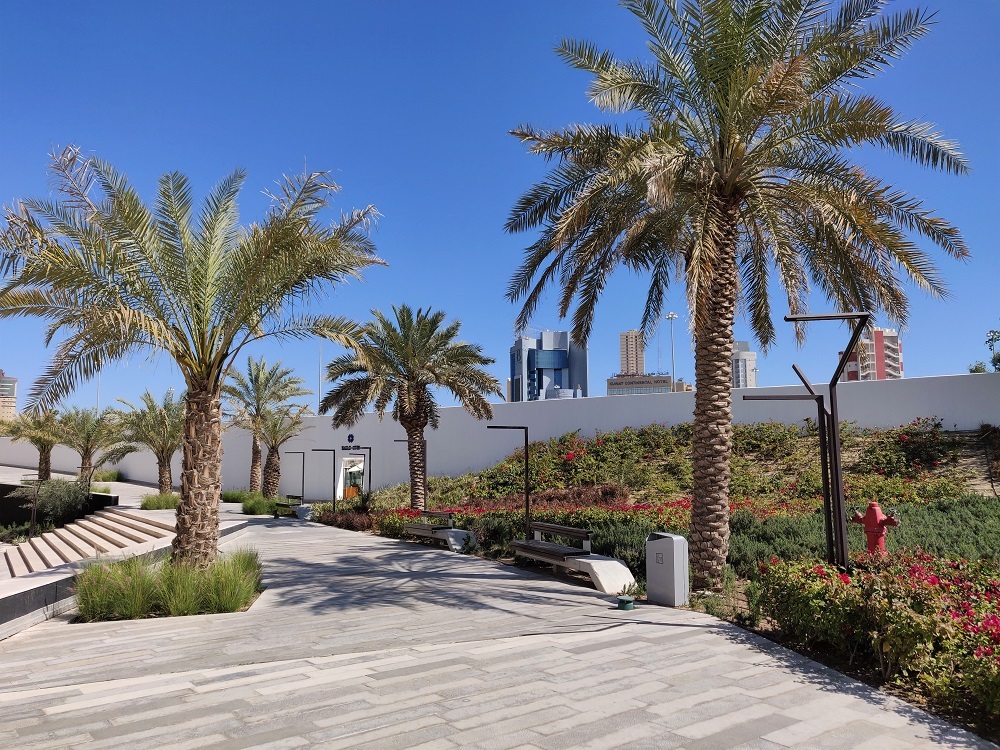 An example of a fun artwork that is all about perspective: From most angles, it looks like a pile of rubbish, however from the right perspective it is a group of camels roaming the park's grass…
Kuwait Towers
Originally built as the sixth and last group of water towers in the Kuwait water system. Their style is considerably different than the other 5 Water tower groups (see below). Designed by a Swedish design company, the Kuwait Towers have ever since been the national symbol of Kuwait! The observatory deck offers great views over the city. There is also a restaurant, as with many observatory restaurants, it is quite pricy. Hence I would just opt for the viewing platform (and also make a stop at the restaurant level).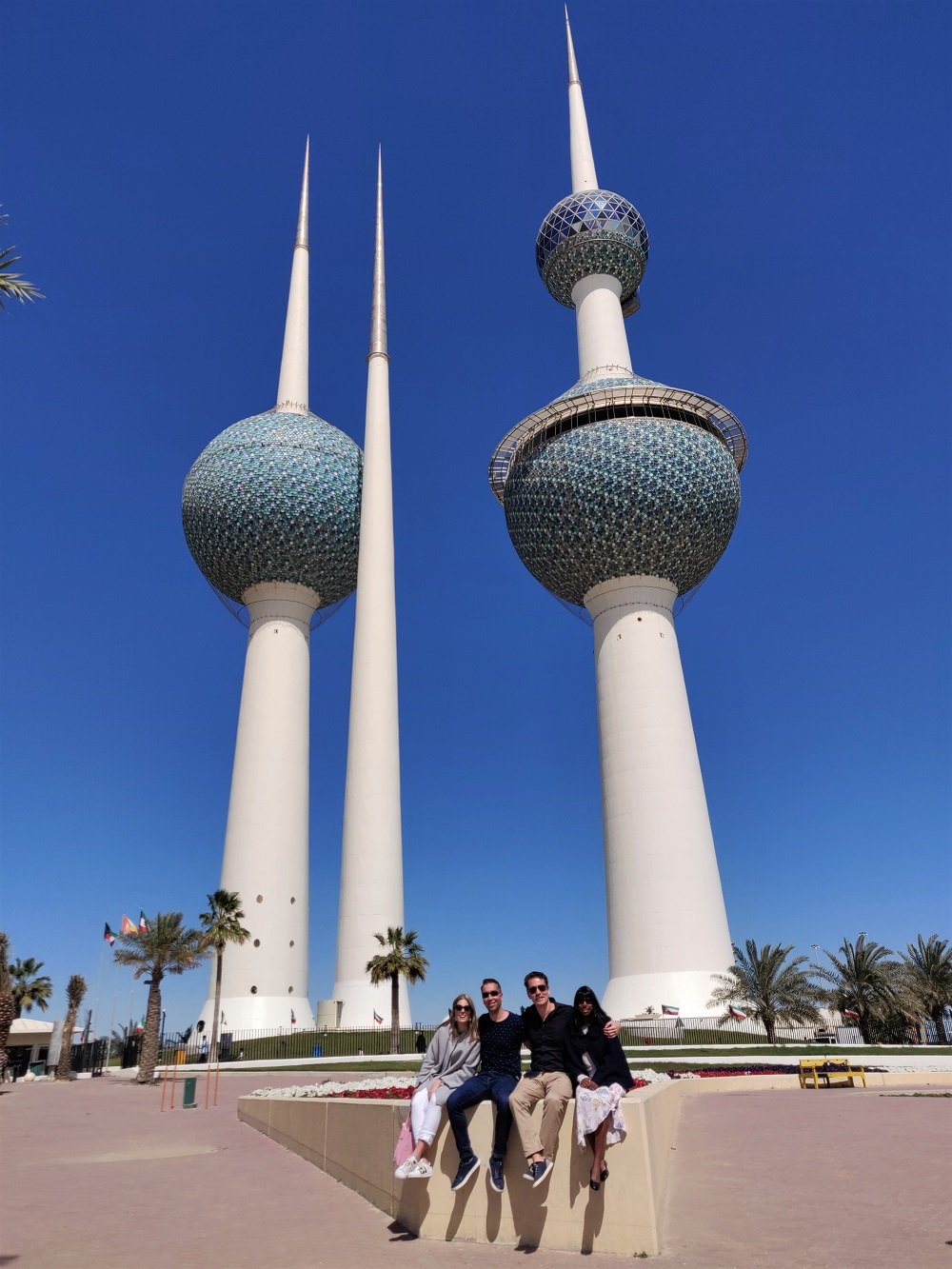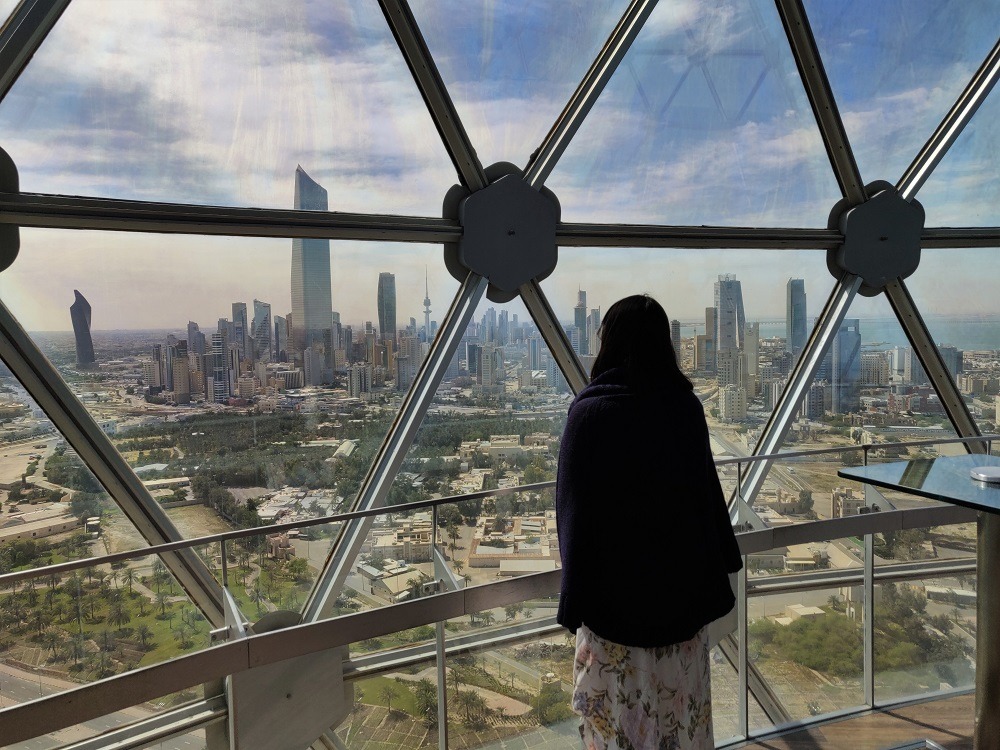 Fun Fact: From photos, I always considered the towers as being 2 towers, actually there are 3. One does contain a sphere, and therefore actually does not serve a purpose as storing water… However, it seems it does serve a purpose, as this houses toilets… Making this likely the highest toilet block in the world? Do not believe Kuwait has ever claimed this officially!…
Kuwait Water towers
Before desalination became widely available, Kuwait had a water problem. Part of the solution to this problem was to set up a Kuwait Water Towers system of 6 groups, totalling 34 towers. In addition to the earlier described Kuwait towers, it is worth to check out one of the other 5 clusters…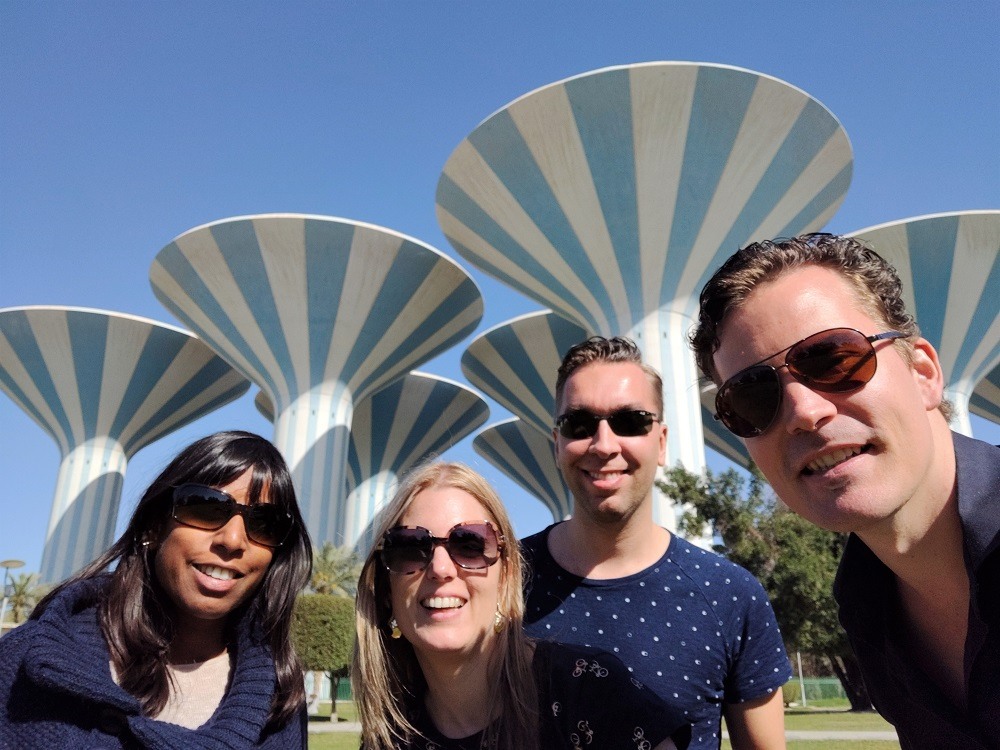 The Avenues Mall
One of the most impressive malls I have visited worldwide is certainly Kuwait's Avenues Mall. After the Dubai Mall, this is the largest mall in the region. Hence, one of the major attraction for Kuwaitis, but also Saudis, Emiratis and visitors from the wider region. I like about this mall is the outdoor 'shopping street' feeling that is created by the giant glass dome, which stretches for hundreds of meters giving a very spacious feel.
Conclusion: is Kuwait a tourist destination?
What is the Ghost around the Globe 'verdict'? Well, the country certainly has a long way to go if they aim to attract mass tourism… But are they? They are sitting on a massive quantity of oil and will be financially secure for decades (if not centuries) to come… Being a conservative Arabic, Islamic country they seem to only aim to attract tourists from their neighbouring Gulf countries… A sign of this is that most of their brochures are only in Arabic, and not even in English…
But should you visit? I was pleasantly surprised with the state-of-the-art mall, theatre and museums, which nicely contrast the authentic cultural heritage you find in Mubarakeya souk… When travelling for business, or in case of a stopover, I would add a day to your travel itinerary to explore Kuwait!… In case you live in the Gulf region, Kuwait certainly is a fun and interesting weekend destination!…
Looking to combine your trip to Kuwait, what about Saudi Arabia, Bahrain, Oman or Dubai and Abu Dhabi in the UAE?