Lapland: top tips for Northern Sweden and Finland
Lapland is not a country, but the Northernmost region of Finland, stretching into Sweden, part of Norway and even covers a part of Russia. Folklore has it that this is where Father Christmas or Santa Claus lives… It has a wintry climate, with the winter period and snowfall stretching from October to May, which is exactly the reason for visiting! As the best time to visit this winter wonderland and enjoy all the great winter activities is during this period!… During this trip we took my parents, as a present for their 40th wedding anniversary… Let's dive right into it and learn all you need to know for your travels!…
How to get to Lapland?
For Lapland it is likely most easy and convenient to book an organized travel package. As you know, this is not my usual style of travel, as I would usually like to be flexible and organize this myself. However, in this case most of the packages include:
Chartered flights (directly to Lapland, which you often cannot book yourself as an individual)
Accommodation
Food (often full board or half board with coffee/tea/water included)
(most) Lapland activities
Clothing for the cold weather
The slight downside of this, in my opinion, was that because we booked through a Dutch/Belgian travel organization and we ended up in a Dutch/Belgian enclave in Lapland. Where almost everyone (including staff) speaks Dutch. Hence, we only had limited insights and interactions with the local culture and people. These were perhaps only limited to our Husky guide and the bus driver? And the latter did not even speak English…
Nevertheless, don't let this put you off too much! Once engaging in the activities and roaming over your accommodation and/or the snowy surroundings you will not really notice as you are far too busy enjoying the scenery anyway!… And on a postive note, you do not have to worry about anything anymore, everything is arranged, pre-booked leaving you to fully relax and enjoy!…
Travelling to Lapland yourself
If not bound for time and you like a winter adventure you can also book your own flights (likely with Finnair via Helsinki or flights via Stockholm). You can easily rent a car at the various airports in Lapland (or even drive up North yourself – if really pushing it). The roads are snowy but very well maintained. Also, it is likely you will get 'spikes' on your tires, meaning great grip. Our bus also had spikes, and our driver just maintained usual speeds of 80-100km/h, despite the snowy road conditions.
Top 11 activities to do in lapland
As mentioned Lapland is obviously famous for various unique winter activities! It is a great way of spending your winter holidays in a different way than just skiing. Let's dive into it…
1. Visit the Lapland Snow Village Ice Hotel
In Finnish Lapland (close to Kittila Airport) we visited the Snow Village Ice Hotel. I highly recommend to request your travel organization to include this in your package (or pick a package that includes it already). The hotel is a true piece of art, and as you would have guessed it is completely built from snow and ice. I really enjoyed roaming the many rooms, each with a different mall mural carved out of the snow. It is more an ice museum than a hotel.
We did not stay for the night. Originally I wanted to, but in hindsight it would be really cold! During the day it was already really cold, imagine the nights… I wonder how (un)comfortable this would be…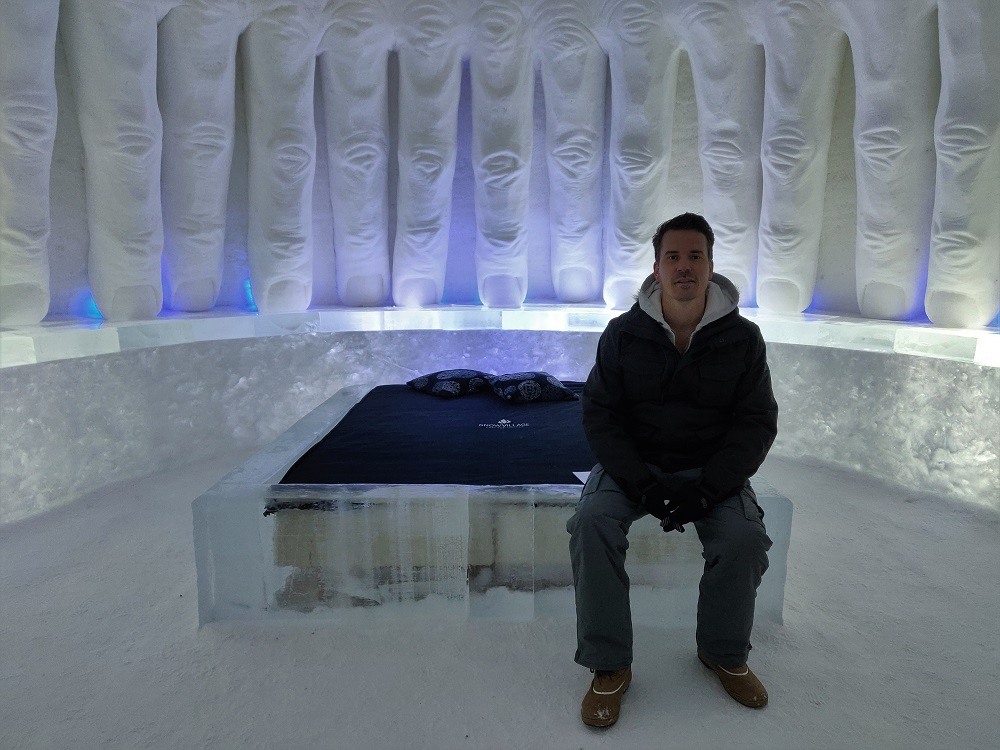 2. Explore the country side on a snow mobile
A very fun way to explore the country side on a snow mobile!… We went for a 2-3 hour tour, which I my opinion is a good duration! Even though we had great (sunny) weather and warm clothes, you will get cold after a while! You switch a few times, so you can enjoy driving as well as making those great photos and movies from the rear seat!…
3. Traditional husky sledding through Lapland
Staying on a husky kennel we obviously had no other choice than to also go out and explore the surroundings on a traditional husky sled! Not that you otherwise would not do this great activity!.. This is the ultimate must do when in Lapland! Amazing how only 5-6 dogs can run so fast with 2 adults on a sled behind them… Where you have to use the gas on the snow mobile, husky sledding is all about using the breaks! The dogs are so eager to run, barking when only standing still for a few seconds… once running they are happy, and so will you be, sledding through the beautiful snowy world in complete silence!… Just Amazing!….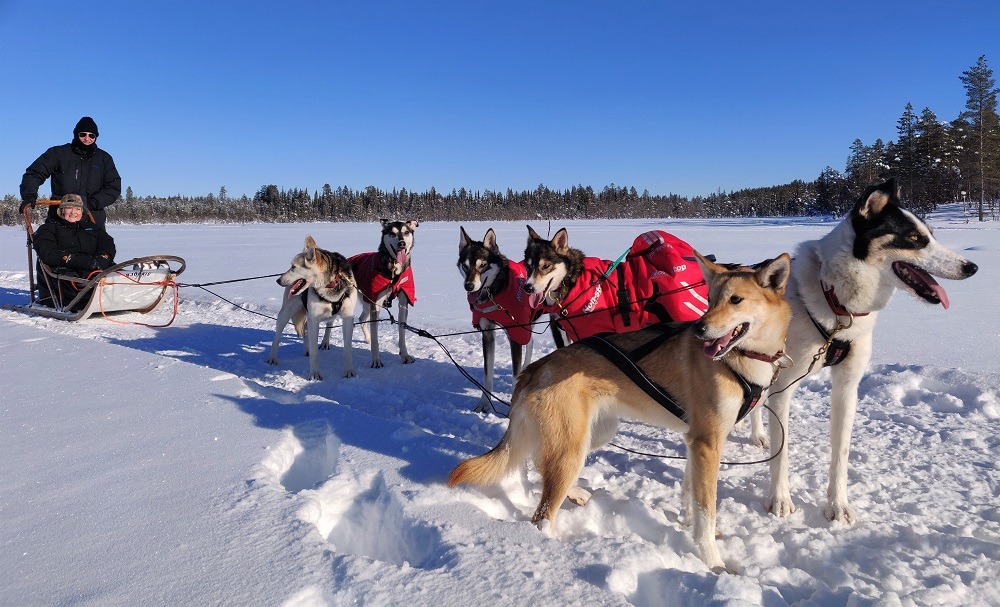 Top Tip: We brought our own balaclava, most operators will provide this, but it is likely more hygienic and they are cheap! In my opinion a must have for the snow mobile and husky tour and perhaps other activities in case you feel cold quickly.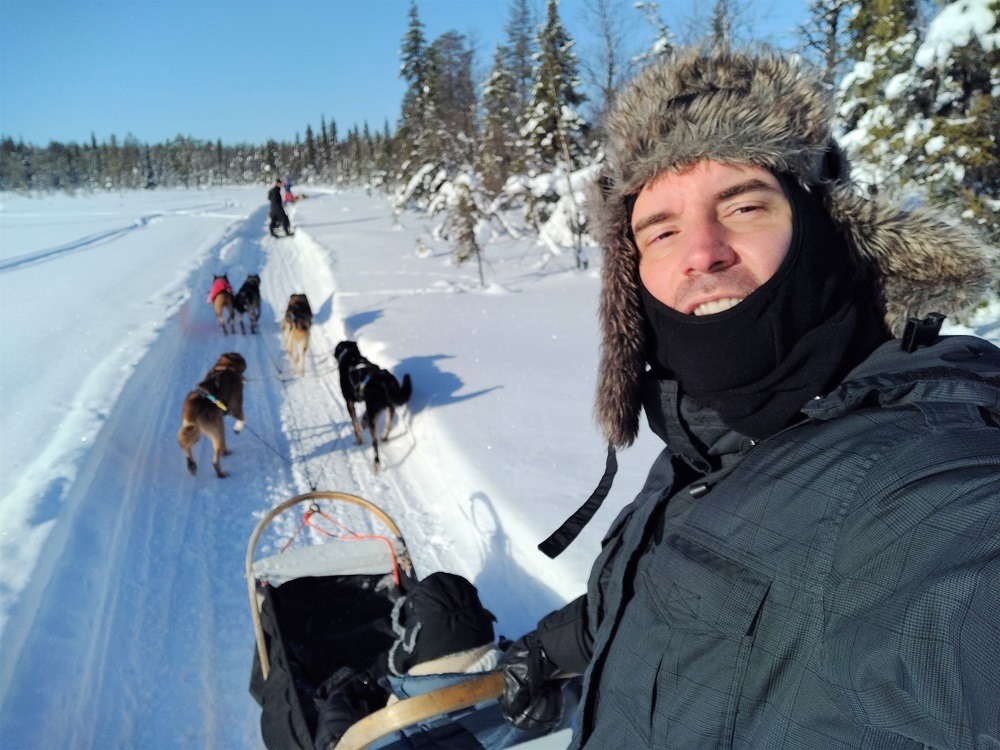 4. Relax in the traditional sauna & spa
What better way to relax and get warm after a snowy activity than in the traditional Finnish sauna? Apart from the sauna in our cabin, we also booked the sauna and jacuzzi at our accommodation, overlooking the frozen lake and woods…
A fun (yet cold, but healthy) experience is to 'do as the locals do' by after heating up in the sauna and cool down rolling in the snow! This is good for blood circulation. Not advisable in case of any heart or related health problems though… believe me, the temperature difference is quite intense, and after the snow I was happy there was a warm Jacuzzi jump into!
Top Tip: (pre) book a sauna package in the end of the afternoon, following your outdoor activity and before dinner… This way you keep the evening / night to sleep or hunt for Northern lights (more on that below).
Fun Fact: Finland has more Saunas than Cars. In Finland there are 2 million saunas in Finland for a population of only 5 million. The Finns consider their saunas as a necessity, right up there with rye bread and vodka.
5. Go out hiking with snow shoes
In between the guided activities we borrowed snow shoes of our accommodation to venture out into the forests around our lodge. The snow shoes are easily clicked under your boots, similar to strapping ski boots. The effect is amazing! Where before you would sink into the snow until your middle, you can now walk over the snow, only sinking until your calves.
Just how important these type of snow shoes are was proven when my mom lost one and tried to 'plough' her way through the snow. Almost impossible!.. Imagine being snowed in, and not having these type of shoes.. it is even worse than walking in sandy dunes in the desert (believe me) and almost impossible to move!…
6. Go ice fishing
Another fun experience is to go ice fishing… It is fairly simple: drill a hole, use your small fishing rod/fishing line to dangle some blue cheese (unsure if this is traditional) just above the bottom of the lake (where the water is warmest). Then you only have to wait until the fish bites… We were not really lucky, as we only cought 1 fish directly from the first attempt (actually by the guide, just showing how to use the material), after which we had no luck for hours!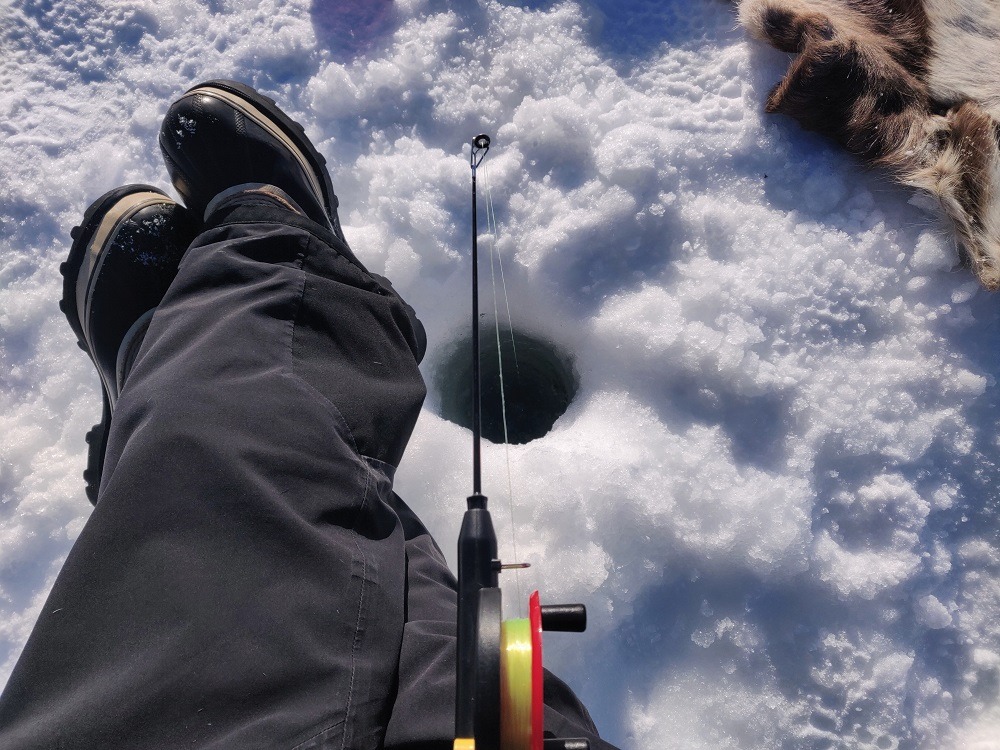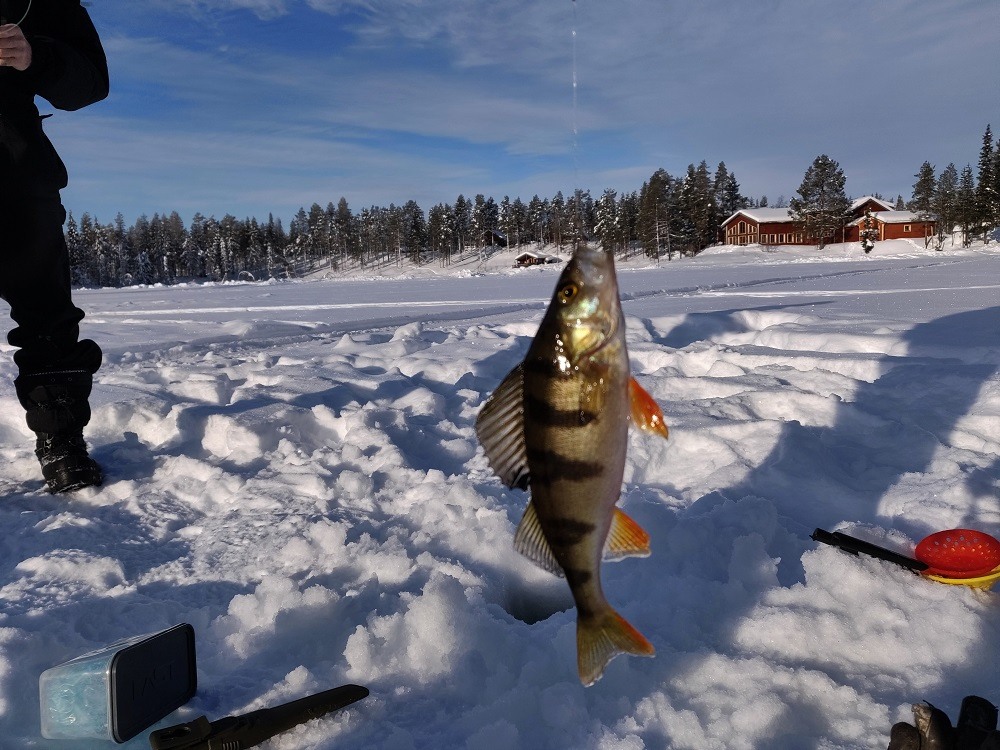 The drilling of the whole is the hardest and is really though… We had to drill through 80cm of ice. Advise of our guide: "If you get cold during ice fishing, then dig another hole". Well that is certainly true!
7. Get up close with Reindeer
When driving through Lapland you will likely spot some reindeer. Although roaming free they are owned by people. The nomadic Sami people originally herded the reindeer over the Northern Scandinavian region. This nomadic tradition is nowadays a thing of the past. However, reindeer are still a part of local culture and traditions and are mainly used for their meat and hides. 
We spotted a few reindeer on our way between the airport and lodge, however a good way to get up close is to visit a reindeer farm. This is a place where the Sami collectively bring their weakened animals to feed and strengthen during the harsh winter months.
Fun Fact: The relatively small Reindeer are owned, hence it is illegal to hunt them. However, the much larger Moose are wild animals, and these are hunted quite extensively in Scandinavian countries to keep their numbers maintained.
8. Spot the Northern lights
Another definite highlight of Lapland is spotting the Northern lights or Aurora Borealis!… Harder to plan, and luck is required, as you are dependent on 2 key attributes: clear skies and Solar wind activity. As you may have read in my Iceland post, it can be hard to spot if you are lacking 1 of the 2. I recommend you also read this post, for additional tips on how to spot the Northern lights!…
Well, as you have seen on my daylight photos, the skies could not have been clearer on most of our nights!… The problem this time was that the solar wind activity was not very strong on the first 2 nights. You could see some green 'belts', but no 'dancing' Northern lights… Luckily on the 3rd night, during our guided night walk we had a magnificent sighting! Very spectacular, but again remember… luck is required!…
To put in contrast, on the 4th night we had very strong activity, unfortunately it became more and more cloudy, hence nothing to be seen!… See how clowdy the next day… 
Tips to improve your chances to spot the Northern Light
Top Tip: Use an app that uses your location and provides you with Aurora insights. I would suggest the Aurora App (Apple / Android). It seem quite accurate and can even give you notifications when there are sightings to be seen (latter did not seem too accurate – also got some notications in Dubai upon my return, but still happy overall). Less tech savvy? Some hotels do have wakeup call services in case of northern light sightings.
Top Tip: Choose an accommodation that is remote. The further away from light pollution (street lights, traffic and buildings) you can get, the better!. This was one of the reasons we opted for the more remote Husky Kennel we stayed in, rather than in a city hotel.
9. Spot Lapland's wildlife
On our 2nd evening, while hunting the Northern light, without much luck… we did came across something else spectacular… there was a fox just a few meters from us! When walking around Lapland you see many marks in the snow, but this was the first time we actually saw an animal that leaves them!…
I believe we were very lucky, but you may see the occasional squirrel, hare, reindeer or moose crossing your path. During our stay we only saw a few birds (it is just too cold for most species). Also, there are brown bears in this region but not too worry during winter, they should all be hibernating.
10. Try the Lapland Cuisine
One of the best ways to experience local culture is to taste it, and Lapland is no exception… Depending on your accommodation and choice of food, do try the reindeer, moose and salmon dishes. Many dishes contain local berries from the forests surrounding you… Do also try the very nice rye bread!…
11. Visit the Santa Claus Village
As mentioned, according to folklore, Lapland is the home of Santa Claus. Obviously a visit to Santa Village is a must for many tourists. However, we did not visit, as this was not in our part of Lapland. Also, afraid it is a bit to touristy for my liking. Then again, it may be great if travelling with kids!
How long should you stay in Lapland?
We stayed in Lapland for 5 days / 4 nights… which in my opinion is perfect! You have enough time in between the various above mentioned activities and have 4 chances to spot the Northern lights! Some tours offer a week, that would be ideal if combined with a few days of skiing. If not planning to go skiing, than opt for the shorter duration. Also, given that after a few days, as beautiful the winter wonderland is, it is likely you will just have seen and experienced it! Slowly you will get 'bored' with your accommodation's half board/full board options, the setting, etc. (Don't get me wrong, our Lapland dishes and variety was great! it is just my experience that humans get bored quite fast).
What to bring on your Lapland adventure?
Apart from your usual toiletries and underwear and attributes, what should you bring on this type of holiday? As mentioned, if booking through a tour operator they will provide you with some essentials. Eventhough we received quite a list to pack, but to avoid over packing I would suggest the following!
Some packing essentials
Comfortable clothing to wear in the lodge and airplane – most of the day you will walk in your thermal underwear anyway
Driver's licence – for the snow mobile, in our case not asked for, but better safe than sorry
Thermal underwear with long sleeves and long pants. Use Marino wool or synthetic. Do never use Cotton. – I would take 2 sets in total
Warm Socks – Ski socks are great!
Warm hat – Likely you will be provided with one, but you lose 80% of your body heat from your head, so take one
Balaclava – bring your own, as mentioned above, hygienic, and they are cheap!
Thin gloves – If you are wise, opt for the ones with special finger tips that are suitable for smart phones! You can wear these under your warm gloves (provided by your tour operator)
Tube or Buff – This is a simple scarf like item to cover your neck and face.
Head light – Ideal for your Northern light explorations, while keeping your hands free
Swimming gear – Depending on your setup you may want to / have to use these in your sauna & spa facilities
Some nice to have packing items
Sunglasses and/or Ski mask – I did not use it, but especially in very cold weather a ski mask won't hurt.
Sun screen and lip balm – did not use it, but in case of sensitive skin, bring some
Ski clothes – If you already have a ski pants and ski jacket use these when not yet received or handed in the clothes from the tour operator. If you do not have these already, you do not need to buy these, most of your time you will be in a warm bus until you reach your destination and get your winter clothes fitted.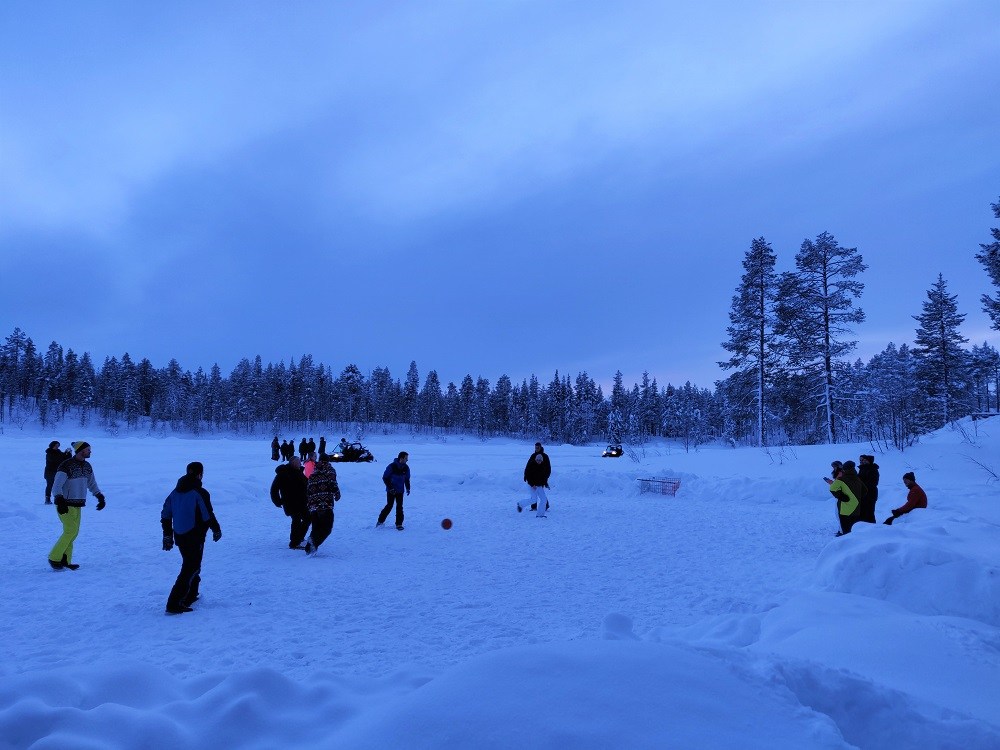 Some 'smart' things to bring
Alcohol – Depending on your accommodation (and food & beverage package) it is unlikely you have alcohol included. Alcohol is very expensive in Scandinavia! Check the customs website, but you can easily bring in multiple liters of alcohol into Finland or Sweden. We brought various bottles of wine, a bottle of whisky and enjoyed these during our free time in the cabin. Instead of spending exorbitant amounts at the bar and restaurants.
Snacks & bites – Even though we had a full board package, there are likely no (hardly any) supermarkets in your surroundings to buy some crisps, nuts, cheeses and other bites. Even in case, choices are limited and prices will be high… So bring these!…
Ipad & books – In between your activities you will have quite some free time, ideal to relax and read that book or watch some series on your ipad.
Good Camera & tripod – I use my phone mostly for photos, and did not bring a good camera with me. In case you are a Northern Lights fanatic do think of bringing a good camera and a tripod to allow for those steady shots.
Top tip: When travelling via an organized tour, there is no harm in 'overpacking', and checking in your luggage… You have to wait for your fellow tour members (and their suitcases) anyway… Therefore pack wisely, following the list above!
Well, that about sums up my wintry Ghost around the Globe experience in Lapland! A magnificent winter wonderland getaway in Europe during the cold snowy months!… Enjoy!… I am sure you will!…