Let's discover Laos, this far less visited country stayed more secluded and traditional than most of its neighbours. Landlocked Laos is one of the world's few remaining communist states and one of East Asia's poorest… After the fall of the Soviet Union in the 1990s, Laos began opening up to the world. But despite economic reforms, the country remains poor and heavily dependent on foreign aid. Then again, it is a great addition to any South East Asia trip!… The country is beautiful and your tourist dollars are much in need to help to develop this country, compared to its (over)visited neighbours!… Let's try and change this!…
Arriving from Thailand
I visited as part of a larger journey combining it with Thailand, Myanmar, Vietnam and Cambodia. All described via separate posts, follow the links to read more on how to combine!…
I arrived overland from Chiang Khong, Thailand in the North, but there are many points of entry, both overland and via air.
Mekong boat tour to Luang Prabang
Chiang Khong is a popular border, as from here you can organize a 2-day boat tour down the Mekong River… You will spend the night at Pakbeng and the next day you continue your journey until you reach one of Laos' highlights Luang Prabang.
Well, we booked all this, however, we were not so lucky… After lots of back and forths and waiting around 5 hours, apparently our boat was not paid, then it took too long that the authorities did not allow us on the water anymore (given we would be travelling in the dark)… long story short: we did not go by boat but instead were cramped in a van, with some other unlucky ones, and drove all the way to Luang Prabang…
Our car journey through Laos to Luang Prabang
At the moment it sucked… having waited for way too long and ultimately opting for (yet another) drive over bumpy roads. However, this is also travelling and sometimes you have to be flexible and opt for plan B… More positively we got to see the rural – off the beaten path – Laos… As almost no one would be crazy enough to drive these very bad bumpy roads by choice (while you could have a nice smooth boat experience)… This was an experience in itself!… We bought plenty of beer, crisps, etc.. and started the 14h journey over probably the worst roads I have experienced… Hence, we tried to make the most of it and stopped in a few villages and then tried to sleep until we arrived in Luang Prabang around 5.30 in the morning.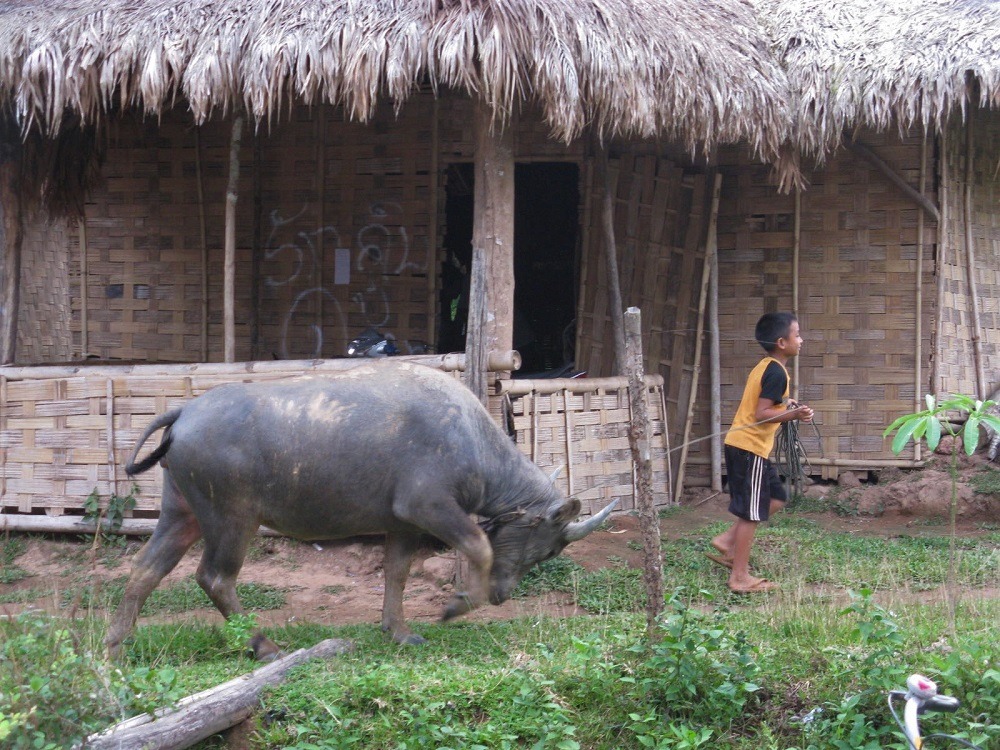 Luang Prabang – Traditional Laos
Given we arrived early in Luang Prabang (well before our usual wakeup time) we did witness the many monks making their way to the temple complexes at dawn… Apart from this and the not so smooth experience to get to Luang Prabang, we checked in, slept until noon and apart from lunch, massage and dinner did not do much. Remember, we were actually 'ahead of schedule', given our boat would have usually arrived on this day. We also made some plans on what to explore in and surrounding quiet and serene Luang Prabang.
Pac Ou caves
The next day we finally stepped foot in a boat and had our first Mekong experience! A beautiful scenic boat ride to the Pac Ou Caves, which are 2 caves filled with plenty of Buddha statues (and perhaps even more tourists). The caves itself are worth it, however, I expected to see more 'religious activities' and monks (like you see many in Luang Prabang). Perhaps if you time your visit earlier in the morning the setting will be nicer and less touristy.
Whiskey village
On our way back we made a quick stop at a village where they make a strong alcoholic drink: Lao Lao. A fun experience, but the drink tastes horrible and the village has not much to offer… After this, we made another stop in a second village to roam around a bit, before we went back to Luang Prabang.
Bowling in Laos
A fun coincidence is that I met Remi, a guy that I know from my studies in Rotterdam, in this small town in Laos!… What are the chances?
We went to a couple of bars at night – until the communist midnight curfew kicks in… Yes, you read it right, a curfew. It is not enforced on people, but mainly on people… However, there is one place that stayed open until 3 am: The Luang Prabang Bowling Alley… I recommend to check out this place!… this is where all the tourists gather during the late hours!… Fun guaranteed…
Stunning Waterfalls
There are some beautiful waterfalls close to Luang Prabang, great for a nice and refreshing swim!
Vang Vieng party town
Given the late night before we decided to take it slowly and travel onwards, through beautiful landscapes, in the afternoon… Next stop: party town Vang Vieng… a town that gives the title of this post a whole other dimension…
The contrasts upon arriving in Vang Vieng with the rest of Laos was insane!… No place for 'culture' here, instead everything is focused on alcohol and party… It is like entering a Spanish coast party town, in the middle of nowhere… Where in the rest of Laos, we mainly met French (older) tourists looking for culture and beautiful nature, here we met mainly English (young) tourists looking for a party
Vang Vieng was mainly famous for its 'Tubing'; meaning you rent a tube (an inside tire of a tractor)… get on a tuk-tuk that drives you uphill to the first bar… You have a drink (or a few or perhaps a bucket) and then float down the river from bar to bar… Most bars have swings that you can use to plunge in the water to cool off – or swim the alcohol out of your system. Some bars have other forms of entertainment, like free shots, mud pools, waterslides, etc. just a bizarre setting!…
Vang Vieng Laos – 'Closed'
Do note that the Vang Vieng as described here is only a 'memory' and a thing of the past: as currently, this town has seized most of its activities and instead is c focusing only on families… Not anymore on wild – party craving – backpackers…
It perhaps no wonder that over time pressure grew to 'close down' Vang Vieng… First of all, people get very drunk, and the environment with rough currents lined with spikey rocky cliffs and branches I a recipe for disaster. The more downstream you go, the drunker the people get and the more accidents happen. Most people have scratches and bruises… You hear stories that '4 days ago a girl drowned because she hit her head on a water slide at bar 5'… Despite these stories the party continues… There were even bars, more downstream that sold 'happy shakes', allegedly containing opium and/or marijuana.
The latter happy shakes make the trip even more dangerous, as it is still around a 20 minutes tube ride from the last bar back to town… There are local people standing to 'bring you in', however in case they did not see you, or perhaps if you fell asleep during the last 20 minutes you would have missed the village and floated onwards to rapids and waterfalls…
Friends or Family Guy
Once back in Vang Vieng and freshened up you'll have a laying dinner in one of its many restaurants. Here they show either Family Guy or Friends (there is no other choice). This is the time to recover your muscles, relax and for many get their body ready for the next day…. We met a few 'River Legends' that written how many days of tubing they had done – written with a black marker… some of them had 'Tubed' over 200 times… the record was 250 (and counting).
As said, the Vang Vieng as described here is a thing of the past, perhaps unfortunate… I had a very good time and it was definitely one of the most interesting places I have been. Perhaps the 'closing' is for the better, as in its original form it was just unstainable and too dangerous… Let's see how the town evolves!…
Vang Vieng was our last stop, we did not travel onwards to Vientiane, the capital (as we understood from fellow travellers that there was not much going on). Also, we were a bit tired of the Laos road system by now… Instead, we travelled back to Luang Prabang and from there flew onwards to Hanoi!… Other closeby hotspots include Angkor Wat and Phnom Penh in Cambodia and Bangkok in Thailand…
I like to go back to Laos once, to see how it has evolved, during that stay I will also explore Vientiane and tell you all about my regained Ghost around the Globe experiences!…