My Nile cruise experience: Aswan, Kom Ombo, Edfu & Luxor
Reading time: min | Published on:
Join our travels from Aswan, via Kom Ombo and Edfu to Luxor by Nile cruise. Read all about my experiences, tips & tricks when booking and travelling via Nile cruise in this part of Egypt!… It is a nice trip visiting many of Egypt's highlights! However, before we get started do also read my post about the downsides of traveling in Egypt for the full picture! Then decide if a Nile cruise is the best way to go for you!…
Why we started our Nile Cruise in Aswan
The Nile cruise itinerary and sights along the route are similar whether you start your cruise from Luxor or Aswan. However, when you start your cruise in Aswan you will stay 3 nights on the cruise (instead of 4 when starting from Luxor). This means 1 day less on the cruise, making it also the more cost-effective option!… In my opinion, 3-days Aswan to Luxor is the way to go!…
Top Tip: When choosing your Nile Cruise, start in Aswan! This saves you in costs and is more efficient. In my opinion, extra nights do not add much to your cruise experience (perhaps even the opposite). If possible start your cruise on a Wednesday! There are limited options available departing on this day, but this also means less crowds at the sights)
Which sights to visit in Aswan?
We headed to Abu Simbel before stepping aboard. We arranged this ourselves (instead of via the cruise operator). Added benefit: this helps beating the crowds! Read all about it in my Abu Simbel post.
Should you visit the Nubian Village?
Before our Abu Simbel trip, we stayed one night at the Nubian Village. Likely your cruise (or tour) operator also offers an optional visit – from what I have seen they are offered for absurd amounts. However, when staying here you automatically safe (significantly) on tour prices. In addition, you can easily browse around at your own pace.
The Nubian people we met in the village and in Abu Simbel are very friendly. A visit (or overnight stay) at the small village is a nice addition to your trip! Browse around the cheerfully painted houses and stroll down the souvenir market, alongside the West Bank of the Nile!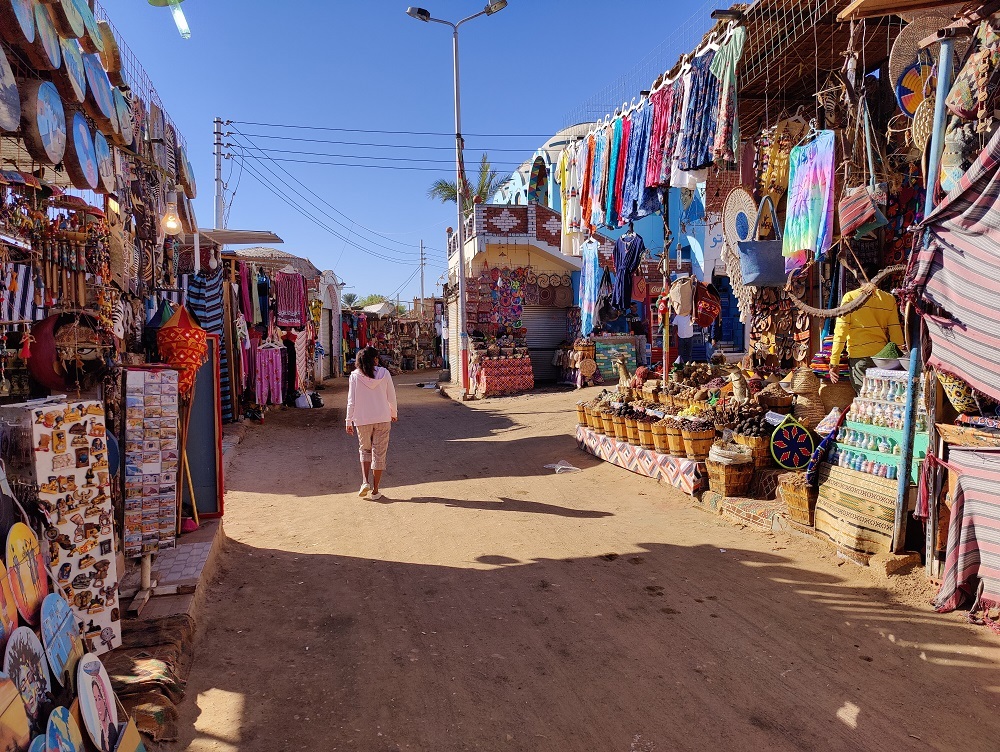 The Aswan Dam
Aswan is famous for its massive dams. The first old/low Aswan Dam was constructed in the early 1900s (read about it in my Abu Simbel post). The new/high Aswan Dam is much larger and one of the world's largest constructions. Its mass is 16 times that of the Pyramid of Gizeh! It created the expansion of the giant Nasser Lake, the largest man-made lake in the world.
When booking a Nile Cruise, it usually includes a tour to the New Dam. A visit is quite brief, as you cannot enter 'into' the Dam. It is more a stop at a view point…
Philae Temple Complex
Also included in your cruise package (as all other sights in the remainder of this post) is a visit to the Philae Temple complex. Similar to the Abu Simbel temple complex, this entire sight needed to be moved to higher grounds due to the construction of Lake Nasser!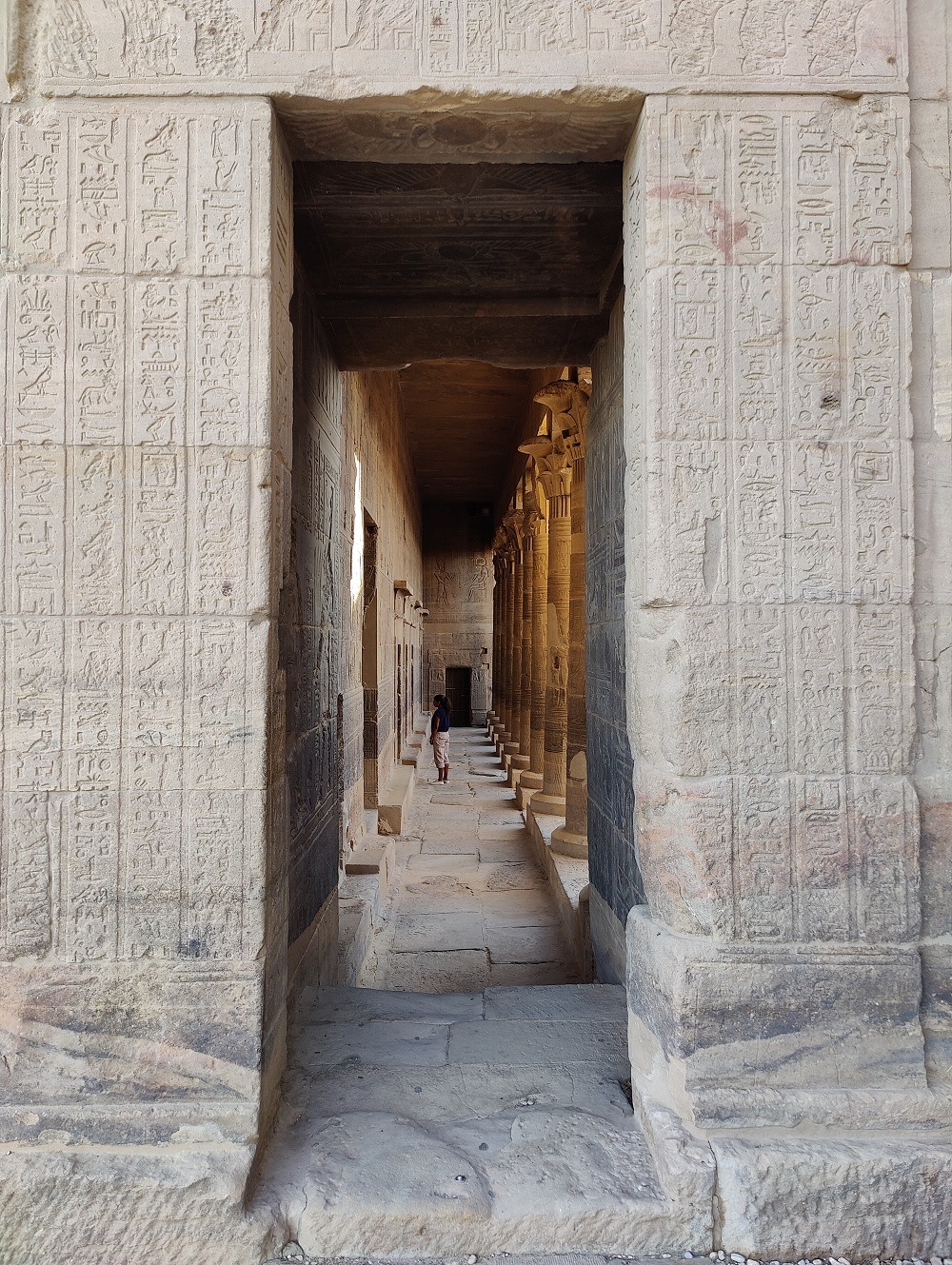 The Philae Temple is located on a small island, accessible via a short boat ride… It is a nice temple complex and the fact that it is on an island adds to the scenic beauty!… Keep an eye out for the Greek influences in the adjacent temples…
All aboard! Nile Cruise time!…
Time to go aboard the Nile Cruise! Before booking your cruise, do a proper online search. There are many different luxury classes, room types, etc. Also make sure that you are actually getting the boat you booked (not 'similar to') as I sense there are quite some doubtful last-minute shuffles happening by and between tour operators… Again, read my post on the unfortunate downsides of traveling in Egypt!…
Anyway, we made sure we got the cruise we wanted and actually had quite a good time (some downsides aside). Already enjoying the view over the Nile while still being docked in Aswan.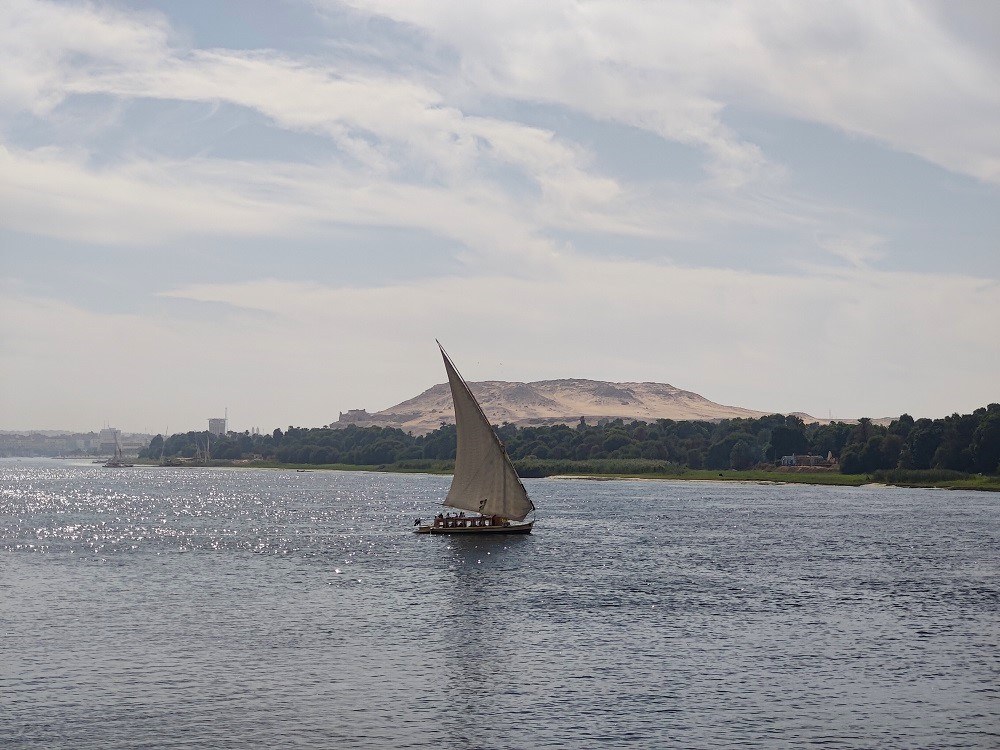 Waking up in Kom Ombo
Over the course of the first night the cruise will start making its way towards its first stop; Kom Ombo Temple. After enjoying your breakfast, it is just a brief walk towards the Kom Ombo temple complex. This is obviously the a key advantage of going on a Nile Cruise; shipping your hotel right next to the key sights!…
Our private tour guide (who sails along) gave us a great understanding of some of the hieroglyphs and depictions. One key sight within the temple complex is the Kom Ombo Calendar, which shows the divisions into 3 seasons: Flood, Sowing and Harvest. It meticulously shows what and when needs to be done at each time of the year.
Kom Ombo Temple is actually divided in 2 'sub-temples' to worship 2 different deities; the local crocodile-headed god Sobek, and the first 'god of the kingdom', the falcon-headed god Horus. The first was mainly worshipped out of fear (hence the crocodile).
Kom Ombo Crocodile Museum
An interesting additional sight, directly next to the temple complex, is the Kom Ombo Crocodile Museum. Here you find 22 crocodile mummies and various mummified crocodile eggs. The small museum explains the worshipping methods and mummification techniques used. I did not know Crocodile Mummies existed, an interesting surprise!…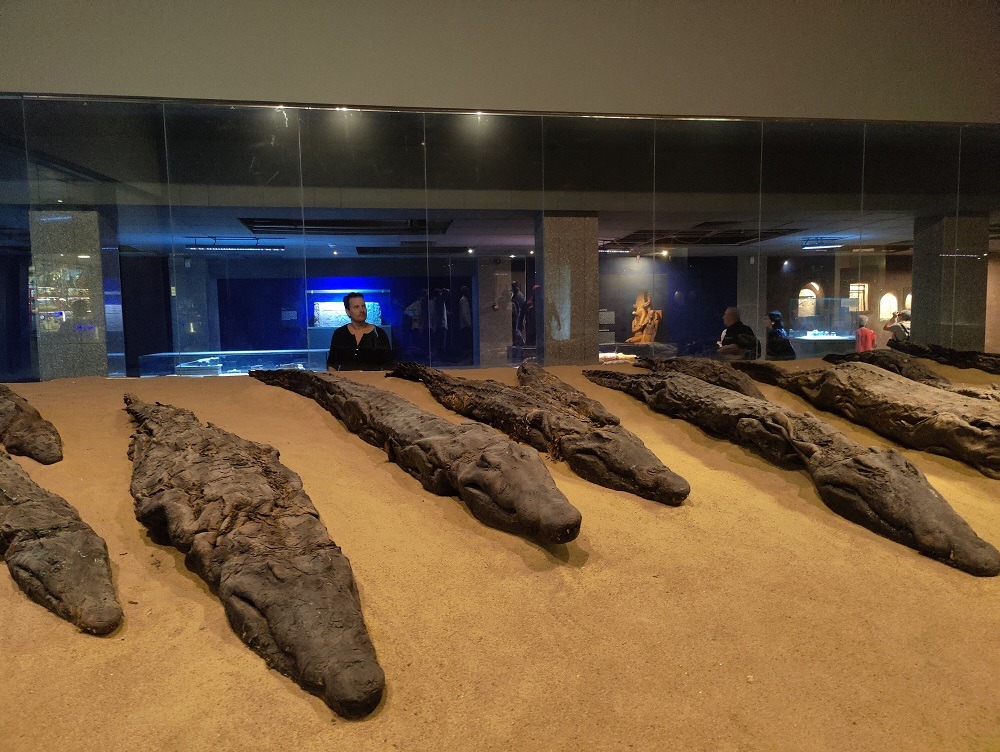 Enjoying the Scenic Nile Cruise
From Kom Ombo it is a few hours to our next stop. This is the first (and only) time you travel during the day-time so take this time to enjoy the relaxing scenery passing by. The lush shorelines with grazing cattle, small fishing boats and traditional sailing boats (feluccas) create a very peaceful environment. What (pleasantly) surprised me is that there are no large cargo boats on the Nile at all! Only the occasional fellow Nile cruise, apart from those you only see some small local traffic.
Exploring Edfu
Later in the afternoon you will arrive in Edfu. Here yet another temple complex awaits; The Temple of Horus. This temple complex is located in the city center, just a short horse carriage ride away…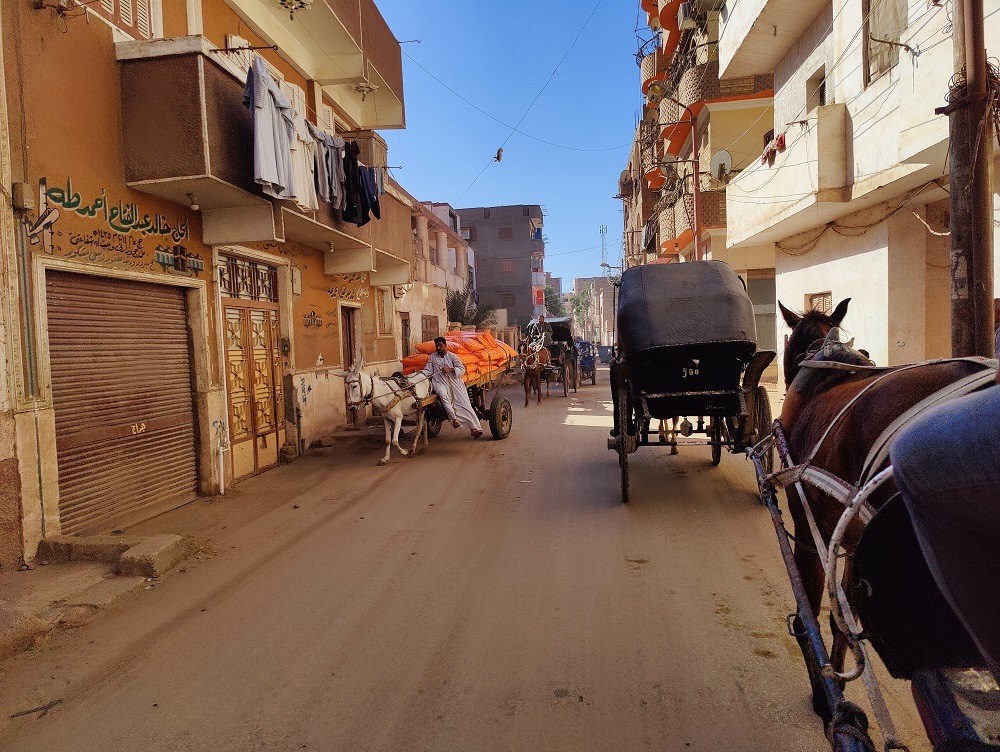 The temple has an impressive façade and is one of the best preserved complexes in Egypt.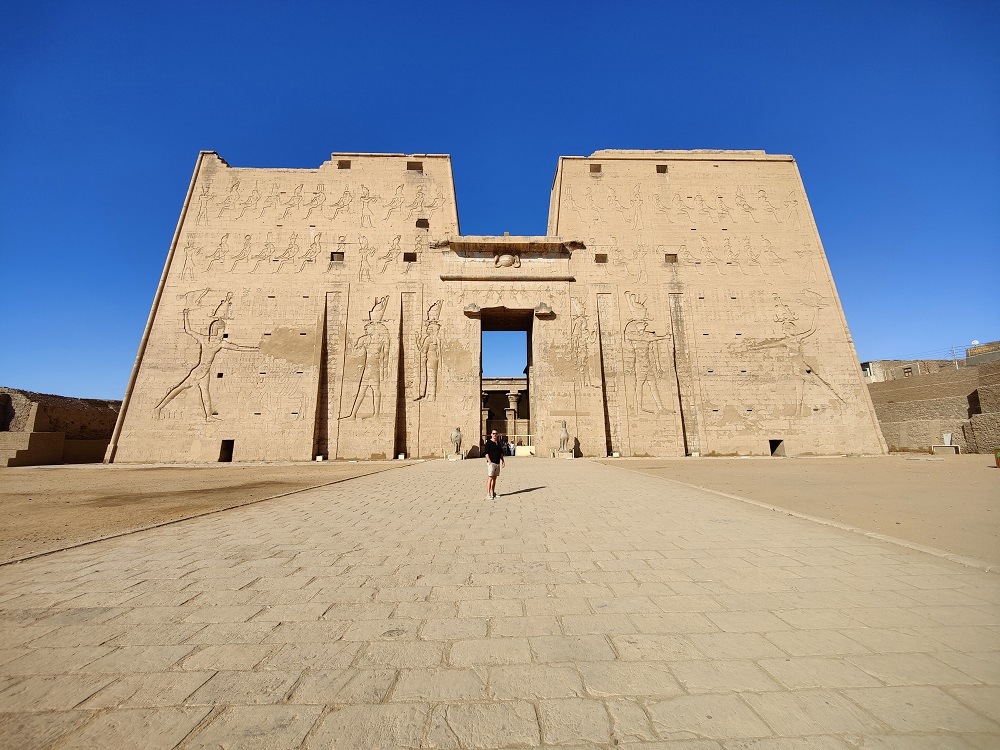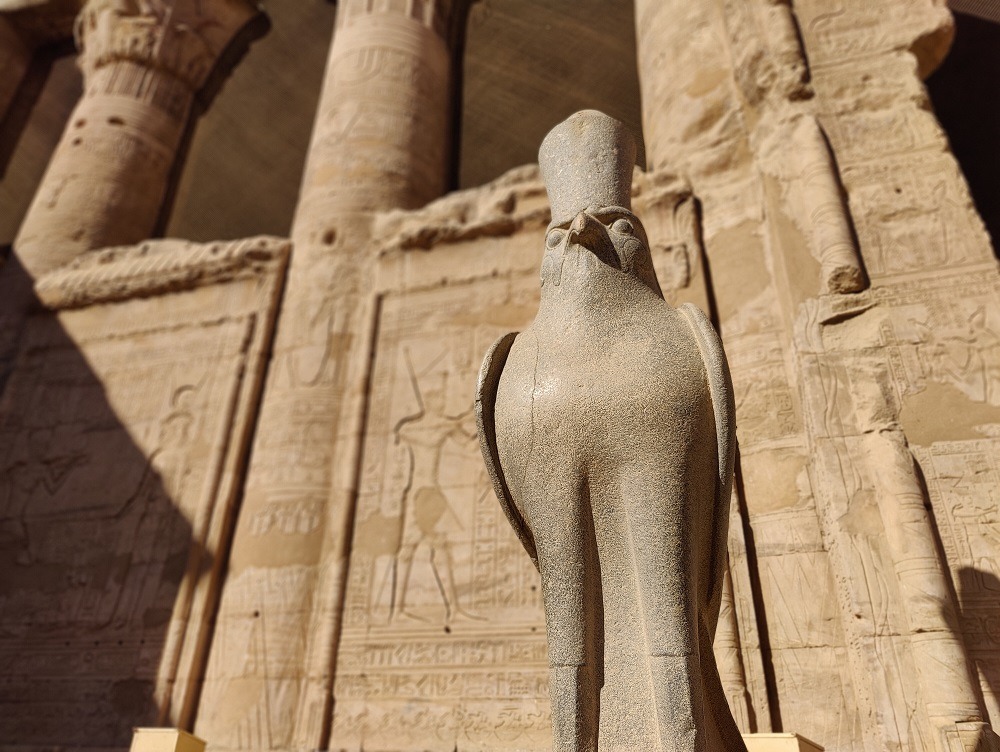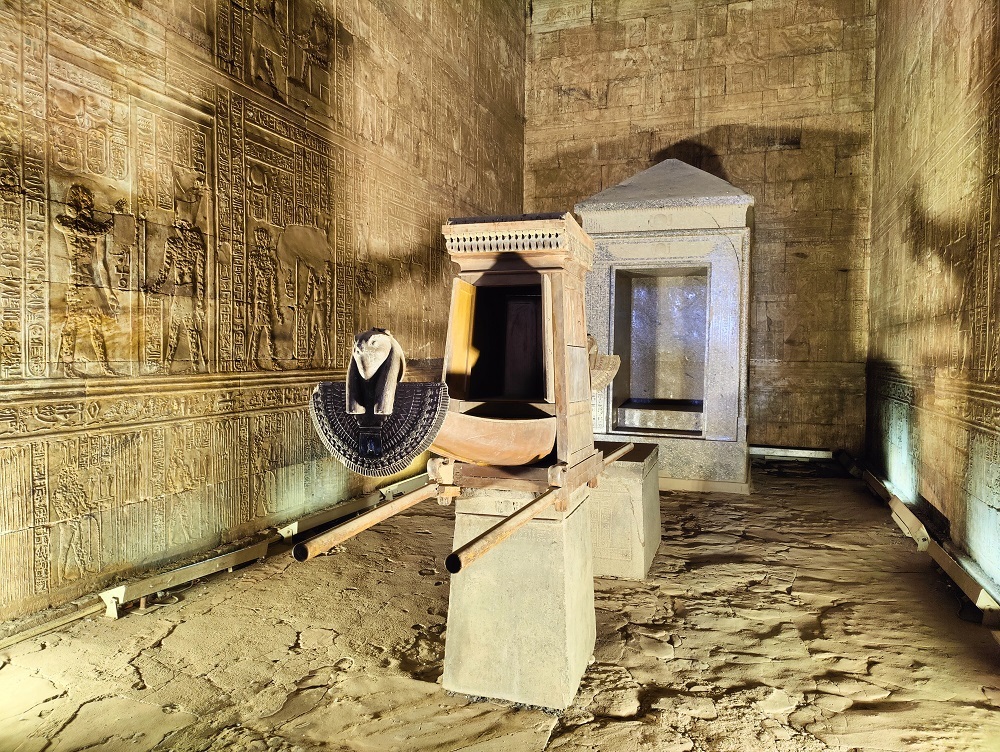 Passing 2 Nile Cruise 'hurdles' on our way to Luxor
When arriving back at our cruise we noticed that all the cabanas and bar sections were laid down by the crew. After a few moments of sailing, it became clear why; w were about to pass under the low Edfu bridge. As soon as we crossed the bridge the crew quickly refitted everything back, quite an ingenious setup!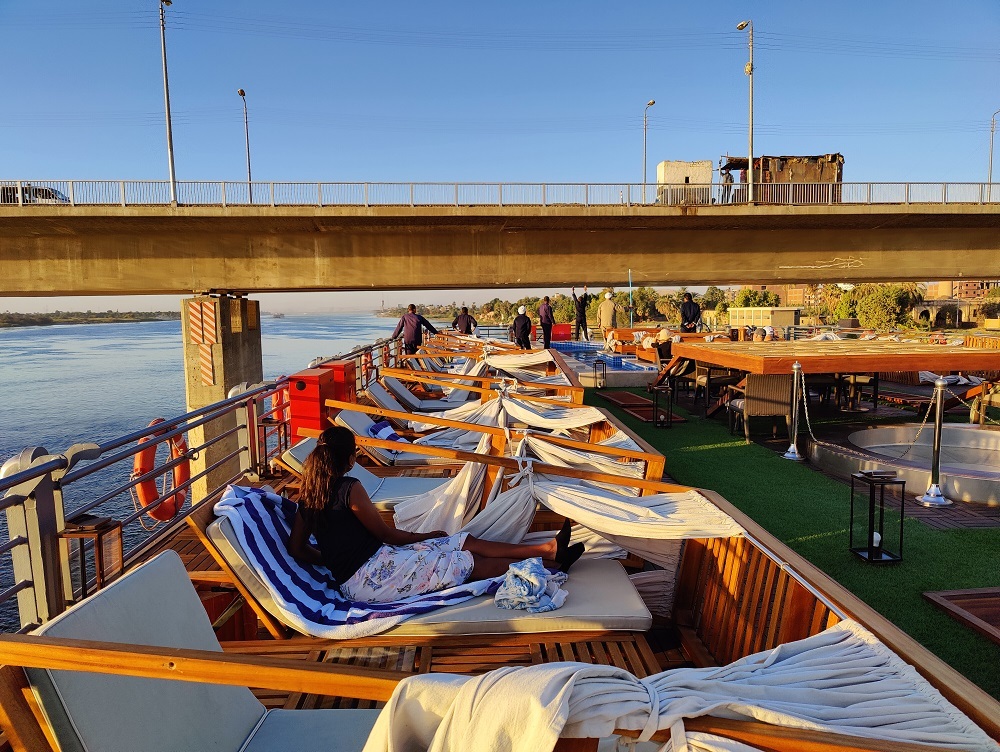 A few hours you will reach the second 'hurdle', the Esna Lock. I recommend to stay outside to watch the action and see the ship being lowered to the lower water level on the other side. This takes quite some time (so ensure you grab some quick dinner before or after the action).
Witness the World's strangest sales technique!
What makes the whole Esna Lock experience extra 'interesting', which I highly recommend you to check it out, are the small boats encircling the cruise ships. I have never seen this 'unique' selling technique anywhere else… From the small boats salesmen are throwing blankets and towels multiple stories up to the tourists, standing on the top deck watching the 'Esna Lock action'. In case they do not like the towel they throw it back… In case a tourist likes a towel he throws the money (a couple of dollars) back in another towel to the small boats…
The weirdest way of selling, as there is hardly any choice for the buyer and it also requires 'trust' from the salesmen who 'randomly' start throwing in the hope an unknown buyer decides to buys something… but it actually works (otherwise there would be no small boat salesmen to begin with). Various American tourists on our cruise bought some items. I guess mainly because of the crazy scenario and the funny story at home; "You never guess where and how I bought this towel!?"…
Arrival or our Nile Cruise in Luxor
The next morning, we were already docked in Luxor when we woke up… Luckily with relaxing Nile view. (Again, do read my downsides of traveling in Egypt post, where I also explain how 'arrange' this and how this ultimately changed!)
Visit to the Valley of the Kings
There are 2 main reasons reason why I suggest you travel from Abu Simbel (or Aswan) towards Luxor. The first is that the sights become more crowded. (However, after a few sights you may not mind fellow tourists too much, as various aspects are starting to look more similar). The second reason is that the sights of Luxor are some of the most well preserved (especially color- and detail-wise).
The Valley of the Kings should certainly be in your itinerary! There is as there is no match (world-wide) in terms of original colors, paintings and details that are so old and still so well-preserved. The colors and paintings in all these tombs are put there thousands of years ago, and still look stunning!… All of a sudden you realize that all the temples you visited until here looked like this, only most of those colors have eroded over time…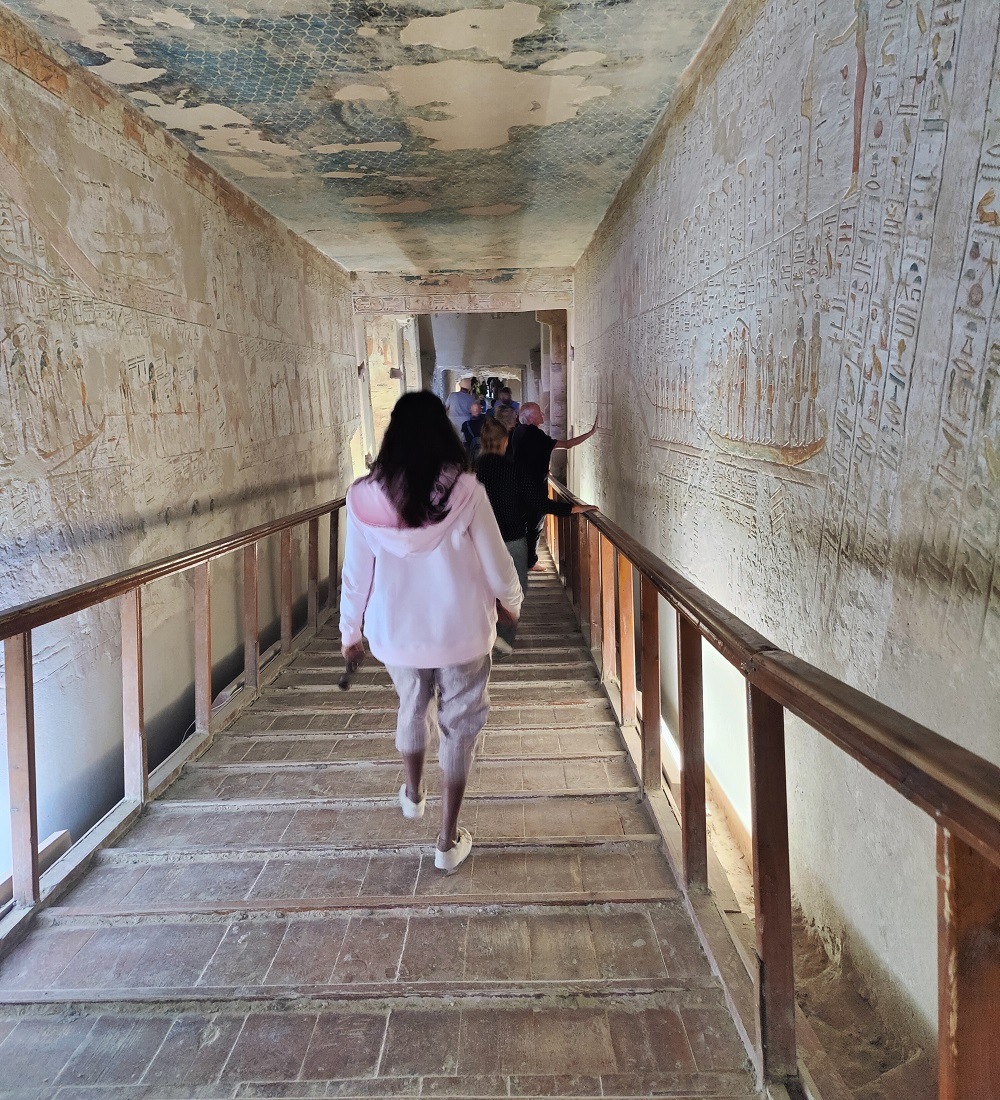 Which tombs to visit in the Valley of the Kings?
There are 63 tombs in the Valley of the Kings, with a standard ticket and you are allowed to visit 3 out of a pre-selection of tombs. We left it up to our guide to pick 3 tombs, I advise you to do the same (or you can do some online research beforehand).
If you are really into hieroglyphs and Egyptian art there are other types of tickets that grant you more access… Some tombs are quite expensive to enter, so choose carefully… In this case I recommend to inform your guide beforehand… We really enjoyed the ones we visited already. Therefore, paying extra for additional (more 'exclusive') tombs was not required, in our opinion.
Hatshepsut Mortuary Temple
After our Valley of the Kings visit it is a short ride to the Mortuary Temple of Hatshepsut. A beautiful sight where the temple is constructed in a mountain range on Luxor's west bank.
We visited on a Friday (weekend in Egypt), which meant quite some local tourists… Some quite girls were particularly interested in Amanda, asking for pictures!…
Colossi of Memnon
On our way back to Luxor we made brief photo stop at the Colossi of Memnon. These are 2 massive stone statues which stand at the front of the ruined Mortuary Temple of Amenhotep III, the largest temple in the Theban Necropolis.
Karnak Temple
In the afternoon we visited Karnak Temple. I still remembered this massive temple from when I visit this many years before with my parents… Karnak Temple is yet another must-visit sight in Egypt… The corridor of rams, the enormous pillars, and the huge obelisks, are all so well preserved! Many pillars still have the original colors! This makes Karnak an ideal highlight to end your tour through beautiful Egypt…
Our windless Felucca ride
After our visit to Karnak Temple, we still had a Felucca ride left in our Nile Cruise tour package… The only problem was the absence of any wind. We tried anyway, and I do believe we sailed for a good 30 to 50 meters in this traditional sailing boat… It did take us around 1 hour and we almost collided with the floating swimming pool of the Iberia hotel. On the upside we were treated some nice tea and even got a singing and dancing performance by the nice young crew…
Joking aside, especially if you choose to NOT explore this part of Egypt by Nile cruise (as there some downsides)… I would highly recommend exploring parts of this more rural area by relaxing Felucca… Of course, you do need wind, but that is usually no problem!…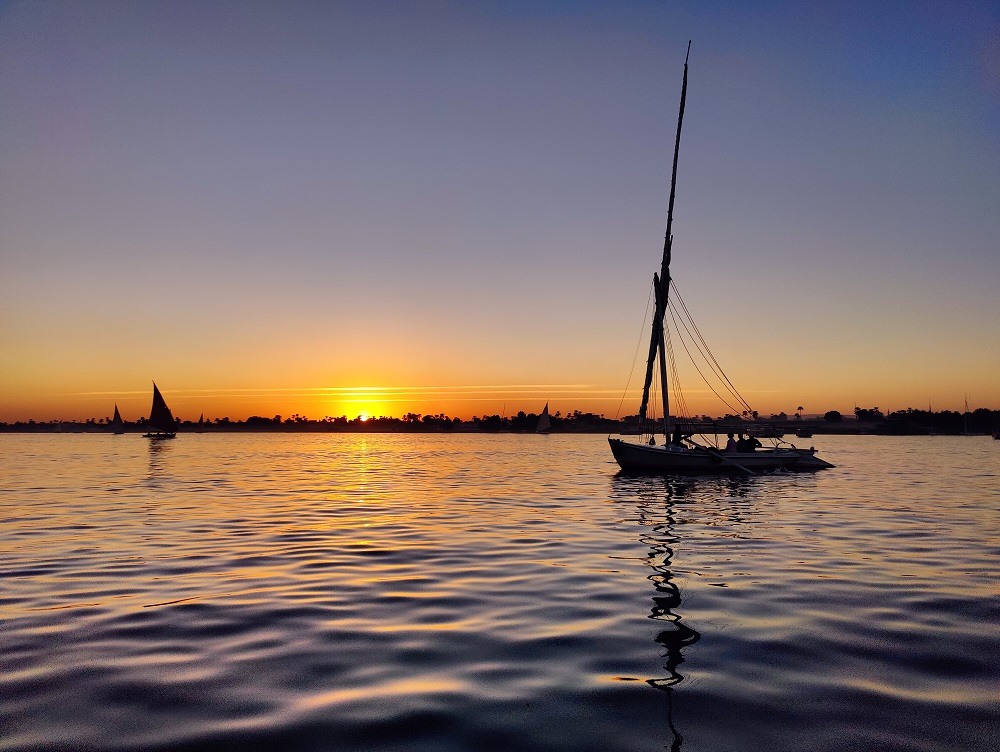 Stay at a Nile island resort
Luxor is home to various mid-high end resorts and hotels… After leaving our cruise we stayed at Jolie Ville. The resort is located on an entire island in the Nile… We forgot what we booked but it was actually above our expectations! Although a bit dated (but seems standard in Egypt), it has a nice tranquil vibe. When in Luxor you may want to stay in this hotel!…
There are other (more centrally located) hotels in Luxor, but it was great to relax at the end of our busy Egypt trip! It has a nice resort-feel to it!…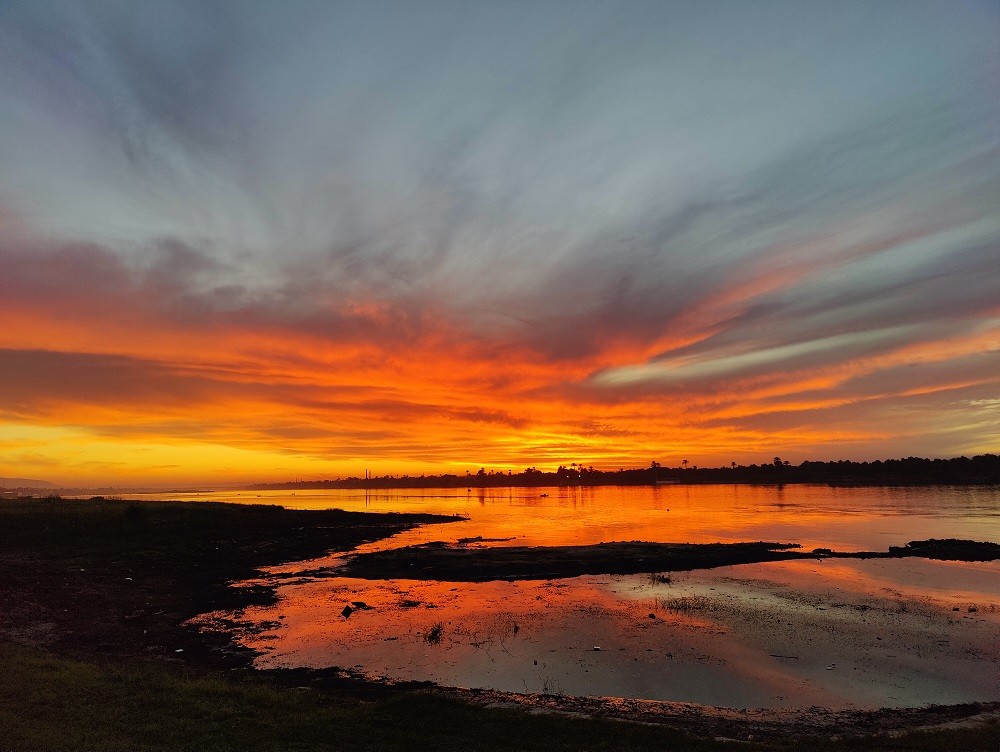 Before heading home, I did try one other fun activity in Luxor: Hot Air Ballooning!… Check my full experiences and tips & tricks in this separate Luxor Hot Air Balloon post!…
Top Tip: In case you are flying to (or from) Cairo, make sure you sit at the window on the west side of the plane. This way you can have good views over the Nile and various sights, like the Djoser Pyramid, Cairo city and the Gizeh pyramids.
That really brings an end to our entire Egypt adventure!… Do also read my other Ghost around the Globe posts about Egypt via the links below!…