My ultimate Martinborough wine tasting tips!…
Reading time: min | Published on:
Martinborough is the by far the nicest wine region and easiest to navigate!… I have visited most of the wine tastings. I will share the top vineyards where you'll find the best wine tastings & experiences. Also, I will share some you may want to skip!… This post is part of a larger New Zealand road trip, starting in Auckland, where I also visited Waiheke island (another famous wine region), after which we made our way via Hobbiton and the volcanic Rotorua & Taupo region, here in Martinborough!… Let's get going!…
Which towns make up the Wairarapa region?
While we focus on the Martinborough, the Wairarapa region is comprised of other towns. Masterton is the main town, which you can skip. Other towns include;
Carterton (you can skip the town, but have a stop at the lovely Clareville Bakery!)
Greytown (lovely town, great to wander around, check out the chocolate store),
Featherston (nice, but no must-visit),
Pahīatua and Eketāhuna (not visited).
Which Martinborough wineries should you visit?
Well, the short answer is all! However, let me share my top picks of the vineyards I visited with a brief description so you can easily mix & match and make your ultimate wine tasting itinerary!…
Palliser Estate Winery
The Palliser Estate Winery has a nice setting with a nice outdoor restaurant as well!… If you buy a bottle of wine your tasting is free! Best (tasting-refund) deal we have seen in New Zealand's tastings!…
B.Wine
B.Wine is a small winery run by a lovely laid back couple!… Their tastings are the best (as they are free, the only free one we experienced in New Zealand!)… We loved the Chardonnay 2021!… Support this small vineyard and buy a bottle!
Margrain Vineyard
The tasting room and restaurant terrace of Margrain Vineyard nicely overlook the vineyard. The tasting was a bit hasty. Nevertheless one of the cheapest in Martinborough… Would definitely include!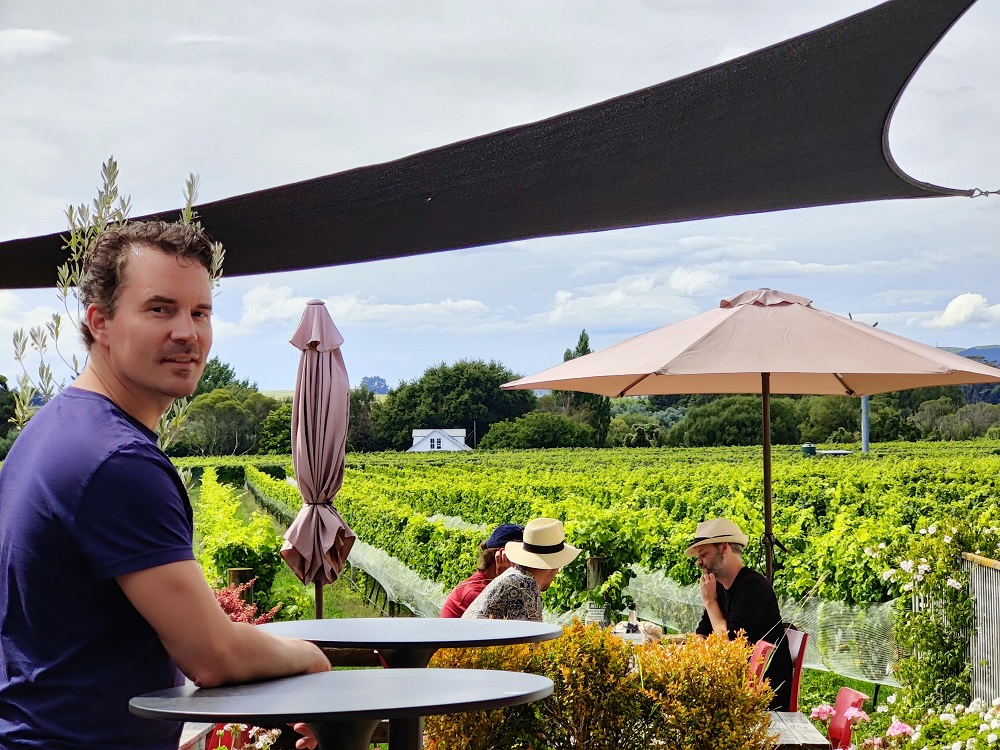 Schubert Wines – Martinborough
The nice outside setting and food truck that cooks up some bites (gnocchi when we were around) make Schubert Wines a nice inclusion of your wine tasting tour!…
Cambridge Road Vineyard
The 'main manor' of Cambridge Road looks nice, however the tasting itself is in a shack next door. We did not go for a tasting and moved on. 
Haythorntwaite Wines
We got a tasting from the founder. Unfortunately he is getting older and seems a bit forgetful. Regretfully, this also did seem to affect the overall hygiene of the wine tasting (area). Therefore not a must-visit when in Martinborough.
Poppies Martinborough
Poppies Martinborough has a nice restaurant, but the staff was providing mixed messages if it was still open or not. Also, the tastings are in groups (which could mean a bit of waiting). The wines were not spectacular and very small servings. This all did not make this a super experience.
On a positive note, we met two other couples during this tasting and continued with them to the next two tastings, making it a wonderful evening!…
Moy Hall – perhaps best tasting in Martinborough!
Likely the best wine tasting experience in Martinborough! Moy Hall seems to know how it is done!… Buy a tasting (tray) find a nice spot on the terrace… Add a nice food platter, which reaches your table in minutes! Great experience, great views, great staff!
Coney Wines
Coney Wines is a bit further away from Martinborough's other wineries, but worth a visit. We went here for lunch on our way onwards to the South Coast (see below as bonus!). It seemed we were very lucky as we got a great tasting experience from the founder (and previous owner, who handed operations over to his daughter). He was stepping in for a day!… He has a great energy and let us taste the complete Coney range!… from whites to roses, to reds and even to dessert wines!…
Add one of their nice cheese platters, sit back and enjoy!…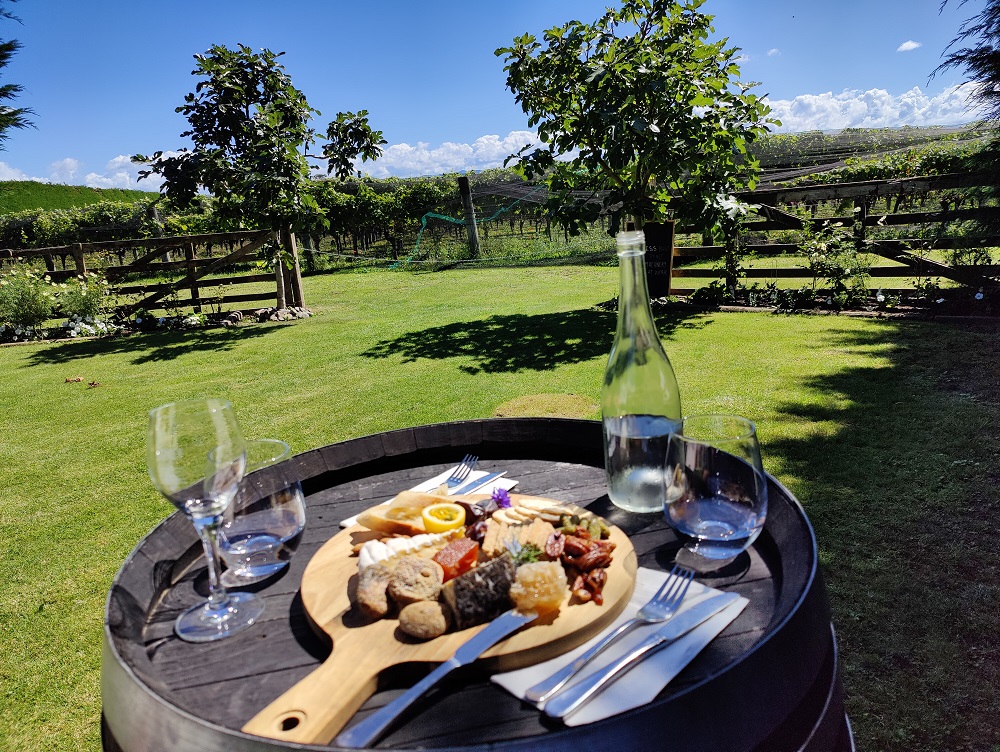 How to best explore Martinborough Vineyards?
You can easily visit most vineyards by foot! However, you would 'waste' your 'tasting-time' walking the stretches of vineyards. You can rent bikes (or bike-mobiles where you cycle with 4 or 6). Instead, we did most tastings by car. Obviously drinking and driving is not ideal, but a way to mitigate this is to share a tasting! This way you can try more wines and vineyards, while keeping things (reasonably) safe. Also, I have the feeling that the police force in the Martinborough area is a bit more lenient towards this major form of tourism.
Top Tip: Share a wine tasting! Apart from cutting your price, it is a bit safer on the road and you can visit a lot more vineyards!… (Especially when touring around in your car).
Bonus: South Coast visit: Putungirua Pinnacles, Cape Pallisser & Ngawi
There is a lot more to see and do in and around Martinborough and the Wairarapa region. After our Martinborough explorations we visited the south Coast and hiked the Putungirua Pinnacles.
We drove onwards via the Whatarangi Bluff, towards Ngawi. Here we stayed the night at a free camp site – offering beautiful ocean views! Enjoy the views with fish & chips from one of the stands!…
From Ngawi, you can drive further south towards Cape Palliser Light house. However, this is where this Ghost around the Globe adventure ends, as we made our way towards Wellington.
Do also read my other New Zealand posts! Full of great tips & tricks to make your travels even better!…