Nepal: Let's get high in the Himalayas!
Let's get high in the Himalayas… Altitude-wise that is! Nepal is situated at 1400m above sea-level, and the highest point, Mt Everest, is 8848m! No worries, unless really planning to climb to the peaks, chances are you will not reach higher than 5380m (which is the altitude of the Everest Base Camp). At this height you may get symptoms of altitude sickness, but in Kathmandu you should be ok!..
Top Tip: These high altitudes make the Himalaya mountain range very impressive, however you need to plan your trip wisely not to miss out on its beauty!… Meaning travel in dry season! We travelled in December and the weather is clear! In case you travel during Monsoon period, all the rainclouds from Indian subcontinent will hit the high peaks of the Himalaya, hence blocking your view!  If possible, go early December (beating the Christmas / New Year's break crowds)
Top Tip: We combined our Nepal trip with Bhutan, which I would absolutely recommend!… Check details in the separate Bhutan post…
Kathmandu Nepal Airport
When travelling to Nepal, you likely will arrive at Kathmandu Airport. Quite an outdated building (but given the recent earthquakes funds are likely needed harder elsewere). Depending on your nationality, most travelers need to get a visa voucher from machines, after which you stand in line to pay for the visa (you can pay in many key currencies). The process is a bit messy and causes unnecessary delays.
Top Tip: Make sure you leave the plane (or transfer bus) as one of the first, so you stand in front of the queue, and you do not have a plane queing ahead of you at lengthy border formalities.
Stay in Thamel
When staying in Kathmandu, I would recommend to stay in Thamel. This is the backpack district of Nepal! Here you find lots of bars, restaurants, rooftop hide-outs, souvenir shops.
Top Tip: This is also the place to buy very affordable trekking gear, like wind jackets, thermo clothing, scarfs, etc. No need to buy (expensive) back at home and carry it with you!.. We bought quite a few new items for this and future travels!…
Despite its crowded tiny streets, the ambience is nice and laid back.  Below are some restaurants I recommend in Thamel!
Café Mitra, with its cosy fireplace courtyard
Roadhouse Café, very nice food, relaxed place (we spend some time here before our flight)
New Orleans Café, Nice setup! Great for drinks and dinner!.. Try the sizzling deserts!
Kathmandu Sights
Kathmandu, and Nepal for that matter, is one big Buddhist / Hindu religious bonanza! You see religious shrines, temples, offerings and symbols everywhere! On top of this, Kathmandu is home to one of the 3 Durbar (royal) Squares.
Boudha Stupa
We visited this large stupa – Nepali style (with the eyes) – on our way out of the city for a trekking. We only spent a few minutes at the entry gate, as we had to rush due to parking issues… It is impressive and if more time worth the visit. However, another suggestion is to visit the (free) Kaathe Swyambhu Shree Gha Chaitya temple.
Kaathe Swyambhu Shree Gha Chaitya
The Kaathe Swyambhu Shree Gha Chaitya temple complex is slightly smaller, but similar to Boudha Stupa. However, it has two key benefits; it is free and it is situated in between Thamel and Kathmandu Durbar Square! Great and a must visit photo stop!..
Kathmandu Durbar Square
This is one of the 3 Royal (Durbar) squares in Nepal. The others are found in Patan and in Bhaktapur.
Top Tip: These Durbar Squares are essentially the oldest part of town. If you book a tour, you will be dropped off at the 'official entrance' of this 'Old Town' by your guide and are requested to buy an entry ticket of around 1000-1500 Rupee (quite a substantial amount). However, if you walk into the Durbar Square area from any other street or alleyway, you will not find a gate and do not need to pay this fee! In my opinion, quite a ridiculous way of 'charging' tourists. Of course, with your 'entrance fee' you are helping to reconstruct the buildings from the earthquake damages. I leave the decision to you.
Whatever way you reach Durbar Square, do check it out! Its impressive and unique architecture are worth the visit! Unfortunately the earthquake damages to most buildings are quite severe… Making it less 'photo-friendly' than Bhaktapur Durbar Square… This is a sight that I do not think is going to be (completely) renovated anytime soon, although renovation works are progressing…
The Square, and its surrounding streets, alleyways and corners are all teeming with religious activities. Great to browse around!…
Pashupatinath Temple
The Pashupatinath temple is one of the most religious places for Hindus in Nepal, and worldwide. It is here that Hindus bring their deceased loved ones for cremation, after which they scatter their ashes in the holy Bagmati river.. It reminded me of Varanasi, in India.
The Nepal cremation process
According to the Nepalese Hindu tradition, the dead body must be dipped three times into the Bagmati River before cremation, so that the reincarnation cycle may be ended. The chief mourner (usually the first son) who lights the funeral pyre must take a holy river-water bath immediately after cremation. Many relatives who join the funeral procession also take a bath in the Bagmati River or sprinkle the holy water on their bodies at the end of cremation. The Bagmati River purifies the people spiritually.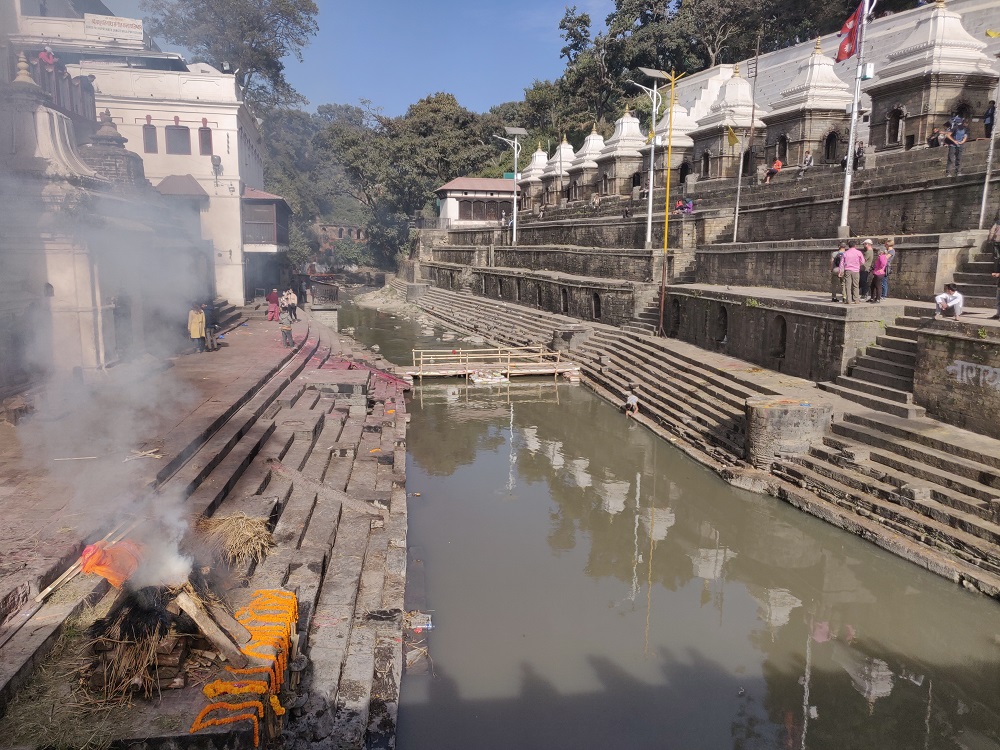 Also check out the temple complex. Non Hindus cannot go inside, but from the entrance you can see a large statue of a golden cow. Around the temple complex you find many families gathering for a meal..
Top Tip: Beware of the monkeys! They are very cheeky and grab whatever you hold in your hands (also you camera)!
Kathmandu Valley
Leaving Kathmandu behind, lets explore the wider Kathmandu valley. Keep in mind, roads are being renovated, meaning quite some bumpy stretches and traffic jams.
Hiking to Nagarkot
We pre-booked a trip that included a hiking tip to Nagarkot. A great way to explore nature and the rural side of Nepal. We started walking through various small villages we took the hiking trail. I recommend to specifically request this to your guide, otherwise you would essentially walk on the road side, which is easier but far less adventurous and scenic. We walked through rice paddies and farm grounds, where a local boy even took some fresh Nepalese carrots from the field, which we prepared at a small shop down the trail (tastes like radice)…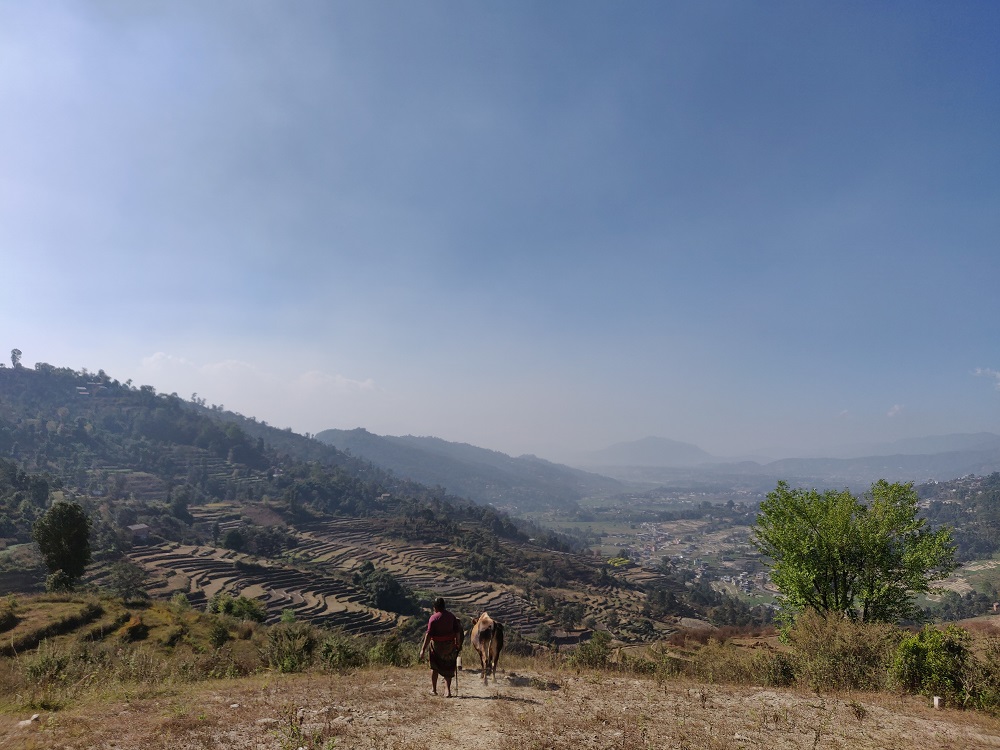 Enjoying Himalaya views
After hiking 3 to 4 hours, we arrived at our hotel in Nagarkot (hotel country villa), offering amazing sun set views over the Himalayan mountain range and Mount Everest (if you know where to look) enjoying an Everest Beer and Nepali food – Try the Momo's (dumplings)!
Remember, travel in the dry season, otherwise, very limited chances of these spectacular views.
Top Tip: book a massage! Great to recover your muscles after the hike. Do book it just after sunset and before dinner… This way you can go to bed quite early. Most hotels offer this, the price in our hotels was great and not expensive (around 2500-3000 rupee)
Top Tip: When staying in Hotel Country Villa, request a room in the main building (where the reception is), as the views are slightly better angled towards the Himalayas, Ideal for a balcony view (in case you like to wake up for the sunrise).. This would be similar for other hotels, do some checking where your room is located before 'accepting' it.
Top Tip: In case you like to sleep in a bit (and/or if you are lucky not to be woken up by loud Chinese tourists) I would not bother waking up for sunrise. The Sunset is far more spectacular! Then again, chances of clouds early morning are slimmest, so views are most clear early morning (but the sunrise itself does not add much)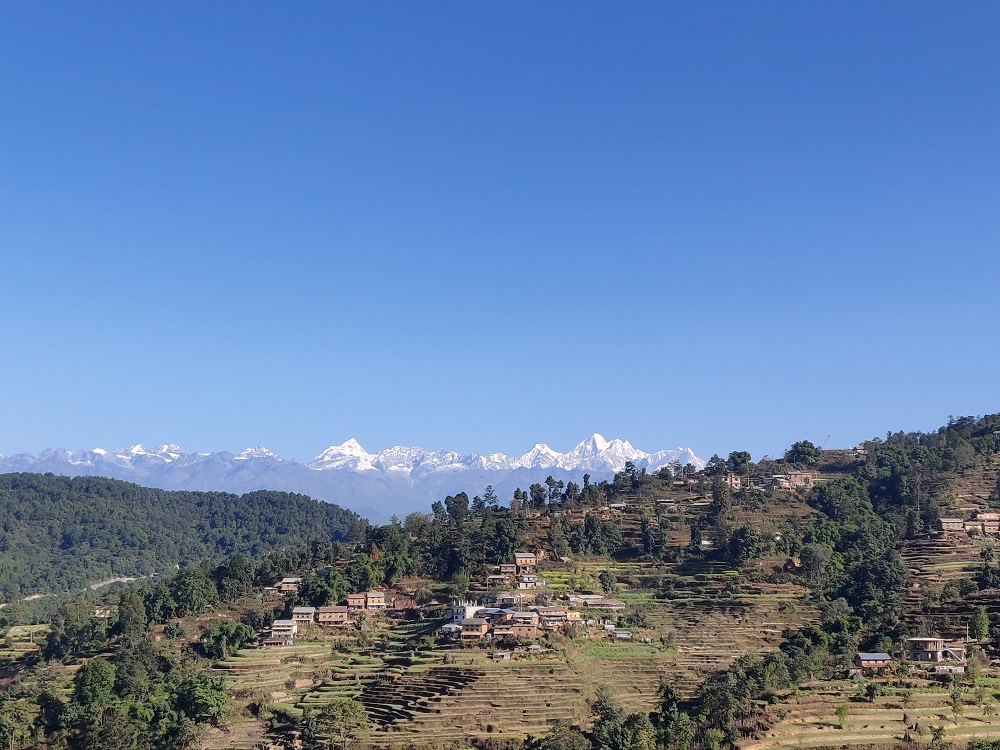 Nepal tip: Book a driver – not a guide
All in all a fun trip, which would be hard to do on your own, given the navigation through the fields and rural areas. However, if not planning to trek (but just stay in Nagarkot for the view) then do not book a guide! Luckily it does not happen often, but we unfortunately booked a terrible tour! The Agency was not good, lots of miscommunication between the agency and the guide. The guide could hardly speak English or explain anything (it was like having an extra driver). The guide did not even seem to know the way to Nagarkot (via the scenic road), Luckily he could communicate with the local population and we got help from a local boy…
Top Tip: In short! Do not book a tour guide, only book a driver to take you around Kathmandu Valley, like Nagarkot, Bhaktapur, Patan, etc. This will save you money (and in our case lots of frustration). On top of this, linked to the top tip before, it can also save you money for (unnecessary) entry fees, as you will not be 'directed' to the 'entrance gate' of the Durbar squares… Skipping the entrance fee would already pay for your complete tour!
Apart from the hike (and even that would be doable) you can easily manage on your own, plus you have this ghost around the globe post to guide you!
Changunarayan temple
After the hike and a good nights rest it was time to explore the wider Kathmandu Valley. Our first stop was Changunarayan temple. This is one of the oldest Hindu temples of Nepal… It was just renovated from earthquake damages and a nice brief (photo) stop. Situatied at a hilltop, it provides a view over Bhaktapur, our next stop…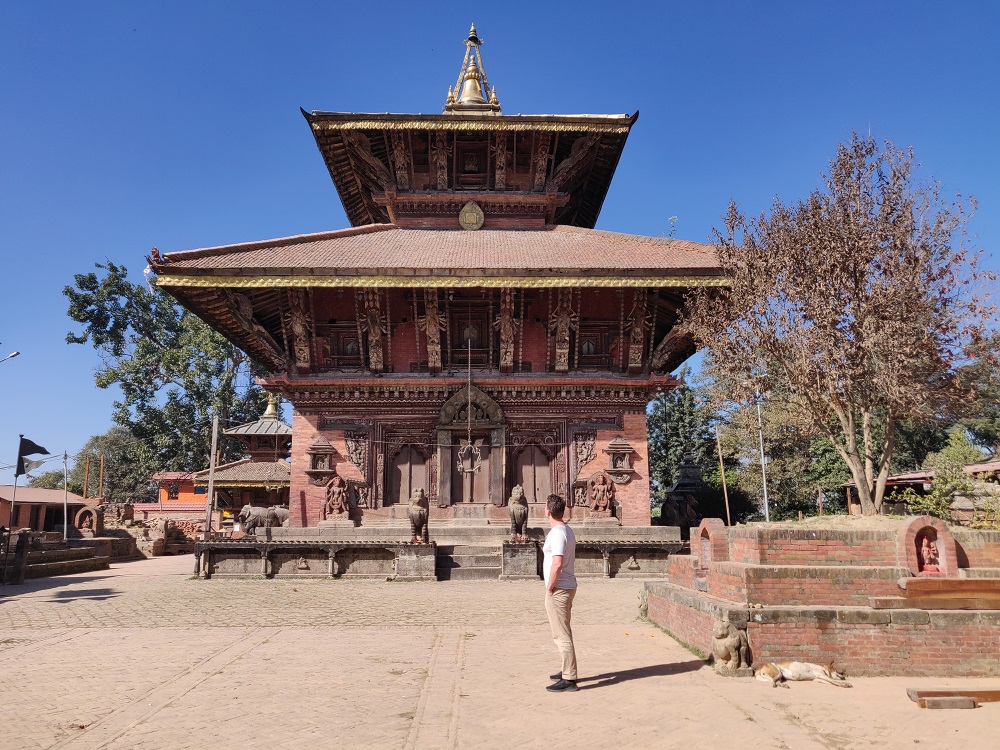 Bhaktapur Durbar Square
The key sight of Bhaktapur is its Durbar Square, its surrounding squares and narrow streets of the Old town… Again, following my tips above, depending on how you travel (recommend only a driver) and how you enter (suggest not to go via the 'main gate') you can save on your entry fee (1500 Rupee per person).
I know the tip is a bit in the grey area, but I find the fees relatively on the high side and not "fair" for just entering the old center as a (Western) visitor, where you will anyway contribute to the economy via souvenirs, restaurants, museums (paid separately) etc.
Most of the Bhaktapur Durbar square buildings and on the surrounding squares have been renovated, which makes Bhaktapur a more 'photo friendly' place to visit.. It has less of a 'contruction site' feel, as opposed to Kathmandu's Durbar Square.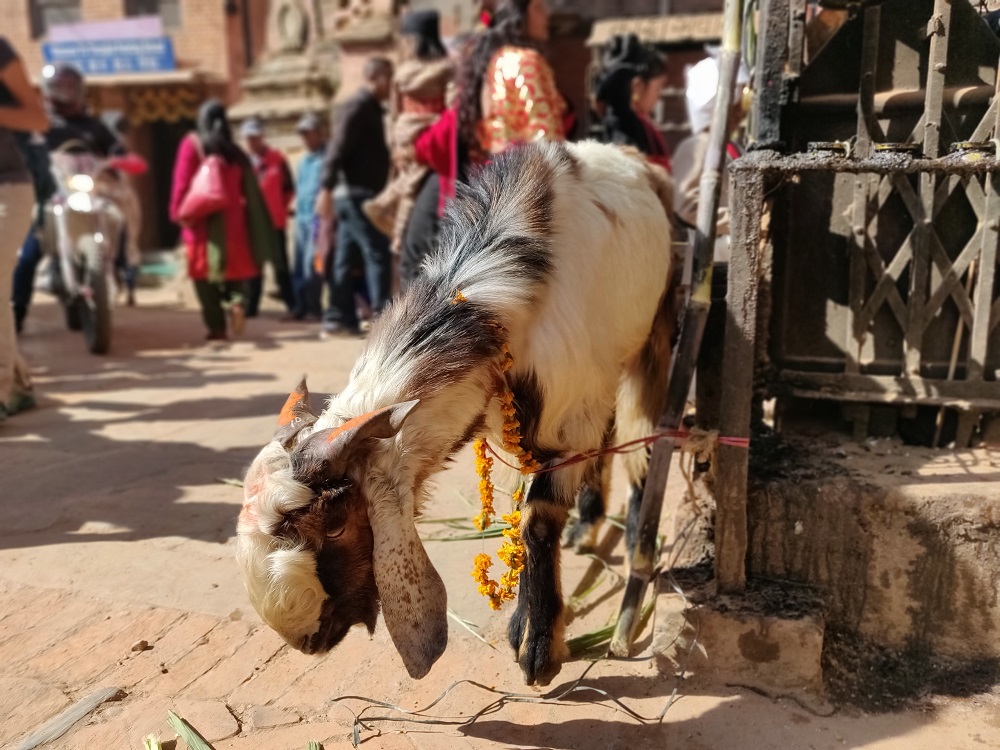 Do also checkout the nearby Taumadhi square, Pottery square, and browse through the narrow shopping streets…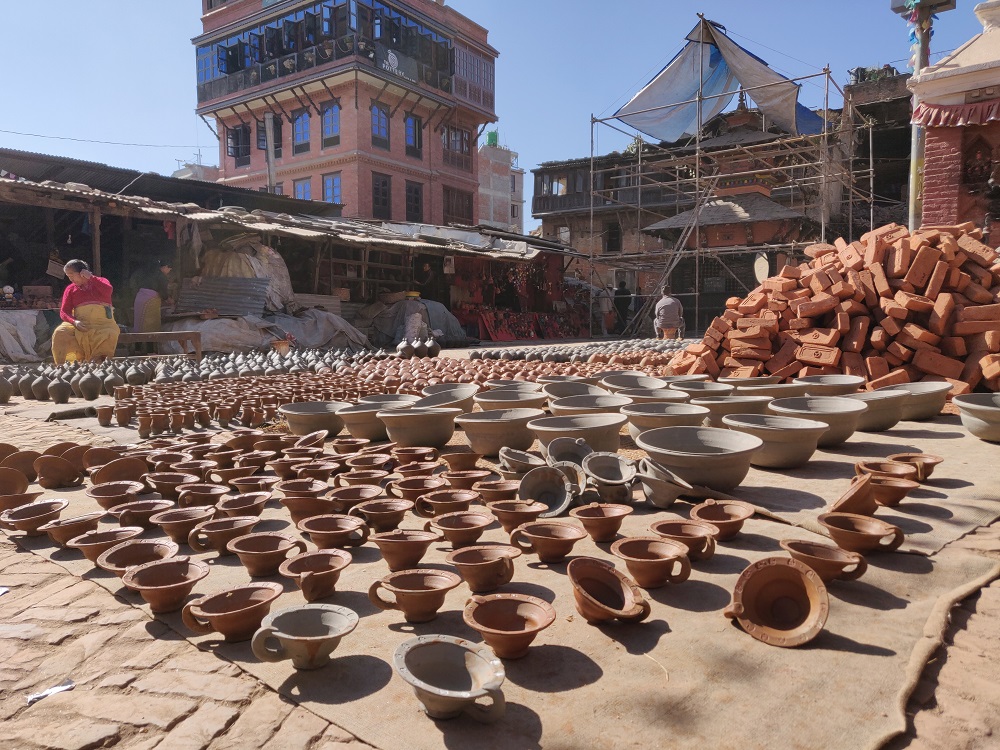 When we visited there were various religious "young male inaugurations" taking place. As mentioned, our guide was useless, hence unsure what the exact occasion was. What was clear were the various goats being sacrificed…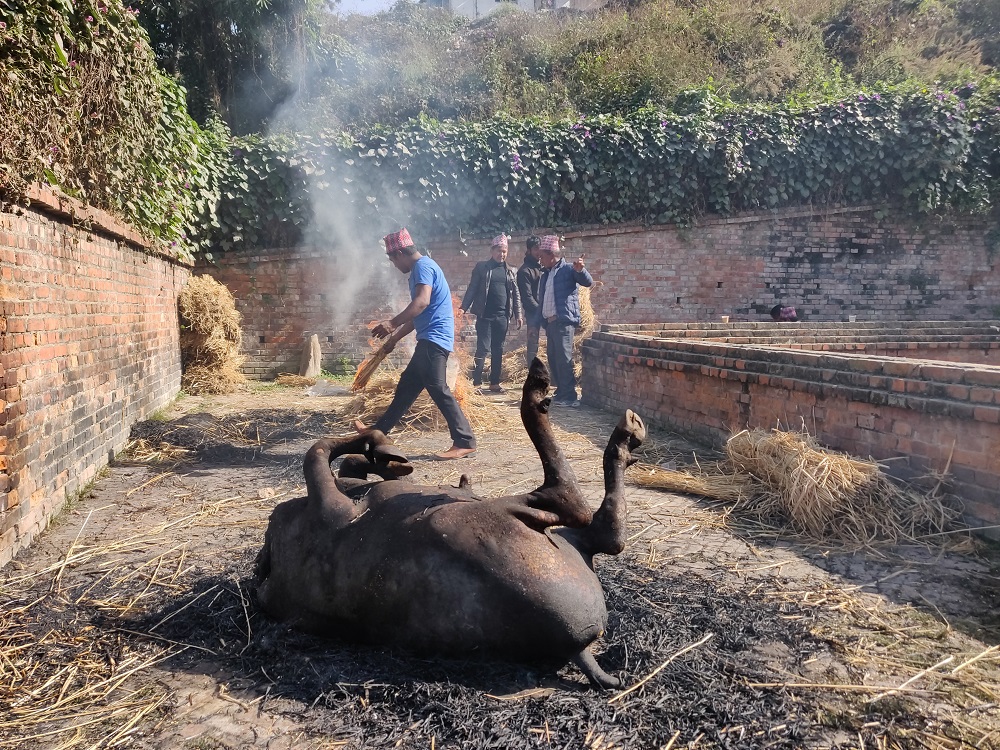 Patan Durbar Square
Originally we were supposed to also visit Patan Durbar Square, however we changed our plan (and included Pashupatinath instead). From what we saw it is quite similar to Kathmandu and Bhaktapur Durbar square. If more time, and interested in Nepali architecture it would certainly be worth a visit!
Bonus Tip: Helicopter tour to Mount Everest basecamp
A great (yet pricy) way to explore the Himalayas is to book a helicopter tour to the Mount Everest basecamp. Friends of us did this tour, while we were staying in Kathmandu. They had a great experience… Price per person are around 1000 USD per person. I checked with a local guide (very professional and straightforward person), who told me it is possible (and better) to charter a helicopter yourself for 3600 USD (it can take up to 5 people – 4 is more comfortable). When planning this, keep this in mind. This also gives you room to haggle on the final price!…
I almost joined, but in the end decided not to… Perhaps a good choice as things went as hoped and expected: We combined Nepal with Bhutan, and the flight offered spectacular views on Mount Everest and the other peaks of the Himalayas!
Top Tip: Kathmandu is one of the few destinations world-wide that fly to Bhutan. When flying to Bhutan from Kathmandu, ensure seats on the left (north) side of the plane, and opposite when flying back! When the weather is clear you will enjoy unforgettable (complimentary) views over the many Himalaya's 8000+ meter peaks!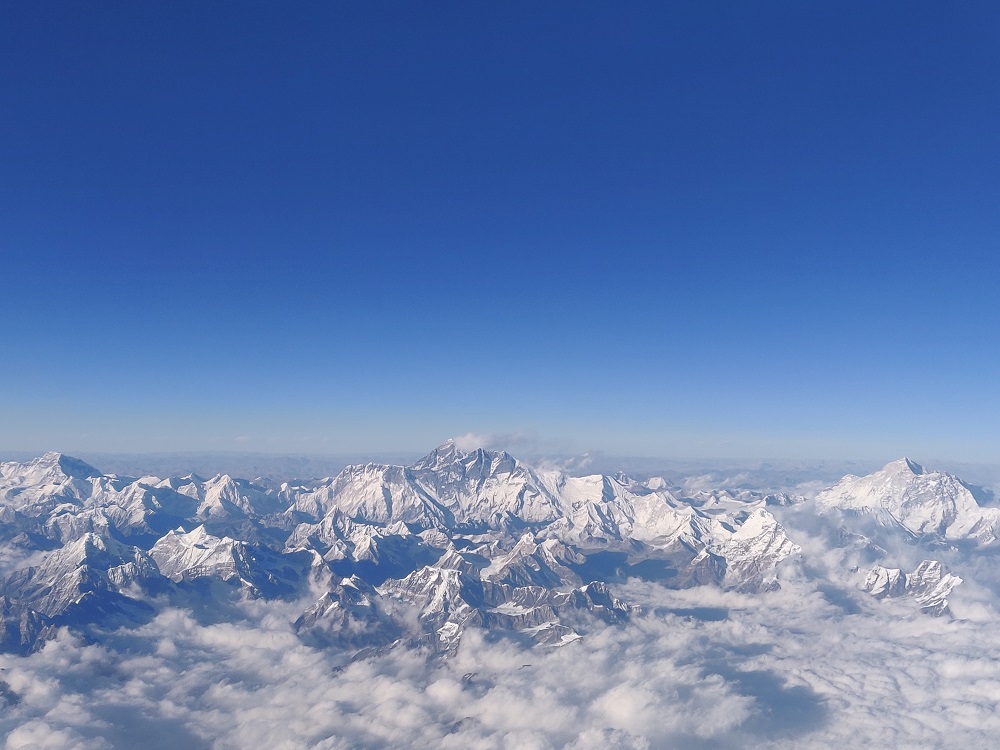 This brings my Ghost around the Globe tips of Nepal to an end, do also read all about Bhutan, where we continue our journey…. truly a must-visit unique destination!… Or travel onwards to India!…