New Zealand Southern Island must visit sights
New Zealand is one of the more remote destinations for most travellers… This land of sheep, kiwis and Maori is likely most famous for its natural beauty and vastness. Therefore it is no wonder many top movies like Lord of the Rings, The Hobbit and Chronicles of Narnia choose this island group at the edge of the world as a set! Let's explore the Southern island via this campervan road trip…
Starting in Christchurch
When flying into the Southern Island chances are high you will arrive in Christchurch. While recovering from your (likely) jetlag, the first thing you'll notice is the damage from the 2011 earthquake. Many buildings still have cracks, also the church was still being renovated from major damage. Also, many stores in the city centre are setup in refurbished containers. Christchurch is only a small town and funds for renovation are limited, hence the slow progress of reconstructing the city.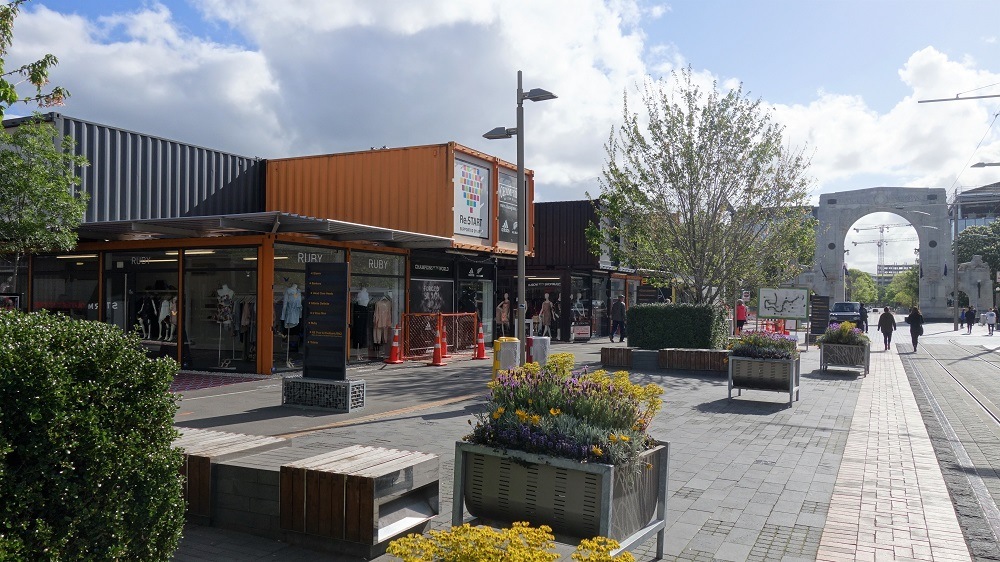 Canterbury Museum
Do visit the Canterbury Museum, where you can find nice examples of Maori art, as well as an exhibition about Arctic expeditions.
Botanical Gardens & Hagley Park
Next, to the Canterbury Museum, you'll find Botanical Gardens, which are surrounded by Hagley Park. Great to have a stroll and a picnic and enjoy the greenery and views over the meandering Avon River.
Visit a farmers market
Do some research and find out if and when there are any farmers markets around Christchurch (or other towns for that matter) during your visit! A great way to spend your (usually weekend day) and try local delicacies.
Exploring New Zealand by campervan
Given New Zealand's remoteness, it is likely you are planning a long trip and see as much as you can in one visit, rather than planning various short trips… The best way to explore the island(s) and enjoy the scenery is via travelling by a campervan. There are many options. We opted for a converted car with a bed in the back. This meant being flexible and because we liked to sometimes sleep in a hotel anyway. A potential downside could be that you have to cook outside, and you do not have your toilet and/or shower. Having the latter in your van, also means that you are allowed to free-camp at some spots, where we could not… Do some research and pick a mode of transportation that suits your needs.
Top Tip: During your first-night stay on a campsite with facilities, just so you can set up and test your van's various features while having electricity, street lights and perhaps even fellow campers around.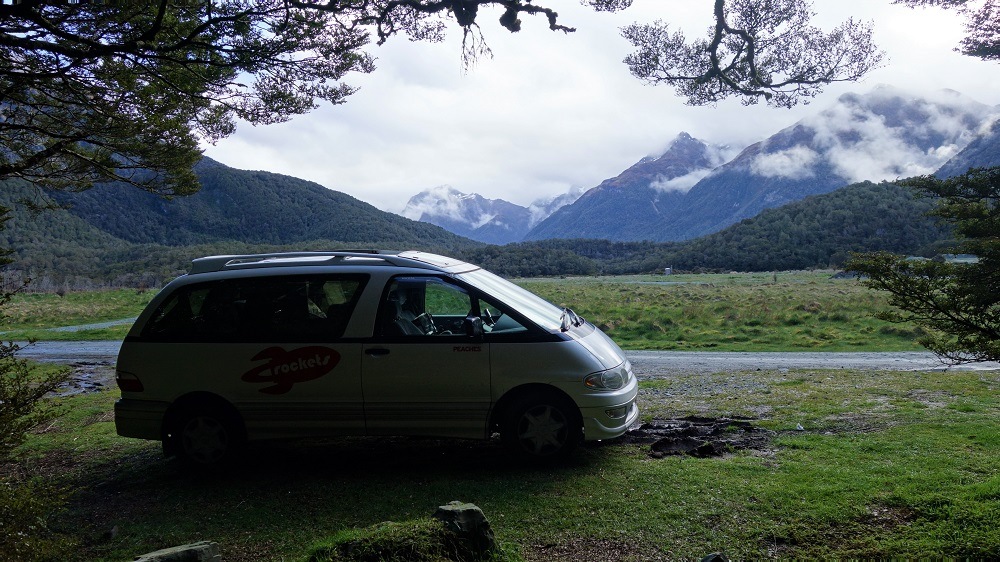 Making our way Southwards to Dunedin
From Christchurch, we headed down the East Coast towards Dunedin, a small town with a nice city centre. Along the way you come across many viewpoints from where you can spot seals and penguins and even whales (if you are lucky).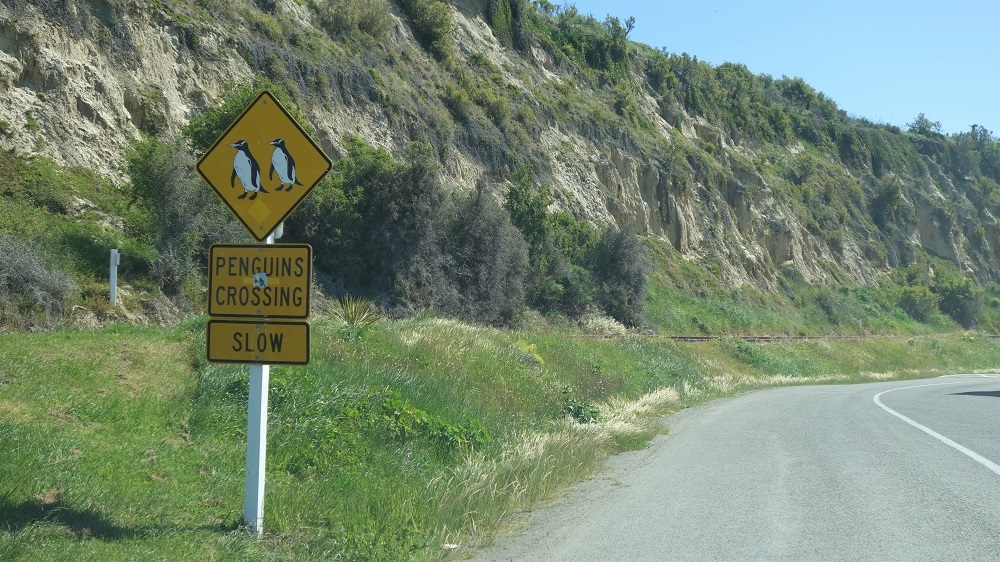 Fun Fact: You can find the steepest road in the world in Dunedin, just navigate to Baldwin Street and enjoy the ride!
Driving Westwards to Te Anau Lake
After exploring the South regions it is time to discover the West Coast. Here the scenery gets more and more spectacular. The sheep-filled valleys slowly make way for snowy mountain peaks, pristine lakes, and misty forests. We camped near Te Anau Lake, where we did a few small hikes. We camped on one of the many unmanned campsites, where you pay for your stay at a machine.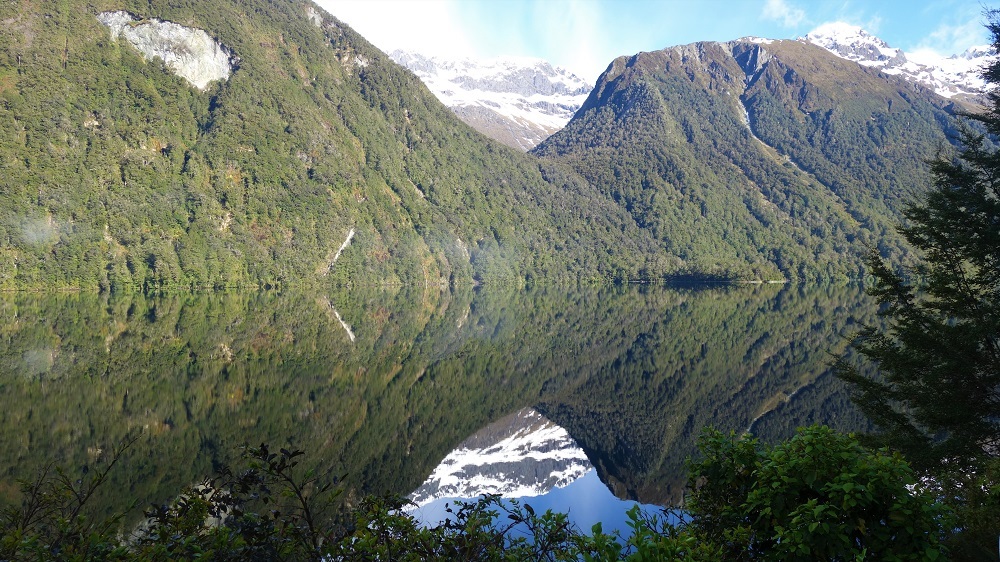 It was here that we also spotted the first Kea, a large New Zealand parrot with dense feathers to withstand the cold.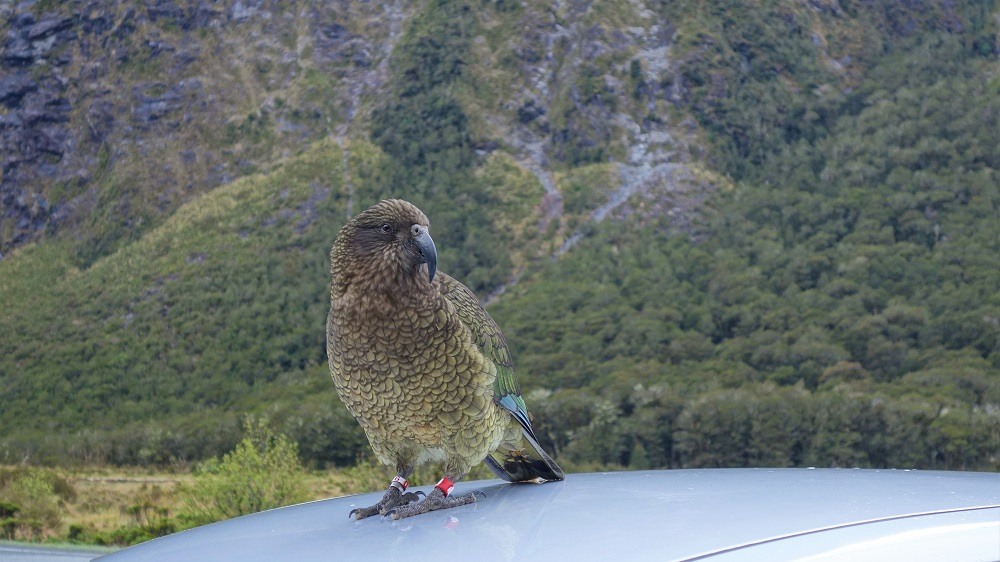 Sailing the majestic Milford Sound
A must-see of New Zealand, and especially the Southern Island is the beautiful Milford Sound. It is actually a Fjord, as it was eroded by glacial ice. It has very steep tree-covered 'walls', out of which waterfalls flow into the ocean. You will likely spot various dolphins, seals and of course many birds and (if lucky) whales.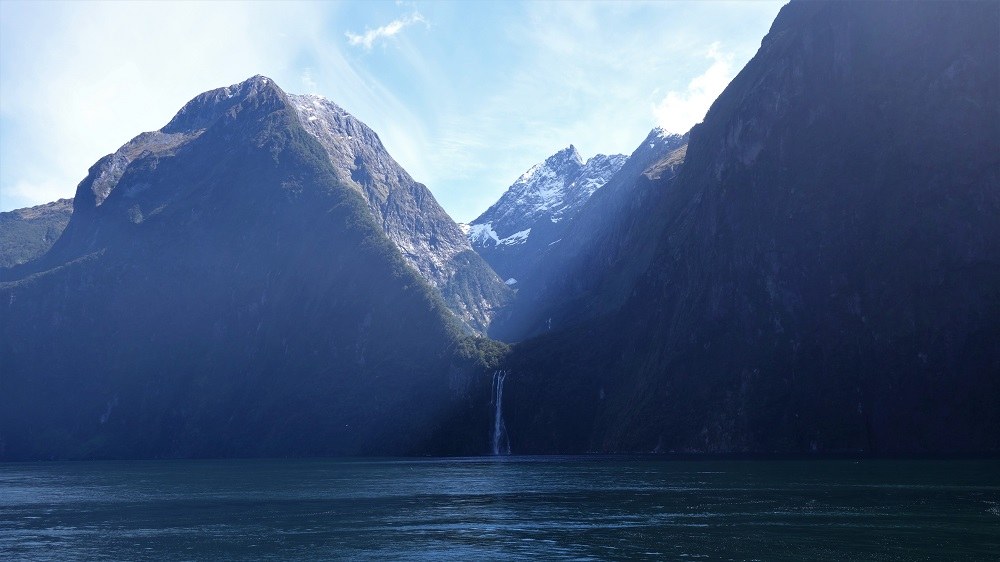 There are many ways to explore Milford Sound, ranging from planes to boats and helicopters. We opted for a boat which takes you all the way to the opening of the ocean and also makes a stop at an underwater observatory.
Queenstown and Wanaka
The Southern Alps make it impossible to drive straight up from Milford Sound, so you'll need to head a bit back and make our way up meandering through valleys and towns like Queenstown and Wanaka and past pristine lakes like Lake Wakatipu and Lake Wanaka, some of the purest lakes in the world where you can drink out of directly!…
You could argue that the whole of New Zealand is great for outdoor activities. However, the towns of Queenstown and Wanaka seem even more focused on outdoor experiences, by offering wide ranges of activities and adventures…
This region has also various wineries, great to stop over for a tasting of New Zealand wine. Also, do make a stop at Cardrona distillery where they make various strong liquor like gin and vodka (situated on the road from Queenstown to Wanaka)
The 'prehistoric' West Coast
Heading up from Wanaka you will pass the Blue Pools Walk, a hiking trail alongside and over turquoise streams. A nice stop before heading further Northwards …
Once you hit the West Coastline something changes. By lack of a better word, everything looks 'prehistoric'. Large trees, rough coastlines, which together with a unique temperate rainforest climate make the entire scenery surreal. It is like any moment a dinosaur will step out from behind the bushes.
It is on the West Coast that you could still find the highly endangered kiwi, the national symbol of New Zealand. You can book tours to try and find these nocturnal birds. At one point we thought we saw some kiwi birds, unfortunately, it proofed to be babies of another bird species… still cute, but not the real thing… too bad!
Hiking the Franz Joseph glacier
Initially, we planned to take a helicopter tour to the Franz Joseph glacier. Unfortunately, the weather did not permit this and there was no sign that this was going to change over the coming days. Instead, we climbed up to get a closer look. Amazing when you think how far the glacier ice can stretch, given that immense width of the valley – once filled with glacier ice.
Hokitika Gorge
A small inland detour takes you to the Hokitika Gorge. The water here is an amazing blue color.. it looks almost fake!…. The closest resemblance would be perhaps the saltwater of the Seychelles or Maldives… though those waters are salty and require sunshine to 'bright up' as blue as here. The scenery here is ideal for a hike to take in the magnificent nature.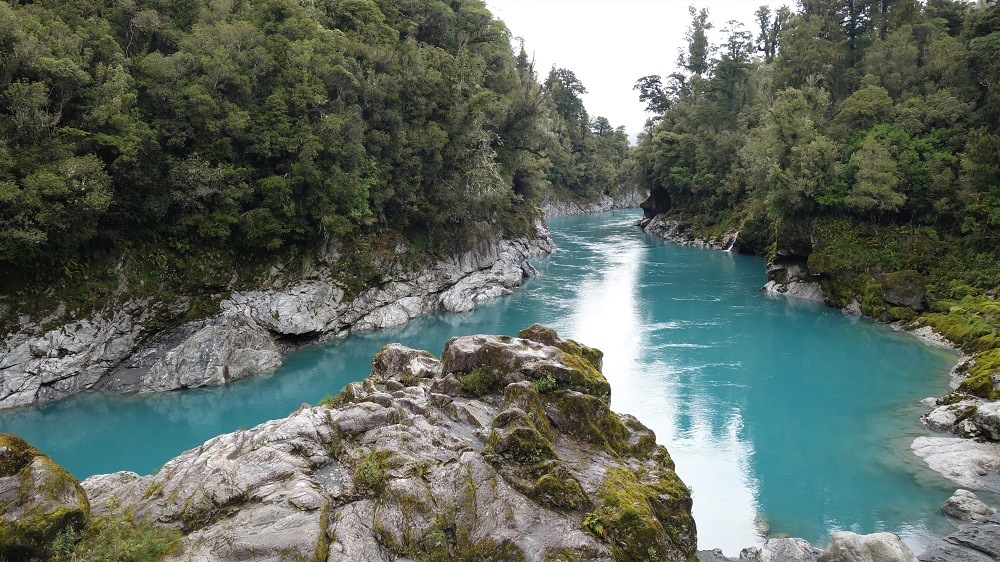 Punakaiki – Pancake rocks
Another great example of how spectacularly different New Zealand's west coast is, are the Pancake rocks. Scientists are still unsure how these rocks got layered on top of each other', resembling piles of pancakes. Walking towards the coastline from the parking takes you through immense agave-like bushes. Once at the shore the rough sea, its blowholes and the layered pancake rocks are a stunning combination!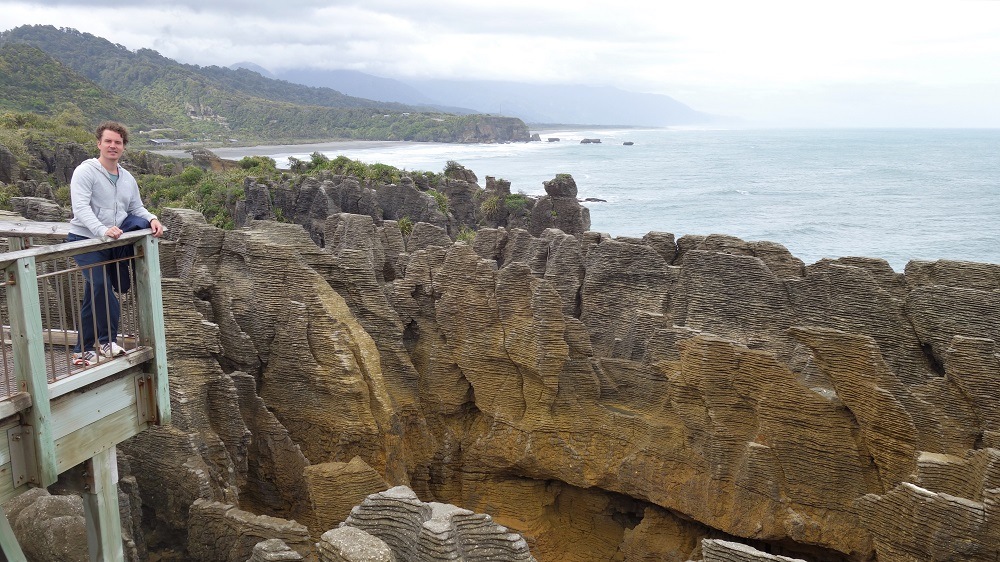 Heading East towards Kaikoura
From the Pancake rocks, you can head further North or cross over towards the East. We did the latter and headed for Kaikoura. Along the way you come across various hot springs, wineries, chocolate factories and strawberry farms. Great to spend a few days exploring New Zealand's wines!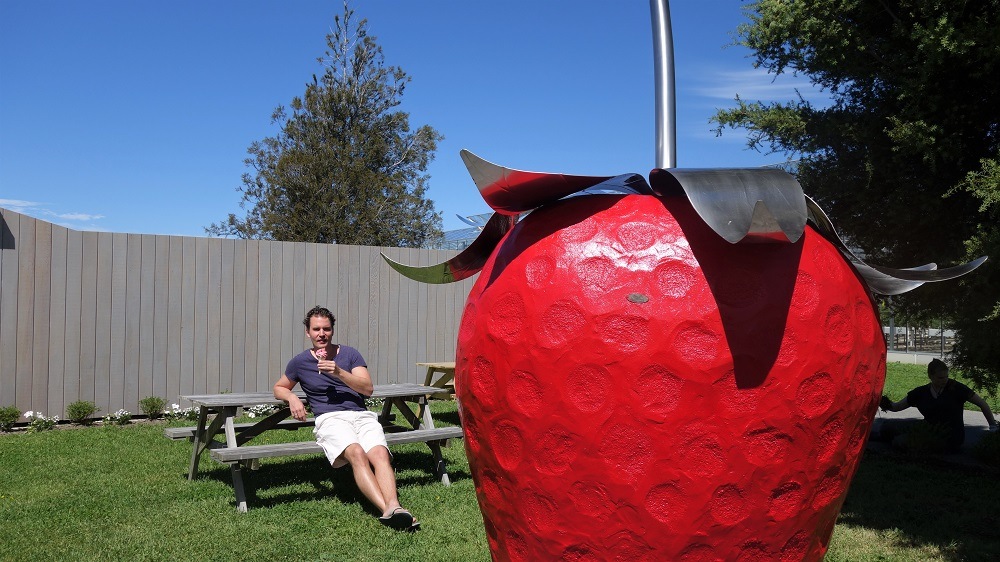 Kaikoura is famous for its whale watching tours! Obviously, we booked a tour… the view from the boat is amazing and if no whales are sighted you get your money back!… well, unfortunately, we got our money back… So no whales spotted this time! They do have a 95% success rate though… but had not seen any whales for a few days… guess we were unlucky…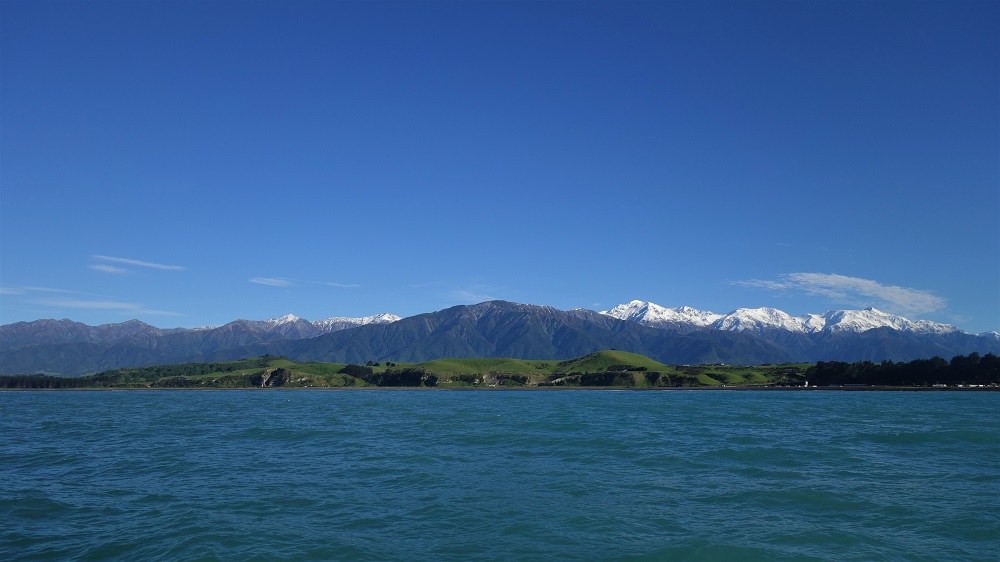 An unexpected ending of our New Zealand trip
How unlucky we were, was clear the next day, as we were abruptly called back home… we were about to head for the Northern Island, but had to rush back to Christchurch due to a family emergency…. Leaving New Zealand's Northern Island to explore for next time…
New Zealand in many ways resembles the United Kingdom, Scotland and Ireland. Not only the weather but also the many sheep, the pubs and building style of the cities and towns. However, the big difference is the amazing vastness, roughness and emptiness of the country… Hard to describe and hard to capture in a photo… but that just means you have to go and discover it yourself!… We surely plan to go back soon, especially to discover the Northern Island….