Phuket: a crazy mix of Party and Peacefulness
Phuket is Thailands's largest island. Its international airport has direct connections to long-haul destinations all around the world, ensuring a high number of visitors throughout the year. Located in the Andaman Sea it has beautiful rainforest mountains and is home to some of Thailand's most popular beaches with many high-end resorts, spas and restaurants. In Phuket City, the capital you'll find old shophouses and busy markets. In Pa Tong, the main resort town, you will find its bustling party scene with nightclubs, bars and discos. No wonder Phuket is so popular, it has something for every traveller, young and old, whether they are looking to party or looking for peace and quiet…
Explore Phuket by moped
The best ways to discover any tropical island is to rent a moped! It is cheap and an ideal way to explore the mountains covered with rainforests with beautiful viewpoints over the island.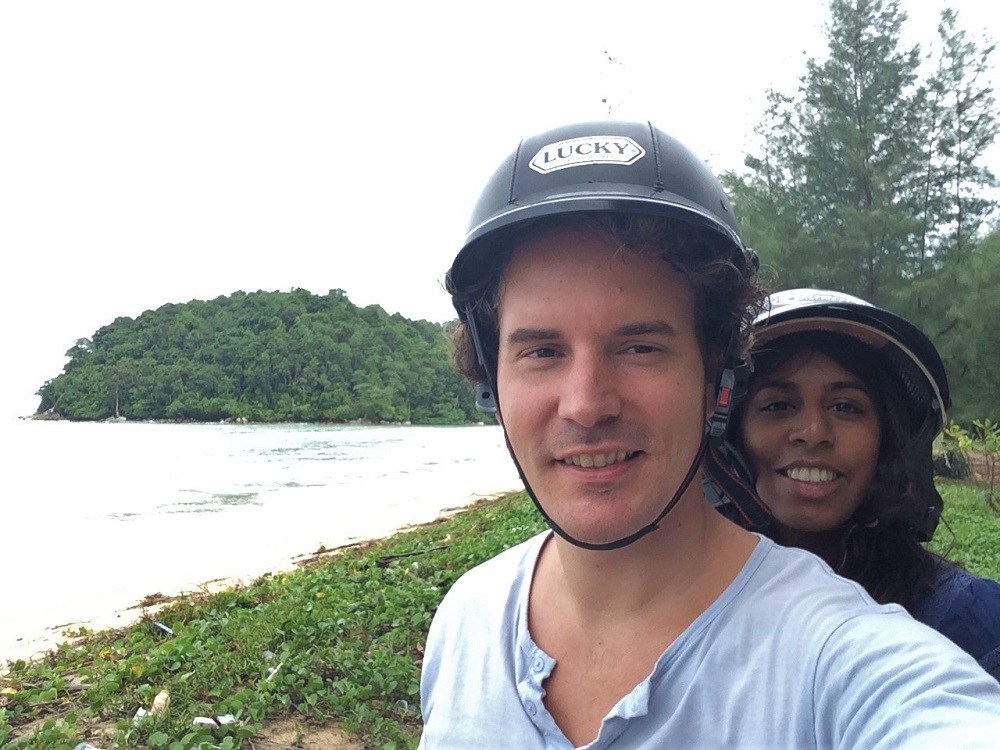 Top Tip: Rent a moped to discover Phuket! It is cheap, fun and ideal to reach those less-visited beaches and viewpoints!
Phuket's beaches
Another benefit of renting a moped is to discover the beautiful beaches all around the island! Most of the famous beaches are situated along the clear waters of the Western shore… Then again, beaches on all sides of Phuket are impressive!… So venture out and explore!…
Top Tip: When we visited the waves were quite high and rough and currents were quite strong! If you are not a good swimmer then be extra careful (or opt for your swimming pool instead, on one of the more windy/stormy days)
Phuket City
Depending on where you found your accommodation on the island you could visit Phuket City as well by moped. We stayed in the South, and it actually took longer than we expected and made us realize that Phuket is larger than your 'average' tropical island. Keep this in mind when planning your day trip!…
Phuket City is actually just a large city… With all its nice beach resorts on the island, I would not recommend staying here. However, it is nice to visit its old city centre with colourful shophouses and various markets.
Phuket's Party scene
Phuket's natural beauty could be reason alone for a visit. However, as mentioned Phuket is more famous for its party scene. Especially the beach town of Pa Tong is very comparable to Bangkok in many ways!… Do follow the link and learn why I just love Bangkok!…
Pa Tong's famously raucous semi-outdoor nightlife-scene features beer bars, go-go bars, nightclubs, massage parlours and cabarets that overflow into the street along neon-lit Bangla Road and in the Patong OTOP Shopping Paradise complex, a bustling local market lined with stalls featuring souvenirs, clothing and traditional food…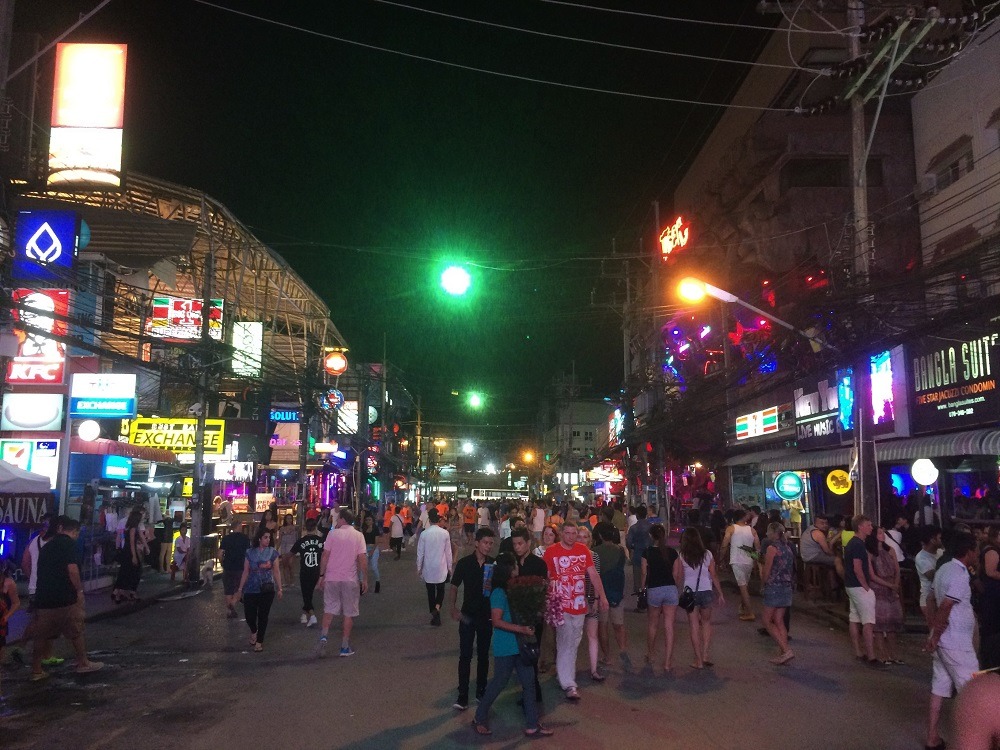 Visiting a Ping Pong show
Like in Bangkok, regardless of where you are walking the streets of Pa Tong, you are likely to get offered to visit a "ping pong show"… As also explained in my Bangkok post, to avoid confusion, this does not have anything to do with the Olympic sport of table tennis! Instead, you will be asked to pay an entrance fee for a bar where various ladies give a "performance" including various attributes, including a ping pong ball. In my (Dutch) opinion, this would be a relatively "innocent" way of experiencing a part of Thailand's other (grey) side… Amazement guaranteed…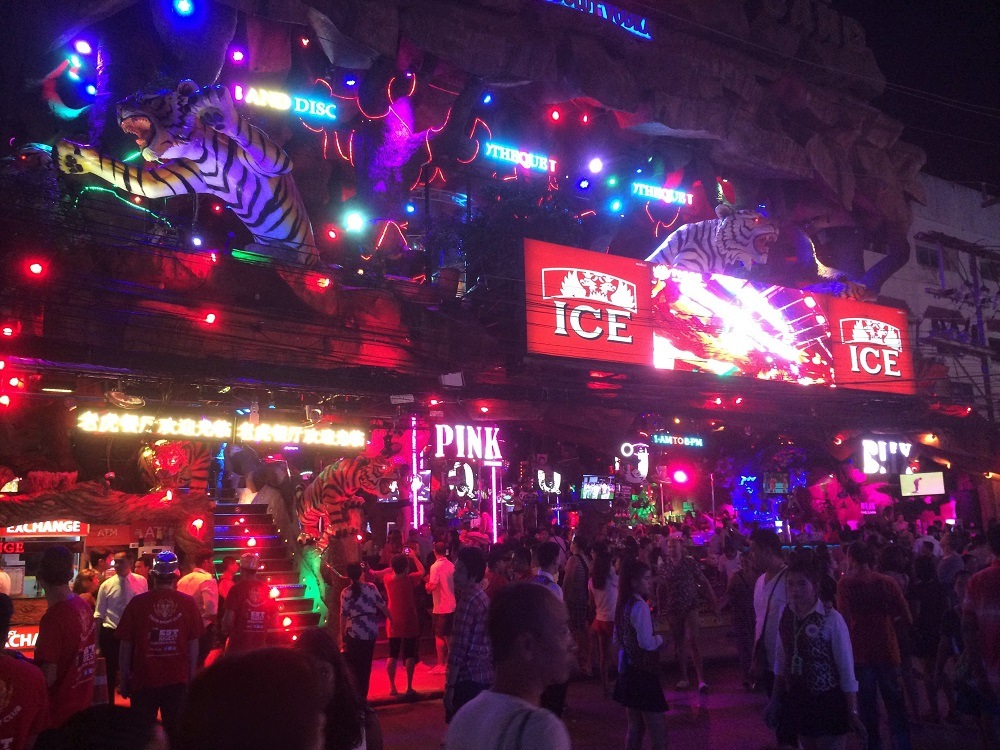 Top Tip: In case you are curious about what the Ping Pong shows are all about and want to pay a visit, I believe you should!… Although definitely in the "grey area", it is likely you'll find yourself among a mixed visitor crowd of young and old, male and female, couples, (adult) families, and so on… As almost everywhere, do bargain (hard) on the price and ensure your first drink is included. In case you like to buy a second drink do check the prices, as these may be (over)expensive.
A great night out!
Similar to the Khao San Road in Bangkok (and especially Khao San's surrounding streets), Pa Tong is all about a great night out!… Whatever you look for, they will have it! All types of cuisines, karaoke, live bars and fun entertainment in the streets!… Obviously, we did not go by moped this time, but took a taxi from our resort! Wherever you stay in Phuket you should at least go one evening to Pa Tong to check it out!…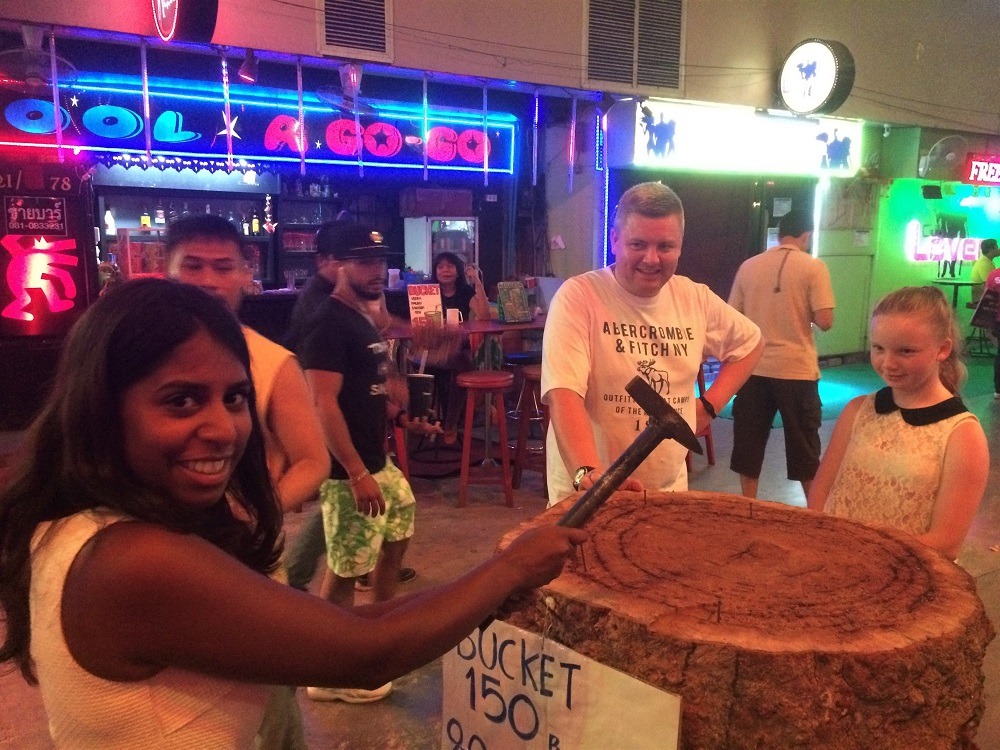 Explore Phuket's surroundings
Your trip to Phuket does not have to end there!… As mentioned, I would try to combine it with a few days in Bangkok. But much closer by is another Thai highlight, and accessible by boat: Koh Phi Phi… I visited this island on a separate trip from another island; Koh Lanta… Which is similar to Phuket's natural beauty, but without the mass tourism and the party scene… Could be a great choice, if not that into the Thai party scene…
Well, I believe this provides you with enough information for a great and memorable trip to Phuket! Thinking of combining Thailand with other countries in the region? What about these Ghost around the Globe stories: Angkor Wat and/or Phnom Penh in Cambodia, Singapore, Vietnam, Laos or Myanmar!…
Or perhaps you like to compare Phuket with similar, but different Bali in Indonesia?