Reasons to perhaps NOT visit Penang Malaysia
After my first visit to Malaysia's tropical island of Penang I was not really impressed. Of course the island has nice beaches, fun activities and some interesting sights, but I was not over-enthusiastic. A few years later, when living in Singapore, I heard so many great stories, that I thought I was mistaken and had 'missed' what Penang was all about… So, I visited Penang again on a weekend getaway… Don't get me wrong, it was nice but in my opinion, there are just far better alternatives in the region. Destinations that deserve your travel time and money far more!… With this in mind, lets me show you some highlights and provide you with some great alternatives, so you can decide yourself!…
Top Things to do in Penang Malaysia
I like to re-emphasize, Penang certainly has some highlights and it is far from the worst place in the world to visit!… So, before we dive into some alternatives, let me share you some of its key highlights.
Georgetown – A mix of cultures
For ages Penang has been a key trading route, resulting in a blend of cultures. Especially in George Town, the capital of Penang state, you find various foreign influences in its landmarks. Examples are Fort Cornwallis, the Chinese clan temple Khoo Kongsi and the Indian-style Kapitan Keling Mosque. Other notable religious sites include the Chinese Goddess of Mercy Temple, the Buddhist Kek Lok Si Temple and Hindu Sri Mahamariamman Temple.
Georgetown is famous for its street art
A fun aspect of Georgetown is its artsy vibe and the many wall murals, which you will find everywhere around old town! This makes it fun to browse around the quaint streets while exploring the small shops, eateries, coffee shops and bars.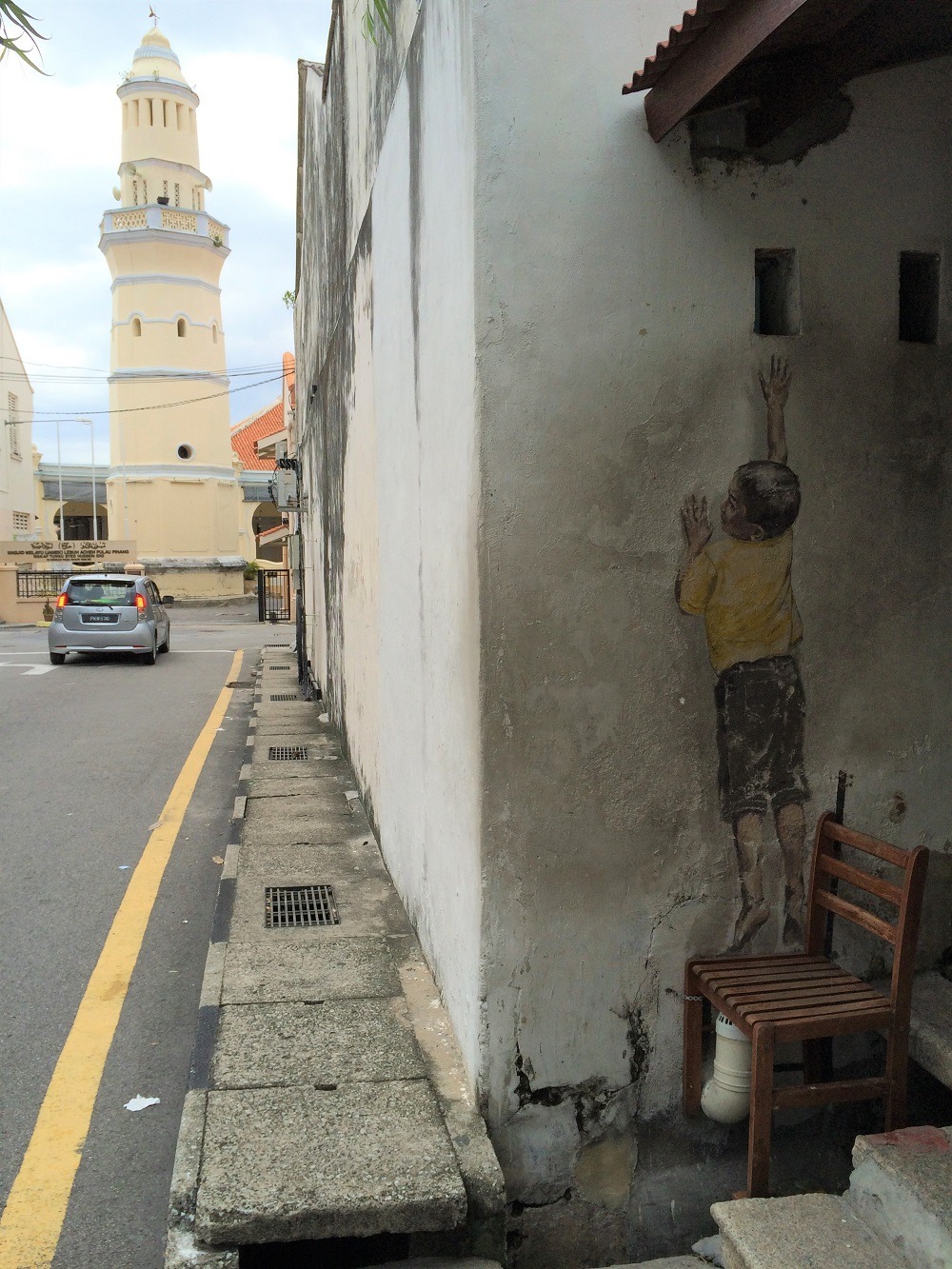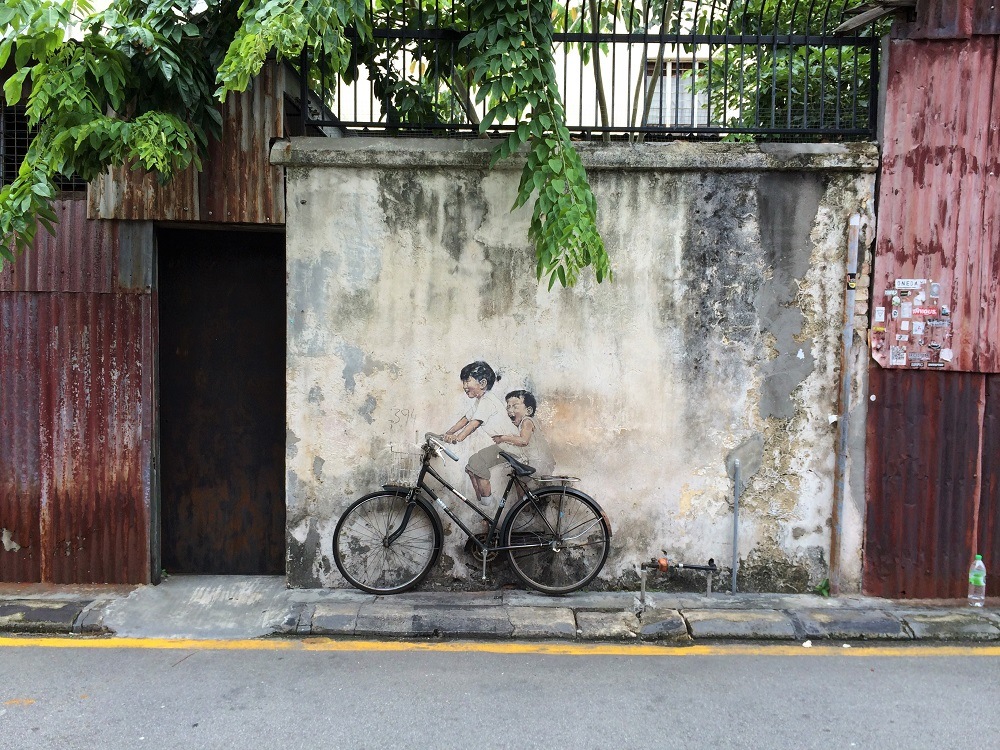 Georgetown's modern side
Given its sheer population size, over time Penang has grown into a large modern city, complete with large malls, food courts and high-rise buildings defining its skyline. Likely less attractive to the culture lover, but could provide potential to the shopping enthusiasts.
Penang: A foodie paradise
Especially the people in the region (e.g. my Singaporean colleagues at the time) are wild about Penang's cuisine!… The mix of cultures resulted in the most interesting dishes! For me as (an ignorant) Westerner, the difference between the various dishes I tasted or saw on the menu was not too different from those in Singapore. Then again, it is likely similar to describing the difference between French fries or Belgian fries to someone from outside Western Europe. Nevertheless, I have one great recommendation to taste some of the best dishes I tasted in the region: Kebaya restaurant in the Seven Terraces hotel in Georgetown.
Top Tip: A great restaurant I highly recommend to foodies and non-foodies alike is Seven Terraces restaurant in Georgetown! Ideal to taste Penang's cuisine, while seated in a beautiful colonial ambiance. Make reservations, to avoid disappointments! We walked in, but had the only non-reserved table…
Stay in Batu Ferringhi
If it is the tropical island feeling you are looking for (instead of a city-trip or foodie experience) I suggest staying outside of the denser populated George Town area.
A large part of Penang Island is covered by the state capital George Town. It is the 3rd largest city of Malaysia, and when combining its population with Seberang Perai (Malaysia's 2nd largest city opposite of Penang on the mainland) it even exceeds the population of the capital Kuala Lumpur.
Top Tip: We stayed in Batu Ferringhi, a small beach town northwest of Georgetown. Just a small taxi (or even better, moped) ride away from Georgetown for your city explorations, while still giving you the tranquil beach feeling! Complete with all kinds of beach & water activities, like parasailing.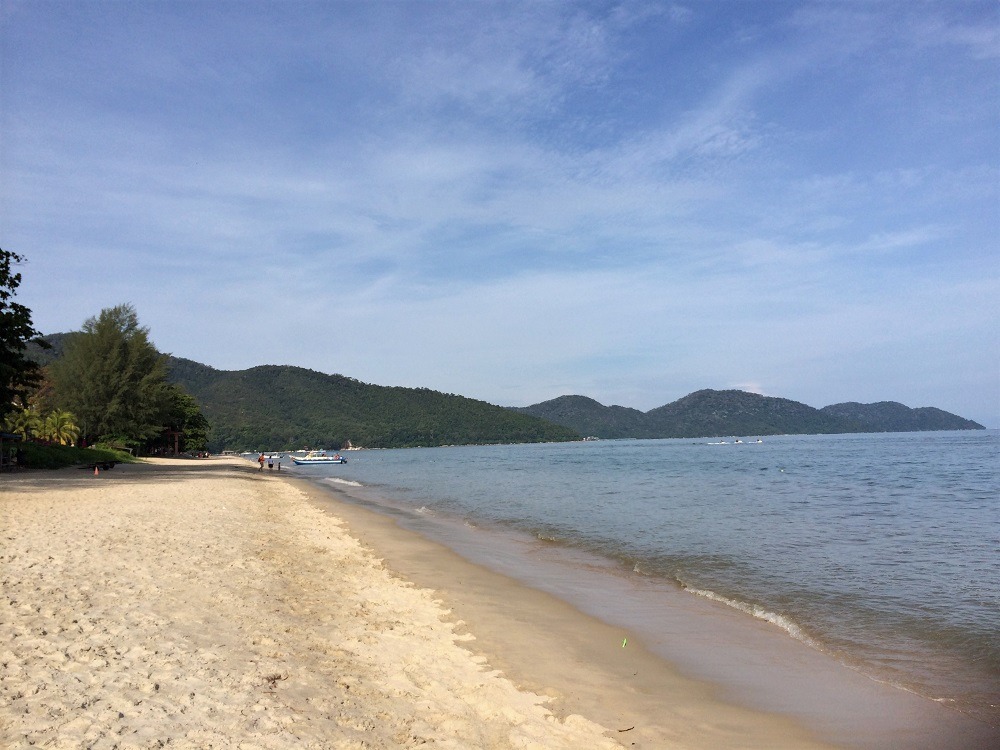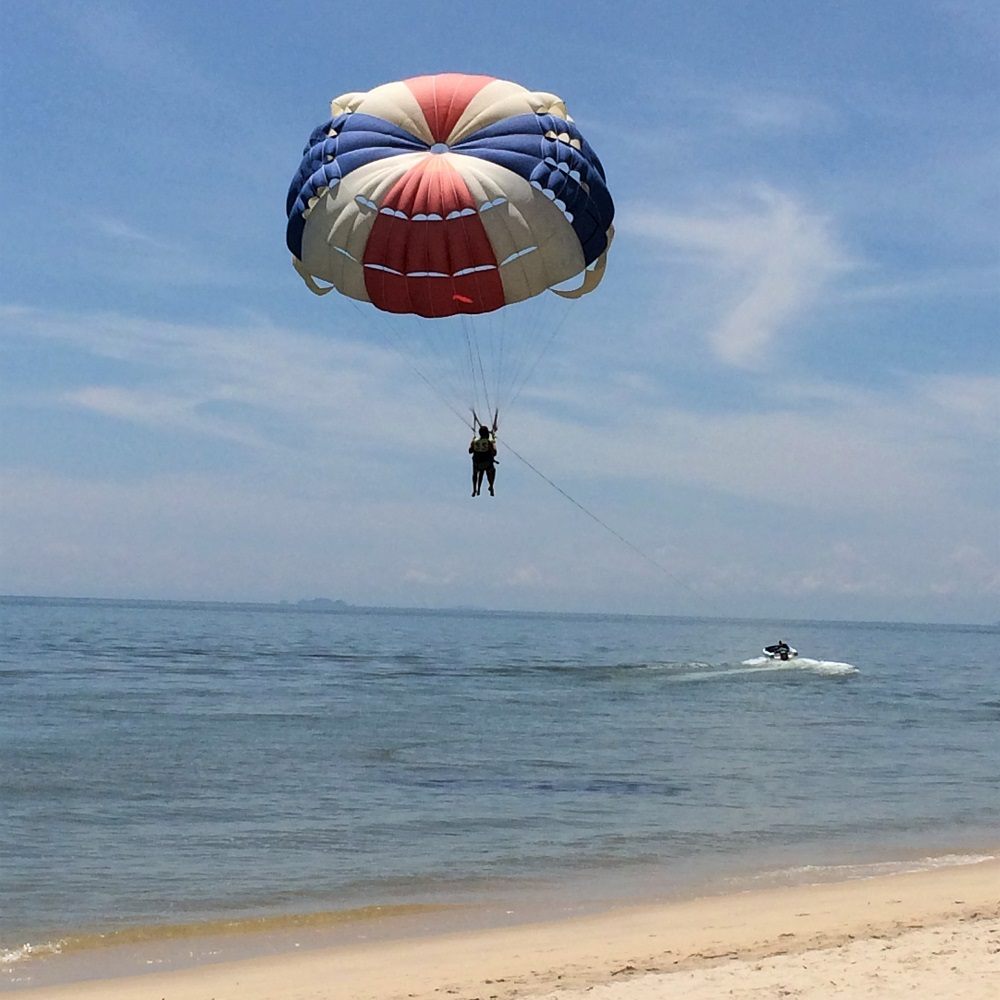 Rent a moped and discover Penang island
As on many of my travels I like to rent a car, or in case of short distances, a moped!… Penang is ideal for moped exploration!… As mentioned, from Batu Ferringhi it is only a short ride to Georgetown, but we also ventured out into the lush green mountains, a tropical fruit farm and visited the impressive Buddhist Kek Lok Si Temple complex!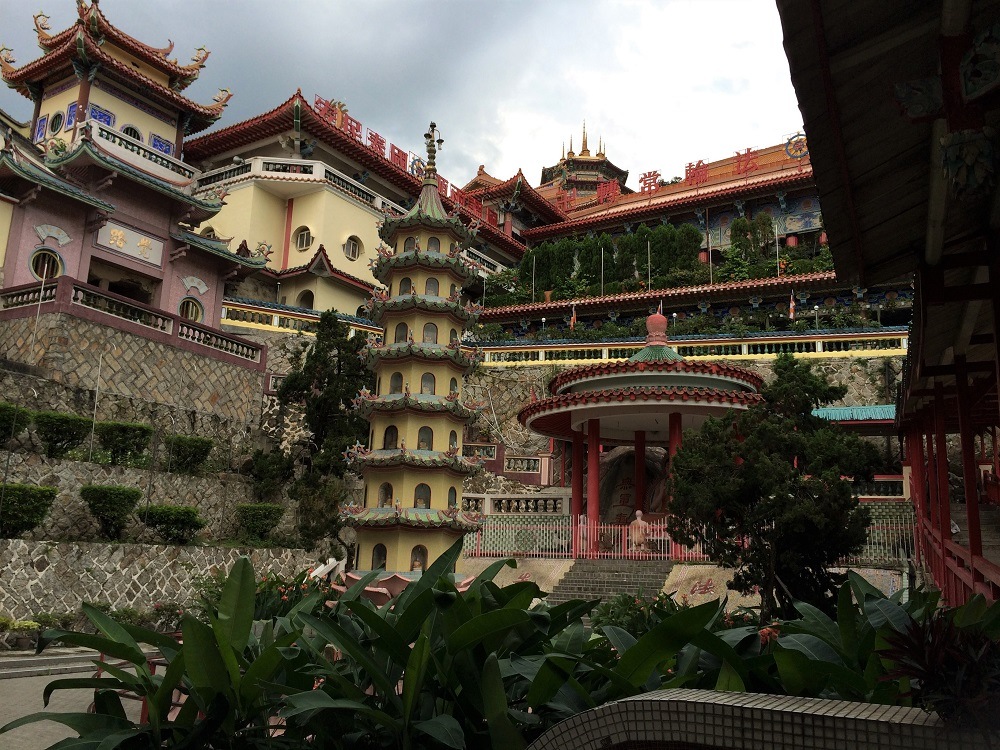 Well, when writing this post I feel Penang is not too bad after all and it could make a great beach ending to your Malaysia travels…. However, beach holiday-wise it may 'lose' from Malaysia's other tropical island Langkawi, for which I share a similar opinion: If part of a larger South East Asia itinerary there are better tropical islands on offer!…
Tropical island alternatives to Penang (or Langkawi)
So why not just opt for Penang (or the before mentioned Langkawi) Island? Well let me try to explain, as it comes down more to 'feeling' rather than exact science:
In my opinion, Malaysia is a nice destination, but it lacks the 'laid back' touristy feeling you get in other countries / island destinations like Phuket or Bali. They provide an (even more) ideal settings for your tropical island getaway.
What may be a key contributing factor is that Malaysia has a predominant Muslim population. Don't get me wrong, the country is very progressive and it does not mean there is a restriction on alcohol or anything, but it does not advocate a 'strong drinking/party' culture either.
Borneo Malaysia
In addition, Malaysia itself already has a far better tropical island getaway: Borneo! This is world-class tropical rainforest at its finest! So why fly-in to Penang or Langkawi, while you can fly to Borneo. Follow the link to learn all about this destinations, its cheap luxury hotels and the amazing wildlife excursions you can undertake!…
Phuket Thailand
Phuket in Thailand, provides a similar setup like Penang. It also has a large city covering parts of the Island and also has a (far larger) international airport, even offering direct intercontinental flights. It has a far more lively party scene, but if this is not to your liking, then relax in the many quiet beach resorts!… Follow the link to read all about by Ghost around the Globe Phuket experiences!… 
Bali Indonesia
Bali, with its predominant Hindu culture, likely needs even less introduction than Phuket, its rice fields and especially island getaways like the tiny Gili islands are ideal for your relaxation or cater your beach party needs!…  Follow the link to read all about by Ghost around the Globe Bali experiences!… 
Well, you know yourself best!… Still planning to go to Penang (or Langkawi)? Or opting for one of the provided alternatives instead? These are clearly Luxury problems!… wherever you go I am sure you have a good time! And as always, stay tuned here for more Ghost around the Globe updates!…