Salalah: Where camels roam misty meadows
Reading time: min | Published on:
When you drive amidst lush green misty meadows it is likely that camels are one of the last possible things on your mind that could cross the road… Yet this is exactly what you should do when you drive around in Salalah! This small region in South Oman is literally an "oasis" within the dry and excruciatingly hot area of thousands of square kilometres surrounding it. Especially during Summer (the best time to visit Salalah) when the surrounding areas can easily reach 50C / 120F…
Salalah's odd climate
What is going on here? Well, Salalah is blessed with a large mountain range surrounding it, which condensates the clouds that arrive from the rainy east coast of Africa. This effect is so obvious that you will likely see the sunshine on the coastlines, whilst only a few kilometres inland (and uphill) you see the clouds hang and drizzle against the mountains. Beyond these mountains the dry vastness of the Arabian Empty Quarter lays.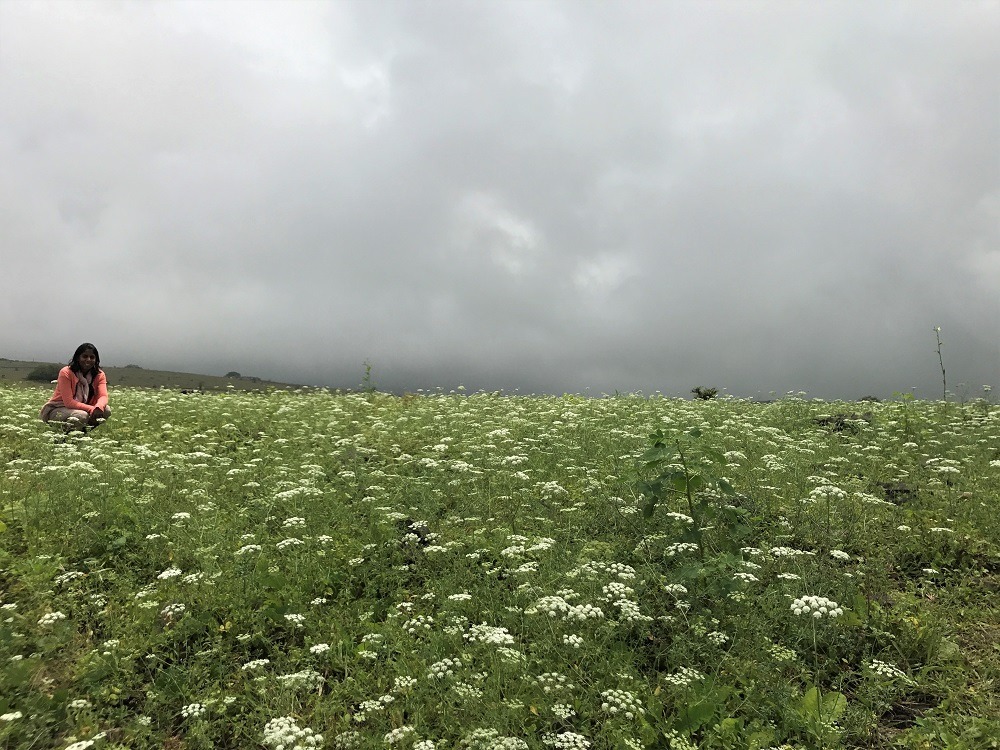 These drizzle, mist and rain combined with the subtropical sun turned the dry soil of the Arabian Peninsula into green abundance in no time. Providing food and comfort to its wildlife of which the camels are the most obvious and seemingly misplaced creatures roaming the lush grounds.
So the next time you find yourself speeding through green grasslands, take your foot off the gas and be mindful of crossing Camels!
What to do in Salalah
As said Salalah is a welcome oasis to escape the hot climate during summer months. Therefore many people from surrounding countries opt for a holiday to Salalah. For many, this is already enough reason on its own!
Most will arrive by air (as it is around 1500km from Dubai and/or Muscat). When arriving by one of the many daily flights, I would recommend renting a car! This is by far the best way to explore the rough coastlines, the misty mountain ranges, sinkholes and blowholes. In addition to nature, there are also a few interesting archaeological sites, dating from Salalah's trading past
Having your own car also enable you to stop at the many street vendors selling fresh fruit and coconuts and provide you with the possibility to arrange your own picnic! Apart from some hotels, there are not many restaurants, which make the options for picnics even more advisable!…
Best time to go
Where most travel guides will tell you to go in the July-August period, as that is the peak of the rainy season in Africa. However, I would suggest going in September, when the surroundings are still green and the rain (and thus clouds and mist) are getting less, so you will have better sight and can actually enjoy the green surroundings, rather than driving through white clouds
Stressed for time?
Whether part of a wider Arabian Peninsula itinerary or you are living in the region, I would definitely recommend paying Salalah a visit! We went for an extended weekend break. However, if you are a bit stretched for the time you can easily explore Salalah's region in 2 nights, 2 days (this means you can fit this in any normal weekend break when you live in the region):
Day 0: Arrive the night before (via air and pick-up your rental car, or perhaps by your own car) and check-in to your hotel
Day 1: As you will see on the map Salalah town lays in the middle of the region. On this first day, you will explore the East coast, surrounding mountain ranges and sinkholes and some archaeological sites. After a day of fun relax in your hotel
Day 2: This day you pack all your stuff and on your way back to the airport (or up North) you drive via the Western Coastline (here you find the blowholes) and mountain ranges. At the end of the day, you fly (or drive) off looking back on a unique experience!
Yet another Ghost around the Globe adventure!… Let me know your thoughts and experiences!…
Excited about Oman, check out my Musandam post, which showcases yet another strange phenomenon: Fjords in the Arabian Peninsula… Also, check out my Oman Wild camping road trip… Do also check out my posts about the United Arab Emirates, like bustling Dubai, Abu Dhabi, or green Al Ain. Or perhaps you like to read about my road trip to Saudi Arabia and Bahrain!… Enjoy…