Singapore insider itinerary
Having lived in Singapore for 3 years, I had many visitors staying over. I took all my guests on this ghost around the globe itinerary, which you can now easily follow as well! It takes you past most key highlights in a very efficient and cost-effective way… What are you waiting for? Let's start exploring!…
Start at Raffles Place MRT station
Let's start our tour at Raffles Place MRT station in the morning! This centrally located station is easy to reach given both the green and the red line connect here! From here (or any other nearby MRT or Bus station) you make your way towards the Marina side. Underground, air-conditioned, tunnel systems connect you all the way, if you get lost in the tunnel system, just find an exit and navigate above ground!
Top Tip: It will help if you load an offline map on our phone to follow my directions and navigate from point to point. Sometimes it is hard to explain which directions to take (especially with the occasional tunnels or MRT trips involved)
Merlion and Marina Bay Sands
As soon as you make your way to Marina you will see the iconic Marina Bay Sands on the other side of the water… Stroll down the waterfront next to the various bars and restaurants (Great if you have not had breakfast yet). Within a few minutes, you see the Merlion, the symbol of Singapore! This small pier provides great photo opportunities of both the Merlion statue, Marina Bay Sands and the city skyline.
Equinox in Swissotel
We continue our way towards the Swissotel. It is the large cylinder-shaped building you see in the distance… got it? Ok!… let's walk the bridge, while we enjoying the scenery! That weird "Durian" shaped building on your right is the National Theater. When crossing the bridge, let's cross the street (via the underpass) and we are almost there!
When entering the Swissotel lobby, turn left and follow signs of Equinox. Usually, there is no staff present, if any you just mention you like to see the view. I never got stopped… Just walk towards the elevator and go up!… The view from both the restaurant and bar are amazing and gives you a good sense of the city, its surrounding islands and the number of high-rise buildings of this island state!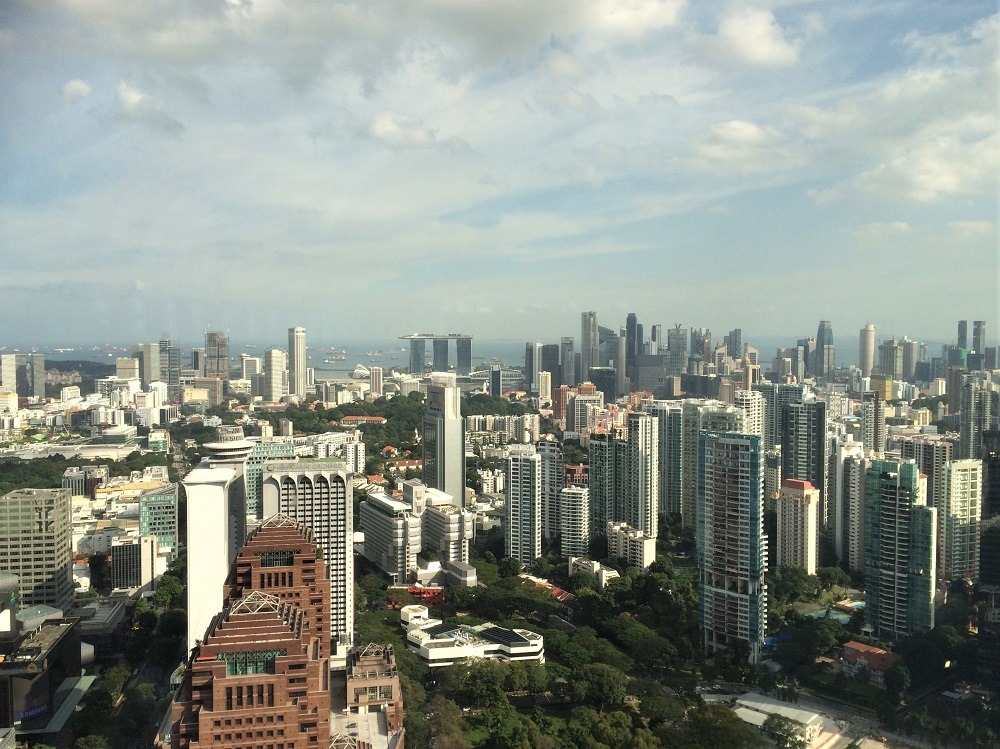 Raffles Hotel
As soon as you leave the Swissotel lobby again, you turn left and you can already see part of the colonial façade of the Raffles hotel. This is one of the oldest and high-end hotels in Singapore. You can walk (part of) its grounds freely and perhaps enjoy a coffee or roam some of its boutique shops. Do also pay a visit to the Long Bar, on the 2nd floor, this is where the Singapore Sling cocktail was invented. A great way to get a sense of Singapore's colonial past.
Bugis Market
Let's continue walking a few blocks, towards Bugis Market. This is a fun place to explore where you can buy all types of gadgets, bags, phone covers, souvenirs, street food, etc…
Top Tip: Try the very cheap fresh juices! There are various stalls.
Parkview Square
Having walked by this building often, it always stood out to me from the other buildings. Its art deco design and interior makes it an interesting stop! Also, do check out the lobby bar (best to return in the evening) where they have "bar elves" fetching drinks from the high stock cabinets. The building is one of the more expensive buildings in Singapore and houses various embassies, as well as a museum on the 3rd floor.
Arab Quarter
Let's continue our way towards the Arab Quarter, where you will find the Masjid Sultan Mosque and many boutique shops in Haji Lane. A nice neighbourhood to browse around for a while.
China Town (optional)
Depending on what time you started and how long you spent you may have time for an optional addition: In case it is early afternoon take the blue MRT line (or taxi) to China town and browse around here. There are many small shops, market stands and street food outlets. Also, do visit the Buddha Tooth Relic Temple.
Gardens by the Bay (optional)
In case you have additional spare time you could check out the Gardens by the Bay, next to the Marina Bay Sands. The giant futuristic trees light up during the night.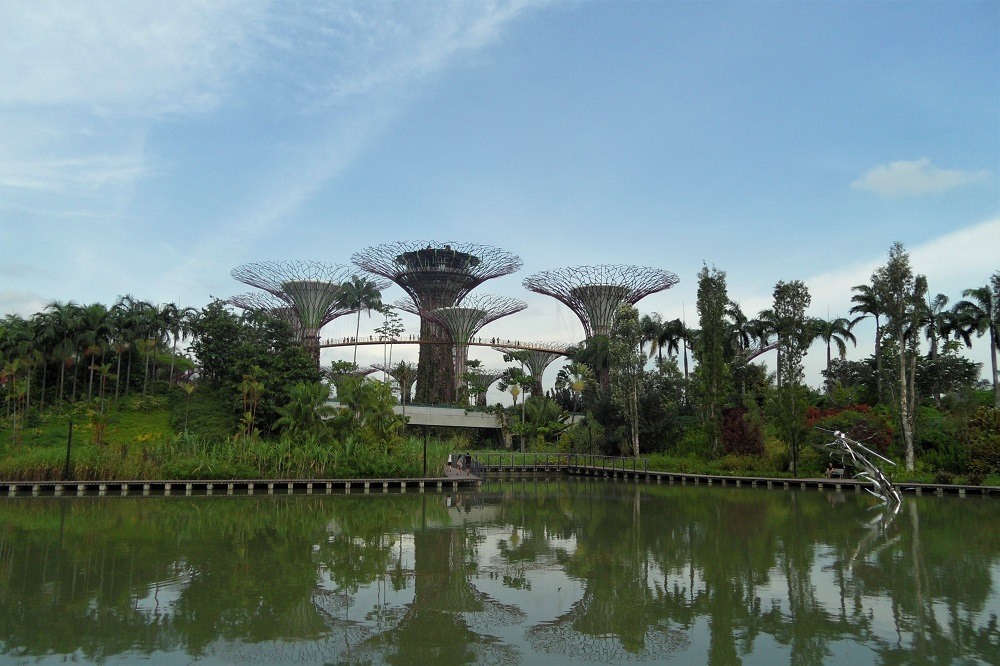 Marina Bay Sands
Around 17h start making your way to Marina Bay Sands (By blue line MRT or taxi). This is one of the most expensive building complexes in the world!
Sky bar
When in the Lobby take the elevator of Tower 1 (not the paid viewing platform tower) to the top floor. You will pass an entrance to the pool area and you will have a view on the seaside, with the many oil tankers and ships laying before the shore. Also, you will have a view on Sentosa Island. Go into the restaurant and enjoy the view over the city from the outdoor terrace. Over the years they have changed the concept, regardless expect to pay high prices for a drink (they may have changed this to a minimum spend). If asked for anything just enquire, but make sure you have seen the view at least. Even if you, after all, decide to leave. It is all depending on your budget, willingness to pay and level of cheekiness!
Another way to still enjoy the view is by using the paid viewing deck (via tower 3), here you can also have lunch or dinner (best to reserve beforehand)!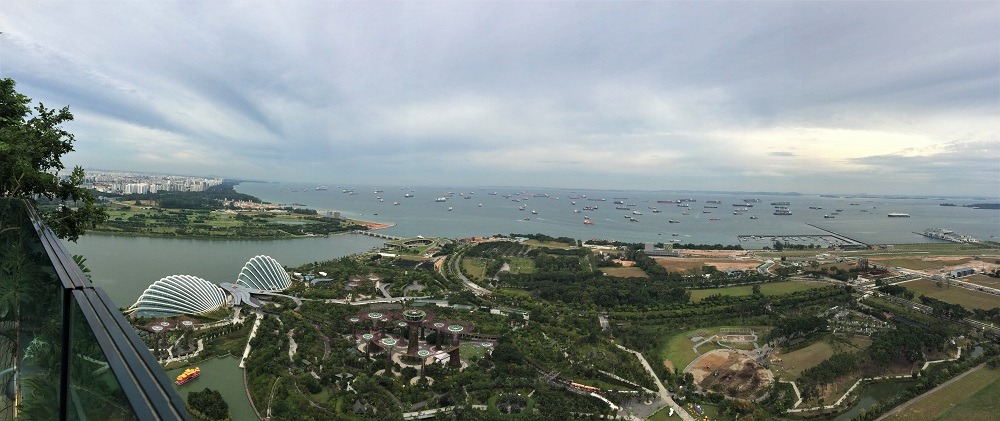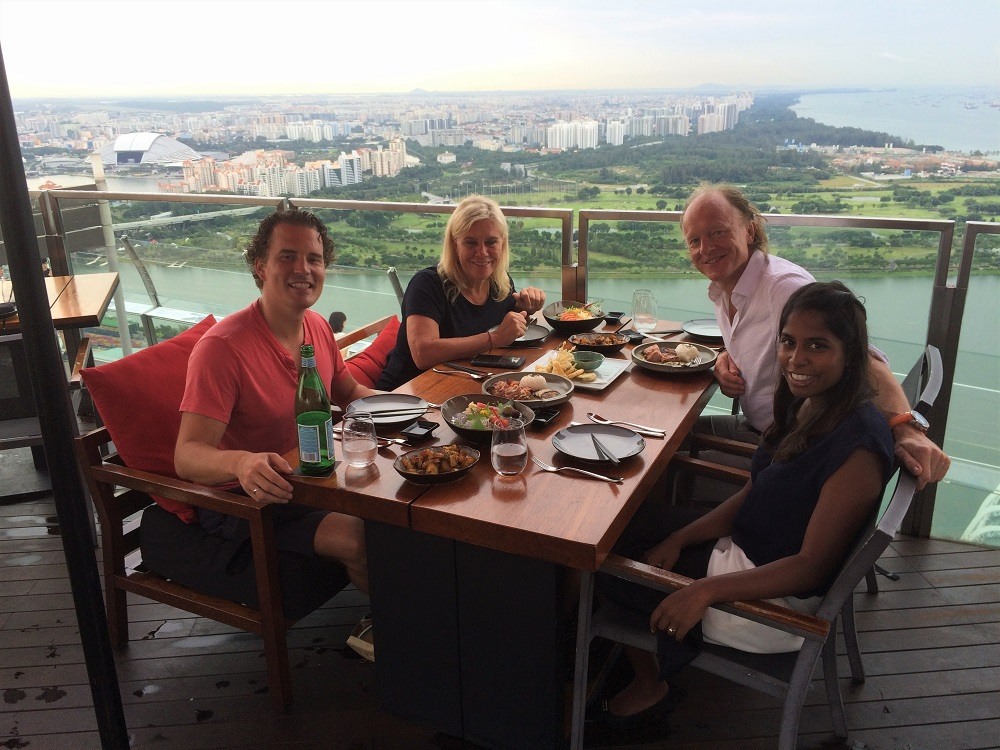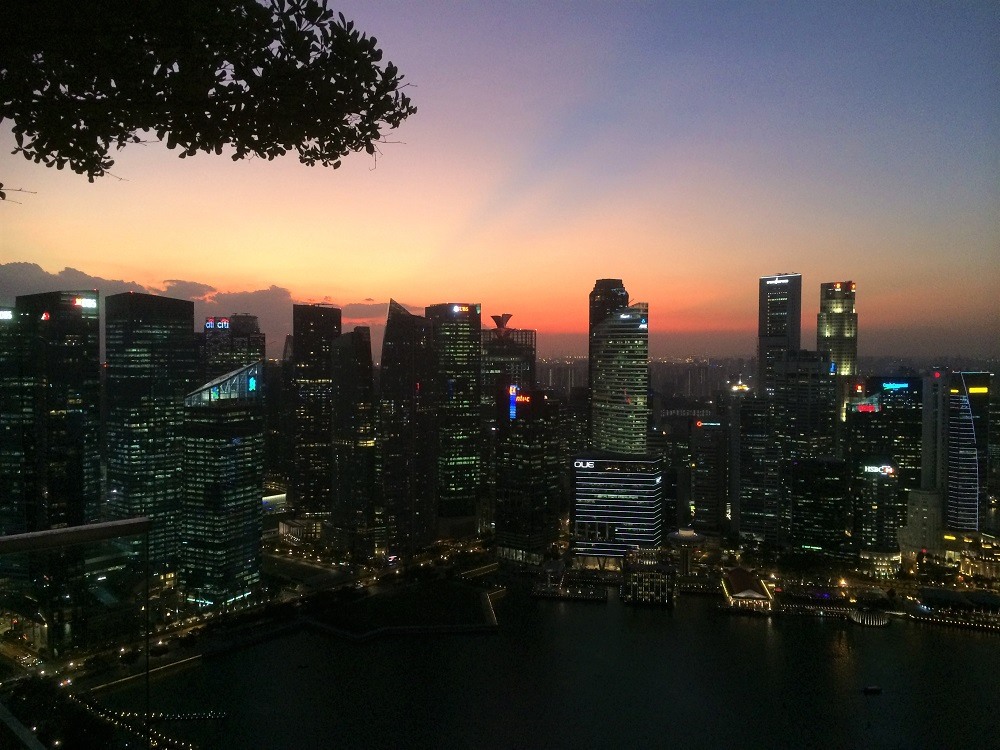 Singapore casino
Assuming you have enjoyed the sunset on top of Marina Bay Sands it is time to explore this multi-billion complex. (Marina Bay Sands is one of the most expensive building projects ever). From the Lobby, let's make our way into the mall, where we will also pass by the casino.
Fun Fact: The Casinos in Singapore are free for tourists, however, Singaporeans need to pay a 100SGD entrance fee. This is to heavily discourage gambling to their nationals while encouraging foreigners to spend their money! This provides a lucrative income stream for the Singaporean economy. In addition, Casinos are only allowed on reclaimed land (not on the mainland). This is why you only find Casinos at Marina Bay Sands and Sentosa Island.
Marina Bay Shoppes
The Marina Bay Shoppes Mall is huge! You will find almost any high-end global luxury brand or food & beverage outlet here. They have also included canals complete with gondolas (similar to the Venetian hotels in Las Vegas and Macau).
When done browsing the mall, make your way out to the promenade in front of the building for a great view of the Singapore Skyline again.
In the middle of the promenade, there are also free occasional light shows. (Enquire on the spot for the exact timings, as they may have changed).
Makansutra Gluttons Bay
It is time to stroll further over the promenade, passed the lotus-shaped ArtScience Museum (which is actually also still part of the Marina Bay Sands complex) and over the walking bridge. Walk towards and pass the large stage. This stage is used during National Day parade and is the grandstand during the Singapore Grand Prix. This piece of tarmac is the only permanent part of the F1 race track that is not actually used by normal day-to-day traffic.
Just a bit further beyond the grandstand, you'll find a small street with small food stalls: Makansutra Gluttons Bay. Find a table first and let someone keep it reserved. When you see tissues laying somewhere it means the spot is already taken
Top Tip: Use this Singaporean tactic of laying your tissues/ bag / or any belonging as well to reserve your spot.
Once you have a table reserved, you check out the various stands, pick and choose your food, pay, and collect it after a few minutes. The food is relatively cheap and the atmosphere is great! Do try the sateh, chilli crab and calamari!
Marina Bay Sands Laser Show
Given you are now further away from the Marina Bay Sands again, you have a great spot to see the Marina Bay Sands laser show! The show happens on fixed timings (e.g. around 20.00h and 22.30h), do check the website in case of any changes… It is quite spectacular so do not miss it!…
Boat Quay, Clarke Quay and Robertson Quay
If you still have the energy for it after a full day of sightseeing, do check out the Quays. From your Marina Bay Sands laser show spot make your way to the Colonial Fullerton Hotel, it is on this side of the Singapore River where you'll find lots of bars and restaurants. First, you will hit Boat Quay (bit touristy vibe). Keep walking and you will hit Clarke Quay, more focused on bars and nightlife. Continue onwards and you will be in quieter Robertson Quay, where you mainly find residents.
Top Tip: Alcohol in Singapore is very expensive. Craving a relatively affordable wine (or beer)? Do check out one of the various Wine Connections. This is the go-to place for locals and residents that like their wines and enjoy great food! Also, do check out happy hours and promotions in any place you visit, this will help you save a lot! (Never hesitate to ask any bartender or hostess for any ongoing promotions!)
Other Singapore highlights
And there you have it… We have explored the majority of Singapore within a long day of sightseeing! There are a few other places of interest you may want to check out or mix and match!…
Orchard Road
This is the main shopping street of Singapore, it is more like a "mall" street being lined with many mega malls that obviously include many more shops! When in Singapore around December do check out the Christmas lights decorations!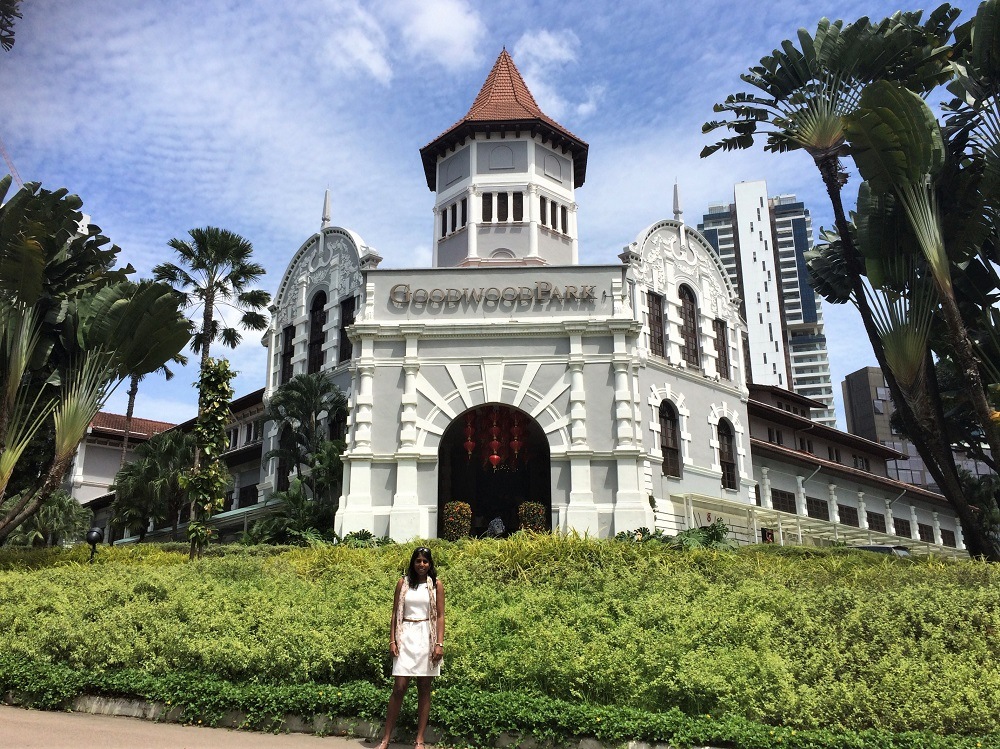 Sentosa Island
This (partly) artificial island off the costs of Singapore houses many beaches, beach resorts, theme parks and a casino. Great for a day of fun! It is connected to the mainland by walking promenade, monorail and road. There is also a cable cart connecting it to the mainland (although a bit pricy).
Little India
The only part of Singapore, where the streets are not as clean and shiny as you would expect. The crowded streets definitely do remind of India. Together with the temperature, the many colours, smell, and Indian Temples you would almost second-guess where you are. Do a search online, if there are any special festivals occurring during your visit. Occasionally there are parades or religious events taking place in this neighbourhood as well!
Discover the green side of Singapore
Like to discover a different side of Singapore!? Check out my other blog on exploring the natural side of Singapore, Pulau Ubin,  MacRitchie Reservoir and walking the Green Corridor.
I wish you a great time in Singapore! Enjoy this Ghost around the Globe insider itinerary and let me know how your experience was!…
Excited about South East Asia, do check out my stories of nearby Bali, Bangkok, Vietnam, Indonesia and Malaysia.