South Africa – Part 2: Amazing Wineries & Western Cape Highlights
Reading time: min | Published on:
We continue our journey in South Africa travelling from Cape Town and Cape of Good Hope, via Stellenbosch and Franschhoek, South Africa's most famous wine regions, and continue following the Garden Route to explore the highlights of the Western Cape; like Hermanus, Swellendam and Mossel Bay.
Let's be honest; you cannot really go wrong when visiting the Western Cape as there is so much to explore! From idyllic wineries, dramatic coastlines, nice restaurants, beautiful beaches to fun hiking & outdoor activities. In this post I will share some of my experiences, key highlights, and top tips, to fit into your explorations! However, do also explore and stop at sights of your interest, as this is only the tip of the iceberg!… Do also check out part 1 of this South Africa journey, where I describe the key highlights of Cape Town and Cape of Good Hope, we continue from here…
Top Tip: I would not even know how else to best explore the below, but it is vital that you rent a car in South Africa! Roads in the Western Cape and South Africa in general are well maintained and not too busy! So not to worry!…
Explore South Africa's famous Stellenbosch wine region
Stellenbosch, the most famous wine region of South Africa, is conveniently close to Cape town! Below is a list with various wineries that we explored! They are all great experiences in their own way… ranging from large scale fancy ones, to smaller family-run ones. Again: there are many more, so I suggest to also stop at any other you come across and grab you attention!
The order below is by location, when driving from Cape Town, just google them, when interesting add them to your GPS and enjoy your explorations!…
Lourensford Wine Estate
The Lourensford Estate is actually located in Somerset West, slightly out of the Stellenbosch region. However, I would definitely recommend this winery, not only for its wines, but also for its 'fun' tasting options, like a blind tasting and a Turkish delight pairing. The large estate has various restaurants and hosts a farmer's market each Friday!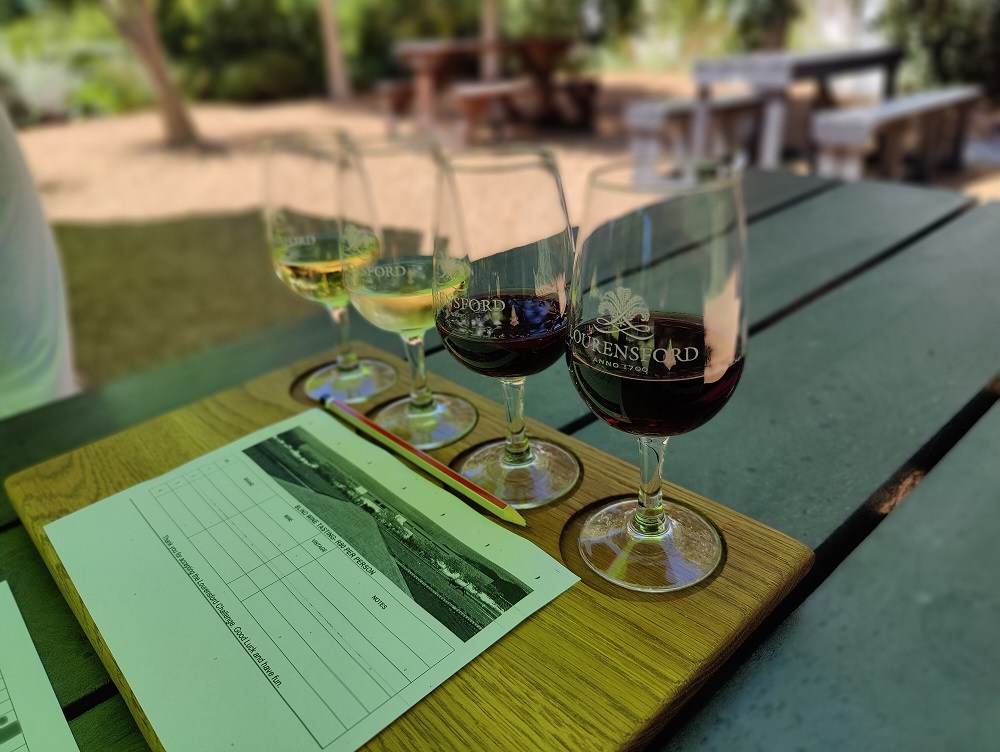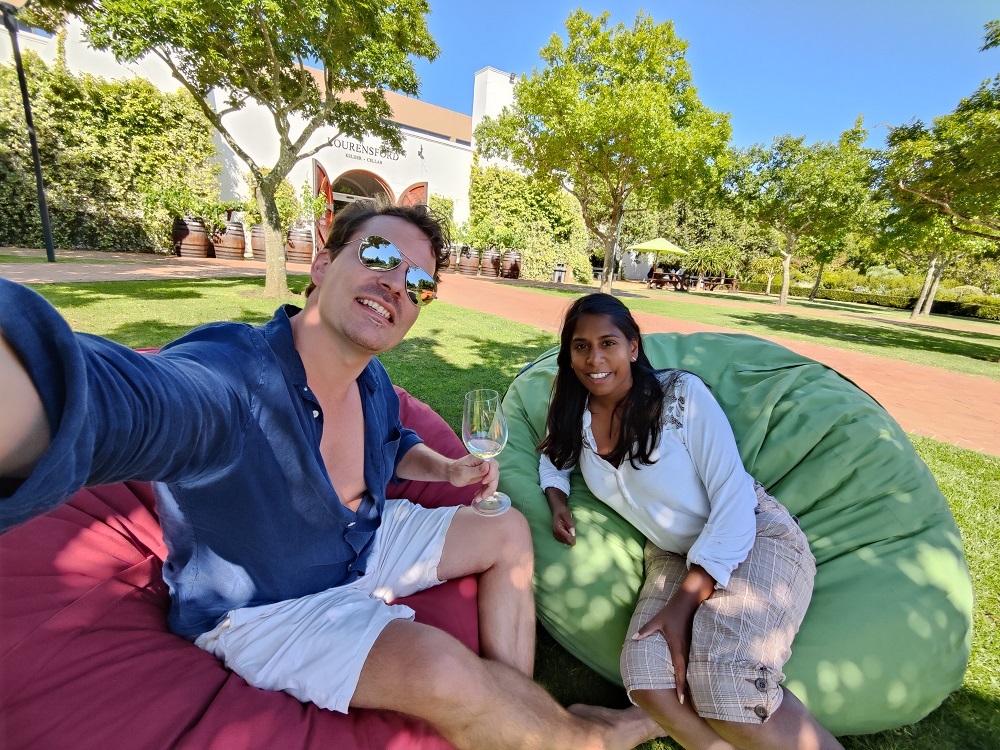 Top Tip: Time your visit on a Friday afternoon! At this time, the Lourensford estate is home to a farmer's market! Great to taste various all types of delicacies, mingle with the locals and pair your food with a bottle of wine or a local craft beer!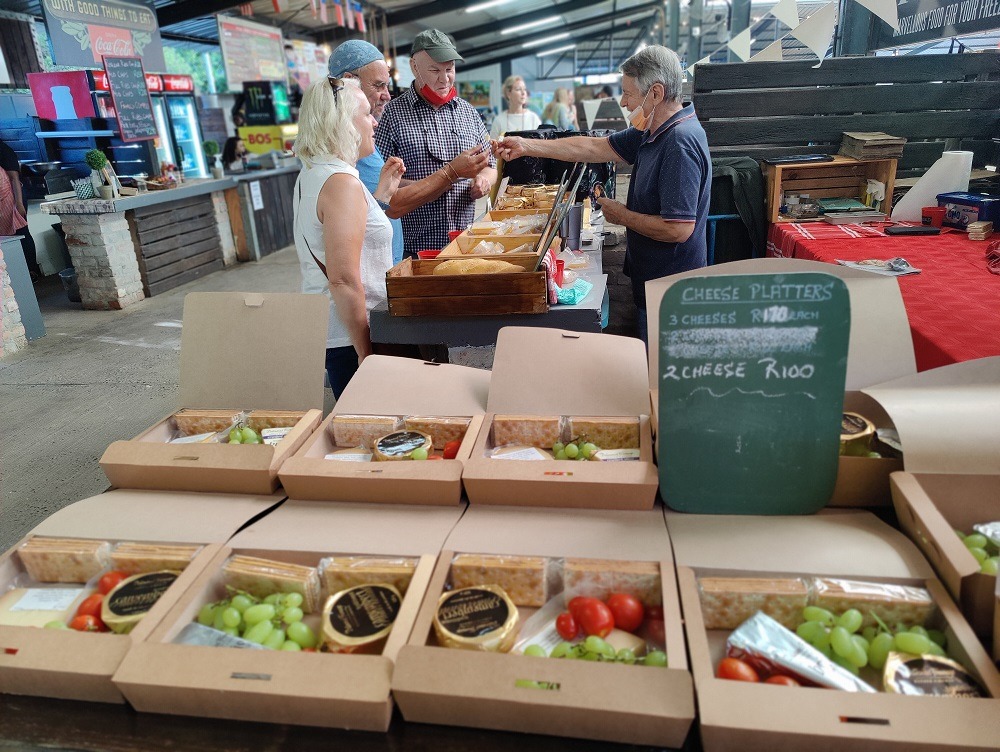 Peter Falke
Peter Falke is one of the larger wineries in the region, with a Dutch Colonial Estate architecture. It has a nice garden and various tasting rooms varying from more traditional to modern.
Rust en Vrede Winery
We enjoyed the Rust en Vrede winery very much! Especially the nice tasting room in the cellar (a great option in case of rainy weather), but they also have nice outdoor and restaurant seatings!
Waterford Estate
The Waterford Estate is nicely located, with a more 'hacienda' style architecture. We did not taste the wines as there was a private event. Regardless a nice photo stop at least!
Delaire Graff Estate
The Delaire Graff Winery is a modern and more up-market Winery. It offers fabulous views over the valley. At minimum an ideal photo stop!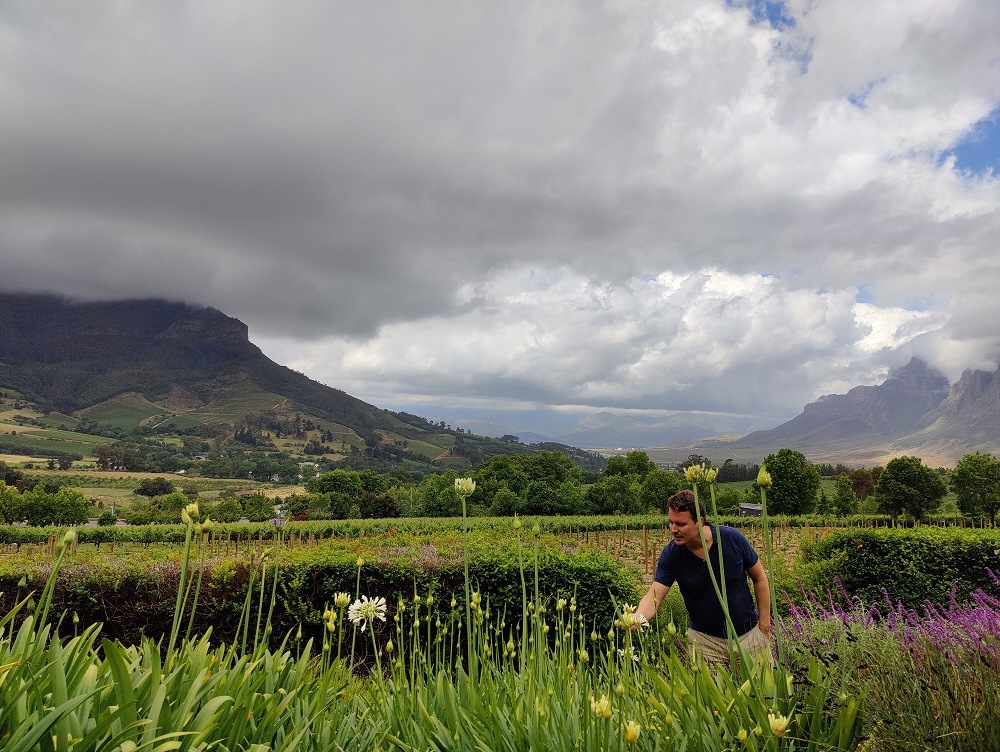 Tokara Estate
Tokara is opposite the Delaire Graff winery. We did not have time to visit anymore but have heard various recommendations! Squeeze it in if possible!
Boschendal Winery
The large Dutch Colonial Boschendal Estate is one of the oldest of South Africa, with various restaurants, tasting rooms and outside seating.
Explore Stellenbosch
Stellenbosch is both a wine-exploration tourist hub and university town. No wonder the town is dotted with nice restaurants, lively (wine)bars, shops and art galleries, along Dorp street, Church Street and Plein street.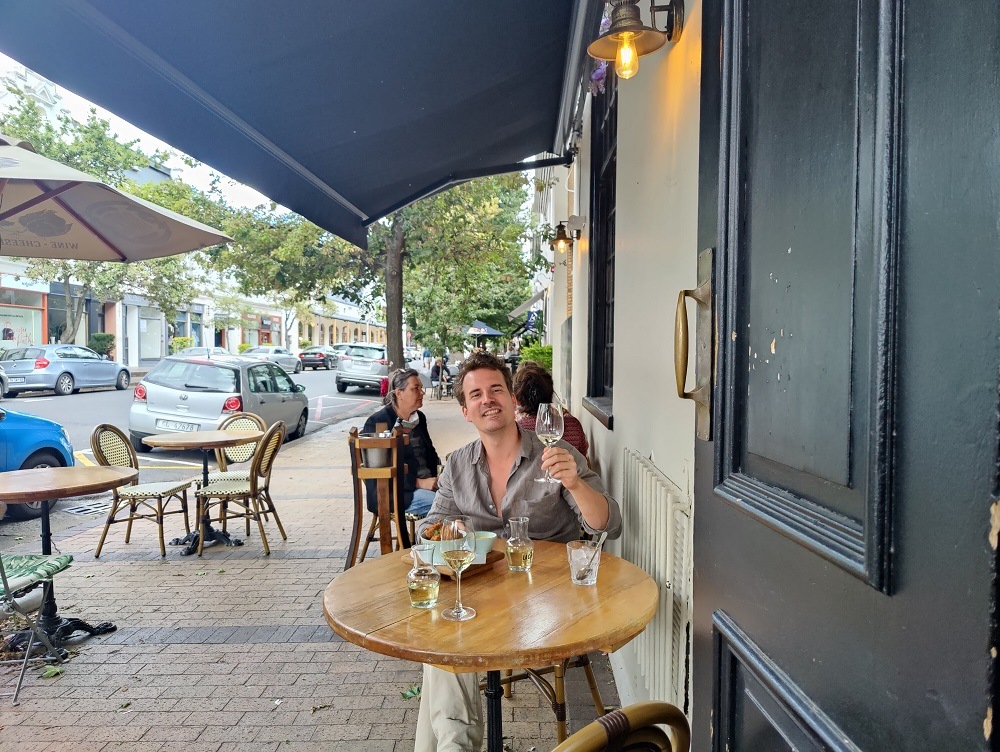 Hop on the Wine Tram of Franschhoek
Stellenbosch is of course not the only town to explore there are many others like it! One of the other top picks is Franschhoek!… This town has another major benefit as they found a fun solution to the bad combination of wine tasting and self-driving: The Wine Tram!…
The Franschhoek Wine Tram tours you around the various wineries, via a hop-on-hop-off concept. You can still pick-and-choose your wineries yourself or just try them all!… Via this tour you spend around 1 hour at each winery, after which you are picked up and dropped at the next again. Depending on your day of visit there are various tours offered that include different wineries. See the link to the Wine Tram website for more information.
Top Tip: Book your tickets in advance (as some time slots fill up fast) and do your research beforehand on the wineries. Especially check where the tastings also offer food, so you can plan where you like to be around lunch time, etc.
Best Wineries of Franschhoek
Well, this wine tram made our life a bit easier! Let's follow our (red & yellow) itinerary. We chose to skip some wineries, for (lunch) time reasons, but you definitely do not have to! The earlier you start the more you are able to taste!…
Franschhoek Terminal
This is where you take the tram and/or interchange with the bus lines. All tours start here, and this is also where you can buy tickets (if not purchased before, as recommended)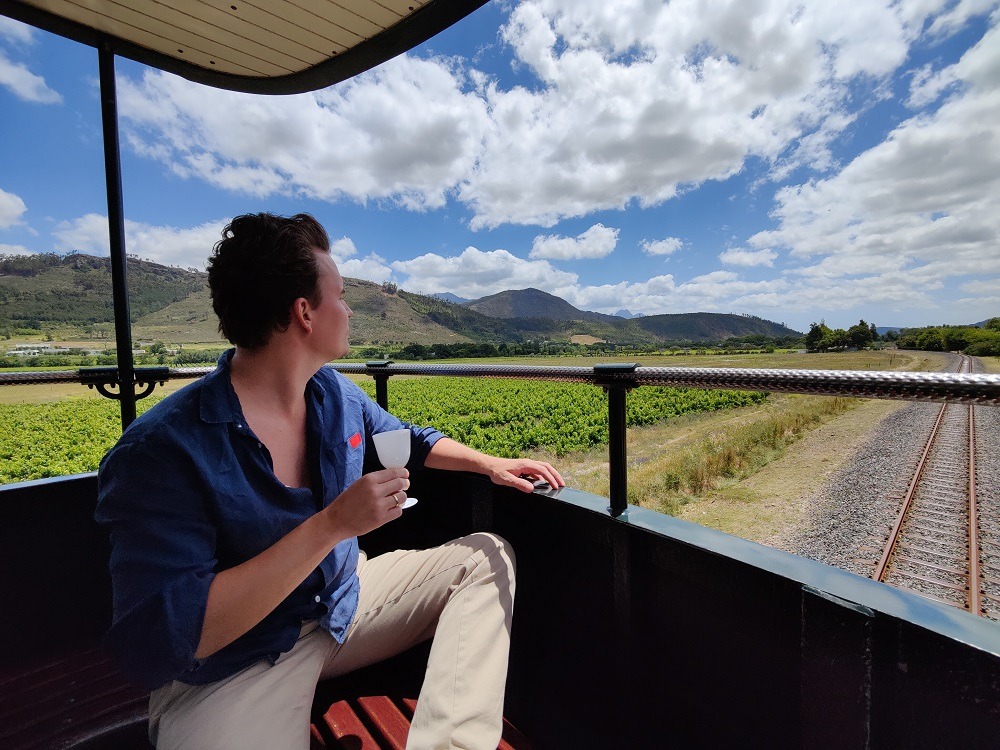 Le Lude Winery
Le Lude 'only' focuses on sparkling wines. For time reasons we decided to skip this one. We were the only ones to not hop-off, which meant we were alone at some of the next wineries. Perhaps we were 'lucky', but depending on your starting time you may have the same result, turning your experience into a private tour.
Maison Winery
We decided beforehand to skip the Maison winery as well, mainly for (lunch) time reason as we found out that at the next stop we could order a nice charcuterie and cheese platter. If timing your visit differently it may be a nice stop for you!
Eikehof Winery
Eikehof is a smaller scale, family run winery. You are immediately greeted by the family and (perhaps because we were alone) we got a lot of attention and additional wines to taste! In addition, we enjoyed a nice charcuterie and cheese platter, and we got some peaches from the land! Great experience, and highly recommend to visit Eikehof!
Top Tip: Not all wineries offer food, and some wineries only offer food on weekend days. Do you research! Eikehof may be a great stop to get some food in your system in between the wines.
Keep an eye out for the huge Protea flowers on the estate, the national flower of South Africa. A few were blooming beautifully during our visit!…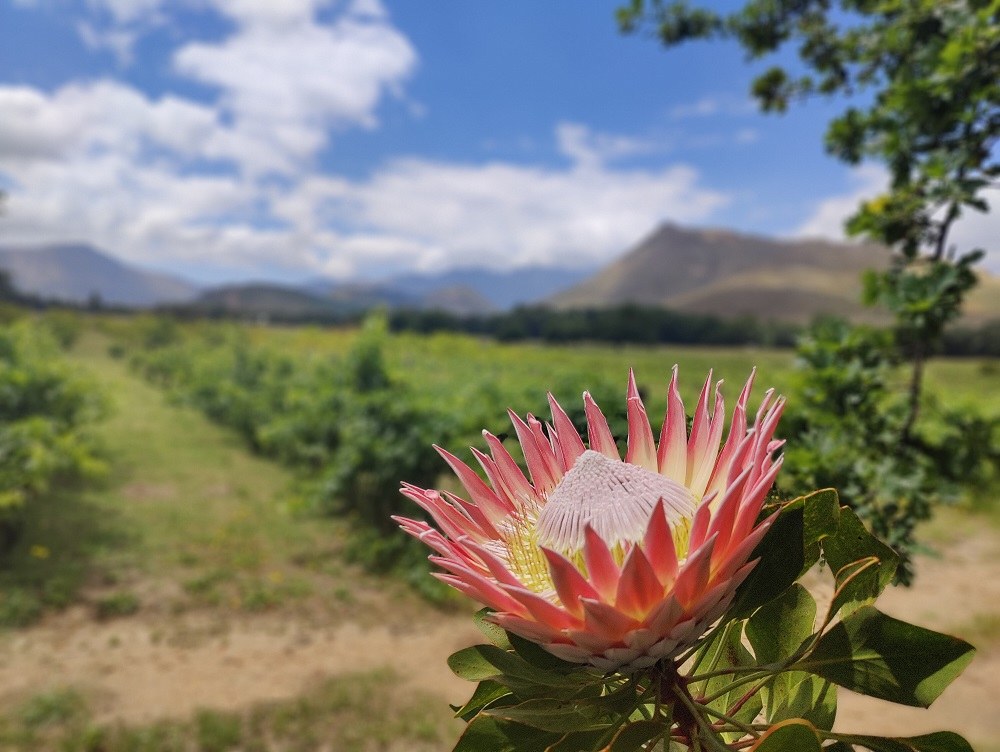 Lynx Winery
We skipped Lynx winery, as we wanted to head out to the tram line (this first leg is by 'old-timer' bus). However, it actually looked nice and we were in doubt not to go back (Which is an option as well, you get picked up by car of the Wine Tram organization – but in the end decided not to). However, In a future visit will definitely include it, as it is nicely located with great views!
Paserene Winery
The Paserene winery came recommended by Eikehof staff as well, (here the wine world is a small world where everyone knows each other). Hence, we name dropped a bit and received a great tasting here as well!… Pasarene has a nice tasting room, with a terrace overlooking a small pond with the mountains in the distance.
Grand Provence Winery
After making the transit at Franschhoek terminal, we finally made it onto the Tram! There unfortunately only 3 stops on this tram line, which I hope they can extend at some point in time. Anyway, next stop: Grand Provence!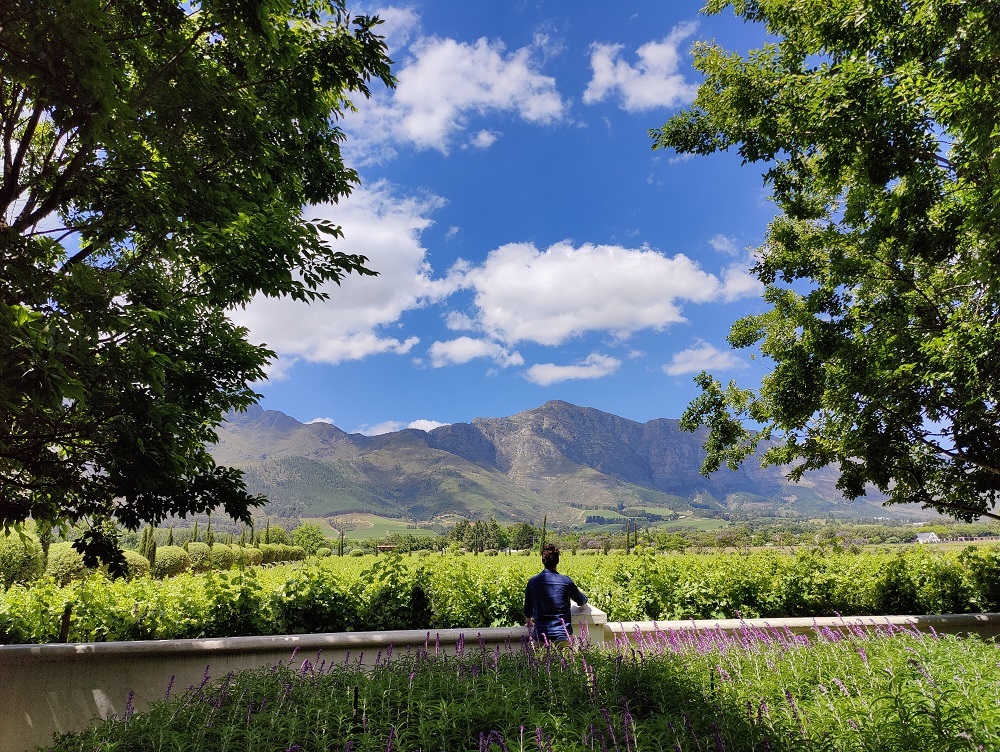 As various earlier visited wineries, Grand Provence's main buildings are also of Dutch Colonial architecture. The estate displays various pieces of modern art pieces its outdoor areas.
After our Nougat pairing wine tasting we walked back to the tram station, taking in the scenery (instead of taking the tractor shuttle).
Rickety Bridge
Also, the Rickety Bridge Winery, picks up its visitors via a tractor shuttle from the tram station. A nice winery and already the last stop and turning point (as the next stop is the Franschhoek Cellar (next to the terminal). Again, it would be so nice if the tram line would be longer (must be possible as you are anyway picked up with tractor shuttles to get to the tasting locations).
Franschhoek Cellar
We had a few last wines at Franschhoek Cellar, but you could also end your tour here and venture out to the various (wine)bars or restaurants in Franschhoek.
Franschhoek as a town is smaller and quieter compared to Stellenbosch. We ate some South African Steak for dinner at our hotel before going to bed early… These wine tasting days are quite exhausting but so nice!…
Driving onwards on South Africa's Garden Route
Honestly, I was expecting a far more beautiful scenery when I first heard the name 'Garden Route'. I was imagining roads and viewpoints as seen on our journey to Cape of Good Hope in Part 1 of our South African journey and similar to the Big Sur on our travels to the USA. The 'problem' is that most of the road is not following the coastline (as I wrongfully expected). Instead, you mainly travel inland through hundreds of kilometers of farmland (hence the name garden route, I imagine). My bad, but thought good to share!
Whale watching from land in Hermanus
The next stop is Hermanus, famous for its whale watching opportunities from land. Given Amanda has a tendency to get sea sick quite fast this sounded amazing!… Hermanus is one of the many small coastal towns you find along the West and South Cape. It has a beautiful walkway along its cliffs from where you can overlook the bay and if lucky spot wildlife like seals, dolphins and whales.
Unfortunately, we did not spot any whales, we are also at the edge of the season which runs from June to late November. When checking with some of the whale watch companies, they did not sail out anymore and also did not have any sightings further at sea over the last days. Too bad! Perhaps next time!
Hermanus is anyway a nice (photo) stop along your journey, with a potential exciting bonus of spotting some whales! We bought some takeaway fish & chips for lunch at the watch point, before we drove onwards!…
Go blackberry picking in Swellendam
Originally we planned to drive from Cape Town to Port Elizabeth. However, we landed on the same day the Covid-19 Omicron variant hit Southern Africa. This meant panic in the rest of the world (luckily not in South Africa itself), cancelled flights and change of plans. In reality we did Swellendam on our way back to Cape Town.
Top Tip: As said, I would try to avoid driving the 'boring' Garden route as a return trip, and do as we originally planned: Drive only one way from Cape Town to Port Elizabeth (or vice versa), hand in your rental car and fly onwards.
So, we actually visited Swellendam by chance, and this would be your logical next stop after Hermanus. We were happy that we did, as this is one of the oldest Dutch settlements in South Africa. There are various old colonial buildings, quaint museums, coffee shops, bakeries and restaurants to enjoy. Swellendam is also a good base to explore the various hiking trails and some of the surrounding wineries.
Still processing the wines in our system, we were happy to hear about another fun activity; We got a good tip; blackberry picking at Wildebraam Berry Estate. So off we went… you buy a bucket and can enter the fields yourself, pick as much as you like and afterwards your pay by weight. A fun activity and costing next to nothing!…
Top Tip: bring your flip flops! Very strange, but you need to cross a small river. In case you do not want to have wet shoes, I would suggest going barefoot! Wildebraam owners, if you read this, perhaps invest in a simple walk board!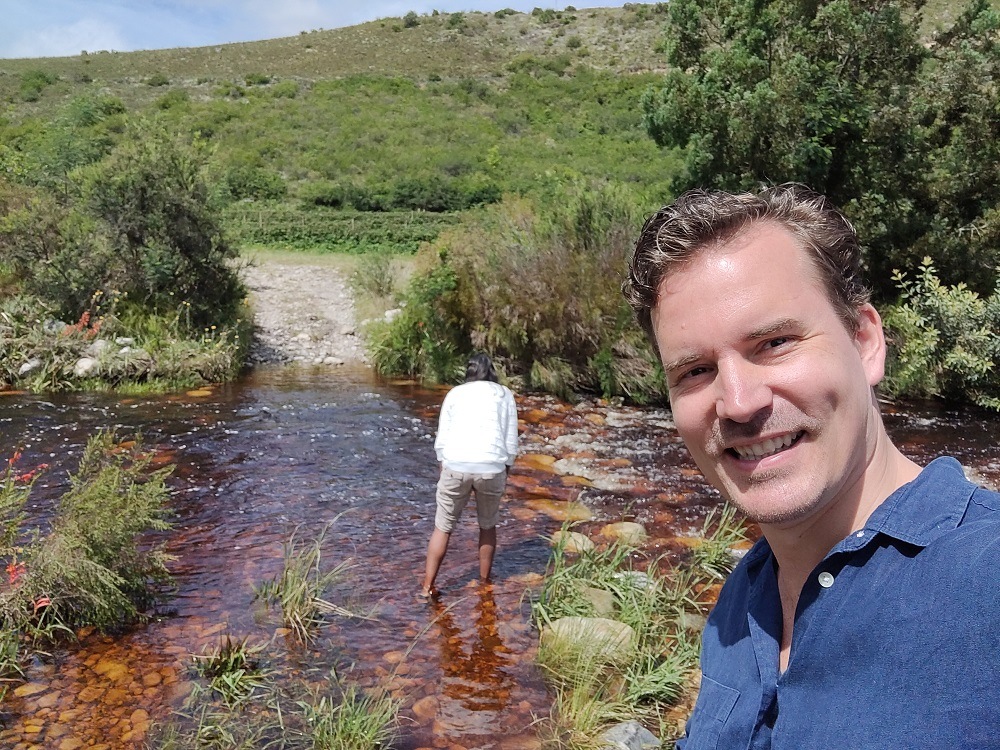 Create your own gin in Mossel Bay
After our Wildebraam adventure head to your next stop: Mossel Bay. The town is not as nice as some of the other towns along the coast, but it is a good location on your way to Port Elizabeth.
As a loyalty reward I received a free master class at our Hotel's Gin Distillery; Cape Saint Blaize. A very fun activity that I happily recommend! During this extensive mater class, you receive great explanations and create your own bottle of gin from scratch! Very much enjoyed it!…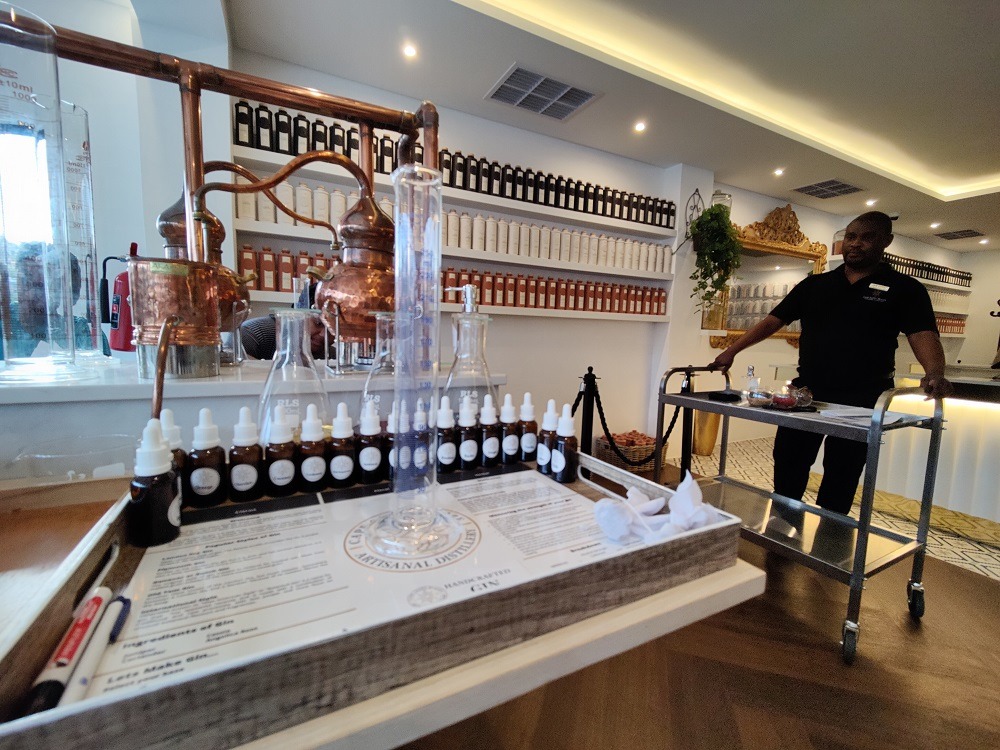 Botlierskop Private Game Reserve
If you have read my previous posts, you know that we have had the luxury of several African safaris in Kenya, Tanzania and Namibia. These were all in National Parks, but as in many African countries there is another way to get close to wildlife; Private Game Reserves. Simply said, these are large stretches of privately owned land with (mostly) introduced wild animals. The animals roam freely, where meat eaters (like lions) are (usually) kept in a separate stretch of land and feed on the animals roaming in that area.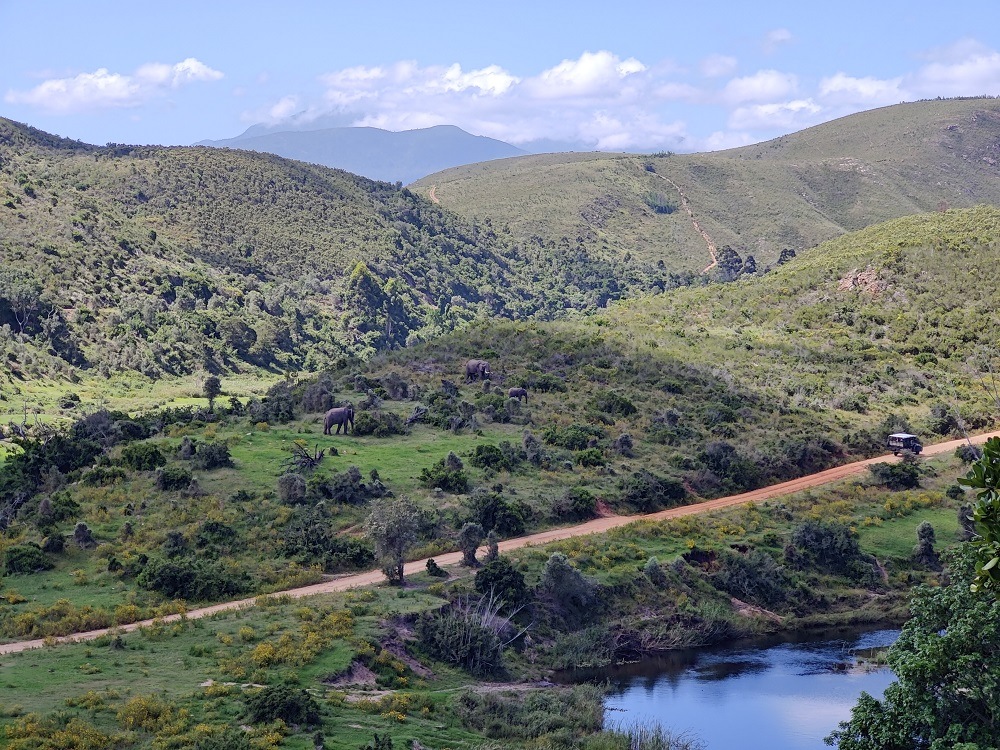 Personally, my preference would go to National Parks, but Private Game Reserves, like Botlierskop, do provide an easy way of spotting wildlife, it usually provides luxurious lodgings, and I can therefore definitely see the appeal!
Speaking of luxurious lodgings, we opted for the most exclusive setup, including private jacuzzi overlooking hills with Rhinos and elephants roaming at the other side of the river. Fabulous!…
Top Tip: It is a splurge, but a great way of including a safari experience when 'only' staying the West Cape Area (with a lack of National Park safaris). Stay one night at a private game reserve like Botlierskop. Include an afternoon safari, followed by a fancy dinner. The next day enjoy your luxurious breakfast and continue your travels!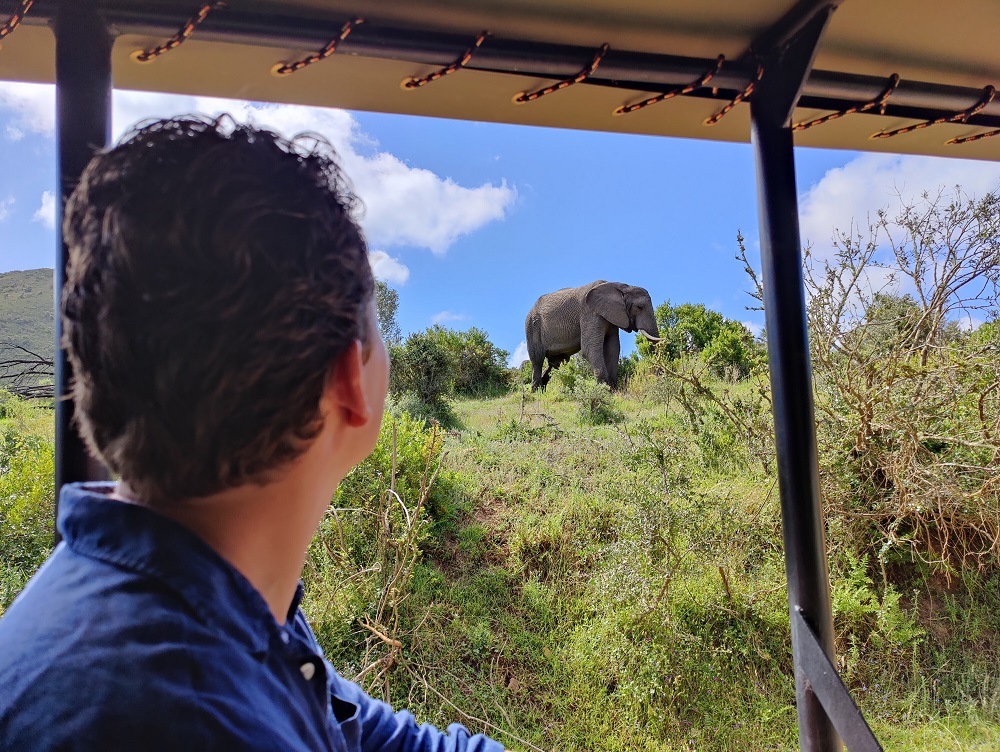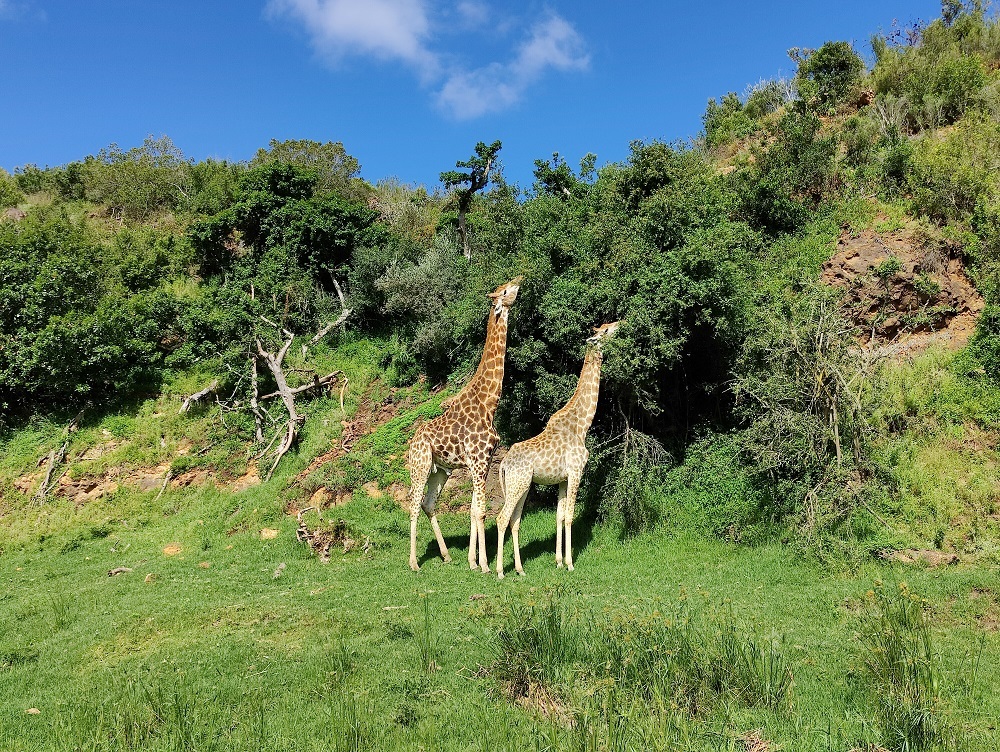 Concluding the South Africa Western Cape road trip
From here it is a relatively short drive past some other South African coastal towns like George and Knysna towards Port Elizabeth. From our research, no need to spend much (if any) time at Port Elizabeth and fly onwards…
Well, this brings an end to our South African Western Cape adventure! I must have been quite clear; I highly recommend Cape Town and its beautiful surrounding region! It is a total package, with great wines from beautiful wineries, great value-for-money restaurants, amazing coastlines and an abundance of hiking and wildlife adventures! And now with this Ghost Around the Globe tips & tricks it should be easy to start your own explorations!…
Still did not read part 1 of this adventure, read all about Cape Town and Cape of Good Hope. Thinking of combining this trip with Namibia? Great choice read all about how!…