Splurge at Dubai's luxury Desert Al Maha hotel
Staying a night at the luxury Al Maha desert resort in Dubai does not come cheap! It is ranking high on many global top & must-stay hotels lists… No surprise given its unique setting and services comparable to ultra-luxury hotels as on The Maldives. To get you even more excited… we stayed here FOR FREE and I will explain how below!…
Located in the heart of the Dubai Desert Conservation Reserve
What makes Al Maha so special (and different to some other desert resorts) is that it is located in the heart of the Dubai Desert Conservation Reserve. 'Al Maha' is Arabic for Oryx, and for a good reason, as the reserve has been dedicating itself in (re)introducing the Arabian Oryx. Saved from near extinction, this has resulted in the largest free roaming herd of Oryx (over 300) in the Gulf region.
In addition to the Oryx, you will likely spot various other animals, such as Arabian and sand gazelles, Rueppell's fox, Arabian red fox, hares, and the Ethiopian hedgehog.
At night, you may even see (the tracks in the sand of) nocturnal gerbils and jirds, an amazing array of lizards, 'sand-fish' and geckos, side-winding vipers and the tiny Arabian toad-headed agama.
This in addition, to the many birds of prey such as ospreys, falcons, owls and eagles are seen daily!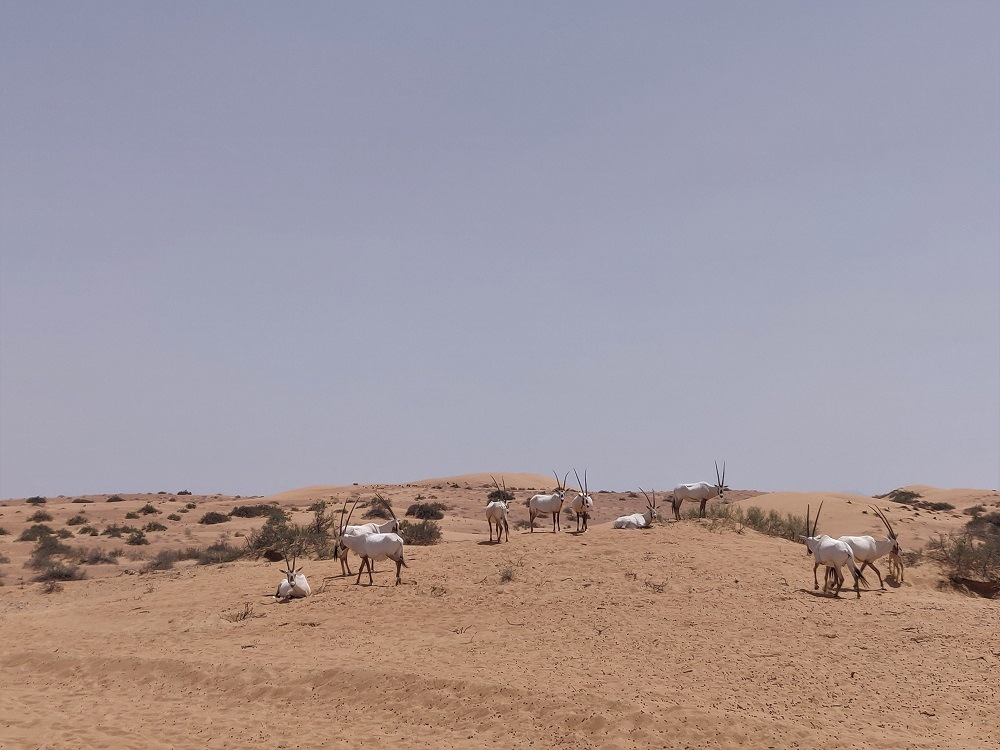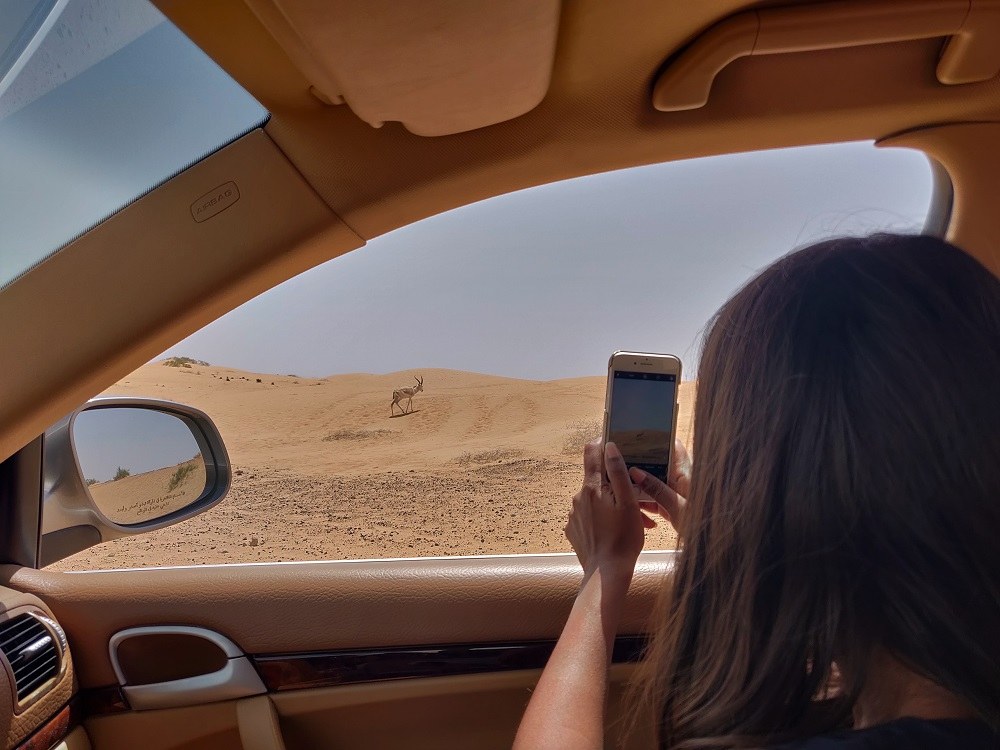 The unique Al Maha setting
The resort is made up out of the main building with reception, restaurant, spa and main swimming pool. Scattered around are the 40+ bungalows, all with their own private infinity swimming pool. The setting holds somewhere in the middle between a luxury safari tent camp like we experienced in Kenya and an exotic stilt house bungalow like in The Maldives. The difference here is that instead of looking out at sea, you are looking out over the wavy sands of the Arabian dessert.
The amazing Al Maha all-inclusive package
What I especially like about the Al Maha resort is that your meals and (soft) drinks and even some desert activities are always included in your stay!… Let me give you a breakdown and some tips to get the most out of your stay!…
Arrive in the morning and start with Lunch
Check with the hotel staff if you are able to check in early. I highly recommend to even check with the hotel staff and book during a quieter period to increase your early check-in chances!
Top Tip: Especially if you are a Marriott platinum member, make use the early check-in and late check-out option… Trust me time at Al Maha flies by and you want to make the most of it!…
The earlier you arrive the better, the scenic drive through the reserve and the check-in process will all take some time. Even in case you are unable to check-in early, you can already explore your surroundings, perhaps do an activity (as below) or enjoy the pool!
Top Tip: Whatever you do, make sure you are in time for (early) lunch at the restaurant. The amazing views from the restaurant will directly put you in the proper Al Maha mood!… Trust me, portions are enormous and the food is great, hence lunch early to leave space for dinner! Even better: Enjoy your room and private pool on your first day as soon as possible and order an easy lunch via room service (saving space for the dinner – see below).. and save your complimentary late lunch for the next day!
Enjoy your Al Maha bungalow and private pool
In the afternoon, post lunch, enjoy your Bungalow and private pool! This is really one of the key reasons to book Al Maha… enjoy the views and relax!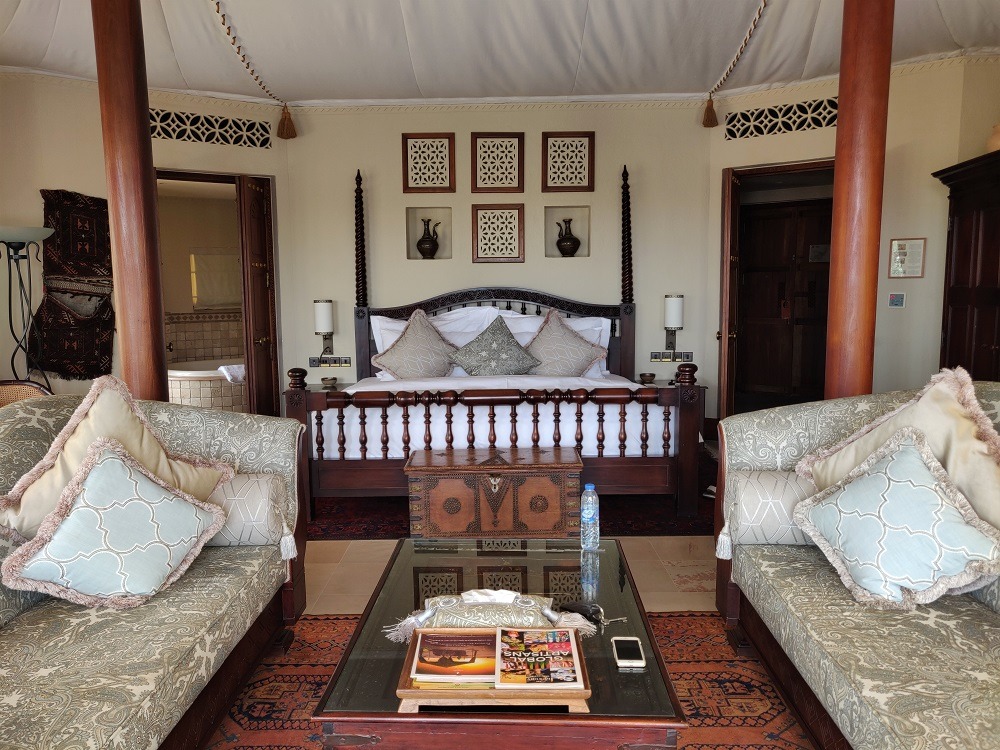 Throughout the afternoon we did have a few cheeky but shy visitors here and there…
Ride your camel into the sunset
As mentioned, your package will likely also include a choice of activities. I definitely recommend to include the camel sunset tour!… Departing from the main pool area, a short camel ride will take you to a view point over the resort and the desert… Completely in style Al Maha staff have setup a temporary bar here for a sundowner!… Just great!…
Top Tip: Camels are limited, so inform the hotel upfront that you like to book the camel sunset tour. If waiting until arrival you could miss out. Especially if you are only staying one night.
Dinner time already!
I told you, time flies by at Al Maha! It is already dinner time, even though we were still digesting our great lunch (so perhaps better to opt for a simple room service lunch, as mentioned above)… Definitely have dinner at the restaurant (as opposed to in your bungalow), complete with torches overlooking the dark vast dessert plain. Again, the multi-course dinner was wonderful, with excellent food quality!…
Enjoy an evening plunge & good night rest
Having your own pool is definitely inviting for a post-dinner plunge!… The water is temperature controlled, but depending on the time of year (and the water temperature setup) the water can still be quite chilly!…
After a full day of relaxation and being pampered I am sure you will have a good night's rest…
Our morning Al Maha activity of choice: archery
As our second activity we choose archery. Do pick your second activity wisely, especially if only staying 1 night. An activity like archery meant we could pick a timing the next morning, and we wanted to enjoy our Bungalow during the afternoon on the day before.
This curious gazelle seemed to be tired of life… roaming on the archery field…
Order in-room breakfast
After our archery experience, it was time to order breakfast… We decided to have this at our room, instead of at the restaurant, so we could enjoy our bungalow a bit more until check-out.
Top Tip: Especially if you are able to get a late checkout, do order your breakfast at your bungalow. Best to order as late as possible. As mentioned portions at Al Maha are large and you can order whatever you like… This means you will definitely not feel hungry until checkout.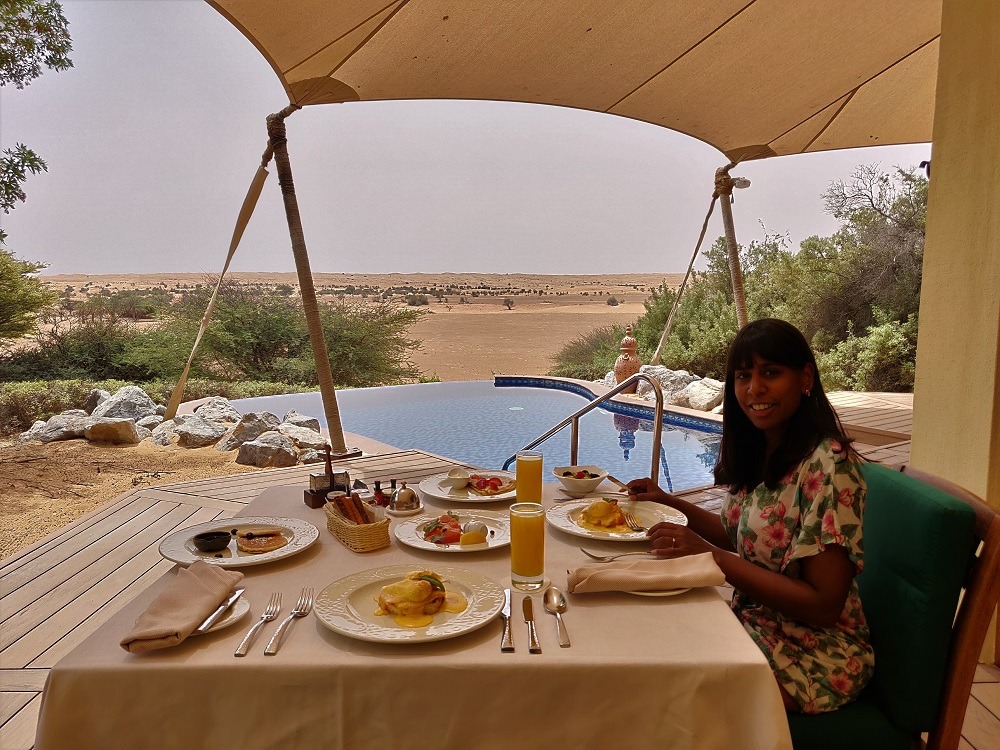 How to enjoy Al Maha desert resort for free
I hear you think, "this all sounds amazing, but how did you manage to get all this luxury for free?" Well, that is quite easy… by using my Marriott Bonvoy loyalty points to pay for this stay. I gathered these points due to earlier stays at Marriot hotels and because of my SPG/Marriott credit card.
I know, you could argue that using your points in not completely free, as I could have used these points for other hotel stays. Then again the great thing about staying in this hotel with your points (at least during my stay) is that it also includes all your meals, (soft) drinks and two activities! Without going into too much detail, if you look at it mathematically and take into the account the (very) high price per night of Al Maha and calculate it back to a dollar per point ratio, you soon realize this is (by far) one of the best hotel deals (worldwide) to use your points!…
Another trick you could try is to buy Marriott Bonvoy points on their website, especially during certain promotions. This way you can save excessively on this otherwise high priced desert resort.
Well that brings an end to this Ghost around the Globe luxury adventure at Al Maha Desert Resort!
It certainly is one of the nicest hotels I have stayed!… Do check out your possibilities to include this in your Dubai itinerary (follow link for my insider top picks), find an excuse to splurge or use your loyalty points!
Eager to save budget, but still like to enjoy luxury while travelling? Do read how I stayed for free on The Seychelles, 5 ways to save money on the Maldives! And what about my tips how to save money in the UAE and Oman?