Sri Lanka: Top things to do in the land of Smiles and Elephants
Reading time: min | Published on:
We visited Sri Lanka as part of our honeymoon and combined it with The Maldives. This is a great combination given that on The Maldives your main goal would be relaxation, whereas Sri Lanka is (or can be) a very active travel destination! When looking for lots of variety, culture, beaches and even safari, Sri Lanka, compared to other islands in the Indian ocean, like The Seychelles and Zanzibar, has the most to offer!  Let's discover this beautiful tropical island full of friendly smiles and countless elephants!… 
Travelling in Sri Lanka
Take into account that the terrain of Sri Lanka is quite mountainous and the road network is developing. This means you should expect quite some time on the road, even when places of interest seem not too far from each other. As mentioned, we were on honeymoon and therefore hoped on a relaxed travel pace. We stayed at more high-end accommodations and hoped to enjoy these, in addition to exploring the countryside. However, due to the long travel durations and the (perhaps still slightly over-packed) itinerary we felt a bit rushed here and there…
In hindsight you may change the below itinerary to allow more time 'on the road' and less at the beach (especially if you plan to go The Maldives afterwards). Nevertheless, as you will see, the pace is likely ok for normal travel but it was a just a bit too much for a honeymoon… Then again we already relaxed quite a bit in The Maldives… Anyway, enough being said… let's dive into Sri Lanka!…
Day 0 – Staying the night at Negombo
On the evening before starting our tour we arrived in the capital Colombo, from where we directly went to Negombo, a large beach town, to stay the night. We did not see too much of this, but from what we saw I would suggest other beach places over this… see below.
Top Tip: Most key highlights of Sri Lanka are connected via a circle-shaped road trip. We travelled clock-wise from Colombo, hence staying in Negombo saves you around 1 hour on your next day's explorations!
Day 1 – Pinnawela – Dambulla cave temple – Sigirya Rock and Polonnaruwa
On our first day we dove directly into a key returning theme of Sri Lanka: Its many elephants!… This time we visited the Pinnawala elephant Orphanage. A great way to get up close to these beautiful animals. Sri Lanka, but this town in particular, seems all about elephants, as the friendly grey mammals are also escorted across town to the river for their washing ritual.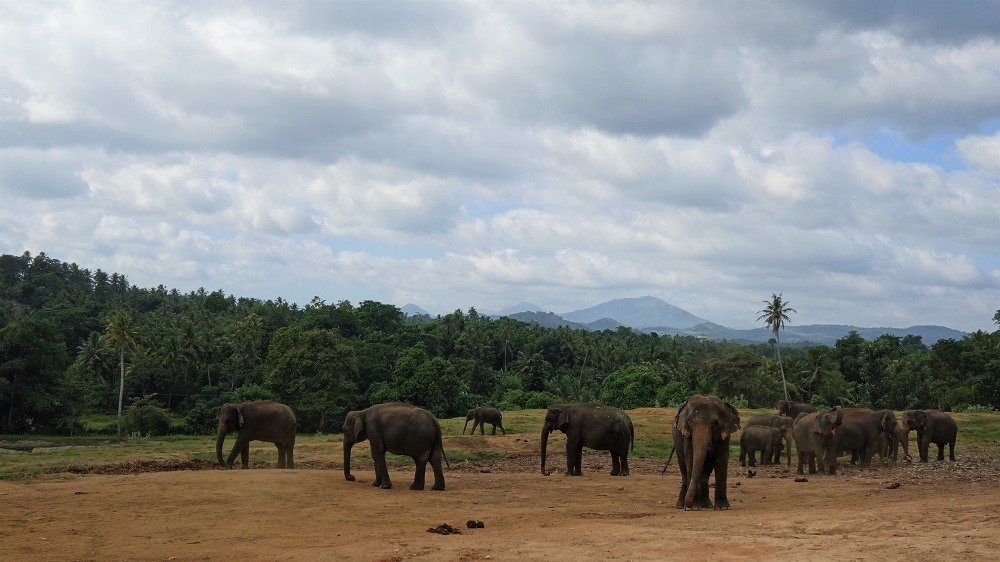 Dambulla Cave temple
After the Pinnawala stop we drove onwards to the Dambulla cave temple. A very impressive temple complex which is carved out of the rock and built in a cave.
Top Tip: Bring some scarfs or thin towels with you (you can also buy them on-site at souvenir shops)… Ideal to cover yourself to enter the various temple complexes. They do not weigh much, let the air through and you can even use them as (emergency) towel on Sri Lanka's many beaches. Added benefit: they dry very quickly.
Beware of the cheeky monkeys on the stairway leading up to the temple complex!
Sigiriya Rock
A key sight of Sri Lanka is Sigiriya rock. This rock used to be even more impressive, as in the old days the rock (which is more like a small mountain) was carved out as a giant lion. Currently only the feet at the bottom of this city ruin give an idea of the grandeur of this ancient rock fortress.
The sight is not only a cultural highlight, but also offers a great viewpoint over its surrounding valley.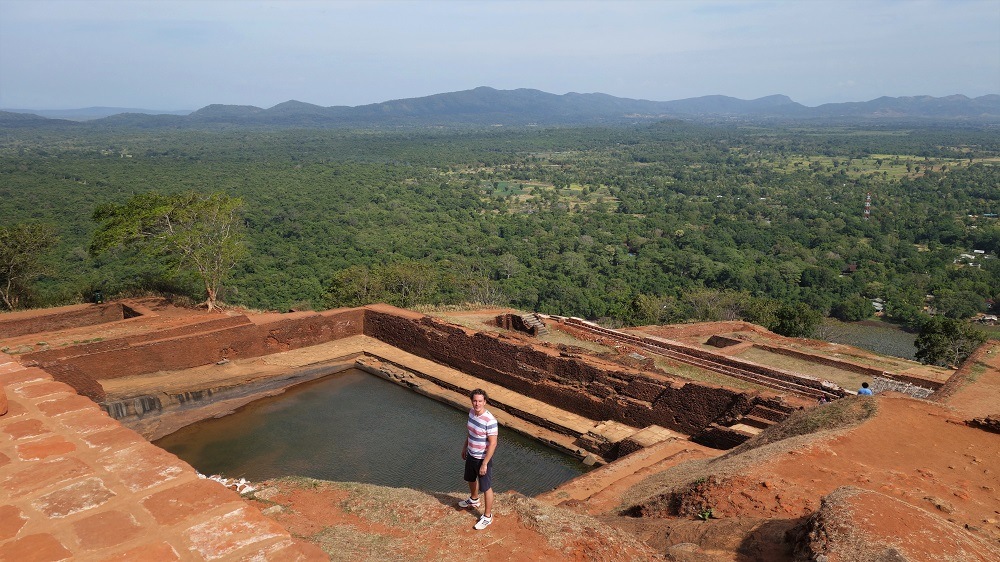 Polonnaruwa
We stayed in Polonnaruwa, a town with various archaeological sites. The original plan was to cycle around this old city. However, we arrived just before sunset and decided to relax a bit at our lake hotel. In case you have more time, do check out the cycling options, it is usually a fun way to explore!… (read about our similar experience in Bagan, Myanmar).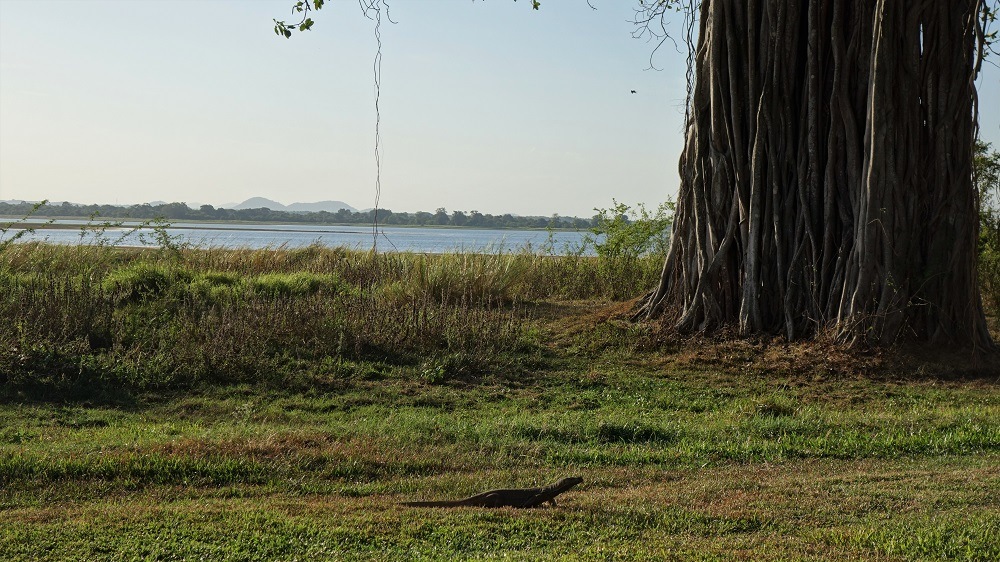 Day 2 – Sri Lanka wetlands and Minneriya National Park
We decided not to do the Polonnaruwa cycling tour anymore, but instead be on our way to explore the green and agricultural side of Sri Lanka; the wetlands surrounding Polonnaruwa and Minneriya.
Just before we reached we came across 2 giant monitor lizards in a small roadside creek. Very impressive and the resemblance to our Indonesian komodo dragon encounter was striking!…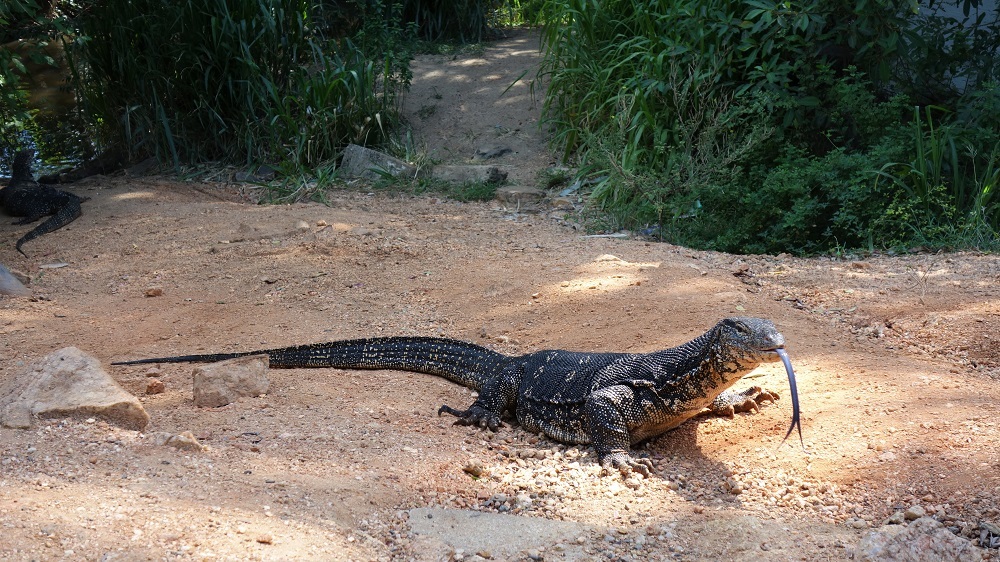 Learn about Sri Lanka's agriculture in its wetlands
I recommend to do a tour in Sri Lanka's wetland area. Complete with a short ride on a traditional ox carriage. Where you will some insights into the Sri Lankan cooking methods and a boat tour through the wetlands and farms. In the far distance you will see Sigiriya Rock towering over the flat wetlands. Despite the tour having perhaps some slight touristy elements, it is nice way to interact with the farmers of this region and learn about the Sri Lankan rural life!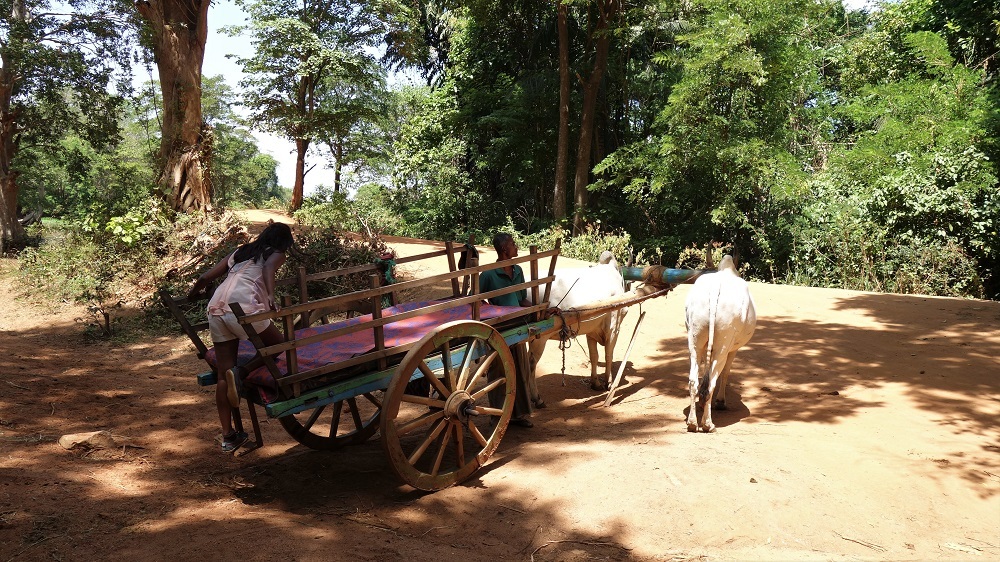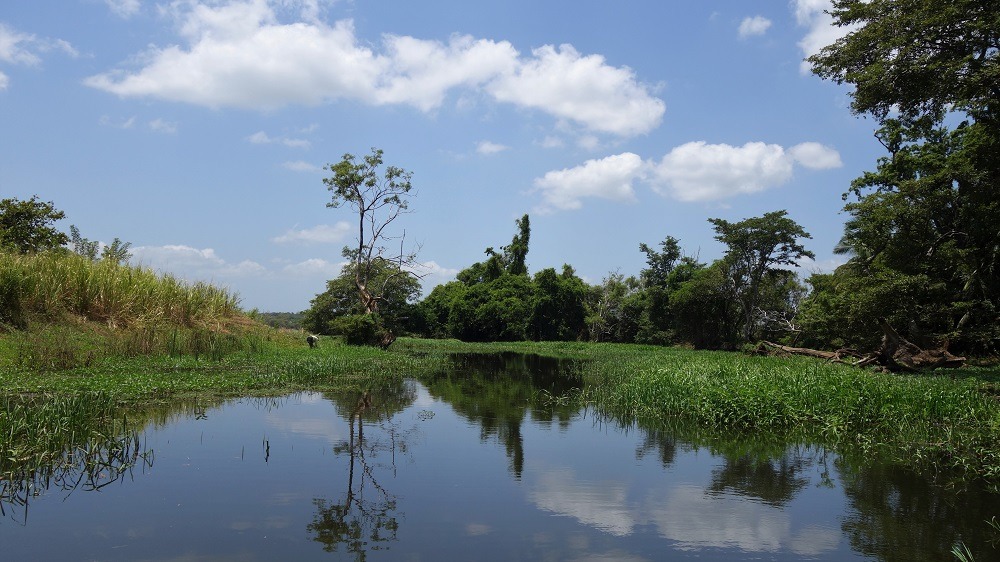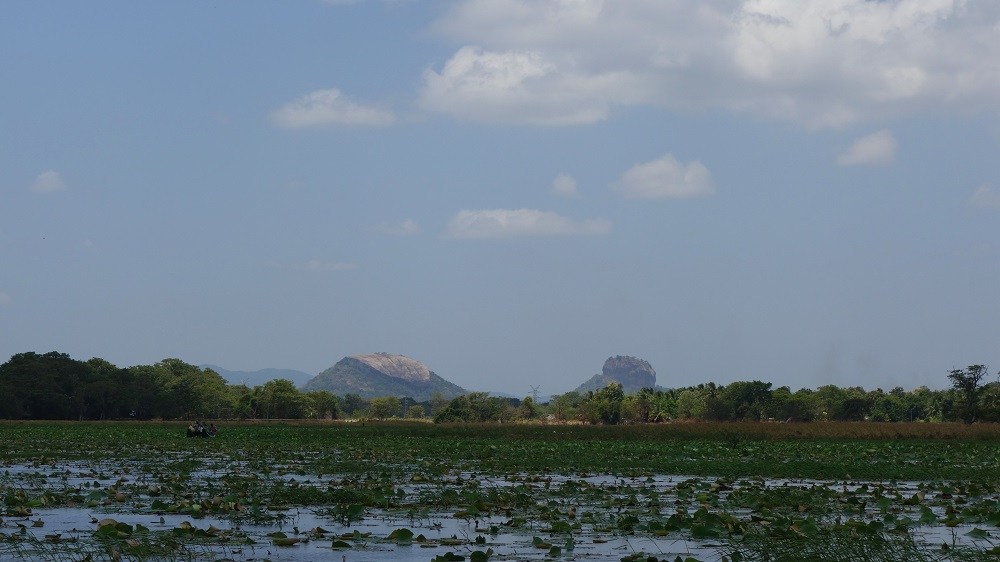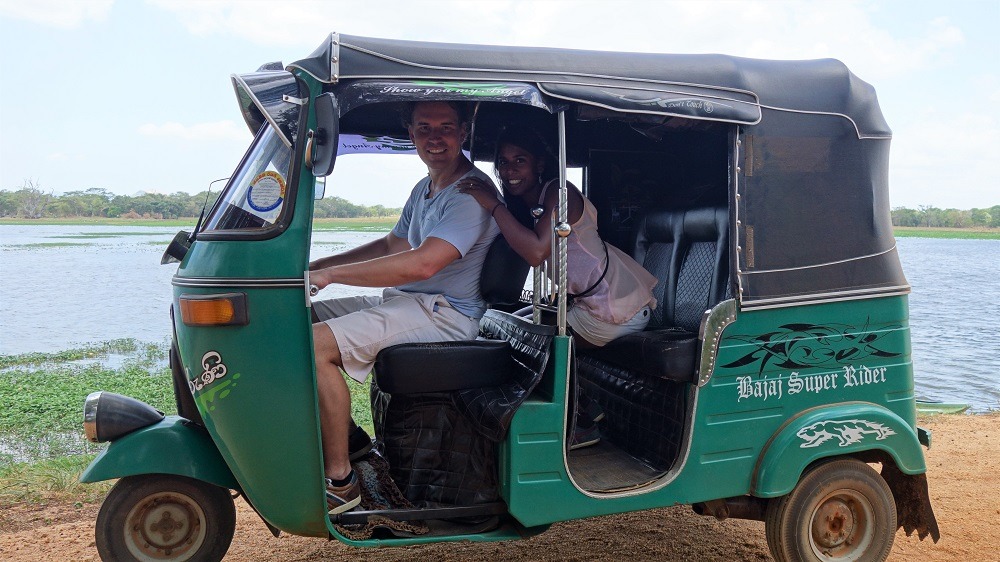 Spotting elephants and wildlife at Minneriya National Park
In the afternoon we did an afternoon safari in Minneriya National Park, you may have guessed it; time to spot elephants again! This time in the wild… This park is ideal for wild life and bird spotting, as its lakes are surrounded by vast grass lands. All animals need to come out of their shelter and start drinking here sooner or later. We were extra lucky as we had various elephant families crossing our path just in front of us…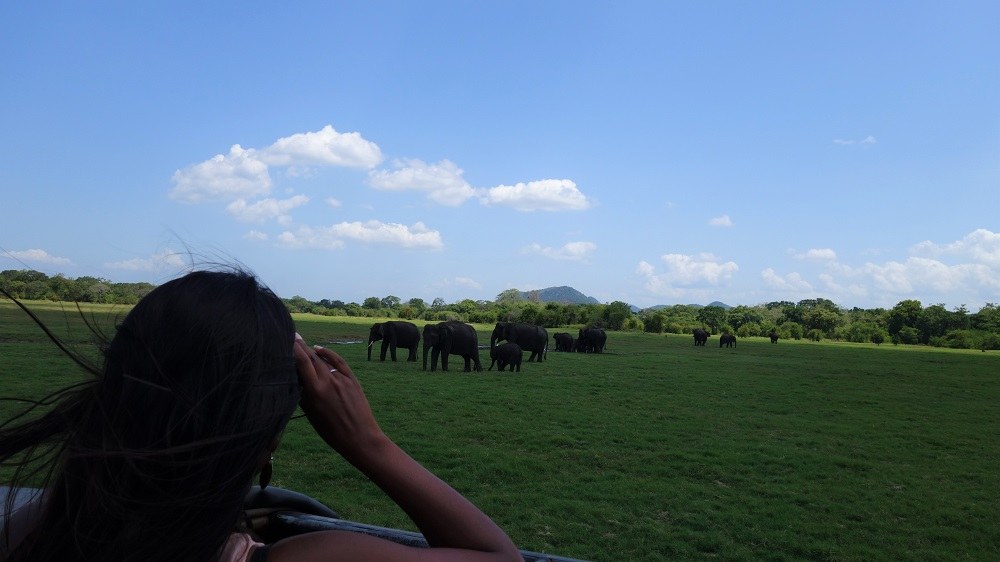 Splurge at Heritance Kandalama Hotel
Certainly a very impressive hotel is the Heritance Kandalama Hotel. It seems almost part of the rock it is built on (and in). The outside is overgrown with plants and monkeys roam freely (so do not leave your doors or windows open!). Its infinity pool offers stunning views over the lake and the green surroundings!…
It is definitely a more high-end accomodation… Great to relax have a nice dinner and recharge for the upcoming days of exploration!…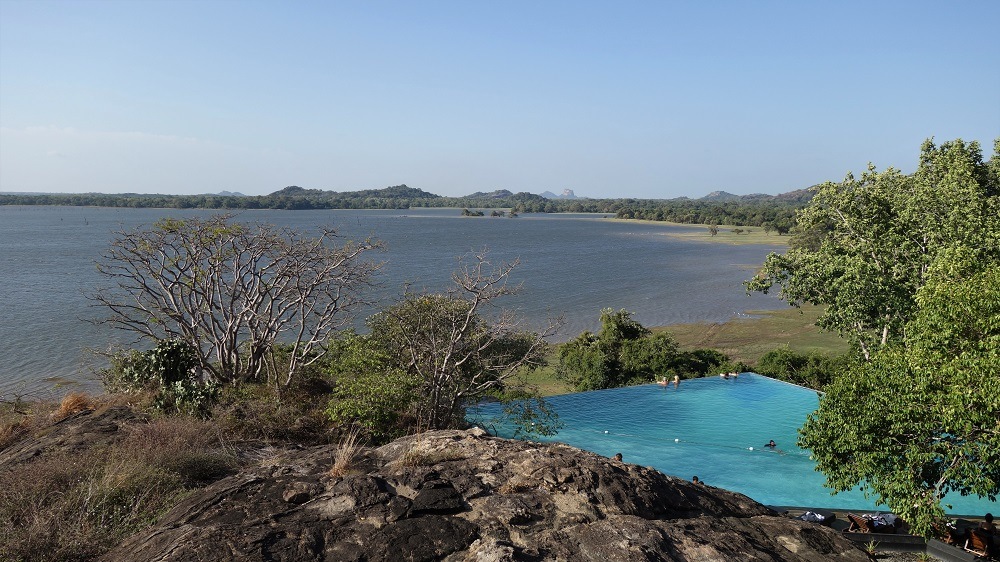 Top Tip: Most of the sights of Day 1 and Day 2 are fairly close to each other. Do mix & match depending on your preferences and schedule. It can definitely make sense to shift them around!
Day 3 – Kandy the cultural capital of Sri Lanka
Let's travel South to the cultural capital of Sri Lanka; Kandy. It is here that you will find the Tooth Relic Temple. The key sight of the city and an epicentre of Sri Lankan Buddhism. As you perhaps would expect, no shortage of elephants here either, but this time as part of the religious rituals.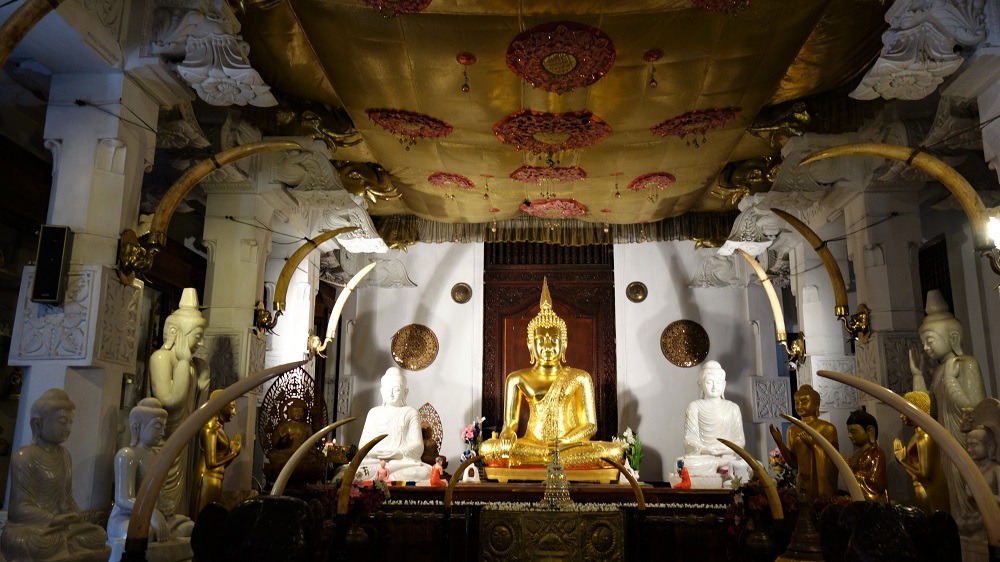 Esala Perahera – Festival of the Tooth
Perhaps we it was because we were just feeling lucky during honeymoon, but luck did seem to be on our side. Not only was there the festival of the tooth (Esala Perahera) happening exactly on the night of our arrival, we also booked our hotel opposite of the Tooth Relic Temple. This meant we were right in the middle of the action and had front seats to the impressive parade involving countless Elephants, dancers, priests & monks. Try to book your trip during this time!
Day 4 – Drive through endless Sri Lankan tea plantations to Nuwara Eliya
Brace yourself for stunning nature – and perhaps Sri Lanka at its finest! For centuries one of the key export product of Sri Lanka is its world famous Ceylon tea. Ceylon is the former name of Sri Lanka and whenever you see Ceylon tea it will be originated from Sri Lanka. The green valleys filled with waterfalls, palm trees and of course tea plantations have put these winding roads on many 'must-travel scenic roads' lists.
Enjoy the scenery by rail!
Another way of exploring this scenery is via train, again this track makes it to many top 10 lists of most scenic train rides!… We opted for the car (given we anyway had our driver-guide already booked for the full trip) but I definitely recommend to look into the railroad option!
Tea tasting time!
When traveling here, do make a stop at one or more tea plantations. Here you will get the tea plantation process explained, which I found very interesting!
Fun Fact: white, green and black tea all originate from the same plant, but production process and tea is very different…
Of course a very (or most) important part of the tour is to put your newly acquired knowledge to use and start tasting the various teas!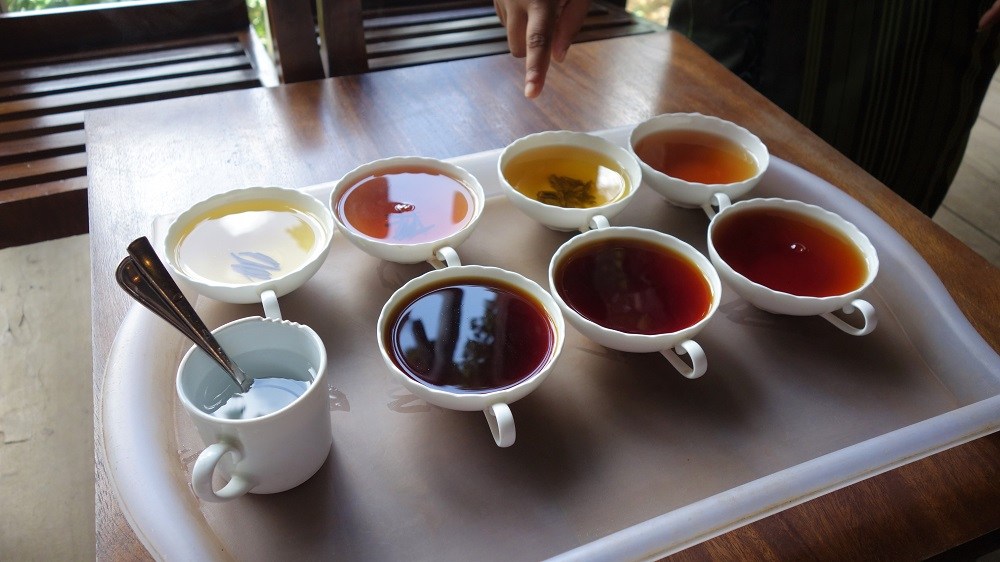 Staying in (colonial) style in Nuwara Eliya
Once you reach Nuwara Eliya, the tea capital of Sri Lanka, you will notice it still feels 'colonial English' due to the many English architecture, Victoria park, horse race tracks, golf clubs. It is like being thrown back in time.
We stayed at The Hill Club & adjacent Nuwara Eliya Golf Club, both typically English. I would recommend booking your stay here. Even though the rooms are outdated, we enjoyed the English style dinner for which the men required to wear jacket and tie. (The club can provide you with this).
At check-in our booking seemed to have issues. However, after some discussions the Operations Manager ensured that had a great stay and dinner, making us a fan and friend of The Hill Club!…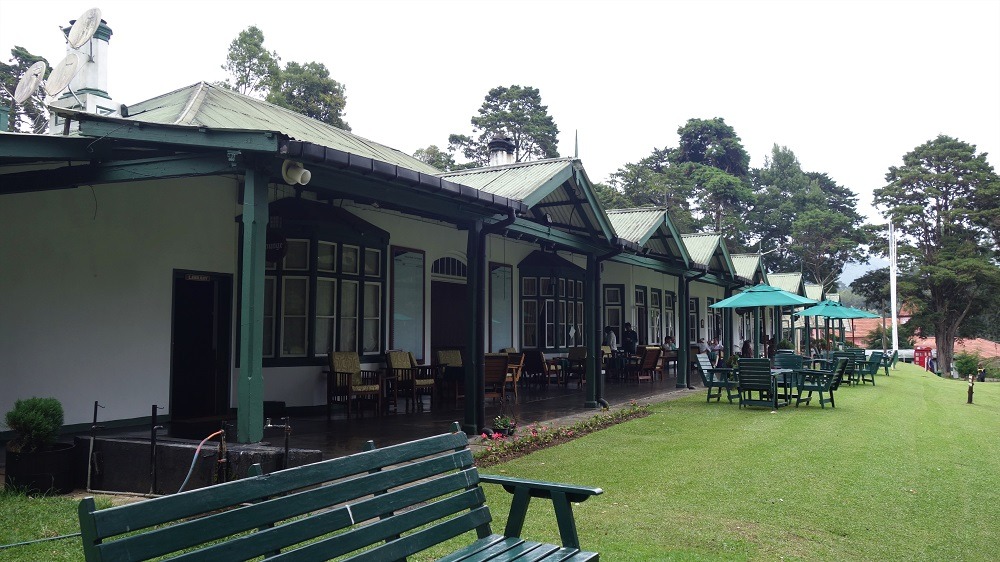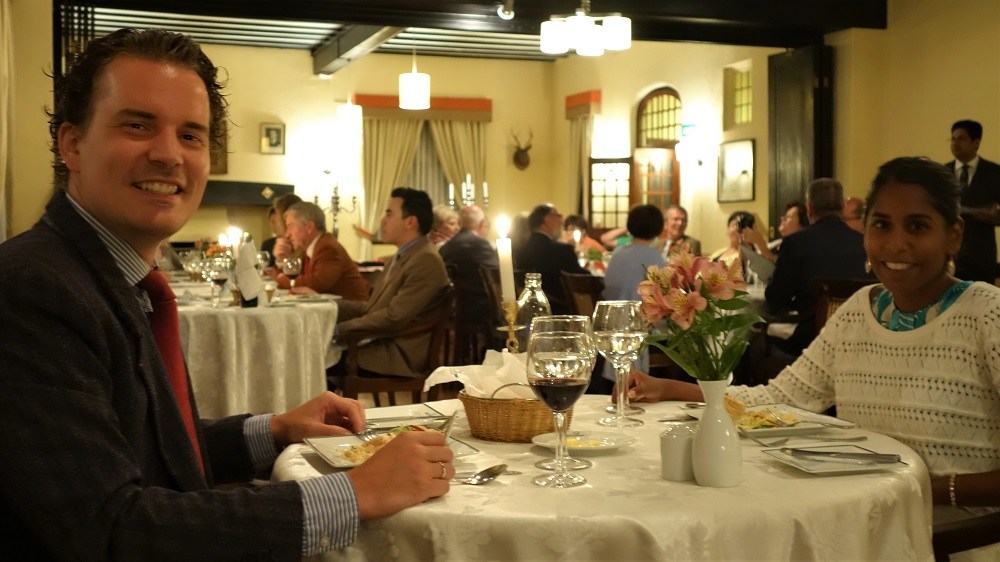 Day 5 – Horton Plains, Ella and Yala National Park
We continue driving Southwards over the Horton Plains, via various roadside waterfalls, through the town of Ella and onwards to Yala National Park.
Top Tip: You can also take a train from Kandy (or Nuwara Eliya) to Ella. This may be nice addition to your travels. Do some research on what is possible and include the (partly) train ride in your trip.
Top Tip: I suggest to include at least 1 night stay in Ella in my trip and explore area as well. Ella has a more backpacky feel, as opposed to the 'stiffer' English Nuwara Eliya. To be clear, I would include Ella in addition to, not instead of, Nuwara Eliya.
Yala National Park
Yala is likely the most famous wild life park of Sri Lanka to go on safari! No surprise, as Yala is the largest park and has a wide range of animals to spot!
Top Tip: Stay 1 night a safari camp accommodation. Arrive in the afternoon for an evening safari and next morning do a morning safari. 2 safaris should be sufficient to spot most of the wildlife.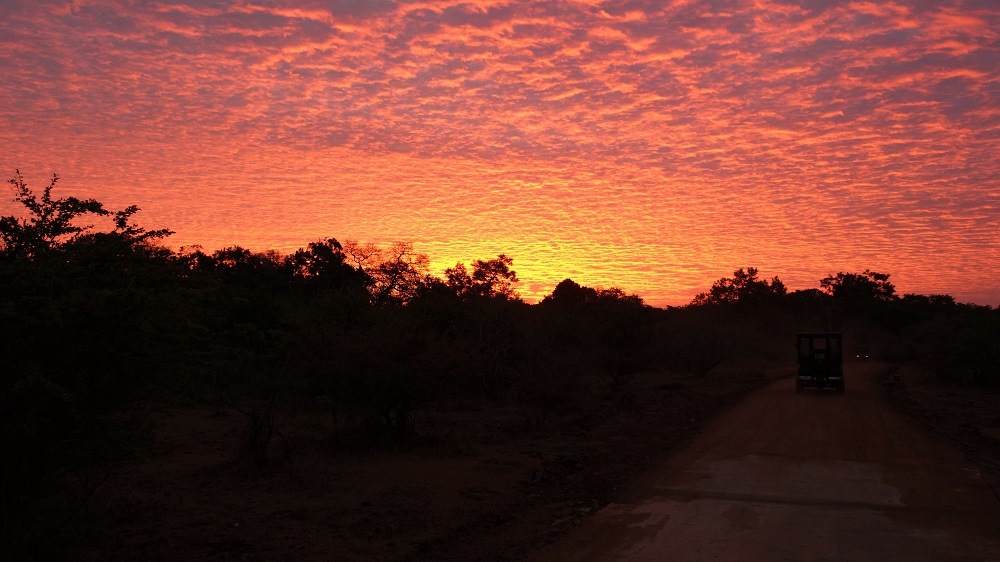 Many online sources call Yala the best safari destination outside of Africa, and I think they are right! We really enjoyed the safaris and to certain extend it was comparable to our experiences in Kenya and Tanzania. However, the variety of species is different and limited. Hence, I would not spend more than 1 night in Yala (with 1 afternoon and 1 morning safari).
We were lucky (again) and we spotted even 2 leopards! One even crossed just in front of our car!… Apart from this we obviously spotted the inevitable elephants, crocodiles bison, many bird species and much more!…
Day 6 – South Coast and Galle
After our early morning safari and an amazing sunrise it was time to drive along the south coast towards the Dutch Colonial Town of Galle.
Stilt fishers of Sri Lanka
Along the south coast we came across various stilt fishermen, a typical Sri Lankan way of fishing. Of course providing a great photo opportunity!… Beware that many stilt fishermen are aware of their photogenicity and have someone onshore asking you for money in case you take photos… Check with your guide if unsure how to handle these situations.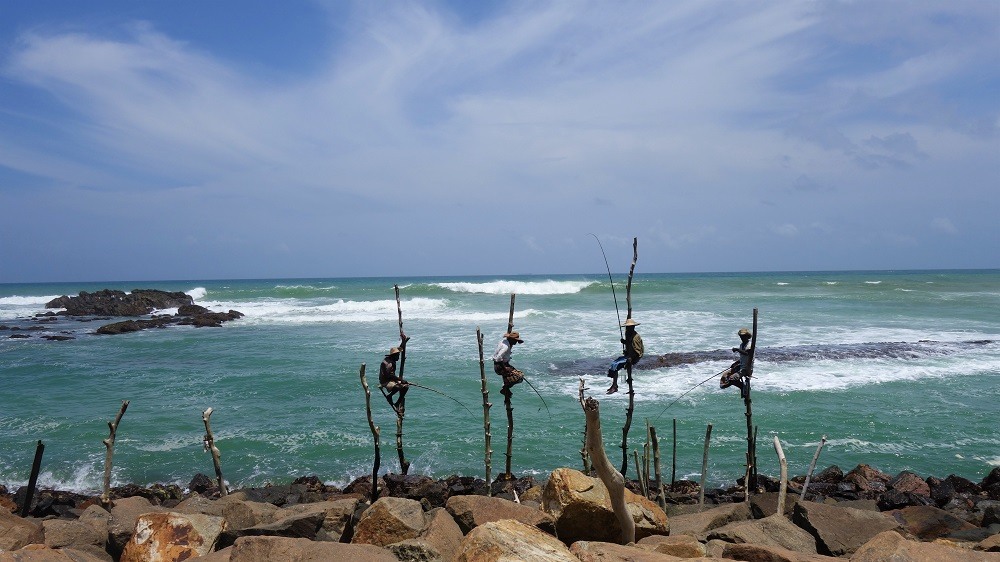 Galle
In the South West you find idyllic Galle, with its Dutch Colonial Architecture. Perhaps I am slightly biased, but Galle with its idyllic old town centre and small town feel definitely is a must stop on your travels. A few highlights are the old Dutch church, the lighthouse, but mainly just strolling the quint streets with shops and restaurants.
Top Tip: If planning to end your Sri Lanka trip with some beach days, it may be nice to stay in one of the resorts nearby and use Galle to venture out at night for dinner and some souvenir shopping…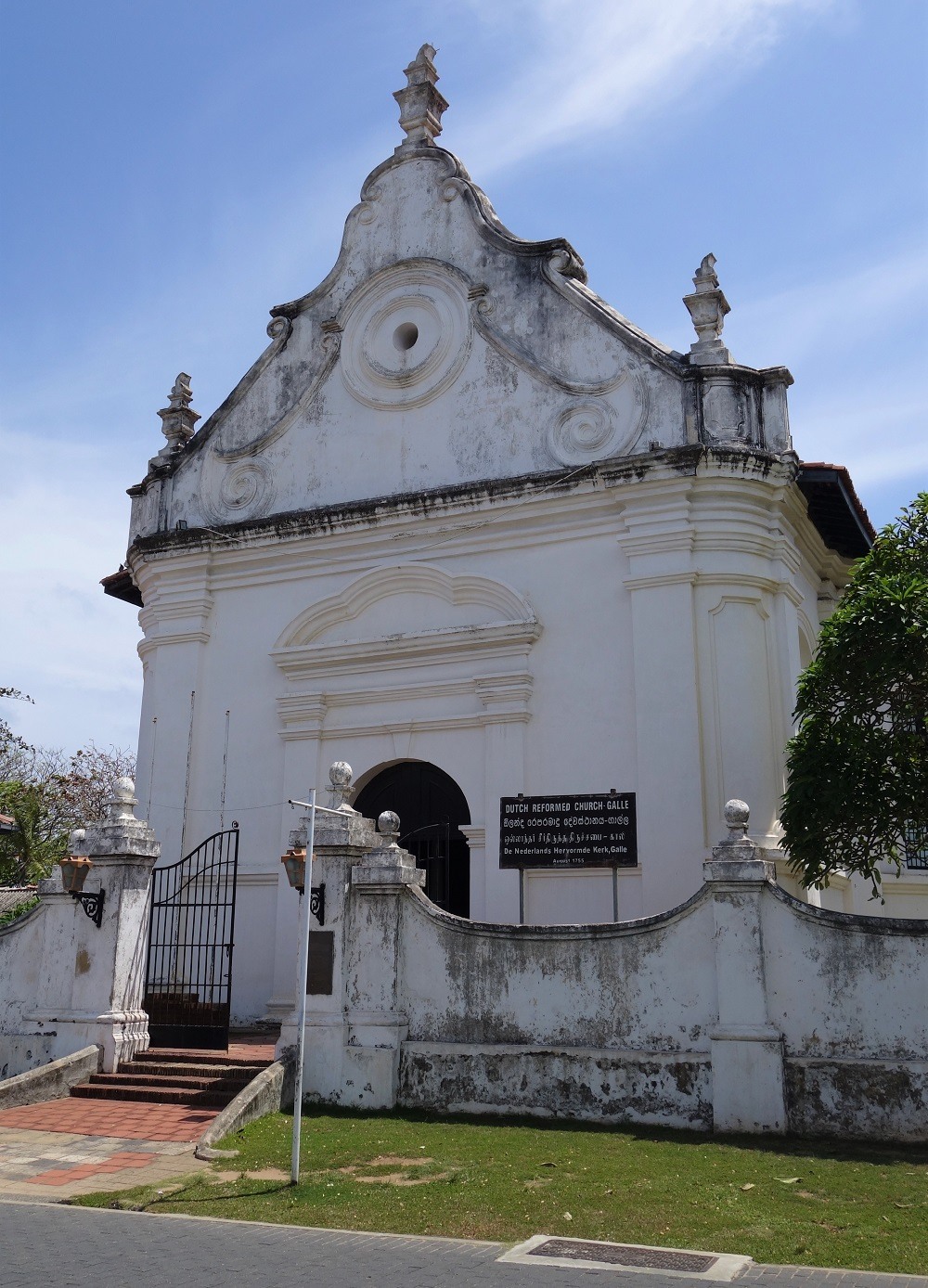 Day 7 to 9 – Bentota Beach
After Galle we ended our trip at Bentota in a Beach resort for some last few days of honeymoon… We stayed at the Vivanta by Taj, but would not particularly recommend it, it did not overly exceed expectations.
Top Tip: In hindsight, as mentioned, I would have likely stayed closer to Galle and, I likely would have traded 1 night of beach for 1 night in Ella (if not on honeymoon). Especially given the very active travel mode, staying in a new hotel every day, I suggest to try breaking up your travels halfway.
North & West Sri Lanka
If more time or like to explore the less travelled parts of Sri Lanka, then explore the Northern Part (It is less developed due to the civil war in the 80s). Or travel to the far less touristy East Coast… In case I return to Sri Lanka I aim to cover these regions and will surely update you!
This brings an end to this Ghost around the Globe Sri Lanka adventure… Interested in this part of the world or eager to combine your travels? What about money saving tips for The Maldives or India's golden triangle?