Surabaya & Mt Bromo: colonial heritage & stunning nature
Let's discover East Java in Indonesia! We will start in Surabaya, a vibrant trade metropolis with an active port. Here old meets new, with its modern skyscrapers, its canals and its rich Dutch colonial past… Surabaya is an ideal base from which to explore one of Indonesia's highlights; the active Mt Bromo Volcano. Let me show how to make the most of this ideal heritage and nature combination trip!… We visited for a long-weekend trip from Singapore. But it is obviously best to combine this with other Indonesian highlights… I will provide some tips at the end!…
Explore the rich heritage of Surabaya
As mentioned Surabaya has a rich colonial past, and the Dutch East Indies Company has had a large influence on this region. Over the centuries this has transformed Surabaya to a major trading port for products like Coffee, Sugar, Tea and Tobacco. You can still experience this when roaming the streets of (old) Surabaya, where you will see the many buildings with its distinct architectural style. Some key sights to include in your visit:
House of Sampoerna – The House of Sampoerna is a tobacco museum and headquarters of Sampoerna located in Surabaya. The Dutch colonial-style compound was built in 1862.
Quds Royal Hotel – A nice, albeit a bit outdated, hotel to stay or otherwise have a coffee or bite!
Empire Palace – A beautiful colonial building – turned into a hotel. Like the Quds Royal hotel, do check it out!…
Kantor Pos – The main Post office of Surabaya.
Tugu Pahlawan – The Heroes Monument, which honours the independence battles waged in Surabaya's streets in 1945.
Top Tip: In case you like to taste Dutch Delicacies, try Melati restaurant with its Dutch menu section!
Top Tip: Indonesia (cities) are not made for walking! Often there are no sidewalks, or they are in very poor conditions, meaning you mainly walk in between the chaotic traffic. For short distances, I would still (try to) walk, but for a bit longer distances do take a tuc tuc or jump on the back of a motor taxi (if travelling solo).
Driving from Surabaya to Mount Bromo
Time to leave the city of Surabaya behind and explore the hinterland! On your way to and from Surabaya and Bromo, you will traverse through the lush green tobaccos, coffee, tea, rice and sugar plantations. Most of this product will move to Surabaya port!…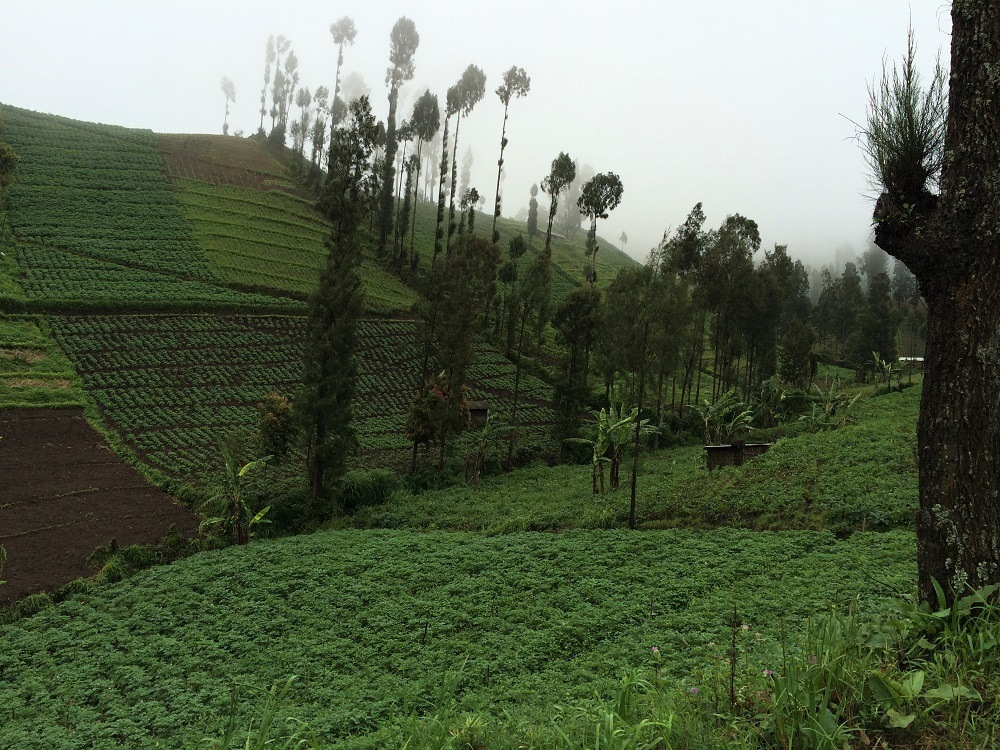 Bromo Tengger Semeru National Park
Visiting Mt Bromo is not only about just viewing (or climbing) a Volcano, we will get to that later! The entire Bromo Tengger Semeru National Park is a must-see on its own… The green mossy misty surroundings, the meandering creeks, the round hills and its waterfalls make this a mystical place! I think our guide got it spot-on, by calling it a 'Teletubby world'.
It is likely you will arrive in the early morning (before sunrise) to see the first daylight fall on Mt Bromo from a viewpoint. We had partial sight during the sunrise, but you can be lucky with clear sights or seeing Mt. Bromo rise from the mist.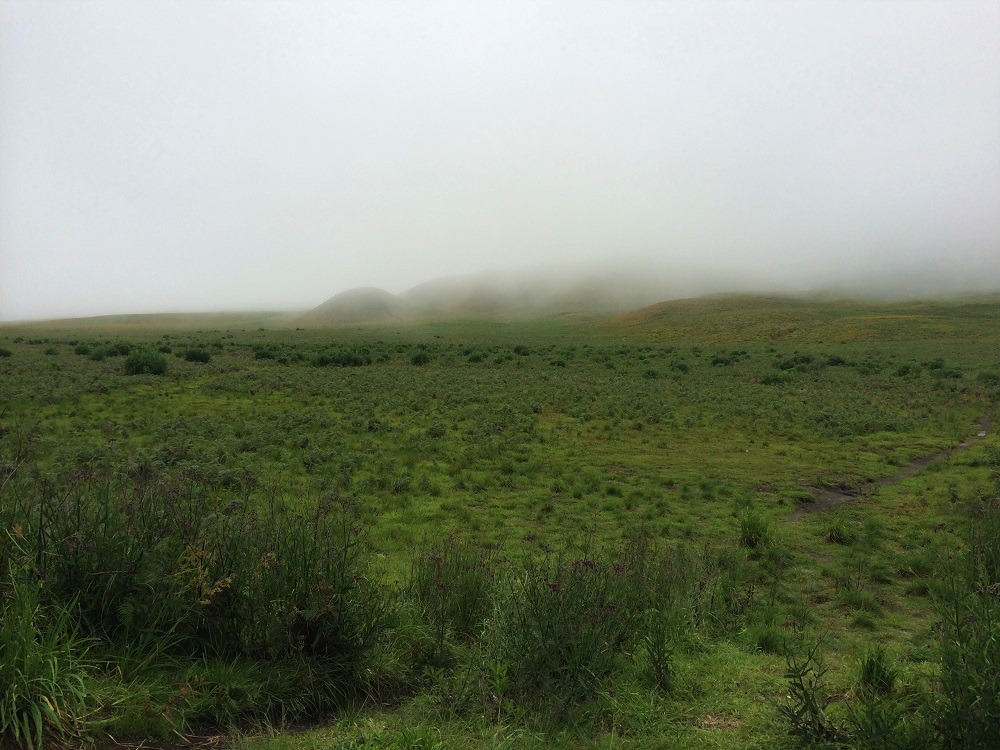 Climbing Mount Bromo and peeking in its volcano crater.
After the sunrise, you will proceed to the actual Volcano crater. The closer you get the stronger the sulphur smell gets. The rim can provide nice views over the surrounding, although we had a limited view due to some mist around the crater. You will likely not spend too much time on the crater rim, instead, you will spend more time at the viewpoint and the National Park.
Top Tip: If you are less fit, still tired in the early morning, or want to beat the crowds, then take a horse ride up the volcano!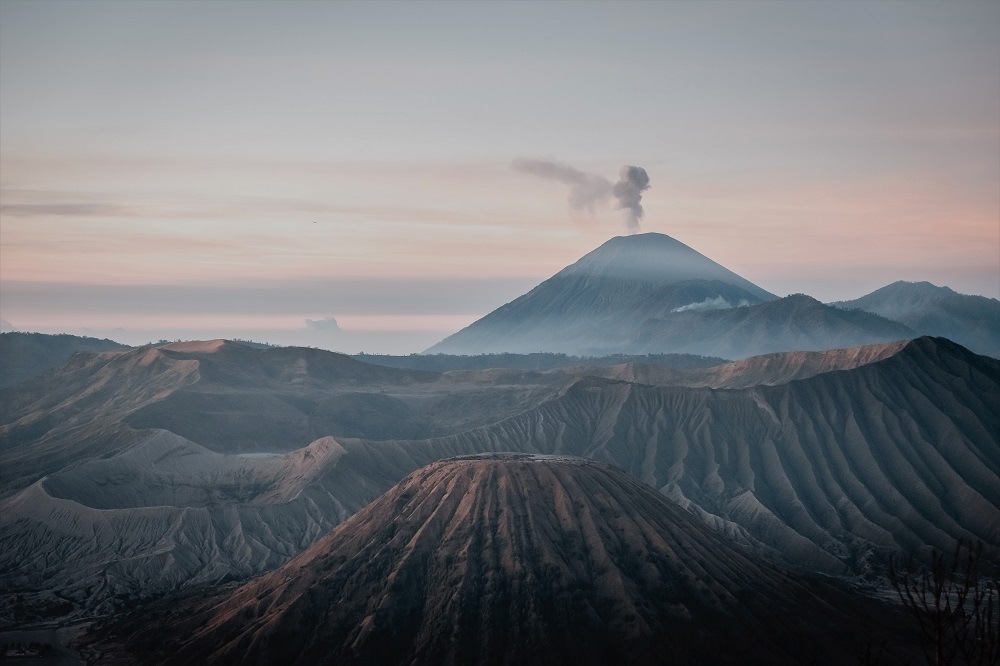 Combine your trip with Kawah Ijen
During this trip, we did not travel further East. However, there is a place on my wish list to visit once, called Kawah Ijen. (Which would be ideally combined with further travels to Bali). Kawah Ijen is a beautiful blue crater lake and known (or notorious) for its Sulphur mining. A must-see/witness place from what I heard…. Just imagine, the sulphuric smell on the crater rim of Mount Bromo was already hard to endure, so imagine being a sulphur miner and walking down to the crater to collect the yellow bricks. 
This is where we end this brief trip, altogether you can visit this in 2 days, so ideal in combination with other Indonesian sights. So check out my other Indonesia posts! Here I describe Bali's highlights, my dragon experience on Komodo and one of the best snorkelling spots in the world at Kanawa! Or what to think of one of the world's key temple sites of Borobudur?