Tasmania: perfect 5-day itinerary
Reading time: min | Published on:
This perfect 5-day itinerary let's you experience most of Tasmania's key highlights! If you have more time, that is obviously perfect! There is a lot to see on this amazing Australian island! However, this should anyway be your key travel route around Tasmania!… This is part of a far larger Australia (and New Zealand) journey, for more details follow the links!…
How much time should you spend on Tasmania?
To cover the key highlights of Tasmania, you will need 5 days (4 if you are very fast). In case you have 7 you can easily do the same, slightly less rushed, with some extra outings here and there! Anyway, I will show you how to 'easily' traverse wonderful Tasmania!…
Do you need a car to explore Tasmania?
Yes, you will need a (rental) car or campervan to explore Tasmania! As on most of our travels we always prefer this to be ultra flexible (especially with last minute accommodation bookings) you get the most out of your 'exploration days'! Moreover, as you will read, for some parts of this itinerary you will not get far without a (rental) car! (Unless you book all kinds of (over-expensive) tour bus bookings, for which you certainly need more travel days).
How are the roads on Tasmania?
The roads of Tasmania are well maintained! However some roads are unpaved/gravel. No worries for us (especially after our extensive gravel road experience in Namibia). Also, you can easily avoid these if you prefer!… Most roads are single lane (with quite some road works), so do expect some slower-then-usual travel times.
Tasmania Day 1 – Hobart
Arrive in Hobart in the morning (or evening before, the more time the merrier). You do not need a car to explore the small city center of Hobart! So you could choose to pick-up your car the next day (saves you some (parking) costs).
Stay in the center of Hobart and make your way along Hobart's key sights via the below walking 'route':
Hobart Convict Penitentiary
This is great first stop, as Tasmania is 'famous' (or better said 'notorious') for its role in the British Empire's convict system. This ran for 150+ years and made Tasmania home to a whopping 74,000 convicts (19% of all convicts of the 324,000 during the 324 years the convict system ran).
The majority of these (60,500) were headed for Hobart to work in the chain gangs. Many of them were imprisoned at the Hobart Convict Penitentiary.
The compound used to be much larger. Only a small part remains, showcasing many stories and items of this era (As well as images of how the grounds used to look). Entrance is free to the various (decorated) rooms. Guided tours depart a few times a day for a fee. Just ask some of the lovely staff for extra information, and if you could peek into the court room (usually only allowed when going for a tour).
Theatre Royal
On your way from Hobart Convict Penitentiary towards the Tasmanian Museum and Art Gallery, you'll pass various old buildings, one is the Theatre Royal, a nice photoshop (unless you are interested in a show or tour).
Tasmanian Museum and Art Gallery
The (free) Tasmanian Museum and Art Gallery showcases the unique wildlife of Tasmania! (Great to get a good up close view the various Tasmanian animals, like the Tasmanian Devil or the Platypus). Other exhibitions are providing insights on the (dark) history of the Westerners and Native Australians, as well as Australian arts and culture!…
Constitution Dock
A short stroll across the street is Constitution Dock! A must-stop for some delicious Tasmanian Seafood from the quaint dock building or the various 'take-away seafood boats'!
Hunter Street
Make your way to Hunter Street for good views over the harbor (and constitution dock). There are various nice restaurants here.
Hobart Town Hall
On your way back walk by Hobart Town Hall, a nice (photo) stop at this historic building.
Lark Distillery
Lark Distillery is the oldest whisky distillery of Tasmania! They do not come cheap (bit over-priced, especially compared to Scotland). However, if into whisky, take one of the (standard) tasting platters! I must say, great variety in whisky styles!…
Brooke Street Pier and Murray Street Pier
The Brooke Street Pier and Murray Street Pier are a nice stop for anything from restaurants, souvenirs or (free) gin tastings!… Nice to stroll around!
Parliament House
Another nice (photo) stop is Parliament House, with the nice small park in front of it.
Salamanca Place
One of the key highlights of Hobart is Salamanca Place. This is where you find most of its bars, cafes and restaurants!… Great to barhop around! Have a look for their many F&B promotions and happy hours. I would recommend to check out the great happy hour cocktails at Salamanca Whisky Bar!…
Every Saturday morning there is a farmers' market at Salamanca Place. Supposedly great fun, but we were not in Tasmania on Saturday!…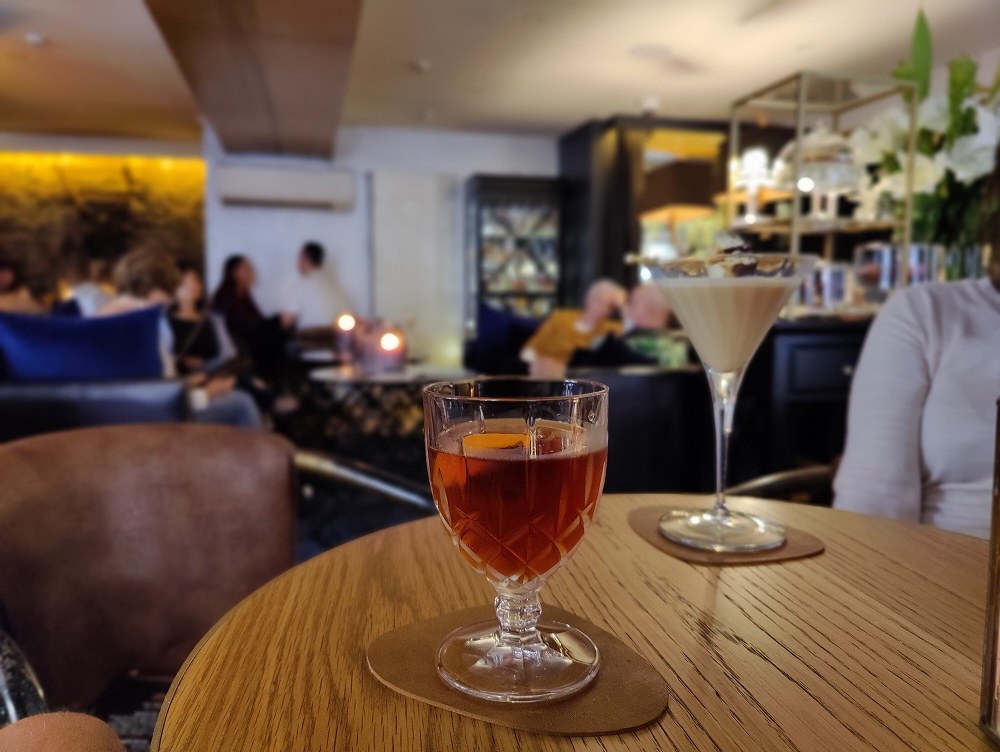 Mount Wellington
Offering wonderful views over Hobart and surroundings, you must drive up Mount Wellington! For this you need your car (so you could do this your next day).
Cascade Brewery
Certainly, a highlight, is the oldest brewery of Tasmania: Cascade Brewery. This historic building, in the shade of Mount Wellington alone is already worth a (photo) visit!… The Cascade Brewery Bar, opposite the road, offers great views over the historic brewery building and has a wide range of beers (and food).
Top Tip: Do not opt for the tasting platter! Instead, just order normal (small) beers separately. This is a (much) better deal offering you almost double the amount of beer). Strange (unfair?) pricing!
Cascade Brewery is (also) located a bit outside the city center enroute to Mount Wellington, so to have a car and combine.
Tasmania Day 2 – Bruny Island
Let's explore Bruny island on our next day. Getting there is easy via a (car) ferry. Just drive to Kettering and follow instructions. The ferry operates every 20 minutes. For Bruny island you need a car as there is no public transport on the island.
Is Bruny Island worth a visit?
Let me start with saying that Bruny island is definitely nice! Especially if only visiting Hobart and surroundings, instead of wider Tasmania). However, if traveling around Tasmania (As this blog is about), I would argue that it is not a must-visit! Obviously, there are very nice vistas, bays and unique wildlife (not to be encountered on a day-trip). However, the overall landscape is (still) very similar to Tasmania's mainland key sights, as you will see below!…
Moreover, the island is celebrated by foodies, but only has a handful of food outlets. Most are nice, don't get me wrong! However, you do have the feeling that you the entire ferry is just following a stipulated path along these outlets and a handful of sights, and that is it…
Perhaps I am a bit too negative, let me share how your ideal Bruny daytrip should look like and decide for yourself if you like to include it!…
Take the Bruny Ferry in the morning!
The earlier you can take the ferry the better! Ferries run every 20 minutes from Kettering (the mainland port), which is a short drive from Hobart.
When arriving at Bruny, also depending on your arrival time, you can mix & match the below sights and activities… (There are not much more key sights, unless you are spending more days on Bruny, that involve long hikes). The below is how we planned our day!…
Start at The Neck Game Reserve
This is the most spectacular and unique sight of Bruny, where the island is almost cut in half by the Southern Ocean, with the ocean on both sides… Make your way up the stairs for beautiful vistas over 'The Neck' that keeps the two parts of Bruny island together. There is also a small wooden track towards the penguin reserve (sightings depend on season and mostly at night).
Head towards Adventure Bay
Drive towards Adventure Bay, with some great photo stops along the way at various bays and outlooks!
Should you skip the Bruny Island Raspberry Farm?
The Bruny Island Raspberry farm is very underwhelming, and in my opinion a bit of a 'tourist trap'. It is just a 'shack' where they sell some raspberry products. (If you are lucky… as there were no raspberries for sale during our short visit). In my opinion, you have not missed much if you skip it.
Take the C629 road cross Bruny Island!
Top Tip: From Adventure Bay, take the (unpaved) C629 across the Island! This takes you along 2 nice outlooks, offering views over The Neck Reserve from above!… (Your navigation likely will try to send you around, via the paved road).
Bruny Island Premium Wines
Make a wine-tasting stop at Bruny Island Premium Wines… You could also stop here for lunch (likely the best deal, from what I have seen on the various Bruny Island restaurant menus).
Bruny Island Cheese & Beer Company
Instead of having lunch at Premium Wines (what we should have done) we opted for a cheese platter at Bruny Island Cheese & Beer Company. It was ok, with slow service. We were slowly sipping our beers until we finally got our (small, yet pricy) cheese platter.
Top Tip: Perhaps better to just do some free cheese samplings at the cheese bar and only opt for the beer tasting platter at Bruny Island Cheese & Beer Company!…
Get Chucked Oysters – Great Tasmanian Oysters!
Try this 'taste of Tasmania' at Get Chucked Oysters!… Nice staff and great oysters!
From here I would head back to the ferry! (As mentioned, possibly also include your Mount Wellington and Cascade Brewery visit – check the opening times for the latter)!…
Tasmania Day 3 – Lovely town of Ross and Tamar Valley Wine region
On this day head to the north towards Launceston and the Tamar Wine Valley!…
Make a pit stop at Ross – Tasmania
Make a stop at the super quaint little town of Ross!… Have a short stroll around the very well maintained old town center, have a breakfast or coffee at the lovely bakery! Also, make a short stop at the Historic Female Convict Factory. The latter was the original reason of stopping in Ross, but the actual Town of Ross is much nicer!…
Potentially skip Evandale
We were originally not planning to stop at Ross but instead thought Evandale would be nice. Although nice, it was a bit 'sleepy' and did not interest us enough to make a stop. We could be wrong. However, after a few slow drives through the city center we headed onwards towards the Tamar Wine Valley…
Tamar Ridge Vineyard
The first vineyard we visited for a tasting was Tamar Ridge wines. Nice wines! A modern vineyard. You could also easily visit another nearby winery, just go with the flow!…
Marion's Vineyard
A smaller (more family-style) winery is Marion's Vineyard. We tasted some special wines and got some great explanations and tips. Nice setting, with beautiful views over the vineyard and wider Tamar Valley.
Moores Hill Estate
Moores Hill Estate would be my top pick in Tamar Valley. You are seated for your tastings, with spectacular views over the vineyard and the Tamar Valley.  Moreover, you can pair your tasting with a nice local cheese or charcuterie platter! This is how you organize tastings!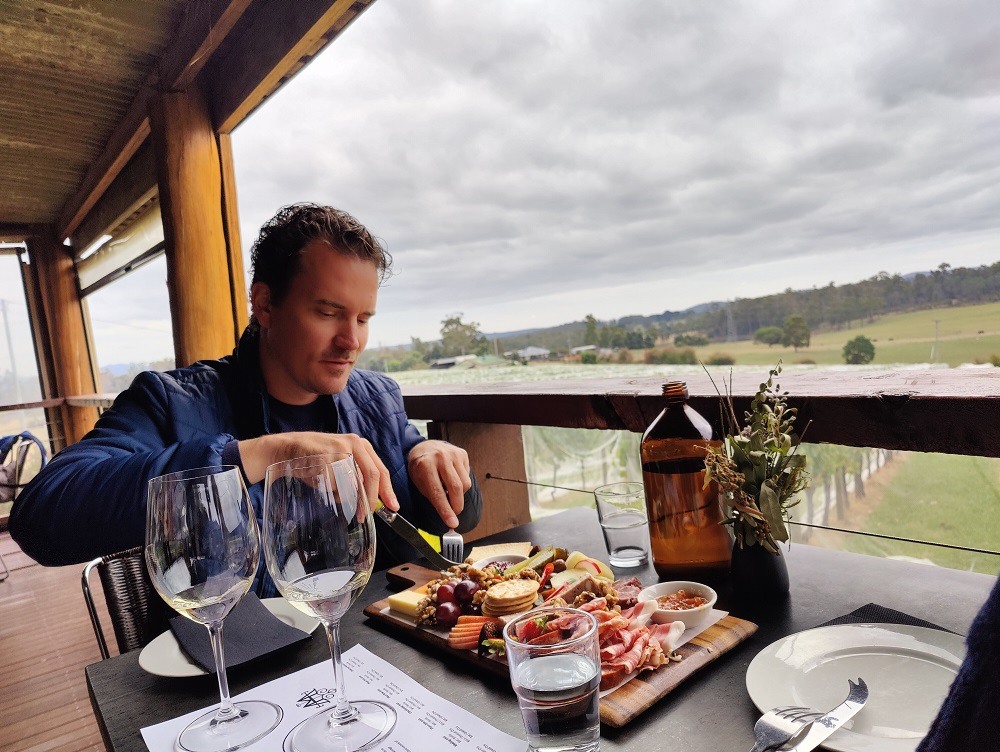 Visit Cataract Gorge – Launceston
On your way back to Launceston, before heading to your hotel and exploring the small city center (for dinner) make a stop at Cataract Gorge. This is just at the edge of town. A great public park where you can just walk to from town (or park your car at the paid parking site). You can also pay (a slightly steep fee) for the cable cart experience! (A fun experience and apparently the longest of its type in the world).
Is Launceston a nice town?
We expected a bit more of Launceston, the second city of Tasmania. If you look closely many buildings are historic, but the commercial signs and shop fronts make the overall feel a bit 'messy'. Just go for a quick stroll, have dinner in one of the many restaurants, and travel onwards the next day!..
Tasmania Day 4 – The magnificent East Coast
Today we head towards Tasmania's East Coast. In case you have to choose, you should prioritize this part of Tasmania (together with the Tasman Peninsula) in your itinerary!… Where Hobart is Tasmania's key cultural highlight, Tasmania's East Coast is the natural one!… Let's cover some of its key highlights to set your route!
Bay of Fires – Binalong Bay
The easiest way of 'sampling' what the Bay of Fires (70km!) coastline is all about, is to drive to Binalong Bay. From here you have wonderful views over the 'orange' stone coastlines. Unfortunately raining when we got there, but still impressive!…
Fun Fact: Although it could be logical, the orange-coloured stones were not the reason this is called Bay of Fires. It were actually the early pioneers arriving in this bay, who witnessed the smoke of fires (from natives ashore).
Bicheno – Penguin Watching (optional)
If the season is ideal (September until March) you may want to add a night at Bicheno to your schedule. Here you can see Penguins at Redbill beach and Waubs beach. Another option is to book a Penguin tour (to a private rookery). We were at the end of the season and the tour was sold out, so we skipped our Penguin experience this time!
Freycinet National Park and Wineglass Lookout
A great (1h – 1.5h) hike you should include is the hike in Freycinet National Park towards the Wineglass Lookout!…
Top Tip: You need to buy a National Park Ticket (officially, as I am unsure how often and where this is actually checked). These tickets are valid for 24 hours (sadly short in my opinion). Therefore, it is best to plan your hike at the end of the afternoon (or the next morning). This way, you will also be able to use it the next day where you (very briefly, but officially) also need it.
Top Tip: In case you cannot fit the Bay of Fires in your schedule, you could take the beautiful small trail towards Sleepy Bay (in Freycinet Park), which also has brightly orange-coloured coastlines and cliffs.
Should you stay in Colesbay Tasmania?
No, Colesbay is very overpriced! It is located next to Freycinet National Park and is mainly a tourist catering town. Therefore, perhaps better to stay in Bicheno, or towards your next destination, Swansea.
Tasmania Day 5 – Port Arthur and Tasman Peninsula
Driving further down along the East Coast you will reach the Tasman Peninsula. Here you'll find Port Arthur (a key historical site) and various impressive natural sights of the Tasman Nature Reserve.
Visit historical Port Arthur
Port Arthur is one of the key penitentiary institutions of Tasmania. The entire site has over 30 buildings that tell this important part of Tasmania's history! An entry ticket comes with a short boat ride (nice, but if it would have been an 'add-on-ticket' I would have skipped it). The Port Arthur is quite large so expect to spend at least 2 hours here!
Top Tip: First visit Port Arthur (unless you hiked Freycinet very early the previous day), then drive along the various natural sights on the Tasman Peninsula! This way you 'lock in' your boat ride timing and you ensure enough time at Port Arthur (as they have doors that close at some point).
Top Tip: When visiting Port Arthur swing by the Port Arthur Lavender distillery & restaurant! They make lovely lavender inspired & infused dishes and products!… Their terrace overlooks a beautiful garden and bay!…
The natural sights of Tasman National Park officially seem to require a National Park ticket.  (As said, should still be valid from your Freycinet visit). Below I highlight the key sights. 
Fossil Bay Lookout & Blowhole
A short and easy 15-minute trail leads you to the Fossil Bay lookout point over the beautiful coastline and the blow hole!  
Tasman's Arch & Devil's Kitchen
Again an easy 15-minute trail leads you along the (very impressive) Tasman's Arch (must stop here) as well as the Devil's Kitchen (which you cannot properly see from the lookout points).
Tessellated Pavement
A short drive onwards you'll find a 10-minute trail towards the Tessellated pavement. An interesting natural phenomenon which looks like a 'man-made' pavement into the sea.
Tasman Bay National Park Lookout
Have a quick photo shop at the Tasman National Bay Lookout point, before you say goodbye to this beautiful peninsula!
Keep an eye out for Tasmanian wildlife
When driving the Tasmanian roads you will see many road kills along the road. This shows the abundance of wildlife in Tasmania!… Keep an eye out for wildlife around the island (especially when driving between dusk and dawn). We saw various Wallabies (with babies) and also a cute Echidna.
And that brings us to this ideal Tasmania 5-day itinerary… From Tasmania we travelled onwards to Melbourne and continued our extensive Australia explorations from there!… Follow the links to these other Ghost around the Globe Australia adventures!…