Tips for your Luxor Hot Air Balloon ride
Reading time: min | Published on:
After arriving in Luxor by Nile Cruise and exploring the temples and sights by foot, a fun additional way is to enjoy Luxor's temples and sights is from the air… Over the years Luxor's Hot Air Balloon industry seems to have really taken shape. I only found out about it, when doing my Luxor planning. However it seems well underway to become one of the World's next Hot Air Balloon hotspots, like Cappadocia in Turkey and Bagan in Myanmar. Let me share my experience and provide some simple tips to consider before you book and make your Luxor Hot Air Balloon experience even better!…
Book your Luxor Hot Air Balloon ride in advance
Usually it is not the most cost-effective to book a local tour online/in advance. However, if you know your travel schedule already, it best to lock your place in as soon as you can! There are limited spaces available per balloon operator, so the earlier the better.
In addition, I booked literally the evening before my early morning pickup. This did not affect the price compared to what I saw 'online' earlier. The price was just the same as if I had booked it much earlier, but now with limited options.
All tours include hotel pick-up and drop-off and the Nile crossing by boat (if staying on the East Bank).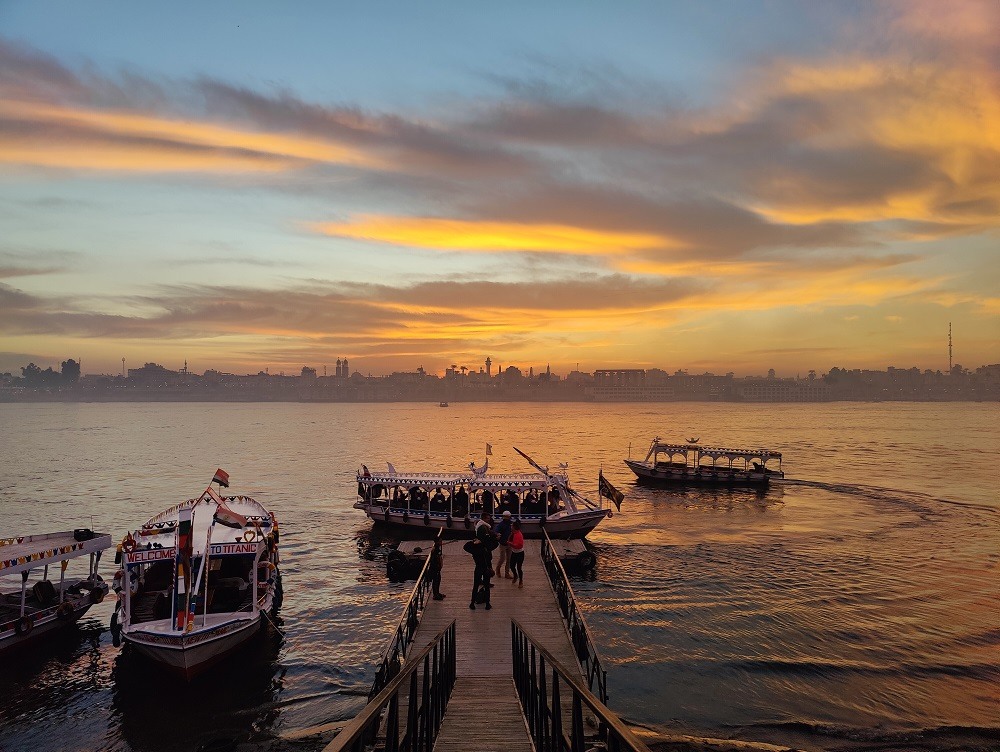 Book the 'second' Luxor Hot Air Balloon session
Every morning there are two Luxor Hot Air Balloon sessions. The first is departing in the dark where you see the sunrise in your Balloon. The second departs approximately 1-1.5 hours later, the sun is already up, but (especially in winter) takes time to rise…
I was originally planning to take the first, due to some positive online reviews and it is priced higher (so it must be better, right?)… As said, when booking, I actually did not have that option anymore so I went for the (slightly cheaper) second balloon ride.
When I discussed this with our Nile Cruise tour guide earlier, he mentioned that he actually preferred the second balloon ride better, and I agree for multiple reasons:
You have a later pick-up timing, so you can 'sleep in' a bit longer (still early though!)
It is cheaper (saving you around 10 to 15 USD)
As it slightly later in the day, it will be slightly warmer (in case you are getting cold quick)
You arrive at sunrise at the Balloon take-off field, this is very impressive AND you cannot see this during the first session (as it is still very dark)
On our day it was very foggy during the first session (which clears up the later it gets). It is almost impossible that the first group saw much, if anything, of the Luxor sights. While we in the Second session had clear views, with some mist adding to the mystical surroundings…
Top Tip: Book the (cheaper) second Luxor Hot Air Balloon ride, for a multitude of reasons!…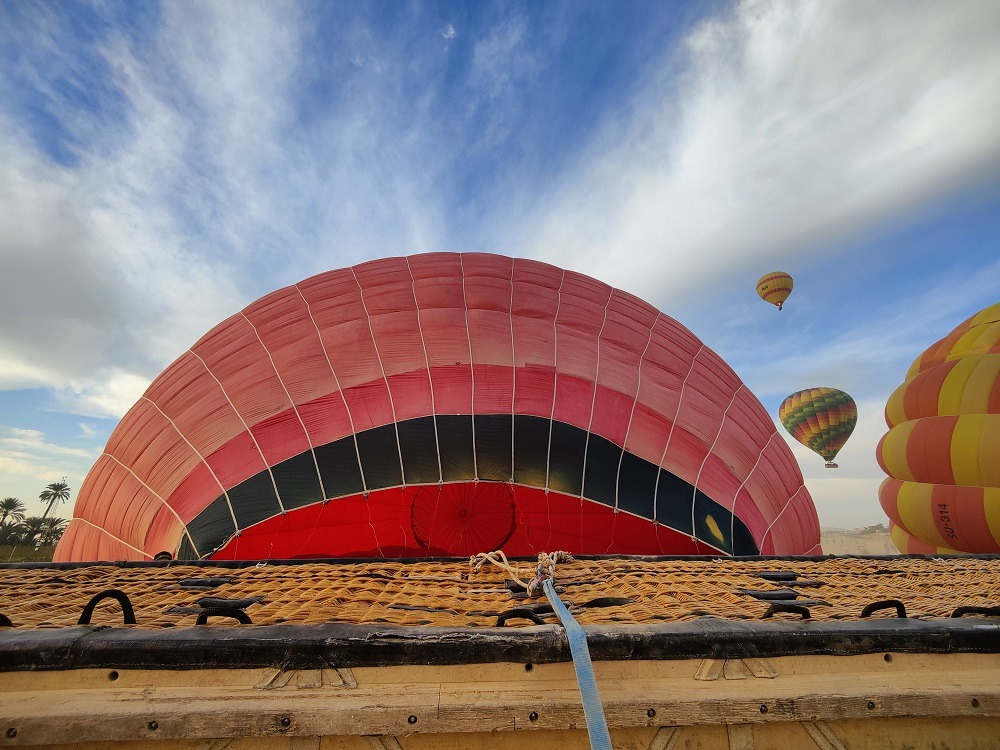 Wear multiple layers of clothing
I was expecting the tour to be (very) cold. Also, many sources warn that it could get cold at the Luxor Hot Air Balloon ride… I went in winter (beginning of December) and especially during pick-up and the boat ride it could indeed be a bit cold… So yes wear Layers!…
However, make sure you can easily drop these layers as it is not called HOT Air Balloon for no reason!… it actually gets quite HOT; every time the flame is burned you will feel the heat as well… So first goes the jacket, then the sweater and in the end you find yourself floating in a basket a few meters high with only your t-shirt on in the early morning!…
When opting for the first balloon ride, it will likely be colder a bit longer into your trip. But once in the Hot Air Balloon experience must be similar… the flame will warm you up fast!…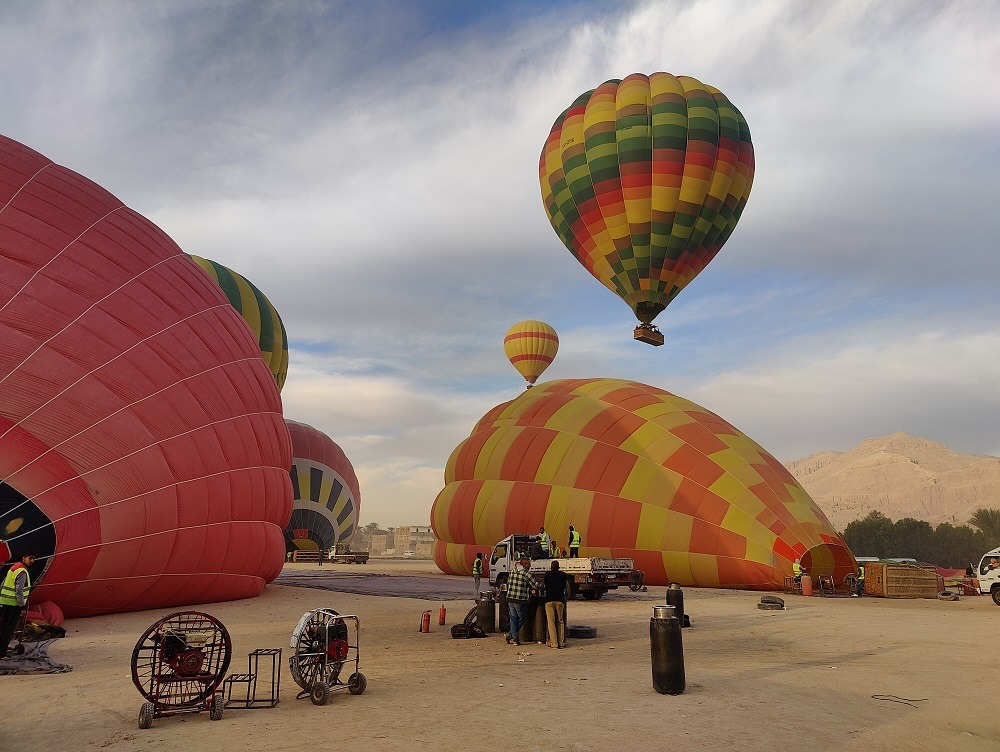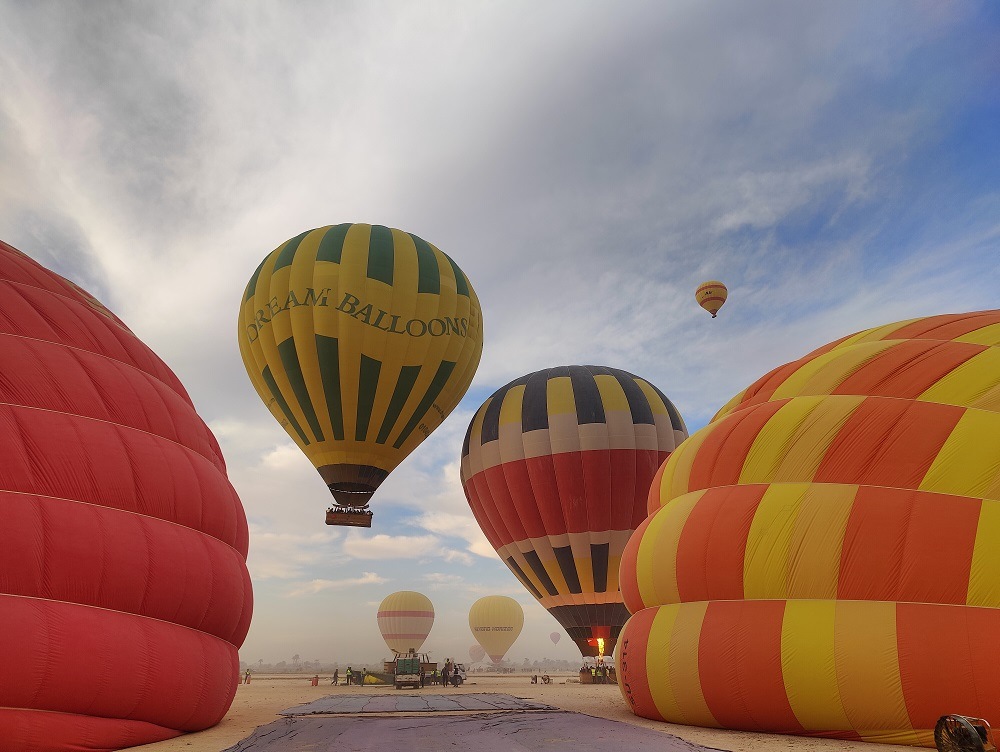 Stand in the corner of the Hot Air Balloon basket
This is one of those Ghost around the Globe tips that make your experience much better, so pay attention!…
The Luxor Hot Air Balloons are all quite large. Each balloon can take around 16-24, perhaps even 32 people. You cannot walk around in the baskets due to weight/safety, so the basket is compartmentalized into smaller 'segments' that each take 3-4 people… The key thing to keep in mind is to choose one of the corner compartments. And even better stand in the outside corner of these compartments…
Makes sense? Long story short; this way you are on one of the corners of the Hot Air Balloon basket and have unobstructed views in 2 directions…
Added benefit, you are also furthest away from the flames! As said, these get your heat significantly over time!…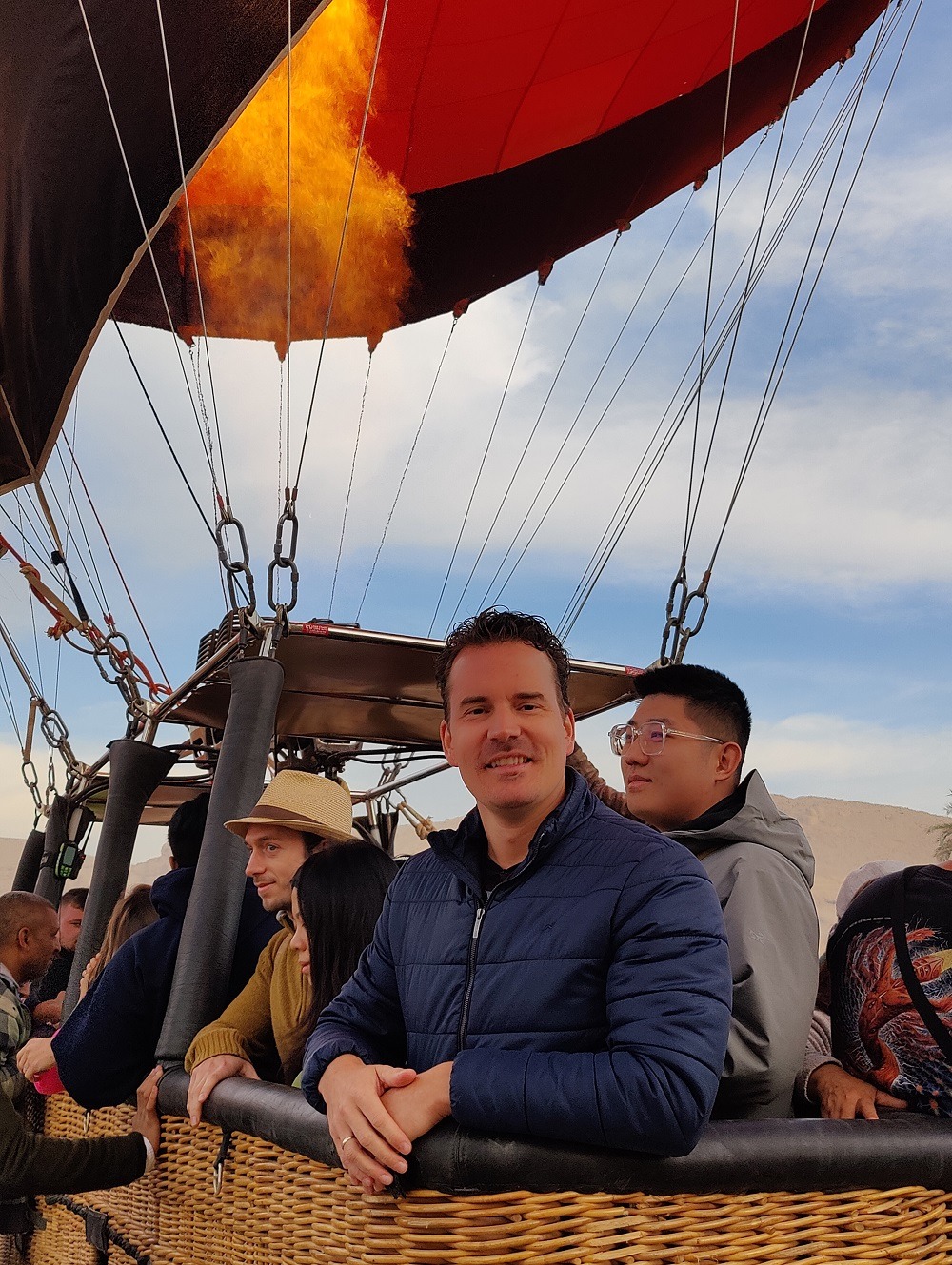 Top Tip: Make sure you stand in one of the corners of the Hot Air Balloon basket, this way you have unobstructed views in 2 directions!…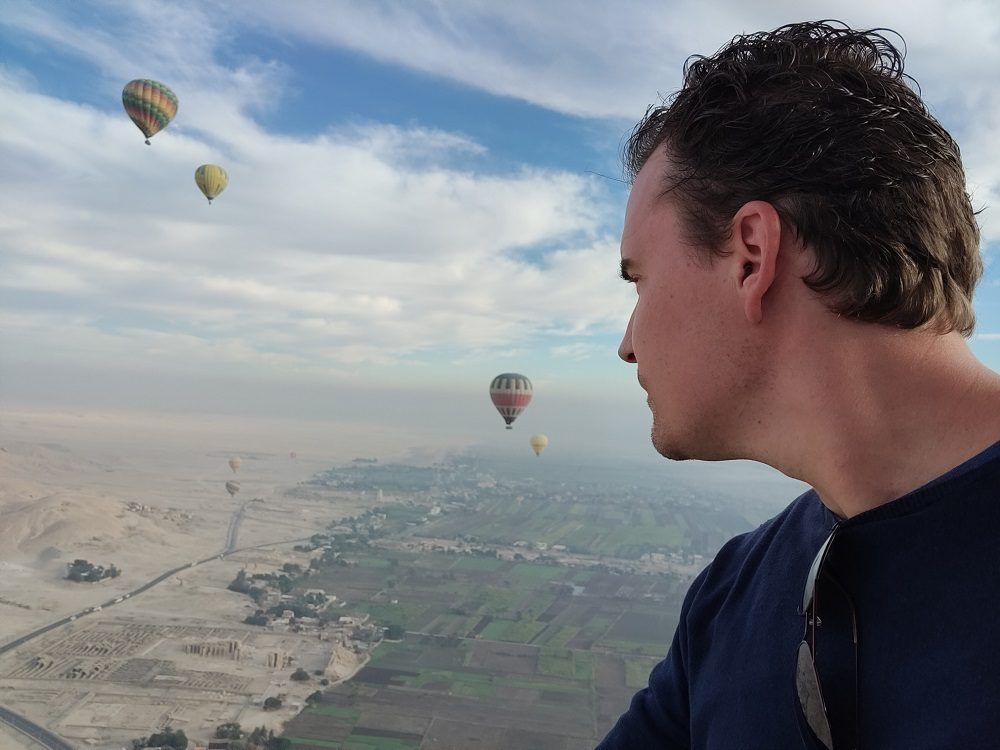 Enjoy the views over Luxor's West Bank
The Hot Air Balloon ride takes you over Luxor's West Bank sights. You will take off at the 'Hot Air Balloon take-off field', Next to the entrance of the Hatshepsut temple. This sight is the most famous and you will get great views from above.
During your Hot Air Balloon ride you will also pass the Ramesseum and the Colossi of Memnon. In addition, it is fun to see the clear distinction between the lush green irrigated fields and the harsh desert land stretching towards the horizon.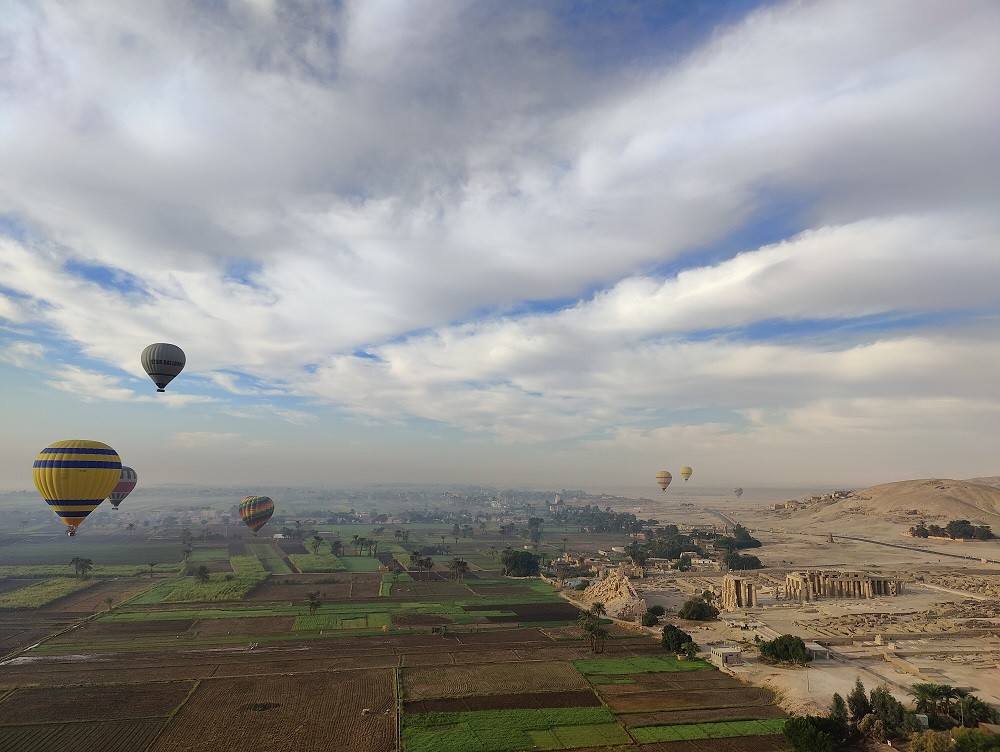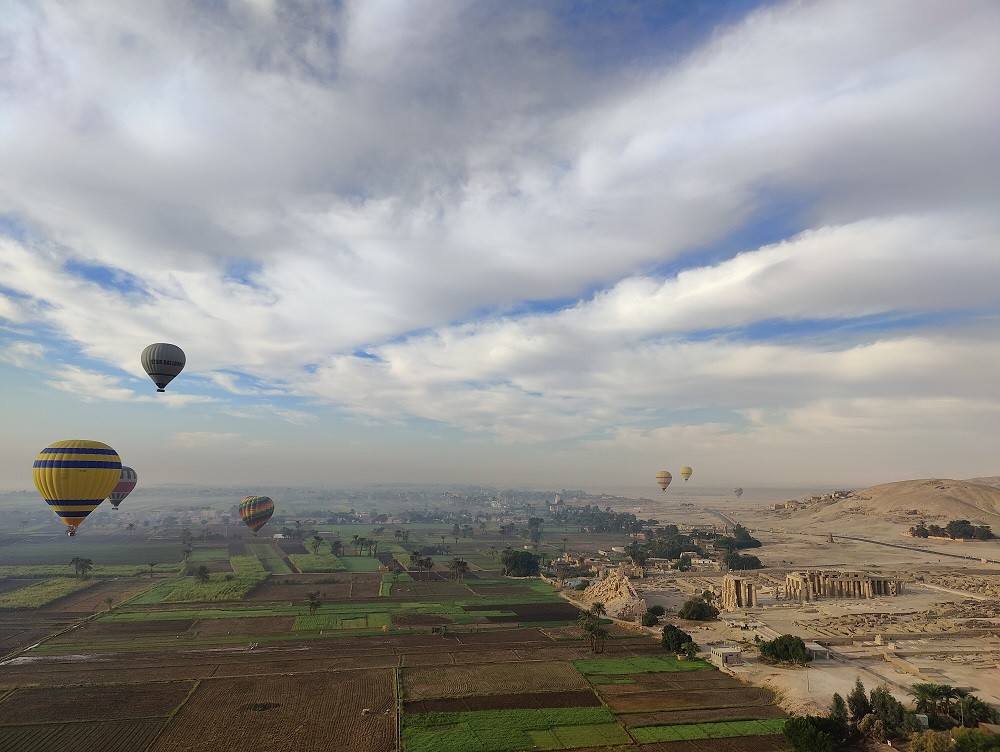 As said, earlier on our day it was quite misty, with limited wind… We did not take the balloon very far. However, to give you an idea, the furthest you will reach is near the 'monastery du Grand Martyr Prince Tedros'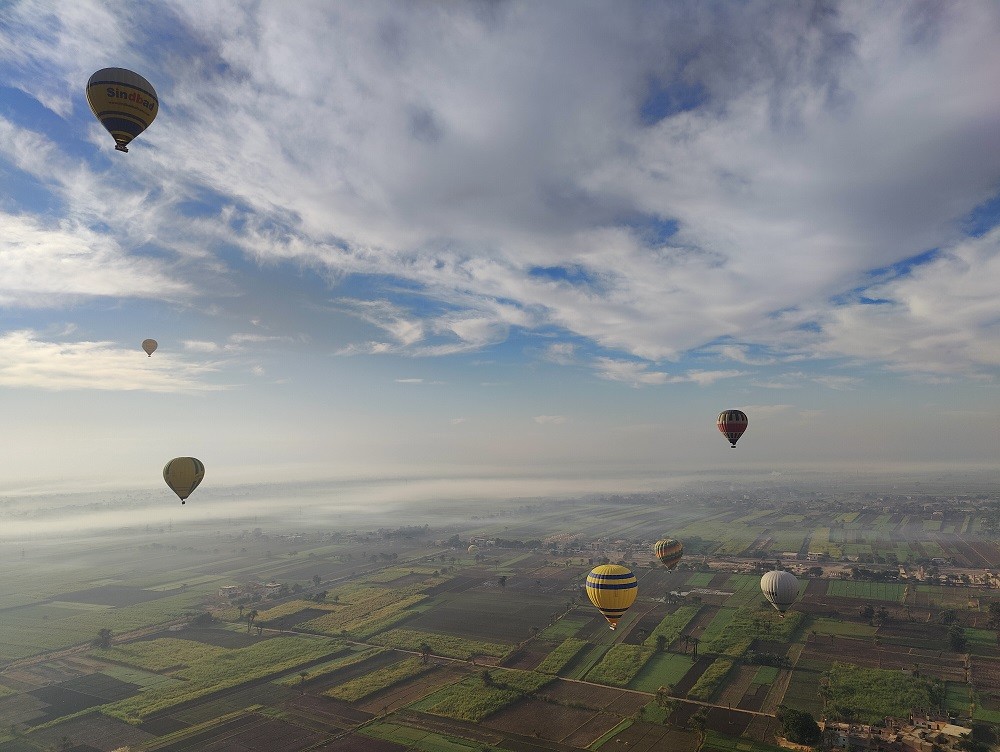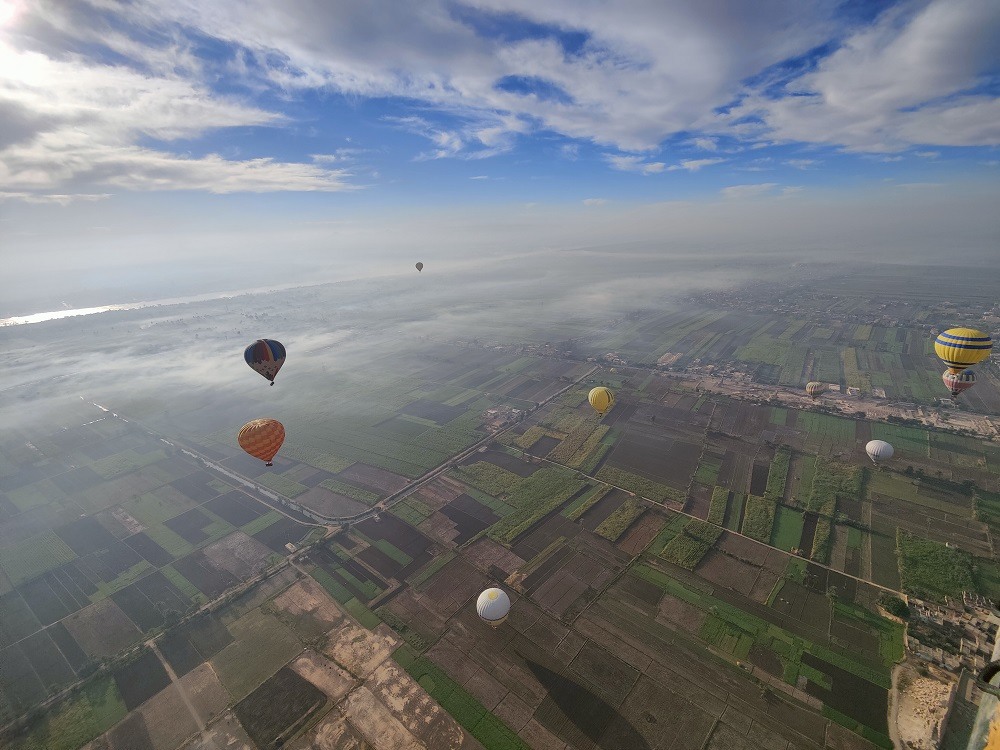 Landing the Hot Air Balloon
The landing was much softer than expected, although we did almost land on a solar panel and then a police car… Upon landing a large team of ground crew tries to get the Balloon under control by pushing the air out of it… Once under control you are able to leave the basket… A fun spectacle to witness…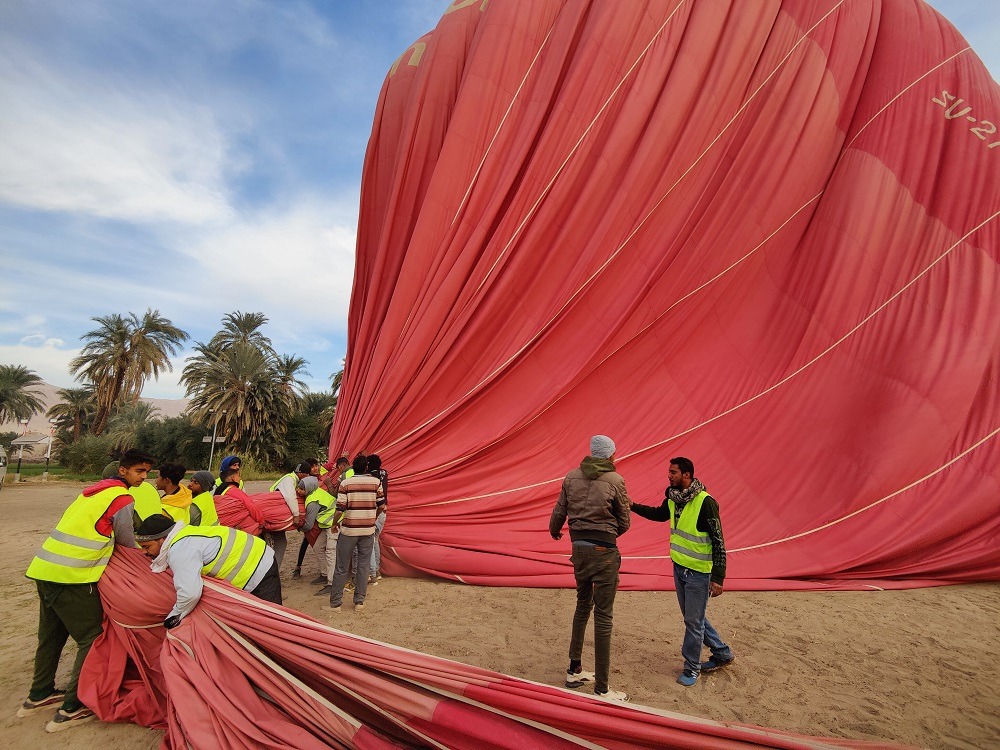 Well, that were my key tips to make your Luxor Hot Air Balloon ride even better!… If your itinerary allows it, I would definitely go for it! At around 70-90 USD, It also seems quite cost-effective, compared to some other locations (like Bagan, Myanmar) where much more is charged for Hot Air Balloon rides…
Like this post? Have a look at my other Ghost around the Globe stories through Egypt: