Top 3 Bali highlights: Ubud, Seminyak and Gili
Let me take you to the town of Ubud in Bali, Indonesia, the centre of Balinese traditional crafts, dance and heritage! Ubud is surrounded by rainforest and terraced rice paddies are dotted with Hindu temples and shrines. These make up Bali's typical famous landscapes and therefore a must visit… Let me show you Ubud's key sights and activities!… In addition, we will also explore the other 2 highlights: the Party hotspot Seminyak and the tropical bounty beaches of Gili Islands… When focusing on these 3 areas you are sure of a complete Bali experience!…
Bali is great for every traveller
Bali is on many travellers bucket list and for good reasons, there is just something relaxed, idyllic and picturesque about this place!… It has great nature, culture, beaches, coral reefs, volcanos, rice paddies, temples, has a laid back culture, yoga hub and a great party scene! To some extent it is Bangkok in the form of an Island, as it has something to offer to every type of traveller!…
Bali is the only Hindu-majority province in otherwise Muslim-majority Indonesia. This likely explains why this island has developed differently over the decades, with its more open, 'laid-back' atmosphere and of course it explains the typical Balinese architecture, which makes this island stand out from the rest of Indonesia.
Top things to do in Ubud
As mentioned, I believe Ubud, and its surroundings have to make up a key component of any Bali itinerary. There is so much to explore that we even made one of our Bali trips dedicated only to Ubud!… We went with my mother-in-law, so no need for the more fast paced and party-hardy side of Bali on this trip. Instead, we focused on the heritage, cuisine and nature, making Ubud the perfect place to be!… Let's dive into some top things to do!…
Explore Ubud's lush green nature!
Go for a hike and enjoy the natural beauty of Ubud… We stayed outside of the city centre, beautifully overlooking the rainforest from our hotel and could walk straight into the lush green surroundings of rice paddies and rainforest!…
Top Tip: In case you like to cover more ground or explore more distant waterfalls or vantage points, then rent a moped!
Top Tip: a fun way of 'interacting' with nature is the Sacred Monkey Sanctuary. Also called Monkey Forrest… As the name gives away beware of the cheeky monkeys they grab everything they can!…
Immerse yourself in Balinese culture!
As mentioned, Ubud is Bali's cultural heritage capital!…You only have to roam the town centre or hike in its surroundings and you will see the many Hindu temples and shrines. Some top picks:
Pura Taman Saraswati – The water temple, directly in Ubud's main street, impossible to miss!
Gunung Lebah – Also located in Ubud town centre
Pura Dalem Agung Padangtegal – Located in Ubud's sacred Monkey Forest Sanctuary
Goa Gajah – The Elephant Cave temple, famous for its face carving at its entrance
Pura Tirta Empul – One of Bali's more famous water temples where people take healing baths
Pura Gunung Kawi – Has very impressive high shrines and a scenic walk through rice paddies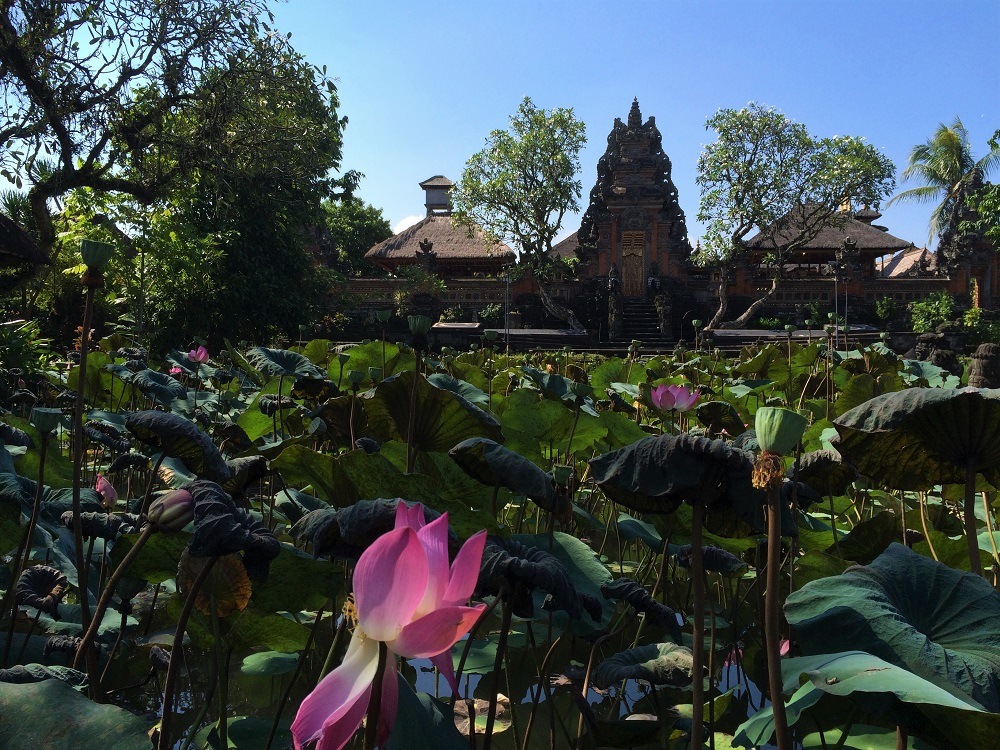 Top Tip: Ubud is not only about temples, do also check out the various dance performances and browse the many art galleries!
Learn to cook – Bali style!
What better way to explore the Balinese cuisine than to cook yourself? We booked a great tour where we started to with buying ingredients on the local market. A very nice way to hear about the various ingredients and dive into Balinese day-to-day life!…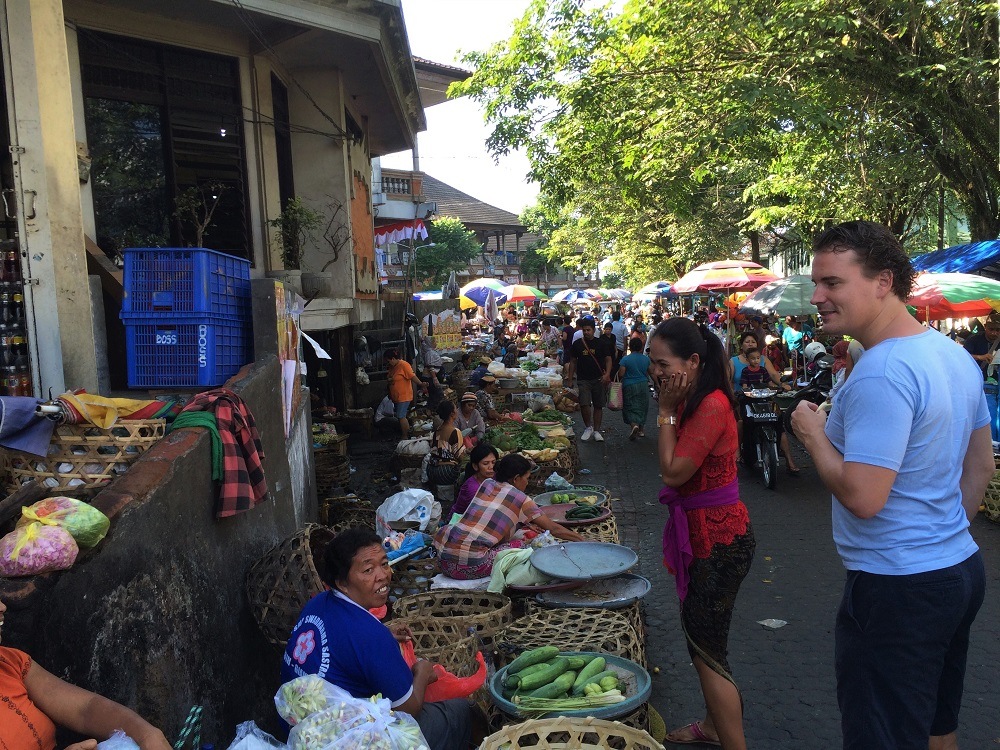 Before we knew it, we were in full action in the outdoor kitchen, cooking Sateh and other Balinese delicacies!… Afterwards you eat your own prepared food!.. I definitely recommend this tour, even if you do not like to cook do not worry!.. The guides and cooks will assist where required so the end result is always delicious!…
Taste the world's most expensive coffee!
Staying on the culinary side of Bali, as the island is also the origin of Kopi luwak, the World's most expensive coffee. The high price comes from the uncommon method of producing such a coffee. It is produced from the coffee beans which have been digested by the Indonesian civet cat.
We visited a Kopi luwak coffee plantation, where we also got a tour of the herb and spice garden, after the tour you get to taste their various teas, drinks and you can taste the Kopi Luwak coffee (for an additional fee) … Fun to taste (and perhaps to buy some small packets for your friends & family), to be fair the coffee tasted nice and smooth, but unsure if I would really pay the excessive premium price for my everyday cup of coffee…



Relax during a Balinese massage!
One thing to surely do when in Ubud is to get a Balinese massage! A great way to relax, you can find them on any corner and they are usually quite cheap! We had massages 3 days in a row… I would not recommend this though, as we actually got sore in the end from all the kneading, rubbing and pressing… Luxury problems!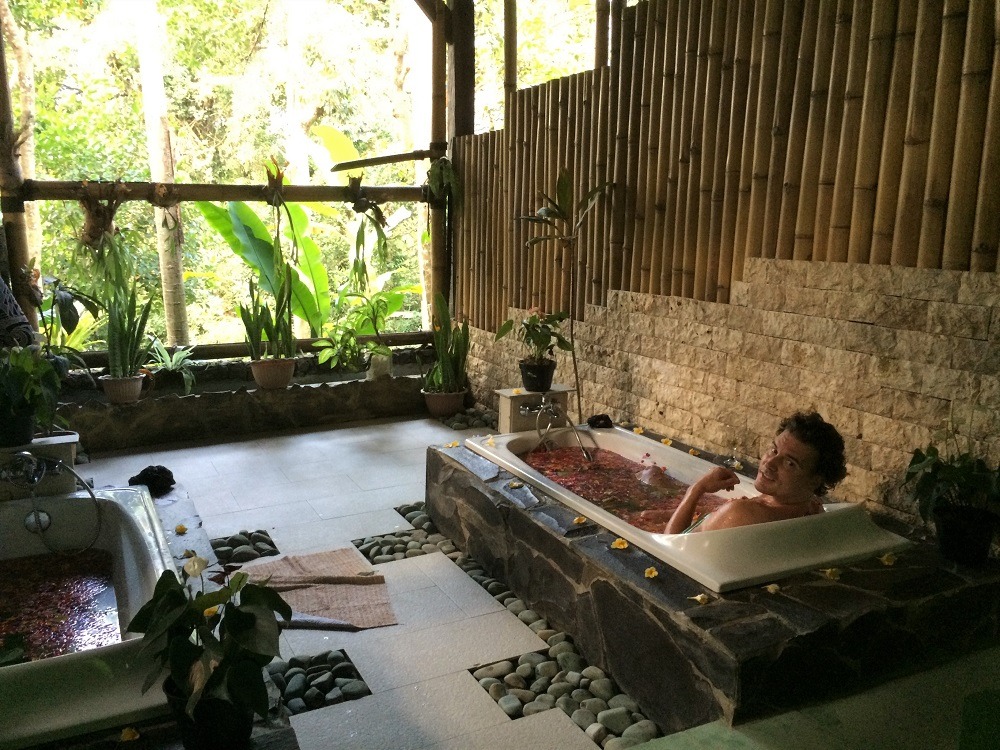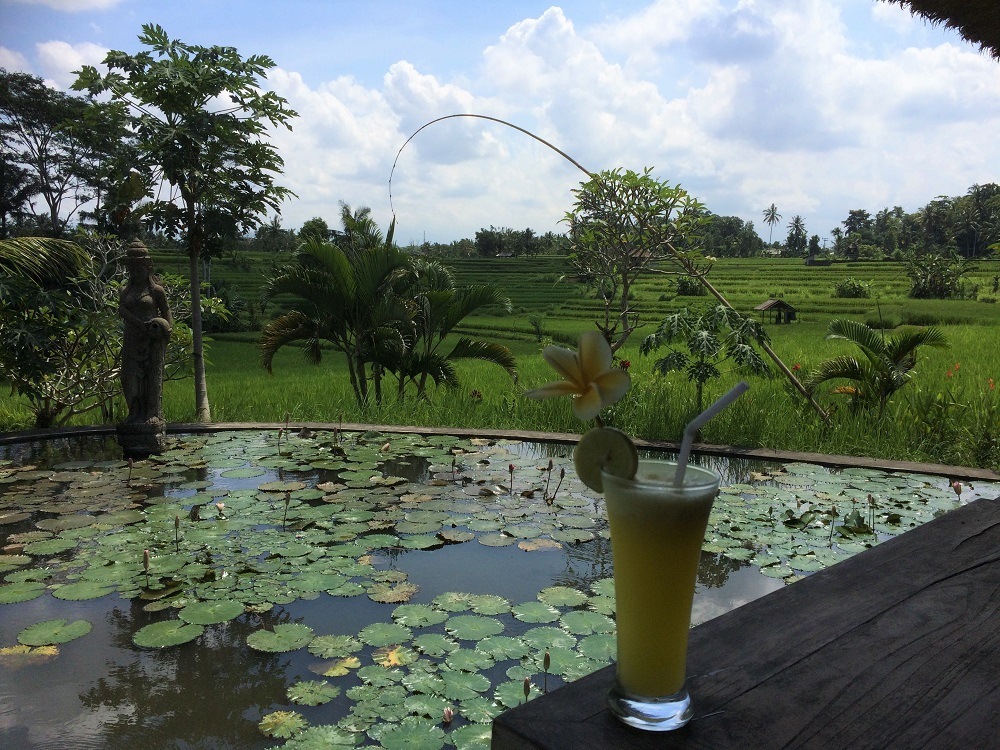 Well with these top things to do we leave Ubud behind, of course there is much more to do and explore in and around Ubud, but I believe this covers the highlights!… Let's dive into the other highlights (from separate travels) to make your Bali Itinerary complete…
Seminyak – Bali's party hotspot
Where Ubud is about tranquillity and relaxation, Seminyak, and South Bali, is about partying!… Of course you still find temples, yoga centers and massage salons here, but the emphasis seems to lay on the party and beach club scene. Noisy streets, busy beaches and trendy restaurants & bars are the main draw here!… Don't get me wrong it is nice to spend a few days here! It is just different than the Ubud experience described above…
Top Tip: A recurring tip throughout my posts; Rent a moped and explore the surroundings!
Gili Islands – Bali's beaches at its best
The Gili islands are one of my favourite island getaways! (Perhaps I am biased, because this is where I proposed to Amanda)… These Islands are about 2 hours from Bali by fast ferry, just off the northwest coast of Lombok. The Gilis are typical tropical bounty islands! White sandy beaches, palm trees, beautiful coral reefs and no cars make this a perfect beach destination. Where Gili Trawangan is getting more and more focused on party, the smaller islands Gili Meno and Gili Air are more quiet.
We stayed on the northern part of Gili Trawangan, which is more quiet than in its small port town on the East side of the island.
Well this brings an end to my Ghost around the Globe Bali top picks!… In short: Definitely visit Ubud, in my opinion Bali at its best!… Do check out the crowded Seminyak on the South side of the island as well, but for snorkelling and your real bounty island feeling do go to the Gili Islands (in my opinion, a far better beach than the overrated beaches like Seminyak, which are better for there party vibes and nightlife).
Do also combine your trip with other highlights in Indonesia! What to think of spotting Komodo Dragons? Snorkel in Kanawa island (one of best snorkelling spots) or explore Dutch colonial heritage in Surabaya, or the cultural heritage of the Borobudur?