Top 7 things to do in Brazil
Reading time: min | Published on:
Brazil is the largest country of South America and the 5th largest country in the World! This magnificent and very diverse country has plenty on offer for all types of travellers! Join me in 7 things that should not be skipped when travelling to the land of Samba, beaches, jungle and carnival!
1. Explore the abundant wildlife of the Pantanal
Brazil is world famous for its Amazon rainforest and hence a well-visited place in Brazil. However, likely the best place spot wildlife is in the Pantanal. This is the world's largest tropical wetland area, the forest is not so dense and it has many open areas…
The best base to explore the Pantanal is from Campo Grande. From here you can book a tour to sleep in the Pantanal itself, likely in a tent or simple accommodation. Your tour will also include a few hikes, during which you will undoubtedly come eye to eye with loads of wildlife.
The hikes are not for the faint-hearted, as you will be walking barefoot through the wetlands among hundreds of Yacare (caimans). Although they are harmless fish eaters, they surely do not look like animals you want to make angry or step on their tails… Hence the sticks provided by your tour guides! In addition, these lakes also are home to Anacondas… Just for your information… And so you hold on tight to that stick of yours!…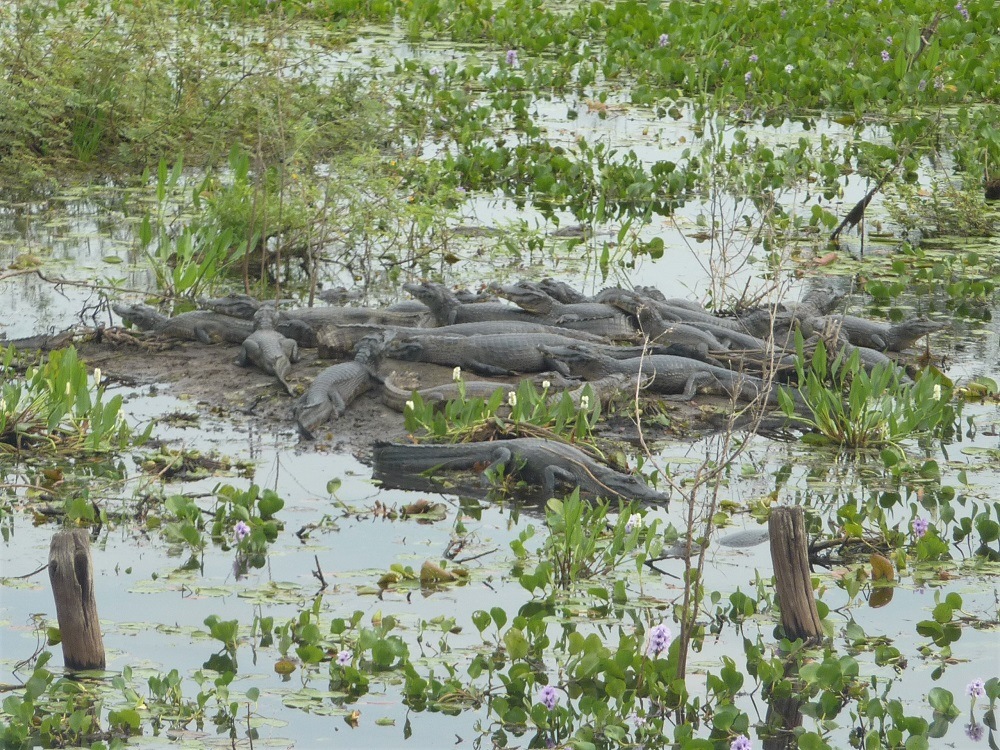 During our hikes and safaris we saw, spiders, monkeys, capybaras, blue parrots, armadillos, deer, toucans, capybaras, ant eaters and many more extraordinary animals. Unfortunately, we did not spot any anacondas or jaguars.
Our guide also provided us with some great survival tricks, like eating termites (which taste "nutty") and drinking water from tree branches.
At night we also did a night safari by car, when our guide shined his flash light into the water you see just how many red caiman eyes lit up in the dark…
I always find it a great experience to sleep in a tent, especially amidst the noises of the nightly forest. You hear the crickets, frogs, monkeys and many exotic noises. Speaking of frogs, our campsite had quite a few giant frogs roaming around…
One other very fun activity in the Pantanal is piranha fishing, click on the link for the details!… It is also likely you will visit a local Yacare farm, if you are careful and approach from behind these frightening wild animals let you pose for an exciting picture!…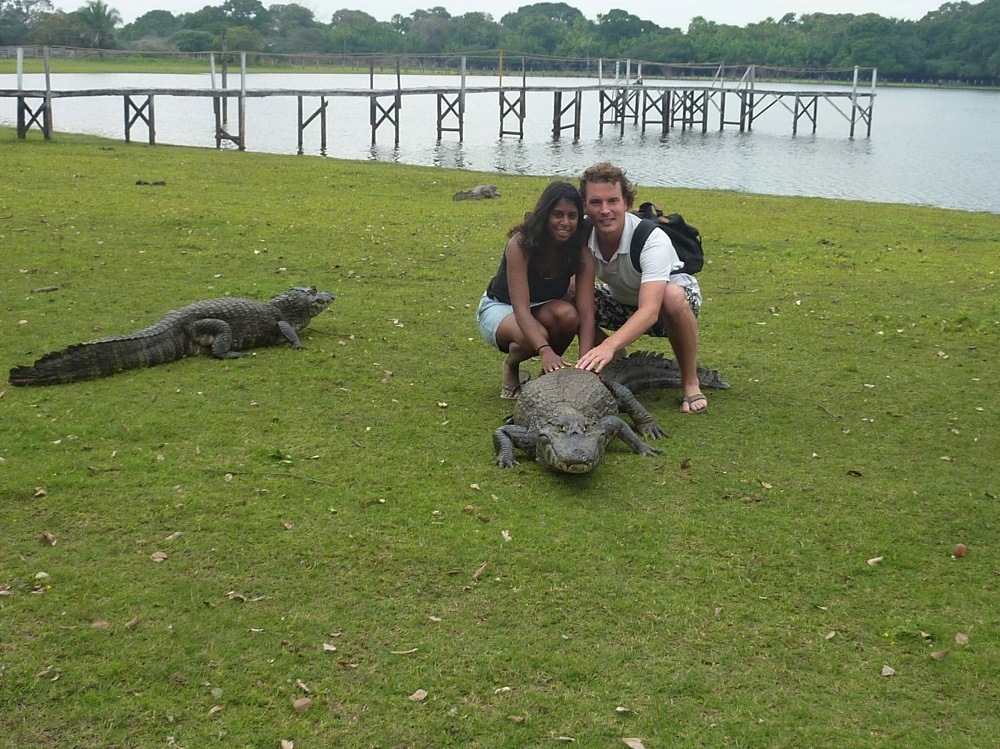 Top Tip: During your time in the Pantanal it is possible to swim in the rivers. Given these waters must be invested with piranhas. These ferocious creatures are obviously triggered by blood… I questioned the local guide on how this would work out for people with (small wounds) or particularly ladies whenever it is that monthly period. According to the local guide, women ALWAYS tell him in case they have reached that period of the month. I very much doubt this, so my advise! Better be safe than sorry… Tell the guide or just simply abstain from swimming during your visit!… Also do remember the Yacare, Anacondas and many other creepy crawlers in these jungle waters… It was nicely refreshing though!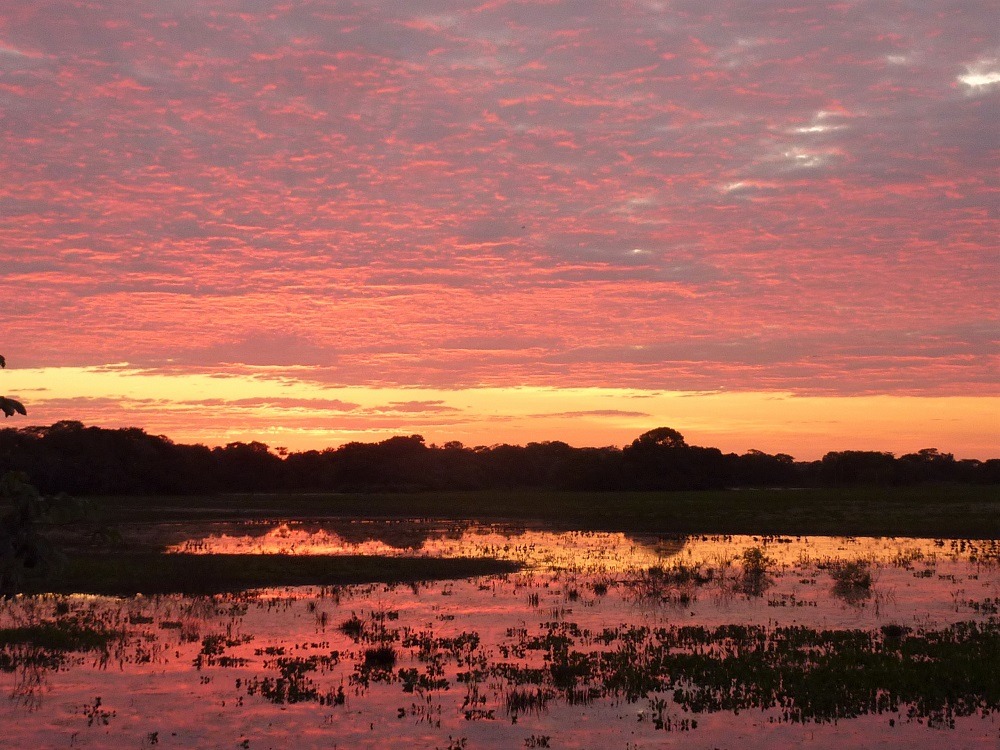 2. Fresh Water snorkelling in Bonito
The Rio da Prata, close to Bonito is one of the clearest waters in the world to snorkel, right after a swimming pool that is!… Let the photos speak for itself! When in Brazil… definitely jump in and experience for yourself!
3. Rio de Janeiro
An obvious inclusion into these top Brazil sights is one of the most amazing cities in the world; Rio de Janeiro.
I don't think anyone would be thinking of skipping this marvellous city when visiting Brazil! Do check out the lively Samba scene, the colourful Escadaria Selaron staircases, Copa Cabana, the Crist Redeemer statue, the list goes on and on!…
What made our memories even better was our amazing "tour guide"! Felipe, a doctor which we met earlier in our (and his) travels to Buenos Aires and who volunteered to guide us around his hometown! A great example of Brazilian hospitality!…
4. Ilha Grande
This is surely one of my favourite tropical islands worldwide! Laidback Ilha Grande has it all! From great beaches to nice bars, to mountains and forests to explore on beautiful hikes! Ilha Grande ideal for a few days of relaxation!
5. Paraty
One of the most picturesque towns we have ever visited must be Paraty. And I like to add that it was raining heavily on most days during our visit… Imagine what a touch of sunshine would add!… The cobblestoned streets, the Portuguese colourful houses, and the live music lingering in the streets make this small town an exceptional place to visit and make that Caipirinha taste even better!…
6. Foz de Iguazu
A trip to Brazil is not complete without having experienced the grandeur of the Iguazu waterfalls, right on the border with Argentina! Do read my detailed Iguazu blog on this on how to make the most out of your Iguazu falls experience!
7. Eat at a Churrascaria
This delicious way of indulging in all sorts of tender meat is typically Brazilian… Do not leave the country without trying at least once!… Warning! If you tried this once it is likely you will try it as often as possible before you leave Brazil again… During this excellent all-you-can-eat concept, the waiters keep bringing freshly prepared meat straight to your table to carve it off… If you like to take a break just swap a sign on your table to "Red / No" and they stop bringing to you… As soon as you swap back to "Green / Yes" is being cut to your plate again!…
Bonus tip: Skip Sao Paulo
During our trip we stayed one day and one night in misty/rainy, traffic jammed Sao Paulo and left on the first bus out of the city. We did not like it, especially given all the beauty that Brazil has to offer. However, I do expect this is not taken happily with some of my Sao Paulo study friends! Who I expect will now soon invite me to show the proper side of Sao Paulo! After which, I will certainly tell you all about my newly gained experience! Until then, trust me and use your time in Brazil wisely!…
Bonus tip: Visit Manaus
During my travels, I did not visit Manaus, the capital of the Amazon basin… this is still on my bucket list! If you have time I would certainly try to add this to your Brazil experience! It seems amazing… It may be a nice combination with that Sao Paulo invite I am expecting soon enough! LOL…
Well, that was yet another Ghost around the Globe post… I hope it gave you the inspiration to visit Brazil at the earliest!… Although large and diverse Brazil has lots to offer on its own, do check out if you like to combine your travel plans with any other neighbouring countries, like Argentina, Uruguay or Bolivia.