Top things to do in Auckland New Zealand
Reading time: min | Published on:
Join me in my New Zealand explorations!… In this series of posts, I will keep adding new posts during our travels!… Let's start in Auckland, the largest city of New Zealand. (In the wider Auckland urban area 1.6M people live out of a total New Zealand population of around 5M). Being a gateway to the Polynesian region, Auckland has the largest Polynesian population of any city in the world, making this an exciting cultural melting pot!… 
Auckland walking tour
Auckland has a very modern feel, therefore does not have too many (major) historic sights to explore. You can easily cover most of the places of interest in 1 or 2 days!… Below I will list a few of my key suggestions! I have put them in a logical order, so you can turn this into an easy walking tour!
St Kevin's Arcade
A bit outside of Auckland's city centre (CBD) start the tour at St Kevin's Arcade. This building has an interesting architecture. Its steep staircase leads you via a few floors of restaurants and bars towards Myers park.
Auckland Townhall & The Civic Theatre
Myers Park, with its large palm trees, leads you to Queen Street. Here you pass Auckland Townhall and The Civic Theatre.
Auckland Art Gallery
Make your way to the Auckland Art Gallery for some cultural indulgence. Entry is free! So no excuses for a peek inside!…
Auckland's Albert Park
Right next to the Auckland Art Gallery you find Albert Park. Great for a picnic.
University of Auckland
When crossing Albert Park you will reach the University of Auckland grounds. Directly next to the park (along princess St) you find a few charming historic houses (of which a few serve as University buildings). Opposite the street you see the Clock Tower.
The lush green University grounds with its wide botanical variety is dotted with various old campus buildings, like the Old Government House and the small Lodge Building.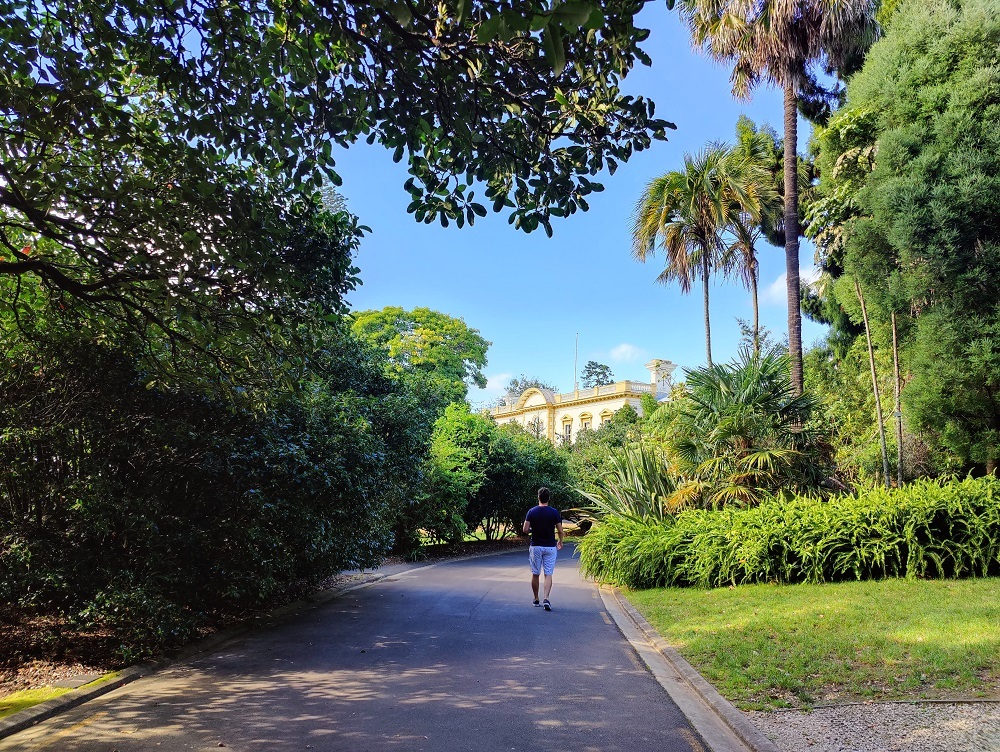 Auckland Chancery Square
We only walked past, but tiny Chancery Square with its various restaurants has a nice ambience… Could be a good stop for coffee or an ice cream.
High Street
Running Parallel to Queen Street, High Street is one of the major shopping streets of Auckland.
It is here that Amanda was happily surprised with (yet another 'rare' Taco Bell experience – her favourite fast-food chain. The last one we came across was in Kuwait).
Britomart
Make your way towards the Britomart area. Here you find various bars and restaurants, as well as fashion boutique shops.
Auckland Ferry terminal
The old Auckland Ferry building is one the key historical buildings of Auckland. Over time, the downtown ferry terminal has grown around it. Also, the many skyscrapers are nowadays dwarfing this historic impressive building.
This terminal connects Downtown Auckland with various sights of interests. Examples are Rangitoto Island (great for hiking), Waiheke Island for a great wine tasting day trip! (see my separate post) and Devonport.
Auckland Viaduct Harbor
Viaduct harbor is one of the nicer areas to have a drink, lunch or dinner! Pick any of the many bars & restaurants that overlook the marina.
Wynyard Quarter
Keep walking along the harbor and you will reach the Wynyard Quarter. The promenade has many bars & restaurants.
Top Tip: Visit the Auckland Fish Market, a food hall type outlet with many fish restaurants & bars. 
Drinks and Dinner at Ponsonby
Located a bit outside the CBD area is Ponsonby Street. A long street with various Bars and Restaurants. When walking from the CBD area it is best to take Franklin Road. This way you reach the area with most bars & restaurants. Here are some of my top picks:
Elmo's
Enjoy the great happy hours & pizza in the sun at Elmo's.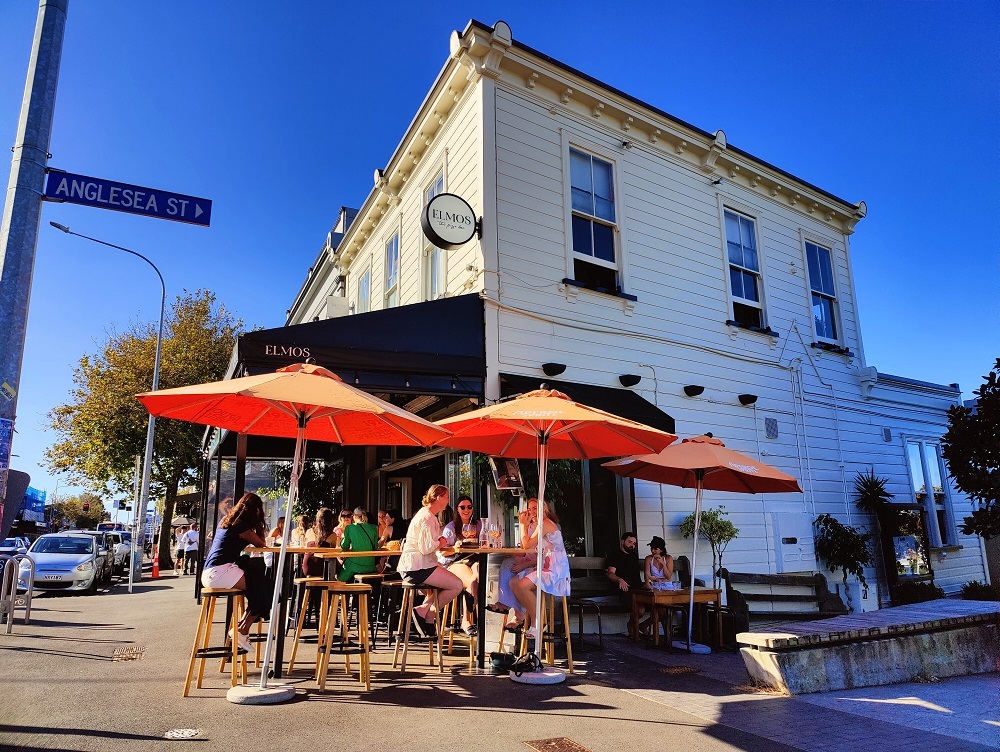 Chapel Bar & Bistro
Opposite Elmo's, Chapel Bar is a nice church-inspired vibrant pub.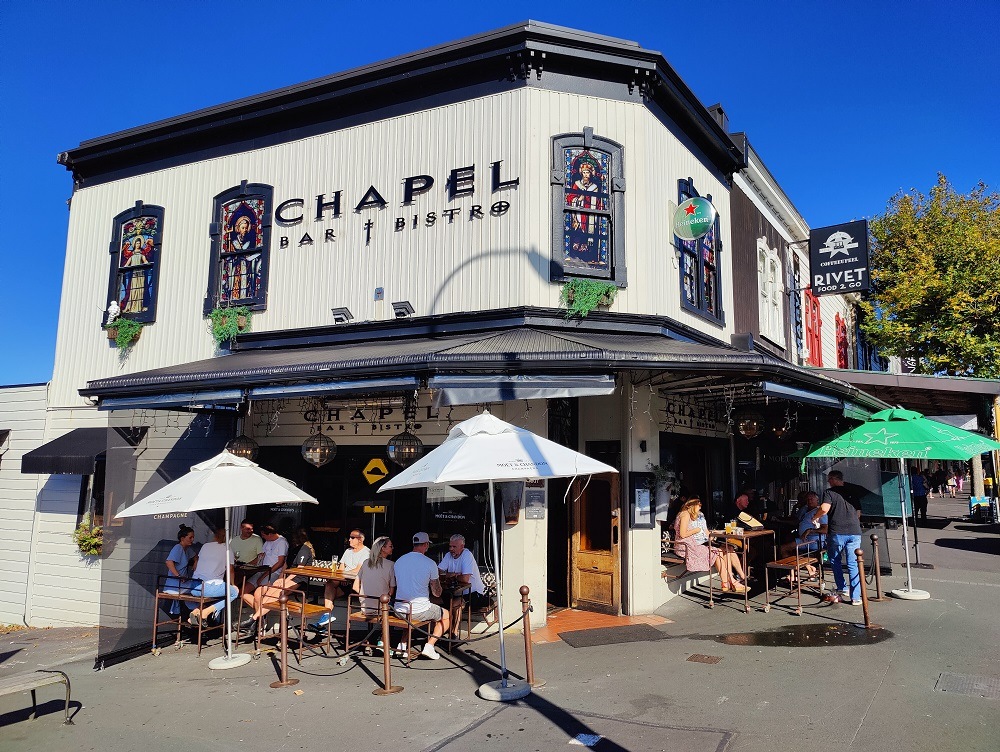 The Blue Breeze Inn
Try not to mind the blunt management and enjoy the Chinese food of The Blue Breeze Inn.
Duck Island Ice Cream
For dessert head to Duck Island Ice Cream!
The Birdcage Tavern
Auckland (and New Zealand in general) has quite high (alcohol) prices. So, take a bargain when you find one!… The Birdcage Tavern is offering great (happy hour) deals…
When visiting Ponsonby, have a drink or pizza at The Birdcage Tavern! NOT located on Ponsonby Street, but an easy stroll down Franklin Rd, so easy to add before or after your Ponsonby visit!…
Top Tip: The Birdcage Tavern has very competitively priced beer jugs & pizzas!
The Sky Tower
Impossible to miss and a key part of the Auckland skyline is the Auckland Sky Tower. It is 328 meters (1,076 ft) tall, as measured from ground level to the top of the mast. This makes it the second tallest freestanding structure in the Southern Hemisphere, surpassed by Autograph Tower in Jakarta.
You are able visit the viewing deck (personally find it a bit too costly for – yet another – viewing platform). Alternatively, you could make a booking at one of the restaurants (no admission ticket required when you have a reservation). Even more exciting could be to book a bungee jump from the tower. Otherwise just glance at the tower from the ground! 
And that brings an and to these Ghost around the Globe tips for Auckland!… Do also read my other New Zealand adventures via the links below: