Top things to do in Berlin
As do most European cities, Berlin makes for a good year-round destination. I visited this German capital in winter with mild snowfall. If planning to visit the city during summer, just imagine greenery, picnics in the parks, open biergartens and sunshine!
Book a cycling tour
Likely the best and most fun way to explore Berlin's various neighbourhoods and sites is by booking a cycling tour! A quick google search provides you with plenty of agencies, do your research and compare prices!
Berlin was heavily bombed during WWII. Large parts of the city are rebuilt and are making way for wide streets and separate cycling lanes. In case you are not so used to cycling (in a large city) this means a much more pleasant experience! So definitely book a tour!
Fernsehturm
One sight you will directly notice is the 368m high Fernsehturm, towering over Berlin. This television tower is located in central Berlin, close to Alexanderplatz. The tower was constructed between 1965 and 1969 by the government of the German Democratic Republic (East Germany). It was intended to be both a symbol of Communist power and of Berlin. The sphere is a visitor platform and it there is also a revolving restaurant in the middle of the sphere.
Reichstag Building
A visit to Berlin is incomplete, without visiting the Reichstag Building. Throughout history, it has been set on fire, heavily bombed, been in disuse for decades and, after reunification, restored as the place where Parliament meets.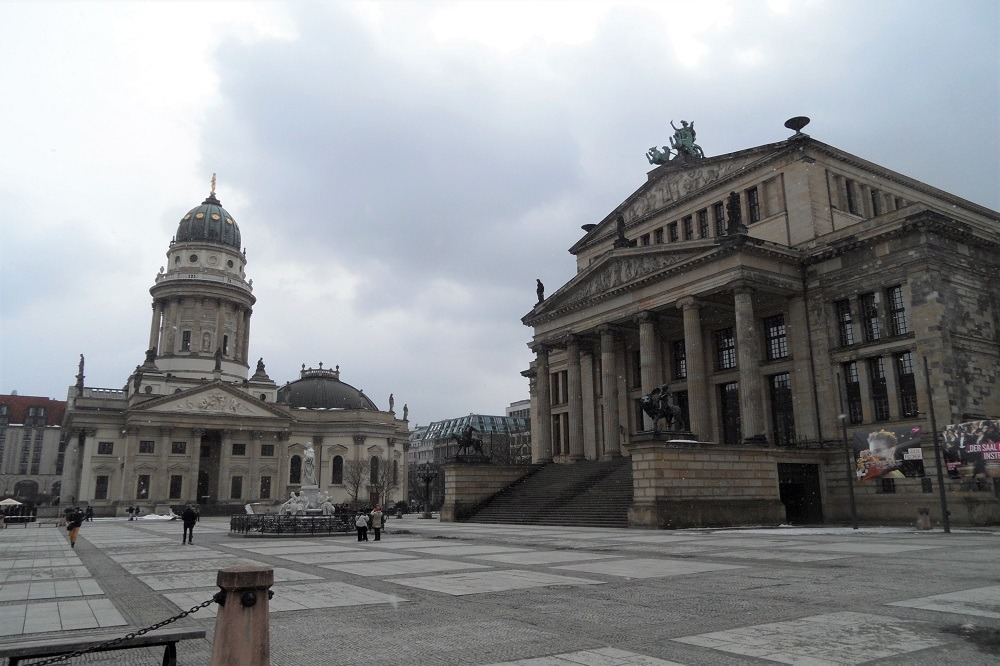 Brandenburg Gate
Not far from the Reichstag building you'll find the Brandenburg Gate, another iconic building of the capital, if not Germany as a whole! It is an 18th-century neoclassical monument, built on orders of Prussian king Frederick William II.  It marks the place of the gate towards the city of Brandenburg an der Havel.
Memorial to the murdered Jews of Europe
Also known as the Holocaust Memorial, it remembers the Jewish victims of WWII.  It is built on a sloping field and consists of 2711 concrete blocks. It was designed to produce an uneasy, confusing atmosphere. The whole sculpture aims to represent a supposedly ordered system that has lost touch with human reason.
Berlin Cathedral
Another site is the impressive Berlin Cathedral. Also, pay a visit to the Lustgarten park in front of it!…
The Berlin Wall
The Berlin Wall has ideologically separated the city from 1961 to 1989. It was built by the German Democratic Republic (East Germany). To avoid any East Germans exiting to allied West Berlin. However, according to East Germany, they were protecting their socialist state to fascist influences from the West.
When you move from one side of the wall to the other, the difference is still amazing! Again, this is why I advise booking a cycling tour. One moment you cycle through West Berlin, with a 'western European feel', as soon as you pass the wall you experience the 'Eastern European vibe'. Just experience it yourself!…
Checkpoint Charlie
You are still able to visit the checkpoint to cross from East to West Berlin during the Cold War. It was called Checkpoint Charlie by the Western-allied forces and became a symbol of the cold war division between East and West.  After the reunification, Checkpoint Charlie became a tourist attraction. It is now located to the Allied Museum.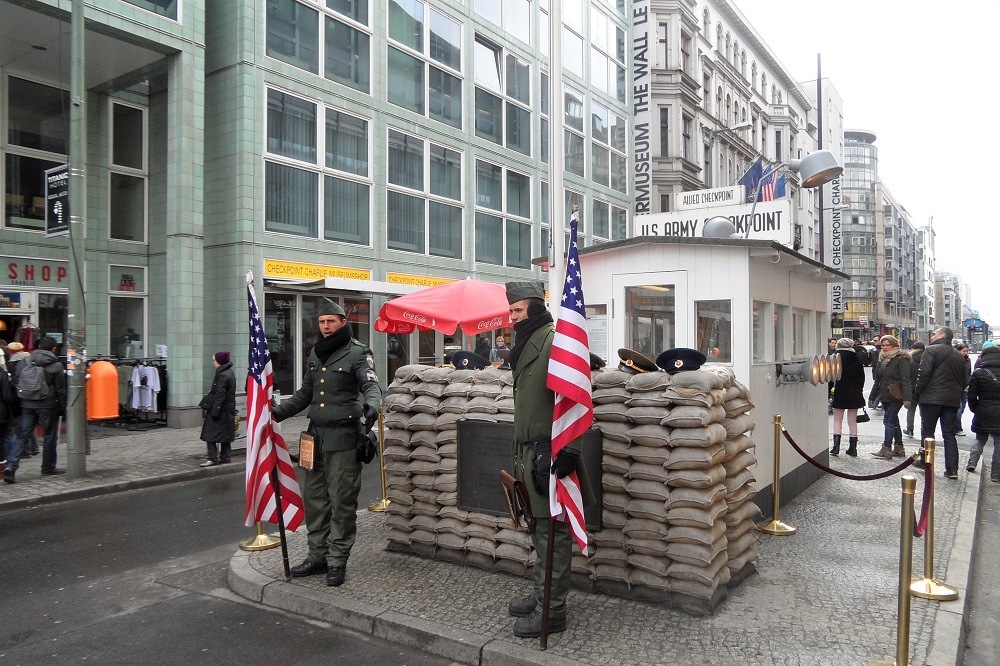 Tempelhof Airport
Also part of our cycling tour was cycling over the landing strip of the Tempelhof Airport. The airport seized operations in 2008 and was turned into a park in 2010. This airport received iconic status, due to the Berlin Airlift during the cold war era. This was the only way to supply West Berlin during a Communist Blockade during 1948-1949.
Potsdamer Platz
The best example of modern Berlin and its architecture is Potsdamer Square. It has been the site of major redevelopment projects, office buildings, flashing neon lights and many bars and restaurants.
Try the German food
Sightseeing makes you hungry! So do not forget to also try the German food, like bratwurst, currywurst, kaiserschmarrn and kartoffelsalat to only name a few. In addition, Germany is famous for its beers, ideally enjoyed in one of the many beer gardens.
Berlin also has a large Turkish population, who mainly live in and around the Kreuzberg neighbourhood. They introduced the Berlin Doner Kebab. Therefore, do definitely try it!
I hope you found this Ghost around the Globe post useful!… Do let me know your thoughts via social media!
Also, do check out my other posts about Europe… What about The Netherlands?  Liechtenstein? Or a whisky tour in Scotland…