Top tips for Angkor Wat Cambodia
Angkor Wat is one of the largest religious monuments in the world. It is the national symbol, depicted on the flag and is also by far Cambodia's (and South East Asia's) key tourist attraction! Built in the 12th century, it showcases amazing craftsmanship. The level of detail in the main building (but also the countless temples and buildings around it) are mind-blowing! Without a doubt a must-visit sight to place on your travel bucket list!…
How to best explore Angkor Wat
As mentioned the site is one of the largest religious monuments in the world. It spans over 162.6 hectares (1,626,000 m2; 402 acres). This means you can easily spend many days on the site. However, in many cases, Angkor Wat will be part of your larger travel itinerary and chances are high that you already suffer from some degree of "temple fatigue". Therefore, I propose you do the following:
Arrive in Siem Reap the day before
The base from which to explore Angkor Wat is Siem Reap. Depending on your budget or travel direction, you will arrive by bus or plane. The town is well connected with Phnom Penh and the wider region (e.g. Bangkok, Hanoi, Ho Chi Minh, etc.). The town has a real backpackers feel, with backpacky Pub Street being comparable to Khaosan Road in Bangkok. With massages, fish spas, hostels, cafes and restaurants. Make sure you arrive the afternoon or evening before you plan to explore Angkor Wat, so you can make arrangements.
Arrange a private Tuc Tuc driver
We like to always set our own pace, which means avoiding group travel where possible. Therefore arrange a Tuc Tuc driver (and if possible let him also arrange the entrance tickets or other requirements). Ensure that he will pick you up the next morning, before sunrise. To all the pre-planners: Do not worry! This is quite standard, trust me you will not have to look for any driver, they will approach you as soon as you set foot in town!
If for some reason you have no luck finding any Tuc Tuc driver, do check with your accommodation. They can definitely help you!
Enjoy the sunrise at Angkor Wat's main temple
As soon as the sun is about to rise the daily migration of tourists will start… Remember there are millions of tourists visiting Angkor Wat on a yearly basis, and most of them will want to see the Sunrise over the main temple. Don't be turned off, this is a very nice sight! After the sunrise spend some time exploring the main temple (in my opinion an hour is more than enough). Find your Tuc Tuc guide again and start exploring the wider site…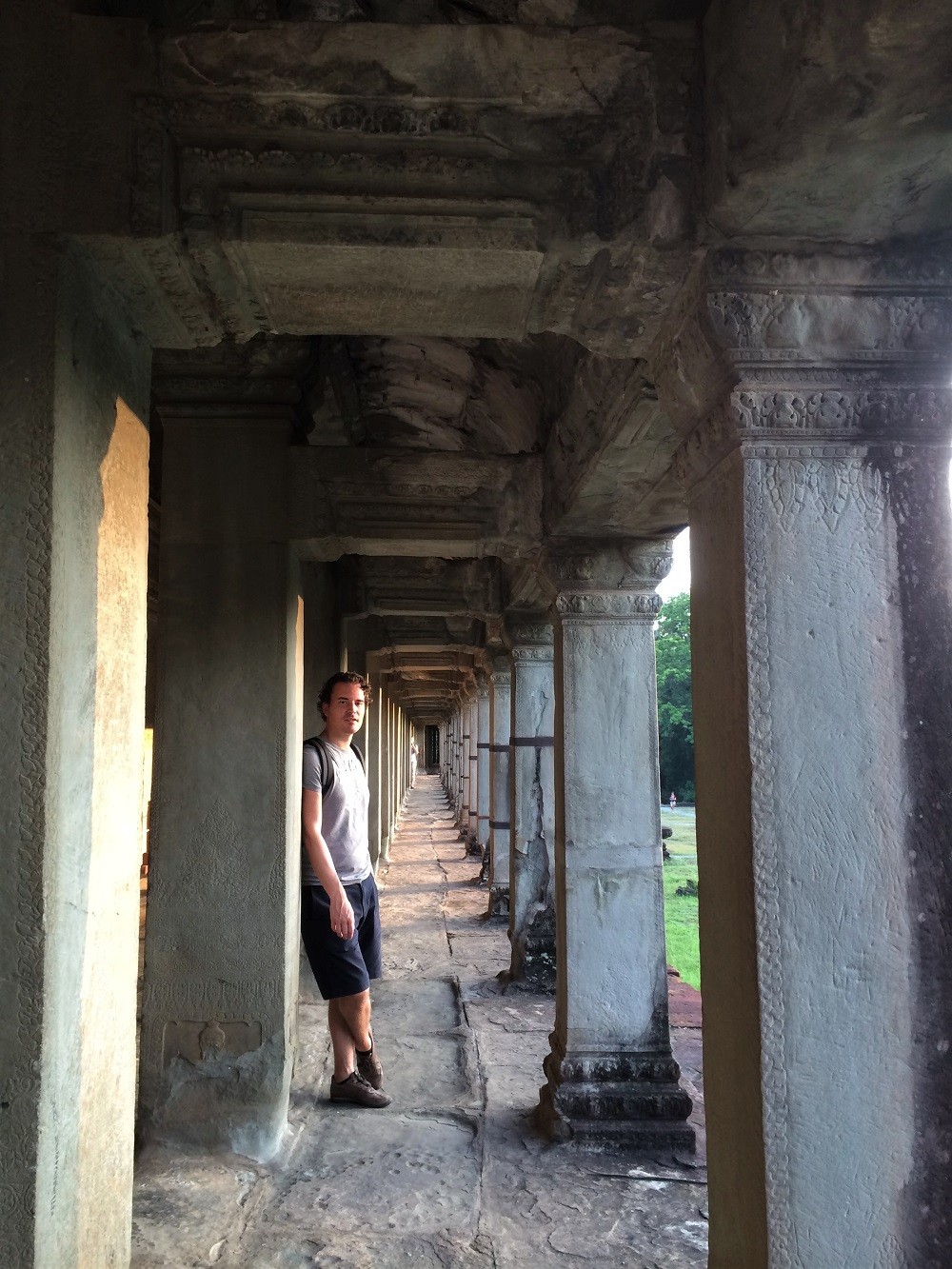 Exploring Angkor Wat's historic area
Hidden away in the forest you come across many temples! So much even that it will help if you do some homework before and select a few must-see temples. You will hear many talks about the large or small circuit… Do not bother too much with it… Definitely, don't be afraid to skip some (or only do a photo stop). The longer you drive around the area, the more the temples will start to look alike!… Remember just select a few key ones, spend some time at temples that look interesting and enjoy your day! Some of my favourites to include in your itinerary:
Bayon
Very impressive temple complex with large faces sticking out.
Ta Phrom
A must visit, as this is where the forest has started to grow around the ruins. This has also been used a setting in the Tomb Raider games and movies.
Banteay Srei
Displays some of the most beautiful carvings
Preah Khan
A nice temple where you will also see some trees intertwined with the temple walls.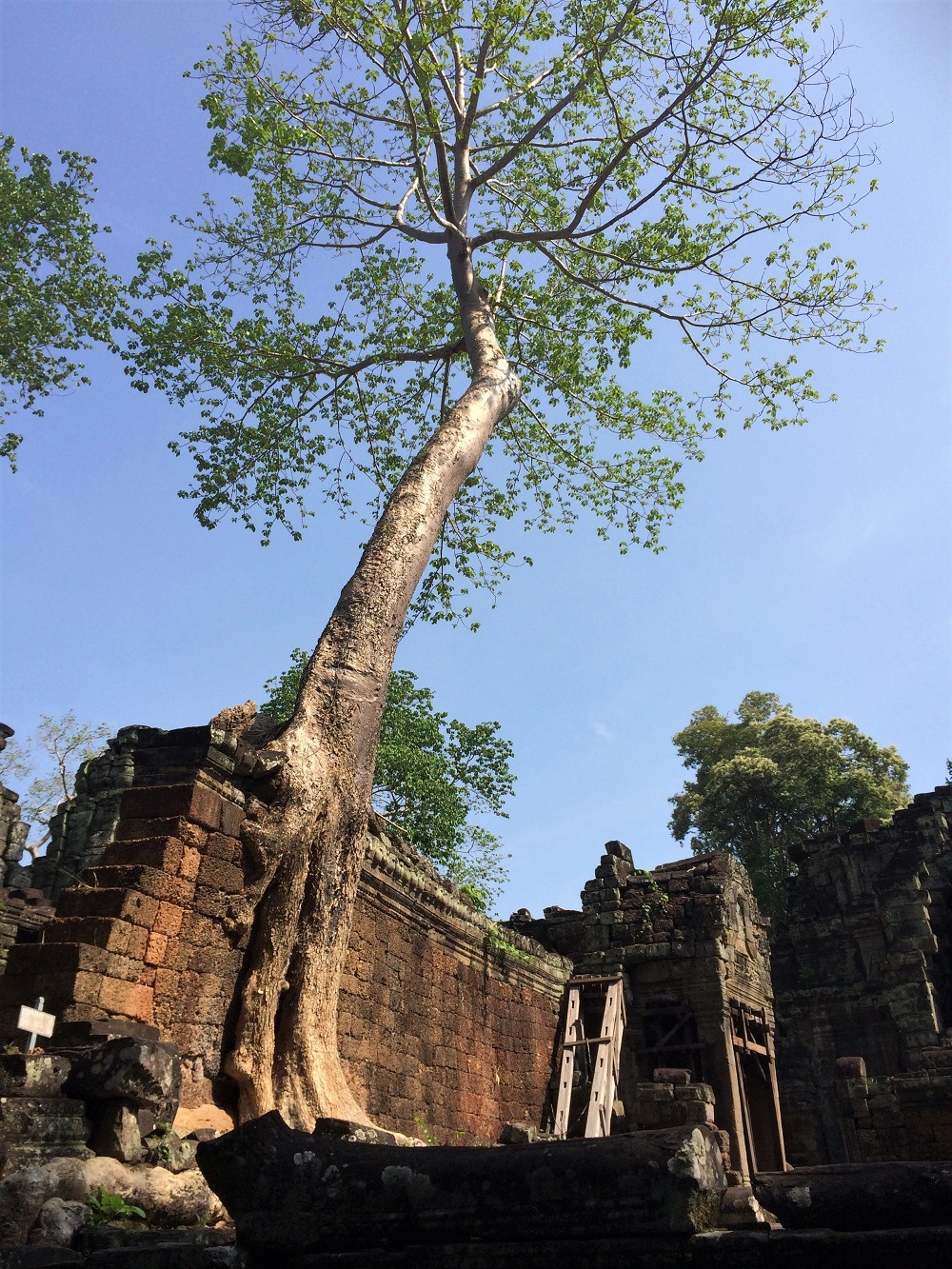 Phnom Bakheng
This is ideal for watching the sunset (after walking uphill for 20-30 minutes). Be mindful that it can be crowded just before the sunset. It does have similarities with Borobudur in Indonesia, which is Angkor Wat's sister city since 2012.
Angkor Thom gates
Nice gates in Angkor style, some have very impressive bridges leading towards it…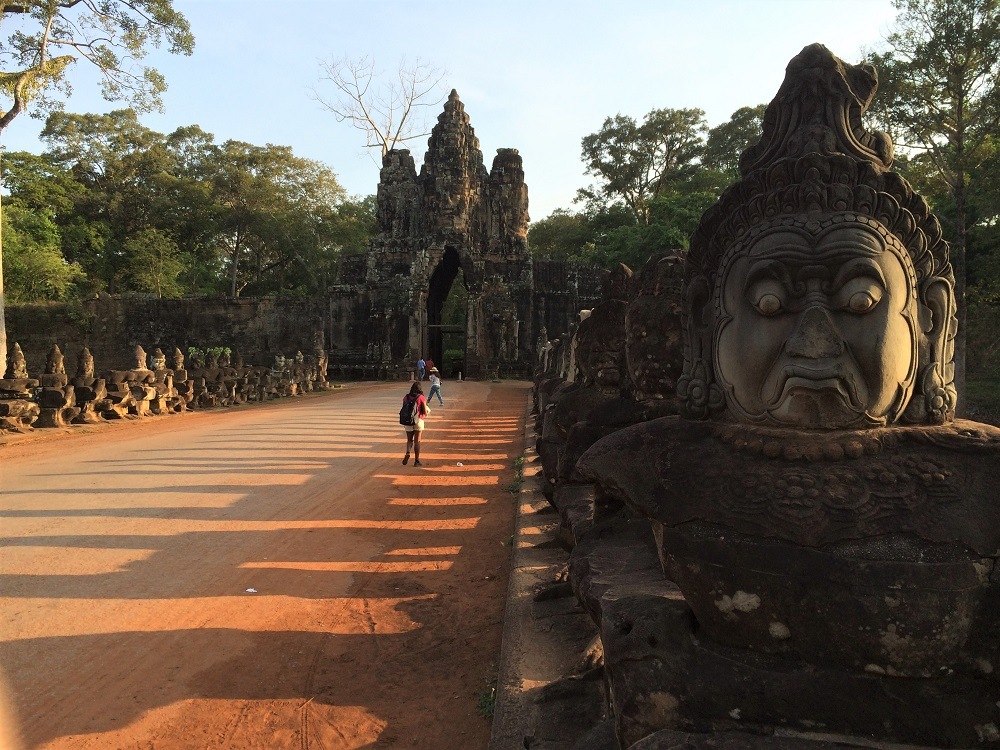 How long should you spend?
Well, the above seems quite obvious… You are definitely able to see all highlights of Angkor Wat in one day! If you have more time and like to spend it at Angkor Wat… Great!… take your time and explore the area in more detail or adjust your pace!… Just do not blindly follow the various pieces of advice you read online, telling you need "at least 3 days" to visit Angkor Wat. 1 well-planned and well-spent day is more than enough!…
What to bring
Remember you will have a long day ahead of you, with an early rise and likely only will reach Siem Reap at the end of the afternoon or post sunset.  Do bring your sunscreen, mosquito repellent, etc. in your daypack. Also do bring something to eat e.g. crisps, crackers, etc.
Given there are many tourists, don't bother with dragging around heavy water bottles. Buy drinks onsite, which are nice and cool!… Also, there are some lunch places scattered over the area. Check with your driver, on the nicest options.
Most of all: Have fun! You will not regret your visit to this amazing place!…
Excited about Cambodia? Read my Ghost around the Globe tips and tricks about Phnom Penh!
Excited about South East Asia? What about Vietnam, follow my ultimate itinerary starting in Hanoi? Or read about Bangkok, one of my favourite capitals! Or check out Angor's 'rival' The Borobodur complex in Indonesia!…