Top travel tips for exploring amazing Reunion Island
Reading time: min | Published on:
All travelers will know France, and people will think of Paris, the Eiffel Tower, the French cuisine, its wines, or the Mediterranean coast. What few people know is that France has many overseas regions. Two of which lay in the Indian Ocean, Mayotte and Reunion Island. Today we are exploring the Reunion Island as part of a larger trip to Mauritius.
Reunion is located 1000km to the East of Madagascar and is the furthest outermost region of the European Union. Complete with the Euro as its currency, and the license plates are French. Most people are proud French speakers with limited English proficiency. But this is where the similarities with mainland France start to fade… The main reason for traveling to Reunion, is the absolutely magnificent and unique natural beauty (and likely trumps that of Mauritius). So, let's provide you with some top tips and list the key highlights to make the most of your Reunion explorations!
Rent a car at Reunion airport
I am repeating myself over my posts, but by far the best way of exploring (almost) any destination is to rent a car and be as flexible as you can. However, when exploring Reunion Island you HAVE to do rent a car, as I would not see any other way of exploring otherwise (unless you join a tour group).
Factor in delays on the Reunion roads
Reunion is actually a large round shaped volcano (comprised of a few ancient volcanic calderas) in the middle of the Indian ocean. Reunion is a real-life stereotypical 'tropical island' as you would see in comic books… Tropical beaches, a flat lush backland slowly climbing into a mysterious mountainous (volcanic) backland hidden in the clouds.
For Reunion this means there is a very well-maintained highway around the island connecting all towns around the shore. There are many small windy 'side roads' that allow you to travel inland into the mystical mountains. Due to many steep cliffs and waterfalls, there are a lot of falling rocks causing numerous road construction sites, which often means delays.
Do your homework on what to visit on Reunion and how to get there
Most of the information on Reunion is in French, which means I had a bit more trouble to get the right information. For example, some sights you cannot directly drive to but require additional (multi hour) hikes. This meant that sometimes we drove all the way to visit a waterfall, but then had to return without seeing we would not have time to hike up and down anymore. No regrets, as the nature you drive through is amazing already, but bit disappointing of course!…
Explore Cirque de Salazie
Whatever you do in Reunion, do not skip the natural beauty of Cirque de Salazie (and surroundings). As soon as you take a right turn from the key highway you find yourself quite soon driving through lush green narrow canyons with numerous waterfalls… Only just driving here towards Hell-Bourgh town is already a great experience!
Hell-Bourgh is a picturesque mountain town, which is an ideal base from where to go for hikes and explore the surroundings. You could take a (difficult and long) hike to Trou de Fer waterfall from here as well.
Drive through the Forest Belouve and hike to Trou de Fer
Given we did not have time for a multi-hour hike we had to drive back to the circle road and take next exit that leads through the Forest Belouve. As mentioned, the nature is stunning but this has its connectivity downsides! The nature and vistas are yet a gain amazing!
Once we arrived at the Trou de Fer parking spot and hiking trail we were expecting a short hike, but this was apparently again a 2-hour return hike. It was rainy and we heard from returning hikers that the trail was even closed. We unfortunately had to leave this for a future visit.
Visit Piton de la Fournaise
Likely the key sight of Reunion is Piton de la Fournaise, an active volcano located on the East of the Island. The surroundings rapidly change once you drive up, moving from farmland optimizing the nutritious volcanic soil to dense forest, then slowly the vegetation gets lesser and lesser until it turns into barren pink soil… Then you reach the crater in mysterious, misty surroundings that could easily be another planet.
Once we reached the crater, we had very misty surroundings, hence we could hardly see anything. From here you could hike further to the small (active) crater itself (5-hour return hike). I was expecting this to be a crater with actual lava and flames (similar to Ethiopia), which you see on many of Reunion's brochures and pictures. Unfortunately, this is not the case at all according to the tourism office employee. As a Tourist you will never be able to see that spectacle. Whenever the volcano becomes too active, you are not allowed to hike or get close.
Top Tip: On your way up (or down) stop at the various view points and places of interest (marked with a brown road sign). Especially the viewpoint over La vallee de la Riviere des Remparts and the Crater Commerson I highly recommend!…
Experience Creole culture and architecture in Entre-Deux
Instead of hiking in the mist (and cold), we made it down to the quaint town of Entre-Deux.
Top Tip: Park next to the small tourism office and ask for the short walking tour itinerary, a great way to appreciate the various typical creole-style island architecture and some art galleries. In addition, the town (and Reunion) produces a dip/spread from an 'agave' plant, called 'Suka' (unsure on the spelling) . The very friendly staff offers tastings on set timings.
Entre-Deux is great to stroll through the streets, enjoy the amazing setting with the lush green picture-perfect valley surrounding it… A great stop on your way from the mountains towards Reunion's beaches…
Toumoul Narassigua Peroumal Temple
Unlike Mauritius, where the main religion is Hinduism (followed by Islam), French Reunion is predominantly Catholic. Nevertheless, Reunion is home to the very colourful Toumoul Narassigua Peroumal Temple. No need to go out of your way to visit, but a fun brief stop when your are close.
Reunion's Beaches
Reunion has its fair share of (public) beaches, with Kelonia (where you also find a large Sea Turtle Museum) and Plage de l'Hermitage are some of the more famous examples.
Top Tip: As a rule of thumb in my opinion, if planning to combine your Reunion trip with Mauritius I would spend your beach days on Mauritius. (Instead, I would focus most of my nature explorations on Reunion!).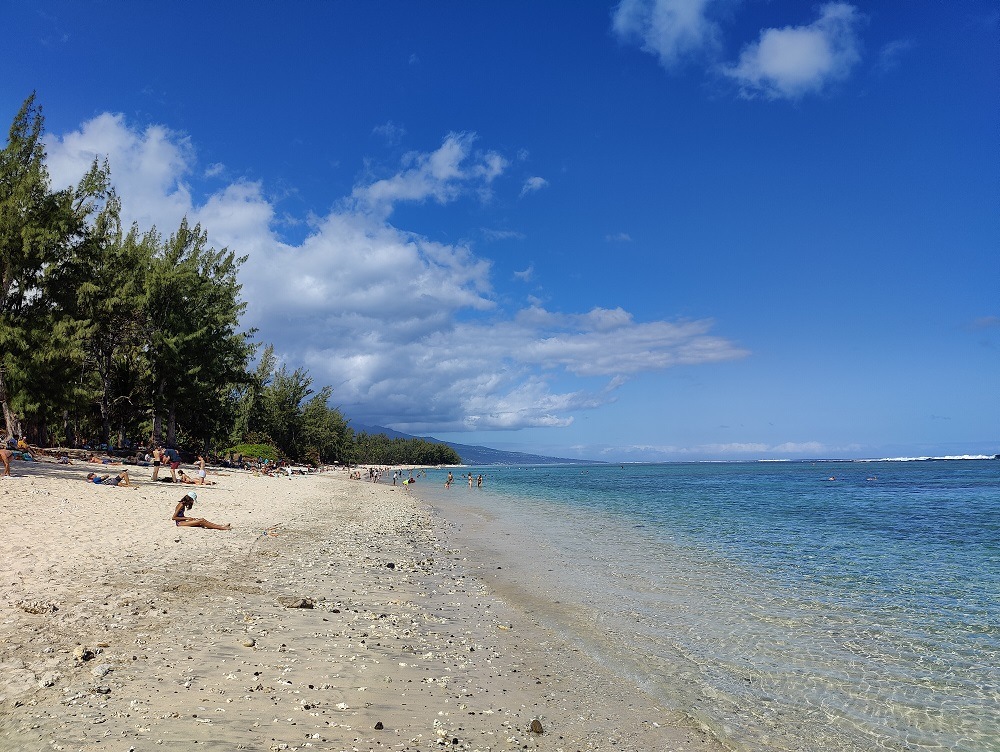 Experience the French / Creole Fusion Cuisine
By coincidence we were looking for a (beach-side place) to lunch and just tried our luck via an ' en-route offline google maps search'. This way we found a seemingly middle-of-nowhere restaurant, with a 'sad looking pool'. However, to our surprise it was fully packed! Despite the prices which were on the higher side, but these were matched with good quality and nice service…
If you are looking for a lunch in Saint Paul, I would recommend trying La Barque! With its amazing French / Creole Fusion – I recommend to order the seared tuna! Delicious!…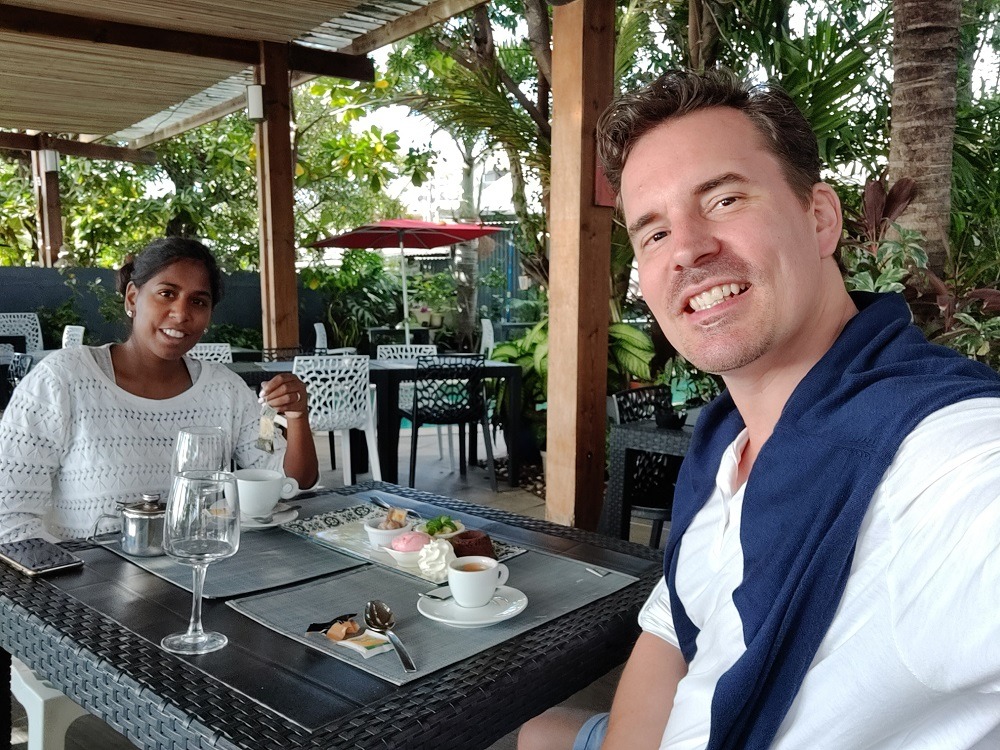 Stroll over Rue de Paris at Saint Denis
If not already clear by now, your main focus should lay on exploring as much natural beauty as you can, when visiting Reunion. However, it is likely that (like us, before or after your flight) you will stay a night in Saint Denis, the capital of Reunion. After double confirming with our hotel staff, there are no major sights to explore in Saint Denis. So, from our heritage hotel, we strolled down Rue de Paris, past various other colonial buildings. Some better maintained than others (where sometimes I got a bit of a 'Havana' feeling).
We strolled past the Hotel de Ville (city hall) towards the cathedral square. In the streets and alleys surrounding the cathedral you will find a few nice bars, restaurants, and night clubs with some live music playing. 
Explore Reunion by helicopter
Top Tip: A great way to view the key highlights of Reunion must be to go by helicopter. There are quite a few tours offered. I did not research this further, but it would be the most efficient way of seeing the key highlights, without the risk of closed hiking trails or road construction delays. Obviously, this option will not be the cheapest.
Getting to Reunion Island
Reunion is very well connected with Paris, via multiple direct flights. In addition, you find many daily flights to Mauritius, as well as some flights to Mayotte, Comoros, and Madagascar. Ideally to turn your visit in a longer round trip exploring all these islands!…
Well that brings an end to our Reunion (and Mauritius) Ghost around the Globe explorations!… In doubt which island getaway best suits your travel needs in the Indian Ocean? Read all about my Zanzibar, Sri Lanka, Seychelles, or Maldives posts as well! All unique in their own way!…