Ultimate 5 day Lebanon itinerary
Reading time: min | Published on:
Lebanon just seems to have it all! Ranging from beautiful mountain ranges (also great for skiing in the winter), national parks, vineyards, Roman temples, a nice Mediterranean coastline, and Beirut is famous for its party scene! Distances are short in this small country, which make it ideal for a short(er) getaway! This is exactly what I did… I rented a car from the airport and explored all there is to see!… And now I will show you how to see all these highlights in just 4 to 5 days!…
Update: Since I have traveled to Lebanon, the country has significantly changed economically and politically!… Hence, also many of these tips may not all be fully up to date! Do some additional research before you travel (also safety-wise)!…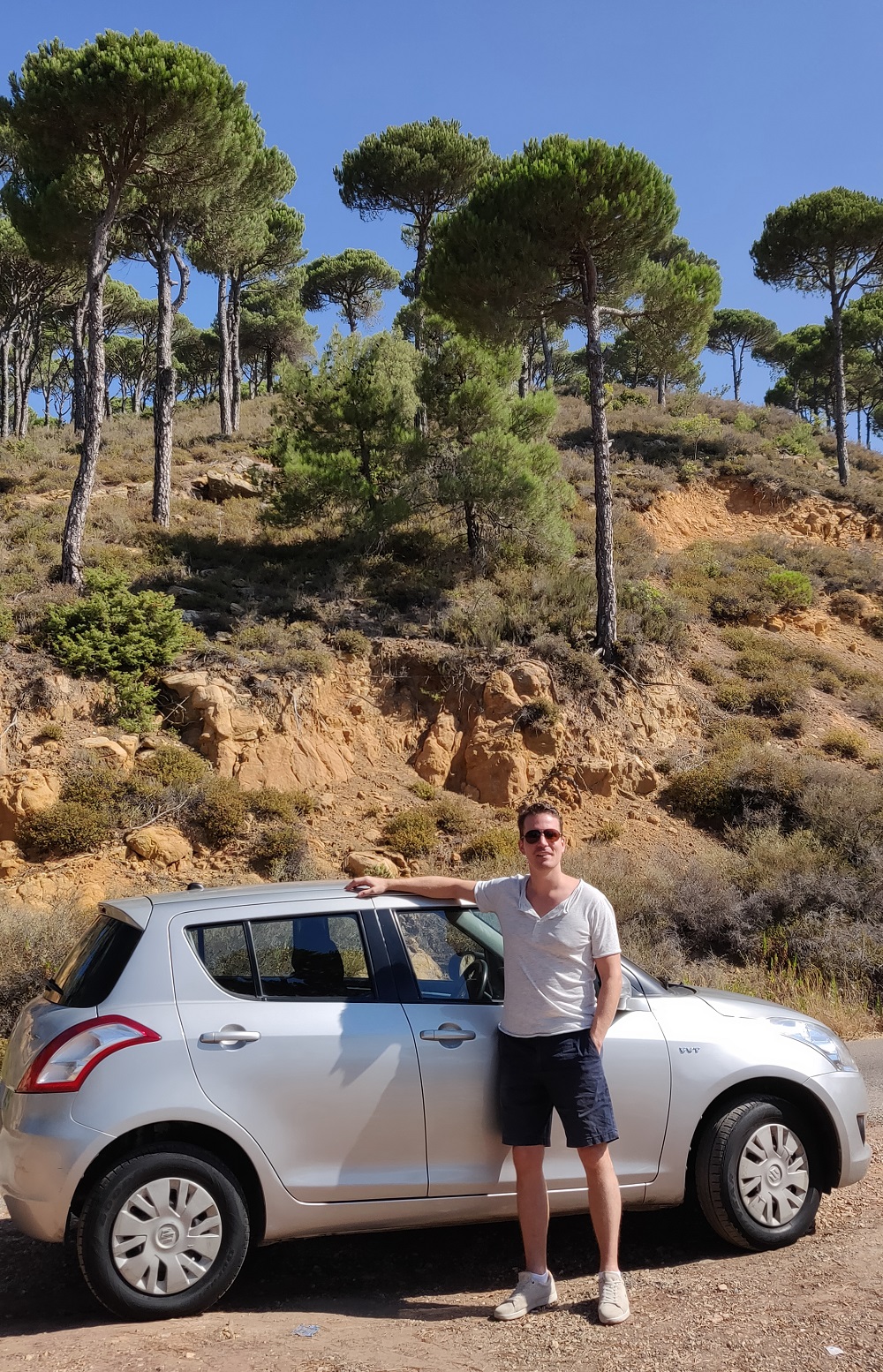 Day 1 – Beirut – Chouf National Park – Bekaa Valley
We actually arrived the late evening before (Day 0). This is how I usually like to travel: leave/fly after work and make the most of my free time. In case this is not possible for you, or if you are flying in from further away than aim to arrive in the early morning, or spend your remainder of Day 0 in Beirut!
Top Tip: We decided to leave for the countryside directly and leave Beirut until the end of our trip, as this fell in the weekend. Making the most of the livelier weekend nightlife! I recommend staying at least one Friday or Saturday night in Beirut during your stay.
Chouf National Park
As said, we left Beirut in the early morning and drove directly to Chouf (or Shouf) National Park. It is famous for its Cedar trees, the national tree of Lebanon, which is also depicted on the country's flag. Upon arriving, you pay a small entrance fee and choose any hiking trail you like. It is all very straightforward and the trails are well maintained (also for the less fit it is steep but doable). We got an explanation from one of the rangers at the entrance.
It all depends on how long you like to spend here. I would recommend taking the circular "amber" line, but walk halfway and take the same route back. Completing the full circle would mean walking in the sun on a road with cars and did not sound too nice.
The trail offers great views over the cedar filled mountain ranges and the distant Mediterranean coastline. Going to the midway point and back will take approximately 1.5 – 2 hours. Ideal for a morning hike!
Bekaa Valley
The Bekaa (or Beqaa) Valley was our next destination! This valley is famous for its wineries. We stopped at a few vineyards for tours and wine tastings.
Chateau Kefraya was the first winery we went to and it offers multiple tours (guided and non-guided) at certain timings. Perhaps check their website to time your visit, or like us just book the first available tour or tasting. We took a tour around the vineyard with a tractor train, which also included a tasting of White and Rose wine on the vineyard itself. The tour was a nice experience (perhaps a bit overpriced). Afterwards, we also joined one of the tastings in their tasting room. The tastings are free!
Chateau Kefraya also has a nice restaurant with a terrace. We did not eat here (and beforehand read some negative stories about their buffet-style lunches). It seems they abandoned the buffet concept and switched to a la carte. However, the prices were definitely high-end! Keep that in mind when planning your lunch here!
Chateau Ksara was our next winery. The (free) tour was very high pace. A video is played explaining the history of the winery and how winemaking was "introduced" during the French occupation of Lebanon. After the video, you will be guided through the ancient Roman tunnel system, which Ksara uses to store its wines! The tour ends with a free tasting (or paid tasting for more exclusive wines). A nice overall experience (although you are a bit rushed through the entire tour).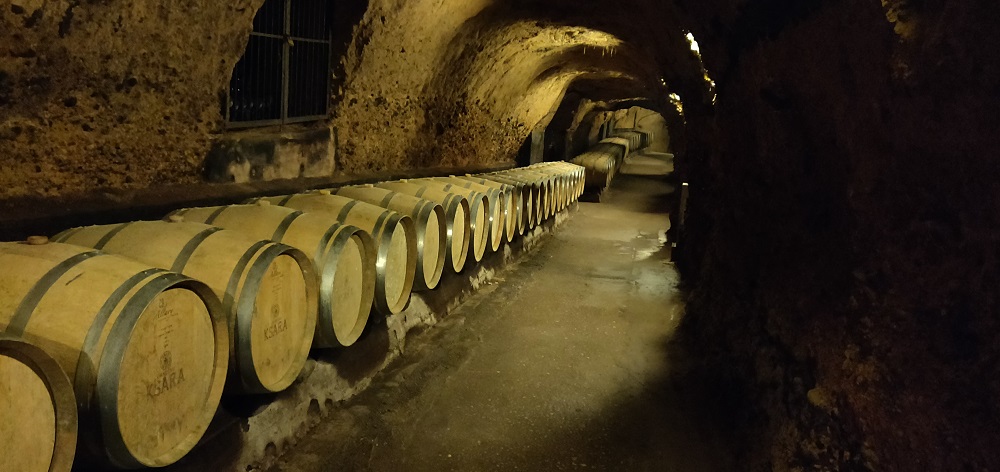 There are plenty of hotels around Chateau Ksara and I recommend to book/stay in the surrounding area! (You could also do like us and not book anything in advance, instead see where you end up after day 1)
Interested in wines? Check out my posts about Napa Valley, Perth, Georgia and Tuscany!….
Day 2 – Baalbeck – Bscharre – Baatara waterfall – Douma
On this day we drove further through the Bekaa valley and drove to Baalbeck. We visited Roman temples, mountain ranges, valleys, and picturesque mountain villages.
Baalbeck
This small city has one of the best preserved Roman temples to date. We were almost the only visitors (likely due to the proximity to Syria and the related decline of tourists in this region). We spend approximately 1 – 1.5 hours here, taking in the immense complex and small museum in a Roman tunnel system, near the exit.
Bscharre and Qannoubine valley
After Baalbeck I recommend you type in Bscharre (or Bsharri) in your navigation system and you will quickly head up the massive mountain ranges. It is approximately 1-hour scenic drive past various ski resorts and dramatic valleys. The town of Bscharre is a nice stop for a drink or lunch with a view over the Qannoubine Valley. This is also an ideal base for hiking (in case you have more time!)

Baatara waterfall
Next stop will is the Baatara waterfall. Driving to the waterfall leads you through Tannourine, a nice mountain village located in a beautiful valley (which offers various nice accommodations).
The Baatara waterfall itself is a spectacular natural site (even without the actual water during our visit in the dry summer season). A short hike on a well-maintained trail leads you to the waterfall.  The site also has a restaurant offering refreshments! At the time of writing the site is being further developed. They seem to construct tipis and other tents for accommodation and it also seems the will soon provide adventurous activities like involving rope bridges trails and zip lines.
Douma
We stayed in Douma, a quint mountain village with various restaurants and hotels offering nice views over the valley. However definitely also consider neighbouring villages, like Tannourine or Bchaaleh in the area. There are many accommodations here to choose from! We did not see many tourists, but according to our hotel staff, it gets more crowded during weekends!
Day 3 – Ixsir Winery and exploring the Mediterranean coast
On this day you will have just too much to choose from! Definitely do some research on your own as well, as there are many beach bars, restaurants, and activities along the Lebanese coast. Let's first start with some additional wines!…
Ixsir Winery
In addition to the other two wineries on day 1, this is the third large Lebanese winery we visited. It is not located in the Bekaa valley but that does not make it less appealing! This winery is likely our favourite, especially setting wise. Its modern building has won awards in the field of eco-friendliness. On the roof of the building, various grape varieties are planted. It is also where you'll find the wine tasting area and a nice restaurant! Inside you take the stairs down and you automatically follow the winemaking process from wine pressing facilities to testing areas, to bottling and ending in the cellar. Again really nicely set up!
You can join a free tour (ending with a tasting) at certain set time slots, or you can walk around the winery on your own and do a (free) tasting afterwards. Depending on when you arrive, you can have lunch at the nice outdoor terrace.
Drive down the Mediterranean coast
After Ixsir,  drive down the Mediterranean coast of Lebanon! There is a lot to do, and again do some research yourself on what you are looking for. High chances that you'll find it in one of the many towns alongside the sea. Some picks and suggestions I received from Lebanese friends and colleagues!
Jamal restaurant – Real nice seafood restaurant with a tiny private bay. We arrived in the morning and although they do serve breakfast and lunch, it is likely best for dinner (reservation only!). Prices are high-end but likely worth it! We only had a cup of tea to enjoy the relaxing atmosphere.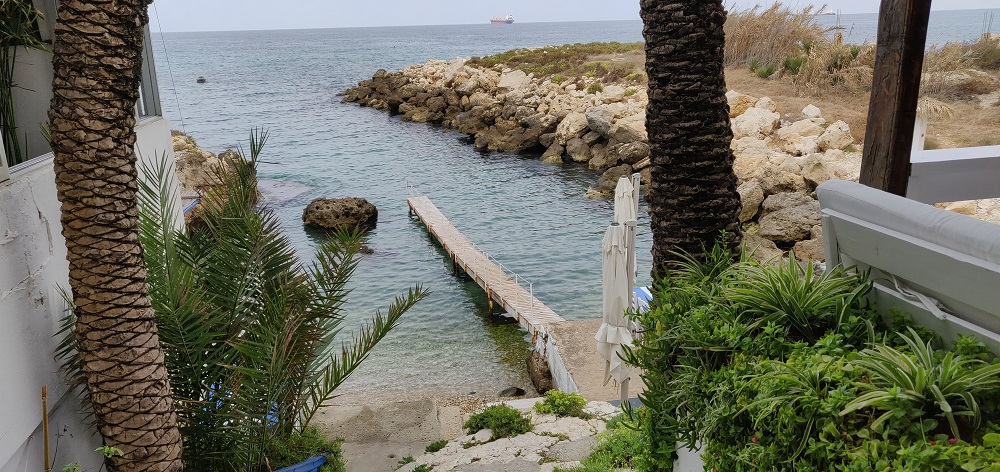 Rachana – This small village (not far from Ixsir Winery) showcases many sculptures from a local artist. We were welcomed by the friendly artist and had a quick walk through his garden. The garden also includes a "sculptured house" where his mother resides. It is a nice quick stop if you are interested!
Pierre and Friends – A beach club/bar. They play music and especially on the weekends this is a more trendy place to be. We were here Friday afternoon and it already had a good vibe going. Food prices are midrange, beverage prices a bit on the high-end… They have limited sunbeds.
Top Tip: there are lots of bars and hotels offering beach access on the stretch around Pierre and friends. They likely offer beach access for free (like Pierre and friends at least on weekdays). Do keep this in mind and bargain if required. The food and drinks at these places are lower priced.
Punte del Este – This is a high-end trendy beach bar annex club annex restaurant in Jounieh. It has South American food and serves great cocktails to enjoy the sunset! We slept in Jounieh, my advice is to stay close to the lively bar and restaurant area that surrounds Punte del Este!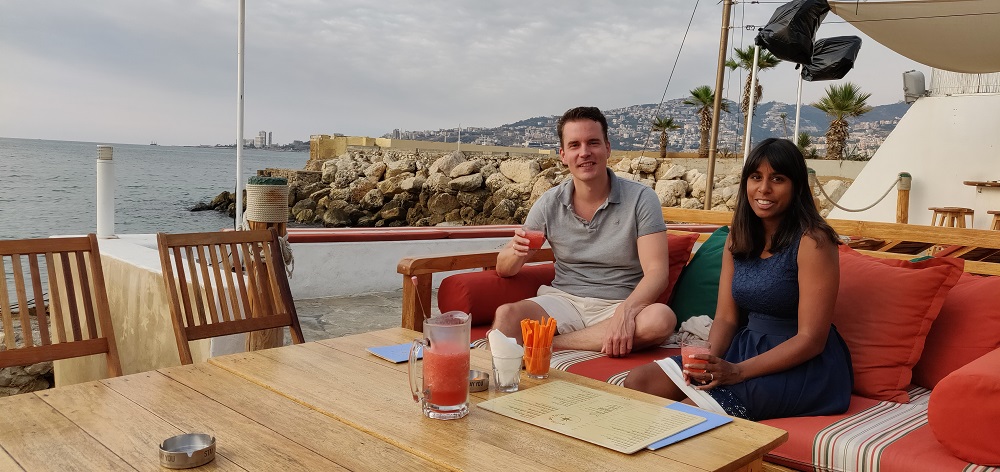 Yachouch Trekking
Supposedly a very nice is trekking in the area in Lebanon, is Yachouch. Unfortunately, we did not put this in our itinerary but depending on which choices you make you can easily fit this. You have to do some research but I assume it has a similar setup to the Chouf trekking, as earlier described: Pay a small fee and choose a trail. If you have more info let me and others know! You could also decide to do this trekking on day 4.
Day 4 –Jeita Grotto – Beirut
On this day you could still include some additional items from Day 3. You could even decide to end your day  3 already in Beirut, all is possible given the small distances. What you definitely should not skip is are the caves…
Jeita Grotto
The Jeita Grotto or Jetta Caves are likely one of the most spectacular caves I have visited! We went on a Friday morning and it was not crowded. However, the place is definitely build to accommodate big crowds (likely best to avoid public holidays or weekends). You are not allowed to take your camera inside the caves (there are safe lockers provided).
The upper grotto is immense and nicely lit, showcasing the countless giant stalactites, stalagmites and various other types of rock formations.
The lower grotto you enter by boat and also gives you a spectacular perspective on this part of the cave.
Both caves, including the cable cart, train ride, and boat ride are included with your entry ticket and mark my words it is worth it! Do not skip!
Beirut Sightseeing
Beirut is also called the Paris of the middle east. And to some extent, I do agree. The buildings, the architecture, the small streets, the French language, all do resemble Paris. However, the traffic is certainly much more hectic! And I do find that Paris has far more to offer on the day-time sightseeing front… We tried to find our way through the dense traffic to do some sightseeing but found it a slightly disappointing experience.
Top tip: Do not plan to spend too much time in Beirut during the day, rather visit the caves or spend your time on a nearby beach. (Note: This may not count for shopaholics).
However, having said that, Beirut is well known in the region for its great nightlife. Again definitely do some research yourself but here are a few great tips (as I found some sources a bit confusing). If any tips do share via Facebook or Instagram!
Beirut's nightlife in Monot Street
Al Falamanki Monot street – has a laid back middle eastern setup. We went here early in the evening when you can smoke shisha, have dinner and drinks. This is a great place to start or end your night! It is situated in Monot Street which has lots of hip bars and restaurants!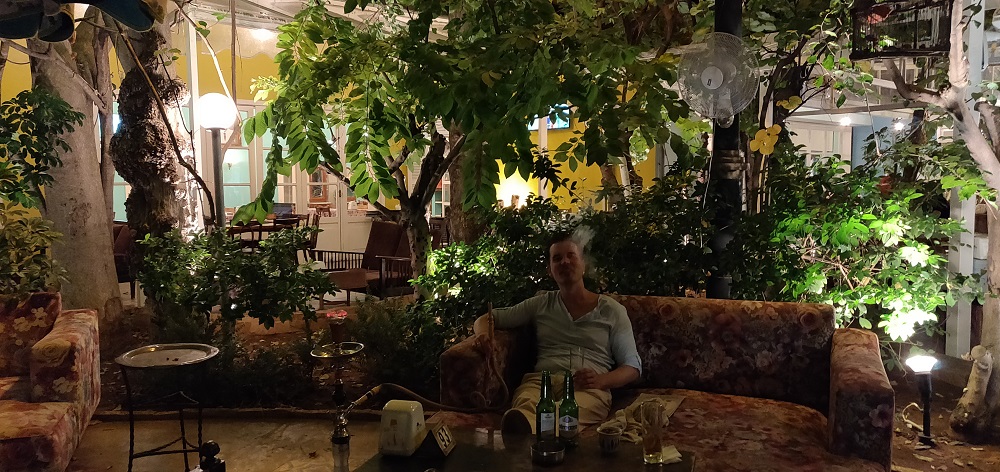 Santana – A very nice Cuban style restaurant/bar. We went here for drinks and dinner! Go early (or reserve) to sit outside. We were late but had a great time at the bar! Definitely pay a visit as the food was great, the wine amazing and it is very well priced!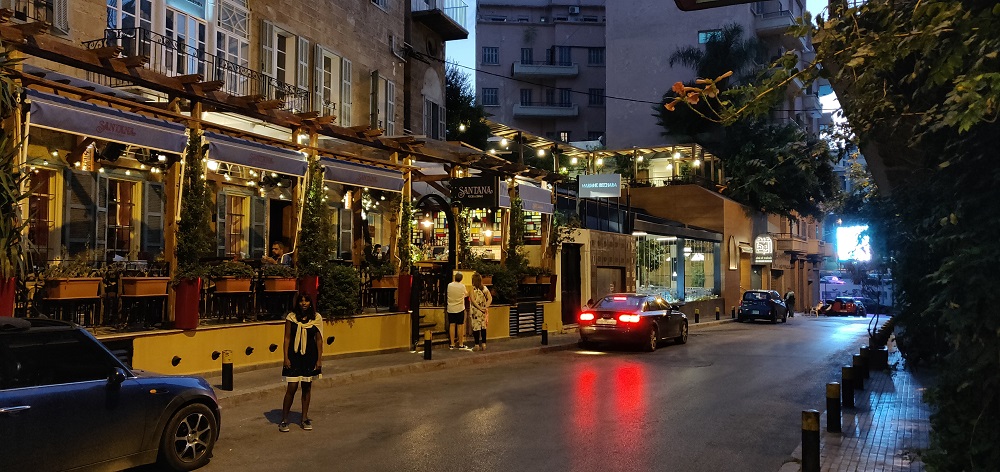 Other areas of interest
Gemmayzeh street – Also a street with many nice bars, cafes, and restaurants. We only checked it out during the day, but looks fun and it is fairly close to Monot street.
Hamra – This area has many shops, but also (supposedly) has a great nightlife. We only went here during the day for some shopping and did spot some bars and restaurants. Again, any tips and tricks for your fellow readers are welcome on Facebook or Instagram!
Day 5 – Free time and flight!
Depending on your flight and/or perhaps your crazy late night Beirut experiences you can choose to spend this day as you like! By now, you will have already seen most of the highlights of Lebanon! Before dropping your rental car at the airport you could optionally:
Go to Sidon and/or Tyre in the south, for some additional cultural sightseeing.
Enjoy the great beaches surrounding Beirut
Go Shopping in Beirut, perhaps check out Hamra area
Explore the surrounding area on a short hike. Perhaps Yachouch or visit the Jeita grotto on your last day
Whatever you decide to do, you will be looking back on a great couple of days with lots of exciting experiences! Have a good one!
Is it safe to travel to Lebanon?
I found it perfectly safe to travel to Lebanon. Also, the Lebanese people are very friendly and helpful! Some countries have issued travel warnings (mainly due to the current conflict in the region), but apart from some (non-touristy) zones in the North-Eastern part, Lebanon is very safe to visit. Obviously check the latest news, as the situations could always change!
You will come across many army posts, but remember these are there to maintain your safety.  It is only logical the army is involved, given that the country borders a civil war situation. We also did see some (small) UN refugee camps, as Lebanon is harbouring many Syrian refugees.
Probably a larger safety hazard would be the maniacal driving style of many Lebanese and the absence of lines on most roads. This takes some getting used to. Likely also a good reason to start with exploring the countryside and avoid most of congested Beirut in the first days of driving!
Again: Both, the army posts nor the Lebanese driving style are reasons to avoid Lebanon! Do go, you will enjoy!
All excited about visiting Lebanon or perhaps explore the rest of the Middle East? What about Jordan? or Musandam, Oman? Or perhaps want to read all about my road trip to Saudi Arabia?
Another fun combination could be to travel from Cyprus by Ferry!… follow the link for all Ghost around the Globe tips & tricks on this Mediterranean island!