Ultimate Russia itinerary: part 3 – Golden Ring
This post on rural Russia's Golden Ring is part 3 of a larger series of blogs where we discover Russia.  We visited Russia for 9 days, broken up nicely in 3 parts of approximately 3 days, described over 3 posts. In case you have less time to travel you can just pick any of the parts and do them individually! During the first blog, we explored Saint Petersburg and surroundings, where during part 2 we visited Moscow… Now it is time to explore the Golden Ring, a series of small countryside towns, connected by forest, lakes and dotted with beautiful churches and monasteries…
Do read the Saint Petersburg blog for the first 3 days, and the Moscow blog for days 4 to 6, here we will start on day 7!…
Picking up your rental car to explore the Golden Ring
As I mention in many of my posts… I always like to rent a car and enjoy the flexibility to explore… Russia is a bit more difficult (in hindsight, this could have perhaps been expected.. and If you read my other 2 blogs in this series you may have guessed it… it required the necessary waiting time).
Some things to be aware of to rent a car in Russia:
Most (local) rental companies (in the city) have daily mileage limits, which will turn out to be much more pricy
We ended up going to DME airport and rent from one of the larger international companies (in our case Sixt was most economical)
This turned into likely the biggest rental car pick-up nightmare I have experienced thus far… We waited for over 1.5 hours!! (With only one person in front of us) – really Russia why are you so terribly inefficient?! This was not only Sixt… I saw similar experiences at the other companies like Avis/Budget at the adjacent counter.
The problem is that only one person is working per company: So it first takes ages to get all documentation registered, and then walks with you outside of the terminal and inspects the car, let's you out of the parking lot with a pass, and walks back to the next client! Why not split these duties?!? Unbelievable!
Once you finally manage to drive in your car, the next challenge starts… getting out of Moscow's rings. We travelled outside of rush hours and it still took us 2-3 hours to really get going and leave the city behind us. The heavy traffic and many road maintenances make it just is impossible to burn kilometres…
Conclusion: Should you rent a car? Yes, but only if planning to drive for at least 3 days, renting a car for 1 day does not make sense, as you spend half your day picking it up and returning it (including traffic jams).
Top Tip: Not tested, but must work: Take the train to your first destination and rent a car from there… complete your itinerary and take the train back to Moscow (or to the airport)… This will save you a lot of time picking up the car and driving in and out of Moscow.
Day 7: Sergiev-Posad, Pereslavl Zalessky, Rostov, Yaroslavl and Kostroma
Once you have finally managed to get your car, and driven it out of 'Moscow's rings of terror' you can finally smile, as it is well worth it…The key highlights we are exploring lay on the Golden Ring, which is an 800 – 1000 kilometre circle that runs via various idyllic monasteries, churches, kremlins, lakes and forests…
Sergiev-Posad
Depending on which way you drive, the first stop is Sergiev-Posad, with the holy trinity church is actually a monastery complex with beautiful architecture… Crowds here are far less, making it much more enjoyable to explore…
In hindsight we were 'lucky' the rental car process took so long, as according to our French lady friend we met in Moscow – which we coincidentally met here again – the morning was apparently very crowded. Given that this is still quite close to Moscow and therefore many day-trips tours visit in the morning…
Top Tip: As mentioned in the Kremlin section of my Moscow post – I enjoyed this sight (and the sight below in Rostov) so much that I would recommend going here instead of the Kremlin in Moscow… No queues, no crowds, similar architecture, similar artworks and frescos and entrance is only 500 Rubles instead of 1000 Rubles… Again it is possible to take the train here… (so no need to rent a car if not planning to travel further or bound for time)
Pereslavl-Zalessky
The next stop on the Golden ring is Pereslavl-Zalessky. We did not spend a long time here… there are some monasteries and churches, between which there are cycling routes. However, the Monasteries and churches we saw were not very well maintained.
Rostov
Definitely a recommendation, and likely my favourite spot on the Golden ring – is the Kremlin Museum in Rostov… Situated next to a lake it has various beautiful structures, gardens, apple orchards and above all, it will only set you back 70 Rubles! Amazing!… We arrived just before closing time, but there was hardly anyone…
To put in perspective: Much more beautiful and scenic than the Kremlin in Moscow, far less hassle (you can even buy a ticket just at the door, no separate ticket office) and for a fraction of the cost… Do I need to say more? I let the photos speak for itself…
Yaroslavl
Our next stop would have been Yaroslavl. which is home to some beautiful (but similar) churches, and which would likely be closed to the public by the time we would have arrived. It also is a slight detour and given we had lost quite some time in the morning with the rental car pickup, we decided to head directly to Kostroma.
To manage expectations. Roads in Russia are well maintained, however, there are many crossings (instead of working with flyovers) which means sudden holdups. Besides, expect road construction and the occasional railroad crossing… Sights like the below are not uncommon…
Kostroma
We spend the night in Kostroma, a larger city on the banks of the mighty river Volga, the largest river of Europe. Distance-wise Kostroma is the half-way point of the golden ring.
Day 8: Kostroma, Plyos, Ivanov and Suzdal
Kostroma has some sights of interest, but nothing spectacular or very different from what have seen thus far. Apart from paying a short visit to the fire tower, we headed onwards to Plyos.
Plyos
This little town has a nice viewing point over its wooden houses dotted along the riverbed. From the viewpoint it nice to have a small walk down, or like us drive onwards to the tiny main square and walk on the river boulevard… Here you can check out some shops and have coffee with Russian honey cake on one of the riverside terraces.
Suzdal
As we burnt quite some kilometres the previous day, this day has less driving time. During my initial research, I found some itineraries that include a stop in Ivanov for textile factories. However, Ivanov seems a large industrial city, we did not bother about textiles and I recommend you skip this as well… This will allow for more time to visit Suzdal, which is another highlight on the golden ring!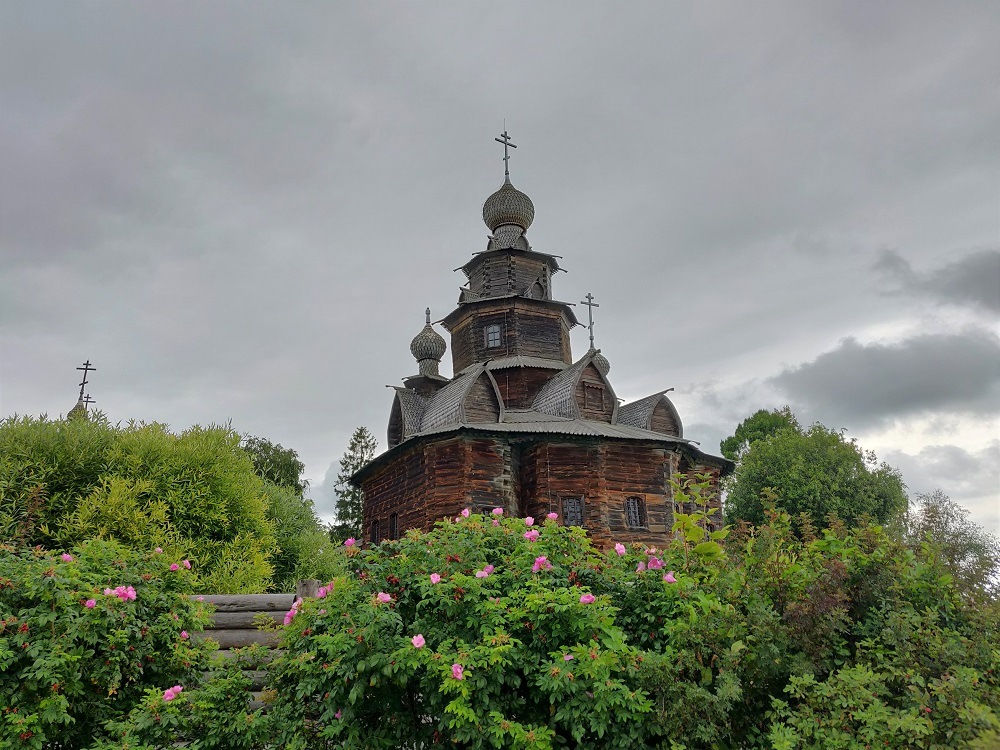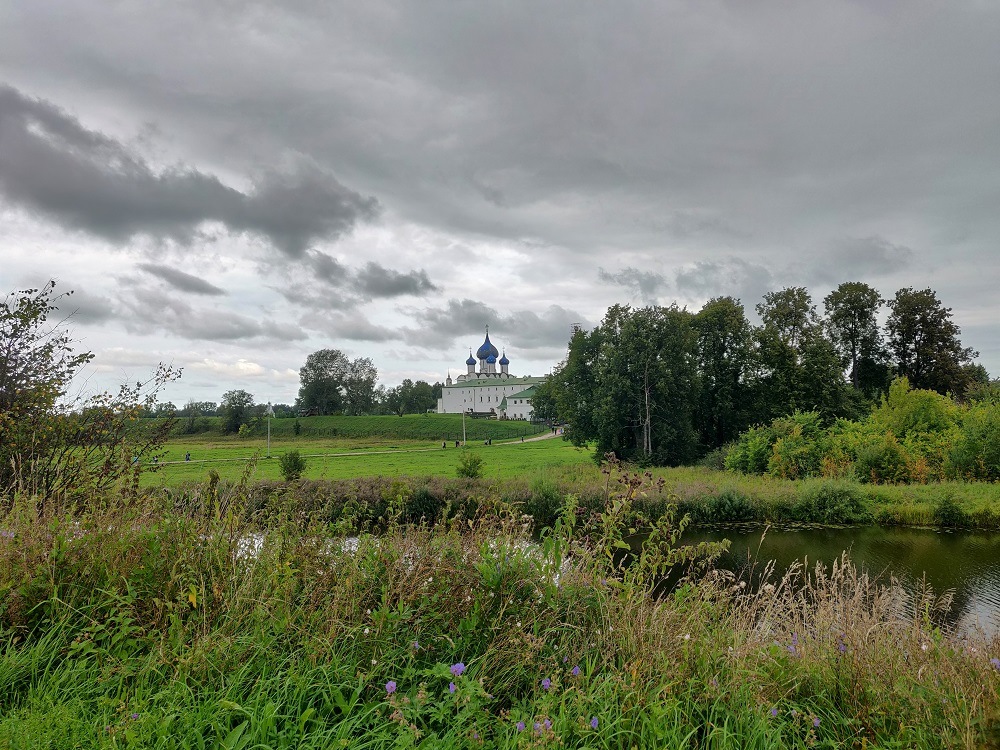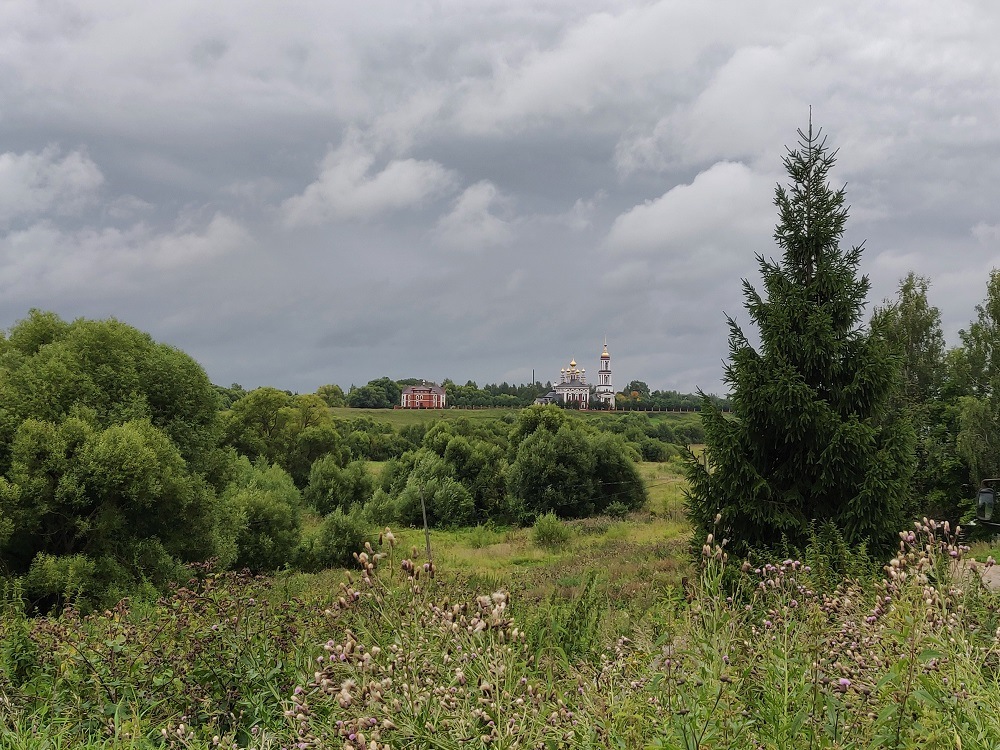 This quaint little town is great too for small hikes along with its many churches, monasteries and little creeks, which are all a stone's throw away from each other…
The main street is home to various restaurants, making this an ideal stop to relax and spend the night. The weather was a bit grey in our case, so we drove past the main sights. We stayed at a historic site itself; a traditional Sloboda, with various buildings, turned into accommodations and restaurants.
Russian traditional Banya
A tip from our Russian friend was to try a Traditional Russian Banya… which is a Russian sauna treatment. Apart from just sitting in the sauna, people often hit (massage) themselves or others with dried branches and leaves from white birch, oak or eucalyptus. As this did not sound too comfortable, we were a bit hesitant at first… However, it is definitely something else and it is certainly relaxing (once it is over)!… A must-do and available all across Russia!
Top Tip: Try a Russian Banya… where you (in our case rent a private section complete with living room and pool table) and sauna… After heating up in the sauna a man comes in and uses dried branches to wave the warm air around and slap you to improve blood circulation. It sounds strange, but just go with the flow and after cooling down in the (private) bath you are perfectly relaxed when cooling down further, sipping tea in a straw bed!…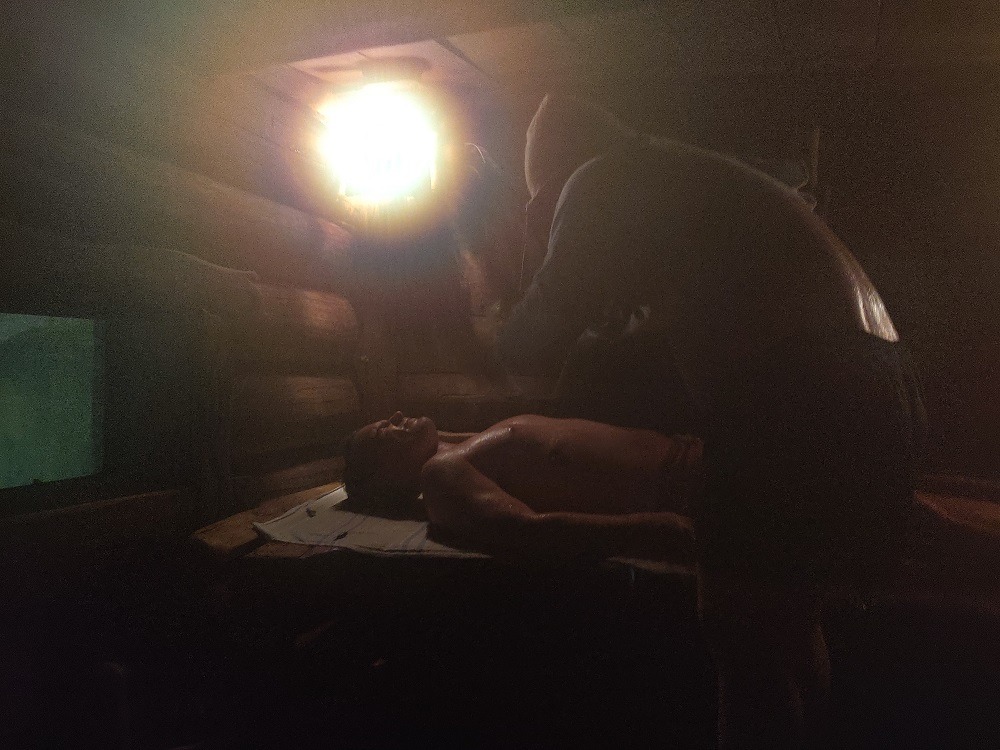 Day 9: Vladimir and back to Moscow Airport
On this last day, we travelled to Vladimir, the large regional capital of the similarly named region. It is not a must-see. We tried to find one church, but navigation misdirected us where we ended up just having a small countryside picnic en route to the airport.
From what we saw of it you could just skip Vladimir, which seemed a similarly large and less picturesque city in line with Ivanov and Kostroma.
As expected the route back to the airport went well, until we were nearing Moscow and had some heavy traffic jams due to some small road works and because the entire nation apparently wanted to visit a local version of Ikea…
The end of a great trip
After these final traffic hurdles, it was fairly alright until we reached Domodedovo Airport, where we relaxed a bit in the airport lounge before headed home… Looking back on an amazing Ghost around the Globe trip. It was full of new and fun experiences, tastes and interesting insights… The main drawback was definitely the many and extreme waiting lines… Therefore I suggest visiting Russia outside of the peak periods, which will likely make it more bearable… I know I certainly would like to return once during Winter… It will be cold, but the snow will turn it into a winter wonderland… and the lines will be minimal. Let me know your Russia experiences via social media!…