Undiscovered Koh Lanta vs. Touristy Koh Phi Phi
Reading time: min | Published on:
Koh Phi Phi is one of those Thai islands that is on almost every traveller's itinerary or wish list. Unfortunately, it is very hyped, and thus overly touristy. This is mainly due to the film 'The Beach' starring Leonardo DiCaprio. In this post, I will give you some tips to avoid the crowds on Koh Phi Phi and will also show you another side of Thailand as well: the relatively undiscovered Koh Lanta!
Undiscovered Koh Lanta
I have travelled many times to Thailand, it is one of my favourite countries in the world. I like the laid back vibe, the welcoming Thai people, the ease of travel, the relatively low prices, its culture, its nature, what is not to like?! Do also read why Bangkok is always a good idea!…
On this trip, we travelled with friends to Koh Lanta. The island is harder to reach than most other (key) Thai islands, like Phuket, Ko Pha Ngan or Ko Samui which have their own airports, or well-established ferries. Instead, Koh Lanta is best reached via Krabi Airport and requires one or more ferries to get to. As a result, the island is less developed and tourist-oriented, with a more unique and relaxed off-the-beaten-path feel!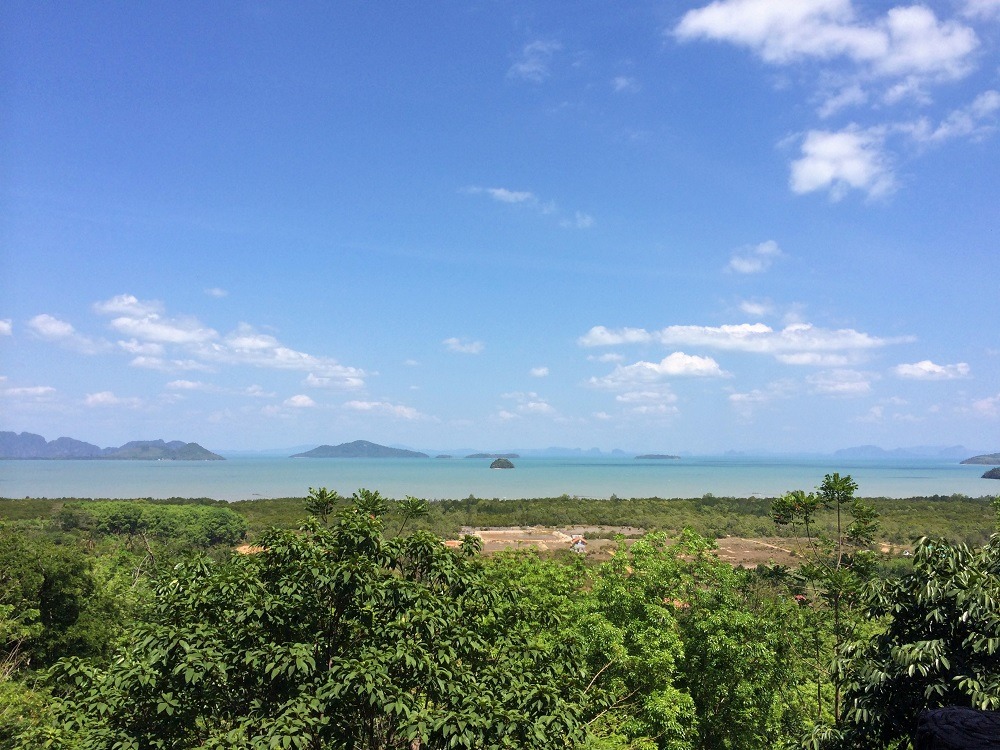 Explore Koh Lanta by moped
Yet, Koh Lanta has everything you want for a relaxing beach holiday! Rent a moped and explore the lush green island and reach the (even more) remote and undiscovered beaches!…
Top Tip: walk up the Ban Saladan Old Lighthouse for some nice views over Koh Lanta and its surrounding turquoise waters…
Sundowners and fresh fish for dinner
A great beach holiday is not complete without some proper sundowners! To make it even better, select the fresh catch-of-the-day for dinner!… All with your feet in the sand…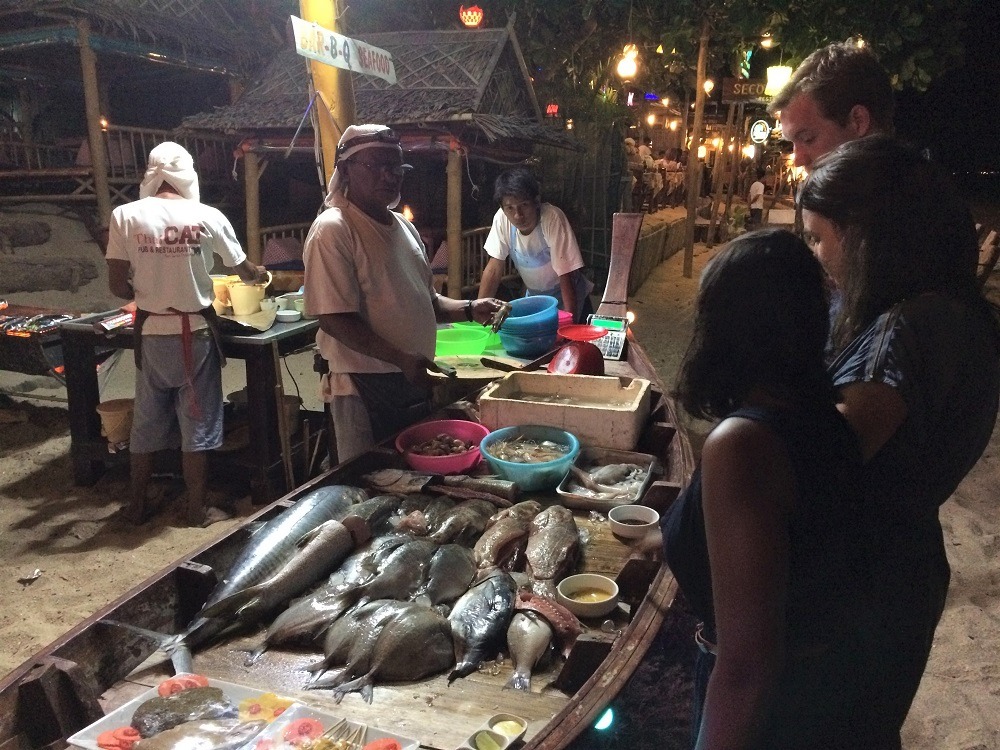 Karaoke at Koh Lanta's Funky Monkey Bar
What better than party into the late nights, singing along to your favourite songs? Great evenings ensured at Koh Lanta's Funky Monkey Karaoke bar!…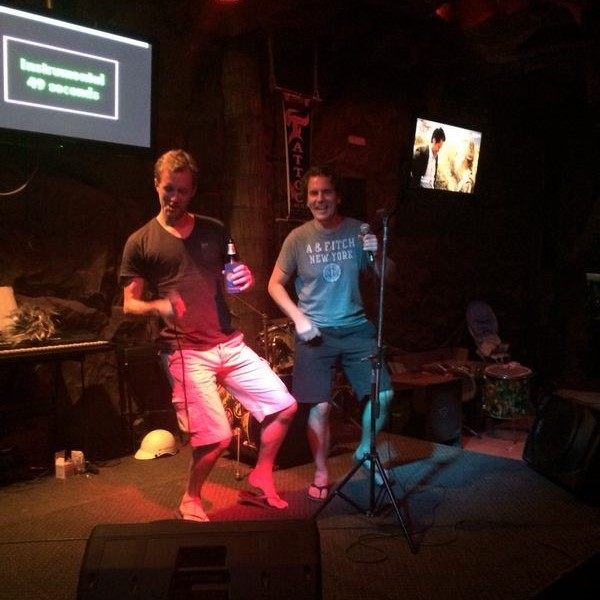 Well, these were just some pics and highlights to show you the more tranquil and undiscovered side of Thailand! There are many more places like this in Thailand, and all around the world.. Which often, like here, will positively surprise you! It is one of the key reasons I like to travel to the more remote and off-the-beaten-path places… For example, do also check out my post about Kanawa in Indonesia; one of the best snorkelling spots in the world and not a tourist to be found!…
Koh Lanta does stand in stark contrast to the well-known, touristy hot spots of Thailand, of which Koh Phi Phi is likely the best example!…
Avoid the crowds of Koh Phi Phi
We visited Koh Phi Phi from Koh Lanta as a day trip. The problem with this type of group tours (as in most places in the world) is that all kinds of similar tours follow exactly the same timings and route. This means that everyone arrives together in point A, then point B, then point C, etc. Making these points relatively deserted during the rest of the day when crowds have moved on… bringing me to the below tip:
Top Tip: Book your private tour. Likely more expensive, best to do if travelling with a group, or try to find some fellow travellers in your hotel. This way you would charter a boat and try to ensure to visit the points during the 'deserted' times of the day!… It may need some research, local insiders and professional tour operators to make this happen. Perhaps it will be more expensive, but should all result in far more value for money in the end…
The Koh Phi Phi experience
We did NOT book a private tour, hence we got the 'standard' Phi Phi experience. Koh Phi Phi is a very small island with a small town offering some accommodations, bars, shops and restaurants. During the day it is overcrowded with all the day-trippers. The scenery is still amazing, however just too crowded in my opinion.
After roaming around in the town it was time for a picnic on a 'deserted' island. The only issue is that this island is not deserted at all! There are literally hundreds of tourists roaming around, coming from the few dozen speed boats cramped in the shoreline!… Taking away the entire charm of the picnic.
Minor highlight on the island are the large lizards… should be hard to miss.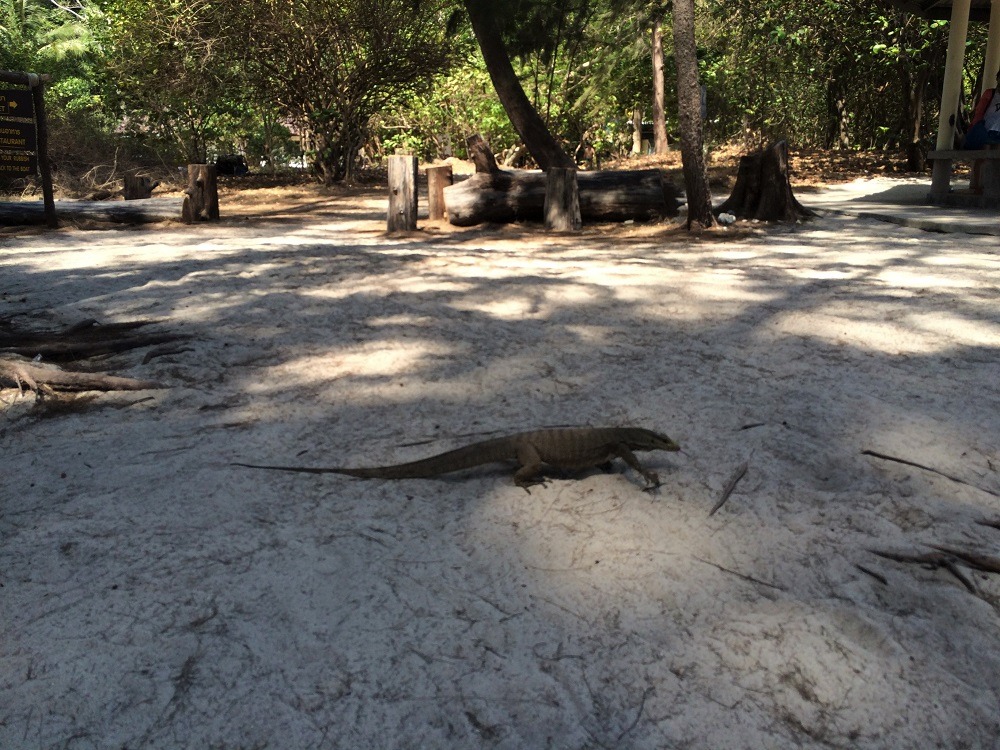 After this, you will surely visit Maya Bay, Phi Phi's key highlight. It is a beautiful bay tucked in steep limestone walls, turquoise water and a white sandy beach. However, you guessed it, you will awe at the beauty with your fellow fleet of tourists… Trust me, if it is not clear by now… do some research in chartering your own boat!…
Top Tip: Another way to avoid the crowds is to stay a night on Phi Phi island. At least you are a bit more flexible and can enjoy the quiet morning and evenings when the day-trippers are gone.
Key takeaways: Koh Phi Phi vs. Koh Lanta
So two extremes in one trip, underdeveloped tranquil and laid back Koh Lanta and over touristy Koh Phi Phi.
The first take away: Do check out Thailand's less famous islands and sites!
The second take away: When visiting tourism hot spots anywhere in the world, like Venice in Italy, but in this case Koh Phi Phi, do it the 'smart way'! Explore options like a private tour and/or staying on the islands to avoid most of the tourists.
This brings an end to this Ghost around the Globe adventure… as mentioned, Thailand is one of my favourite countries, with Bangkok being one of my favourite capitals!… Also have a look at my Phuket post!…
Looking to combine Thailand with other great destinations in South East Asia? What about Singapore, Cambodia, Myanmar, Laos or Vietnam?