Waiheke Island e-bike wine tasting experience!
Reading time: min | Published on:
Join me in my New Zealand explorations!… We started our trip in Auckland. As part of your Auckland a day trip (or longer visit) to Waiheke Island should be included!… For a long time Waiheke was mainly inhabited by alternative hippies. However, over the recent decades the island was discovered by the wealthier New Zealand population, resulting in an interesting cultural mix of hippies and millionaires. Waiheke's unique micro climate also is home to various vineyards. The wineries form our key theme of our Waiheke e-bike explorations!…
How to get to Waiheke
Getting to Waiheke is easy!… The Ferry company Fullers360 offers a very frequent ferry schedule between Auckland Downtown and Waiheke. There are also car ferries (but you do not really need a car on Waiheke).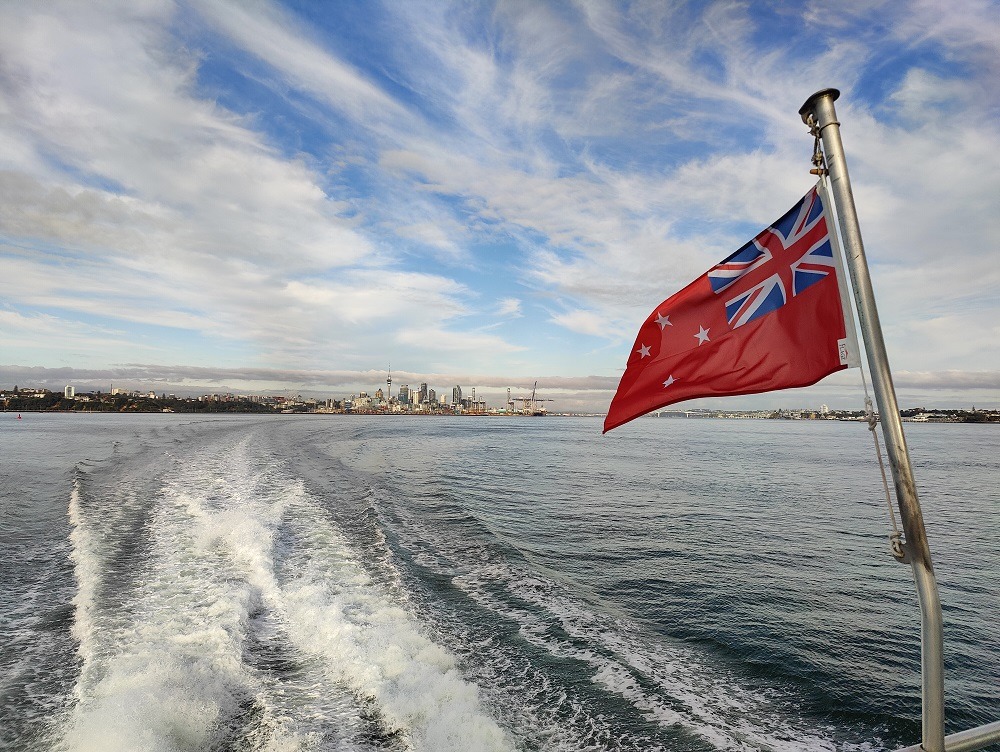 Rent an e-bike to explore Waiheke
There are many ways to go around on Waiheke. However, in my opinion, the best way to explore the island is by e-bike. There are various rental companies. Do some research and pick a cheap one! The island is quite hilly so definitely opt for an e-bike or e-scooter.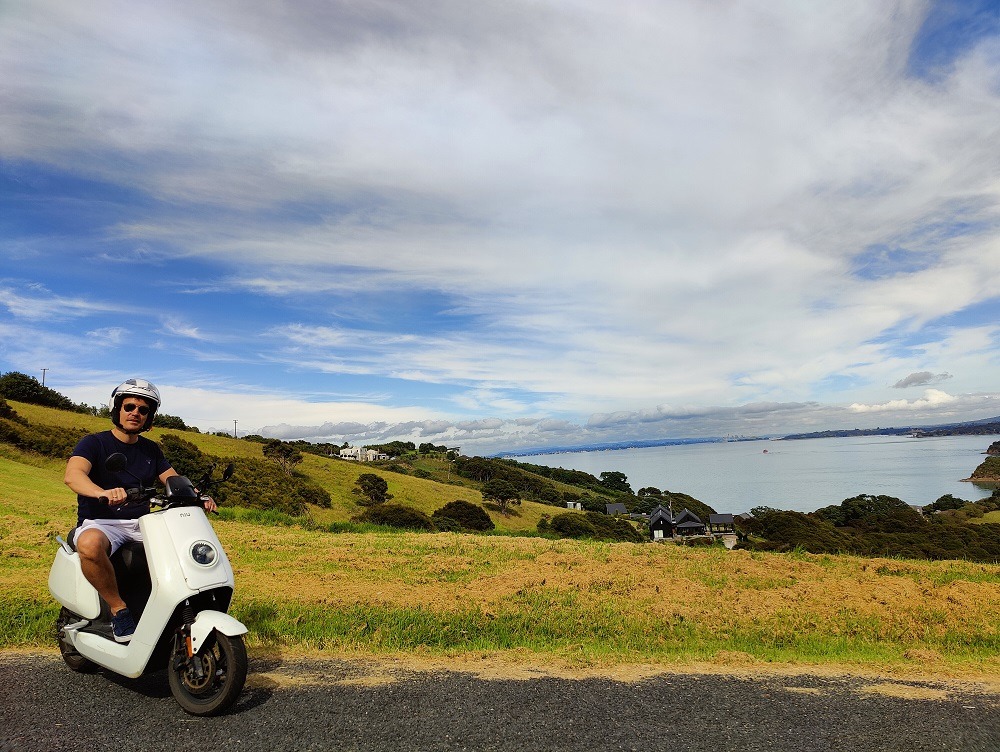 Warning: Do NOT rent from Bikes & Beyond / Bikes & Barbers!
We rented something slightly different: An e-scooter (which seats 2 persons). However, in hindsight I would not recommend this (company).
As far as I know only one company rents these out (Bikes & Beyond / Bikes & Barbers). Unfortunately, they have untrustworthy equipment. On top of this we were met with some of the worst service I have seen in the world!…
In our case our battery suddenly broke down! Luckily this happend quite close to the shop. Given the distance, it made most sense to push the (heavy electrical) e-scooter. Hoping to get at least an 'apology' for this event, we were instead met with very blunt and rude behaviour from both the salesperson/mechanic and the owner (over the phone). Instead of solving the solution or being understanding we were more or less 'blamed' for the event…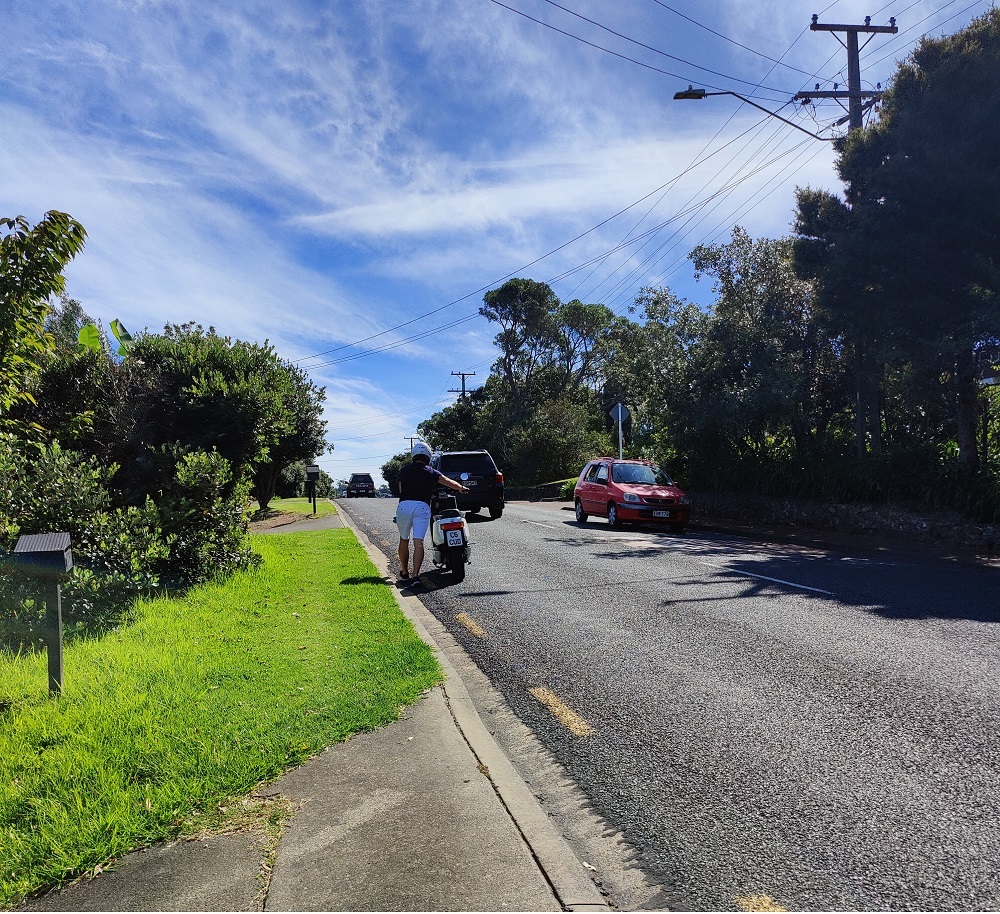 Some examples of the ridiculous situation
The entire situation did not make any sense to us at all! A selection of the ridiculousness:
"Why would you have pushed it back to the shop?"… Well because I am a nice person, and seemed the most efficient thing to do, to get me back on my way (instead of finding and waiting for the AAA)?…
"You seem to have disconnected the battery many times, now it is broken"… Why on earth would I try to even touch the battery? That seems the most illogic thing to do when I am here to explore the island. Why would I 'risk' to damage my only means of transportation? I did not even know where to find the battery…
On the day after, we had left the situation I received various text messages from the owner: "I also gather from my staff you were aggressive to him as you were to me, Do consider there is now legislation in place to lodge abusive matters with the courts"… Don't get me wrong we were certainly annoyed by this situation. Especially when you are met with an ignorant (aggressive) salesperson/mechanic and afterwards the owner, that does not help the situation. Given that we were annoyed, but never aggressive, and then to 'blame' us for this and even (indirectly) 'threat' an already disappointed tourist/client with legislative action, makes you are just a sad person running a very sad company!…
Rent an E-bike on Waiheke, but NOT at B&B
Again, only a small selection of how this sad situation was very poorly dealt with… It is just ridiculous! Despite the situation, I would still opt for renting an e-bike to explore the Island at your own pace and convenience. However, do ensure to make this a worthwhile experience and rent it a (more) decent company!… Do not waste your energy and money at Bikes & Beyond!… You have been warned!…
Top Tip: Whatever you do DO NOT rent your e-bike from Bikes & Beyond / Bikes & Barbers!… Lousy equipment and disastrous service!…
Top Sights on Waiheke
With that piece of venting out of the way… Let's dive into the fun things to do on Waiheke!…
Top Tip: In case you are on a tighter budget (e-bikes do not come cheap), you may want to buy a combination ticket from Fuller360, offering a hop-on-hop-off bus tour. The bus stops at most of the sights below…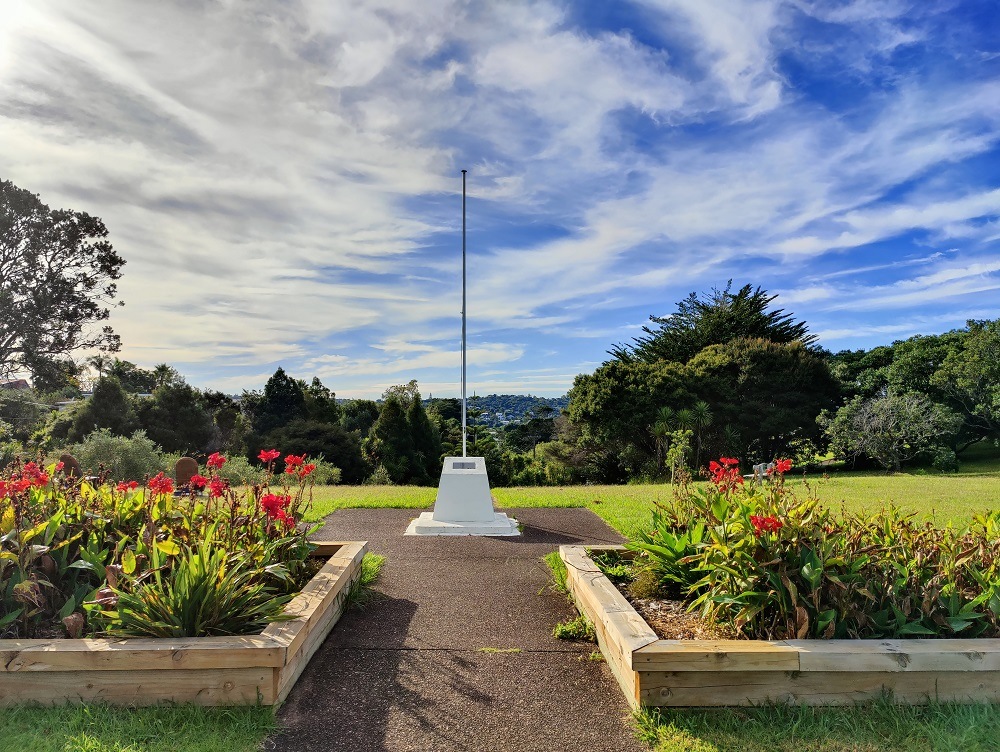 Oneroa
When taking the Auckland Ferry, Oneroa is the first town you arrive in. Likely the place you can pick-up your e-bikes (if not already at the ferry terminal). Oneroa is a small town with quite some bars, restaurants and a nice bay.  Check out The Local for fish and chips (and there nice view over the bay!)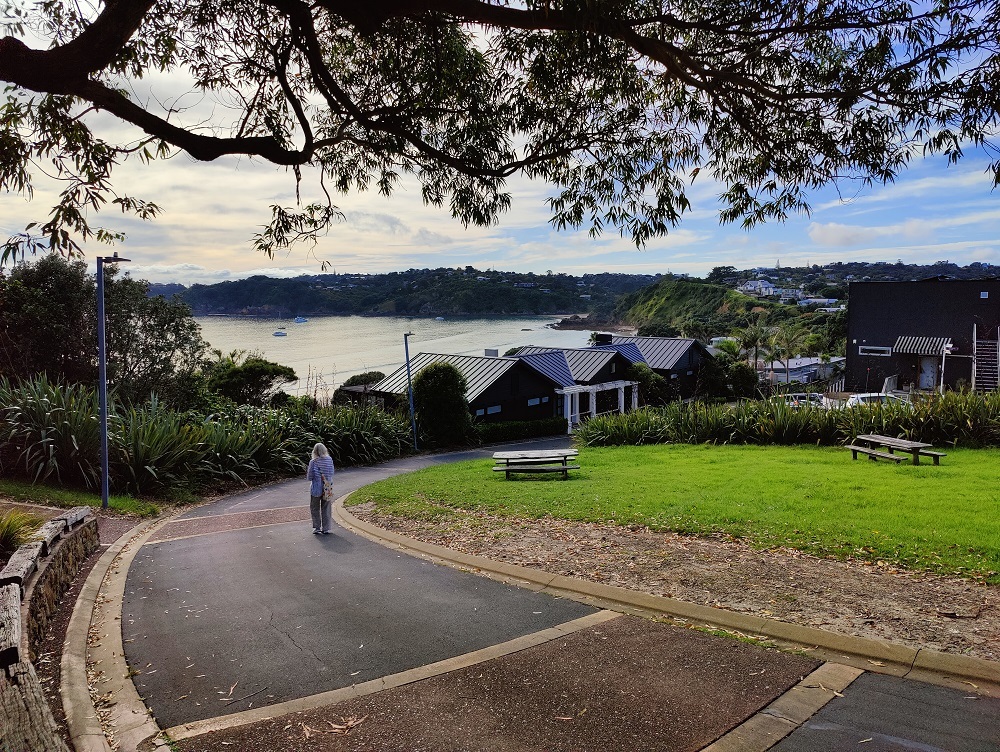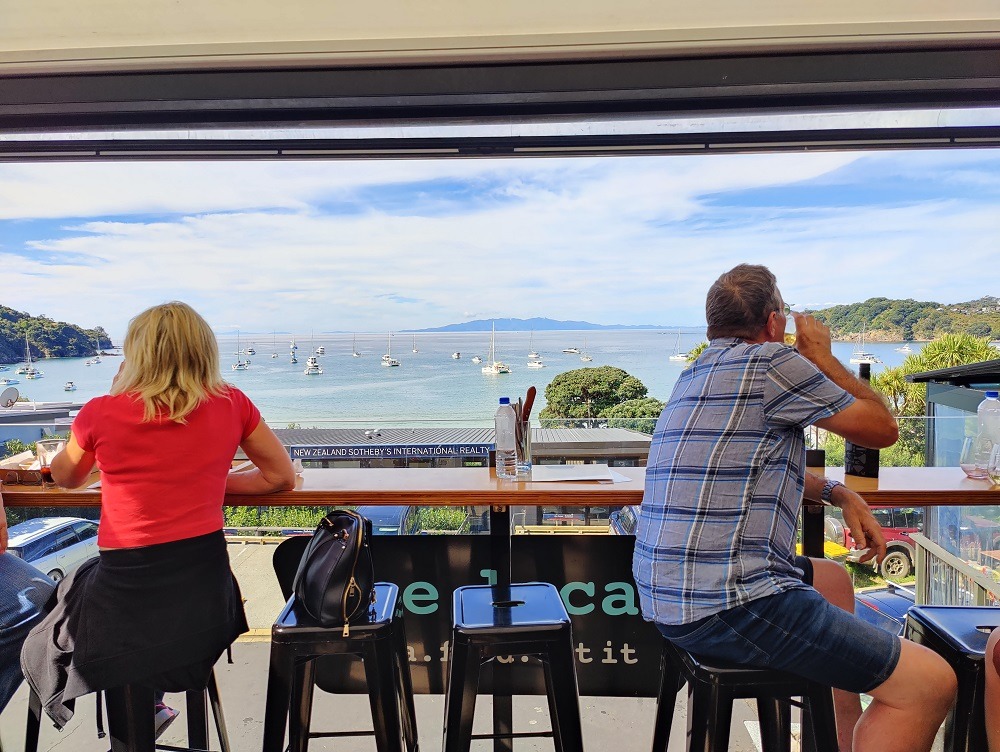 Kennedy Point
Drive onto the small Kennedy Point Peninsula for great views over Waiheke and Auckland in the distance. This is mainly just a scenic detour, there are also some wineries (and there is a Kennedy Point Ferry terminal).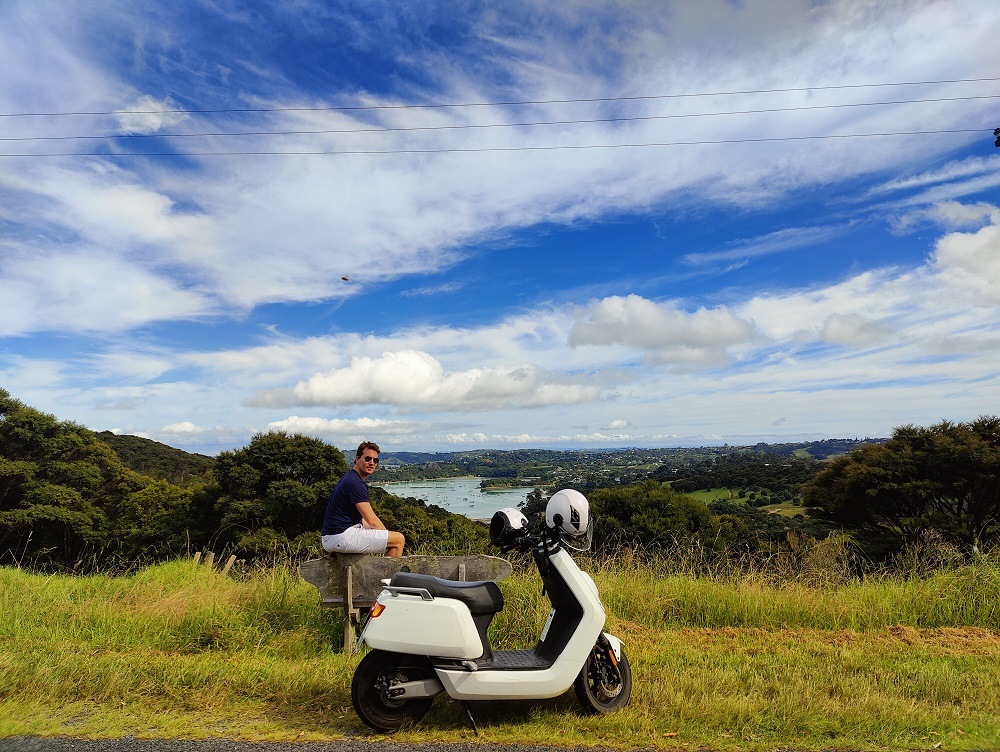 Goldie Estate
Goldie Estate is the oldest winery of Waiheke. It was closed during our visit, and some wineries have nicer settings. However, it could be a nice addition to your tour!…
Waiheke Ostend Market
Only on Saturday morning, the small town of Ostend has a market. In case visiting on a Saturday this could be a nice addition!…
Waiheke Cascades Waterfall
On the grounds of our next stop (Batch Winery) you find a small trail toward the Cascades Waterfall (Only a 30 minutes return hike). A nice mini-hike through indigenous Kauri forest!… I highly recommend it to help burn some of your wining and dining calories! You are exploring the island on an e-bike after all…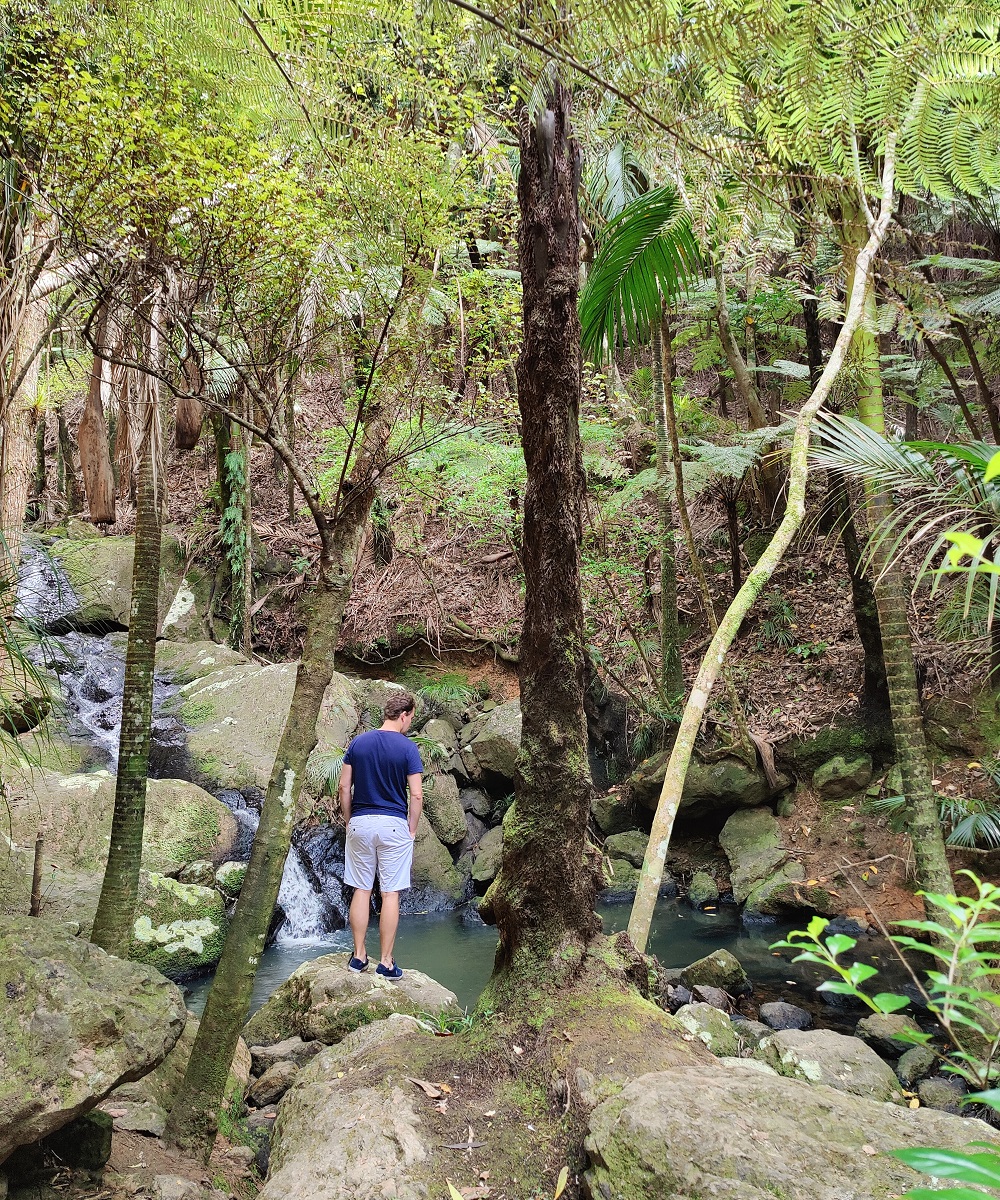 Batch Winery
The Batch Winery offers some of the most amazing view of the island. (Thanks Arjan for the tip!). Best to do a tasting at the cellar door and then plan your lunch here on the fabulous outdoor terrace!…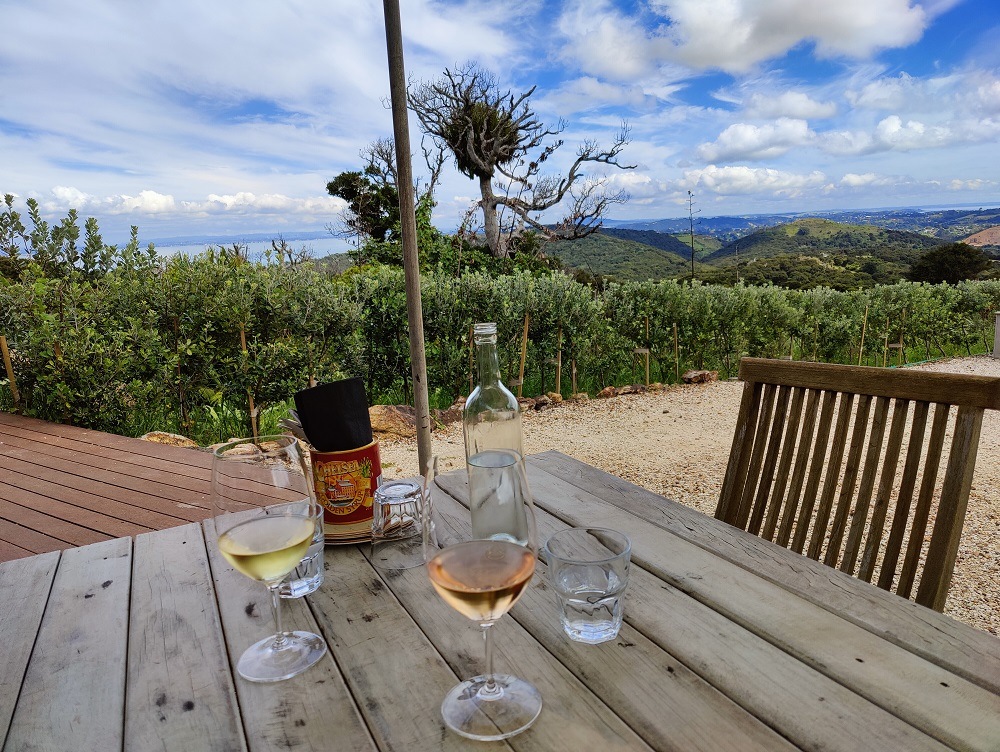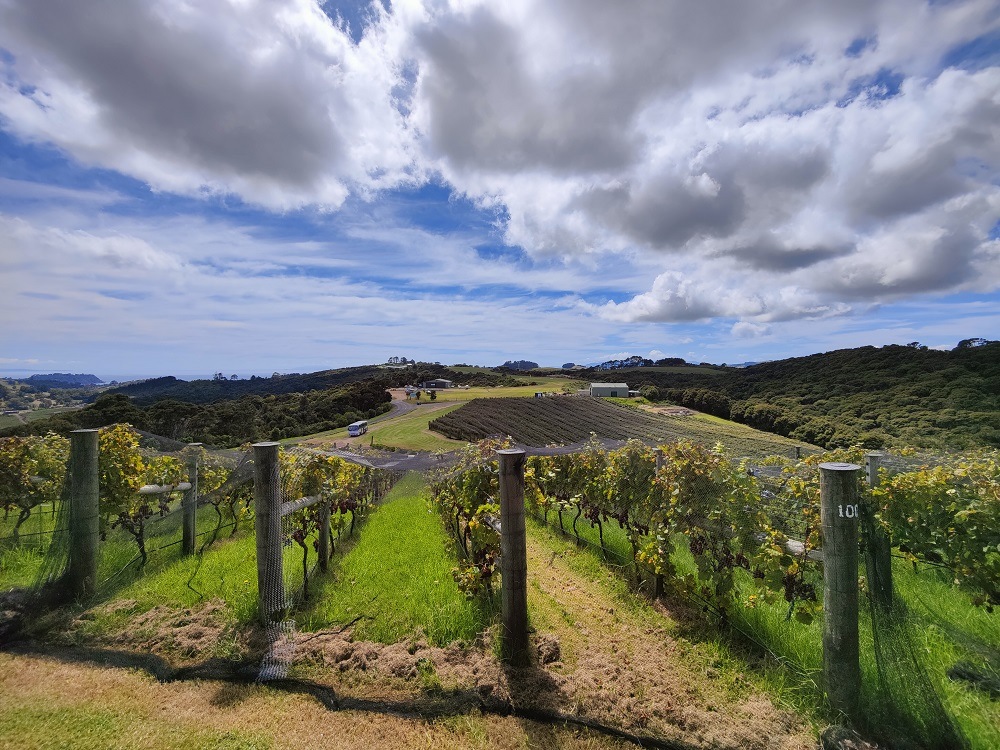 The Heke Brewery & Distillery
Do a beer (or spirit) tasting at The Heke Brewery & Distillery! Great to taste some Waiheke craft beers!… Ask to enjoy your tasting plate on the outdoor terrace, it is much nicer than the bar area!
Top Tip: There are various wineries in this area surrounding The Heke! You may want to linger around and explore some of these before moving on!…
On your way to The Heke keep an eye out for the Lamas. I am unsure how these Lamas got here, given the super strict rules of New Zealand to protect their indigenous flora and fauna!?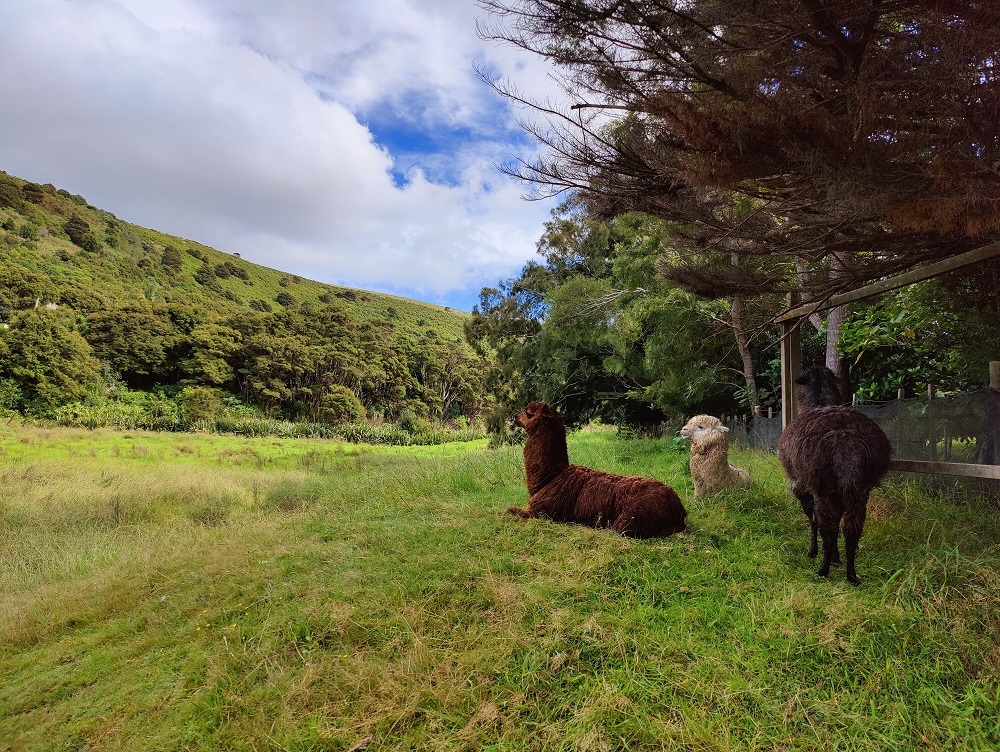 Onetangi Beach – Top Waiheke beach
The nicest beach of Waiheke must be Onetangi Beach. This long stretch of white sand in the beautiful bay is amazing!… Although we brought our swimming gear, we did not jump in the water. Instead we continued our Waiheke e-bike journey… But it was definitely tempting!…
Obsidian Winery
Tucked into the mountains, close to Onetangi Beach lays Obsidian Wines. We got a great load of information from the very friendly staff!
Mudbrick Vineyard
Close to Oneroa (and the Ferry) again you find a few other vineyards. These are great for sundowners overlooking Auckland in the distance. The one I would recommend is Mudbrick Vineyards. The estate has a large restaurant, bar & bistro offering great views. A nice ending to your Waiheke e-bike wine tasting adventure!…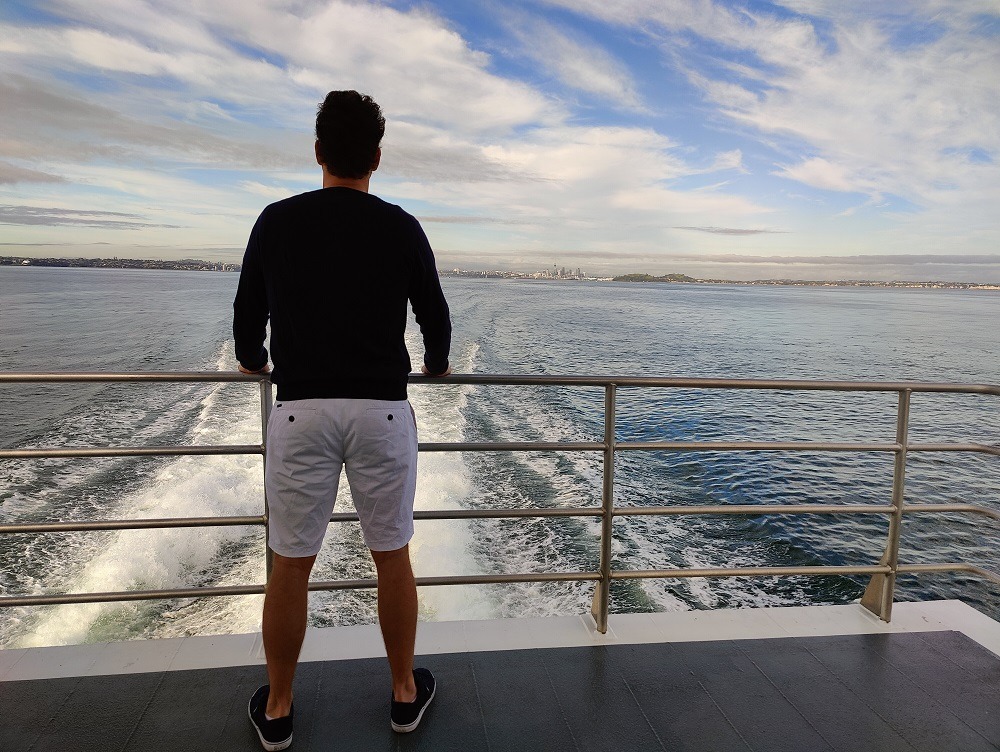 That brings an end to this amazing Ghost around the Globe Waiheke trip (despite the sad e-bike story)! Do read all about my other New Zealand stories via the links below!