Washing of the Jordan Dead Sea salt in Wadi Mujib
Jordan is one of the driest countries in the World. Nevertheless, it has some amazing and unique water activities to explore! Especially the famous Dead Sea and closeby Wadi Mujib!…
The Dead Sea
Let's start with its most famous Dead Sea! Jor shares this salty lake with Israel on the other side of the water. You can easily see the hills of Israel during a clear day, which are abundant in dry and sunny Jordan.
The Dead Sea is obviously not to be skipped during your visit to Jordan. It is fun to float about in the water! Actually, it is quite impossible to do anything else, as even swimming is quite hard. We stayed in one of the resorts with direct access to the water. Here also Dead Sea mud and showers directly on the coast are provided.
It is definitely a nice experience, but to be honest, after around 30-60 minutes of washing off your dead sea mud and floating around you have likely seen it! As we were staying in the resort we did 2 sessions, one in the afternoon and one the next morning before check out.
Top Tip: you can also opt to visit a public beach, where you still pay a small fee and may turn out to be a bit more cost effective or a great option if you only drive past and are not planning on staying the night.
For the ones travelling on extremely low budgets, you could also try to park your car off the main road that runs along the Dead Sea and walk in from there. Be careful and definitely wear shoes into the sea, as the shores are lined with spikey rocks and sediments. Moreover keep in mind that you will not be able to shower, and the water is obviously really salty… so salty that it hurts in all small wounds you may have. Perhaps carry along some bottled water… or hurry to the next water adventure!…
Water adventure in Wadi Mujib
Another exciting water activity is the hiking, climbing and swimming through the magnificent Wadi Mujib. It is conveniently located along the Dead Sea road. You have to pay an entrance fee and you can book a guide (which I would not advise unless you and your travel companions are really uncomfortable in water).
Depending on the water level you will first hike for a few kilometers from the entrance to the deeper water levels. To continue your path you will face some rocks, which you are able to climb as obstacles due to the permanent ropes and hooks attached to them. No worries, you will get help from your travel companions or any other people you meet! It is probably one of the world's most spectacular natural obstacle course! To top it all off, you will be treated to a natural waterslide, at the end of the trail! On your way back you are able to float along with the water.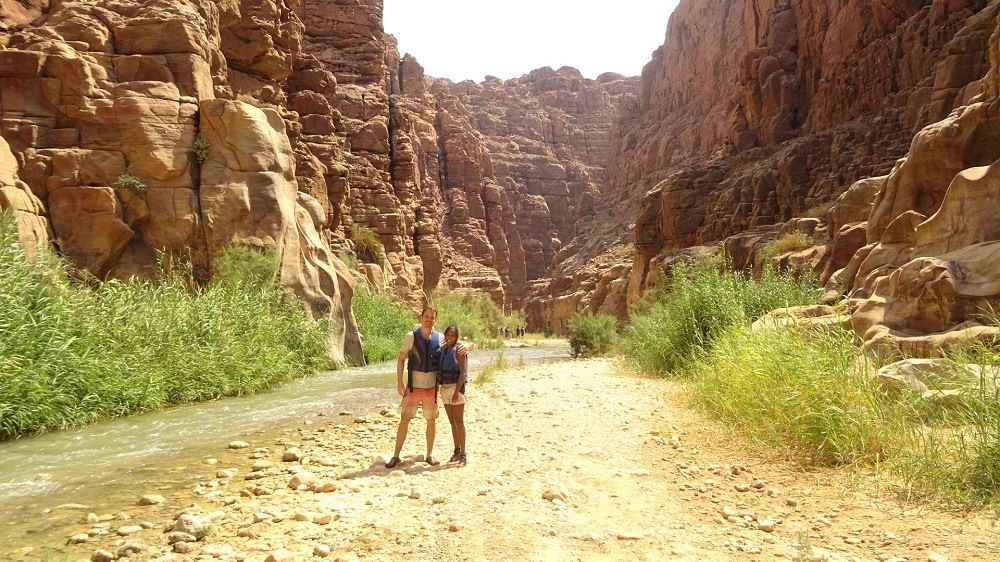 Tips when visiting Wadi Mujib
Go early in the morning and avoid weekends if possible to beat the crowds. There are only a limited amount of mandatory life jackets available
Wear water shoes or shoes that are ok to get wet. Do not wear flipflops! You will lose them and bare feet will start hurting due to the many rocks and the hike leading to the water
Bring a waterproof camera or a water-resistant bag to keep your camera dry and still be able to make amazing photos
And there you have it… in my opinion, the best way to wash off that saltwater from the Dead Sea is by plunging yourself into Wadi Mujib's water adventures!…
Excited about Jordan? Read about Experience life on Mars under the stars of Wadi Rum and How we got overwhelmed with Jordan hospitality in Petra.
Curious on other nearby destinations? What about Saudi Arabia or Lebanon? Follow the links for amazing Ghost around the Globe stories!…