Why best focus on Baku when visiting Azerbaijan?
Let's explore Azerbaijan and its vibrant capital Baku, that mixes the old silk route history with futuristic amazing architecture! We also check out the countryside… However, I have some suggestions on why you may want to skip the backlands and stay in Baku during your Azerbaijan visit!…
Over the past years Azerbaijan, and Baku in particular, has been putting quite some effort in placing itself on the tourist map… Examples are hosting the 2015 European Games, hosting the Formula 1 and lately hosting some of the games of the Euro 2020 Football Championship. In addition, quite some oil money has put to use by adding some impressive futuristic architecture to Baku's skyline, creating an interesting mix with its rich Silk Road history! Let's dive into what highlights to explore!…
Focus on Baku when visiting Azerbaijan
By far most of Azerbaijan's highlights are found in and nearby Baku. Hence, the destinations makes for an ideal city trip where you would not need more than 3 days / 2 nights to easily visit all sights of interest. As you know we usually do not limit our visits to capitals, but like to peek into the countryside as well, and this trip was no exception… However to my surprise, my key observation of Azerbaijan is that the countryside and especially its tourism focus is very underdeveloped. Many road signs for places of interest simply do not exist. Often Google Maps markings are not correct and the tourism sites itself are simply not as 'impressive' as some that you may find in e.g. Georgia or Armenia. These 3 small countries are all very similar, each with an interesting capital, impressive countryside, wineries, forests, winter holiday sights, but the Azeri countryside is lacking behind.
Top Tip: Where Azerbaijans neighbours have lesser developed capitals, they have far more interesting highlights in their backlands… Hence, check out my Georgia and Armenia posts and mix & match your itinerary accordingly!…
Top Tip: At the time of writing Azerbaijan is (still) in conflict with Armenia. We did not have any issues with our Armenia stamp or visa (as long as you did not visit the disputed Nagorno-Karabakh region you should be fine). However, this makes direct travel between the countries difficult, so travel via Georgia in case of a combi trip!
That having said.. Let's check out Baku! After which we will explore the near surroundings of Baku (which you should definitely NOT skip) and then explore some further (optional) sights of Azerbaijan's countryside (which could be a great inclusion if you plan an overland trip to Georgia)…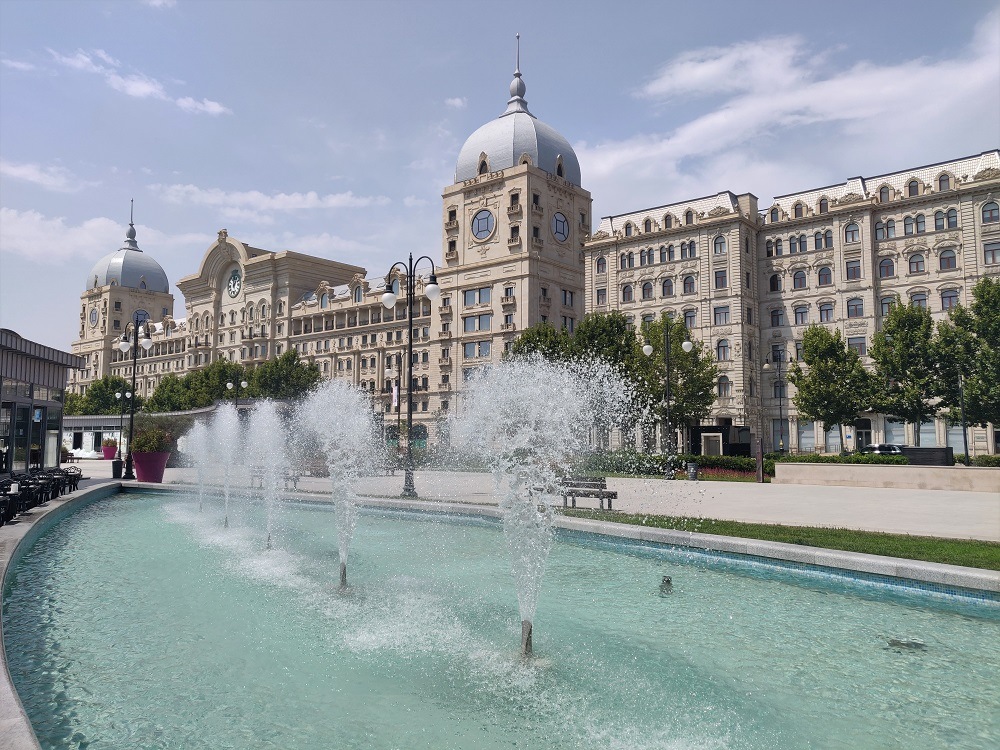 Baku's key sights
As mentioned, most of Azerbaijan's highlights are in Baku, an ancient Silk Road trading hub. Hence, it is only logical to spend most of your trip (if not all of it) here!…
Visit Baku's Old City
A visit to Baku is not complete without browsing the quaint streets of Baku's Old City. Likely no surprise, you'll find most of the cultural heritage sites here… Like the Maiden Tower (12th century tower turned into an overpriced museum), various mosques, tucked away squares and overlooking it all is the Palace of the Shirvanshahs offering beautiful vistas over wider Baku.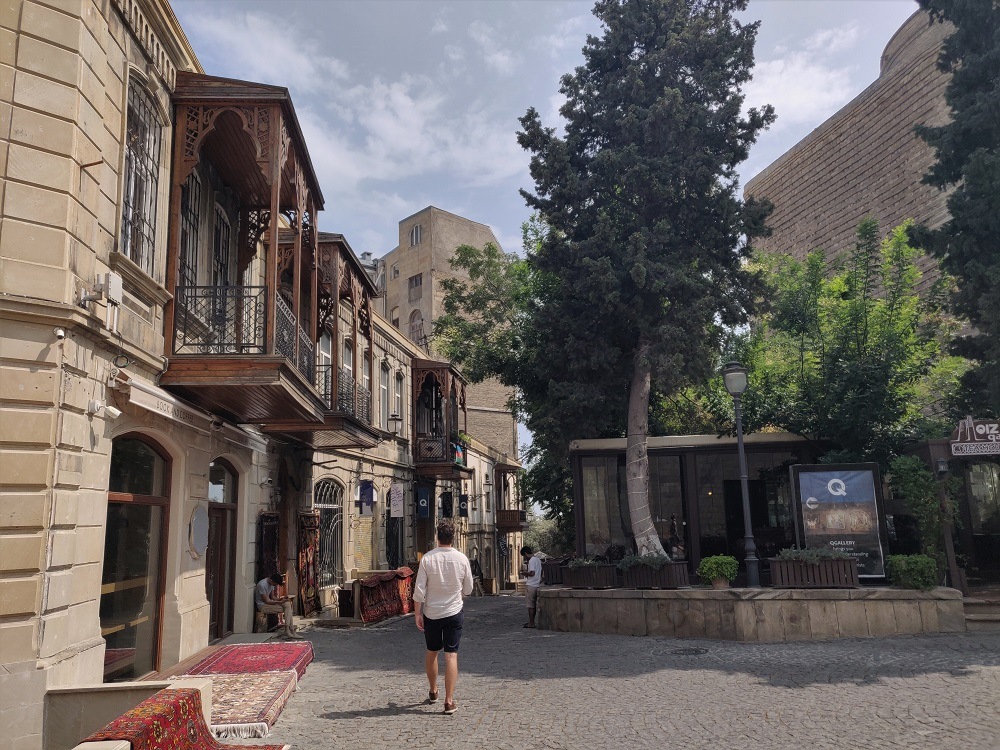 I recommend just browsing the streets, without too much of a plan… Have a traditional meal at one of the nice squares, check out the men playing backgammon on the streets, pop in some stores and visit some places of interest. Depending on your pace, you will likely spend a few hours to half a day in Baku's Old City.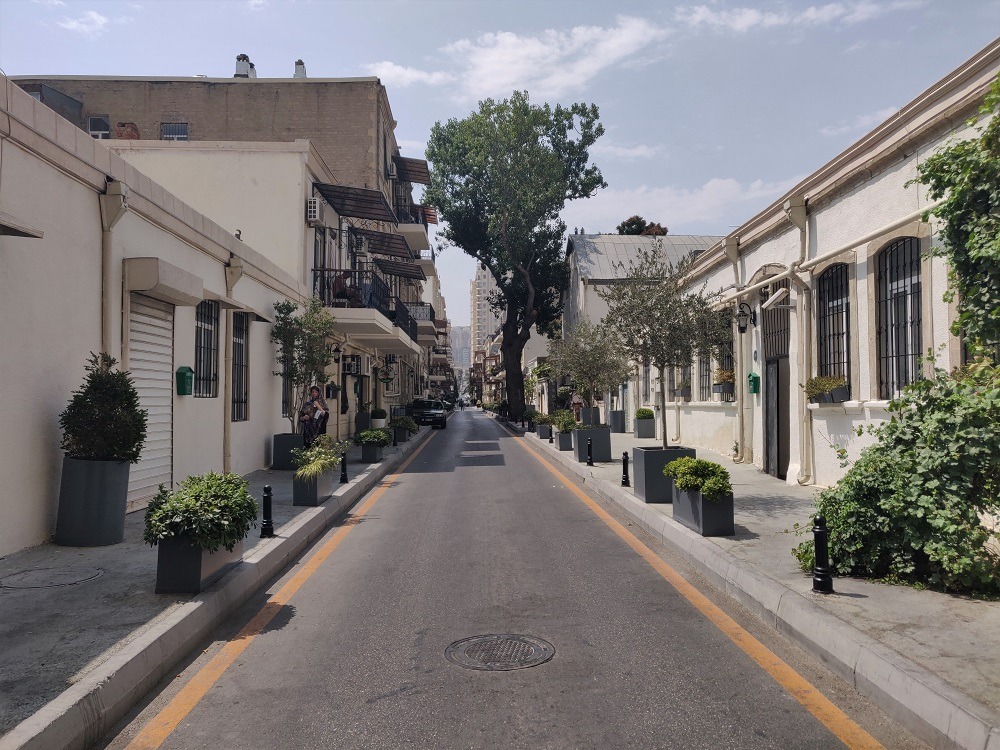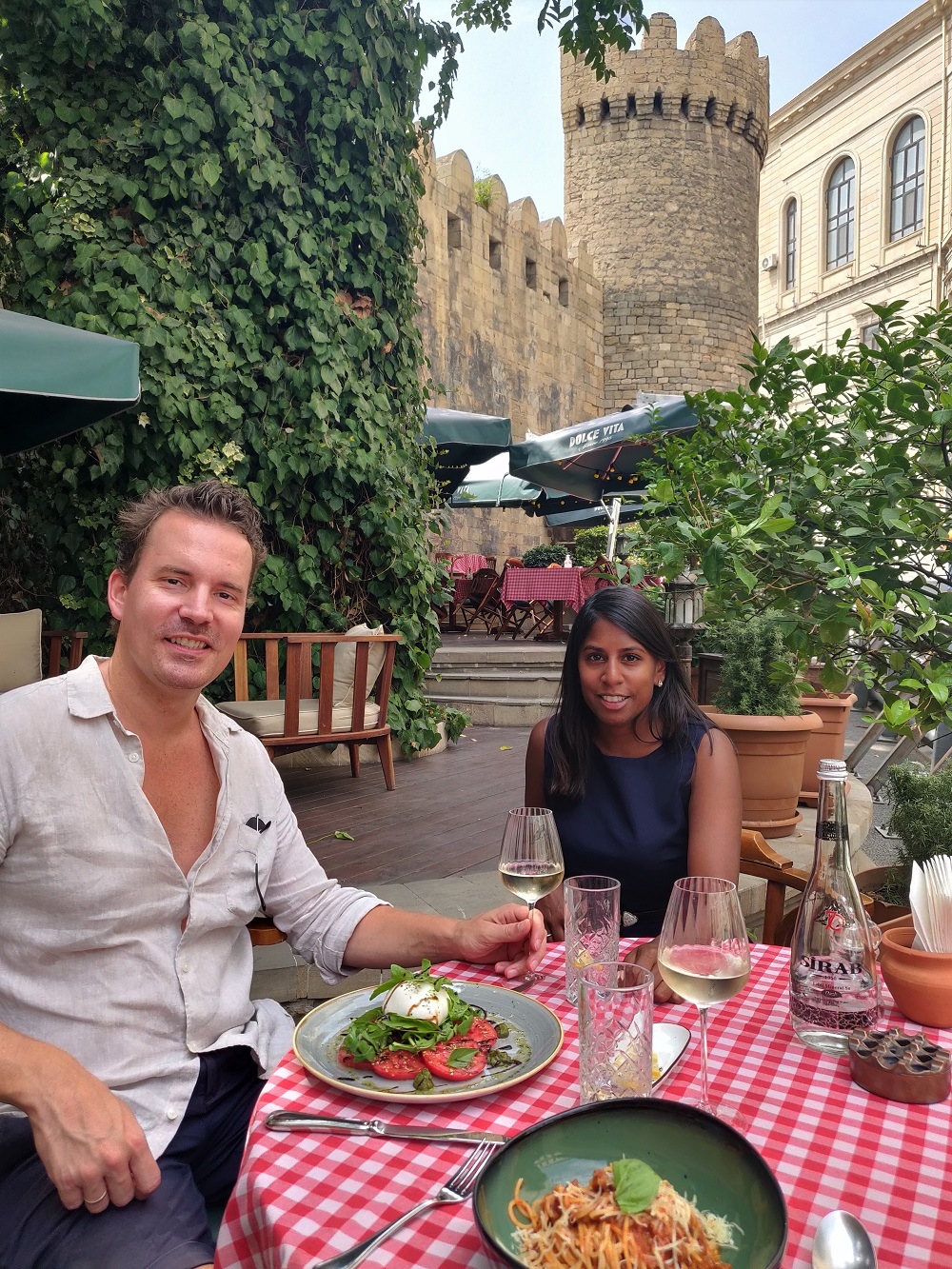 Top Tip: A fun short stop, when browsing Baku's old town is to visit the fun small (free) miniature books museum… it houses the largest collection of miniature books!… You will likely get a brief explanation from the very friendly staff!…
Flame towers
The Flame Towers will be very hard to miss…. Litterally towering over the city, they are THE architectural landmark of Baku. Looking very impressive from afar, when checking out the towers upclose there was hardly any activity (it was Sunday Morning, which could be the reason). Hence, I would admire them from far away and apart from exploring the adjacent highland park and martyrs alley there is not much to do in this area. You can reach the park and towers via a funicular, which could save you a very steep climb uphill (we used our rental car to reach the park and towers).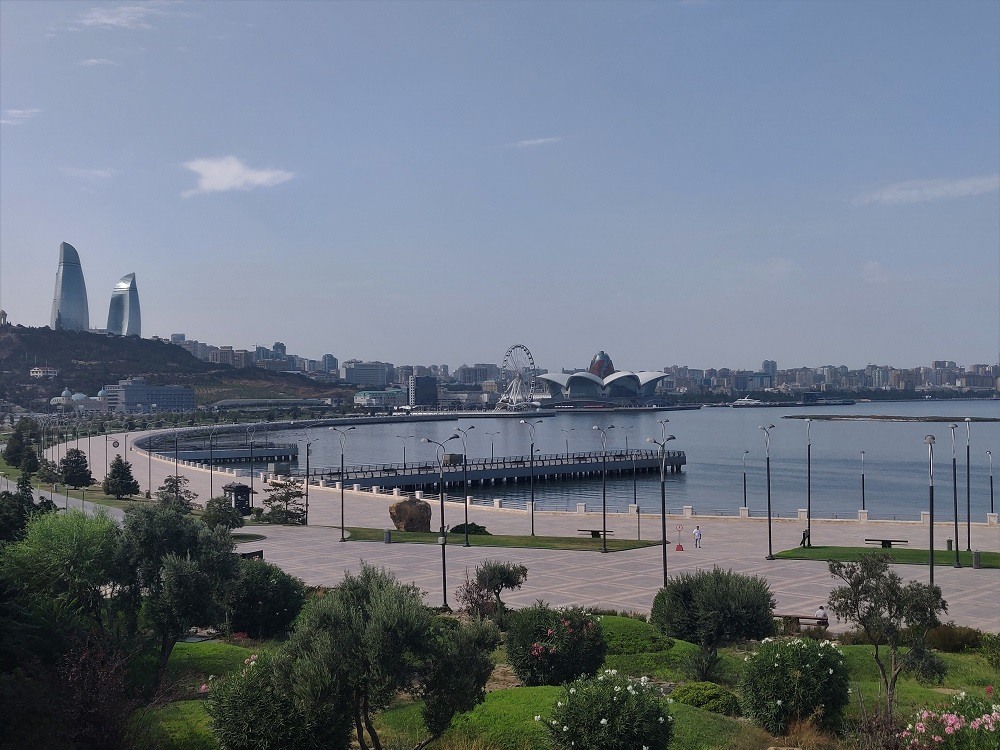 Top Tip: Again hard to miss, but do also check the Flame Towers out at night as they will be offering various light displays, as well as resembling actual orange flames.
Azerbaijan Carpet Museum, Mini-Venice and Caspian Waterfront Mall
If pressed for time, these sights are not a must-see, but could be a nice addition to your Baku experience… Some sights you could check out just downhill from the Flame Towers (and reachable via the funicular), are the Azerbaijan Carpet Musuem (the building is shaped into a rolled up carpet), Mini-Venice (in my opinion a slighlty tacky park with canals) and the Caspian Waterfront Mall (which has some nice restaurant overlooking the Caspian Sea).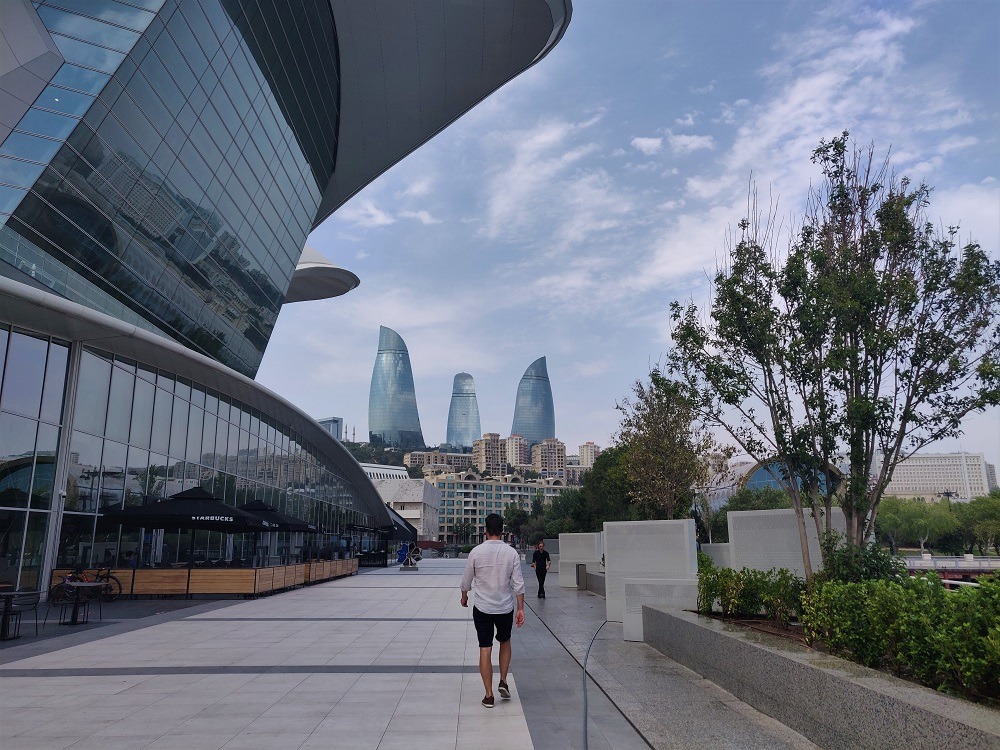 From here, you could stroll over the boulevard towards Baku's Old City or beyond… you could walk even all the way to the Government House, and beyond…
Heydar Aliyev Centre
The futuristic Heydar Aliyev Exposition Centre is at minimum worth a fabulous photo stop. It houses a modern art gallery as well as an auditorium. Next to the Flame Towers, the Heydar Aliyev Airport and various other buildings around the city, a great example of Baku's futuristic architectural highlights.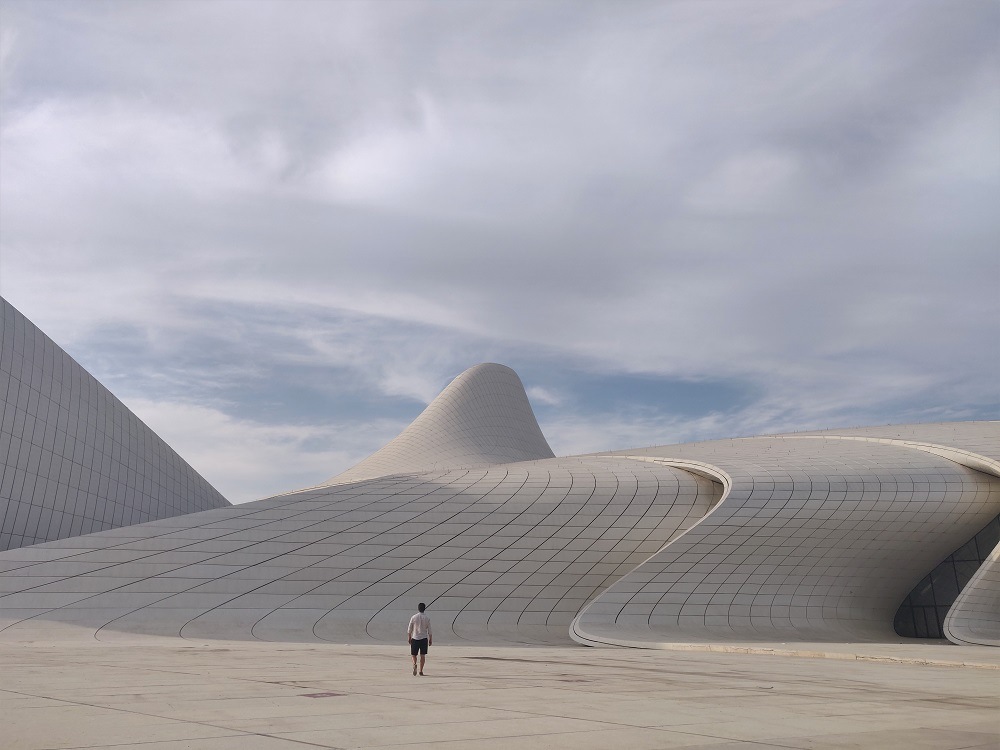 Browsing Baku's parks and shopping streets and restaurants
Where we visited Georgia and Armenia during wintertime, this time we visited Azerbaijan in summer time. During the warm daytime, you find limited people outside, but as soon as the sun sets, the city comes to life, filling the parks, shopping streets and lively restaurant terraces with its friendly inhabitants…
Visit Baku's wine bars and try some Azerbaijan wine!
Baku has a lot of wine bars, which are a great place to try some of the local Azeri wines! Especially if not planning or able to visit any of Azerbaijan's wineries (see below). We visited ROOM and Saqi winebar, both nice, but again there are many!…
Heydar Mosque
A bit futher North from the city centre is the Heydar Mosque… Easily reachable by Nasimi Metro station or of course by car… I definitely recommend a visit, as it is a beautifully decorated Mosque, offering beautiful views over greater Baku. You could perhaps include this mosque if travelling onwards to Yanar Dag or Sheki (see below)
Top Tip: Visit by night time, when it is lit spectacularly
Bibiheybat Mosque
South of Baku's city center, you'll find the Bibiheybat Mosque. Apart from the beautiful location, overlooking the Caspian Coastline, the mosque is a nice visit due to its beautiful green interior!
You could include this in your itinerary on your way to/from the Gobustan Rock Carvings and/or the Gobustan Mud Volcano (see below).
Sights around Baku
You have likely already realized but we are slowly venturing outside of Baku's city center… If possible, do venture out of the city of Baku as there are some sights around the capital, that I would definitely recommend!
Top Tip: We had a rental car at our disposal, so that made visiting 'easy'… that is if you disregard the various unpaved roads and unreliable off-line Google Maps. In addition, traffic (in Baku) can be a bit chaotic. On top of this, we had issues with Sixt Azerbaijan, when handing in the car (and still am not happy with their way of handling the matter)… So if not excited of renting a car I can understand, but in that case book a (half) day tour that combines some of the sights described below!
Baku; A city literaly built on oil
As soon as you reach the city outskirts, you realize that Baku seems literally built on Oil & Gas… You will see various oil pump jacks scattered over the countryside getting the precious black liquid out of the ground…
Yanar Dag burning mountain
Another spectacular oil & gas related sight is Yanar Dag Burning Mountain. Here gas flows continously from outlets in the soil, which are permanently on fire, causing a strange sight of, you guessed it, burning mountains… A very interesting natural phenomenon.
You have to pay an entrance fee, which also gives you access to the museum (we did not visit as the power was not working when we visited).
Zoroastrian Fire temple
Yet another oil & gas related sight, but this time with a historic/religious touch is the Zoroastrian Fire temple (where again the fire originally comes from a natural gas field in the ground). It was a holy place of worship over the centuries, but the temple nowadays serves as a museum and lost its religious function.
Mud Volcanoes
Azerbaijan is home to around 400 of the approximately 1000 world-wide mud volcanoes… However, finding these proved a bit harder than I thought. We tried, but initially failed to find some mud volcanoes (due to wrong google maps listings). Ultimately we ended up visiting the Gobustan Mud Volcano. The mud erupts due to gas fields bubbling up.
Fun Fact: Where usually 'volcanic activity' goes hand in hand with scorching temperatures the mud volcanos are actually cool to the touch!… For comparison, see my Djibouti, Ethiopia or Iceland posts, where much warmer temperatures are involved!…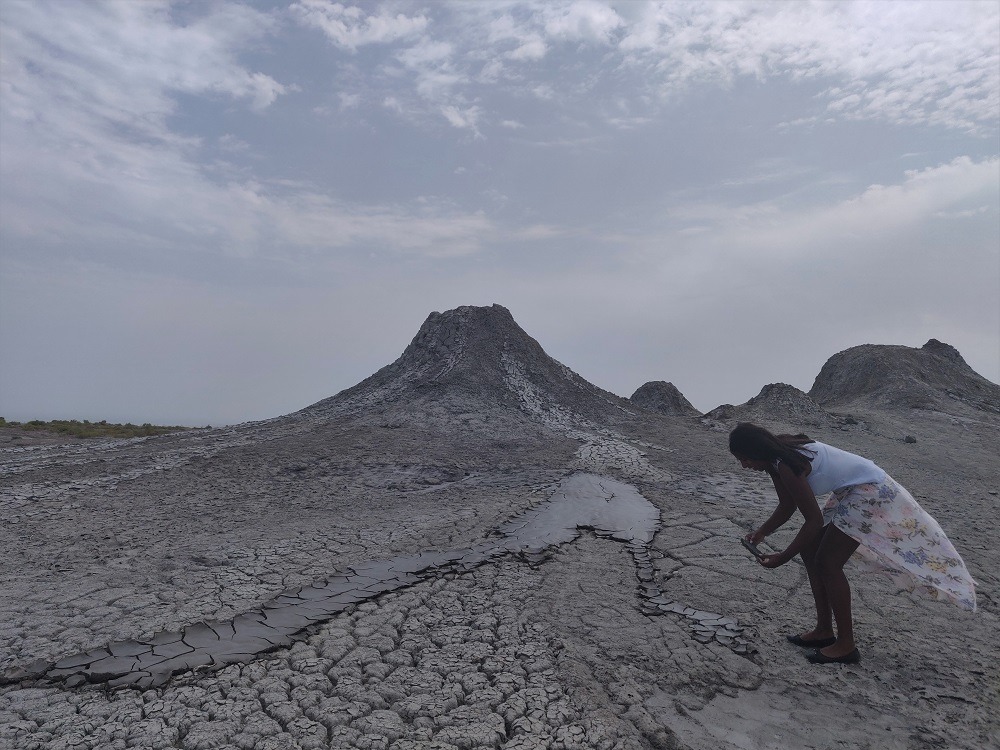 Gobustan Rock Carvings
Having visited similar rock carvings in Australia and Namibia, we may be spoilt, as this sight was a slight overkill for us. Therefore, depending on your travel history you may not need to include this in your itinerary… Having said that, the surroundings are beautiful and it is always a bit humbling to consider these carvings made by our ancestors many thousands of years ago!… Therefore, I leave you to decide for yourself… An entry ticket also gives access to an extensive museum, with some fun interactive displays.
Exploring the Azerbaijan countryside
As soon as you leave the flamboyant city center of Baku behind the striking difference with the basic Azeri life becomes quickly apparent. You will already experience this when visiting some of the above sights at Baku's outskirts… The wealth of Azerbaijan seems to stay predominantly in and around Baku, as well as the focus on tourism…
Top Tip: When driving yourself, keep an eye out for the many speed radars. The speed limit is very annoyingly fluctuating between 110km/h and 90km/h, and sometimes even down to 60km/h. There is a 10km/h grace limit. 
Experience the Azeri Wine experience at Shirvan Winery
When planning our trip at home we were trying to find some wineries on our way to Sheki… However, not much appeared (as you can tell by now, that is a trend)… Luckily, while driving we found the nice Shirvan Winery where we made a brief stop for an excellent English tour! If into wines and taking this route, I would definitely recommend it! Shirvan Winery also has a very nice restaurant for lunch or tastings!… (To note, Shirvan Winery is different thand the town Shirvan, which seem entiry unrelated to each other).
Yeddi Gozel waterfall
On our way to Sheki, we had 2 waterfalls on our itinerary, you may have guessed it one was unfindable… the other, Yeddi Gozel waterfall, was a fun stop (despite the waterfall being reduced in size due to the dry summer months). For us the local crowds, the entertainment stalls and the restaurant topped the actual waterfall experience…
Nohur Lake
A few minutes away from the Yeddi Gozel waterfall you will find Nohur lake… Again, do not follow your GPS navigation as it will likely lead you to a private road. Instead, go to the south end, you will see a hotel and some restaurants. Here we had lunch while enjoying the beautiful views…
Top Sights of Historical Sheki
If combining your trip with Georgia, historical Sheki would be your rest stop of choice!… However, if like us, you are travelling to Sheki only for the sights, you may be a bit disappointed. Don't get me wrong there are some nice sights, but in my opionion there are more interesting sights in the region or along the silk route. 
Anyway, you made it this far and you should therefore definitely check out the following;
Visit the Caravanserai, this used to be the place to rest for the traders along the silk route. Now it is converted to some tourist shops and a hotel.
Explore the Castle and Palace of the Shaki Khans; there are various interesting buildings and museums here.
Visit the winter palace; Which is less crowded and same décor, however we were unable to visit as the ticket office employees did not show up, After waiting with one of the museum guides, who also could not enter, we gave up… (Azerbaijan seriously fix your touristic sights and infrastructure!!!)
Browse the streets of old town and mingle with the friendly locals that do not seem to be used to many (foreign) tourists.
Top Tip: If visiting in summer you may want to enjoy a nice local restaurant with an outside terrace. I have the perfect one for you!… We went to Calabi Xan Restaurant, where we ordered some great traditional dishes (try the Piti!). In this restaurant we had a great interaction with an Azeri family; tourists from the Baku region. The two lovely girls helped us with translating the menu and placing orders. To top this off, these friendly people secretly paid for our dinner! Lovely people and a wonderful experience!…
Explore the nature around Ganja
In the end we decided not to go to Ganja and surroundings, due to time constraints. However, this appears to be a great base for trekking. Yet again, judging from my research, you will find similar nature in Armenia and Georgia.
Well, this brings us to the end of this Ghost around the Globe adventure in Azerbaijan. So in conclusion, Should you visit Baku? Yes!… and perhaps combine your trip with one of the many (sport) events that this city organizes. Should you venture out into the countryside? Well, definitely try to visit the highlights near Baku, but perhaps no need to venture too far into the backland, unless travelling overland to neighboring countries.
As said, check out my Georgia and Armenia posts, great to combine these destinations and compare the highlights!…