Zanzibar and amazing Cheetah's Rock
We ended our East Africa Safari holiday with a few nights on Zanzibar. And like any tropical island, it is a great place to unwind! It also does offer one of the greatest wildlife experiences; Cheetah's rock, but more on that in a bit…
Let me first start with warning you on some downsides to this Tanzanian island. I explained these already in my blogs describing the downsides of Tanzania and my Safari experiences in Tanzania. In short: Tanzania has very low hospitality/tourism service standards (e.g. do expect to wait a long time for your food and drink order). Paradoxically, almost everyone is annoyingly requesting tips for all kinds of "supposedly provided services".
Top Tip: Keep the above in mind when you are considering Zanzibar as "only" a tropical island to relax, and are not planning any mainland safari combination. In that case, you may want to consider Seychelles, Sri Lanka or the Maldives. These destinations will likely better match your "tropical Island" expectations!…
Zanzibar
The abovementioned downsides aside, Zanzibar is a very versatile island. It has a nice year-round tropical climate, great beaches, some small forests to spot some wildlife, colonial heritage in Stonetown, and the island is a famous kitesurf location. Definitely enough on offer to keep you busy!…
But the best activity is yet to come… and likely one of the most unique and fun experiences worldwide… This may even be a reason to visit Zanzibar on its own! Despite the above-mentioned downsides…
Cheetah's Rock
I am honestly a bit amazed that I did not hear about this place before. It was a tip from our friends in Dubai, and thus far, when sharing my experience with others, no one seemed to have heard of this place before. Hopefully, this blog will make a difference! Spread the word and re-share where possible!
Cheetah's rock is an animal conservation centre. Likely best described by the founders themselves: "Cheetah's Rock is a unique place where people and animals interact directly – face to face, eye to eye, fur to skin."
It is an accredited conservation centre of endangered species. You will get very close to animals and are able to interact with them in a great way! Obviously providing great photo opportunities. This is nothing like the "Touristy" caged monkeys or drugged tigers you may have come across during your travels. Instead, this is the place where these victimized animals are being brought… after their "tourist career"… if they are lucky…
Cheetah's Rock is a non-profit organization and does not receive any government support. They need the entrance fees to keep this place going. Tickets are not cheap, but the good cause and the experience are definitely worth it. The price does include a pick-up and drop-off at your hotel, which was very professionally arranged!
Given the conservation efforts groups are limited to 37 people only and tours do not happen every day. Therefore do book as far in advance as possible! You can book right here on the Cheetah's Rock Website.
Do note that due to Legal and Safety reasons children under 15 years are not allowed.
Unique experience!
The number of animals you interact with is amazing! You can feed a zebra… Stroke a white striped hyena (through the fence)… Cuddle with ring-tailed lemurs… Interact with turtles… Feed a white lion (through the fence)… interact with a golden tiger… come eye to eye with a white lioness and stroke two cheetahs (no fence!)… The list goes on and on!…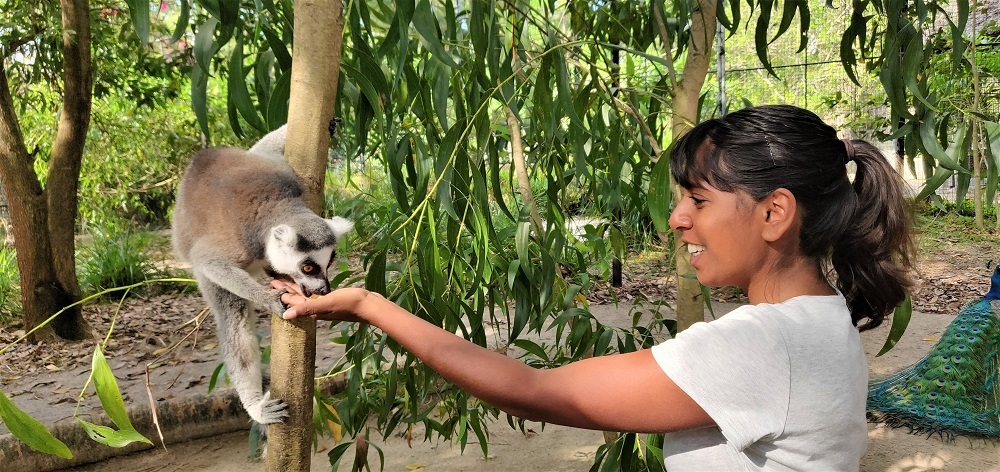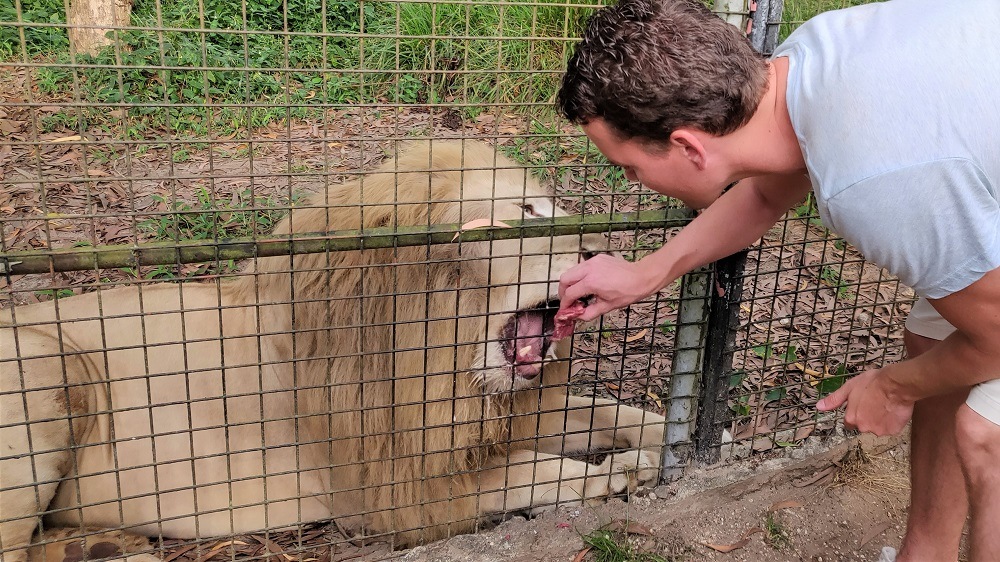 Well, what are you waiting for!? Definitely plan your visit to this wild-life save haven! You will absolutely not regret and besides, you are serving a good cause while having a great time! What more to wish for!?… When in Zanzibar visit Cheetah's Rock! To quote their website it is "truly a unique (wild)-life time experience!"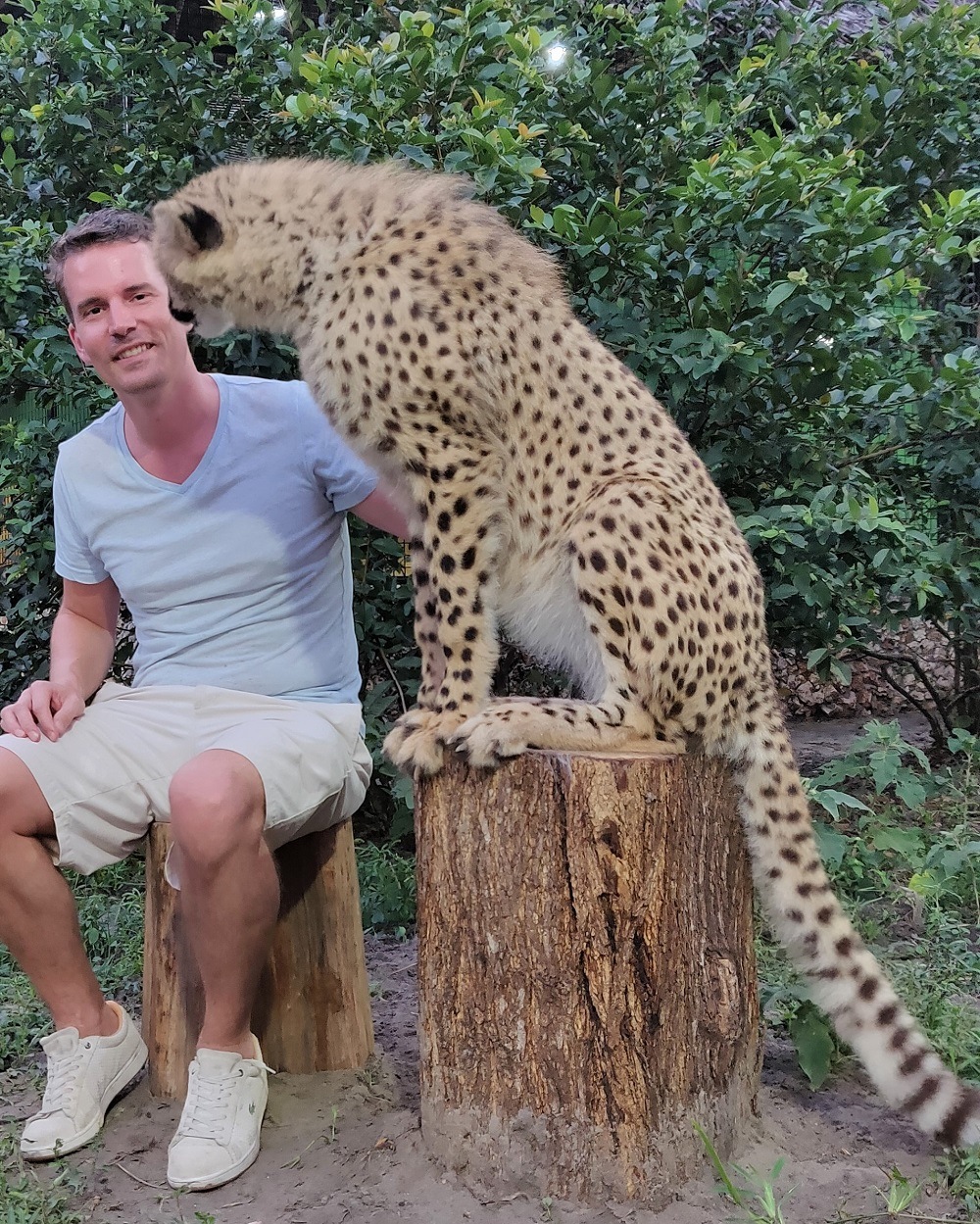 Planning a trip to East Africa? Do also read about meeting gorilla's in Uganda, why I would recommend Masai Mara, Kenia for Safari and what to do in Kigali Rwanda….